may 21, 2012
brooklyn artist takeshi miyakawa arrested for 'planting false bombs'
the 'I (heart) new york' upcycled lighting installation has been called a 'false bomb' by a brooklyn judge, leading to takeshi miyakawa's arrest and continued detainment
on may 19th, 2012, brooklyn-based designer takeshi miyakawa was arrested while installing an 'I (heart) new york' lighting project in the city, for allegedly 'planting false bombs' in manhattan and williamsburg, brooklyn.
in celebration of NY design week, 'I (heart) new york' was intended to show miyakawa's love for the city, where he has lived for 23 years working as a furniture designer, and model-maker for renowned architect rafael vinoly. the project upcycles the ubiquitous 'I ♥ NY' plastic bags into illuminated lamps hanging from trees and lamposts. miyakawa himself is acclaimed internationally for his artistic experimentation of the highest level, using design as a means of activism with projects like the 'red eclipse' table to raise funds for humanitarian relief work after the japan earthquake.
instead, a passerby called the police on friday night to report a package attached to a tree in brooklyn, with the question of how it should be removed. the area was evacuated for two hours as the NYPD bomb squad investigated, before deeming the object harmless.
nonetheless, miyakawa was arrested at 2am saturday morning while hanging another bag on a light post near mccarren park. on sunday, judge martin murphy accused miyakawa of reckless endangerment, the placing of false bombs, and criminal nuisance. he also ordered that miyakawa be detained for 30 days, as the artist awaits mental evaluation.
after his attorney filed a writ of habeus corpus, the court held a second hearing for takeshi miyakawa on may 23rd, where a new judge released him without bail. the artist's court date against his initial charges, where the question of miyakawa's mental health was considered, was held on june 21st, 2012.
in late july 2012, takeshi miyakawa's ordeal finally came to an end with his final court date, where the judge accepted ACD ('adjournment in contemplation of a dismissal') and no standing charges, with the ordering only of 10 days community service as recommended by the prosecution. 'I feel relieved that this issue has been resolved,' miyakawa told friends following his release.
you can read full coverage about the incident on the new york times: 'designer takeshi miyakawa returns from rikers island' (earlier reports viewable on NYT at 'police arrest artist takeshi miyakawa thinking tribute was fake bomb').
from miyakawa's project archive: photo of test installation last week
thank you to all readers who signed and shared the petition to free takeshi miyakawa!
petition to free takeshi miyakawa
on may 19th, 2012, artist and designer takeshi miyakawa was arrested in brooklyn while installing 'I ♥ NY' lamps in a local park, part of a project designed to celebrate NY design week and the tokyo-born artist's love for new york city, where he has lived for the past 23 years.
instead, miyakawa was charged with the class D felony of reckless endangerment, placing of false bombs, and criminal nuisance. he is currently being detained for thirty days to await mental evaluation.
public safety need be protected, but so must our constitutionally ordained rights. art has the power to join people together, bring a smile to the face of a passerby. miyakawa's 'I ♥ NY' lamps encourage us to rethinkour everyday objects, think sustainably, celebrate the place we live and love.
this is what we call art.
instead, the NY justice system calls this terrorism and endangerment, despite miyakawa's clean record and international renown.
please sign if you believe that there is still the place and need for art in the world. sign to help free takeshi miyakawa. sign to help free art.
cutting the 'I ♥ NY' bags
assembling the boxes, necessary to prevent the plastic from overheating by the LED
assembling the LED light
left: in their brooklyn studio, takeshi miyakawa and his team construct the 'I (heart) new york' lamps; right: photo from the installation
at the same time as the events of the arrest, takeshi miyakawa's work was on show at the international cultural exhibition at ICFF (international contemporary furniture fair) at new york's jacob javitz center.
read more about the mart and miyakawa's work for it: new york designboom mart 2012.
takeshi miyakawa kneels with his lighting installation on show at ICFF, days before his arrest image © designboom
miyakawa and his team image © designboom
installing the piece for ICFF image © designboom
the light on show for new york design week at the jacob javitz center image © designboom
jul 07, 2012
jul 07, 2012
jun 12, 2012
jun 12, 2012
jun 07, 2012
jun 07, 2012
jun 06, 2012
jun 06, 2012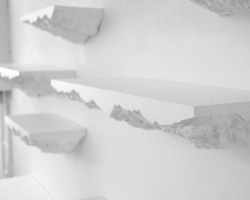 jun 05, 2012
jun 05, 2012
jun 04, 2012
jun 04, 2012
may 21, 2017
may 21, 2017
jul 26, 2014
jul 26, 2014
jun 18, 2013
jun 18, 2013
a diverse digital database that acts as a valuable guide in gaining insight and information about a product directly from the manufacturer, and serves as a rich reference point in developing a project or scheme.