dec 17, 2014
bureau A sites stone-shaped wooden cabin in the swiss alps
bureau A sites stone-shaped wooden cabin in the swiss alps
all photos by dylan perrenoud / courtesy of bureau A

'the mountains have the power to call for feelings of fascination and fear at the same time. switzerland has a strong tradition of observing the alps, living with them, hiding inside them. the awe and the anxiety that this monumental landscape appeals is reflected in the writings of charles-ferdinand ramuz, one of the most important swiss writers. his novels, derborence, describes the massive rock fall that covered the pastures of the valley of lizerne in 1714. 'antoine' the main character, survives seven weeks under the rocks before he manages to reach his village, and life.'
as a tribute to the alpine experience and the famed writer, swiss studio bureau A has sited their project 'antoine' within the vast, mountainous expanse of the alps. commissioned during an artist residency at the verbier 3D foundation, the architecture-cum-sculpture is inhabitable and structurally functional, comprising an indoor cabin with a fireplace, bed, table, stool and window. literally hanging on the rock fall field, the small wooden dwelling hides its internal features within a projected concrete rock, deriving its shape from natural elements in its surrounding environment.

'antoine' sits within the vast, mountainous expanse of the swiss alps
'antoine' is, in part, derived from the long lasting swiss tradition of hidden bunkers and military infrastructure, referencing the writing of french philosopher paul virilio in 1975 on bunker archaeology and principles of camouflage — themes which have long since fascinated the architects.

the dwelling hides in the landscape, deriving its design from the traditional hidden bunkers and military infrastructure

the indoor cabin comprises a fire place, bed, table, stool and window

a fold out panel doubles as a tabletop, while simultaneously revealing the views outdoors

a window shines natural light into the small, wooden interior

the surface of 'antoine' beside a rock from the surrounding landscape

textures sourced from the environment surrounding the dwelling inform its own surface

watch: the project has been self-built in the nearby village and transported to the high-altitude sculpture park

architectural plans
mar 21, 2017
mar 21, 2017
dec 10, 2016
dec 10, 2016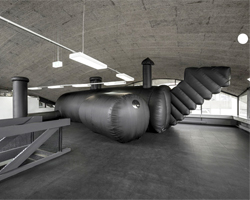 sep 22, 2016
sep 22, 2016