at IDS 2018 — toronto's premier showcase of new products and furniture — the archetypal 'kitchen island' has been reincarnated as an experimental landscape of smooth surfaces that draw from architecture, topography and the natural elements. leading quartz manufacturer caesarstone — continuing its designer program, which has seen previous partnerships with jaime hayon, tom dixon, and many others — teamed up with new york-based snarkitecture for its 2018 edition.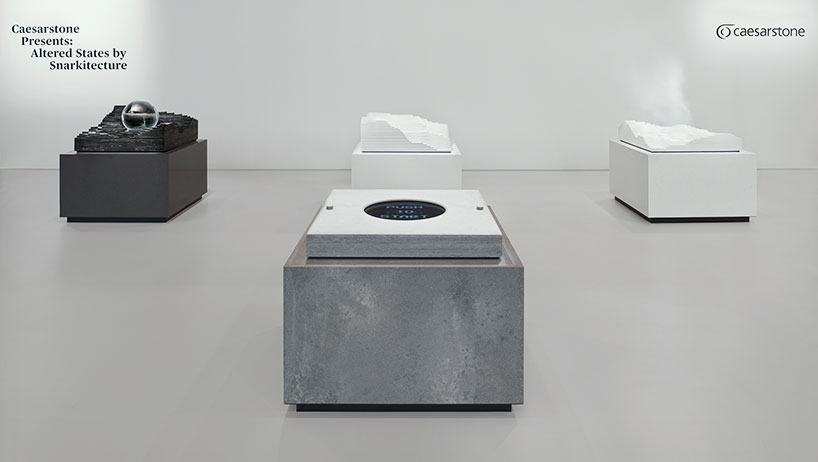 'altered states' sees four islands composed of layers of stacked, sinuously-shaped caesarstone slabs
photo by alex lukey
snarkitecture's alex mustonen, daniel arsham, and ben porto envisioned the kitchen island as a space of changing elemental states — ice, water, and steam. the resulting 'altered states' sees four islands composed of layers of stacked, sinuously-shaped caesarstone slabs, highlighting collections like vanilla noir, alpine mist, white attica and rugged concrete. three islands are dedicated to the states of water while a fourth recreates caesarstone as a retro video game.
at IDS, designboom spoke with alex mustonen and ben porto of snarkitecture about their collaboration with caesarstone, the creation and making process, and their plans for taking 'altered states' to the next level for milan design week.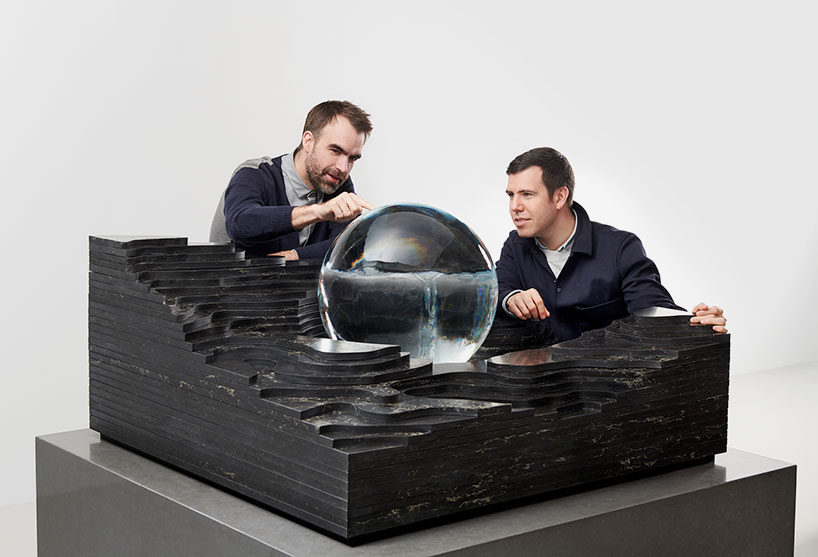 the kitchen island is envisioned as a space of changing elemental states — ice, water, and steam
photo by alex lukey
designboom (DB): what was the brief caesarstone presented you with for this project?
alex mustonen (AM): when we started the collaboration with caesarstone, they gave us the theme this year of 'kitchen island'. that was part of the brief from them — building around this theme of the kitchen island as a place of interactivity, a place of multiple programs, for performance, entertainment, socializing — that it exists as a hub of the home. we started by breaking that apart a little bit and instead of trying to recreate the ultimate kitchen island, we started to breakdown those programs. this actually started from a much more programmatic, functional standpoint. the idea of one of the islands being a space for drinking, a space for cooking, a space for eating, and a space for digital connection.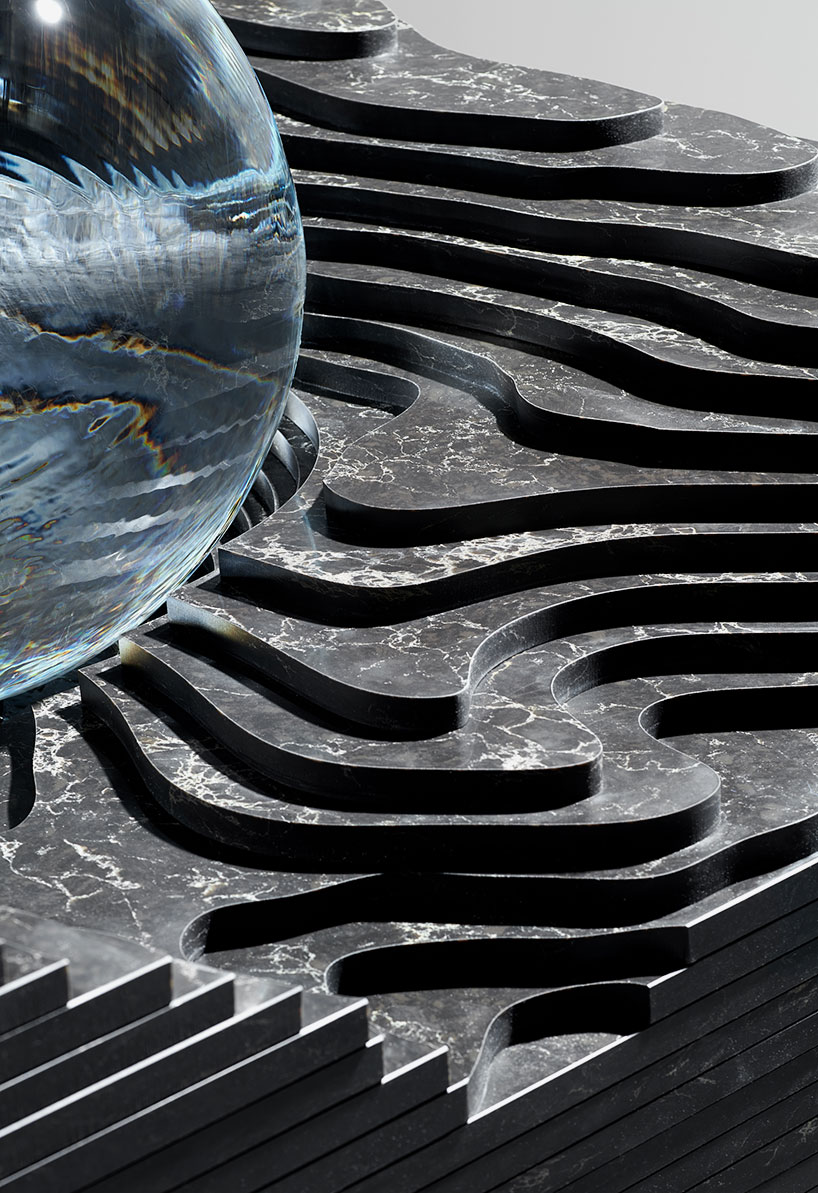 a giant ball of ice gradually melts throughout the duration of the show
photo by alex lukey
DB: how did the project progress from there?
AM: as the project moved forward, it started to get a little bit more abstract. we brought this idea of 'altered states' — the changing state of the single material, in this case water. we wanted to create a connection between the material and its state, and the primal aspects of the kitchen and of cooking. so the idea of ice is this element that preserves food; water is a constant throughout every aspect of cooking; and steam as it relates to heating and preparing food. for us, there's also this kind of correlation between those programs of the kitchen, the states of water and the natural conditions that play a little bit into landscapes. so you have the idea of a glacier, the idea of a waterfall, a geyser…things that might fit into a natural landscape.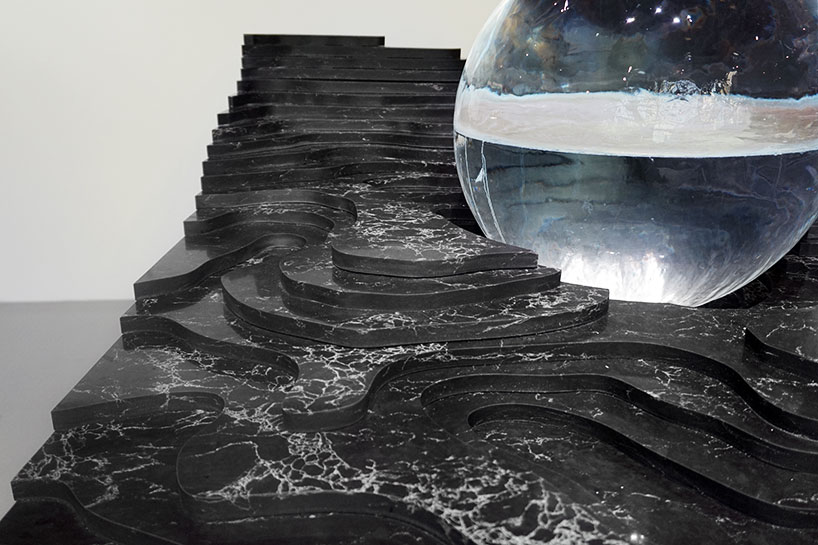 natural landscapes and topography inspired the layered forms
image © designboom
AM (continued): materiality, there was a connection for us. caesarstone is a kitchen countertop material, referred to as sort of the ultimate kitchen surface. the functional idea is that it's a surface that can handle extreme heat and extreme cold. so we're playing on that, and were using that as a basis for having the steam and the ice. the other thing I think we're really interested in is showing caesarstone in way that's very different than how we usually think of it. we usually think of it as a surface that might clad a box, or as a countertop. we wanted to think about it as something more solid, something that has a mass to it.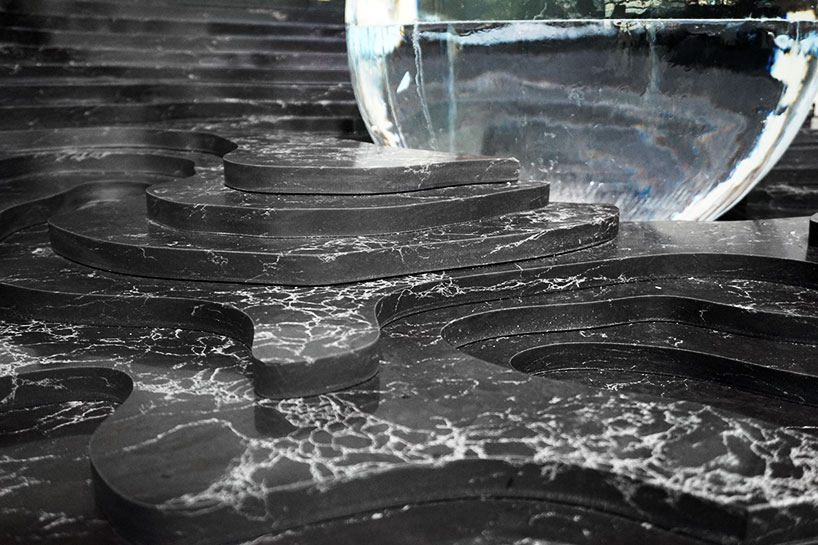 snarkitecture drew from the natural topography where water exists in various states
image © designboom
AM (continued): we created these stacked topographies that ideally showcased the kind of solidity of the material. they want to make clear that the material is a durable stone and not a laminate or some other kind of thin veneer. so we're actually cutting through the material and exposing that solidity and then literally stacking it to create these topographic forms. a lot of our work explores the balance between precision and looseness. something that has this rational, architectural delineation mixed with this unexpected natural or illogical excavation or formation.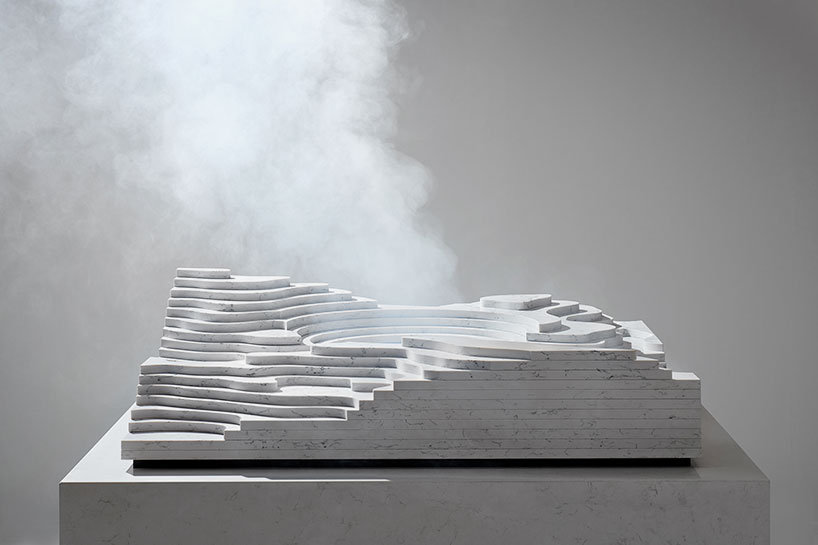 steam subtly emits from a sinulously-shaped island formation
photo by alex lukey
DB: what did you find to be the most interesting aspect of the material as you started to work with it?
ben porto (BP): I think you often think of caesarstone as a two-dimensional thing and once you start to approach it as a three-dimensional object, there's just a lot more flexibility in the product. once you start treating in a different way — even though it's cutting and stacking — it starts to explore what you can with it do it. you've created a solid, more three-dimensional object.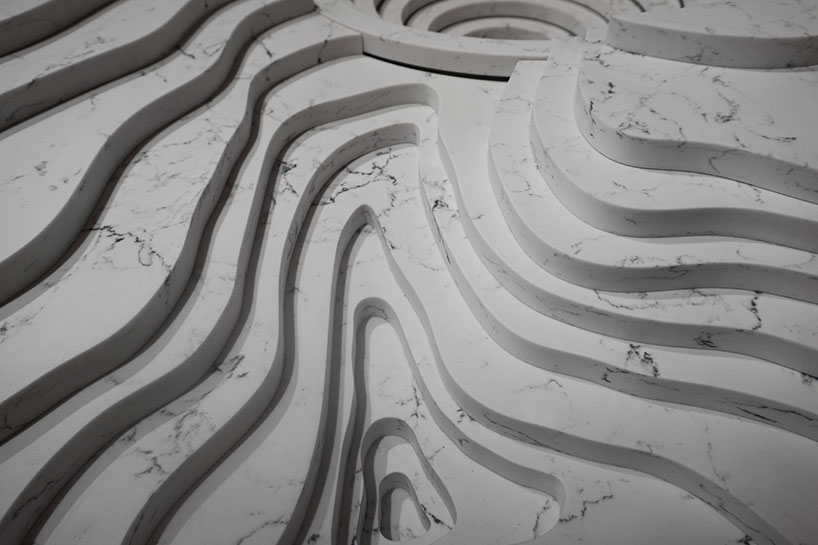 layers of caesarstone have been carefully shaped and stacked
image © designboom
DB: what is the creative and making process involved in a project like this?
AM: this is an interesting project because the toronto version is a project unto itself, but it also exists as a sort of prototype for the eventual conclusion of this project in milan. the question is how far do we take this experiment at this stage of the project. you don't want to show something unfinished, but you also don't want to show everything. there's a little bit of a balance there.
our creative process starts out in the studio, very collaboratively. we start around a table having a discussion about the project, casting a wide net, and defining conceptual approaches for the project before deciding what it should look like. through a series of sketches and some faster exercises, we generally get to a place where the project is pretty well-formed and defined. then we're bringing it into 3-D modeling programs and drafting programs.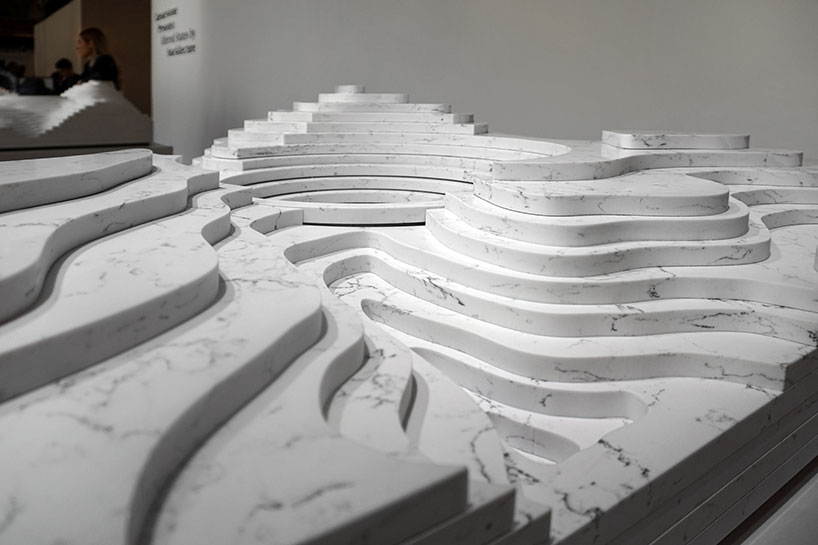 the iconic kitchen island is envisioned as a natural terrain
image © designboom
AM (continued): in this case, we worked with fabricators in toronto called unique store fixtures. we found out that they have an amazing story — they built the first tim hortons! they do a lot of commercial projects, so to have them work on something like this was really interesting to see how they responded to it. when I talked to marco [corrente] — who is the son of the owner — he was saying that they really appreciate projects like this that are a little more challenging, a little more artful, and ask them to think outside of their everyday.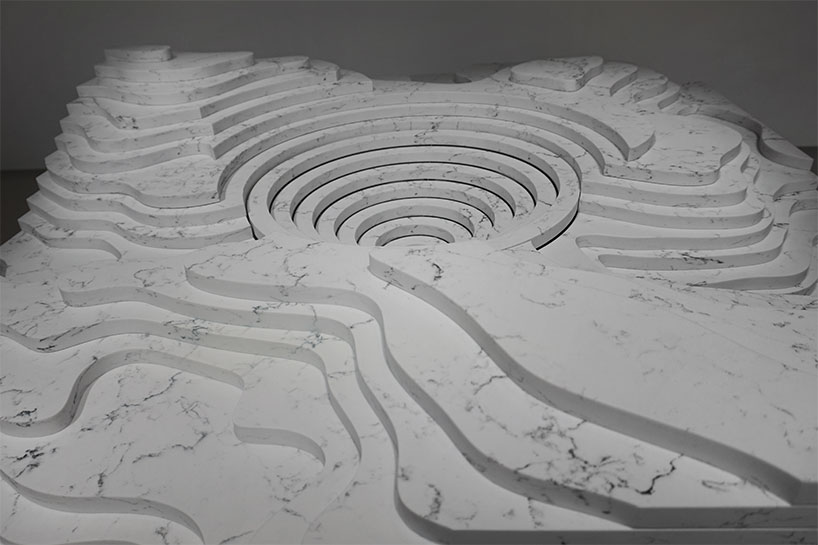 the installation highlights some of snarkitecture's signature themes, like excavation
image © designboom
DB: how do you three [partners at snarkitecture] collaborate with each other, being in different parts of the world sometimes?
AM: for the studio, it's a bit of a divide and conquer strategy. not all three of us are working on a project day-to-day. that said, all three of us are directly involved creatively with every project in the studio — there's only 11 of us, so it's a pretty small group. we also try keep the number of projects as such that we can have an eye on everything that's happening, but we each tend to take the lead on one project or another. like for instance, ben is here. ben and I happened to be in israel for something else, so we went to go see the caesarstone factory together.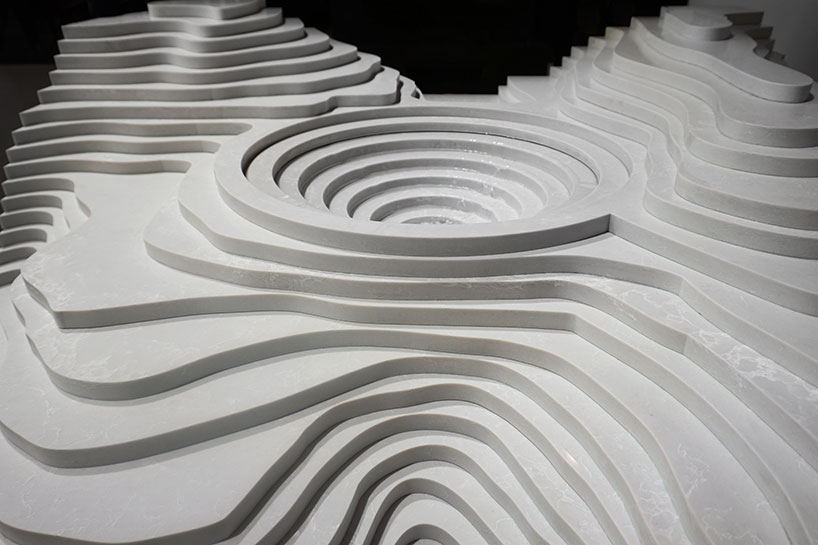 a fountain of water flows into the center of the installation
image © designboom
BP: we all have a creative input, but for a project like this, when the material is the client, it's framing in such a way where I think, high-level, our discussions were a lot about the elements — what is the whole concept of this thing. then you apply that to run the material through that kind of process. a lot of what we do too is almost the opposite. you find — as architects do — a material and you're thinking 'this is great, what do we do with this!'. so that was a really interesting exercise, working with caesarstone.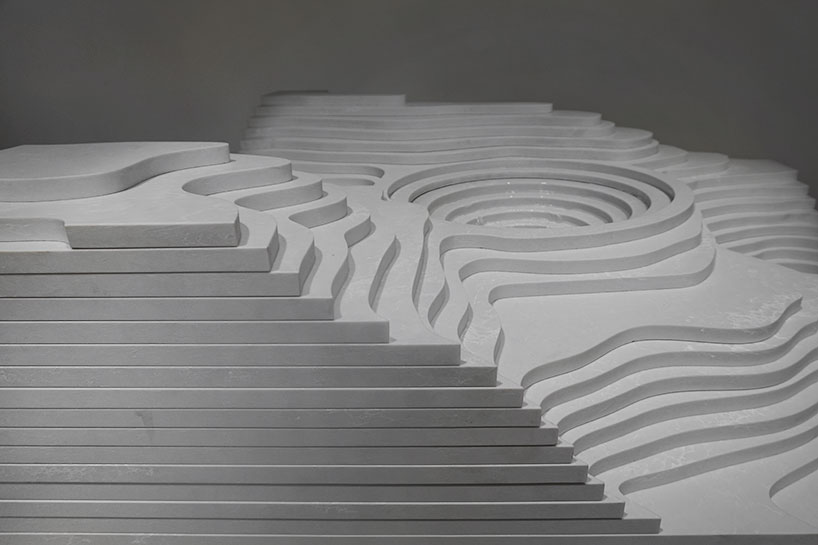 a landscape emerges from layers of caesarstone slabs
image © designboom
DB: can you tell us a bit about what is coming to milan?
AM: we are going to build on this. the project we present in milan will be sort of an extension or continuation of this concept. we will be seeing these elements of ice, water and steam. the context will be very different though. it's not going to be at salone del mobile, it's going to be outside, in the city. the venue that we have is pretty incredible. I'm excited for people to come and see it. it's a space that most people in milan haven't seen actually, so aside from our project, there's a destination-like quality to the project we're doing. to even take these few pieces outside the context of the convention center changes them. we're interested in seeing how it shapes up. it's going to be here sooner than later.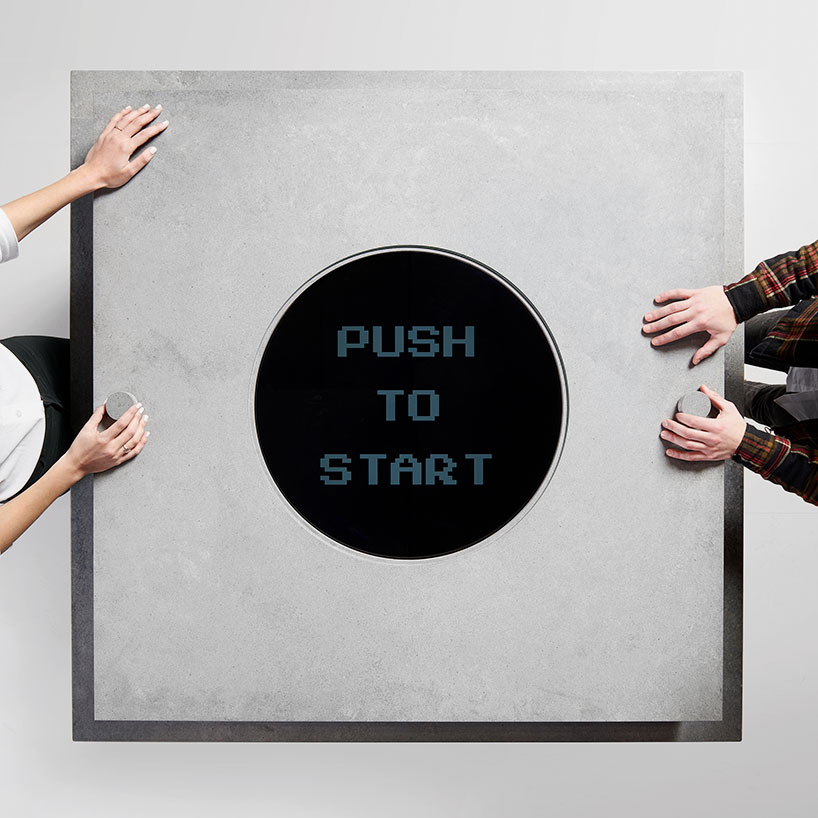 three islands are dedicated to the states of water while the fourth recreates in caesarstone as a vintage video game
photo by alex lukey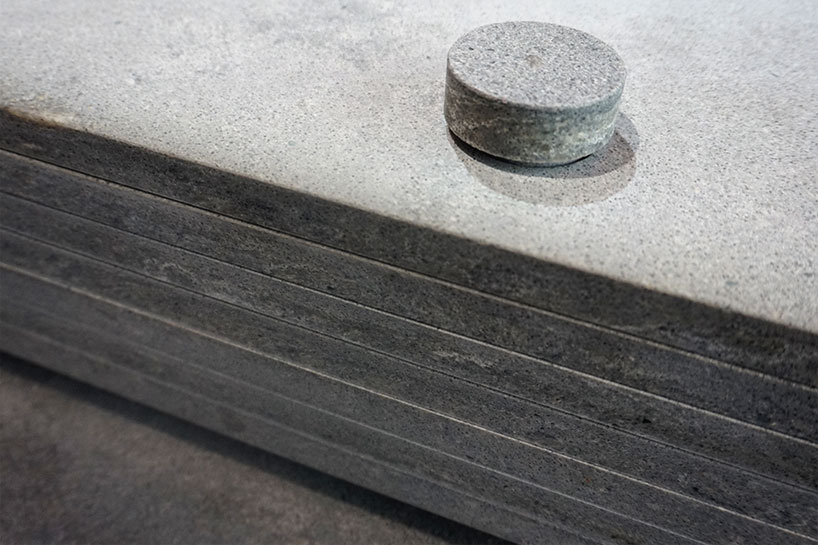 caesarstone 'knobs' become vintage video game controllers
image © designboom
nina azzarello
I designboom
jan 21, 2018
a diverse digital database that acts as a valuable guide in gaining insight and information about a product directly from the manufacturer, and serves as a rich reference point in developing a project or scheme.
designboom will always be there for you
milan, new york, beijing, tokyo

,
since 1999