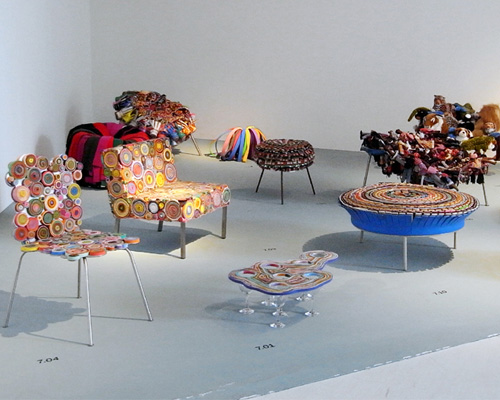 oct 21, 2010
campana brothers: antibodies at the milan triennale
campana brothers: antibodies at the milan triennale'antibodies' by fernando and humberto campana at the triennale museum , at the entrance the 'cabanas' installation, containers produced by edra image © designboom
showing at the triennale museum in milan, italy, 'antibodies' is an exhibition highlighting the extensive work of fernando and humberto campana over the past 20 years. with their visually rich language firmly anchored in their native land of brazil, the brothers draw from a rich palette of colours, forms and materials to communicate the many facets and contradictions of their environment. through a kind of immunological process, they understand the notion of design as a cultural appropriation of influences, navigating and transcending the boundaries of art and design in the form of on-off pieces and limited editions.
visitors are encouraged to explore the projects freely in an undetermined sequence, which have been loosely arranged in groups to trace the artistic strategies, motifs and sources of inspiration of the designers. themes include, 'hybrids', 'organics', 'fragments', 'clusters' and 'sticks', all of which chronicle and illustrate the full spectrum of the brothers' works.
(left) 'prived ocra' chandelier, 2003 raffia, swarovski crystals, LED, cabelling
'jenette' chair, 2005 polyurethane, PVC
'cabana' cupboard, 2010 aluminum, rafia see more images of 'cabana' and the entire 'barbarian' series here
(right) 'taquaral' chair, 2000 bamboo, powder-coated steel images © designboom
objets trouvés reinterpreting everyday objects and materials from non-design contexts and utilizing them to create new works is a practice that italian designer achille castiglioni employed back in the 1950s. however, while castiglioni was most interested in the resulting functional effects, the campanas foreground the artistic concept in a way similar to both surrealism and the cult objects of indigenous societies: the histories already contained in the objects and materials imbue the new piece with additional meanings.
'transcloud' ceiling lamp, 2007 steel, rattan, polypropylene, light bulb, cabling
'diamantina III' seating landscape, 2008 steel, rattan, amethysts
'gallon lamp 6' floor lamp, 2007 plastic canisters, rattan, light bulbs, cabling image © designboom
hybrids in their 'mixed series', begun in 1997, the campanas juxtaposed organic and inorganic, natural and industrial, 'warm' and 'cold' materials. with their 'transplastics' series, initiated in 2007, they have once again taken up this approach by inter-weaving wicker with unexpected materials. already in his early artisan objects, humberto had made use of the three-dimensional malleability of wickerwork; today, the material is employed in lighting and seating units to produce large-scale figurative sculptures.
details of 'gallon lamp 6' images © designboom
(left) in the foreground: 'una famiglia' suite, 2006 polypropylene chairs, iron structure, rattan
(top right) 'shark' easy chair, 2000 stainless steel, polycarbonate, cane
(bottom right) 'cafe chair' child's armchair, 2006 polypropylene chair, rattan images © designboom
detail of 'shark' easy chair image © designboom
exhibition view of 'paper pieces' image © designboom
paper pieces inspired by the stacks of cardboard that are reused and recycled by the junk collectors and homeless of sao paulo's streets, the campanas came up with the idea of taking  advantage of the transparency revealed when looking directly at the narrow cut edges of the material and using it to create light pieces and partition screens. following  these initial experiments, they soon began to utilize cardboard in tables and seating furniture as well.
in the foreground (from left to right): 'papel' side table, 1993 corrugated cardboard, aluminium, glue, acrylic paint
'papel' sofa, 1993 corrugated cardboard, stainless steel, glue
'untitled' chair, 1995 cardboard, glue, wrapping paper image © designboom
exhibition view of 'fragments' image © designboom
fragments the fragmentation and reassembly of an object is an established artistic technique. for impressionists it served to infuse a momentary sensation with life, while in cubism it expressed the simultaneity of varying perspectives. humberto utilized this approach in his early terracotta sculptures in order to depict inner and outer disjointedness. with the 'favela' armchair of 1991, the motif became a tribute to improvisation and ephemera.
'são paulo' carpet, 2010 wool, hand-knoted image © designboom
(left) 'untitled' barstool, 2006 wood, leather, foam(right) 'untitled' fruit bowl, 2008 leather, glue, polyamide thread image © designboom
'untitled' screen, 2006 polystyrene, wrapping paper image © designboom
in the foreground: 'peter and the wolf; wolf' stage prop, 2008 wood, glue the figure was created for the campanas' set of a production of sergei prokofiev's musical fable 'peter and the wolf' performed at new york's guggenheim museum during the 2008 christmas season
in the background: 'untitled' fruit bowl, 2006 merged parts of plastic dolls, lacquer image © designboom
exhibition view of 'clusters' image © designboom
clusters extracting manufactured or found materials and objects from their original context and clustering them together in order to create a newly formed mass is a recurring technique of the campanas. even with cheap, readily available materials, the method renders an illusion of luxury. the baroque roots of brazilian culture, the excessive growth of the tropical flora, and the population explosion of brazil's metropolitan centers offer striking models for this motif.
'tokyo garden' table centrepiece, 2005 glass, ethylene vinyl acetate, rubber, carpet, fabric image © designboom
'circus' carpet, 2010 hemp and rag dolls image © designboom
hanging installation glass, rope image © designboom
detail image © designboom
exhibition view of 'sticks' (from left to right) 'untitled' mirror, 2008 mirror glass, scotch tape
'pedra azul' chair, 2004 lacquered steel wire
'batuque' vase, 2000 glass image © designboom
sticks the series of objects that the campanas constructed as a jumble of sticks seems to reflect artificial, man-made chaos – an impression also evoked by such titles as 'batugue' or 'blow up'.  this series was initiated by one of humberto's first works in metal: the 'grelha' sculpture, which resembles the frame of an oversized ('barbecued') chair, thus coming across as a cynical commentary on design.
'escultura' screen, 1993 aluminum image © designboom
(left to right) 'bob' armchair, 1990 steel wire
'corallo' armchair, 2004 lacquered steel wireimage © designboom
(in the foreground) 'novelo' sofa, 2003 lacquered steel wire image © designboom
exhibition view of 'organics' image © designboom
organics overabundant yet threatened by overexploitation, the natural environment of brazil has been a source of regeneration and inspiration that the campanas have sought out again and again ever since their childhood. the diverse extremes of tropical forms and colours are processed into highly imaginative interior objects, which in turn come across like organic beings and thus enliven their surroundings. yet, at the same time, some of their earliest works appear as mutations spawned by the contact with civilization.
(left) detail of 'kaiman jacarè' sofa, 2006 (right) detail of 'boa' sofa, 2002 polyurethane foam images © designboom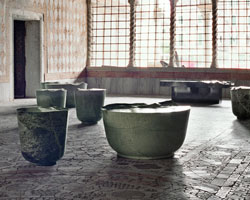 may 06, 2019
may 06, 2019
apr 10, 2019
apr 10, 2019
dec 06, 2018
dec 06, 2018
sep 07, 2017
sep 07, 2017
oct 17, 2016
oct 17, 2016
sep 27, 2016
sep 27, 2016
a diverse digital database that acts as a valuable guide in gaining insight and information about a product directly from the manufacturer, and serves as a rich reference point in developing a project or scheme.