carpenters workshop tours studio job's landmark pieces at design miami/
burj khalifa, studio job 2013-2014
polished and patined bronze, cast aluminium, 24K gilding, silver plate, swarovski crystal, mechanical hermle clock work, faux marbre, hand paintings, hand blown glass, LED fittings, electro motors, prototype + 5 + 2 AP, L100 x W100 x ca. H 300 cm, carpenters workshop gallery, london-paris
all images courtesy carpenters workshop gallery & loek blonk
the carpenters workshop gallery guides visitors on a tour of studio job's landmark (both figuratively and literally) pieces during design miami/ 2014. the solo exhibition takes you on an excursion through the imagination of the dutch-belgian duo, in which you explore all aspects of their creative practice — from concept sketch to realized piece — and their references to some of the world's most prominent monuments.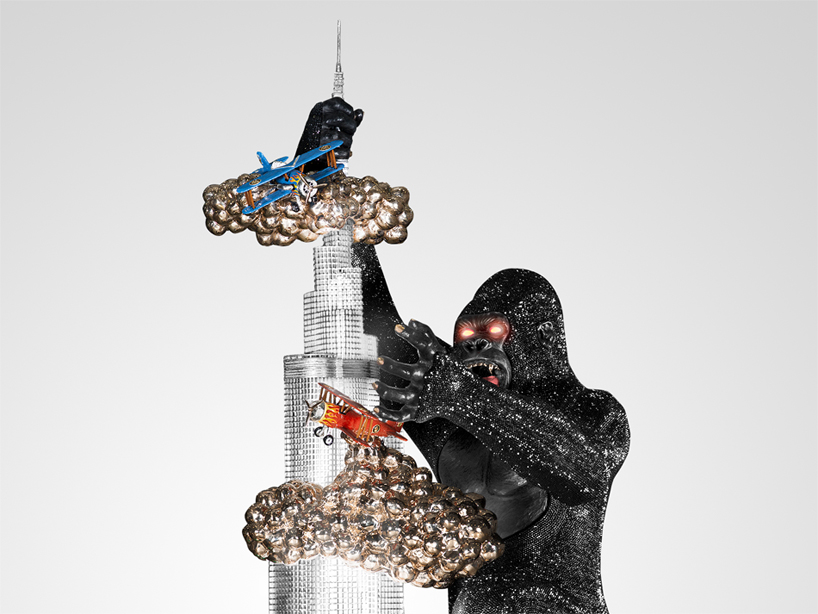 detail of 'burj khalifa'
things get a bit shaken up with studio job's newest work 'burj khalifa', which sees the world's tallest building being taken over by the colossal king kong. the work pays homage to the tower which stands as an impressive contemporary architectural feat. studio job registers their version at two meters high, decorating it in crystals, gilded bronze, hand-blown glass, incrusted semi-precious stones and marble; all supported by an intricate steel skeleton.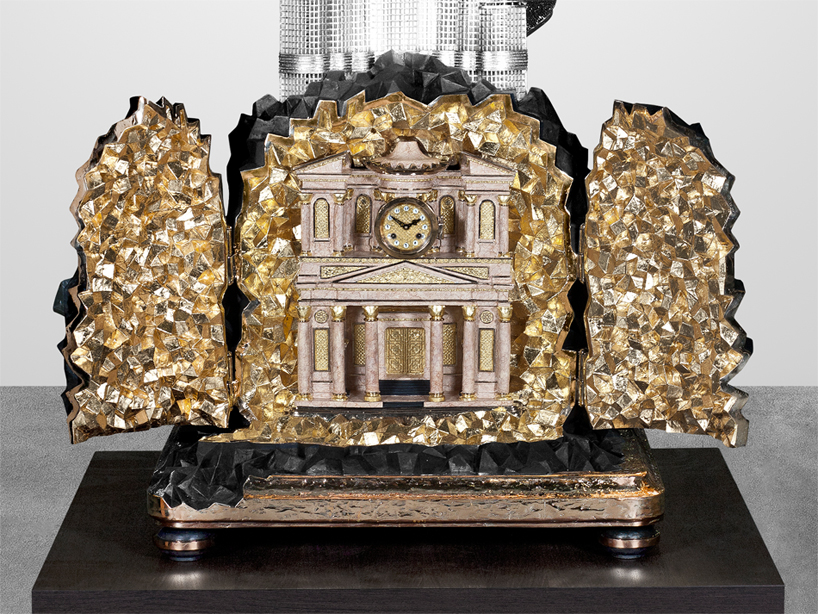 detail of the 'burj khalifa'
job smeets on the 'burj khalifa':
'oke, we'll do a burj-lamp!'
you know what I don't like? I don't like when I'm asked to write an artist motive. did it many times and have now became allergic. artist motives are boring and often made up. in our case it's simple: what you see is what you get!
here you see burj khalifa, the highest building in the world, piled on top of petra, the most historical city, carved out of pink rock. architectural delights sprout from the rich culture of the middle east. one ancient, one contemporary but equally important, man-made, worshiped, world wonders…
so what's up? king kong is up! a life size, crystal clad, piercing eyes, heavy muscular king kong apparently climbed burj and defends itself against a fleet of funny propeller planes. like he did in the thirties on top of the empire state!
why?
yeah, I hate writing artist motives…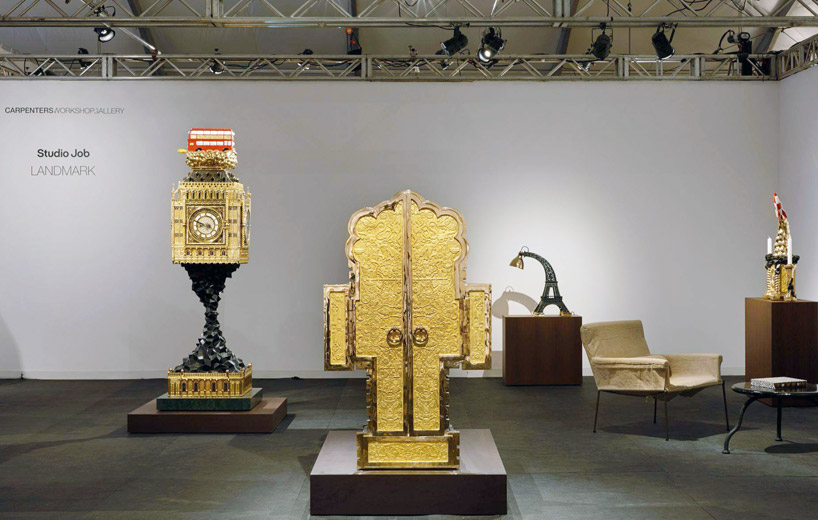 a view into the exhibition at design miami/ 2014
image courtesy james harris & carpenters workshop gallery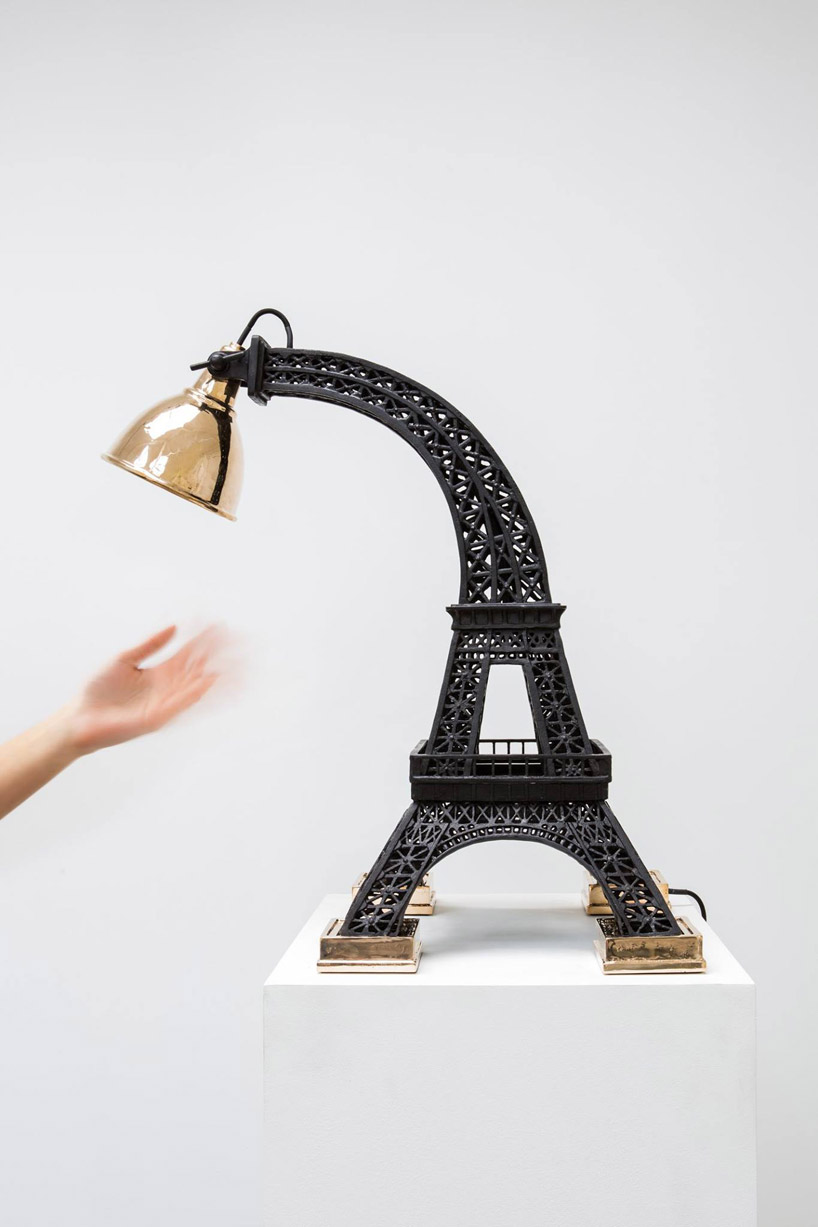 eiffel tower lamp, studio job 2009-2014
patinated and polished bronze, hand blown glass, light fittings, dimension 45 x 75 x 65 cm
presented already at design miami/ 2012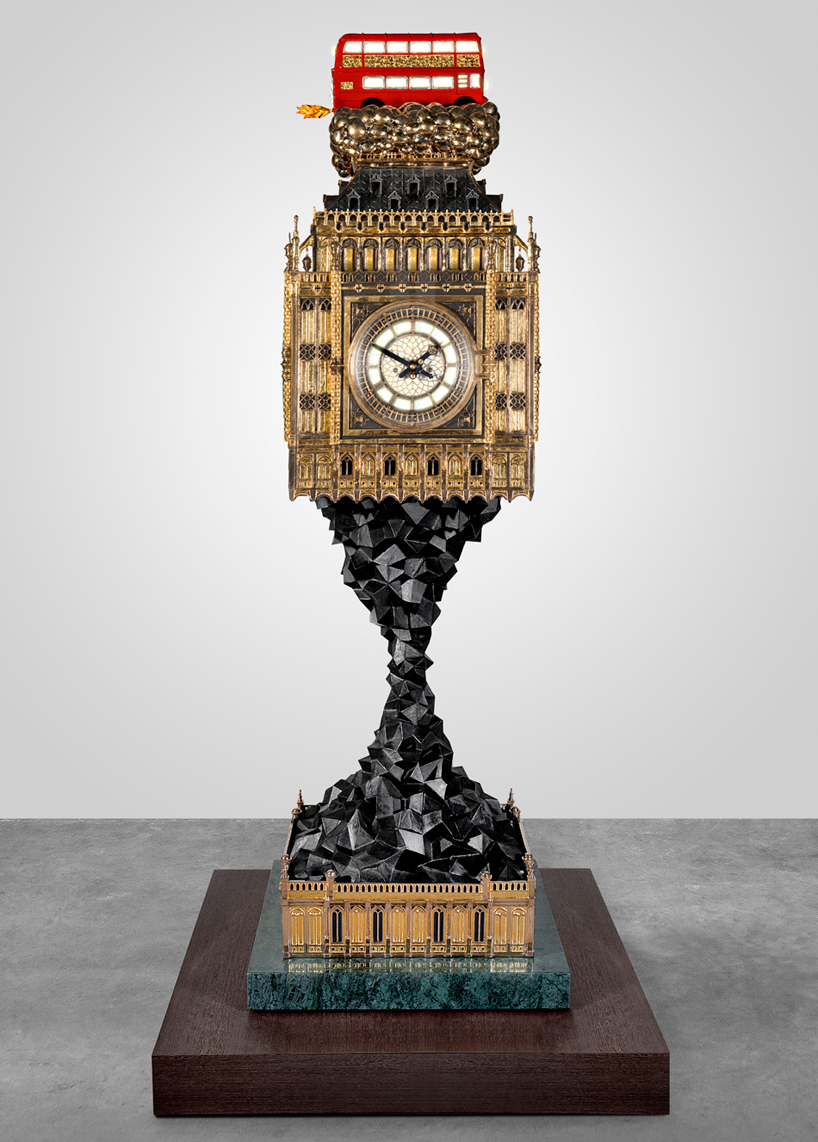 big ben (aftermath), studio job 2009 – 2014
polished and patined bronze, aluminium, brass, 24K gilding, silver plate, hand paintings, hand blown glass, Westminister clock works and gong,
LED fittings, steel construction, polished verde guatemala marble, prototype + 5 + 2 AP, W80 x D80 x ca. H240 cm, carpenters workshop gallery, london-paris
the fantasy world of studio job finds its inspiration in london with big ben aftermath. the sculpture, topped with a replica of an typical english bus, has its own mechanical timepiece.
job smeets on studio job's 'landmark' exhibition at design miami/ 2014:
'it is not a rule of law, but I do believe that buildings tell a lot about their inhabitants. humans as creating beings….
'landmark' in miami is not a closed-end collection, but an installation of monumental sculptures developed between the period of 2009-2014. the selection was made in collaboration with loic le gaillard and julien lombrail, the founders of carpenters workshop gallery in paris and london.
architecture is what connects the exhibition. cast in bronze, monumental interpretations of world famous buildings. but these icons are positioned anew, and find themselves in a vulnerable position, blown up or reduced to a simple lamp.
what also connects the sculptures is the ultimate effort for the ultimate work. they are renaissance pieces for the contemporary applied arts.'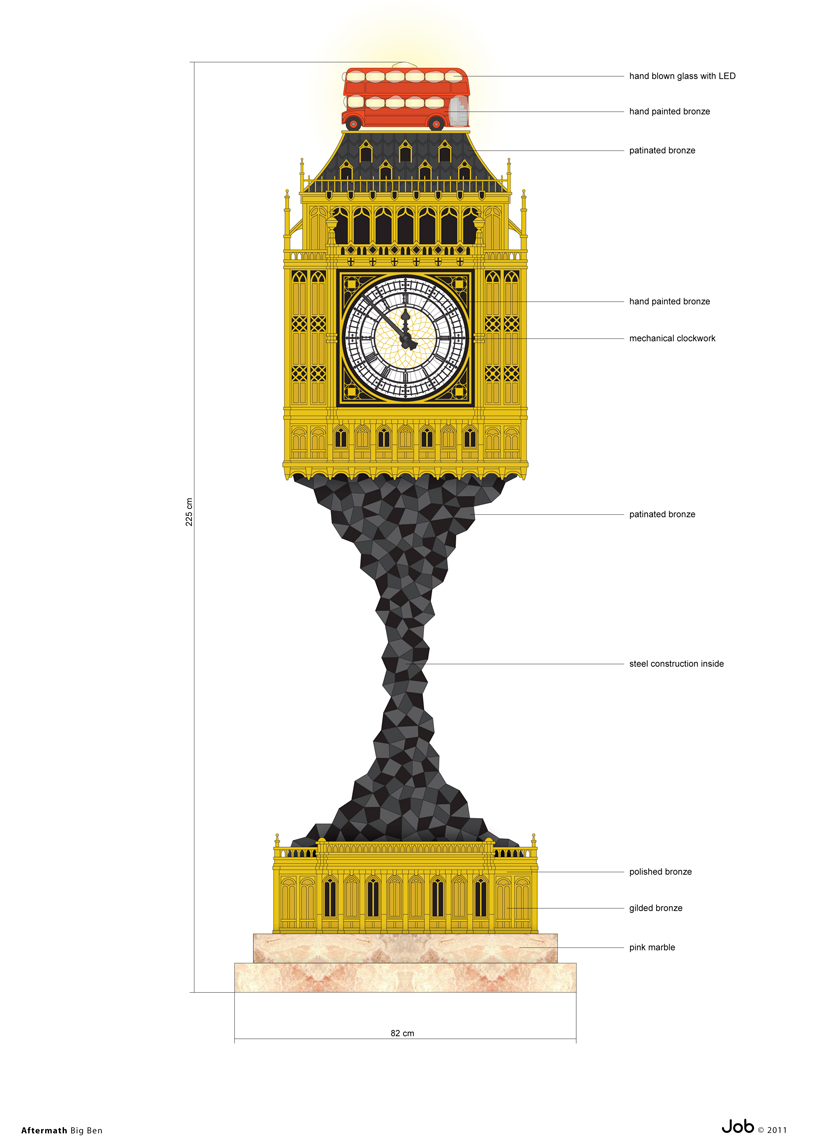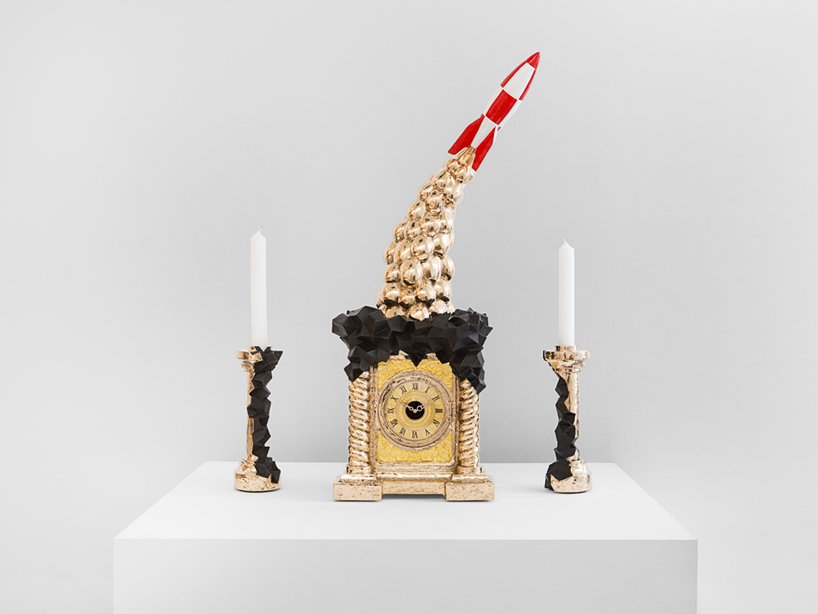 time bomb (mantel clock piece with 2 candle holders), studio job 2013
polished, gilded, patinate bronze, hand painted aluminium, mechanical clock work, candles
ca. H107 x w70 x D26 cm, prototype + 5 + 3 AP, carpenters workshop gallery, london-paris
clock: ca. W50 x H107 x D26 cm
rock sconce: ca. W12 x H35 x D13 cm (each piece without candle)
plinth: ca. H100 x W100 x D45 cm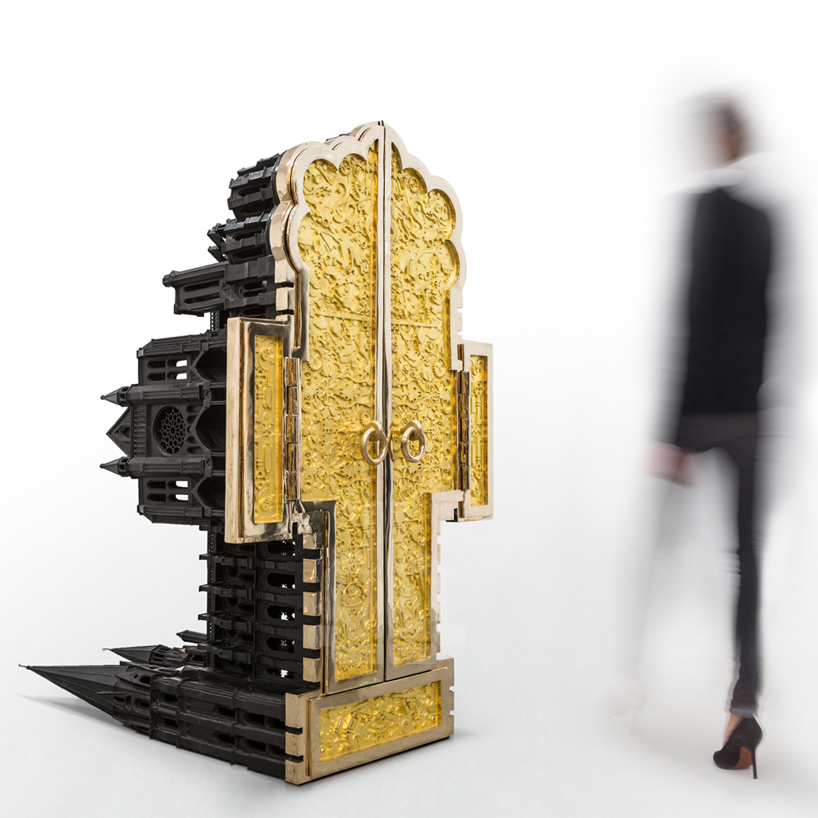 'chartres', studio job 2009-2012
polished and patinated bronze, 24K gold leaf, H170 x L155 x W102 cm / H66.9 x L61 x W40.2 inches
limited edition of 5+2 AP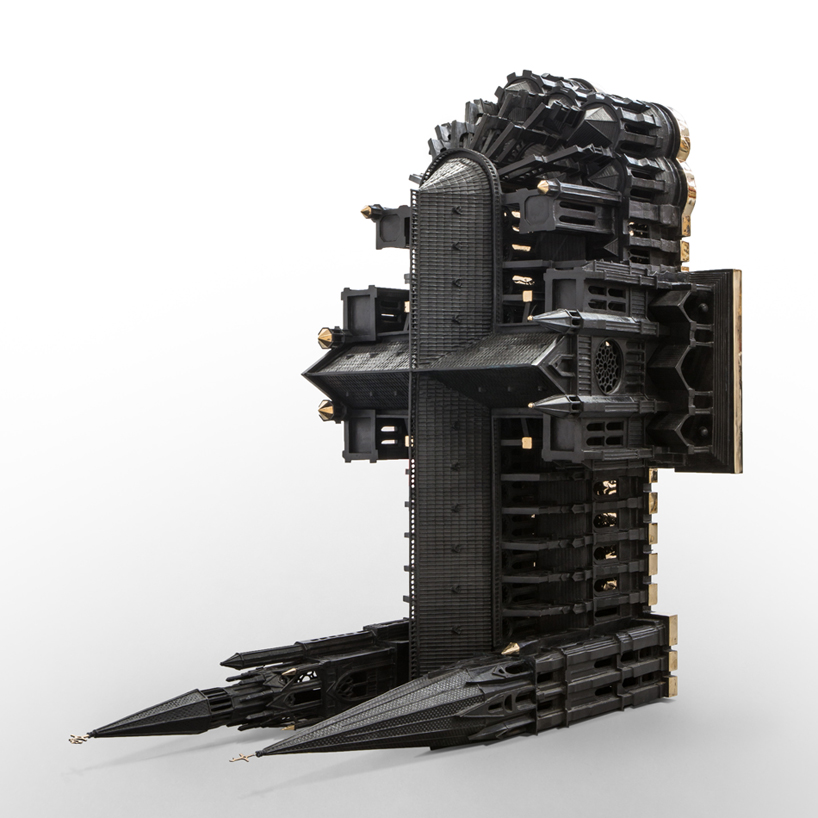 'chartres', studio job 2009-2012
polished and patinated bronze, 24K gold leaf, H170 x L155 x W102 cm / H66.9 x L61 x W40.2 inches
limited edition of 5+2 AP
most notable is 'chartres', a mammoth cabinet which takes on the architectural form and detailing of the famous cathedral after which it is named. a visit to france is not complete without stopping off in paris to view the 'eiffel tower' lamp — a sculptural object made from hand-patinated bronze which seems to bend in half. you will then be transported to the UK to take in the 'big ben aftermath' — a functional model that incorporates mechanical clockwork. the journey crosses over to india, where the iconic taj mahal has been overturned and envisioned as a table.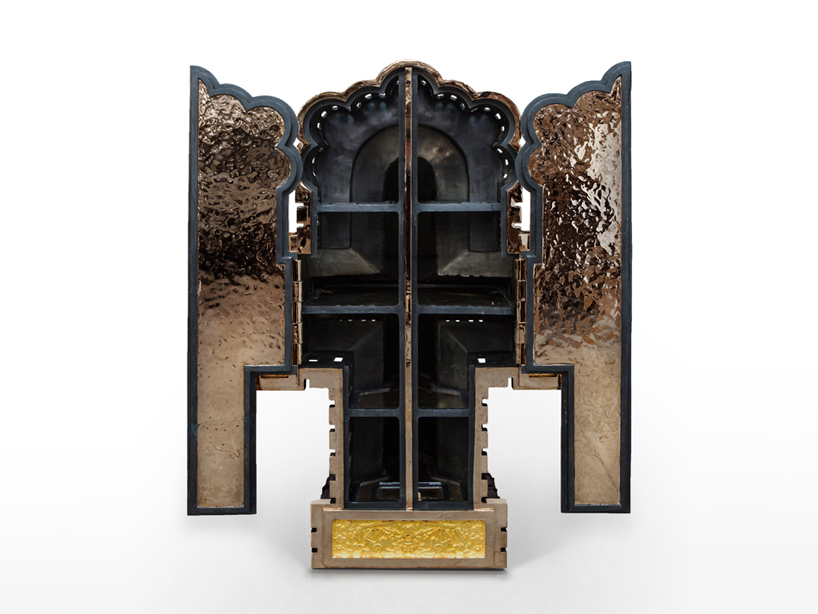 the doors of 'chartres' open to reveal the equally sculpted interior

'chartres cabinet' in its gilded glory

collectively, studio job's landmarks were born in the 'aftermath' of the crisis of 2008 — the resulting body of work being dubbed with this term. job smeets drafted hundreds of sketches which were all dark in subject, and together with nynke, they came to fruition in the form of a family of destructive and dark objects: '… drawings that speak of personal loss and universal destruction. the end of the world and its appalling humanity. impending doom and the transience of life's greatest treasures: love, trust and hope. they are tragic sketches about crumbling cultures, failing systems, murderous extremes and deadly storms.
pride and fall, blind ambition, mass hysteria and all the other things that make us throw ourselves and all we possess into a fetid cesspit. the so-called lofty civilization where hate reigns and discord is sown. despicable regimes with countless laws, emblems and victims. manipulation through religion and propaganda. our truth is a dictatorial cycle that since time immemorial has made us fall and get up again, build up and demolish what we have built. (…)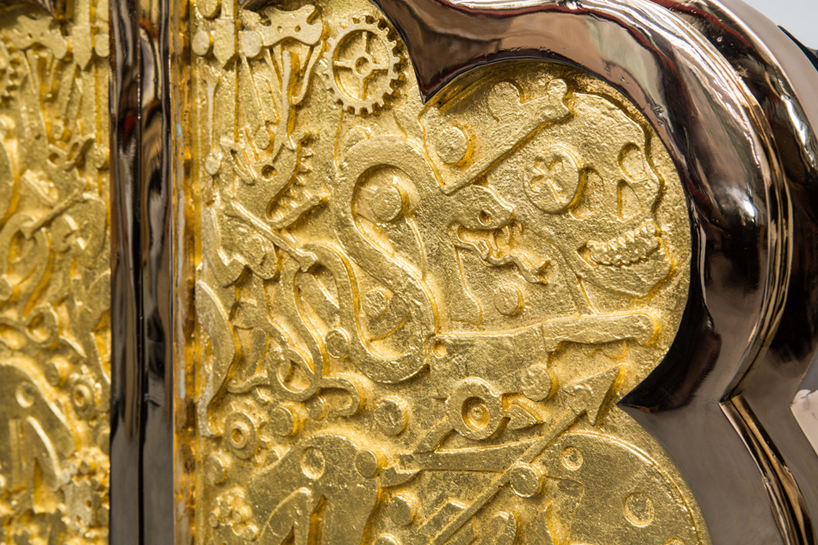 detail of the patinated bronze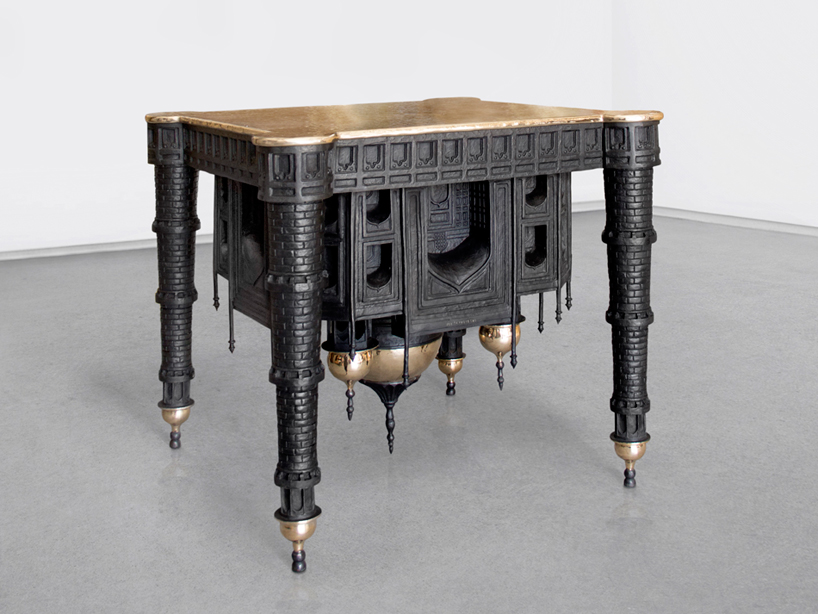 taj mahal II, studio job 2014
polished and patinated bronze, L90 x H 75 x W90 cm
prototype + 8 + 3 AP, carpenters workshop gallery, london-paris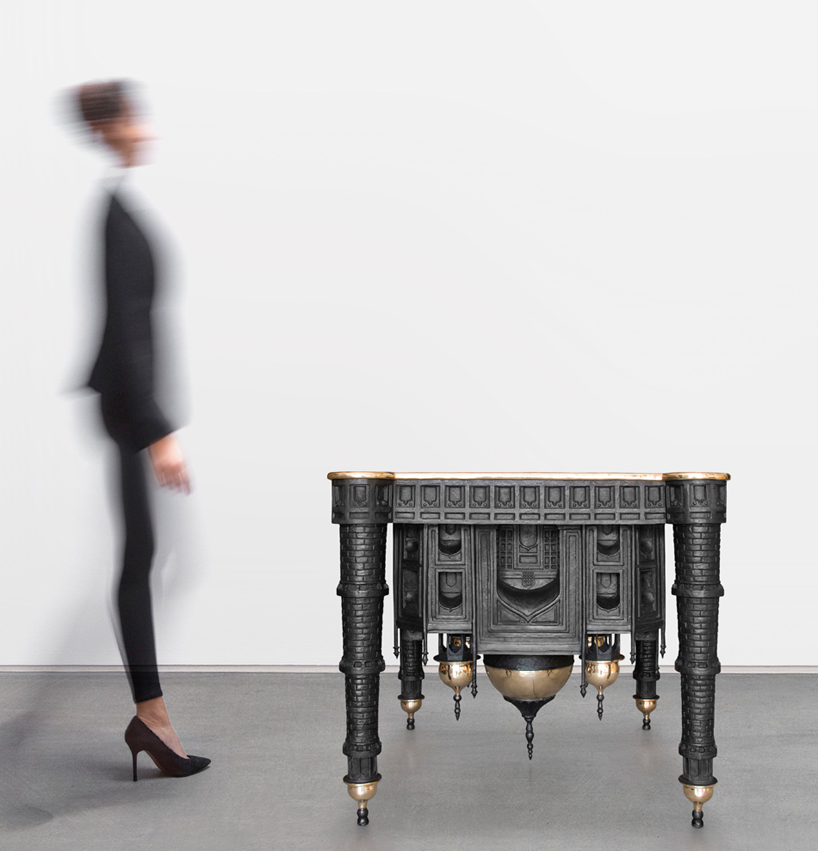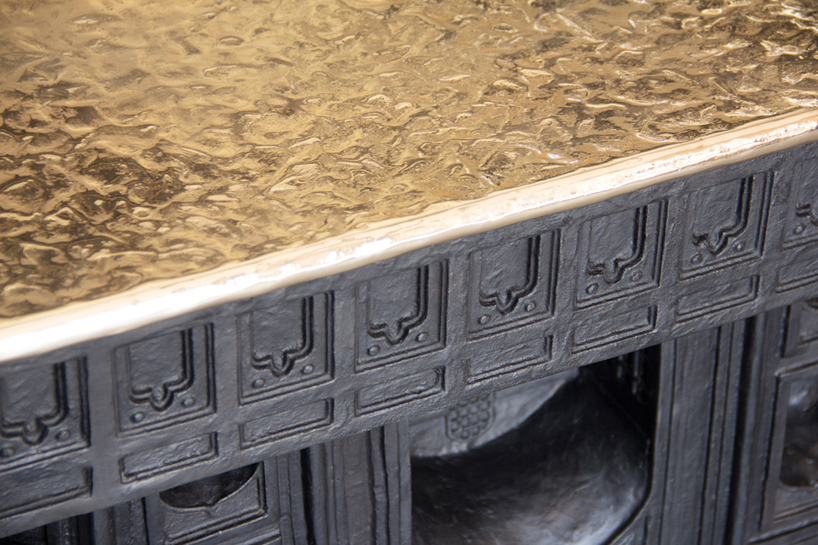 the textured 'taj mahal II' table top surface
these bizarre images are the blueprints for a new and perhaps final series of images produced by studio job. a life's work that you could see as a dramatic sequel to the 2007 'robber baron'.
'aftermath' will soon force studio job's workshops to push out their sculptural and productive frontiers. these 'final projects' will test people's patience and set out a new course, they may smoulder forever in purgatory or, with a little bit of luck, be preserved for posterity. whatever the outcome, these will always remain devilish works, whose ecstatic content rivals that of voodoo treasures from ancient temples and whose expression is akin to the showpieces of a culture that was already doomed at birth. aftermath – trophies from the epilogue of a glorious and tragic empire – tolls the final bell for us all.' – job smeets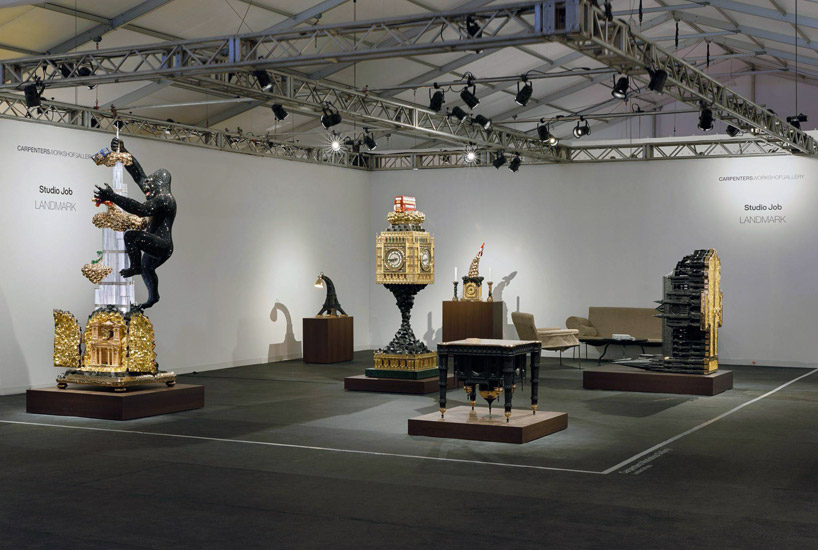 a view into the design miami/ show
a diverse digital database that acts as a valuable guide in gaining insight and information about a product directly from the manufacturer, and serves as a rich reference point in developing a project or scheme.
designboom will always be there for you
milan, new york, beijing, tokyo

,
since 1999