may 04, 2016
chris wolston forms funky foam and sand-cast aluminum furniture
chris wolston forms funky foam and sand-cast aluminum furniture
image courtesy of sight unseen
during new york design week 2016, sight unseen spotlights new work by five american studios on the rise. as part of the exhibition hosted at collective design fair, chris wolston presents a series of furniture and functional objects that expand upon the practice of sand-casting to create tables, chairs, vessels and lights. working between studios in brooklyn and medellín, wolston studied both the technical and traditional processes of aluminum casting, eventually experimenting with atypical mediums that would alter the ordinary outcome.
making of chris wolston's sand-cast aluminum furniture in medellín, colombia
video by david sierra // orgasmo visual
wolston added various types of foam material to sand and observed how they transformed when combined with molten aluminum. when the metal hits the foam, the heat melts the soft material, leaving an impression of the original filling's texture. skewers of styrofoam squares became the legs of a table, and bundles of tiny foam beads form textured surfaces on chairs and bowls. larger pieces, like the table, have been made by the interlocking of organically-shaped surfaces cast in sand. in their finality, wolston combined some of the smaller tables with like foamed aluminum sheeting as legs — an architectural material ordinarily used for sound-proofing.

a small, cast aluminum chair is formed by molten metal
image © designboom
in partnership with designtex, wolston realized a custom wallpaper that forms the backdrop of the presentation. glass scraps have been magnified to produce a colorful configuration that resembles candies, or gems. 'I had originally collected the glass pieces to use in a sand-cast glass series and I liked the material relationship that was happening,' wolston says. 'I began thinking about the glass pieces' absolution and reflection of light as a story or a treasure map to a far-off world, so I took the pieces with me to the studio in medellín to photograph in the colombian sun.'

the texture on the surface of the chair is created with small styrofoam beads 
image © designboom
'the inspiration for my work often comes from visiting factories and seeing how things are made,' wolston tells sight unseen. 'the aluminum foundry in medellin is set up in an old car garage between a brightly painted pink house and a popsicle shop. everything in the shop is done by hand except for polishing, which is made easier by a grinding wheel at the front. inside, the foundry floors are piled high with mounds of black casting sand. the furnace in the back casts a glow that's reflected by the piles of chopped aluminum engine-blocks and old cooking pots from the recycling yard. the old pots are waiting to be recast into lemon juicers and wok-shaped pans used for processing sugar.'

the table features one cast aluminum leg made with styrofoam squares and two aluminum foam panels 
image courtesy of chris wolston
'dario's family has run the foundry for two generations, and his sons have helped me set up a series of sand molds in the middle of the floor,' wolston continues. 'from here, the physical work begins, but it's not only about sand-cast aluminum or responding to design trends, it's about the environment and the experience — exploring new frontiers. I like understanding material relationships, and seeing how people connect with the things around them, knowingly or not.'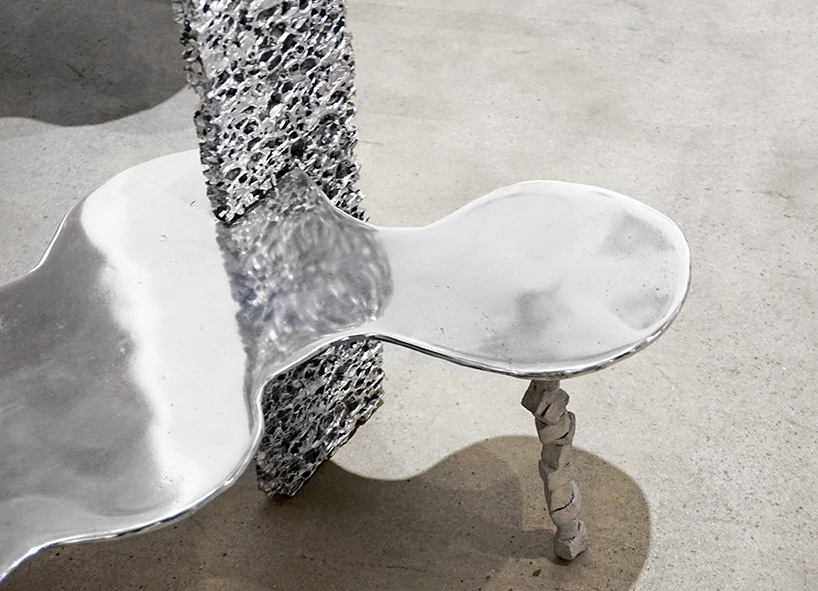 the table's legs use aluminum foam for support — an ordinarily architectural material
image © designboom

a fluidly-shaped table top meets three rectangular legs 
image courtesy of chris wolston

the cast aluminum coffee table on display at collective design fair 
image © designboom

two molten metal materials meet 
image courtesy of chris wolston

organically shaped table tops sit on legs made using metal and styrofoam 
image © designboom

the legs of the table have been originally formed from skewers of square styroam pieces 
image courtesy of chris wolston

the table top is an amalgamation of fluidly-shaped metal pieces put together like a puzzle 
image © designboom

detail of the aluminum legs, cast from styrofoam chunks 
image courtesy of chris wolston

small chair, standing light and stool  
image courtesy of chris wolston

a series of standing lights at various heights form part of the collection 
image © designboom

cast aluminum vessel with legs 
image © designboom

the fruit bowl features a surface of small rounded aluminum orbs
image © designboom

tiny styrofoam beads have been cast to create a tactile exterior surface 
image courtesy of chris wolston

the cast aluminum collection presented at collective design 
image © designboom

portrait of chris wolston
image © designboom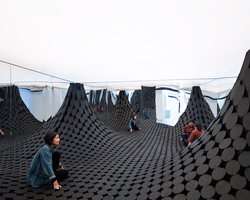 jun 03, 2016
jun 03, 2016
may 29, 2016
may 29, 2016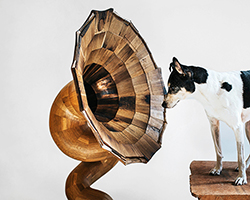 may 27, 2016
may 27, 2016