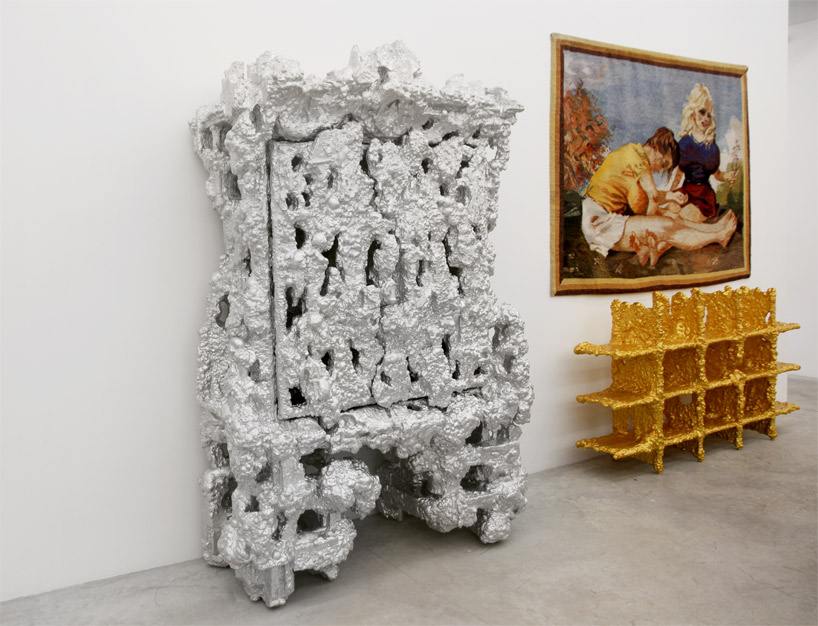 oct 10, 2014
christopher schanck furnishes almine rech gallery with ALUfoil suite
christopher schanck furnishes almine rech gallery with ALUfoil suite
image © designboom
'dans un intérieur' explores the often obscured boundary between what is art, and what is a functional object, bringing forth the notion that perhaps it has become something porous and undefined. the exhibition, presented by almine rech gallery, explores the work of contemporary creatives, including: john armleder, mark barrow & sarah parke, matthias bitzer, john currin, ayan farah, frank gehry, mark hagen, max lamb, peter peri, christopher schanck, francesco vezzoli, brent wadden, franz west and japanese boros; who have all questioned just that through their practices — asking the viewer when a sculpture can be considered a piece of furniture, or perhaps a painting or print used as a curtain or carpet.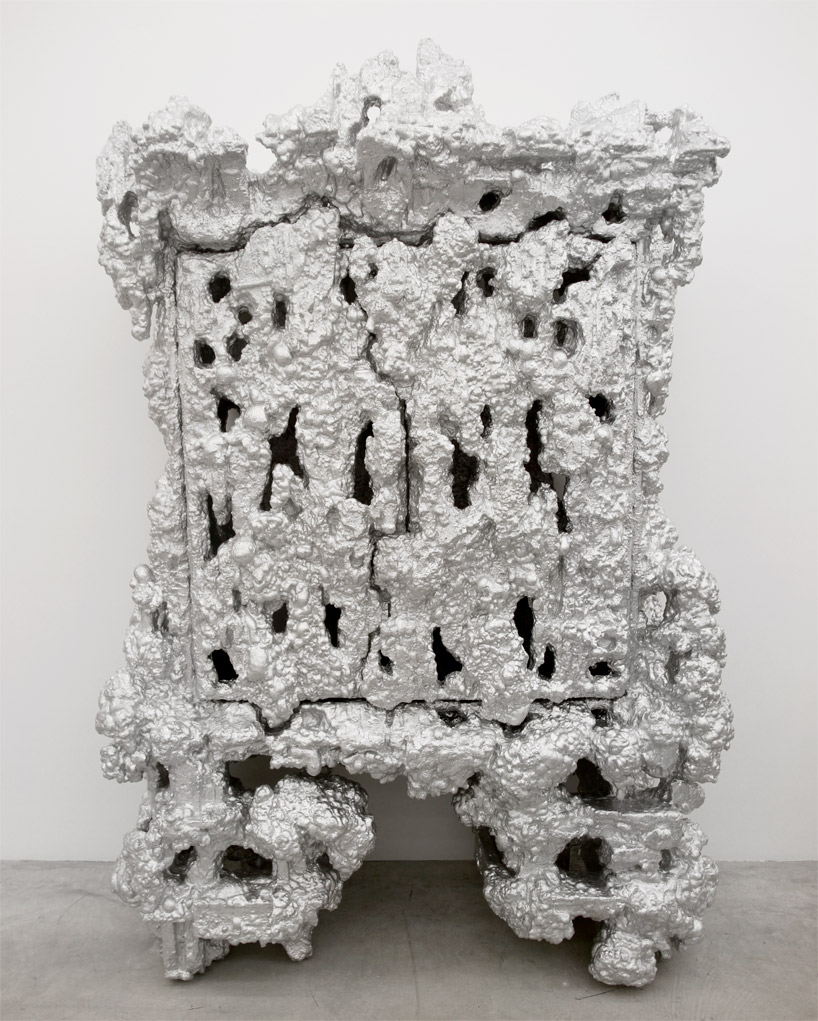 christopher schanck
ALUfoil cabinet, 2014
resin, aluminium, polysterene, 203,2 x 109,2 x 38,1 cm
image © designboom
throughout the twentieth century, this uncertainty of closeness and distance between fine art and the decorative arts has been debated. more and more, this barrier between what is categorized as art, and what is considered as a minor art is fading;  thus the pieces curated for 'dans un intérieur' offer no distinct answer as to what we should consider them, whereby functionality seems to be overshadowed by form. this is particularly expressed through the materials that are being employed by artists, in which mediums which have typically been associated with the production of domestic objects or craftwork such as ceramic, glass, textile, wool and recycled materials have come to define contemporary art culture.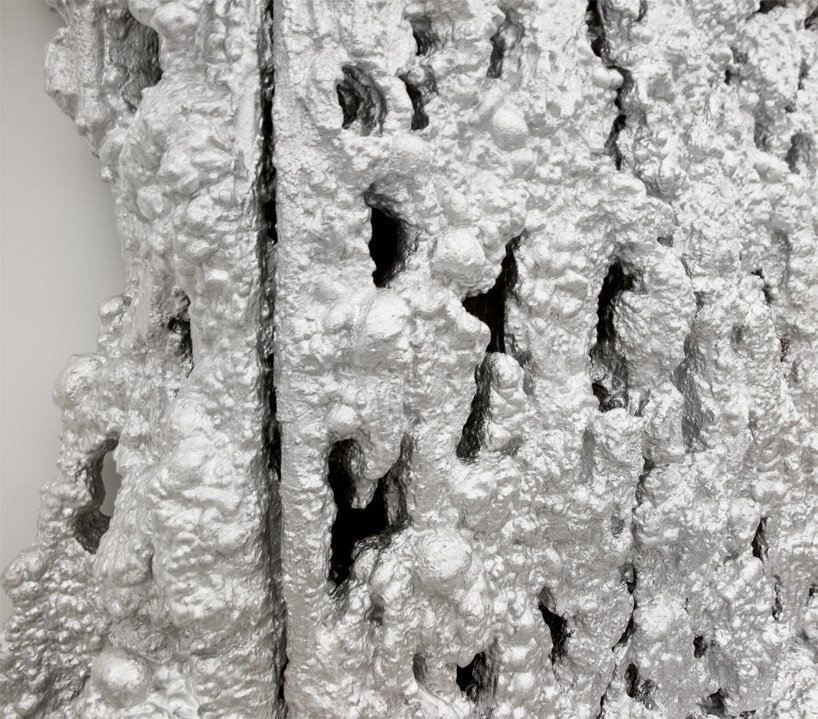 detail of the 'ALUfoil' cabinet
image © designboom
christopher schanck's 'ALUfoil' series does just that. 'furnishing' almine rech gallery, the suite offers a cabinet, shelves, a table and chairs — pieces one would normally consider for furnishing the domestic space — distorting them as sculptural works that while being peculiar, still projecting their proposed functions. though industrial in appearance partly due to the fact that each object is made from truly commercial materials (aluminium, resin, polystyrene), the collection has actually taken a painstaking amount of time to create, and involves no machines for production. the dichotomy between materiality and the actuality of the collection's existence disputes the manufacturing of aesthetics brought forth by schanck, with the 'ALUfoil' works actually being completed by hand, rather than the assumed machine.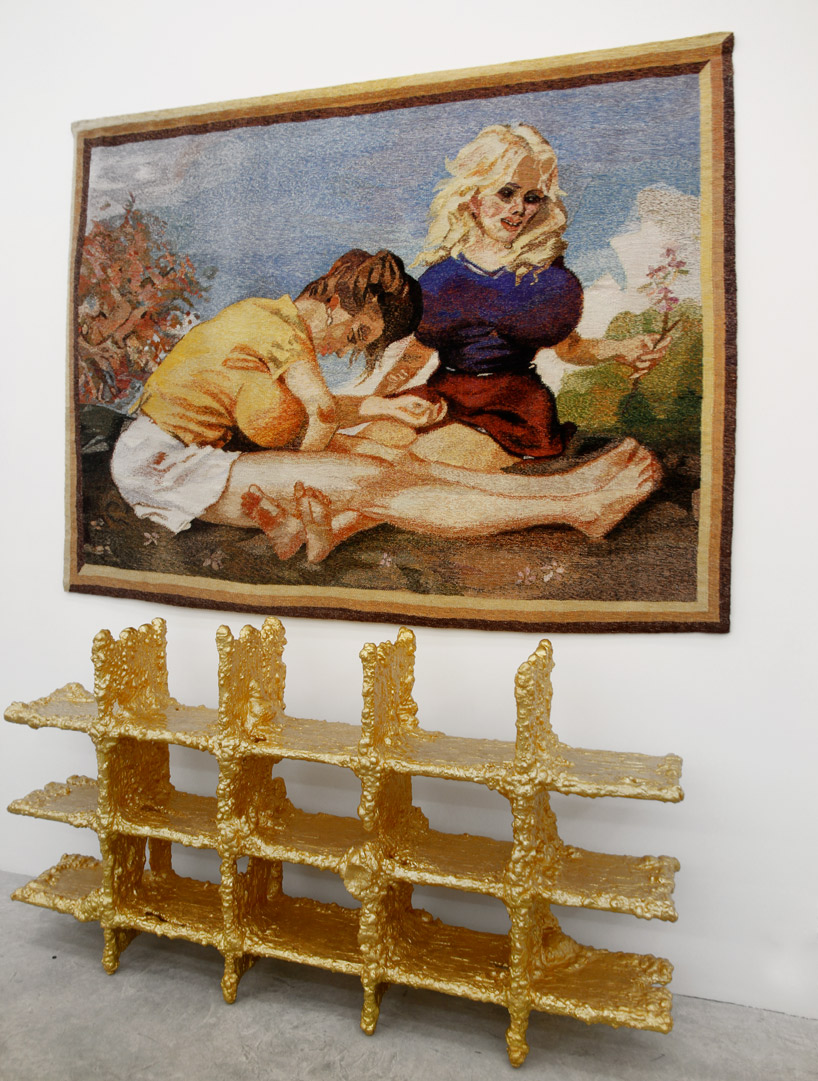 christopher schanck
ALUfoil shelf, 2014
resin, aluminium, polystyrene
109,2 x 203,2 x 38,1 cm
(above) john currin, tapestry (dogwood), 2010, hand woven, hand dyed wool, 165 x 225 cm (65 x 88 5/8 in.), edition 4/5 + 2 AP
image © designboom
while schanck's practice is just one example of creatives harnessing pre-existing functional forms, and reinterpreting them into 'works of art', it is evident that the assemblage of artifacts in 'dans un intérieur' submits some confusion over their classification.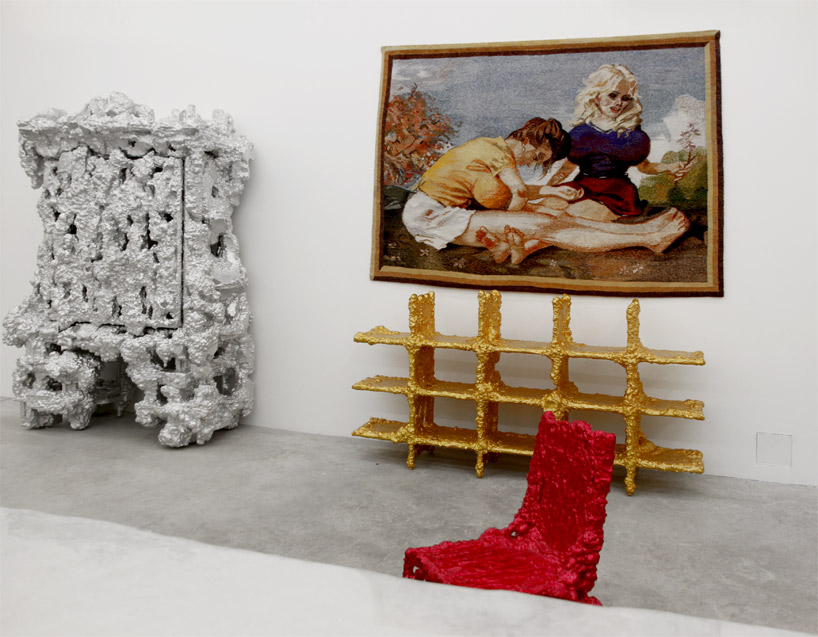 general installation view of the 'ALUfoil' suite
image © designboom
'in its diversity, the exhibition offers a contemporary outlook on creation in the broadest sense of the term. it also plays freely with the idea of a domestic installation that has more to do with the apartment of an amateur than the white cut that is the gallery.' – françoise-claire prodhon, curator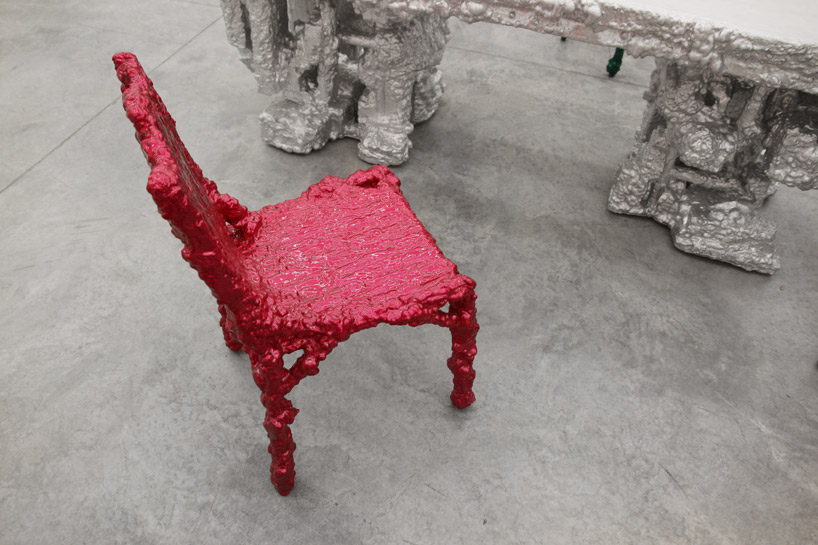 christopher schanck
ALUfoil chair (fuschia), 2014
resin, aluminium, polysterene
86,4 x 55,9 x 45,7 cm
image © designboom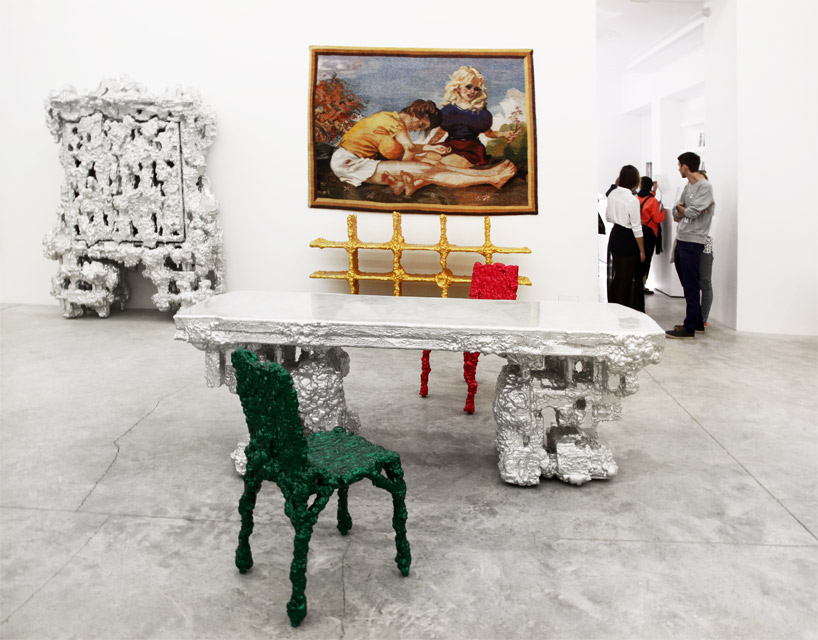 'ALUfoil' suite including cabinet, shelf, chairs and desk within almine rech gallery
image © designboom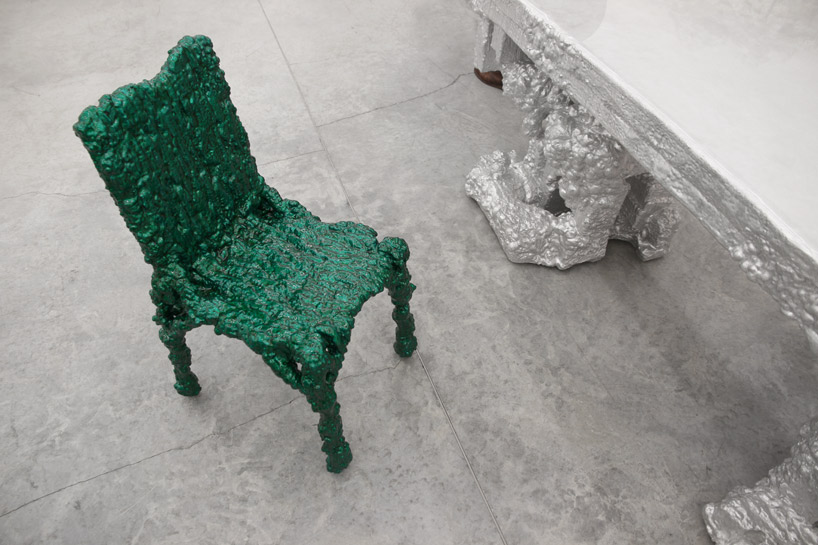 christopher schanck
ALUfoil chair (green), 2014
resin, aluminium, polysterene
86,4 x 55,9 x 45,7 cm
image © designboom