may 24, 2016
claesson koivisto rune reflects japanese gardens in bonsai seating collection for arflex
claesson koivisto rune reflects japanese gardens in bonsai seating collection for arflex
all images courtesy of claesson koivisto rune
drawn from japanese aesthetics and culture, claesson koivisto rune has realized the 'bonsai' seating collection for arflex whose minimal, curvaceous shapes are reminiscent of bushes and shrubs. presented at salone del mobile during milan design week 2016, the series of upholstered lounge chairs, ottomans and couches are characterized by soft forms that echo natural geometries found in gardens across japan, where botanicals are cultivated and trimmed in order to create organic, cloud-like shapes.

the collection draws influence from japanese aesthetics and culture
in stark contrast to these undulating silhouettes, rectilinear wooden platforms supported on low, wooden legs elevate these rounded, upholstered forms above the floor plane. akin to 'tokonoma' — the practice of placing selected, cherished items, such as a bonsai trees, upon a horizontal surface in order to create an interior feature — these wooden platforms create a smaller, more dedicated frame within a larger interior context. within this frame, other elements such as an integrated lamp with a flowing fabric shade and a recessed stone plate for arranging potted plants on, or simply a stack of books, can be added to the scheme.

minimal, curvaceous shapes are reminiscent of bushes and shrubs

the upholstered lounge chairs, ottomans and couches are characterized by soft forms

rectilinear wooden platforms supported on low, wooden legs elevate the rounded upholstered forms
see designboom's instagram coverage @milan.design.week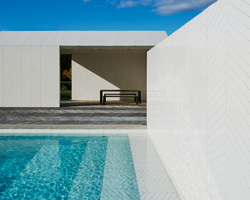 mar 20, 2017
mar 20, 2017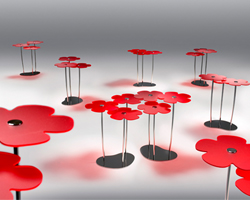 jan 12, 2017
jan 12, 2017
nov 02, 2016
nov 02, 2016
jul 27, 2016
jul 27, 2016
jul 05, 2016
jul 05, 2016
jul 02, 2016
jul 02, 2016
feb 14, 2017
feb 14, 2017
jun 26, 2016
jun 26, 2016
jun 21, 2016
jun 21, 2016