feb 10, 2016
claesson koivisto rune's leather rugs create a sense of space at stockholm design week
claesson koivisto rune's leather rugs create a sense of space at stockholm design week
all images courtesy of claesson koivisto rune
claesson koivisto rune present their new collection of rugs titled 'a sense of space' at stockholm design week, 8-14 february, 2016. the leather rug collection is manufactured by tärnsjö garveri – one of the last original vegetable tanneries – and are all handmade in vegetable-tanned organic leather. the rugs are produced as part of a numbered edition. available in various sizes and colours through flooring and textile brand ogeborg.
all of the rugs are handmade in vegetable-tanned organic leather
the swedish designers state that 'to put leather on the floor seems at first like an odd thing. but when you think of it – it is in many ways the perfect material. natural and durable, it looks good even after years of fierce use. furthermore, it is a responsible use of what is in fact a by-product from the meat and dairy industry.'
each rug is inspired by a particular region that has been viewed from a birds eye perspective. from an airplane window, the american midwest's farmland fields contain perfect lines that follow a straight and narrow direction. the 'midwest' emulates these man-made patterns, with interconnected lines that fit neatly together.
'via appia' takes a similar approach in taking the name of the great roman road that connects rome with southern italy. the road was constructed in solid blocks of stone neatly fitted together. 'via appia' mimics this arrangement by adding and subtracting 'blocks' to the pattern.
'midwest' leather rug
'marfa crossroads' leather rug
'midwest' circular leather rug
the 'via appia' rug is inspired by the road that connects rome to southern italy 
the swedish designers at tärnsjö garveri
each rug is individually handmade
the rugs emulate man made patterns seen from a birds eye perspective
the leather rug collection is manufactured by tärnsjö garveri – one of the last original vegetable tanneries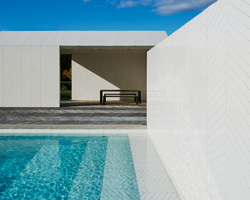 mar 20, 2017
mar 20, 2017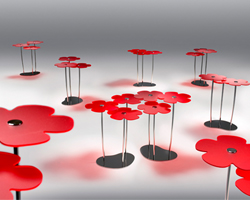 jan 12, 2017
jan 12, 2017
nov 02, 2016
nov 02, 2016
may 20, 2016
may 20, 2016
mar 06, 2016
mar 06, 2016
feb 27, 2016
feb 27, 2016