macquarie group limited, one shelley street, sydney, australia
project by clive wilkinson architects, photo by shannon mcgrath, image courtesy of clive wilkinson architects
HAWORTH-designboom editorial collaboration:
clive wilkinson interview on designing spaces for new ways of working

designboom partners with leading office furniture company HAWORTH on an editorial series that investigates the future of the contemporary office environment and new ways of working. our alliance brings forth insights into the workplace and how it has evolved from something more static, into an active and modular condition.
in this third feature, we interview architect clive wilkinson who has been designing for the workplace for more than 20 years. he shares with designboom how his approach to creating positive work territories evolves from the notion of the 'village' – formulating a community organization within closed walls – and the ways in which he envisions this type of spatial organization have changed since his beginnings in the mid-1990s as a result of technological advancements.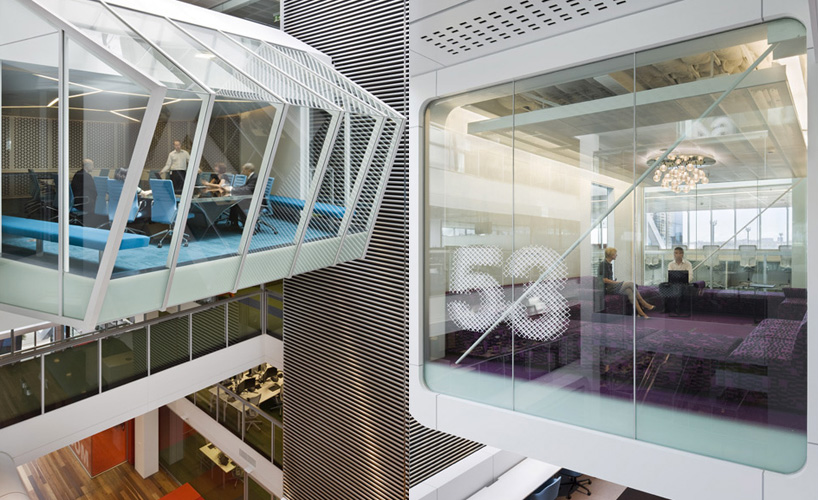 the design for one shelley street was to create an active, transparent workspace
project by clive wilkinson architects, photo by shannon mcgrath, image courtesy of clive wilkinson architects
designboom: how did you choose to become an expert in designing for the workspace?
clive wilkinson: I didn't choose it, it chose me. I became a workspace professional because I was working for frank gehry, and I was given a workspace client, and when I went out to start my own office after that, the only person who would give me more work was that client. I say, life is like a series of forked paths, and you find yourself in a position where you make a choice in one direction or the other, and then, you take that route and suddenly you are very from where you intended to be. I wanted to be a writer when I first came out of school.
DB: so as a writer, how would you imagine the office of the future?
CW: I think as a writer, the office of the future would really be a kind of a conglomeration of the stories, of the people that are part of it; and how those narratives can become enriched through the community and also individually so they become the most of their potential.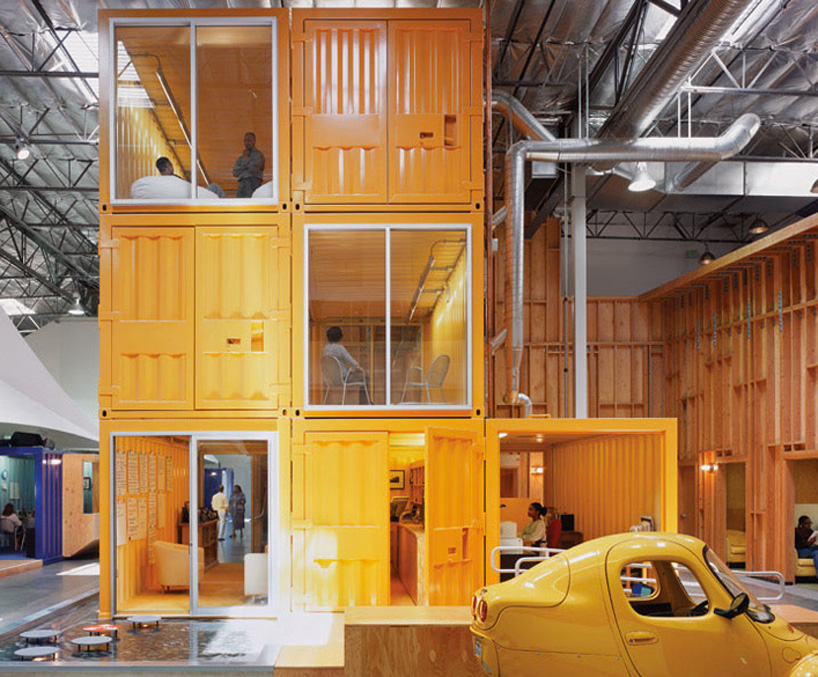 pallotta teamworks headquarters, los angeles
project by clive wilkinson architects, photo by benny chan, fotoworks, image courtesy of clive wilksinon architects
DB: your portfolio includes the office design of many important global brands. what is the most common client request regarding the spatial scheme of the workplace?
CW: the most common client request we get would be 'how do we empower our people to be the best they can be. how do we encourage their creativity. how do we make them more engaged.'. they are always kind of psychological and emotional challenges about engagement, collaboration and knowledge sharing. those are very non-architectural in the conventional sense – styles doesn't come into it. the projects become a question of how people use a workspace, how much a company functions as an organism, as a unified community, and figuring out how can we break down barriers and silos that exist in very typical and very large companies.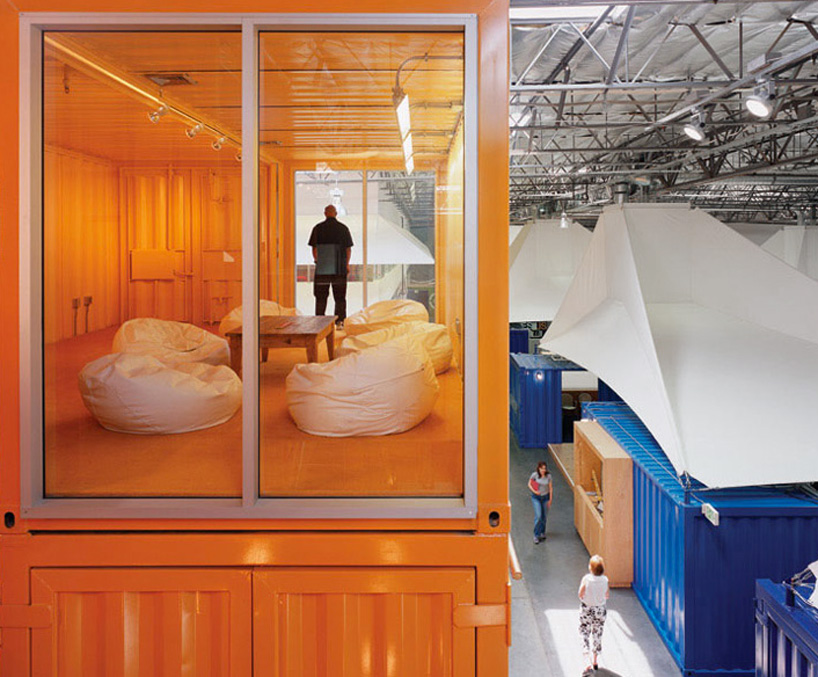 the pallotta team works headquarters is a warehouse conversion
project by clive wilkinson architects, photo by benny chan, fotoworks, image courtesy of clive wilkinson architects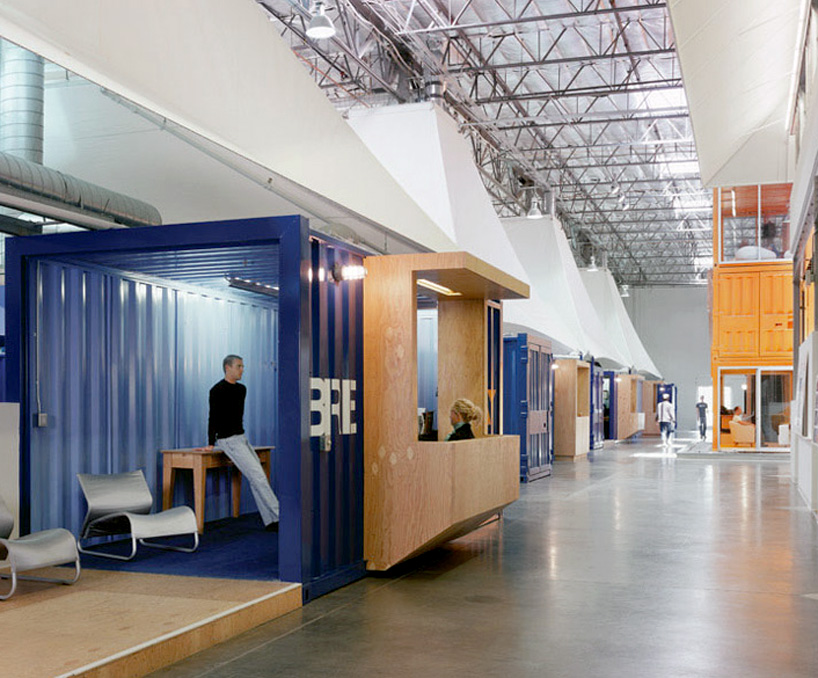 shipping containers have been installed to create individual workspaces
project by clive wilkinson architects, photo by benny chan, fotoworks, image courtesy of clive wilkinson architects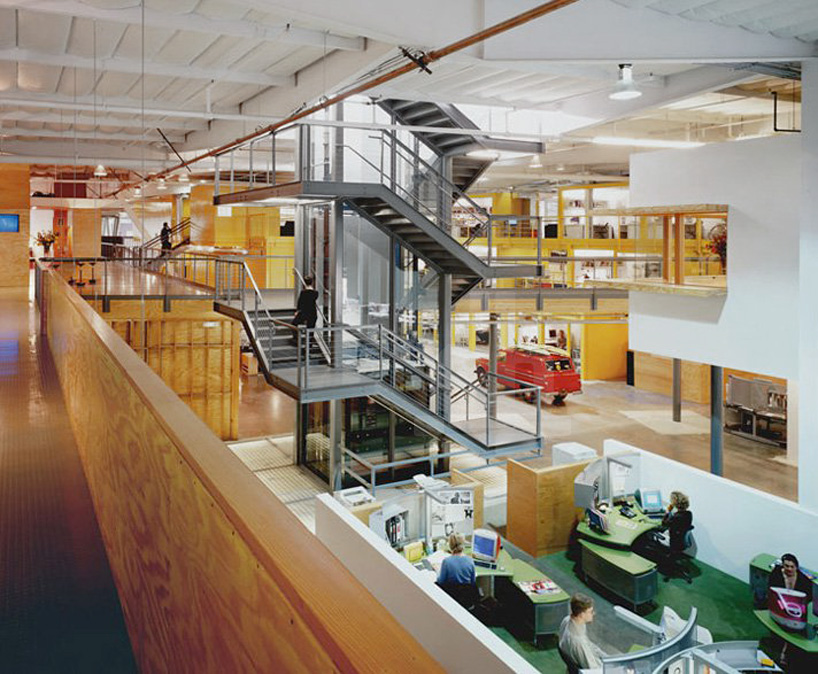 TBWA\CHIAT\DAY headquarters, los angeles
project clive wilkinson architects, photo by benny chan, fotoworks, image courtesy of clive wilkinson architects


clive wilkinson on how his practice has evolved from his early days of designing a workspace, to the present.
video © designboom

DB: how has your approach to designing a communal office space evolved, from your early projects to the present day?

CW: I think we [the firm] began in this business with the best teachers we could have had which was actually an advertising agency client TBWA\CHIAT\DAY in the nineties. they really taught us how people could be incredibly sensitive to spatial conditions and areas where creativity and ideation could be encouraged and nurtured. so we started with really intelligent clients, very ambitious and smart individuals, and we were able to conceive a project that was quite a landmark in the late nineties for open office space which was kind of an 'advertising city' in a large los angeles' warehouse, and that kind of steamrollered a change in our industry; because it was extremely successful and people loved it, and they loved working in it, and curiously enough it had no windows. it was a completely inward looking space and yet it functioned as a small village, had sunlight coming into the middle, as well as a park. it had many of the functions that you would find in a village, and so our approach to designing for these types of spaces just kind of took on this methodology. so, we were more or less educated into that way of thinking by these clients and then kind of took off and we repeated that formula over a number of projects and started to get a feedback loop of what worked, what didn't. the responses that we received from from our clients and the users, we were able to feed into later projects.

in a way, we don't do things in the same way anymore, but our thinking has become deepened and become more sophisticated. we have been able to come up with data to support a lot of the things that we're doing, so it's quite an exciting stage right now. where the workplace is transforming radically, we were kind of fighting a vanguard battle in the late nineties and the early 2000s because a lot of very large corporations couldn't understand the need for this type of change. they've been forced to understand the need for that change because technology has pushed them into a different sphere, so we're now working with technological opportunities today that are really changing fundamentally how people are working and collaborating together. sometimes those solutions can be unbelievably simple. for example, the big desk we just did for barbarian group in new york. very interestingly, it has gone viral in its messaging across the internet in a both positive and negative way. an awful lot of people are saying this is a horrifying way to treat people, and why aren't there any private offices and things like this; and at the same time this kind of criticism no longer has a lot of value to us because we know the users have completely embraced this way of working, and are totally in love with it. so, there's kind of a ground swell of a shift in the way that offices are working, and some of it's driven from the younger generation, and a lot of it is driven of course by technological freedoms.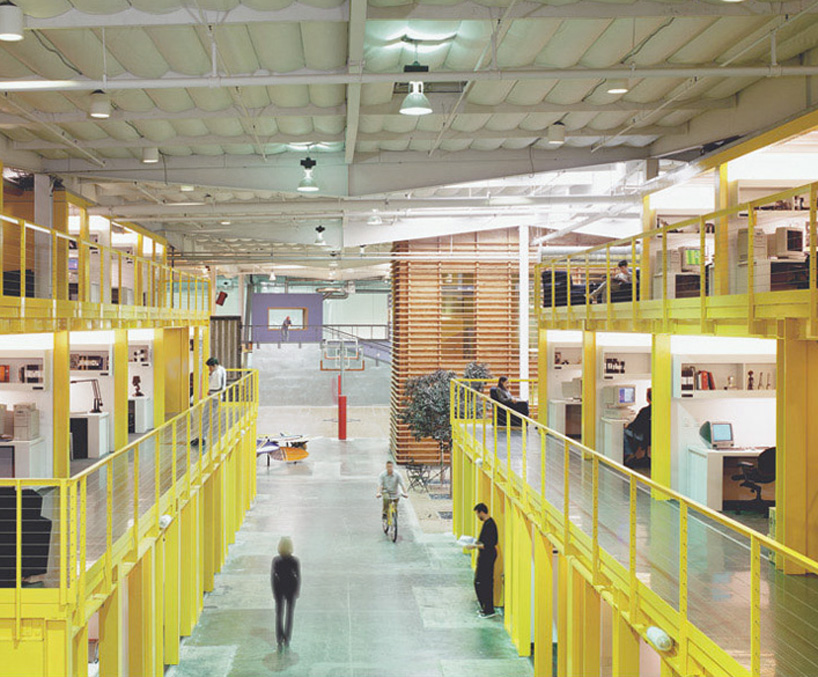 the TBWA\CHIAT\DAY headquarters is a warehouse conversion which sees the building become an 'advertising city'
project by clive wilkinson architects, photo by benny chan, fotoworks, image courtesy of clive wilkinson architects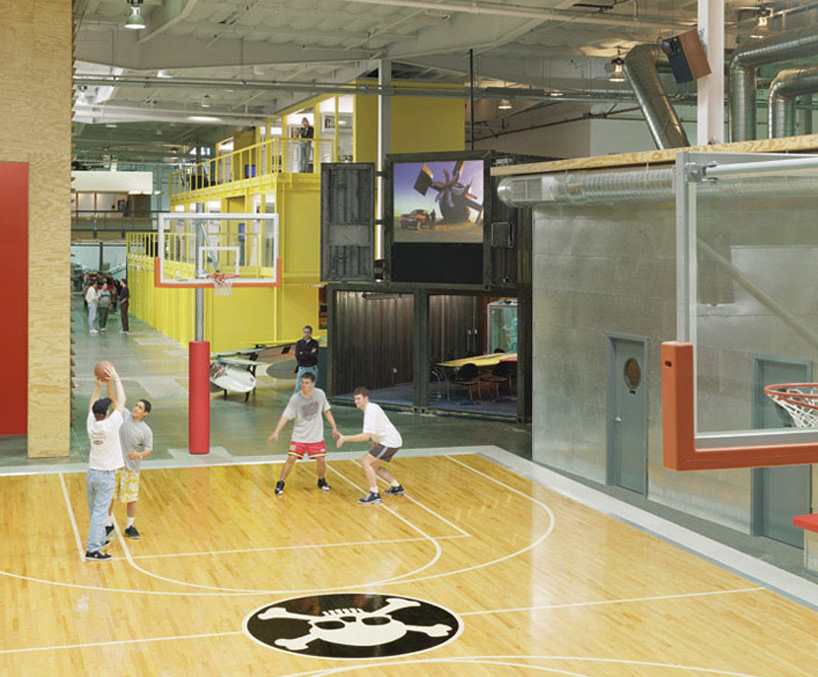 TBWA\CHIAT\DAY headquarters incorporates leisure programs within the office space
project by clive wilkinson architects, photo by benny chan, fotoworks, image courtesy of clive wilkinson architects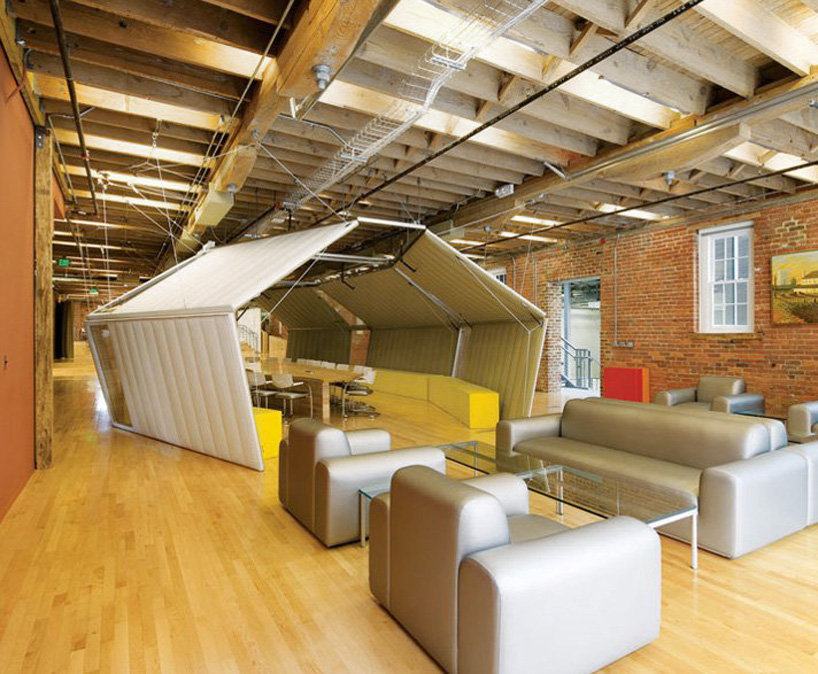 VCU brandcenter, richmond, virginia
project by clive wilkinson architects, photo by allen t. jones, VCU, image courtesy of clive wilkinson architects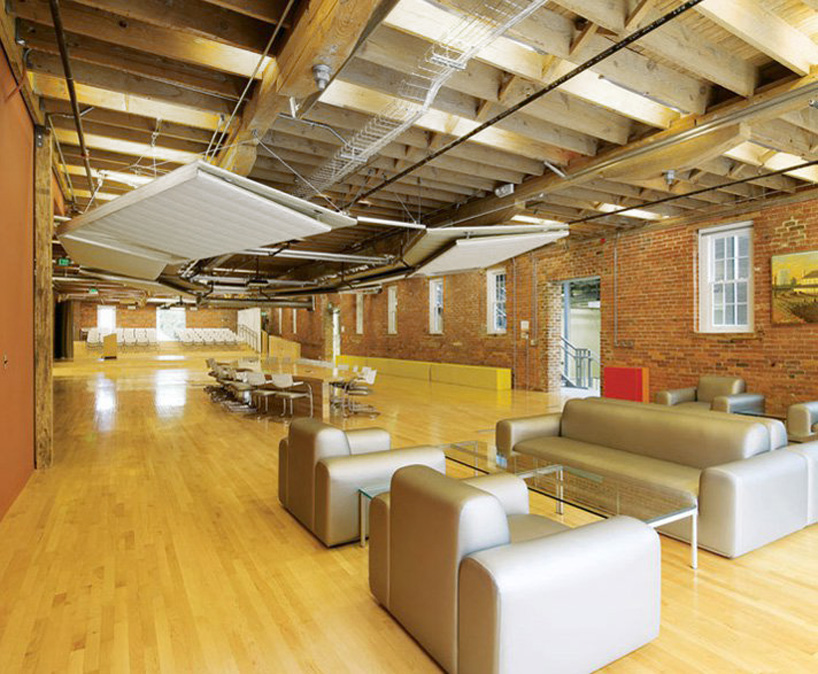 the walls of the meeting room at the VCU brand center can be collapsed and lifted when privacy is not needed
project by clive wilkinson architects, photo by allen t. jones, VCU, image courtesy of clive wilkinson architects


clive wilkinson elaborates on how technology is shifting the design of office furniture
video © designboom

DB: how has technology affected the way you design office spaces to improve employee performance? and with this, how has the role of office furniture changed?

CW: I think there are interesting questions around office furniture today, because the furniture of yesterday was all paper production oriented. file cabinets were part of a desk, there was a layout space for spreading out paper, and there were a whole lot of devices and accessories which were sold in the market as being 'equipment for the right workstation'. today, you don't need any of it anymore, you actually just need a surface to put a laptop on. what you do in terms of filing is all electronic. pretty much everything related to communication happens electronically. we don't actually need paper anymore. and in saying this, I think paper is going to develop a new use and command a new kind of respect. it's not going to be completely thrown out, but it's going to be used more like artists use paper – for printing things out so you can stick them up on the wall, and look at them and share them with people. the desk of the future is kind of an open question mark. we only need flat surfaces. we do still need ergonomic chairs, so there's a response through that aspect of furniture which is fundamental to supporting a body that needs to sit in one place for a long time, but the actual desk I think, is now a thing of the past.

DB: and people still meet in person. it's not that they only meet digitally. meeting rooms are still necessary…

CW: people will always meet because there is a quantity of information that is communicated through the presence of someone which is just phenomenal. it's the smell, it's the air, it's the shared kind of temperature climate, it's the facial expressions, it's the subtlety of what's communicated through the skin and the eyes and the body language, that you will never be able to replicate through any kind of virtual screen language, or anything like that. it will always come short. I think the richness of human communication is something that's going to be amplified in this new world where people choose to collaborate and be with other people, because the work process itself is not forcing it anymore. the work can be done somewhere else, but you need to be with people.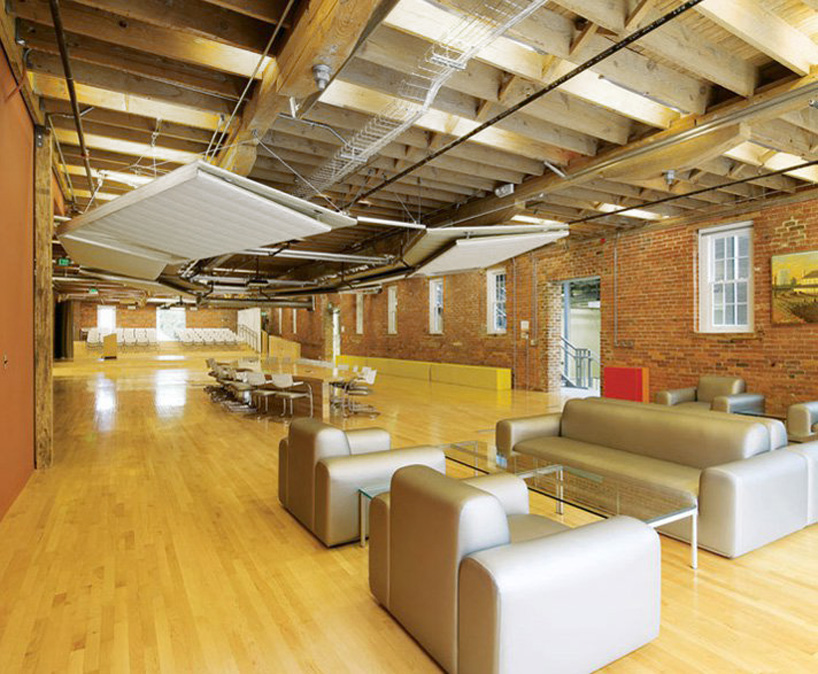 the walls of a meeting room can be retracted to create an open work environment when privacy is not needed
project by clive wilkinson architects, photo by allen t. jones, VCU, creative services, image courtesy of clive wilkinson architects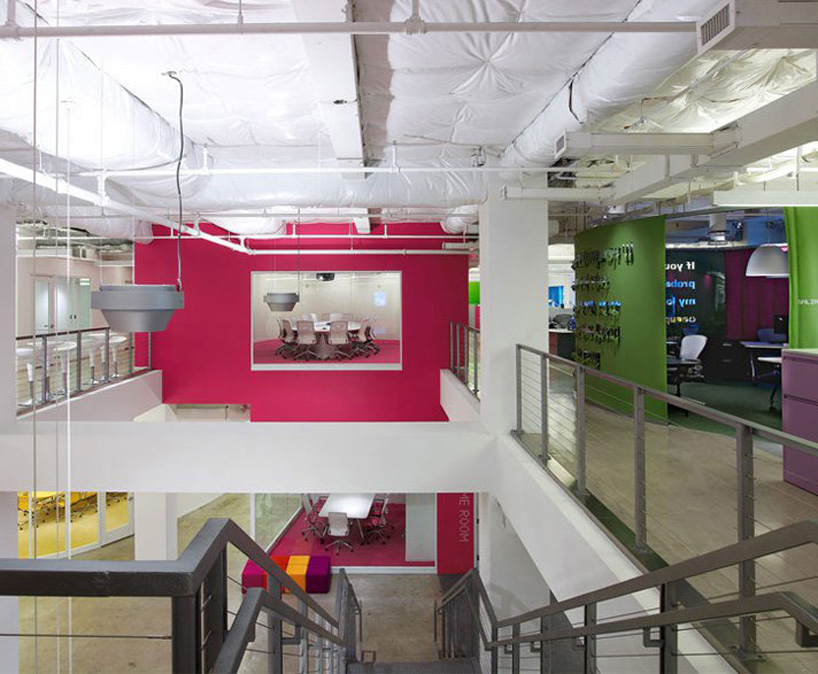 JWT headquarters, new york
project by clive wilkinson architects, photo by erik laignel photography, image courtesy of clive wilkinson architects
DB: there's this idea that when an office is designed to be like a playground, people work less. your spaces are a bit playful. how do you balance the professional and leisure aspects of your concepts so that they encourage a more relaxed environment, while simultaneously promoting a more concentrated, work-driven atmosphere?
CW: in the dot.com era of the late nineties, early 2000s, there was an awful lot of criticism for the installation of play equipment within the offices of young tech companies. honestly, it was a complete mythology. there's a new kind of attitude towards what actually defines your work day, and I think that pretty much all companies today recognize the importance of encouraging people to stay longer in the office. this is a result of globally working across timezones, that's becoming very important.
we have clients who have to go to the office at 7AM in the morning in order to connect with london, but then also need to be in the office at 10PM at night in order to connect with india. as a result, there are longer hours and you need to do something with that time. there are other rudimentary things, like the concept of serious play is fundamental to the ideation process, and advertising agencies have always understood this pretty well. you need people to play. you need amusing and stimulating things in the workplace. you also need things that disrupt thinking in the workplace, because following conventional thought processes never gets you anywhere new. you are going in the same direction that others have gone before, so disruption is a key ingredient in a good workplace.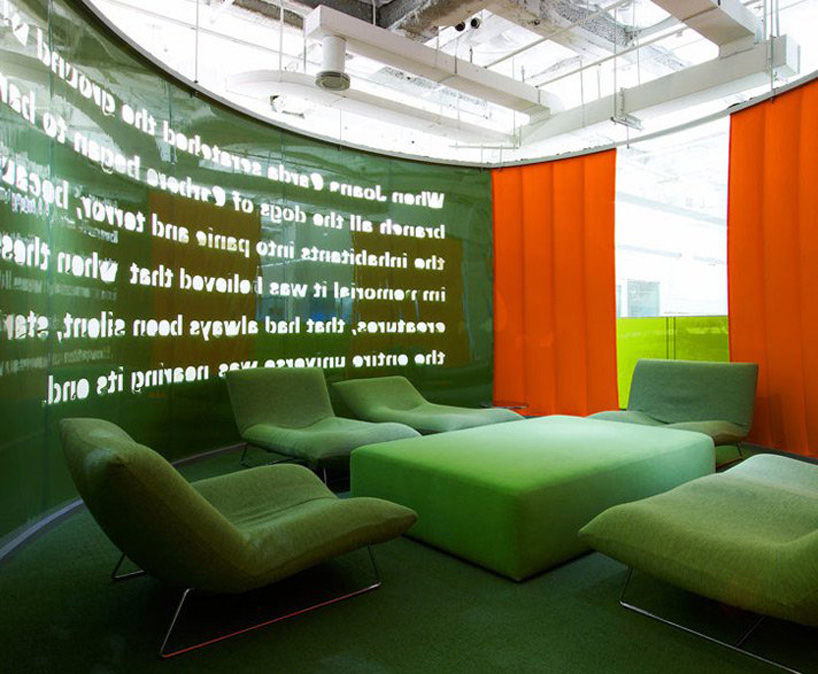 the JWT headquarters is designed as an open, flexible creative environment
project by clive wilkinson architects, photo by erik laignel photography, image courtesy of clive wilkinson architects
DB: you're still creating work spaces based on this idea of the village – a kind of microcosm, an open semi-closed space. could you talk about your latest work and what kind of new themes or reflections you have brought to it?
CW: well we love villages, because we think villages as a concept are what in a way everyone feels most comfortable returning to. it's familiarity and also kind of a newness can be rolled into one creating an environment that has a lexicon of recognizable forms. at the same time it has the capacity to embrace people socially, and service people socially as well from a business point of view. we're fascinated with that. our most interesting current challenge is that we've been invited to participate in a competition to envisions the urban design expansion of BMW in munich, and it's a fascinating project and I think we're the only workplace specialists who have been invited into an urban design competition. so for us to grow an urban design village, a real kind of village from the interior outwards, is a wonderful challenge to be invited into.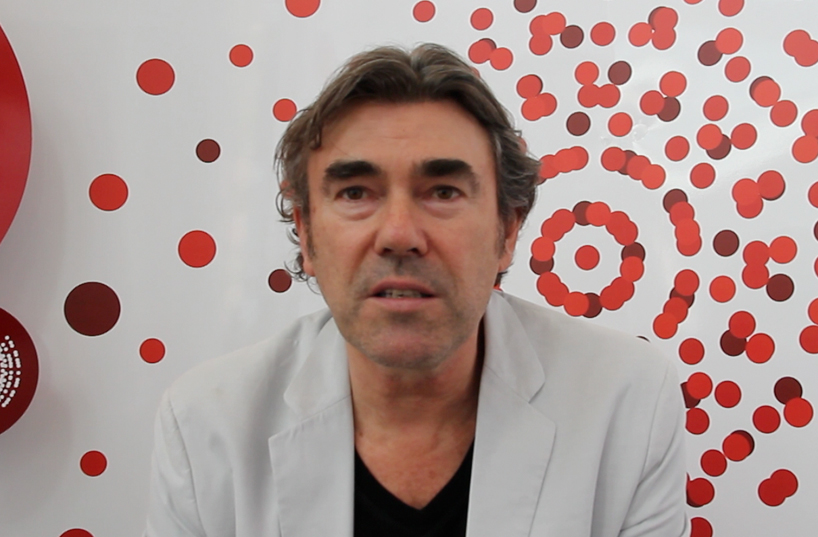 clive wilkinson at design indaba 2014
portrait © designboom
designboom interviewed clive wilkinson at design indaba 2014 in which he participated as a speaker at the conference which focused on how design, creativity and innovation can positively impact the world.
Save
KEEP UP WITH OUR DAILY AND WEEKLY NEWSLETTERS
happening now! antoniolupi extends its expertise beyond the bathroom with the 'living' collection, a series of home furnishings that complement its esteemed collection of bathroom furniture and accessories.
a diverse digital database that acts as a valuable guide in gaining insight and information about a product directly from the manufacturer, and serves as a rich reference point in developing a project or scheme.
designboom will always be there for you
milan, new york, beijing, tokyo

,
since 1999