CMRA is the first camera for apple watch, with two high-definition devices that capture seamless photo and video directly from your wrist. produced by communications platform glide and designed in collaboration with global design firm IDEO, the dual-camera band provides the apple wearable with the same capabilities as a smartphone — a self-facing camera for photos and video chat, and an outward-facing device to document life's spontaneous moments. IDEO's vision for CMRA takes into consideration functionality, aesthetics, manufacturing, and communication — all important considerations in making the device an intuitive and innovative piece of technological history.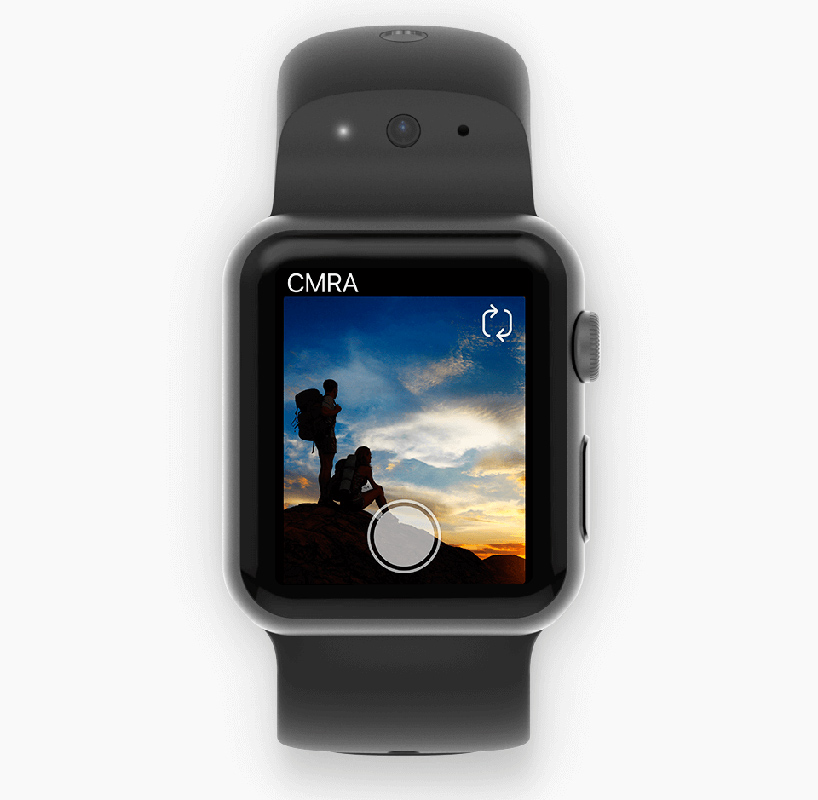 CMRA is the product of a rigorous design and development process. glide approached IDEO to work on CMRA's design, mechanical engineering, and charger, as well as a carefully-considered user experience that links the digital and physical aspects of the product. the team brought this vision to life through a thorough industrial design and engineering process, meeting a broad scope of technical and performance requirements along the way.
to learn more about CMRA, designboom spoke with youenn colin, director of industrial design at IDEO, about the development process, how it works, and the most challenging aspects of the project.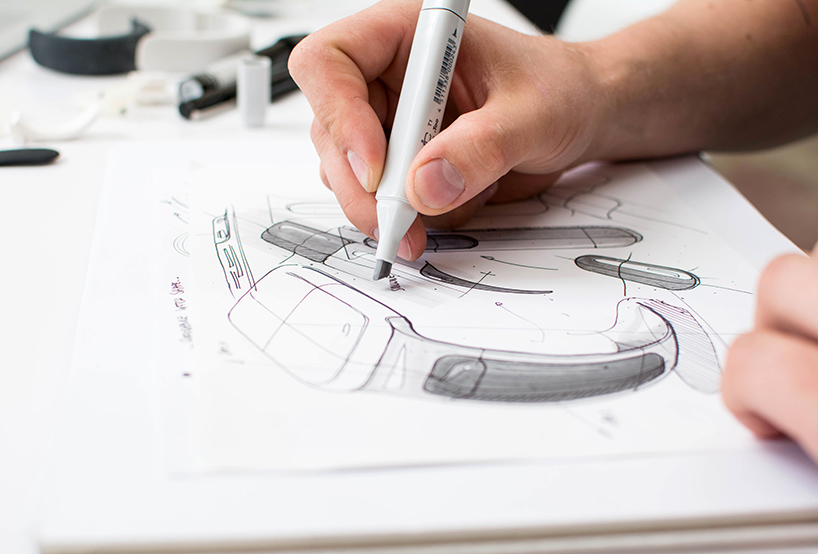 designboom (DB): how did you approach this project? what was the research, experimentation, sketching, prototyping process like?
youenn colin (YC): the glide team approached us with the idea of finding a way for people to capture and share their experiences with others immediately, recognizing that it's not always convenient to take out their phone first. they were envisioning creating a camera accessory for the apple watch — it was our job to design the product in an intuitive way for users, and figure out how to bring it to life.
IDEO serves many different industries, from established international corporations to startups, and we're always seeking new opportunities to deliver meaningful and impactful experiences to the world through human-centered design. we were excited to collaborate with glide on an idea that might help humanize and shape future experiences with technology.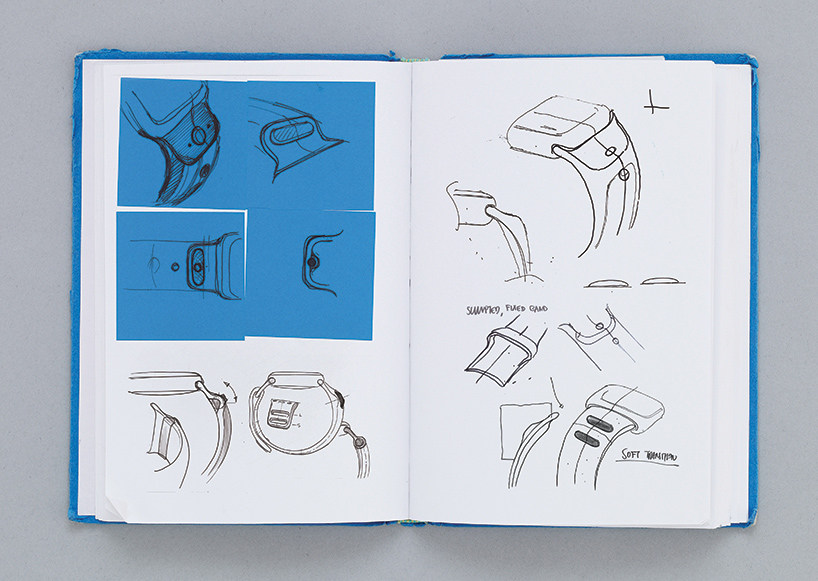 (continued) when it came to generating concepts and ideas for glide, we knew going in that wearable design would require constant scale and fit tests, so we were constantly prototyping, 3D printing, and testing our design hypothesis with users. we created at least a dozen 3D prints every week, many within the same day!
on your wrist there's no room for superfluous bulk or features, so we wanted to be creative and strategic about the way that we assembled the product's components. we formed a team of mechanical engineers, industrial designers, and prototypers from day one to quickly evaluate and stress test a variety of possible configurations and achieve the ideal balance of usability and feasibility.
time-to-market objectives were ambitious for such a pioneering product, especially considering the manufacturing challenges of wearable products. we were also contributing to the fact that glide was pivoting for the first time from a software company to a software and hardware experience provider. it was really rewarding making this leap with them.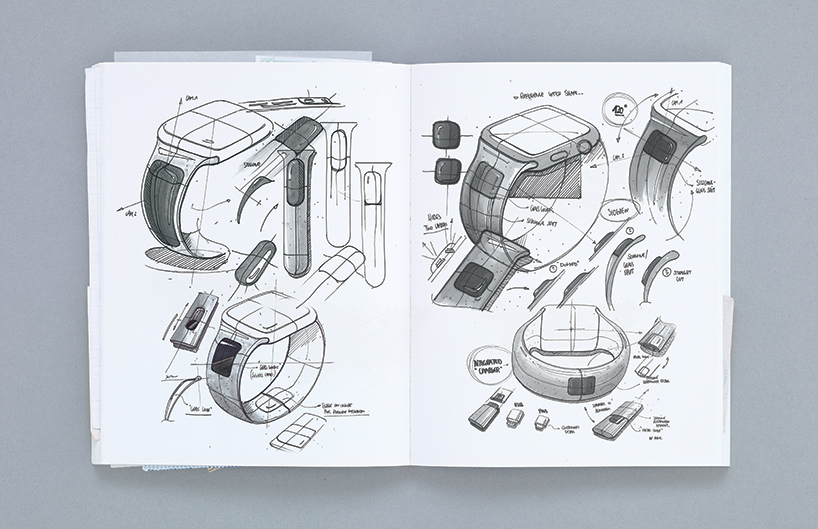 DM: do you find the current design of the apple watch to be limiting in terms of functionality, and was this what spurred the idea behind the CMRA band?
YC: the apple watch is a superb piece of engineering. the idea behind the CMRA band actually came from the separate work that glide had been carrying out through their video app.
the team had discovered how ubiquitous, instant image-recording is a behavior we are growing more and more accustomed to and dependent on. from there, it made sense to create an accessory for the apple watch that would provide much less friction than pulling your phone out of a pocket or bag, unlocking it, opening the capturing app of your choice, and then recording.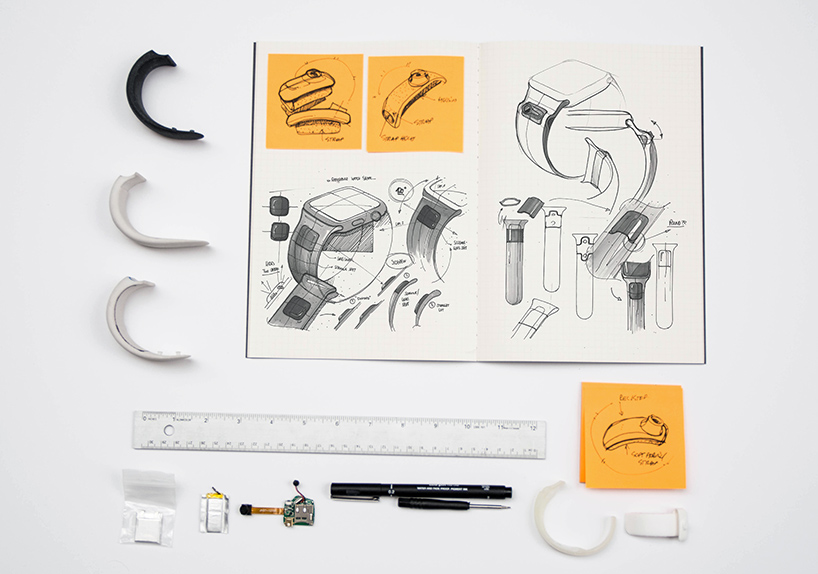 DB: with the new capabilities, wearers can now take photographs with a simple movement of their wrist. how does this system work and how is it able to ensure stable images?
YC: the activation of the 'shutter' button is designed to be intuitive enough that users don't even need to look at the device. instead, they naturally reach for the one and only physical interaction on CMRA that enables you to snap the photo or start a video recording.
users naturally join their hands together during the process, which helps provide ample stability to initiate the instant recording of any precious yet ephemeral moment.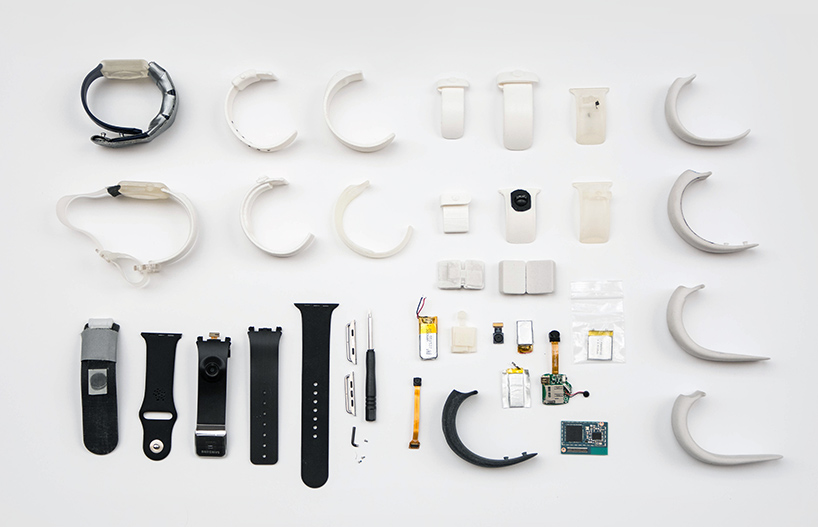 DB: do you believe that smart watches will not only become independent from mobile phones, but might actually replace them?
YC: technology is poised to evolve and gradually become less and less visible. it's amazing what we're able to achieve already with that small piece of glass, metal, and electrons that we all have in our pockets. our daily lives depend on it, so will it migrate to our wrists?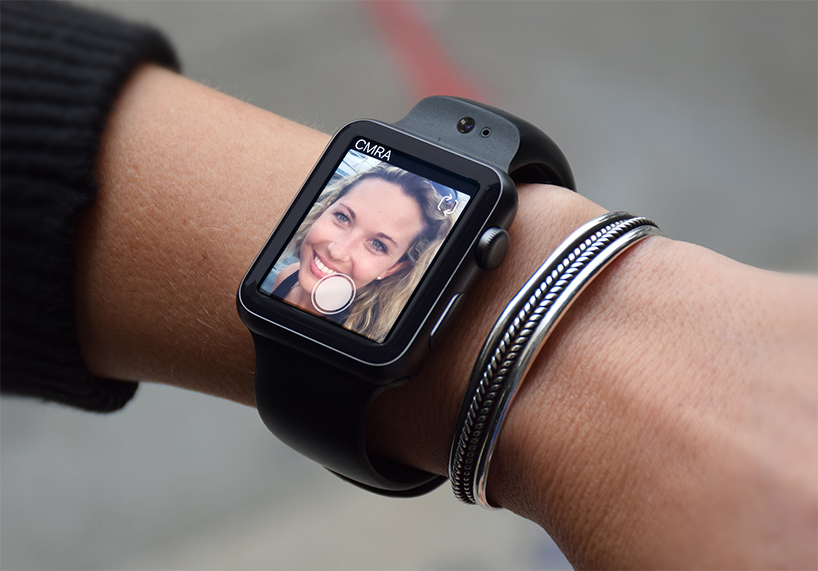 (continued) it's not certain – from today's vantage point, the archetype of the smartphone can be replaced by anything more efficient and useful. but we also know the smartphone's inherent shortcomings: battery life, fragility, tech obsolescence, etc.
so while it's possible and true that smart watches can replace phones in certain scenarios, in general I believe both technologies will continue to coexist and depend on our needs in the moment.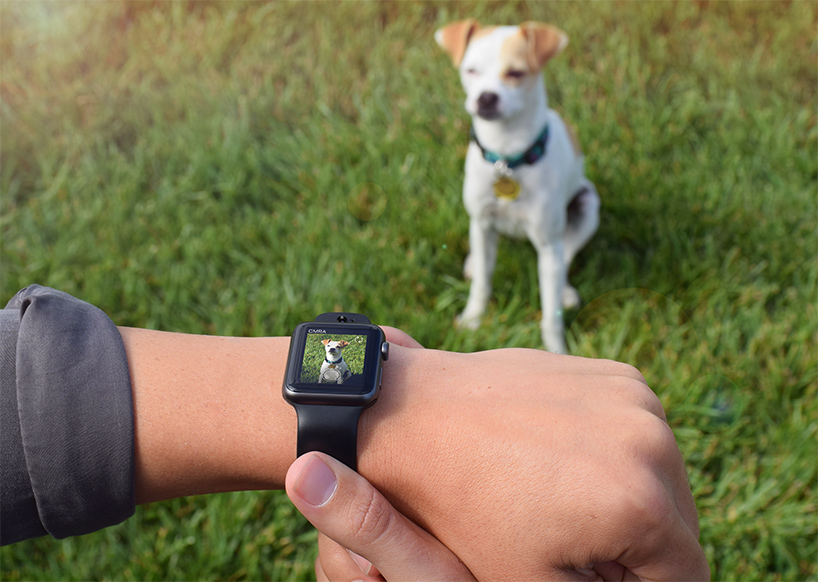 DB: how long did the development process of the smart watchband take?
YC: ari roisman and the glide team walked through the doors of IDEO's palo alto office almost exactly one year ago. based on our experience designing comparable wearable products, we thought their time-to-market objectives were very ambitious, but the value proposition seemed right from the beginning, so we jumped on the challenge.
we spent about six weeks focused on designing various configurations and expressions of the CMRA band. after that, we provided ongoing support throughout the year for creating the charging dock, designing the packaging, detailing the CMF, collaborating on branding, and working on the mechanical engineering and final surfacing to fit more specific technical constraints inherent to manufacturing.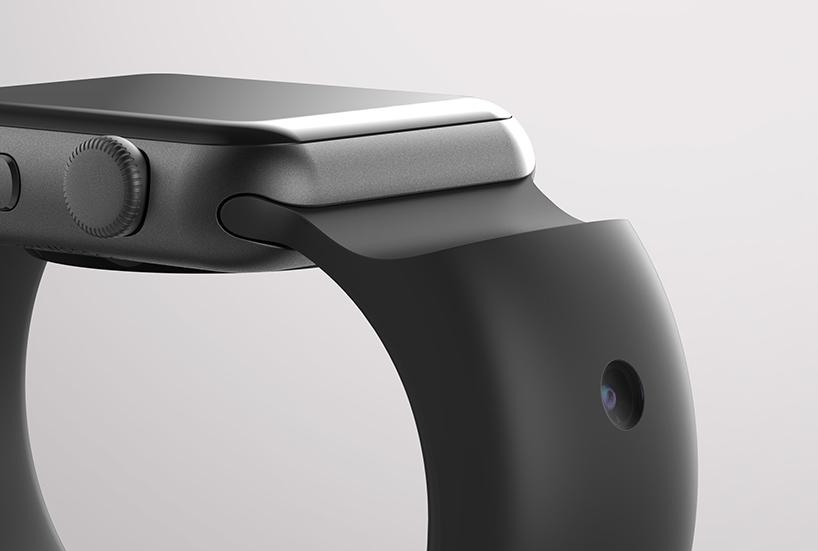 DB: what were some of the most challenging aspects in realizing the design of CMRA?
YC: one of the biggest tensions was around privacy. we needed to figure out how to design cameras that would be discrete enough to blend into the band, but visible enough to communicate their presence and function, especially when recording.
another challenge was around function, size, and comfort. given the nature of the product, we had to keep the design reasonably sized, yet with so many components in it, maintaining a low profile wasn't easy. we also knew we wanted the band to be flexible, but determining where to add in the flexibility was tricky, in particular balancing stability requirements for the optics.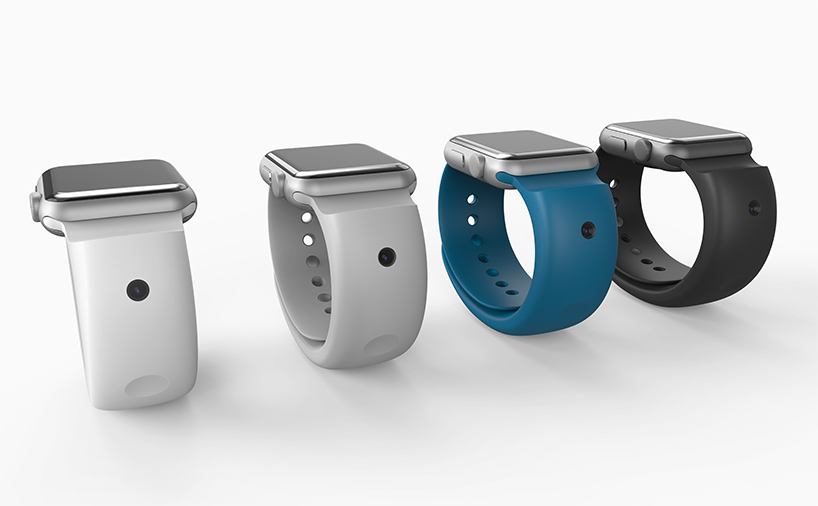 (continued) the exceptional engineering and manufacturing of the apple watch, with its nearly seamless contoured glass and metal housing, set the bar incredibly high for any designer to create a complementary product, especially when playing with comparable components such as camera sensors, battery, buttons, etc. we were excited to tackle the challenge!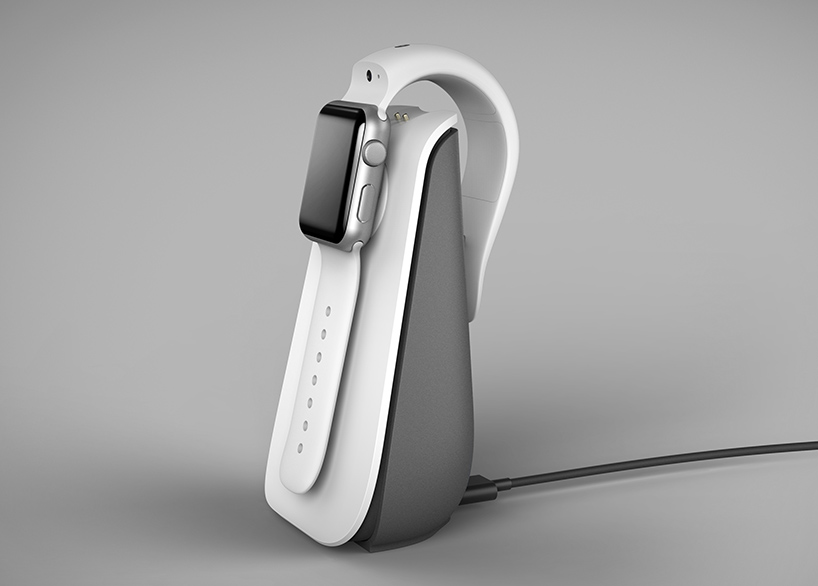 Save
nina azzarello
I designboom
nov 19, 2016
a diverse digital database that acts as a valuable guide in gaining insight and information about a product directly from the manufacturer, and serves as a rich reference point in developing a project or scheme.
designboom will always be there for you
milan, new york, beijing, tokyo

,
since 1999