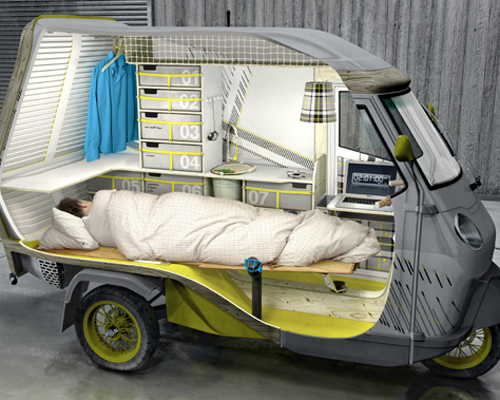 aug 22, 2010
cornelius comanns: bufalino
'bufalino' interior view
'bufalino' by german industrial designer cornelius comanns is a small camper which is equipped to meet the basic needs of one person. the concept behind the project is to offer absolute flexibility during periods of travel. the minimalist construction is based on the existing piaggio APE 50 three wheeled light transport vehicle; a model chosen for its economic and fuel efficient benefits. however, the more complex structural components such as the frame, the chassis, and engine are derived from the original piaggio model.
interior view
'my aim was to give people a better understanding of the country, the surrounding, and the range they have travelled. the travelling vehicle is always with you like some kind of a base camp, while also being used for moving on in an easygoing and spontaneous way. ' -CC
back view
'bufalino' encourages users to explore the surrounding off beaten tracks. meanwhile the furnished interior consisting of a bed, two seating units, a cooking zone, a basin, storage space, a water tank and a refrigerator offers the comforts of a home.
the back doors of the camper also functions as a space for drying clothes
cornelius comanns was the first prize winner of designboom's 'intelligent hand' competition for his entry of 'schlagschatten' lamp.
front view
detail
detail
bottom view of driver's seat
sleeping area and cooking zone
production mockup
production mockup
production mockup
jan 15, 2010
jan 15, 2010
jan 15, 2010
jan 15, 2010
jan 15, 2010
jan 15, 2010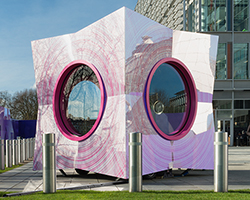 mar 05, 2017
mar 05, 2017
feb 27, 2017
feb 27, 2017
feb 24, 2017
feb 24, 2017