interview: hiroyuki murase on the legacy of nagoya handicrafts
Originating from a small village in Nagoya, Japan, the Murase family has been hand-adorning fabrics using traditional and complex techniques for over 100 years. Five generations later, Hiroyuki Murase, the oldest son, returned home from Europe after spending several years abroad developing his path. As he explains to designboom in a recent conversation, he was struck by a realizaton: 'My father was the youngest artisan at the time, and he was already 50. There is no longer a young generation in our village. So I thought maybe I could do something to keep this tradition alive and hand it down to the next generation.'
In 2008, Hiroyuki founded suzusan, a fashion and home interior brand dedicated to reviving the Arimatsu Narumi Shibori craft. Shibori is a 400-year-old textile finishing technique whereby artisans refine fabrics through intricate handwork. Typically used on silk and cotton to design kimonos or yukatas, the process involves folding, tying off, or sewing parts of the textile's surface before dyeing it. This careful manipulation leads to unique color gradients, contrasts, and even 3D patterns and structures. Any fabric will typically pass through four or five pairs of hands. While practically unchanged to this day, its decline in the past 50 years has become too palpable, pushing Hiroyuki to give Shibori a more contemporary relevance by exploring new and innovative solutions and creations.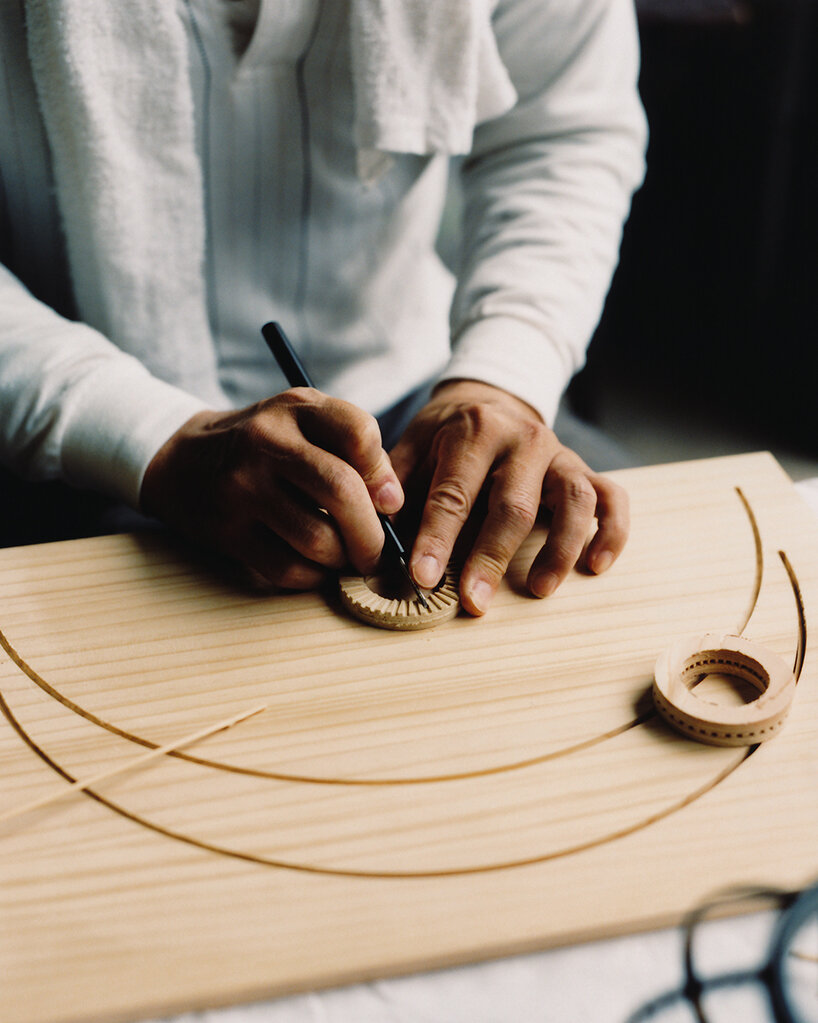 woodworker | all images courtesy Creation as DIALOGUE
As the years passed, suzusan became a globally-beloved brand with headquarters in Germany and Japan. 'What started as a scarf collection became a wider range of products. Thanks to our global customers, we now have retailers selling suzusan in 29 countries, and in Japan, a total of 19 staff working together. It was only one, my father! The staff is part of a young generation, between 20 and 30 year old,' he continues.
But the journey does not end here. In 2020, amid the Covid pandemic, Hiroyuki made it his mission to shed light on other revered Nagoya crafts that have equally struggled to remain afloat in the face of modern lifestyles and a declining Japanese youth. Teaming up with the City of Nagoya, Hiroryuki launched Creation as DIALOGUE, a collaborative project that connects the cultures of craftsmanship between Japan and Europe. Just last week, Maiso&Objet exhibited 12 pieces from Creation as DIALOGUE, combining the talents of three designers — Sawako Furukawa, Daisuke Hirabayashi, and Kodo Nawa — and ten Nagoya-based companies specialized in traditional crafts and methods. The final collection unmistakenly embodies the synergy between both cultures, exuding exquisitely simple and modern pieces and a warmth rooted in the human touch. Read on as the suzusan team walks us through this collaboration and the techniques that gave rise to the final collection at Maison&Objet 2023.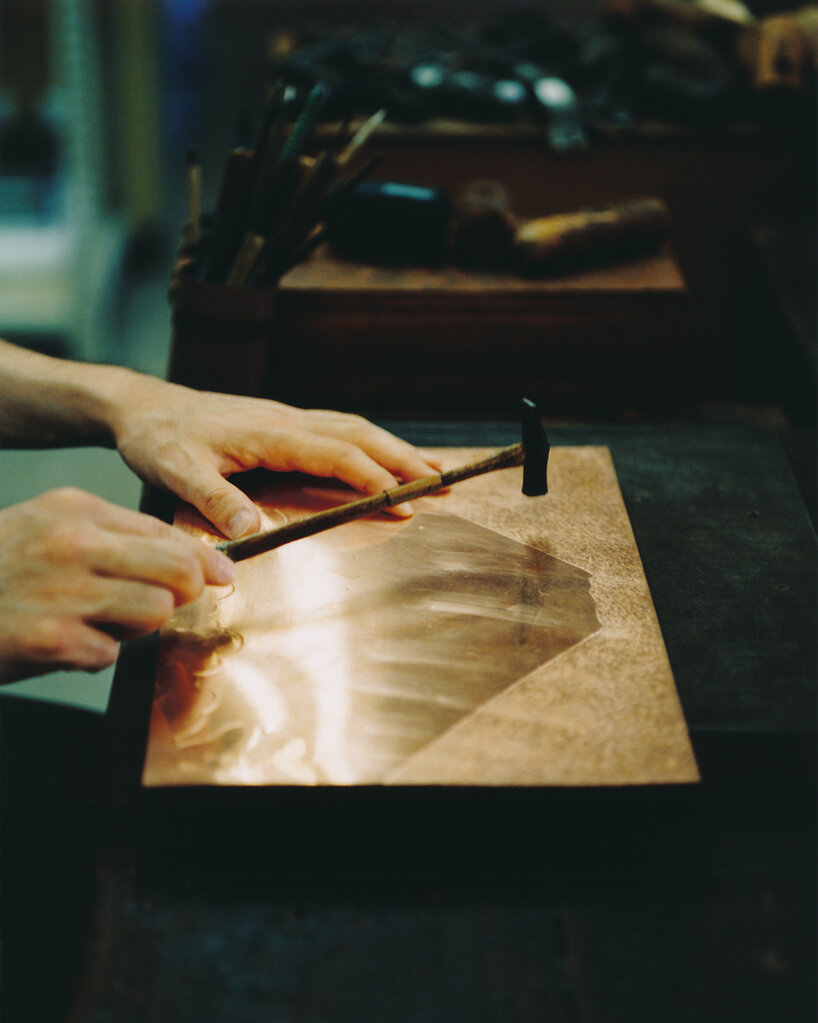 enamelling is one of the most intricate handicrafts of Nagoya
creation as dialogue lands in maison&objet 2023
For Creation as DIALOGUE, Hiroyuki Murase (see more here) teamed up with three designers thriving on the international stage, with Europe as their creative hub: Sawako Furukawa (formerly of Bottega Veneta), Daisuke Hirabayashi (formerly of Herzog & de Meuron), and Kodo Nawa (formerly of Van Cleef & Arpels). Together with ten local companies, the custodians of traditional industries deeply rooted in the Nagoya region, they have embarked on a journey that blends the boundless creativity of the West with the craftsmanship that lies at the heart of the Japanese city. 'Sawako designed with five artisans, Kodo with two, and Daisuke with three. In total, 12 creations were made,' elaborates the founder.
Adding to his comment, suzusan's Ami Nawa emphasizes how this collaboration reflects the project name: a dialogue between artisan and designer, between technique and creativity, between Japan and Europe. This interaction helps shed light on Nagoya's underrepresented craftspeople whose names are usually left out from the final product. In fact, each artisan is dedicated to a specific task within the overall chain of labor; once their part is complete, they pass the work along until it reaches a final destination: the person or company representing the crafted piece. 'They're artisans and not artists […] so they are not known internationally,' she tells designboom. 'We really want these techniques to be dispatched outside of Japan, and we think that the European market particularly appreciates the value that lies within this type of traditional handicraft.'
Delving deeper into the work exhibited at Maison&Objet 2023 in Paris, we asked the duo about the different techniques used for the collection. According to Ami, at least seven traditional crafts were employed by artisans — namely lacquerware, cloisonné (enamels), shibori dyeing, kyo-kimono dyeing, hina dollmaking, seal carving, and Japanese woodworking. Following a careful evaluation, all three designers reinterpreted the different methods so the younger generation can truly appreciate the craft, Ami notes. Below, we highlight pieces from the Creation as DIALOGUE collection and the handicrafts that brought them to life.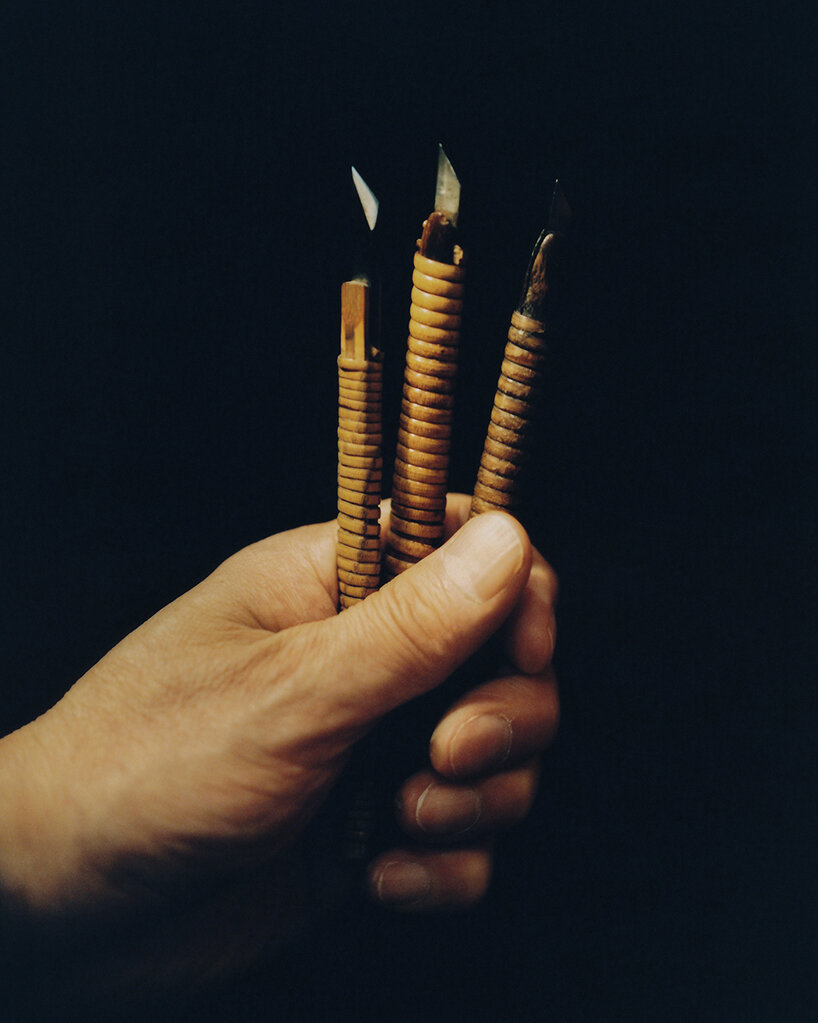 close-up shot of seal carving tools
discover the creation as dialogue highlights
HINOKI SHELF – IWATA SANPO
The highlights of Creation as DIALOGUE begin with the Hinoki Shelf designed by Daisuke Hirabayashi and crafted by Iwata Sanpo, a woodworking atelier specialized in making Shinto ritual objects for religious ceremonies for 300 years. Most are small in scale, but for this project, the team has taken on the challenge of developing large-scale furniture by reinterpreting the Hassokuan, an eight-legged pedestal used to make offerings to God and ancestors. Hassokuan is handmade by artisans from uncoated solid hinoki (Japanese cypress), a tree native to Japan, and assembled without metal fittings. 'The trees used to create these shelves have been around for over 100 years; the story already started a century ago. So Daisuke asked the company to help him highlight the beauty of this wood that they have been preserving. They came up with this shelf; design-wise, you can see the pillars are laid out asymmetrically like trees. From different angles, the pillars seem to appear and disappear as if one is walking in a forest,' Ami explains.
Technique-wise, the suzusan team clarifies to designboom that the wood first undergoes a drying treatment for ten years. When ready for use, artisans cut it into four-meter-long logs that undergo a meticulous carving, reducing its thickness to 2.5-5 meters. The final surface boasts an incredibly smooth texture, almost like marble. Furthermore, uncoated hinoki has a unique and subtle, earthy aroma. While delicate to scratches and stains, it still creates an impressive luster that one can enjoy through repeated use.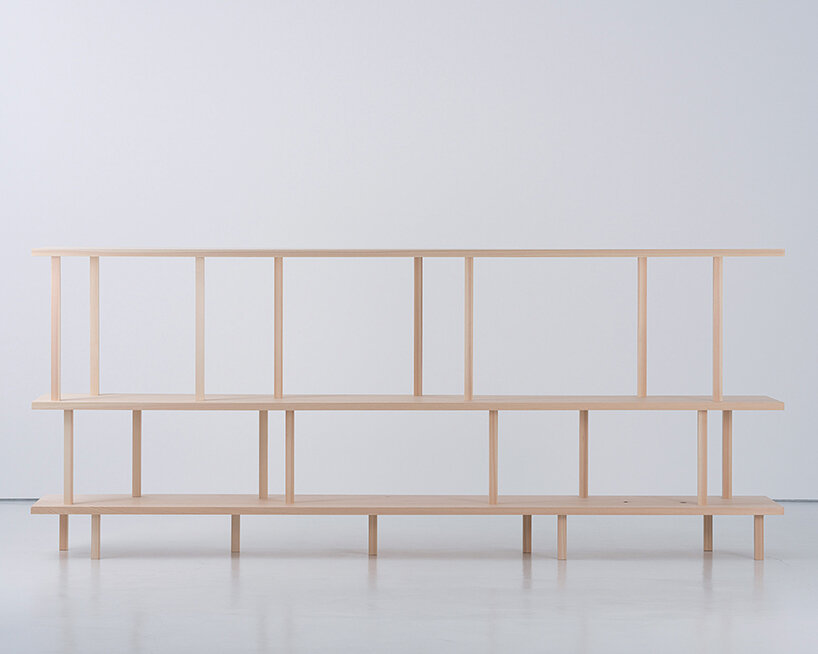 Hinoki Shelf by Iwata Sanpo
Urushi Partition – OONOYA BUTSUDAN
A second creation by Daisuke is the Urushi Partition, completed alongside Oonaya Butsudan, a company specializing in Buddhist altars (Butsudan), which need up to eleven different artisans to produce. Urushi (Japanese lacquer) is a traditional craft representative of Japan and is one of a Butsudan's most distinct and visually striking elements. Urushi is a sap collected from Japanese lacquer trees grown only in East Asia and has been used for thousands of years. When dried, the fluid can be highly durable paint with a glossy texture. The traditional black lacquered panels on a Butsudan have been reinterpreted into a new form, a partition that adds privacy or gently separates spaces. Unlike conventional separators, the Urushi model has a gentle, rounded shape that softly blends into its context. The unique black lacquer finish appears matte from the front but glossy and reflective when viewed at an angle. The lacquer acquires its true visual depth as it ages for decades.
Daisuke and the artisan hit a slight bump at the initial production stage when the weight of the altar reached 50 kilos — making it impossibly heavy to function as a partition. The duo eventually discussed alternative solutions and found a way to keep the original design while making it functional. 'They came up with a technique used in the ceiling of temples; they combined the wooden pieces to create open spaces, reducing the overall weight to 25 kilos. It's quite amazing because there are no nails used within this piece. The most difficult part of building that partition is actually hidden inside of it; from the outside, everything looks smooth and sleek; it's a simple design,' elaborates Ami.

Urushi Partition by Oonaya Butsudan
Next is a piece designed by Sawako Furukawa: a vase for flowers inspired by dollmaking. Japan's Hina dolls have a long history dating back about 1,000 years. It is said to have originated from the custom of floating paper dolls on rivers during the 'Joshi no Sekku' (one of five seasonal festivals), to celebrate spring and to wish for good health. In modern times, it became customary to display dolls dressed in elegant kimonos as decorations in each Japanese household. Shinya Kitagawa of Nagae Ningyo continues to work as a doll maker who carries on Nagoya's unique style. He defies traditional conventions and boldly conceptualizes the materials and accessories that accompany the dolls. The Hina Vase is an abstraction of these dolls, sporting collars and color gradients that recall the toy's body part, typically dressed in a kimono design. 'At least 6-7 artisans were involved in the creation process; you have one responsible for the wooden base, one who dyes the fabric, and one assigned an enamel layer. It's quite incredible how many are involved in creating just one object,' continues Ami.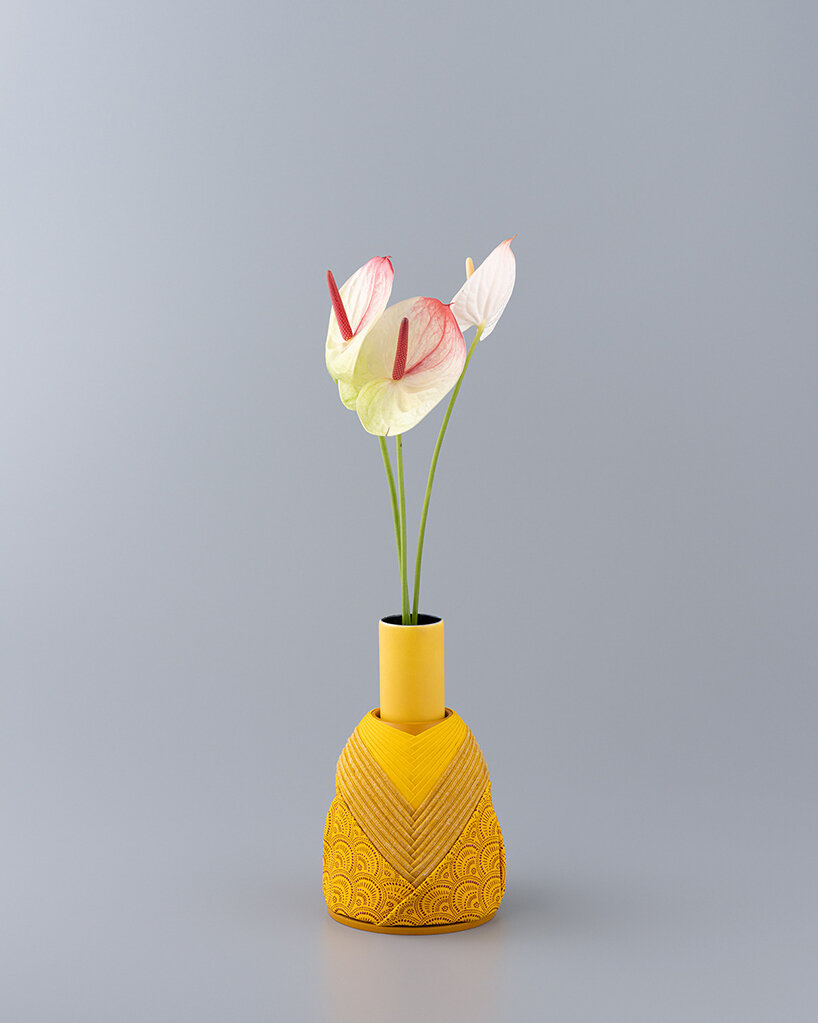 Hina Vase by Nagae Ningyo
Lacquer Candle Stand – MARUSUE
The Marusue family of Nagoya has taken on the challenge of developing new products by delving into the techniques and philosophies of lacquering that they have nurtured since its founding. With a profound connection to shrines and temples throughout its history, Marusue has embarked on a journey of contemplating the concepts of 'prayer' and 'light' as inspiring themes for their new endeavors. This candle stand from Creation as DIALOGUE has been designed to fit modern life while experimenting with new expressions of lacquer. Specifically, its mixed color palette — from green and black to blue and purple — endows the lacquered surface with a sleek, contemporary flair.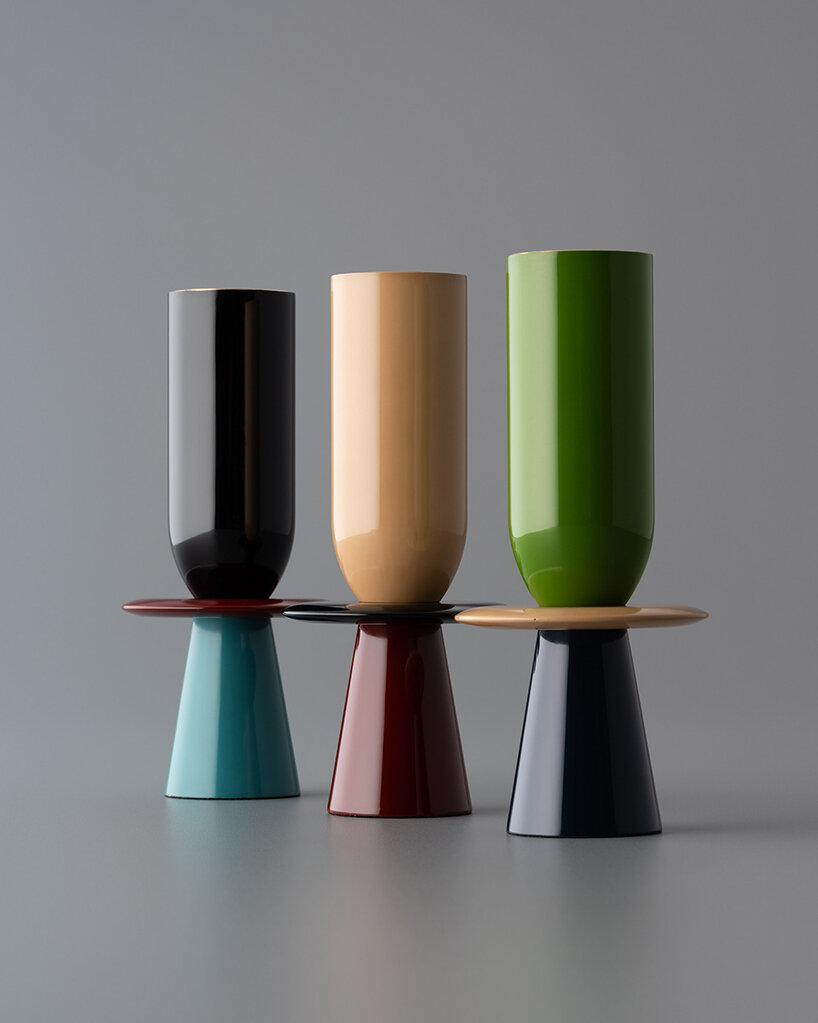 lacquer candle stand by Marusue
J.ANDO JEWELRY – ando shippo
Nagoya-based Ando Shippo collaborated with one of the designers to launch a new jewelry brand dubbed 'J.Ando'. With its rich heritage from 1880, the brand showcases exceptional craftsmanship and the meticulous artistry of cloisonné enamel techniques. 'Shippo' originally means the beauty of seven treasures scattered in Buddhist scriptures. Artisans have used it as part of jewelry decoration in Europe and the Middle East since ancient times. Introducing new aesthetics into cloisonné enamel while balancing powerful simplicity and splendor paved the way for design-driven, timeless, and modernist art jewelry. While simple in its design, the process involved painting the individual glassy elements with an incredibly fine brush, one by one, before being polished by a jewelry artisan. 'Unlike paint, enamel doesn't merge naturally. For example, if we have white and brown, it doesn't create a middle color, like a gradation. To do that, we must create multiple colored glasses, painted by milllimeters,' Ami adds.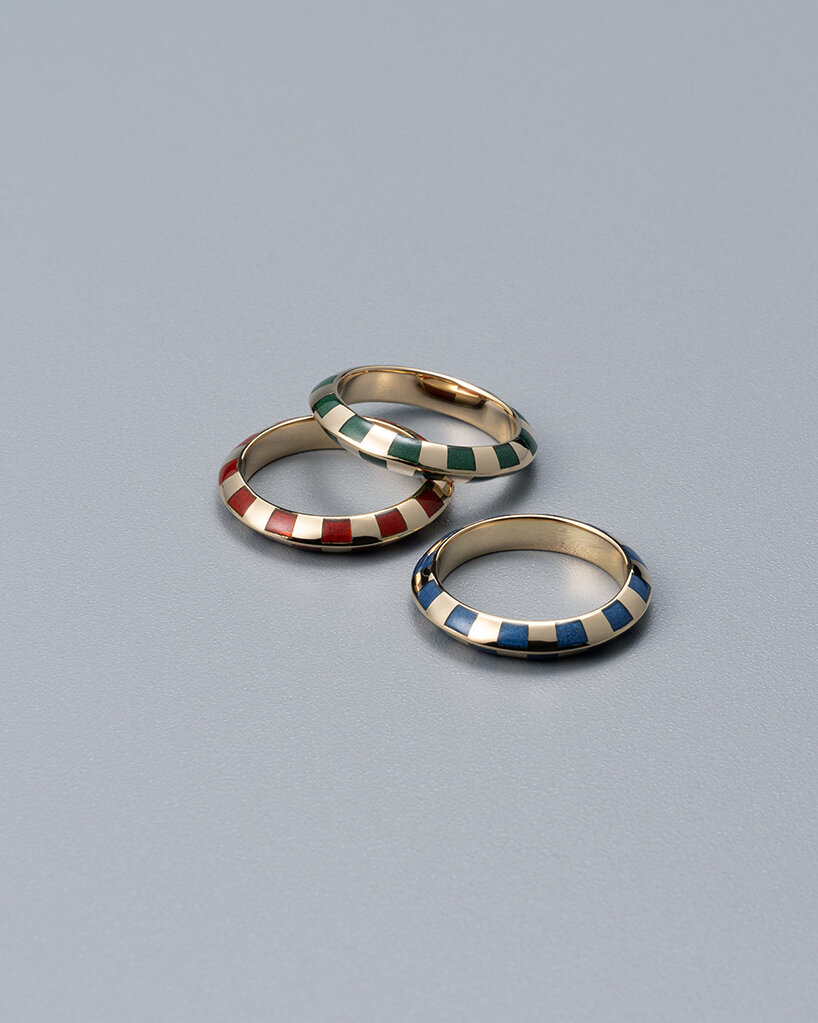 J.Ando Jewelry by Ando Shippo
INSHO JEWELRY – FURUHASHI SANEIDO
The history of seals dates back approximately 6,000 years. Seals engraved with personal names are used with great care at significant milestones in life to self-verify important assets and rights. The beautifully designed characters, individually crafted by seal engravers, are 'one-of-a-kind' artworks that cannot be replicated. They are created within small frames measuring around 15 millimeters. Furuhashi Hiroshi and his daughter Masuda Aya cherish the 'culture of the hand' as seal engravers. They present the Insho Jewelry collection with a realistic texture. Important words in life have been carved and transformed into pendant necklaces. One can choose from 12 beautiful Japanese words according to preference.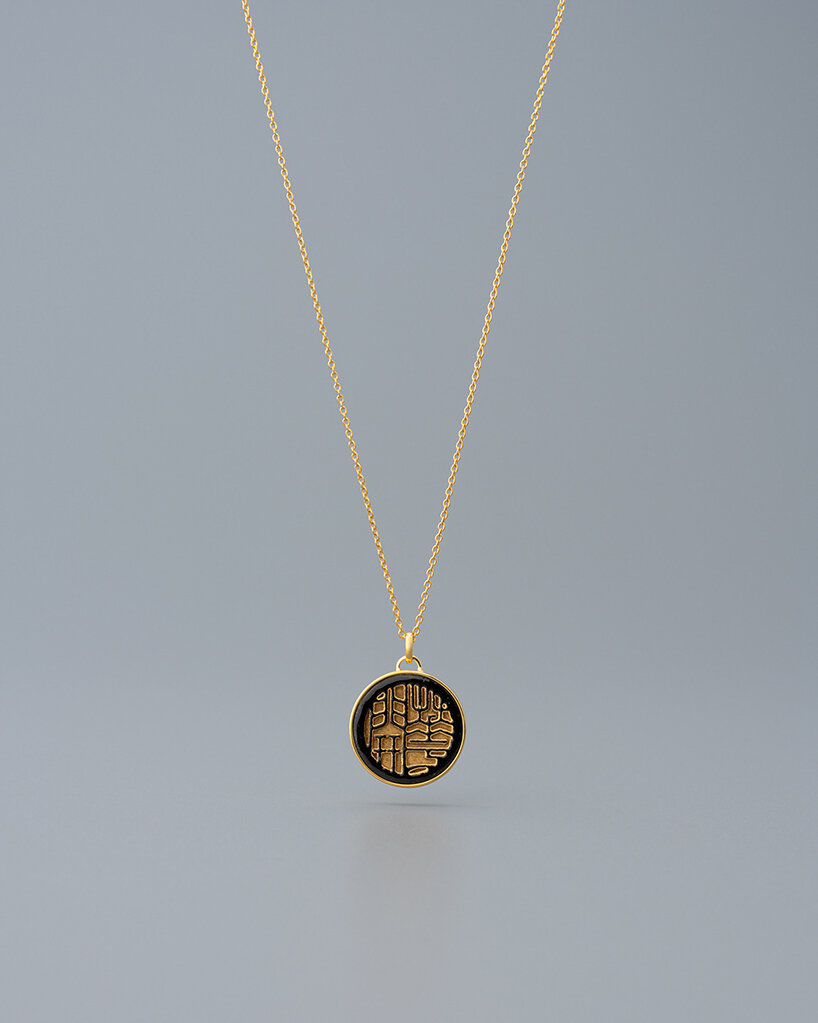 Insho Jewelry by Furuhashi Saneido
Patrimoines – TAKEDA KAHEI SHOTEN

As mentioned, Arimatsu Shibori has a history that spans over 400 years, with an unparalleled number of varieties of patterns and techniques, estimated to be more than 100. 'The technique itself is preserved but what we changed was the material and how it's used. For the past 400 years, Nagoya resorted to cotton as material and Shibori as technique to create Kimonos or Yukatas. But Japanese don't wear Kimonos as often as they used to do and we wanted to export to a global market, so I had to adapt the tradition,' Hiroyuki shares with designboom. In line with that premise, Takeda Kahei Shoten's atelier produced 'Patrimoines', a collection of gowns created from the historical heritage of Arimatsu. Three distinct patterns embody the essence of the Takeda family residence — black, blue, and orange.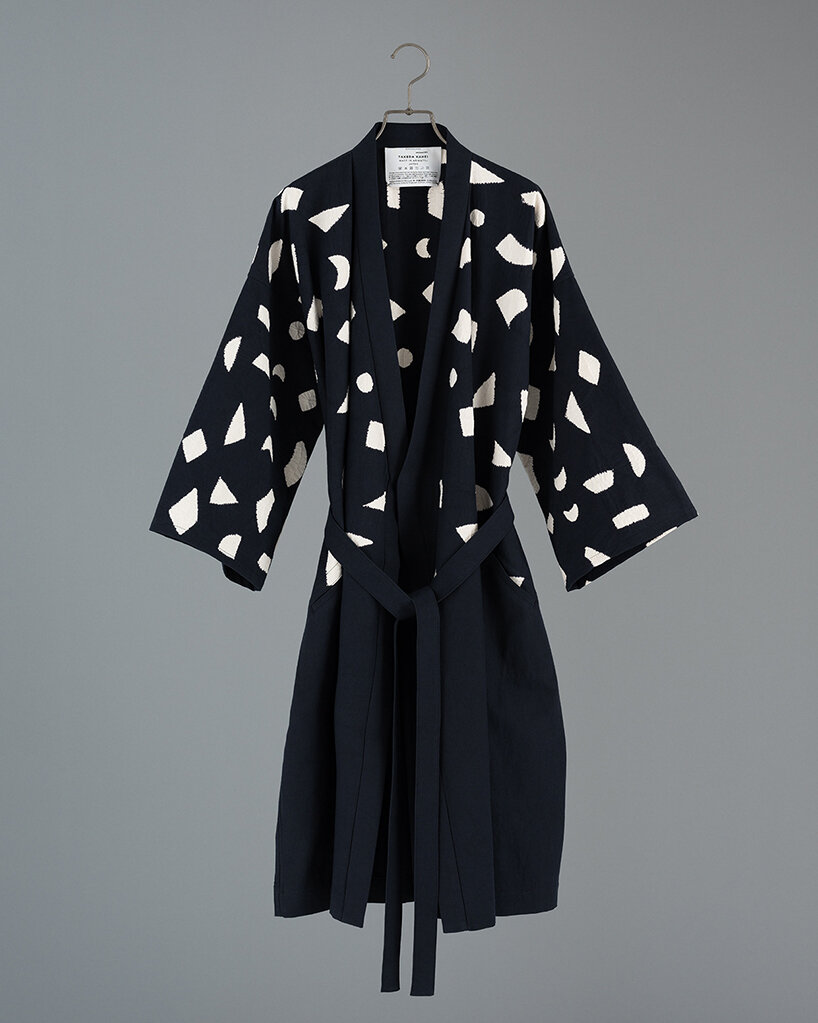 Patrimoines by Takeda Kahei Shoten
the next steps for creation as dialogue
Wrapping up our talk, we asked suzusan's Hiroyuki and Ami what was next for Creation as DIALOGUE. 'It was initially planned as a three-year project, but now, in our third year, we aim to take it to the next stage. For now, our focus lies on the Maison&Objet showcase before thinking about moving forward,' Hiroyuki reflects. Building on his words, Ami also discloses the enthusiasm of the artisans who truly felt this was just the start, confident that Creation as DIALOGUE will reach new heights after Maison&Objet 2023.
Exemplifying that positive outlook is the J.Ando enamel jewelry collection, which will soon be displayed at the L'Éclaireur concept store in Paris — a step towards 'targeting the clients specific to each product and creation. We want to help the artisan reach the clients and market because we don't want the products to end up as presentations only. We want the business to expand, and last,' she concludes.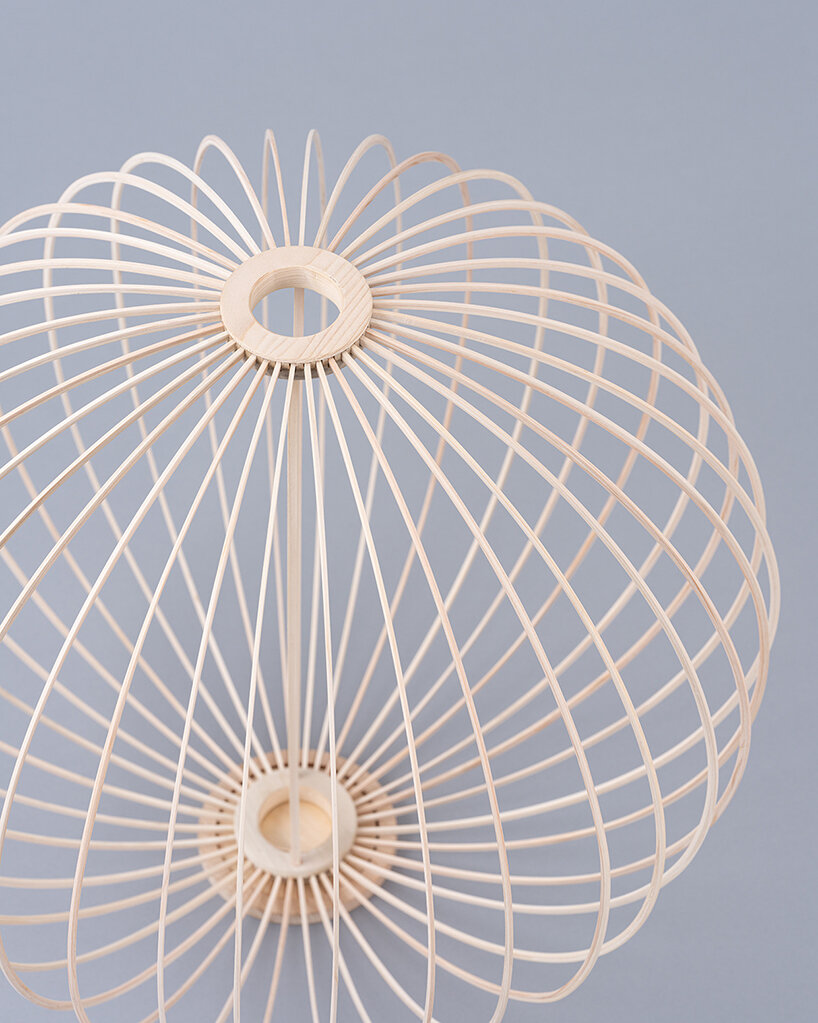 Hinoki Vase for dried flowers by Ando Shoten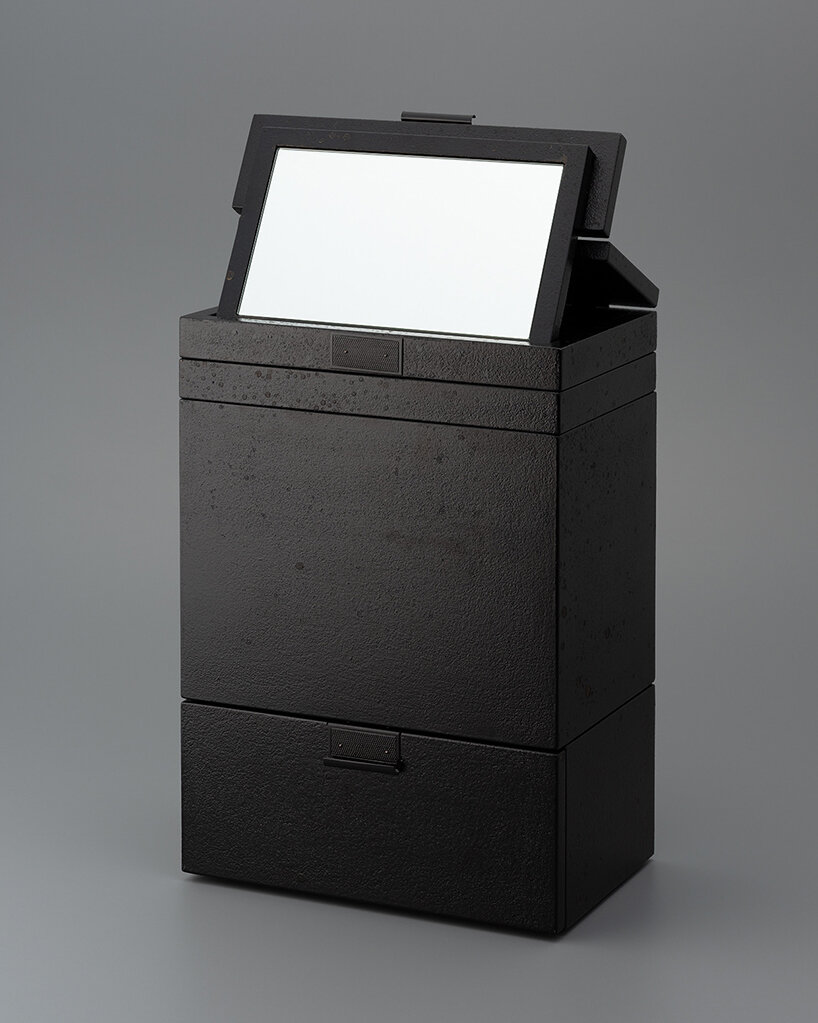 Vanity Box 1 by Chiyodaya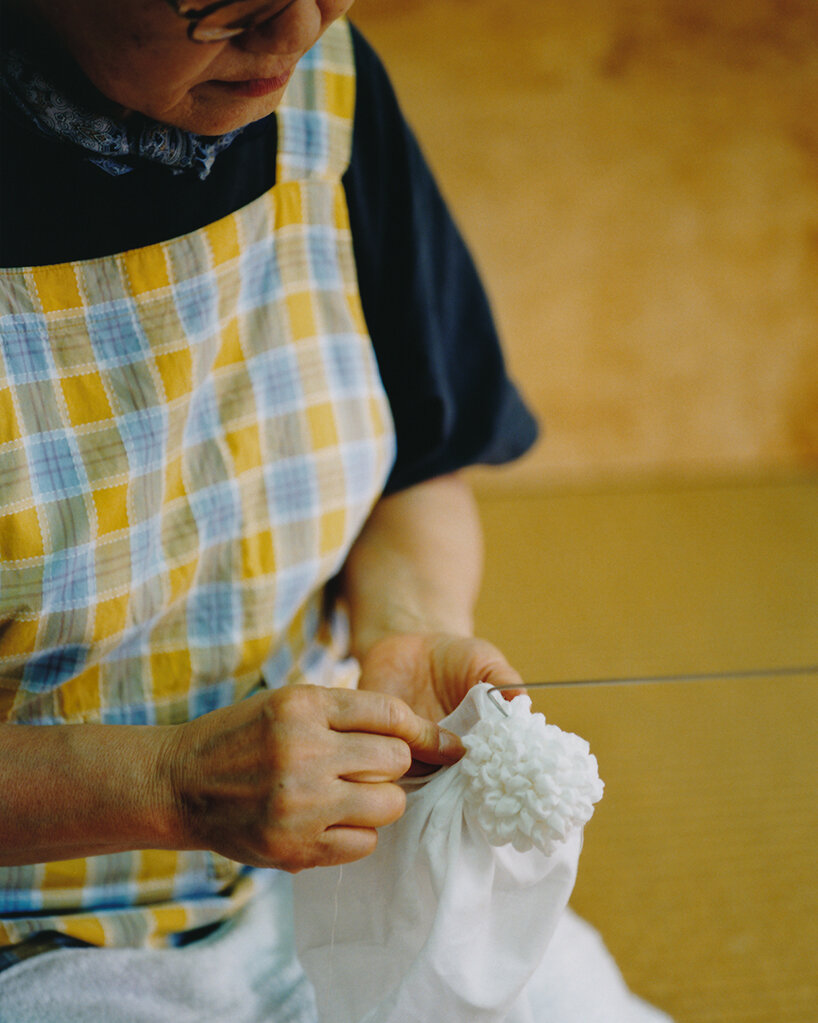 an artisan applying the Shibori technique for a Creation as DIALOGUE piece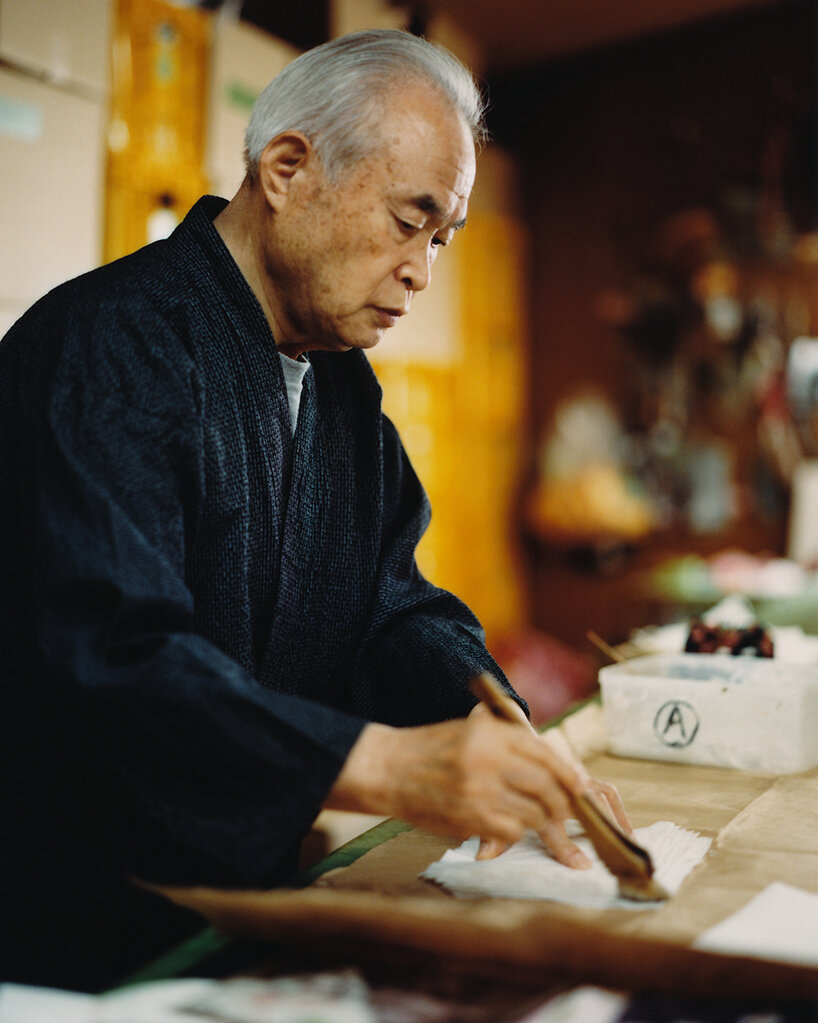 dollmaking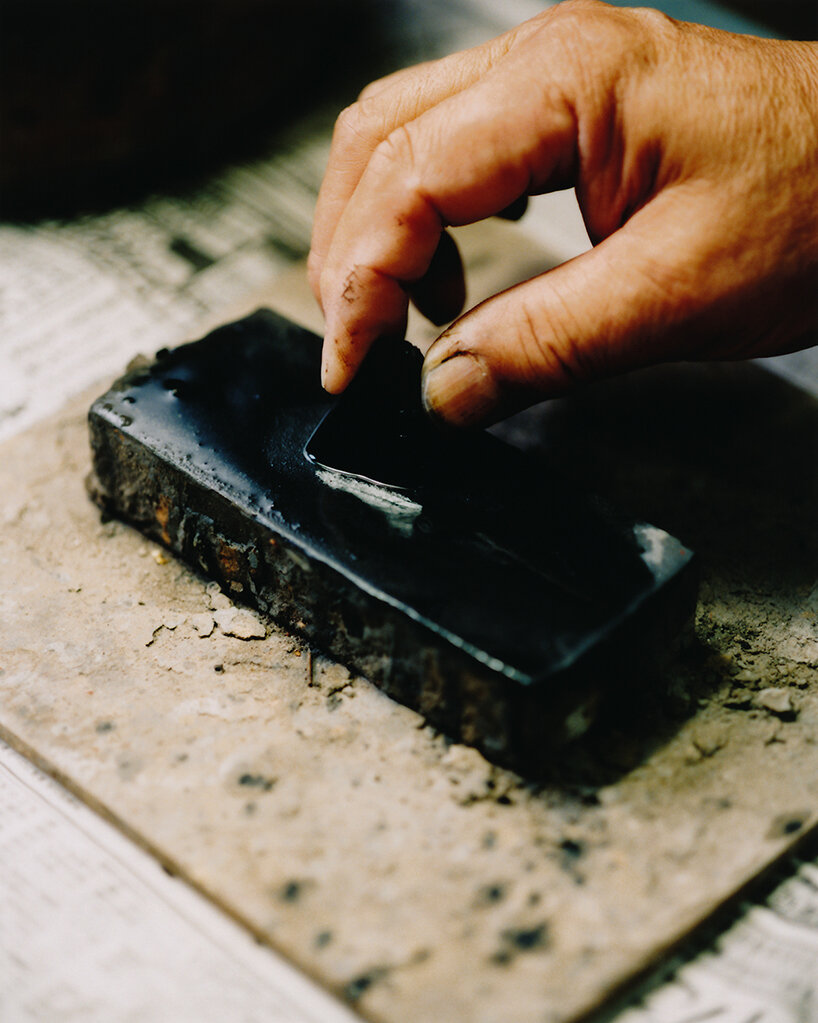 lacquer craft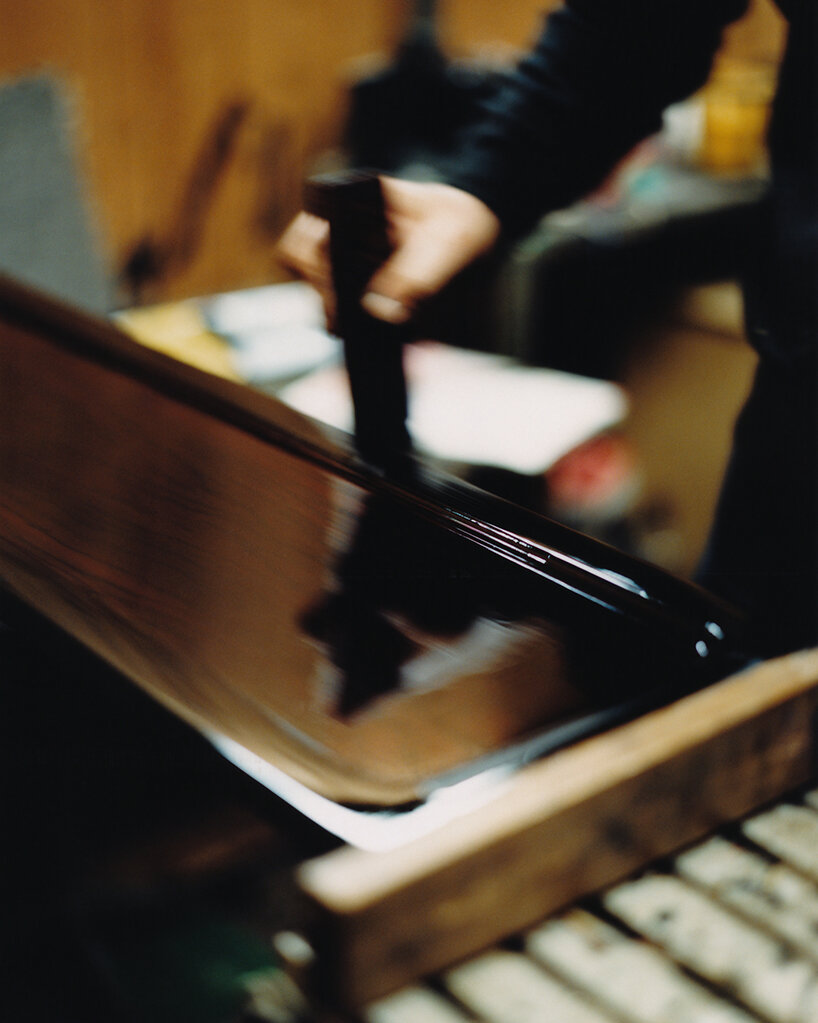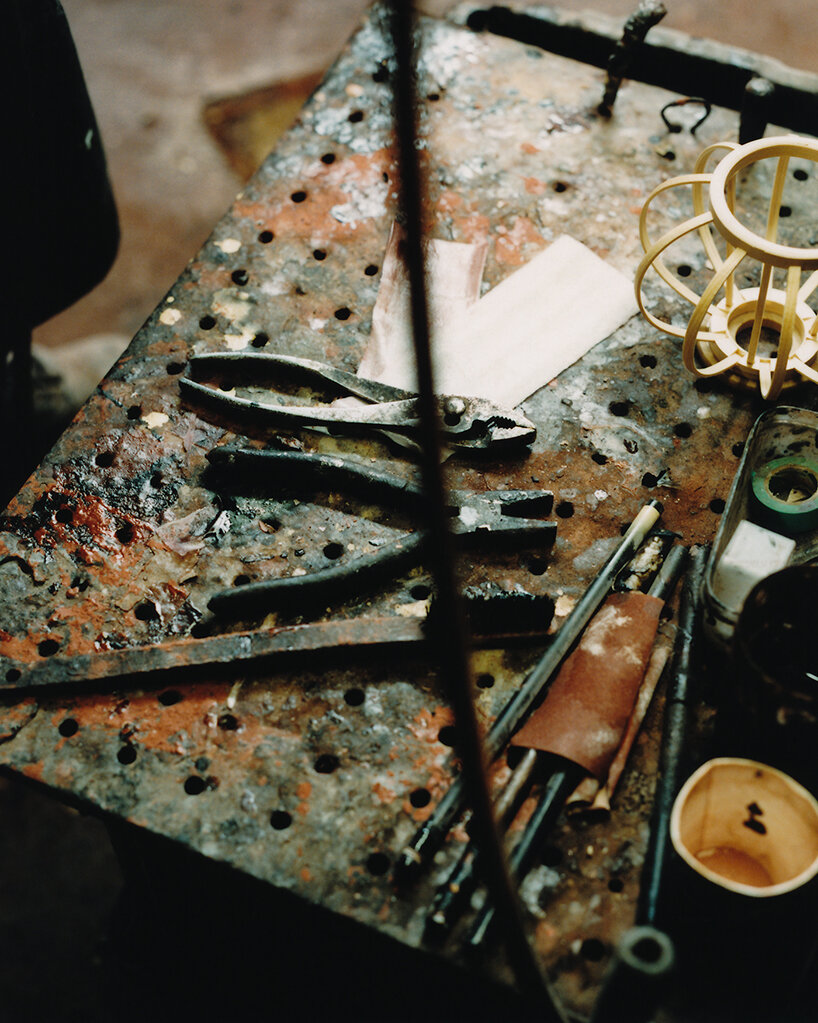 woodworking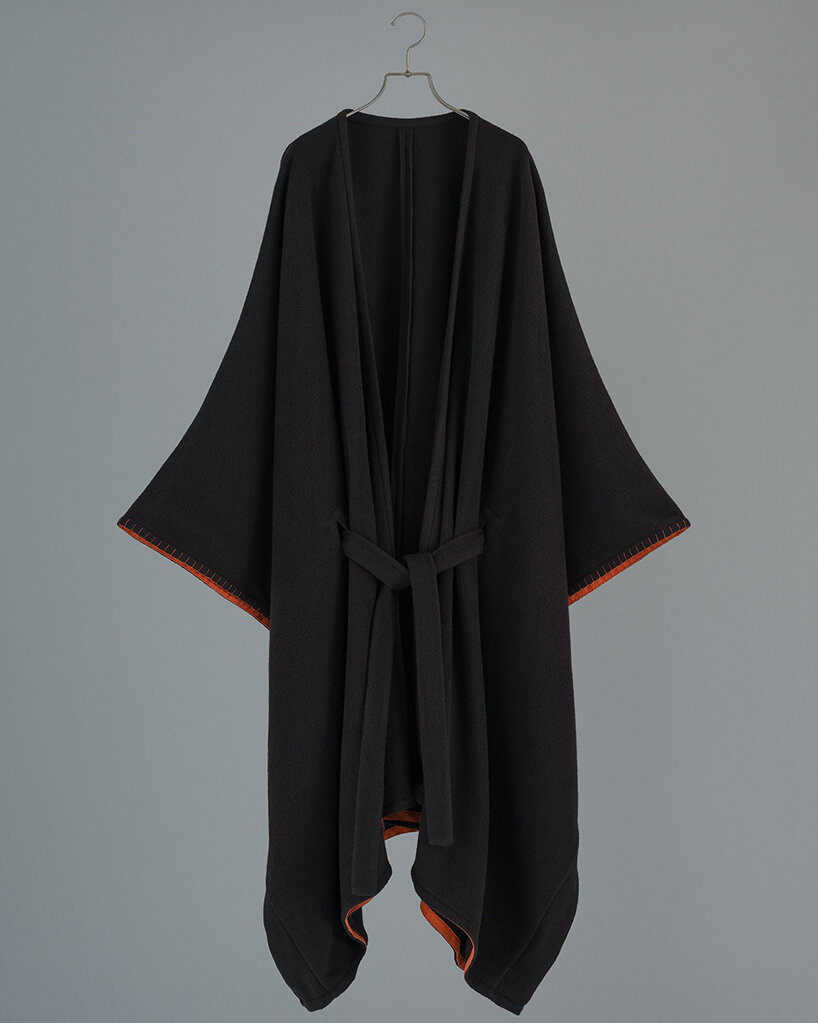 Wool Coat by Yamakatsu Senko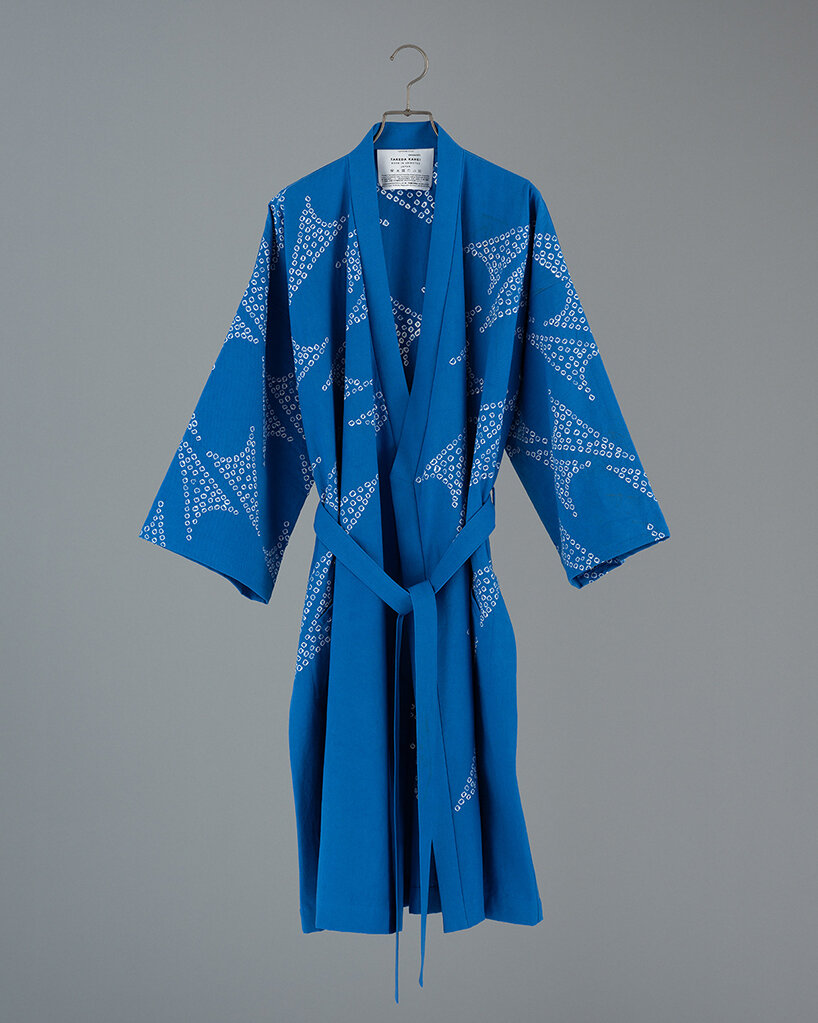 Patrimoines by Takeda Kahei Shoten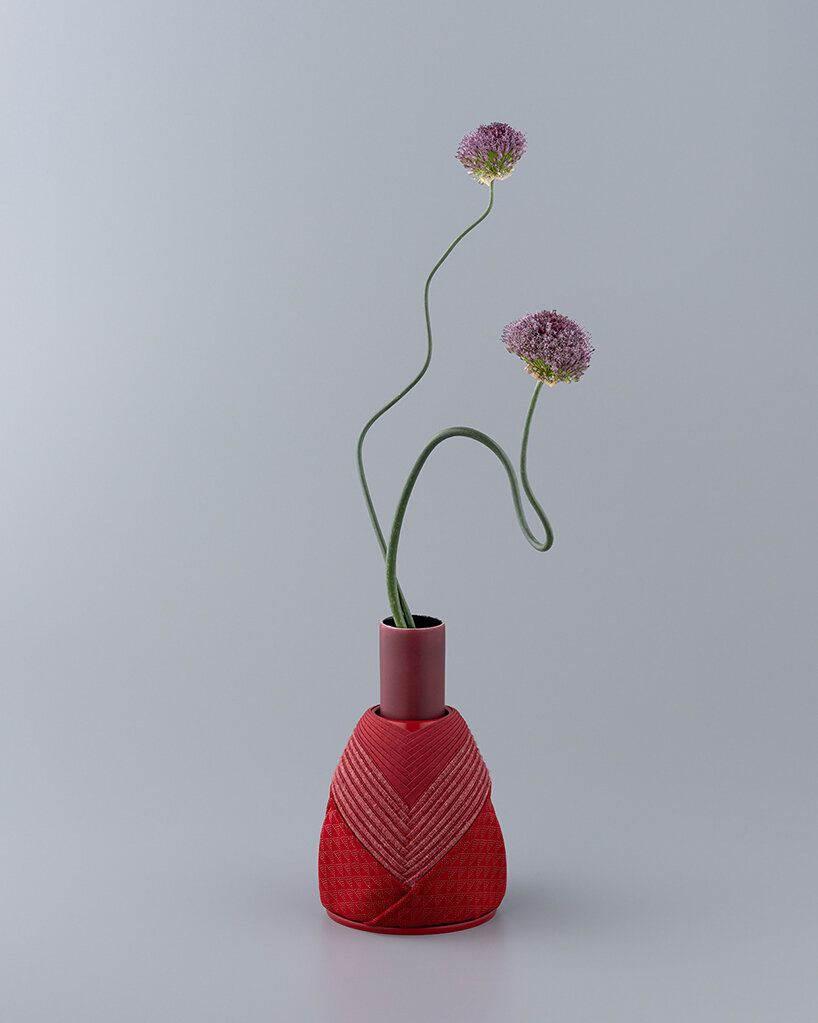 Hina Vase by Nagae Ningyo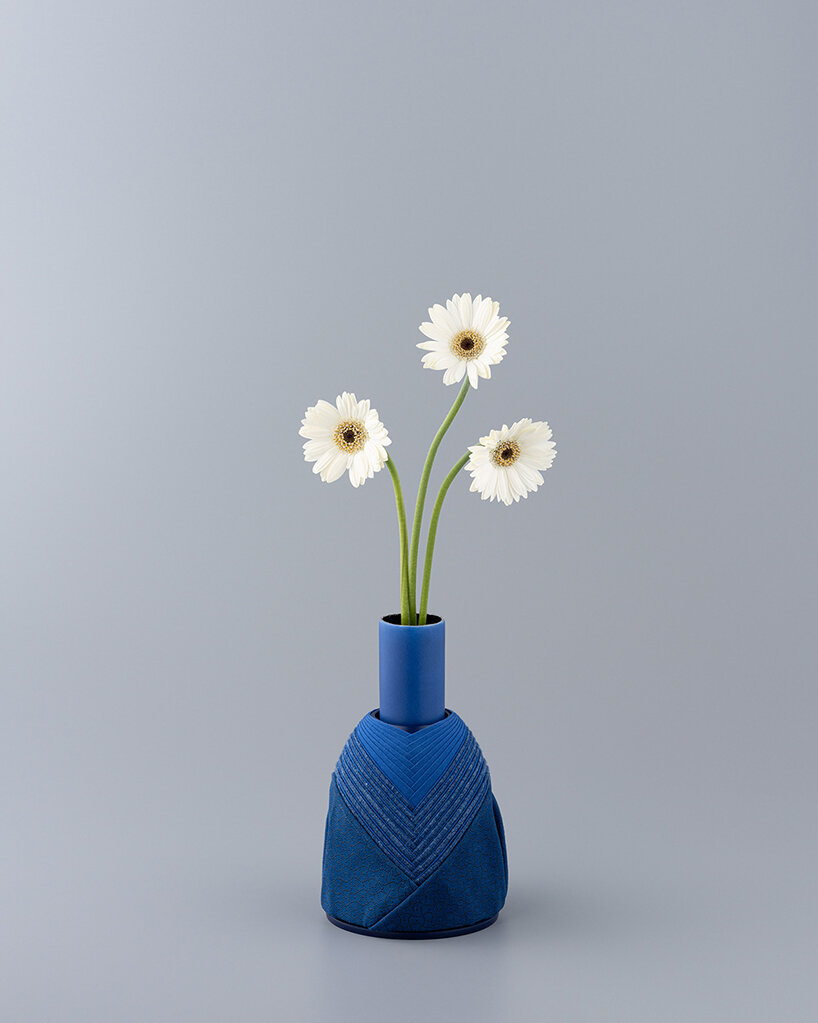 Hina Vase by Nagae Ningyo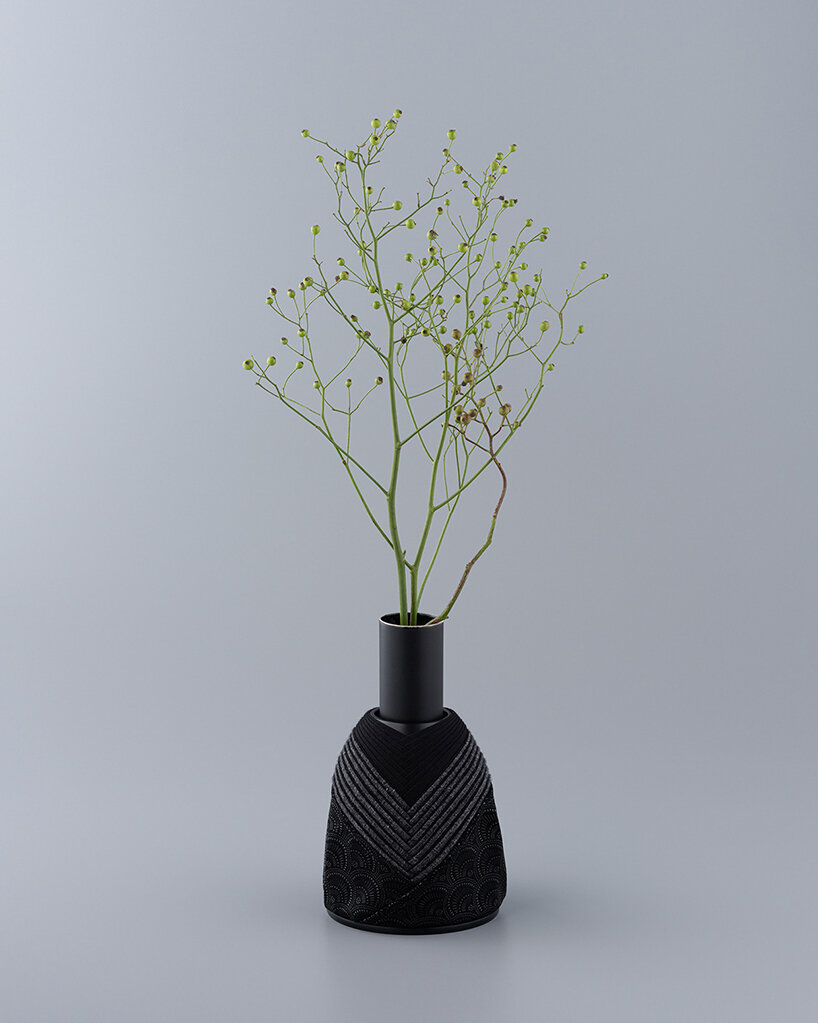 Hina Vase by Nagae Ningyo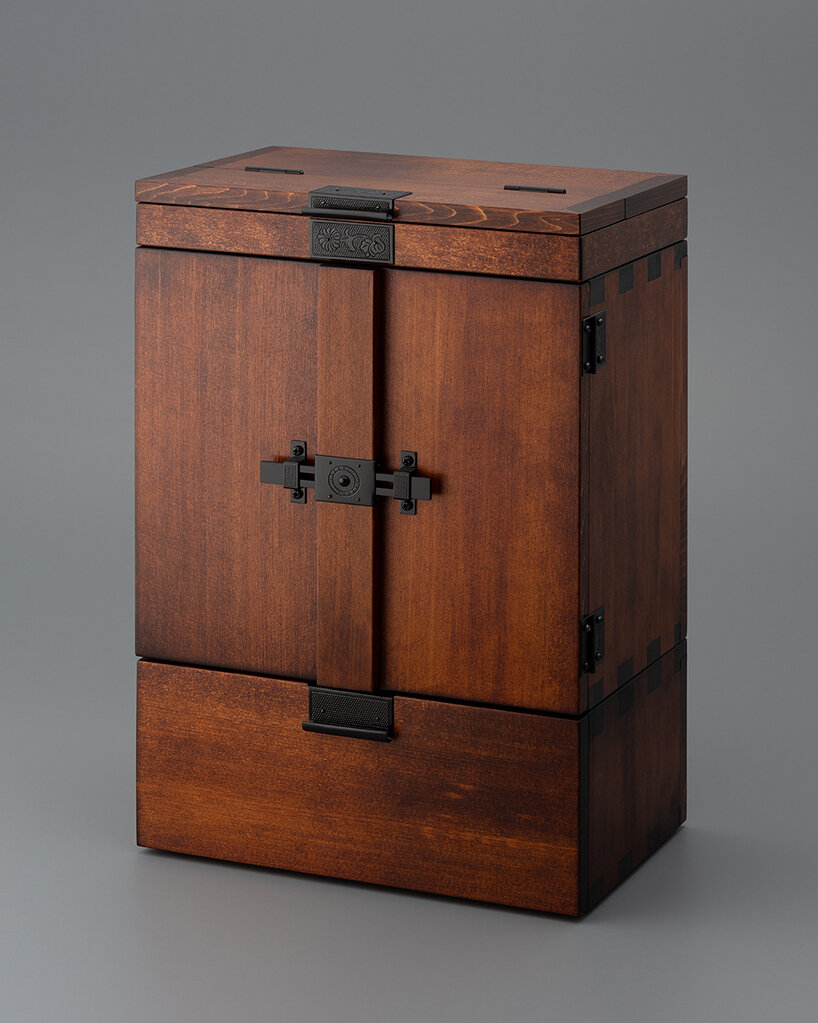 Vanity Box 2 by Chiyodaya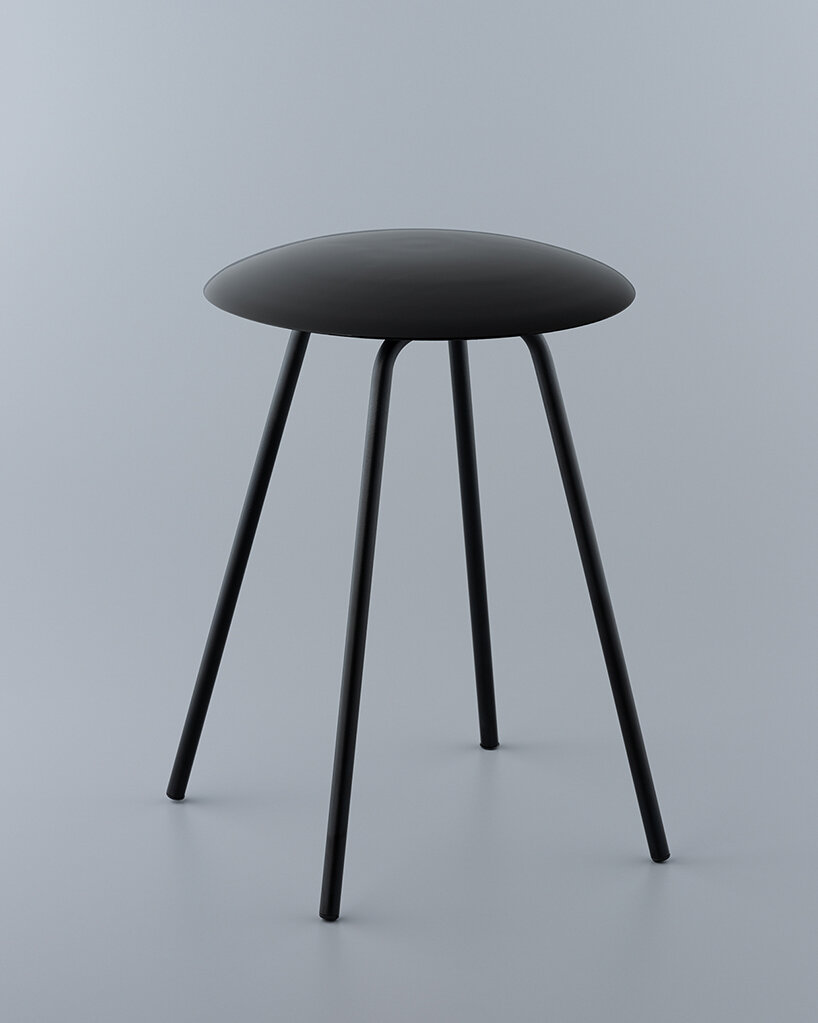 Urushi Stool by Ando Shoten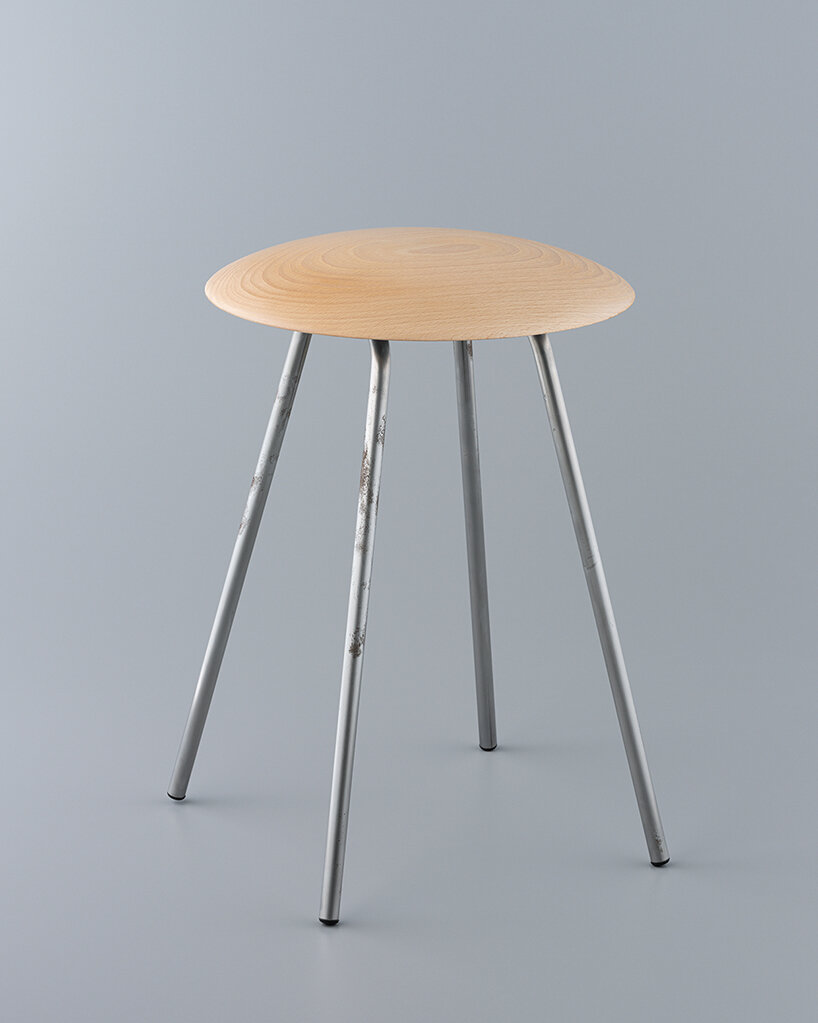 Hinoki Stool by Ando Shoten
Lacquer candle (Sharkskin) by Marusue
project info:
name: Creation as DIALOGUE 2023 | @creation_as_dialogue
interviewees: Hiroyuki Murase and Ami Nawa – suzusan | @suzusan_official
designers: Sawako Furukawa, Daisuke Hirabayashi, Kodo Nawa
artisans: Ando Shoten, Marusue, Sumiredo, Oonoya, Yamaktsu Senko, Ando Shippo,
Takeda Kahei Shoten, Nagae Ningyo, Iwata Sanpo, Chiyodaya, Furuhashi Saneido
exhibited at: Maison&Objet 2023 | @maisonetobjet
running dates: September 7-11, 2023
KEEP UP WITH OUR DAILY AND WEEKLY NEWSLETTERS
happening now! antoniolupi extends its expertise beyond the bathroom with the 'living' collection, a series of home furnishings that complement its esteemed collection of bathroom furniture and accessories.
a diverse digital database that acts as a valuable guide in gaining insight and information about a product directly from the manufacturer, and serves as a rich reference point in developing a project or scheme.
designboom will always be there for you
milan, new york, beijing, tokyo

,
since 1999