swiss textiles experts CRÉATION BAUMANN and architonic discuss the manufacturer's latest innovation, SINFONIACOUSTIC, as well as sound management in the workplace, and the occasional crying baby.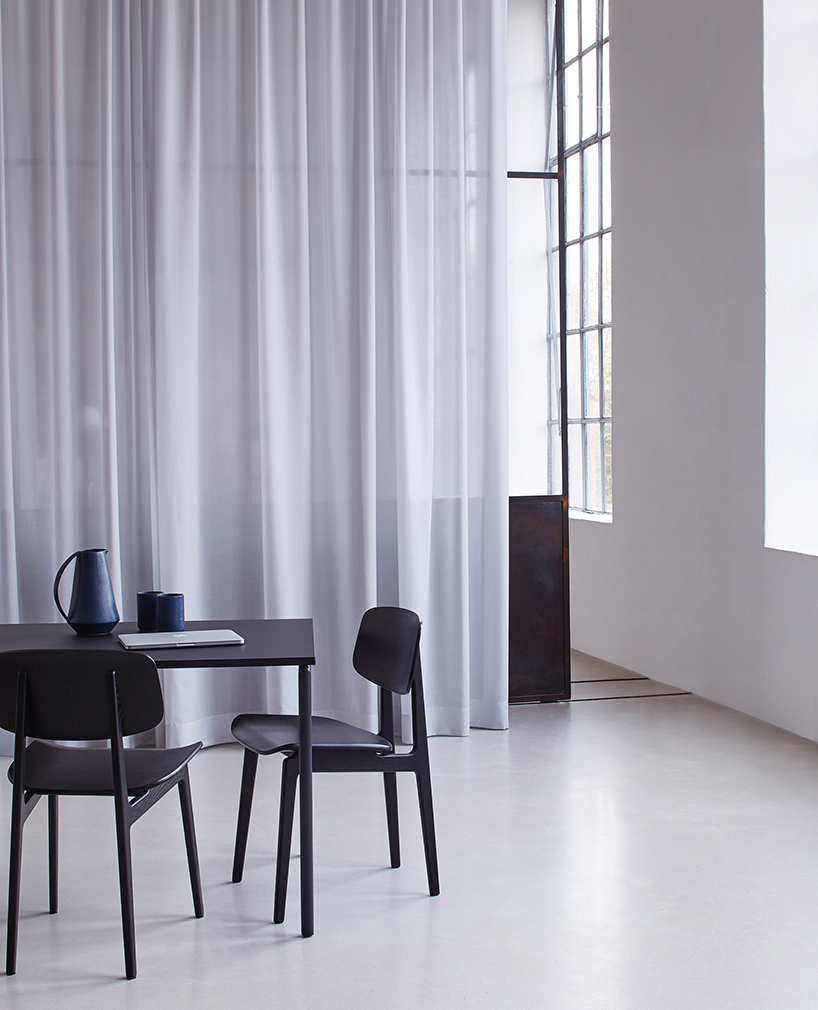 swiss textiles experts CRÉATION BAUMANN have augmented their best-selling SINFONIA collection of semi-transparent curtain fabric with an expanded colour system and a new sound-absorbing version – SINFONIACOUSTIC
sound. in the form of music or waves gently lapping on a shore, it can give you unadulterated joy, enough to sustain you for the rest of the day. in the form of an unmanaged cacophony, be it in the office or at an airport, it can have you reaching for your herbal drops or earplugs. or both.
swiss manufacturer CRÉATION BAUMANN, known for its high-quality, highly functional and aesthetic textiles, has revisited its best-selling SINFONIA collection (read more here), which has been part of its offering for over four decades now. as both architects and users become increasingly conscious of how the acoustic performance of space has a direct effect on how they experience that space, so leading brands like CRÉATION BAUMANN are responding to this with technology-led innovation.
2019 sees the introduction of three new fabrics to its existing range of almost 100-strong acoustic materials (read more here) – among them SINFONIACOUSTIC, which successfully marries the visually light, sheer quality of the original SINFONIA curtain with effective sound absorption. (if you're a numbers kind of person, we're talking an αw value of 0.6.)
so, I invited company CEO philippe baumann to join me in an exchange of thoughts via email about this latest high-tech development and, more generally, about the sounds around us…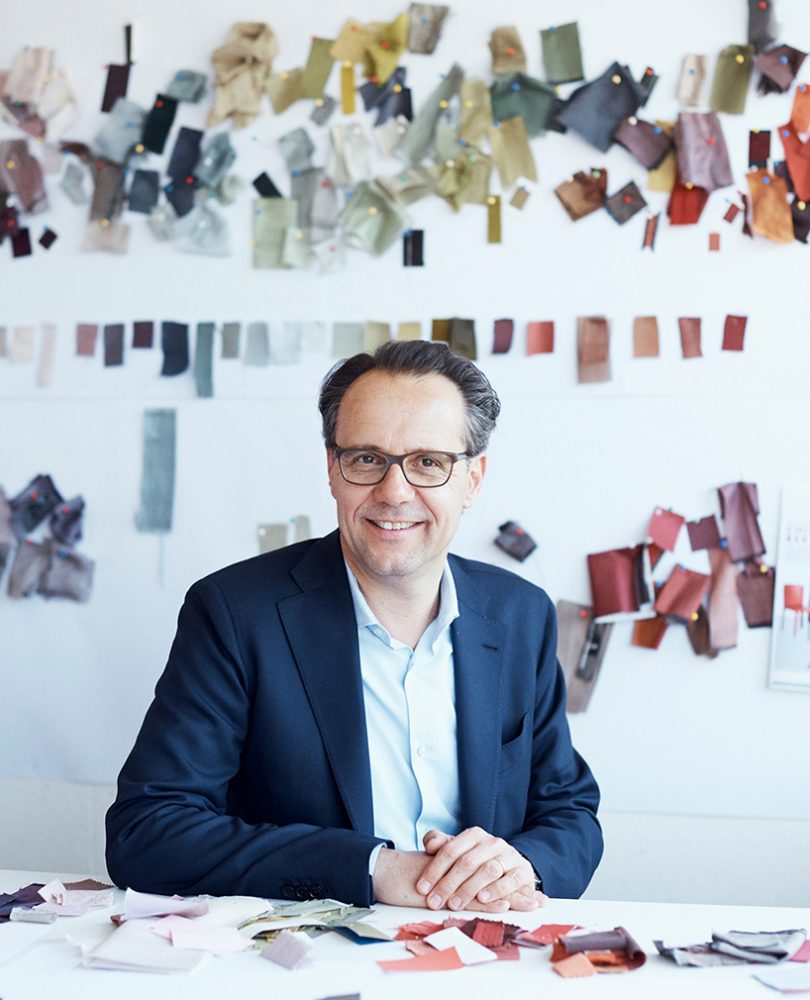 'ours is the interesting and rewarding job of improving the wellbeing of people by improving the acoustic properties of their spaces via window or space-dividing textiles,' says philippe baumann (top)
simon keane-cowell (SKC): so we're talking about sound and its management in our material world. maybe it's an age thing, but I'm increasingly sensitive to the design (or mostly lack of) of our acoustic landscape. where are you most aware of where sound has been consciously considered? and where it hasn't?
philippe baumann (PB): I would have to say concert halls are where I'm really most aware of how acoustics have consciously been designed. restaurants, on the other hand, are spaces where you would expect good communication between people to be consciously planned in terms of acoustics. but this is so often not the case!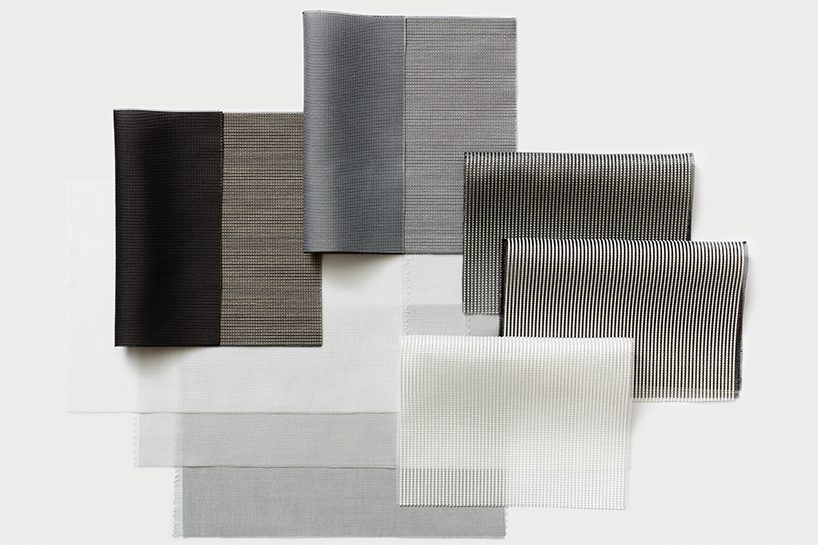 SILENT LIGHT (top), MEGACOUSTIC (right), SINFONIACOUSTIC (below)
SKC: I know what you mean. when you have to raise your voice in a restaurant to make yourself heard to your dining partner, then something is definitely not working in terms of acoustic design. I was flying back to london via heathrow terminal 2 this week, on the other hand, and the brilliant sound management there is so good it makes you aware of just how unmanaged most of our built world is. a real eye-opener. or ear-opener!
acoustics are often such an afterthought architecturally. hardly taught as part of architectural studies. which is great for certain manufacturers. including yours…
PB: I completely agree. textiles allow for spaces to be designed incredibly flexibly, and we often come into play when users realise that something's not right. ours is the interesting and rewarding job of improving the well-being of people by improving the acoustic properties of their spaces via window or space-dividing textiles.
it's interesting, though, that you were aware of the great acoustic quality at heathrow airport. it's often the other way round: you only notice how bad acoustics are, or sometimes even feel unsettled but can't quite put your finger on why. this happened recently at home. we took down the curtains to wash them. incredible how 'cold' and unhomely the rooms suddenly became.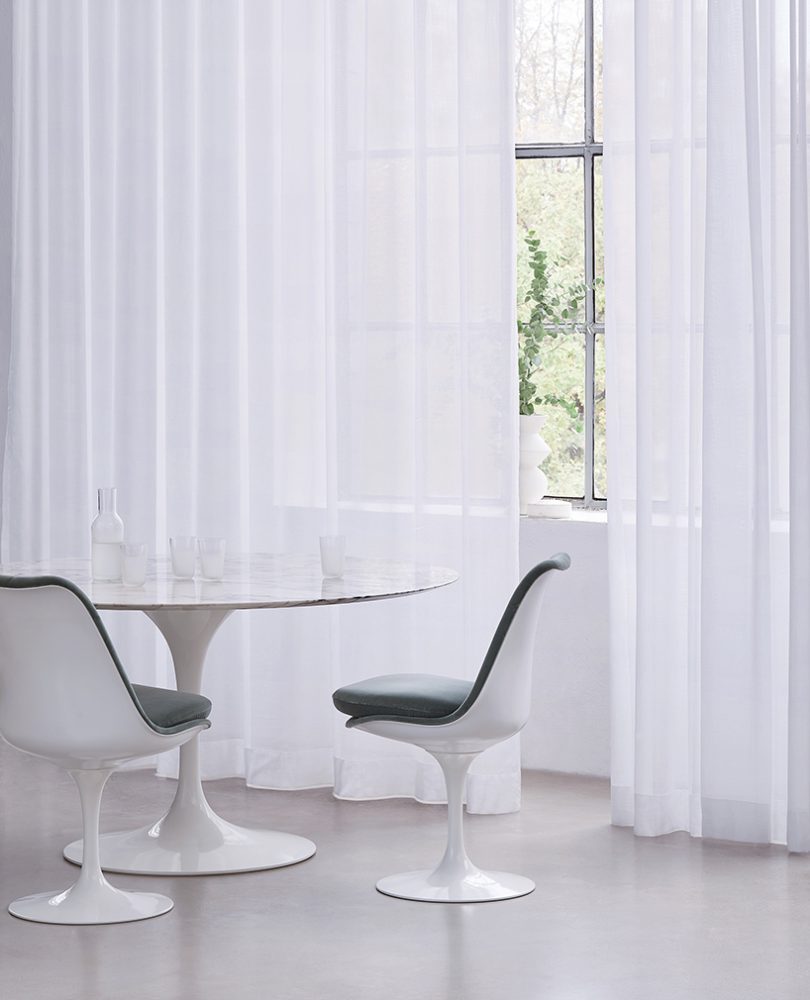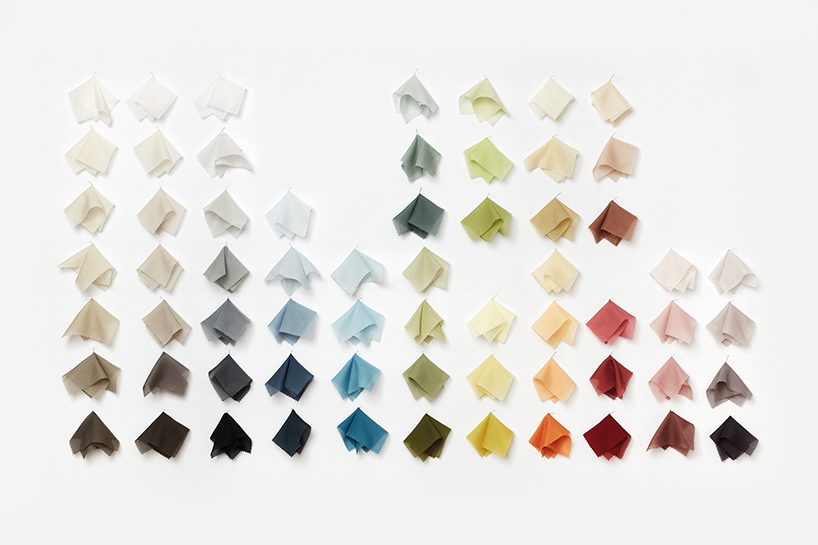 SINFONIA and SINFONIACOUSTIC's partial transparency helps shape the way light articulates interior space, while the myriad colour options mean wide creative scope for interior architects and designers
SKC: I guess it was the fact that it was so unexpected. (I'm currently suffering somewhat from the intermittent crying of my upstairs neighbour's new baby. she has a strong pair of lungs, god love her.)
textiles used architecturally can be so richly multifunctional. they really lend a space its humaneness. (I'm no minimalist.) you talk about well-being and I think this is so critical in a world where we're increasingly under stress. what was the challenge – or opportunity – with developing an acoustic material like SINFONIACOUSTIC, where you've got to marry visual and tactile performance with effective sound management?
PB: acoustic solutions are no good when it comes to children crying. you've got to address the source!
the big challenge when developing SINFONIACOUSTIC was to create an aesthetic as close as possible to the original, SINFONIA, while achieving an optimal acoustic performance. this made for a tight brief, but we managed to obtain the transparent look of the original that we were aiming for with a six-fold increase in acoustic effectiveness. we're proud of that.
I often think about stress in relation to the design of workplaces, by the way. is the open-plan office right for us or does it make communication more difficult? aren't flexible areas for different types of activity the future?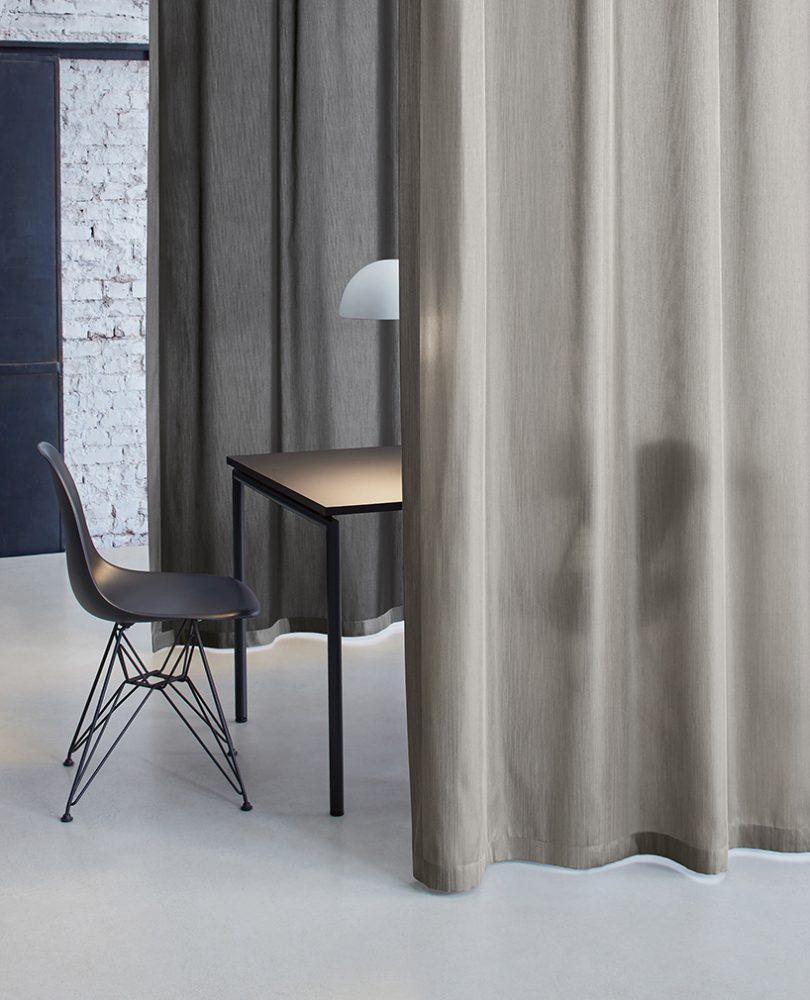 'wherever architects want to improve the acoustic quality of a space and at the same time want to introduce some visual privacy, acoustic textiles are the perfect solution.' shown here: SILENT LIGHT can be used to create visual and acoustic zones quickly
SKC: sounds (no pun intended) like your team has managed to deliver something genuinely innovative there. when we think of acoustic products for interior architectural space, they tend to be solid and inflexible elements.
they do the job well, of course. and their opacity and rigidity function to signpost visually their sound-absorbing quality. but this makes your quasi-transparent, acoustic textiles all the more clever and interesting to architects, I would say.
and you're right about the welcome shift in how we design our workplaces. we're increasingly required to work dynamically, across a range of different activities. the spaces in which we operate need to reflect this agility physically. acoustics are critical here.
where do you work best? the kitchen table?
PB: personally, I have an individual office, as my work often involves concentration and a lot of phone calls. but what's important to us at CRÉATION BAUMANN is interaction between colleagues in open meeting spaces and at high tables. we respond as best as we can to the different needs of our staff. Acoustics play a critical role here, of course. it's in interest of everyone that we get the conditions right.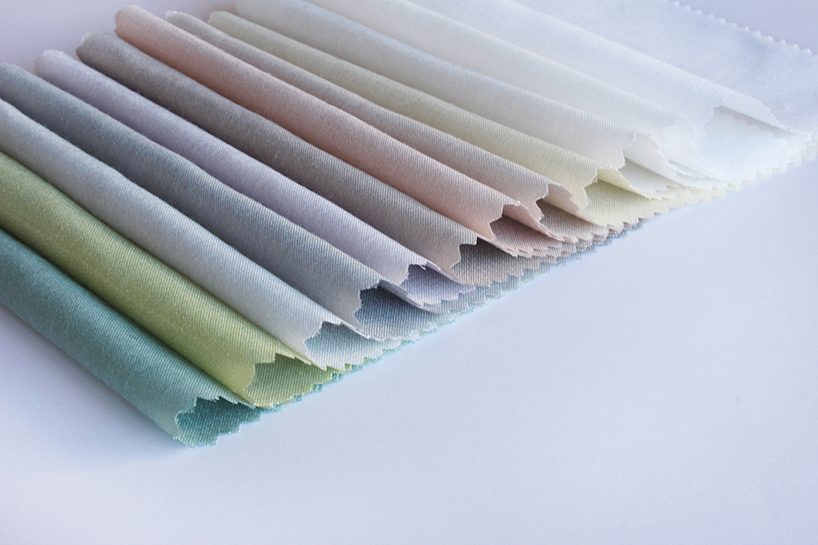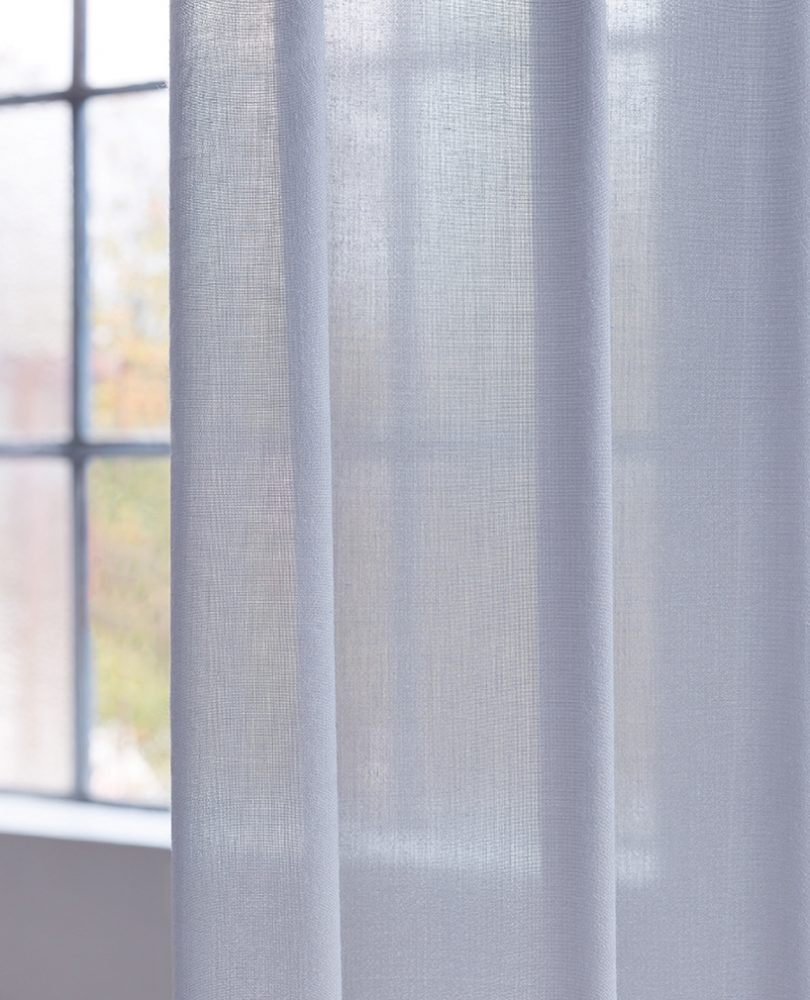 philippe baumann on SINFONIACOUSTIC: 'we managed to obtain the transparent look of the original that we were aiming for with a sixfold increase in acoustic effectiveness. we're proud of that.'
SKC: absolutely. taking a more holistic view, that designing in an employee's well-being is beneficial to both him and her on a personal level and in terms of their performance, which, in turn, benefits the company, seems like a no-brainer.
so where do you see SINFONIACOUSTIC being installed most, in terms of projects? why should architects specify it?
PB: like its older brother, SINFONIA, we see SINFONIACOUSTIC being installed in all segments of the contract market, from offices and hospitals to care homes and doctors' practices. as well as in the residential market, of course. its USP? the combination of aesthetics and functionality. wherever architects want to improve the acoustic quality of a space and at the same time want to introduce some visual privacy, SINFONIACOUSTIC is the perfect solution. and thanks to its uniform materiality and shared colour system, SINFONIA and SINFONIACOUSTIC can be combined freely, depending on the desired concept.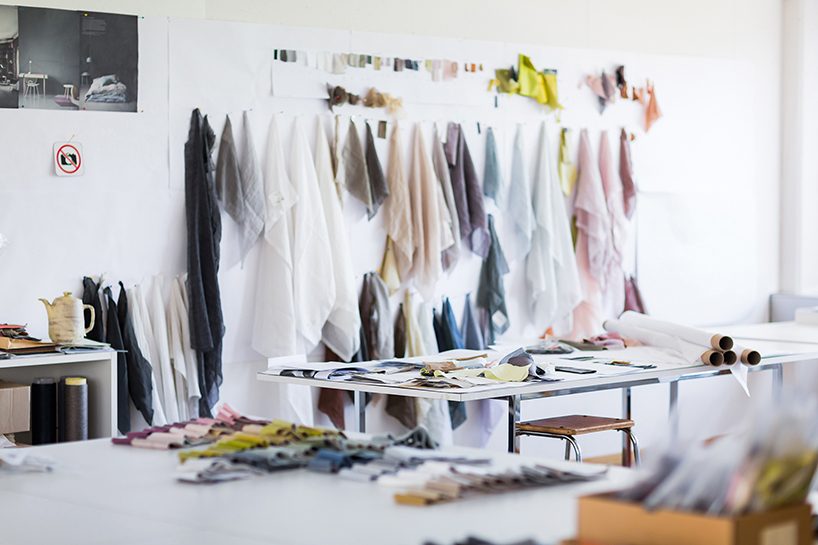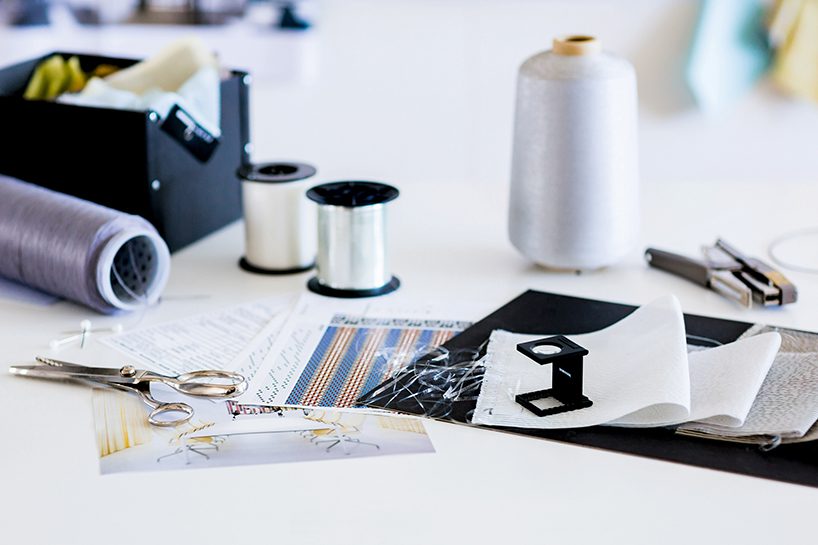 swiss know-how: CRÉATION BAUMANN's acoustic textiles are developed in its in-house design atelier and produced in its own factory in the swiss town of langenthal – all ISO/EN-tested and suitable for any acoustic context
SKC: well, I guess that's the textbook definition of good design. what did william morris say again about having nothing around you that you do not know to be useful or believe to be beautiful?
the baby's stopped crying. and I can hear a symphony of birdsong through the open window next to my desk on this fine spring day. an acoustic symphony, as you might say!
thanks for your time, philippe. it was good to speak. and all without sound.
PB: thanks to you, too, for an interesting exchange!
guest feature by simon keane-cowell / architonic
feb 19, 2020
feb 19, 2020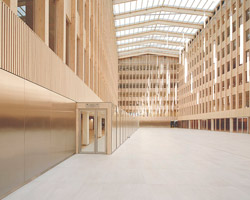 feb 14, 2020
feb 14, 2020
feb 13, 2020
feb 13, 2020
feb 11, 2020
feb 11, 2020
feb 07, 2020
feb 07, 2020
feb 04, 2020
feb 04, 2020
a diverse digital database that acts as a valuable guide in gaining insight and information about a product directly from the manufacturer, and serves as a rich reference point in developing a project or scheme.