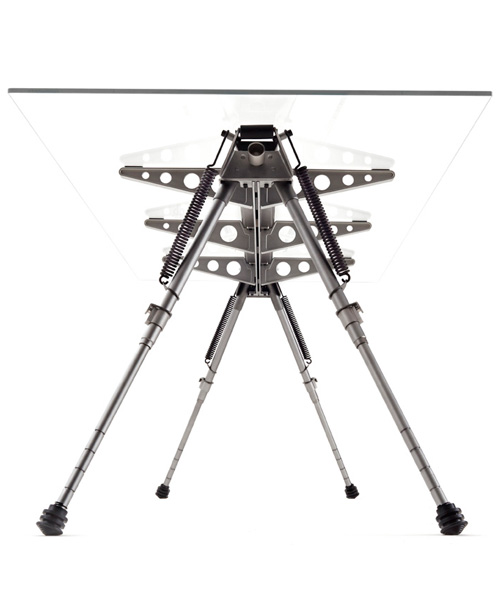 sep 05, 2015
dai sugasawa references military equipment in his bipod table design
dai sugasawa references military equipment in his bipod table design
dai sugasawa draws on the utility of military equipment, seeking the help of specialists in this field, to realize his 'bipod' table. debuting at maison et objet 2015, the furniture piece produced by industry+ is made with precision, with all parts machined to achieve design and functional efficiency. made from 99 percent aluminium, the 'bipod' table is lightweight (it weighs only 10 kg), compact and recyclable; and employs analog retraction mechanisms which make it easy to adjust its height, as well as fold and transport. the form of 'bipod' is the sum of its functions with the industrial detailing, and exposed parts of the structure represented in plain site, with no hidden elements or unnecessary components, projecting a 'what you see is what you get' attitude. truly versatile, sugasawa's design can be used anywhere and at any time — from an impromptu dinner table, to a horizontal surface in a workshop — and encourages improvisation meaning it can be combined with any top — from a sheet of glass to a wood board. it comes available in four anodized finishes: metallic grey, warm black, warm white and silver, and comes in a sturdy carrying case.
designboom interviews dai sugasawa to find out what he wanted to achieve aesthetically and functionally with the 'bipod' table, and what is influencing his creative practice.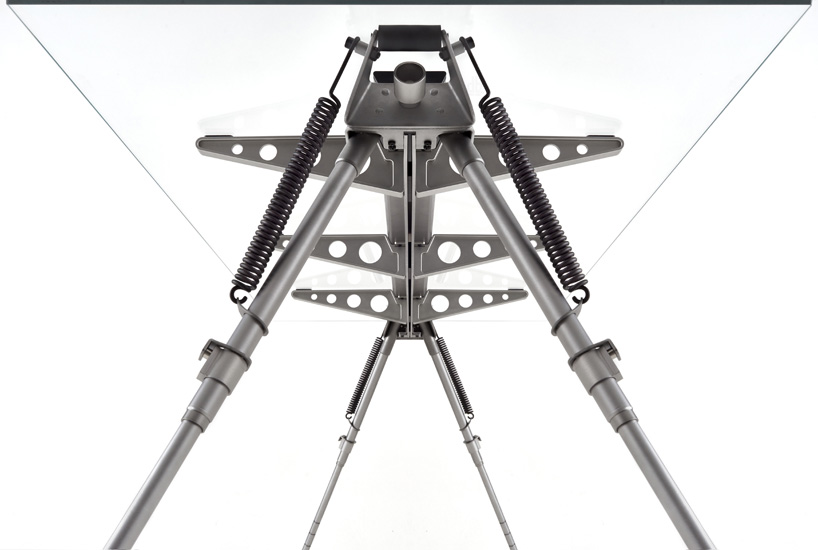 the analog mechanics of the 'bipod' table reference military equipment
designboom: what originally made you want to become a designer?
dai sugasawa: actually, a long time ago when I was young, before becoming a designer, I was an antiques dealer. I was fascinated by objects, particularly by industrial products and furniture… and one day I say to myself: 'hey dai! you can also do it!' so I taught myself about what the job of a designer entailed. I'm lucky because I have learned a lot thanks to mentors like cristhophe pillet and philippe starck.
DB: what do you think to date has had the biggest influence on your design practice?
DS: I'm fascinated by industrial mechanic movements, like a watch or analog camera. this kind of industrial logic is really what influences my design practice.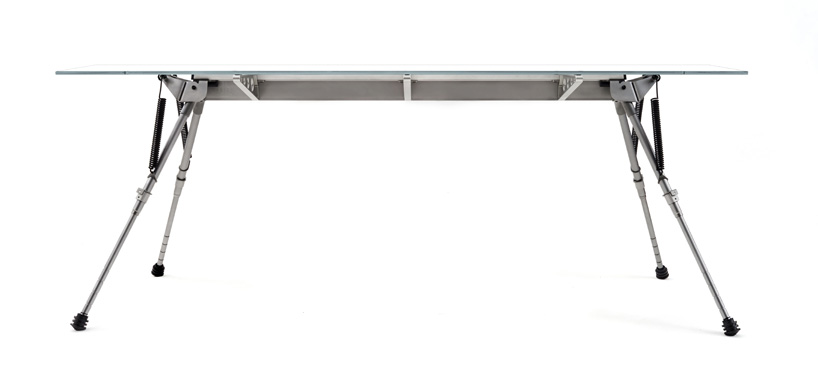 profile of the 'bipod' table's industrial detailing
DB: what are you currently fascinated by, and how is this feeding your work?
DS: today, I'm really interested by artisanal / craft work where each craft piece is unique. this kind of design is produced in the complete opposite way of how I conceived the 'bipod' table, the opposite of mass production. so I'm thinking about this idea of the imperfect product, and how I can maybe apply this approach to industrial design.
DB: looking at your portfolio, how do you find a balance between form and function when developing your ideas?
DS: there is no established formula – the balance depends on the product; it's nature, the context, and which story you want to tell. however, I always keep in mind that a good product should make sense, have a voice or character, and be intuitive.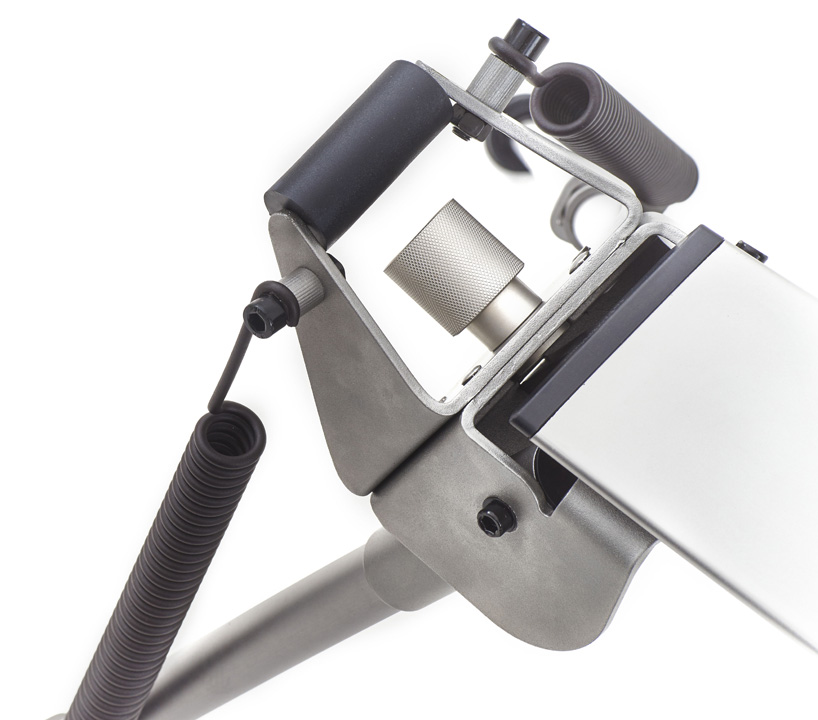 detail of the analog mechanism
DB: can you speak about the evolution of the bi-pod table?
DS: I'm used to visiting second-hand shops and flea markets. I love to discover unknown and original products. one day I found an old mechanical military piece. I was struck by the engineering quality and the mechanic simplicity of it, and the idea of a table inspired by this mechanic system. when I started collaborating with industry+ I knew that 'bipod' was an enthusiastic project for them. they worked well on the product development and found a facility to manufacture it that employed people that have the same love for industrial design as us.
DB: what is so special about the mechanics employed in the furniture piece?
DS: it is definitively the analog value of the mechanics. today, lots of mechanical products contain electronic components which can bring a kind of weakness to things, and which can make products become quickly out of date, this is why the 'bipod' table's analog aluminium mechanisms are so special. it is a tribute to the modernist principles of simplicity, efficiency and practicality through industrial design.


the 'bipod' table collapsed
DB: what were some of the challenges in designing the 'bi-pod' table?
DS: the challenge was to take over the initial mechanic concept and develop our own system. we worked hard to achieve all the table functions without compromising the values – lightweight, resistant, compact — of the overall design.
DB: what did you want to achieve with the 'bi-pod' aesthetically and functionally?
DS: there are two main things that industry+ and I wanted to achieve with this project. first, designing a table that is really efficient functionally, and offers a great flexibility to the user; and secondly, to assume a strong point of view regarding the aesthetic. designers such as raymond loewy in the 30's, were focused on the idea that it is imperative to hide the mechanical parts of a product, because for them it was something ugly for potential clients, and would not encourage sales. with 'bipod' we had the complete opposite in mind with its aesthetics literally coming from its exposed mechanical functions.


the 'bipod' table comes in a carrying case
UPDATE: the 'bipod table' by dai sugasawa is on show at spazio maria calderara as part of industry+'s exhibition during milan design week 2016.
see designboom's instagram coverage @milan.design.week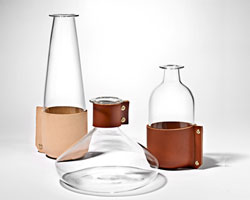 oct 03, 2015
oct 03, 2015
sep 25, 2015
sep 25, 2015
sep 22, 2015
sep 22, 2015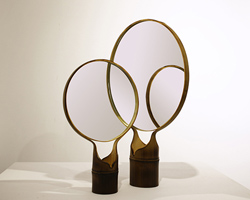 sep 17, 2015
sep 17, 2015
sep 16, 2015
sep 16, 2015
sep 14, 2015
sep 14, 2015
jul 27, 2016
jul 27, 2016
jul 05, 2016
jul 05, 2016
jul 02, 2016
jul 02, 2016
a diverse digital database that acts as a valuable guide in gaining insight and information about a product directly from the manufacturer, and serves as a rich reference point in developing a project or scheme.