feb 17, 2016
damien hirst opens pharmacy 2 restaurant at newport street gallery in london
damien hirst opens pharmacy 2 restaurant at newport street gallery in london
all images courtesy of prudence cuming associates © 2h restaurant ltd.
damien hirst has teamed up with english chef mark hix on 'pharmacy 2', an art-themed restaurant at hirst's newport street gallery in vauxhall, london. opening to the public on february 23rd 2016, the eatery features work from hirst's most iconic series, including the 'medicine cabinets' and 'butterfly kaleidoscope' paintings, alongside etched glass windows depicting DNA strands, marble inlaid flooring and a bar that incorporates a stainless steel and glass vitrine. colorful pill graphics are embedded into the marble floor and embroidered onto leather banquettes. 

the eatery features site-specific work from hirst's most iconic series
'pharmacy 2 combines two of my greatest passions; art and food,' hirst says. 'I've always loved mark as a chef and his approach to food, so it's great we're working together on this.' 
the name 'pharmacy 2' references both the artist's installation piece from 1992 and the hirst-designed 'pharmacy restaurant & bar' in notting hill, open from 1998 until 2003.

a bar incorporates a stainless steel and glass vitrine
newport street gallery is the realization of hirst's long-term ambition to share his art collection with the public. opening in october 2015, the site features pieces from hirst's personal art collection, with the inaugural show set as 'power stations' — a solo exhibition of paintings by john hoyland. the on-site restaurant gives visitors the opportunity to view some of hirst's own art, which reflects his interest in science, medicine and pharmaceuticals. read more about the newport street gallery on designboom here. 

etched glass windows depict DNA strands 

colorful pill designs are embedded into the marble floor and embroidered onto the leather banquettes

wallpaper detail

the art-themed restaurant is set to open at hirst's newport street gallery in london
oct 31, 2017
oct 31, 2017
oct 24, 2017
oct 24, 2017
oct 24, 2017
oct 24, 2017
oct 21, 2017
oct 21, 2017
oct 18, 2017
oct 18, 2017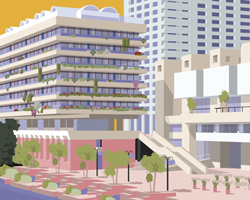 oct 16, 2017
oct 16, 2017
may 24, 2017
may 24, 2017
may 03, 2017
may 03, 2017
oct 08, 2015
oct 08, 2015
oct 31, 2017
oct 31, 2017
oct 30, 2017
oct 30, 2017
oct 23, 2017
oct 23, 2017