jun 16, 2016
daniel libeskind creates florence blossom sculpture for salvatore ferragamo parfums
daniel libeskind creates florence blossom sculpture for salvatore ferragamo parfums
daniel libeskind has installed a 13 meter sculpture within florence's historic piazza santa trinita. comprising a matrix of planes and lines that cross-hatch the public square, the installation has been designed to playfully reinterpret the lily — the floral symbol of the ancient italian city. named 'florence blossom', the bright red structure will remain on view until june 17th, 2016.

the sculpture is located within florence's historic piazza santa trinita
presented during men's fashion show pitti immagine uomo, libeskind's temporary pavilion has been designed for the perfume division of italian fashion house salvatore ferragamo. the installation is constructed from wood, and clad with red aluminum panels — ferragamo's heritage color. its interior is lined with reflective glass panels that seek to create a multidimensional experience, offering a new perspective of the city with a play of light, shadow, and color. vertical planes that intersect the piazza are clad with red panels and reflective mirrors that connect the sharp, geometric form to its historic context.

the design comprises a matrix of angular planes and lines
'scent of life is an attitude, a state of being, a way of approaching life that involves always striving for the best — with irony and optimism, and an eye for style and beauty,' says luciano bertinelli, CEO ferragamo parfums. 'all of this is part of the story of uomo salvatore ferragamo, the new fragrance for man. architecture and design are part of the italian excellence and we are proud that daniel libeskind joined us in this project to give his personal vision.'

the installation is constructed from wood, and clad with red aluminum panels
image © marco neri
'salvatore ferragamo is the epitome of italian excellence,' adds daniel libeskind. 'it has been a true pleasure collaborating with them on the installation florence blossom. the design is a playful interpretation of a flower — the way it reveals and conceals itself — similar to the way we interact with the city.'

the interior is lined with reflective glass panels
image © marco neri

an aerial view of the 13 meter-long installation
image © marco neri

concept sketch of 'florence blossom'
image © studio daniel libeskind

the installation has been designed to playfully reinterpret the lily
image © studio daniel libeskind
Save
Save
Save
Save
Save
Save
oct 15, 2017
oct 15, 2017
oct 04, 2017
oct 04, 2017
oct 01, 2017
oct 01, 2017
sep 26, 2017
sep 26, 2017
sep 05, 2017
sep 05, 2017
aug 29, 2017
aug 29, 2017
oct 02, 2017
oct 02, 2017
mar 21, 2017
mar 21, 2017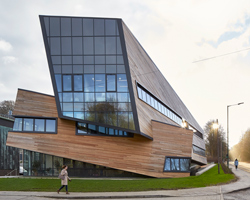 mar 06, 2017
mar 06, 2017