aug 11, 2011
david hanauer: google earth worldwide carpets
'6th and flower st', one in david hanauer's 'worldwide carpets' series that makes persian-style rugs patterned from google earth images
the 'worldwide carpet' project by munich-born designer david hanauer reinterprets the tradition and craft of oriental rugs into a contemporary language, creating carpet patterns from google earth images.
hanauer first began designing the aerial montages in 2008, after becoming interested in the suburban planning of las vegas, which he found surreal in its uniform, top-down approach. indeed many of his designs focus on los angeles and las vegas, by which hanauer adds a level of conceptual interest to the pieces through his visual examination of city planning, in addition to exploring through the craft of rug-making the lines of diversion between the traditional and the modern.
the 'worldwide carpet' patterns draw from the language of traditional rugs, frequently featuring a symmetrical pattern with a center medallion and border. hanauer first selects an interesting section from the 3D satellite maps from google earth, making only minor retouches before repeating and reflecting the design. in his work he seeks not to create a new image but rather to visually express the structure and rhythm of the city, emphasizing the extent to which this mode of urban planning is removed from the physical. in some cases, traces of his process are left intentionally intact, such as with a visible 'google' watermark on the rug.
the patterns are printed commercially onto durable fabric, whose reverse is finished with an anti-slip rubber coating. the finished rugs can be used independently as small mats or tiled into rows of varying dimensions.
installation view of tiled 'worldwide carpets #1: 6th and flower st'
'worldwide carpets #1: 6th and flower st', detail
'worldwide carpets #3: city of hope'
'worldwide carpets #3: city of hope', detail
'worldwide carpets #3: city of hope', tiled
concept pattern
concept pattern tiled
'worldwide carpets #2: arctic woodland', tiled
'worldwide carpets #2: arctic woodland', detail
additional concept pattern
additional concept pattern
additional concept pattern
additional concept pattern
news coverage and discussion with david hanauer of his 'worldwide carpets' video © deutsche welle
jun 15, 2017
jun 15, 2017
nov 01, 2016
nov 01, 2016
sep 30, 2016
sep 30, 2016
jun 12, 2015
jun 12, 2015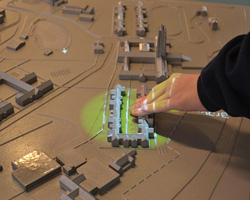 nov 21, 2014
nov 21, 2014
may 09, 2014
may 09, 2014