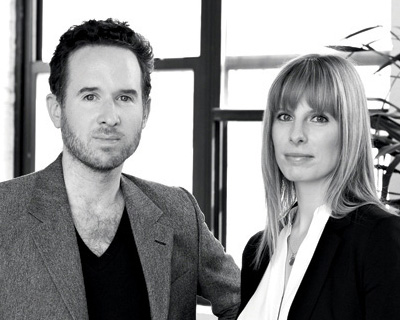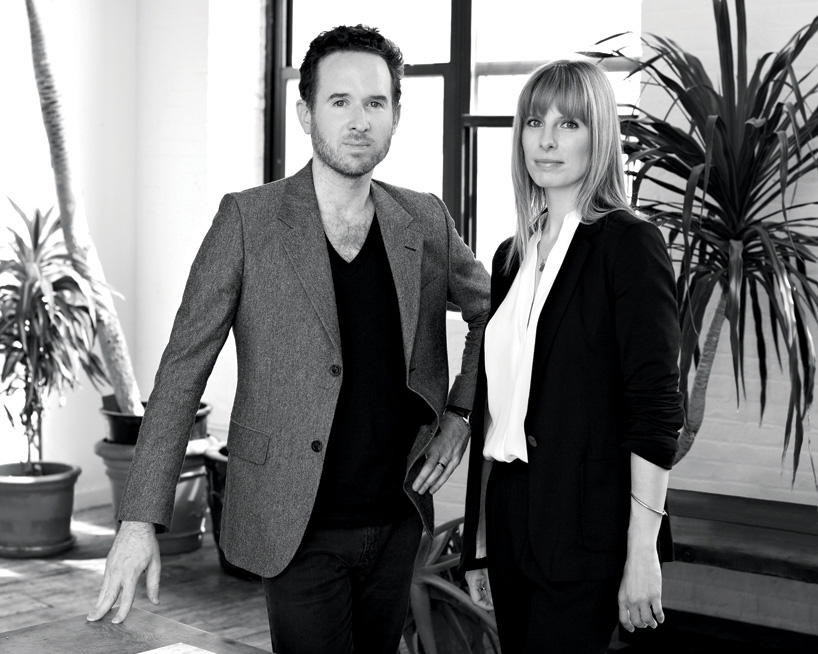 jun 25, 2013
triboro interview
top image: triboro (david heasty and stefanie weigler)
triboro is the new york-based studio of david heasty and stefanie weigler, together the couple create design solutions for clients in publishing, art, fashion, music, lifestyle, and for cultural institutions.
DB: please could you tell us briefly about the evolution of triboro?
T: we opened triboro in 2008. our creative approach and process hasn't changed significantly over the years but it has become more efficient. we wanted a company that could remain small but could offer a unique mix of macro and micro expertise. even with only two partners we do everything in-house. from solving our clients' strategic challenges to the final execution of their logos, publications, imagery, custom typefaces, etc. we don't see us changing the formula too drastically in the future, but we are always seeking opportunities to learn and to challenge ourselves. in the last years we have been fortunate to be able to focus the studio's attention on only the projects that we find most inspiring.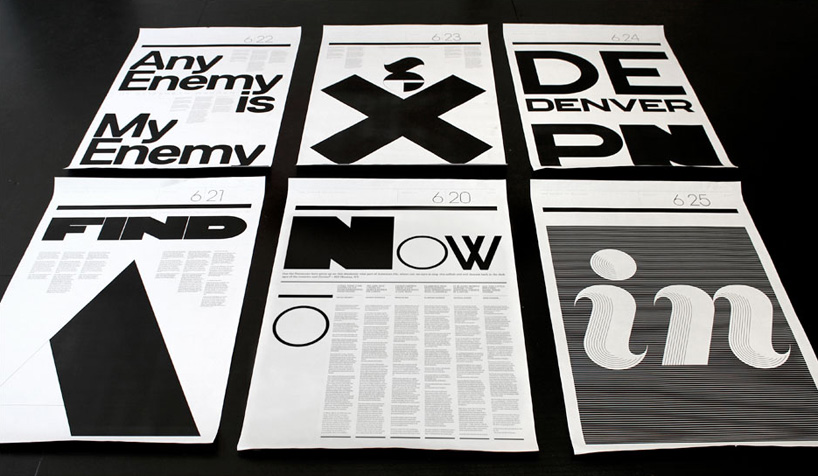 the paper of record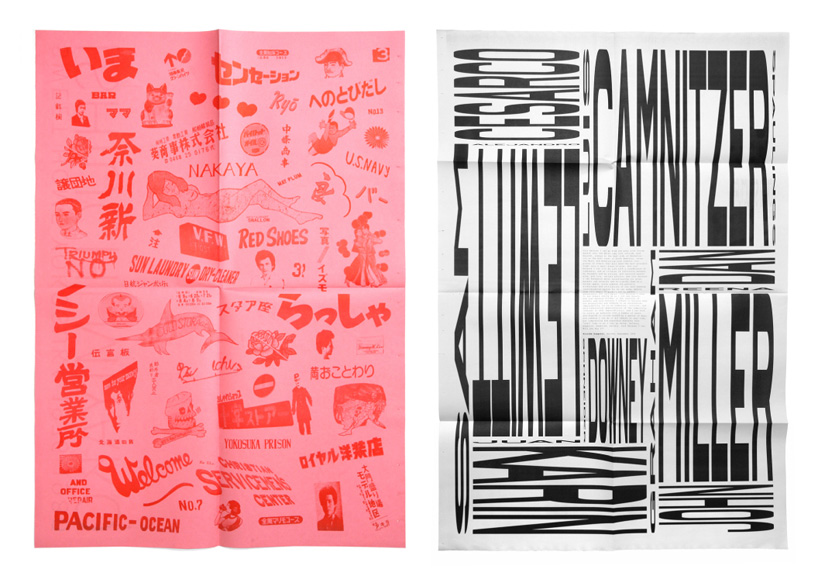 invites for roth gallery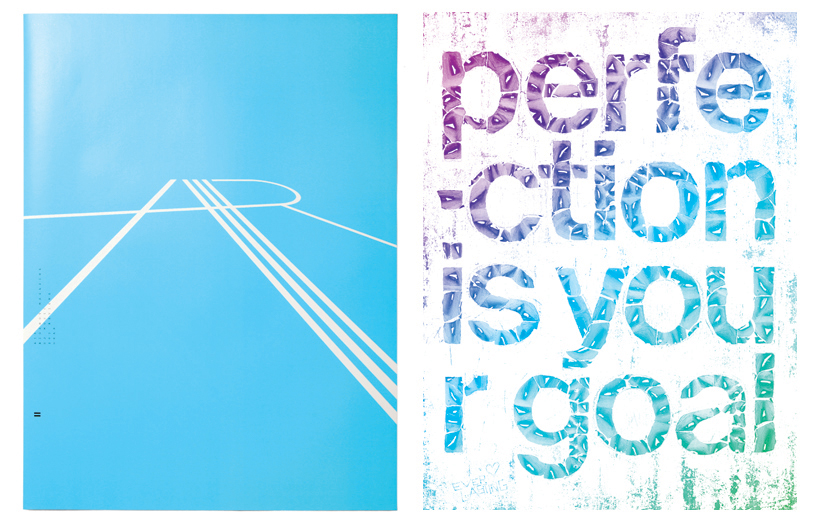 posters for air (left) and an exhibition at the type directors club
DB: how do you share / divide your workload?
T: it's just the two of us and because we have been working together so long—and are married—the collaboration is seamless. we are trading off responsibilities on projects as they progress and bouncing ideas off each other constantly.
DB: which have been your most significant and satisfying projects to date?
T: we are happiest with the projects where we are able to maintain significant control throughout the creative process. so we enjoy self initiated projects like our one-color subway map. we originated the idea, executed the design, and marketed the final product and sold it to people around the world. we also enjoy working with new businesses. we get to start with a blank slate. working one on one with an entrepreneur who has passion and a dream. in this environment we do not have to dilute the work in response to focus group testing, marketing timidity or a fear of failure. brave design for brave clients. we have worked with johan lindeberg a few times and he is very inspiring—first with william rast and most recently BLK DNM. also brands like everlane are rewriting some of the rules of what a company can be. it's very rewarding to watch brands go out into the world, develop a loyal fan base, and succeed.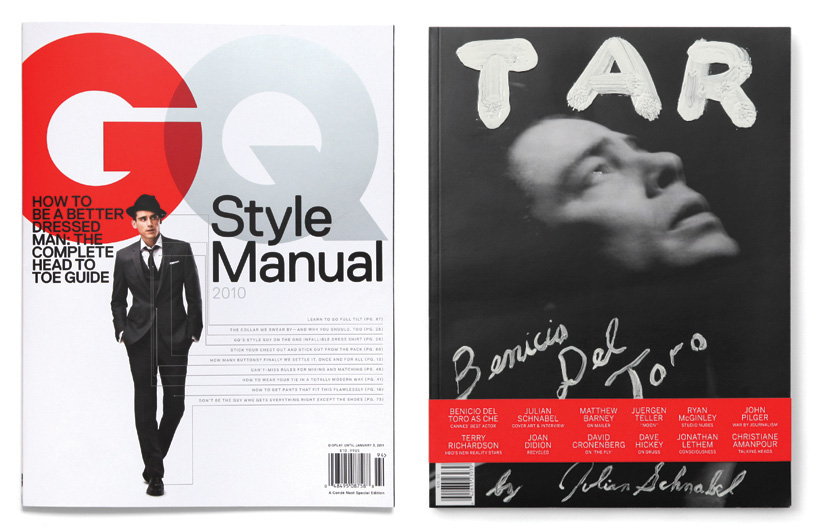 publications designed for GQ (left) and tar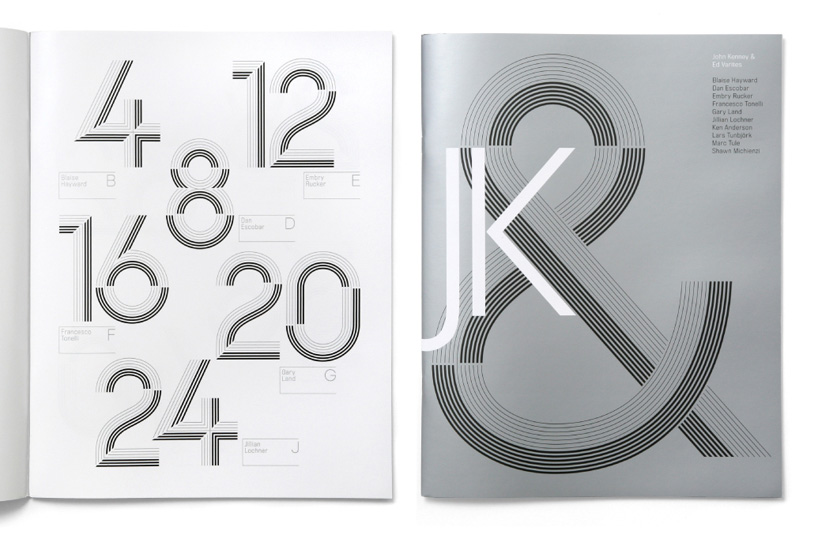 publication for a photo agency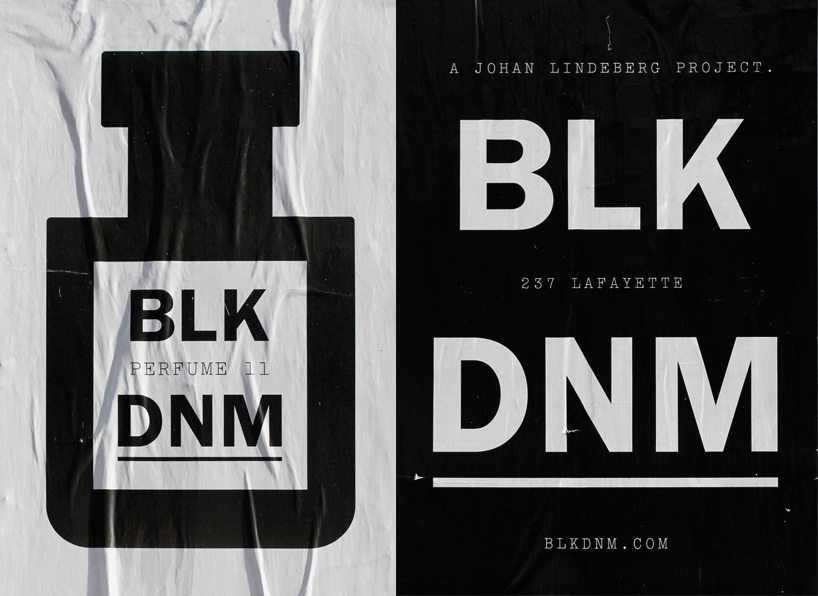 advertising for BLK DNM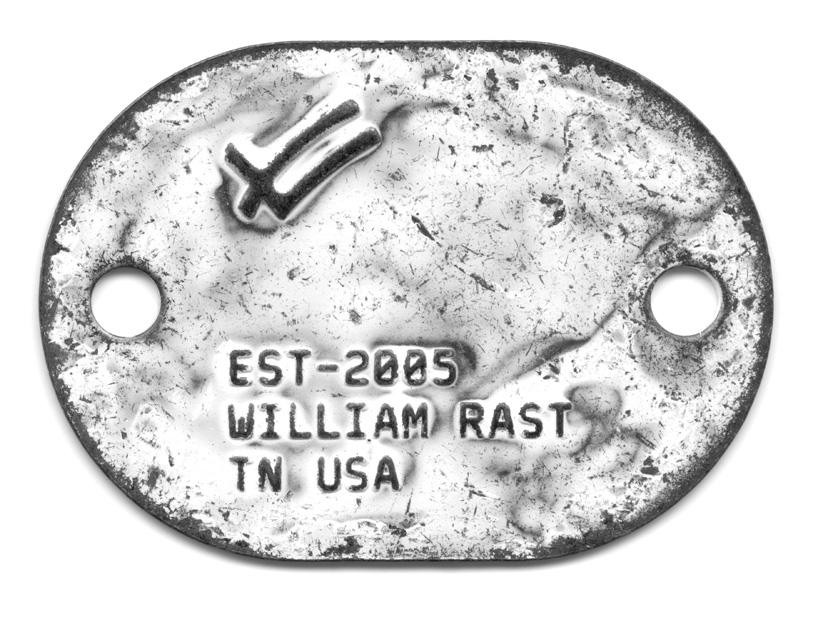 hangtag for william rast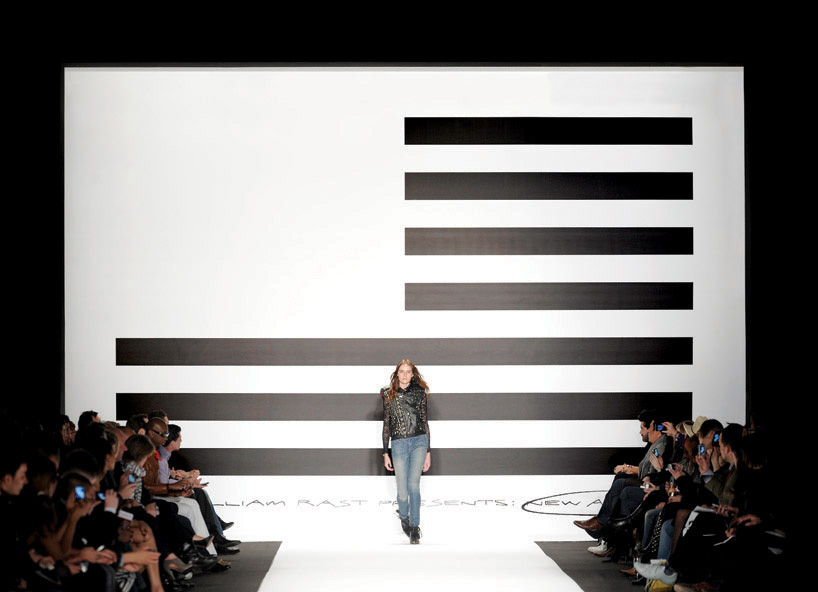 william rast runway show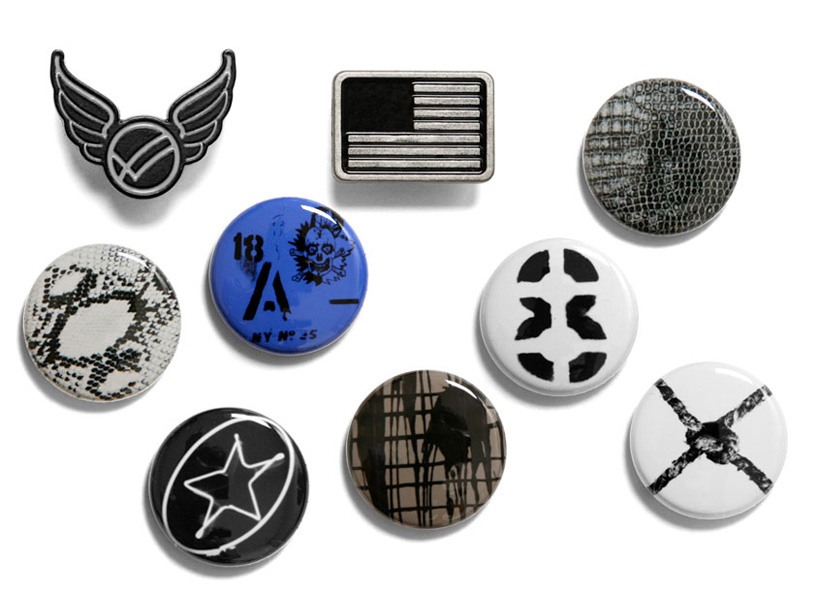 pins for william rast
DB: do you think it's important for a graphic designer to be able to draw?
T: it's not a requirement but we think it does make a difference. the tools that designers employ to do their job, particularly typography, can theoretically be taught to someone without them having any internal aesthetic sensibilities. for example there are probably 'rules' that you can follow to make a pretty effective business card. we are not especially good at drawing or painting, but the fact that we spent most of our youth doing these things makes us appreciate the effort and talent it takes to render something with a degree of control. drawing is good practice for two things we think are essential to design—control, and alternatively—chance. the hand has more freedom to move than the mouse, and the drawn line is more open to interpretation, so when we draw we tend to see more unintended possibilities hidden within the sketch.
DB: what do you think the most significant developments in graphic design have been in recent years?
T: the fact that any aesthetic is fair game. clients don't seem to have any preconceptions about what contemporary design should look like. this culture frees us to create work that is more conceptual and more customized to each project.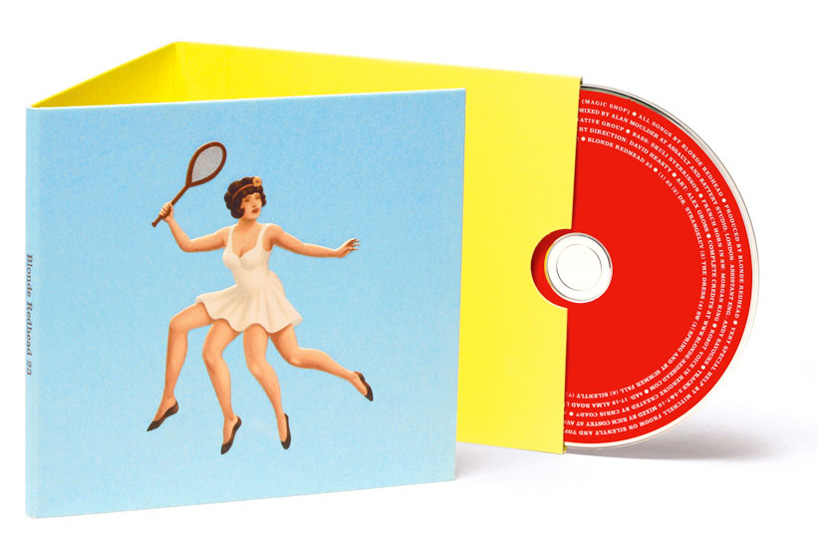 packaging design for blonde redhead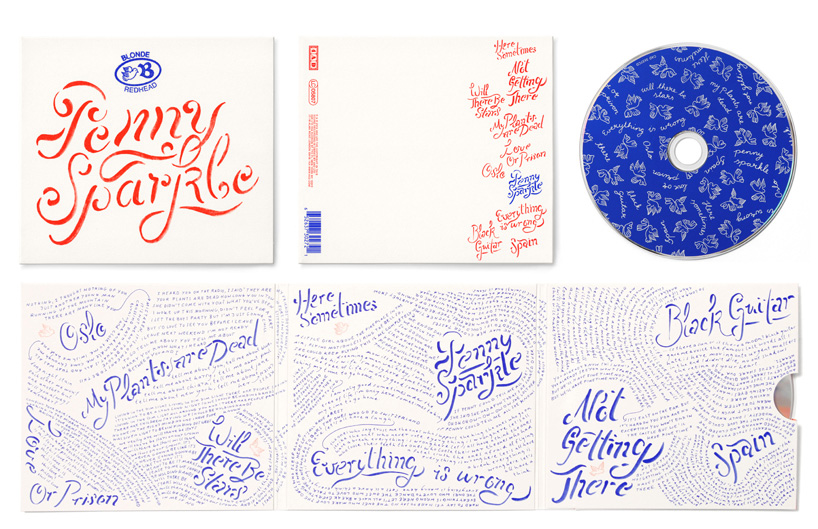 packaging design for blonde redhead
DB: how do you think the wealth of online design resources have influenced graphic design?
T: as with most things it seems to have pros and cons. it's great that designers can get their work out easily. paradoxically, it's harder to get work noticed because there is just so much out there. while young designers are more connected than ever they have likely become more anonymous. when we were starting out in the field there were clearly defined individuals pushing the industry forward. with brody, carson, designers republic, etc. every graphic innovation was clearly linked to its respective author. now there seems to be good work coming from many places but no easy way to sort through it, and it becomes harder to separate the original source from the legions of copycats.
DB: besides your professional work – what do you have a passion for and why?
T: travel—getting the hell out of new york! food—because we have a combined live/work space so we find it easy to cook and bake. reading—it's always nice to turn off and focus on something totally unrelated to design. skiing and surfing—bonding with nature.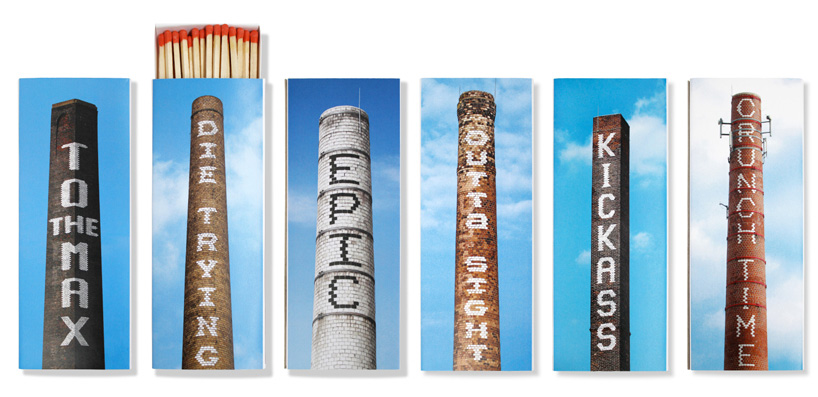 towers of power matchbooks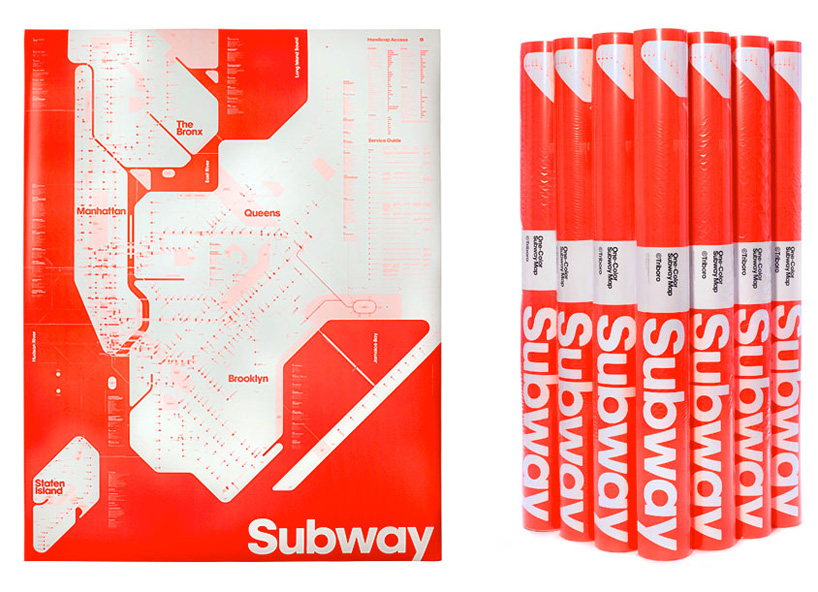 triboro's one-color subway map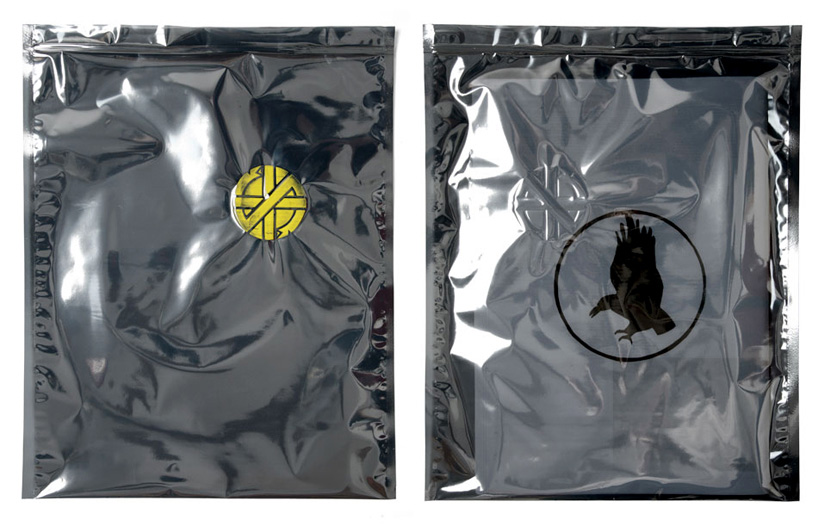 exhibition catalog on the band crass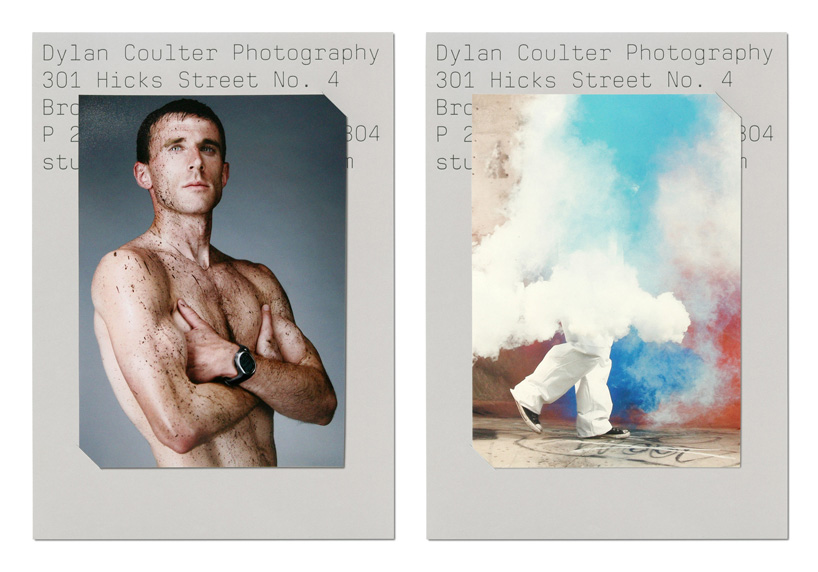 identity for the photographer dylan coulter
DB: what lessons have you learned from a work project that has changed your general outlook on life?
T: at first we assumed that all successful/powerful people must be divas and therefore the worst clients. we discovered in reality it's the opposite. the really successful people we have met have all had a sort of inner confidence—whether acquired or innate—that has likely contributed to their success. they trust in their own judgment and consequently the judgment of the professionals they hire. invariably it is the people that lack confidence that make the worst clients. they have difficulty trusting their own judgment as well as the people that work with them.
DB: what mistakes or 'traps' should a young graphic designer avoid?
T: avoid specialization. committing yourself to a specific sector of design is to risk becoming obsolete as these industries change/disappear. it's comfortable (and normal) to fall into a specific category of design, but over the years we have intentionally tried to avoid specializing. it has not only kept things interesting—and forced us to continually learn new things—but it has made our company resilient to the various economic shifts in NYC.
don't start your own company right after graduation. you may think you know a lot from design school but you likely know almost nothing about how the industry really works. find a job first and observe carefully how people do things. don't just accept what they do and internalize it… analyze it. pay attention also to what not to do.
don't fall for the money trap. if it's your first job, choose the job that seems most challenging, where you can learn not the one that offers more money.
DB: what is the best piece of advice you have ever been given
T: life's too short to work for assholes.
DB: what is the worst piece of advice you have ever been given?
T: don't become a designer, there's no money in it.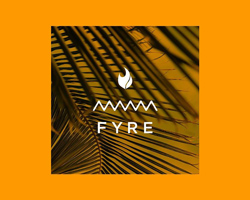 feb 10, 2019
feb 10, 2019
jun 21, 2018
jun 21, 2018
may 17, 2018
may 17, 2018
oct 04, 2017
oct 04, 2017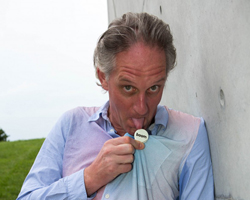 jul 29, 2016
jul 29, 2016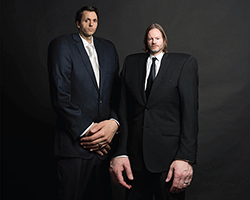 feb 21, 2016
feb 21, 2016
may 01, 2014
may 01, 2014
a diverse digital database that acts as a valuable guide in gaining insight and information about a product directly from the manufacturer, and serves as a rich reference point in developing a project or scheme.