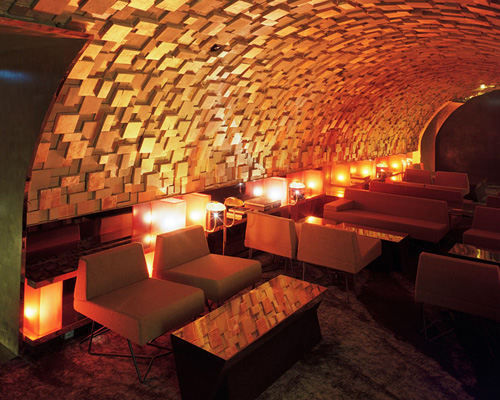 sep 06, 2011
david lynch: silencio club
david lynch: silencio club photo: alexandre guirkinger/silencio
silencio club owners arnaud frisch, manu barron and anthony caton invited david lynch to create a 'unique club experience' the result is a new space located at 42 rue montmartre that is inspired by and named after club silencio from the film mulholland drive made by lynch in 2001. 'I'm 65 years old… they say that when men go into their 50s they dream of building gigantic towers to prove their virility. I have directed films, composed music, made all sorts of objects, works that had a beginning and an end. now i want to make something solid. first, I started with painting.'
'for the last three years I have been working in a lithographic studio in montparnasse that picasso and miró used, drawing on the same stones where they painted. then I started working on silencio, which has taken the last two years. looking at what we have done, I feel myself almost immortal.' – david lynch told l'express (via the guardian) lynch collaborated with: ENIA architects, raphael navot, thierry dreyfus, quinette, domeau & peres, kuntzel & deygas and ateliers gohard to realize his designs. silencio will open to its members from october 6, 2011.
bar photo: alexandre guirkinger/silencio
bar photo: alexandre guirkinger/silencio
gold: golden monochrome is the colour signature of the silencio, whether the gold be real, pure metal or elaborated powder projections on floors and walls, it creates a game of shadows and lights… this technical feat was made possible thanks to the traditional craftsmanship of ateliers gohard who have lead their traditional techniques in a contemporary field.
organic mathematics: the club is shielded with a strong motive of randomly scattered raw wood cladding blocks that provide the space with a protector soul. this texture allows the silencio to be moved in space-time.
circulation: several volumes compose the silencio: live stage with a game on lights, a deep and spacious cinema, an intimate art library, or an illusive forest as a smoking room. a shifting of underground volumes connected by lacquered extrusions allows a curious transition of material and ambiances. the whole club was conceived following an intuitive study of transitions, and the core of the club is the bar around which the singular volumes circulate.
light: light designer thierry dreyfus collaborated on the light direction of the space.
innovative craftsmanship and design: a carpet printed by david lynch is covering the main entrance hall, the bar and lounges area spread according to the space flow. a customized wall texture of decomposed marble was developed with 'signature murale'.
furniture: david lynch has been designing and building furniture for many years. three series from his works have been realized for the silencio:
washrooms photo: alexandre guirkinger/silencio
'wire chair' by david lynch, manufactured by domeau & peres photo: sabine pigalle
wire: the 'wire' series (manufactured by domeau & peres) are welcoming seats and sofas in the library lounge, characterized by a curved metal rod that is harmonically unjustified in its clustered complexity, positioned under each seat.
'cinema seats' by david lynch (manufactured by quinette)
cinema seats: the cinema seats (manufactured by quinette) are the result of a special ergonomic study that has been conducted to match a spacious and atypical manner to experience the cinema viewing. the seat owns a reduced inclination and straightforward geometry to allow the guests a liberated position. each seat has its leg stretch pouf, tray, lamp and uncompromised space. projected bronze has been applied to the entire support of the seat.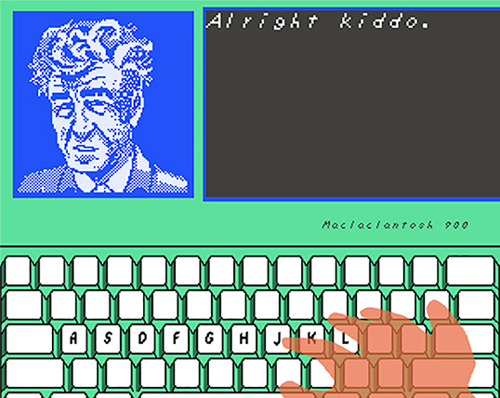 mar 03, 2018
mar 03, 2018
nov 23, 2014
nov 23, 2014
feb 24, 2013
feb 24, 2013
a diverse digital database that acts as a valuable guide in gaining insight and information about a product directly from the manufacturer, and serves as a rich reference point in developing a project or scheme.