nov 09, 2011
decagon tent by logos: japan good design award 2011
'decagon tent' by logos all images courtesy of logos
japanese outdoor equipment company
logos
has created 'decagon tent', a series of outdoor structures that can be used
separately or linked together to create larger, more complex spaces. presented at the
japan good design award
2011 exhibition
at tokyo midtown design hub, the project was among 72 other shortlisted products on show.
the award is chaired by japanese architect naoto fukasawa. see a full list of the judges
here
.
potential arrangement of tent units
the tents are modular elements which can stand as individual sections, working as a single traditional tent. however, a special fastening system allows them to be attached to one another in a multitude of arrangements to create interior environments of any size and composition. there are four main modules: 'decagon link', 'link dome', 'link screen' and 'car joint tarp' which can be joined to one another.
top view of a proposed arrangement
assemblage of tents whereby cars become part of the structure
'car joint tarp'
the 'car joint tarp' allows a vehicle to become part of the tent space adding additional storage. this component connects any car to the module.
exterior view of the 'car joint tarp'
interior view
detail of car acting as part of a tent complex
'decagon link'
the center piece for any arrangement of this tent system is the 'decagon link'. it is comprised of five possible openings to allow one to attach the various available tent modules to this central component. it can also be used as a single unit,  accommodating three people for sleeping, or transformed into a dining area.
center piece to with five other parts can be attached
'link screen'
the 'link screen' is the largest of the tents. it is a sheltered dining area that is able to sit up to 16 people. both ends feature a fastening system, making it attachable to any other unit in the series.  
'link dome'
'link dome' is a smaller unit with a back and front opening. used alone, it can sleep up to four people when combined with the other elements, it can link two central decagons. 
details of the 'link dome'
demonstration of use
the available tent modules: 'decagon link', 'link dome', 'link screen' and 'car joint tarp'
dimensions of the 'decagon link'
nov 15, 2011
nov 15, 2011
tents
(29 articles)
nov 23, 2016
nov 23, 2016
mar 21, 2016
mar 21, 2016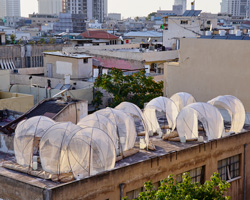 aug 28, 2015
aug 28, 2015