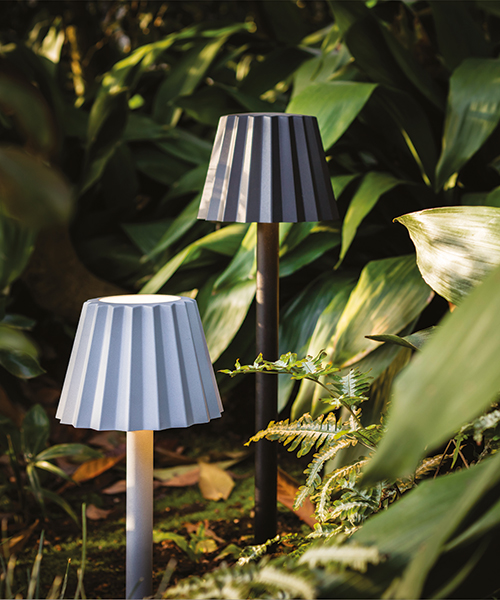 feb 29, 2016
arik levy bridges indoor + outdoor luminaires with 'butler' for delta light
arik levy bridges indoor + outdoor luminaires with 'butler' for delta light
all images courtesy of delta light
traditionally, when belgium-based lighting company delta light creates a set of products, they turn to their 30-person internal research and development team led by founder paul ameloot. this year, the company breaks tradition by asking designer arik levy to come up with a collection that complements the brand's range. the 'butler' is a culmination of two years of work into unchartered territory of hybrid interior/exterior LED lighting.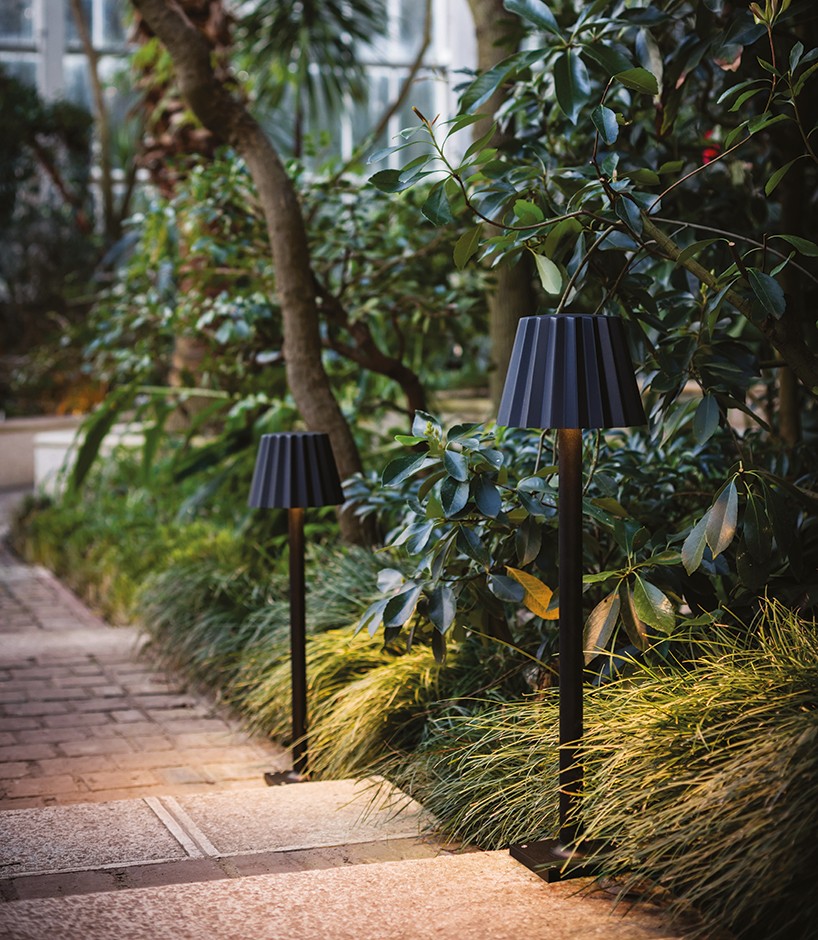 the 'butler' series will be available from summer 2016
an escape from delta light's design code, arik levy reinterprets the archetype lampshade for both interiors and exteriors. suitable for residential and commercial projects, its simple yet vivid shape brings an interior touch into outdoor spaces. at first glance, the 'butler' deceives the viewer by appearing to be made of aluminum like the majority of outdoor lights. once you touch the shade, it's immediately clear that the material chosen is a polymer with a resistant coating. the delta light series comes in different floor and wall mounted versions and all come in black or aluminum grey finishes.
designboom spoke to arik levy at his paris atelier about his collaboration with delta light, his design choices for the 'butler' and his battle for handmade products in an industrial world.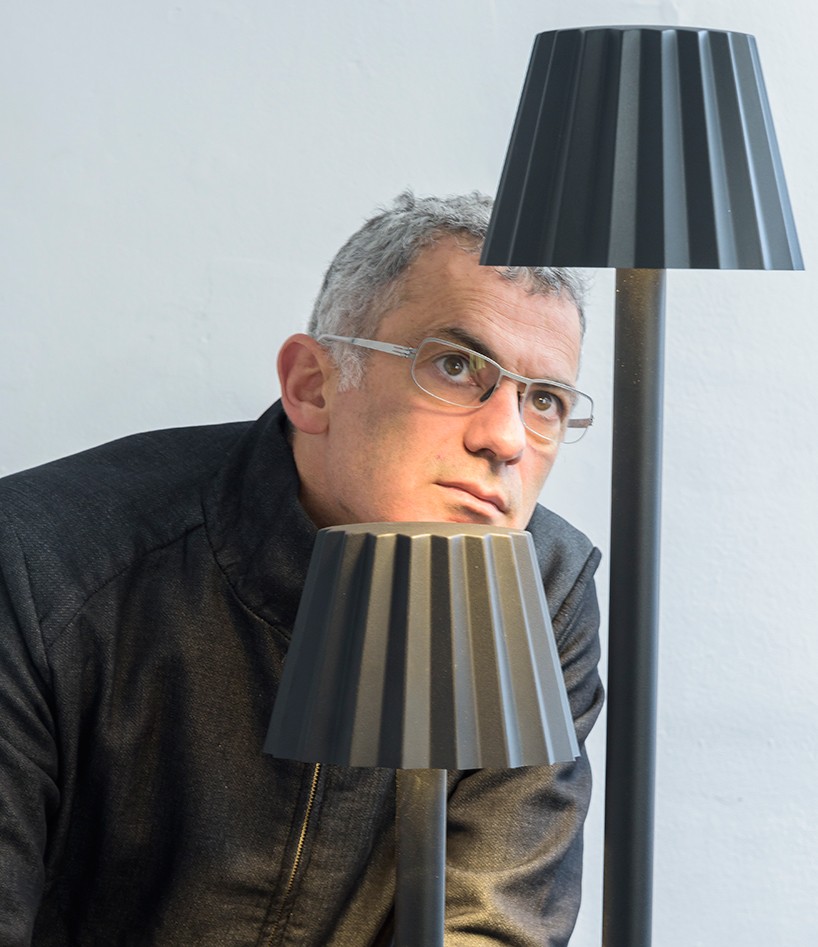 designer arik levy with the light fixtures
desigboom: what was your initial idea? did it match with the design brief from delta light?
arik levy: my idea was to create an extension to our mind and spirit and to our emotions. there is a philosophical theory that says – when you walk out of your home, exactly when you have one foot in and one foot out, YOU ARE the bridge between the inside and outside – with yourself, you bring something from the inside to the outside. in that moment, the outside is part of the inside, and vice versa. this is a rather new concept for product design. to me this new zone is super important, because the product IS according to where we are and not according to the architectural typology.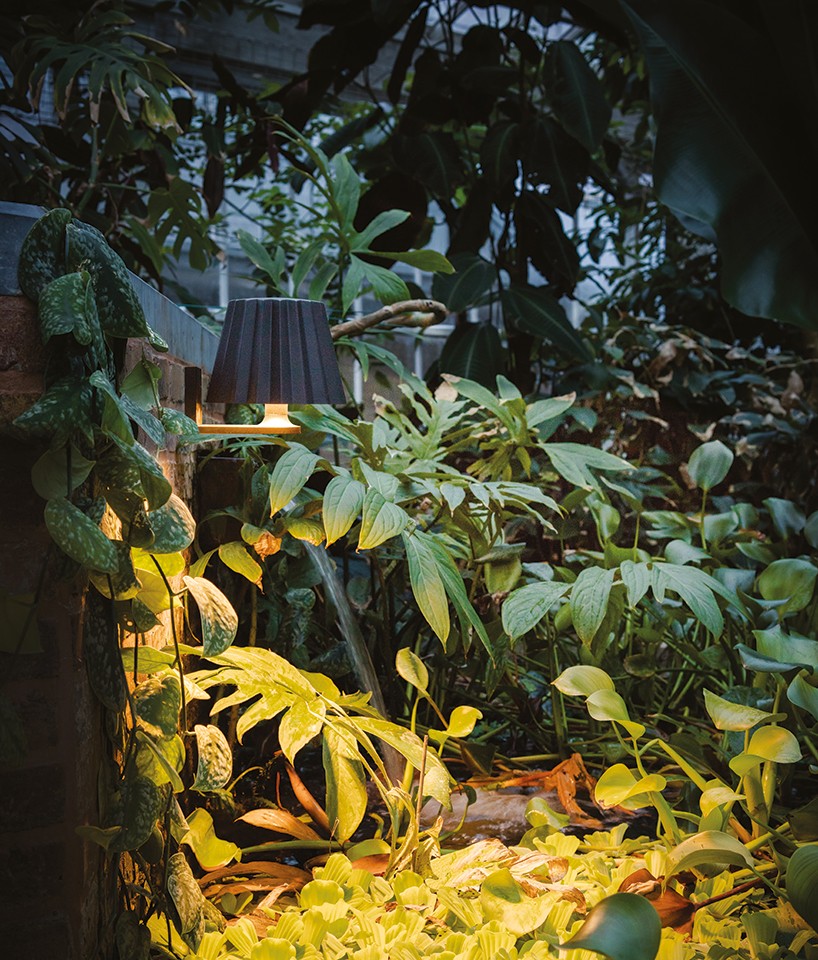 single or double wall-mounted versions
DB: what is the main difference when you create limited edition sculptures, compared to designing a product for delta light?
AL: I am two people. I am an artist and a designer. yes, it's interesting, I have a 'handmade obsession' that derives from my artistic research. for example, my past work with baccarat was the result of that 'handmade obsession', in every sense of the word..but with delta light I started from the idea of the archetypal lamp, with a base and a shade and I asked myself 'how do you industrialize a form without losing the emotional value of it?' in product development, there are ways to be persistent and dogmatic. for example, the lamp shall be appreciated by many different people and it will be placed in different locations. to be produced in 'industrial' numbers it can't exceed certain production costs. the artistic solution I adopted was that it should resemble THE old table lamp or bed side lamp with silk hangings. so, this new shape seems to have always existed and at the same time it has an immediate presence. it recalls some values that we all share. a simple form that connects history, past and future.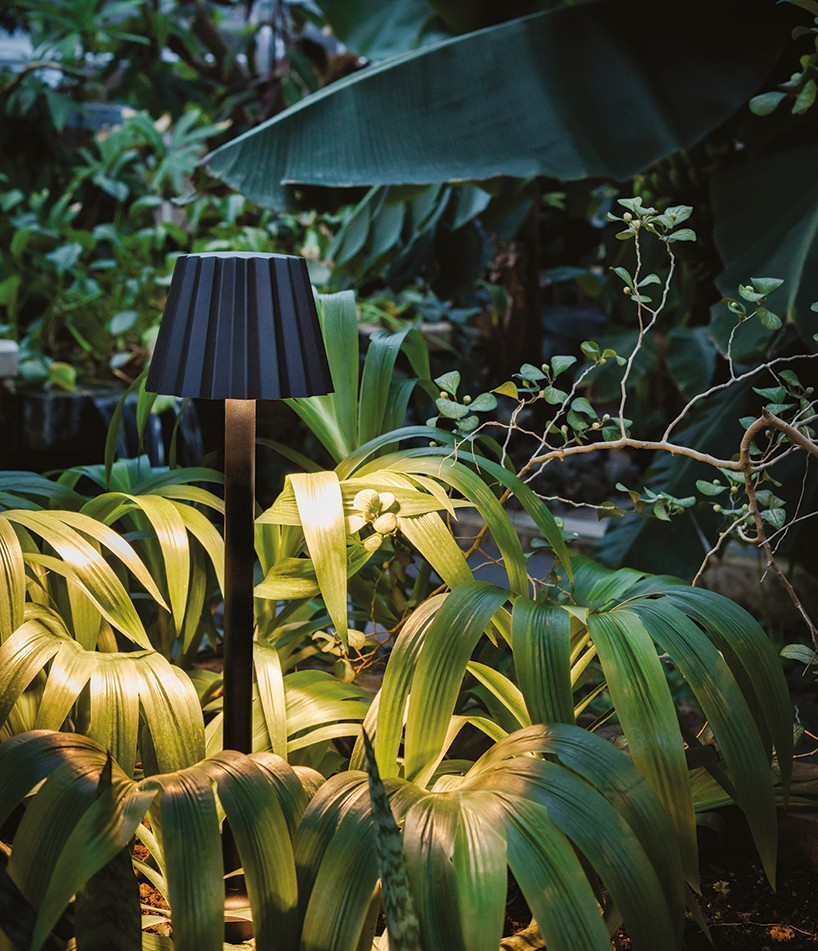 the 'butler' can accommodate different height needs
DB: you mentioned you were thinking of a textile technique, the 'plissé'?
AL: I remember, years ago, when I was riding my bicycle around paris, I saw a pile of folded paper. it was used for the making of a textile technique – the plissé fabric. this paper had the same folding as this lamp has. I tried to redefine angles, size and propositions. it's so beautiful, because it always reflects the light in a perfect manner. I changed a few times the number of folds and I think now it looks great, because now light and shadow convey the right rhythm. the shadows appear in a perfect way on these folded form and it is nice to see that it sort of merges in every space.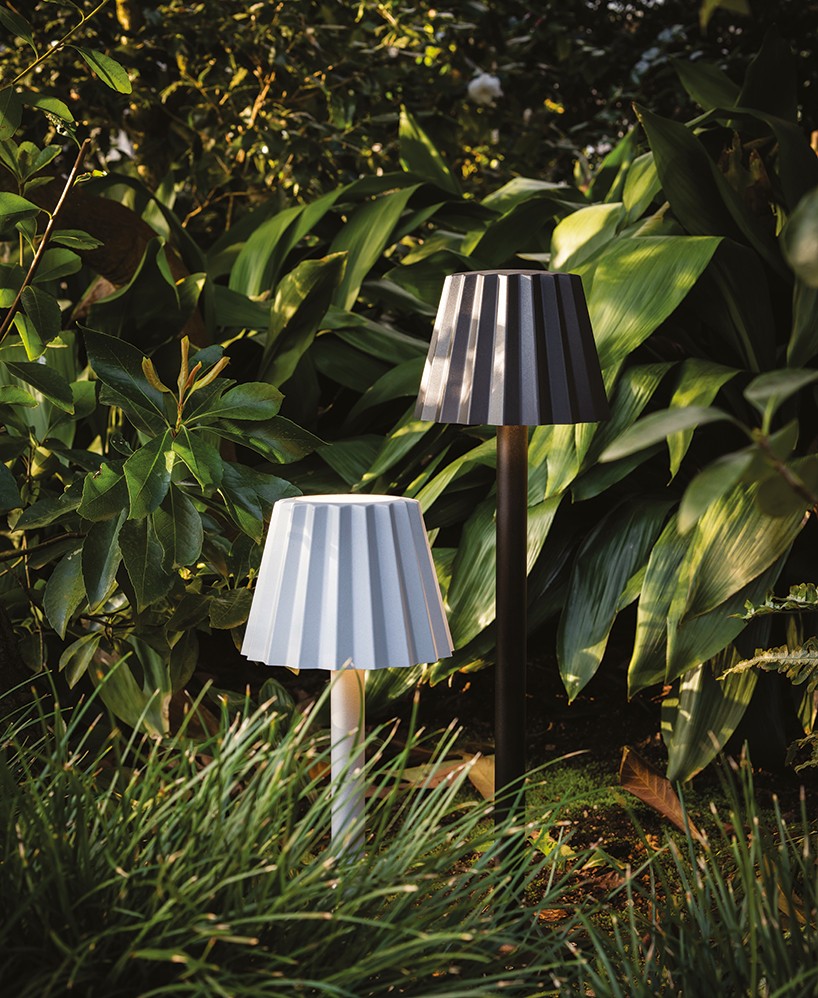 the series comes in both black or aluminum grey finishes
DB: what is the material of the shade?
AL: the head of the lamp is made from a plastic polymer. compared to our first option in aluminium, this polymer is better suitable for the continously changing outdoor temperatures. another thing that I like is that it's warmer when you touch the shade itself. it has a warmer feeling than a metallic material. something we've worked on a lot until we've found the solution, is the right light output (the best quality of light). in the beginning we wanted the inside of the shade to be white (for its reflective function). we first tried creating the shade out of injected metal, but the result was quite rough and lacked the finesse I wanted without resizing the light, which I didn't want to do. now, this is actually better.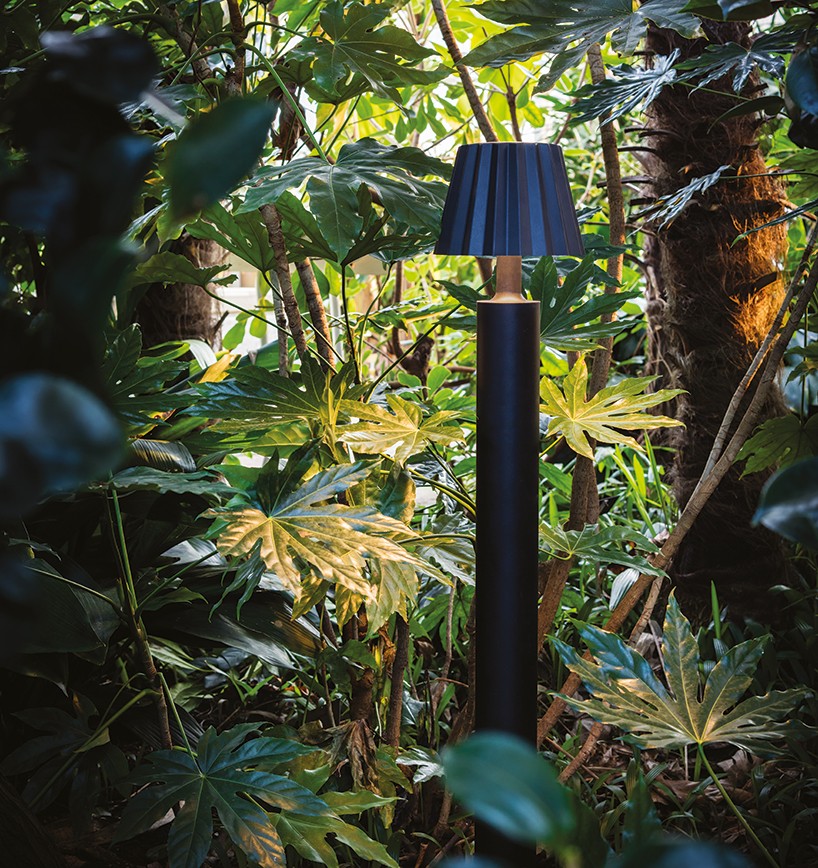 bollard version in variable heights and widths, escaping traditional outdoor lighting design, the top of the 'butler' is made from polymer with a resistant coating
DB: how many different models did you develop?
AL: one model has a base that can be buried into the ground and you don't see it. an other model can be screwed on a flat surface, like on a wooden deck or stairs, or it can be implanted in cement. then there are a few 'movable bases' (square and round shaped), with different stem heights… with light emission in down or down-up versions. the family has evolved during the design process and the more we've advanced, the more we saw new opportunities. hopefully many more models will be introduced. of course, not everything is proportionally scalable, but my wish would be to go bigger. a really big outdoor piece, maybe a chandelier.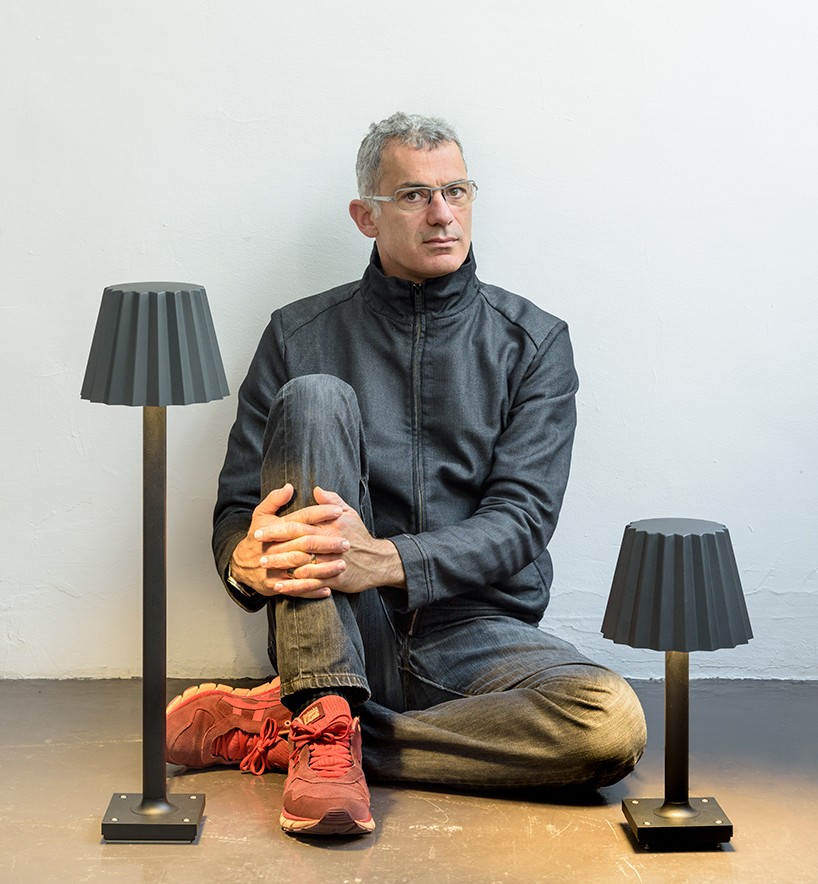 arik levy with delta light's lamp fixtures
DB: are there more colors?
AL: people's don't expect delta light to make a red lamp and for now, we have only two colors, a black and a grey. the transition that this typology (with such an amount of 'emotional ergonomics') brings in, is that sooner or later someone will come and say 'hey, but our hotel identity is red – can we have it in red?' it makes sense, and not only because we can do it technically, but because the product fits any sort of color jacket. not every product excepts that.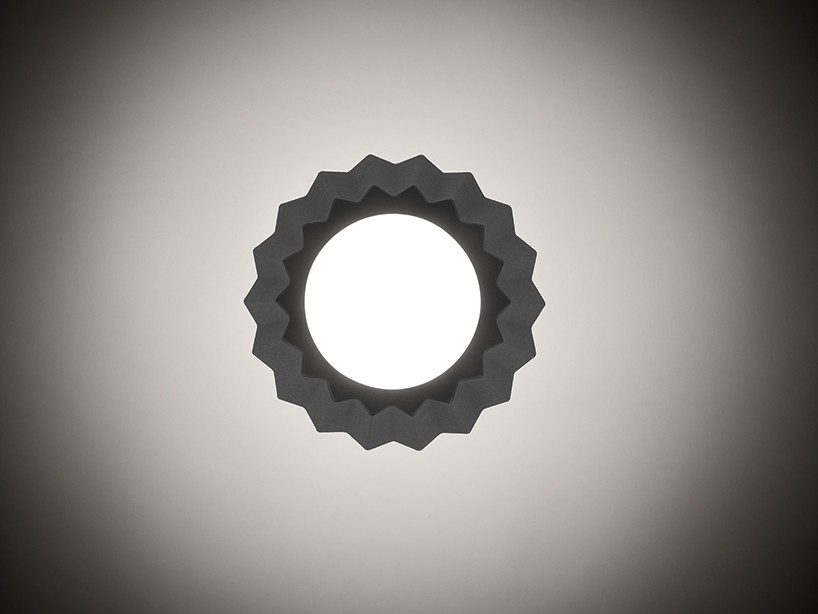 the lamp shade's distinct pleated shade reminiscent of traditional silk or paper models
DB: how did the story start between you and delta light?
AL: we met for the first time at light+building 2014. I knew the brand and appreciated their style and design. there was an instant click with paul ameloot and his sons peter and jan. for me it is crucial to work with people that are really passionate about what they do, and not just looking for the next product. we also share a passion for architecture. I loved the new building when I came to visit them. all these elements convinced me that we should collaborate.

arik levy elaborates on the development of 'butler'
video courtesy of delta light
DB: did you collaborate also on the photos?
AL: well, when I asked to shoot not only indoors but also outdoors we placed the lamps as if they were mushrooms. when you go to a forest, the mushrooms are growing in a circle. when you find two, you have to see if the center of the circle is here, or if the center is there (draws a sketch). then you find others, there are always groups, they come in families. yes, that is the theme of the visuals for the catalogue.
the lamps will be presented at light + building messe frankfurt, 13 – 18 march 2016.
be sure to check out our visit to delta light's headquarters in west-flanders here.
jun 07, 2017
jun 07, 2017
dec 17, 2016
dec 17, 2016
oct 28, 2016
oct 28, 2016
sep 28, 2016
sep 28, 2016
may 28, 2016
may 28, 2016
apr 13, 2016
apr 13, 2016
may 03, 2015
may 03, 2015
nov 03, 2012
nov 03, 2012
nov 04, 2011
nov 04, 2011
may 10, 2020
may 10, 2020
mar 25, 2020
mar 25, 2020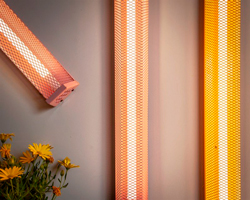 mar 17, 2020
mar 17, 2020
a diverse digital database that acts as a valuable guide in gaining insight and information about a product directly from the manufacturer, and serves as a rich reference point in developing a project or scheme.