— the following is an example of a lesson from the upcoming POP-UP course:
shelters
the comfort of a safe and stable home is one that many of us have grown used to. sometimes it's easy to forget just how vulnerable humans are until we have no home to go to, no roof over our head or a place to sleep. whether its through political turbulence, domestic unrest or natural disasters there are times when temporary shelters are needed. in some cases the solutions might only need to be for one person leading a nomadic existence, in many instances though, such shelters must accommodate entire communities who have been displaced from their homes – no easy feat.
the basic objectives of a shelter are to provide protection from natural elements and give their occupants a sense of safety (which is especially important when they are used in an emergency aid situation). ventilation, weight, compactness for transportation and strength are also rudimentary criteria. in some cases these shelters may need to be mobile all the time – say for those used in a nomadic fashion, in other cases they may stay in one place for months or even years at a time, so the designer must also consider just how manoeuvrable a design needs to be.
the following examples highlight the various approaches to solving the same basic problems. each of the examples explore – materials, cost, ease of deployment and building, mobility and structure in different ways yet each aims to offer the refuge needed to maintain life.
emergency / aid shelters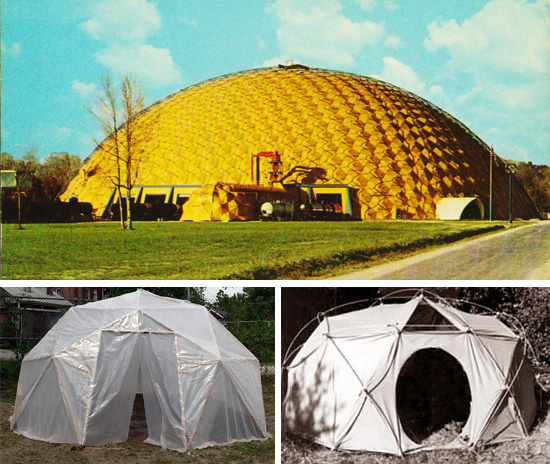 tensegrity and geodesic shelters a tensegrity dome is a complex form in which the tensile and compressive members do not touch each other. it was buckminster fuller's claim that structures based on tensegrity technology could be used to build domes which could provide environmental control for entire cities. a geodesic dome structure is a type of structure shaped like a piece of a sphere or a ball. this structure is comprised of a complex network of triangles that form a roughly spherical surface. the more complex the network of triangles, the more closely the dome approximates the shape of a true sphere. the weight of these structures is distributed evenly throughout the series of triangles in the structure. they enclose the most amount of space with the least amount of material. since they have less area to lose heat from, they're also very energy-efficient.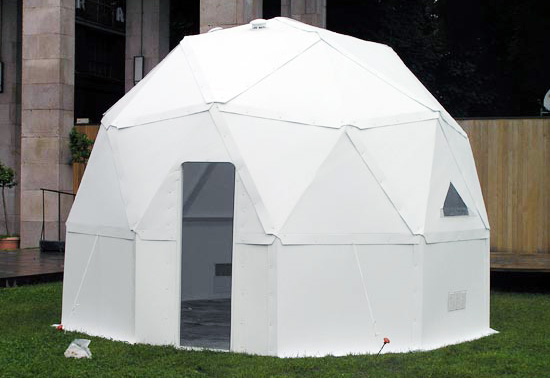 u-dome by world shelters world shelters is a non-profit california based manufacturer serving as a private volunteer organization. since 1986 they focus on providing low-cost, durable shelters to those in need. the U-dome adapts the modular geometry of buckminster fuller's geodesic dome. U-domes have been used for disaster response, portable medical clinics, relief agency centers, temporary housing, storage, and workshops. the patterns can easily incorporate local materials, and they are re-usable. more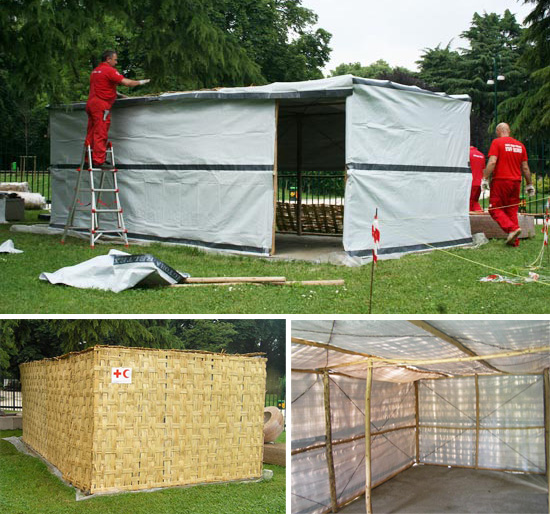 red cross shelters the cruz roja peruana and IFRC have collaborated on the project of a 'modulo de alojamientotemporal' to provide transitional shelters in response to peru's earthquake. 'on august 15, 2007, a massive earthquake struck the central coast of peru, south of the nation's capital of lima. it was peru's worst earthquake in 37 years. within seconds, homes, hospitals, businesses, roads, bridges and services were destroyed – affecting more than 650,000 people. the earthquake killed at least 519 people and destroyed close to 95,000 private houses. most of the damage was concentrated specifically in the cities of pisco, chincha, and ica. volunteers guided by the cruz roja peruana adopted as standard the prototype by the IFRC (international federation of red cross) and used it in the construction of 4,000 shelters so far'. more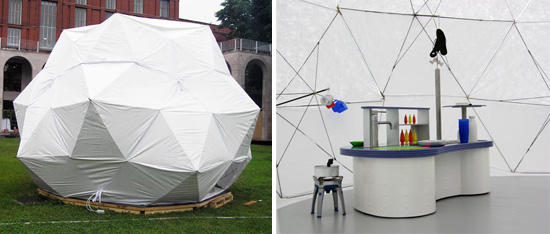 kengo kuma umbrella house made with modified umbrellas, which have zippers along their outer edges are zipped together to create this modular shelter. each umbrella has two extra 'flap's that hang from its central segments to allow for different compositions. the zippers are cut slightly longer than the umbrella's edges so that the excess material can be tied together to seal joints. the inside of the structure leaves the umbrella mechanisms exposed. more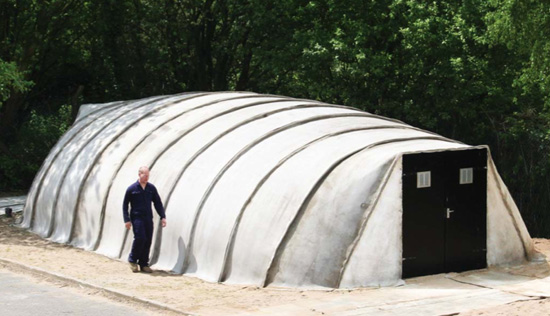 concrete canvas by peter brewin and will crawford concrete canvas shelters are rapidly deployable hardened shelters that require only water and air for construction. there are two variants, CCS25 and CCS54 (with and 54sqm of floor space respectively). a CCS25 variant can be deployed by 2 people without any training in under an hour and is ready to use in only 24 hours.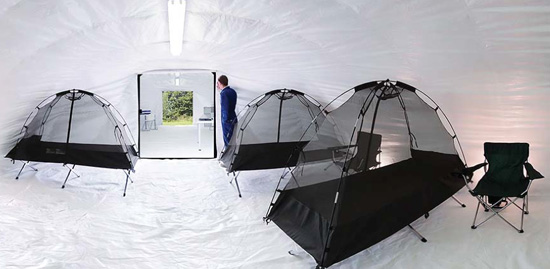 concrete canvas shelters enable a hardened structure from day one of an operation. they provide impressive environmental protection, security and vastly improved medical capability. CCS consist of a revolutionary cement based composite fabric (concrete cloth) bonded to the outer surface of a plastic inner which forms a nissen-hut shaped structure once inflated.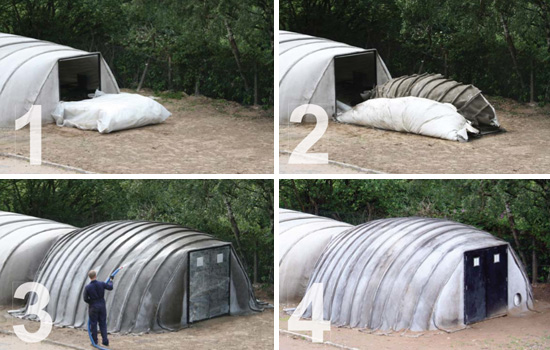 1. deliver CCS are supplied folded in polyethylene, airtight, water and rot proof sacks within ISPM15 heat treated timber/ply panel crates.
2. inflate an electric fan is activated which inflates the plastic inner to lift the structure until it is self supporting. the shelter is then pegged down with ground anchors around the base.
3. hydrate the ccs is then hydrated by spraying with water. water does not need to be potable but must not be sewage. sea water may be used.
4. set the concrete cloth cures in the shape of the inflated inner and 24 hours later the structure is ready to use. access holes can be cut to allow the installation of services.
concrete canvas website designboom interview with peter brewin and will crawford CCS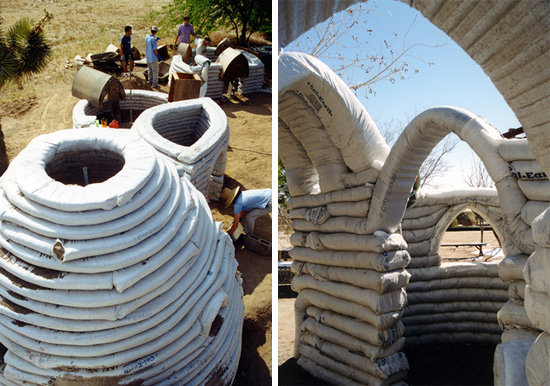 superadobe by nader khalili nader khalili originally imagined his superadobe structures as a housing concept for the day when human colonies inhabit the moon. long bags filled with adobe and barbed wire are used to make the beehive shaped structures. the shelters are easy to build, inexpensive and make use of local materials making them a good option for long term emergency housing.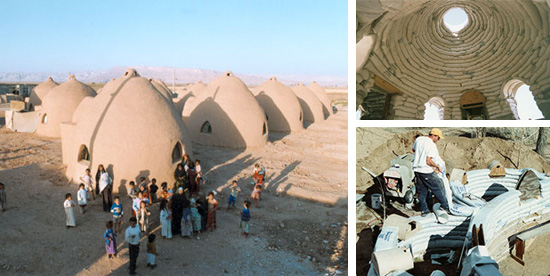 the structural design exploits engineering concepts like base-isolation and post-tensioning while the use of barbed wire adds the tensile element to the traditional earthen structures, creating earthquake resistance despite the earth's low shear strength. the aerodynamic forms resist hurricanes while the sandbags adds flood resistance, and easy construction, while the earth itself provides insulation and fire-proofing. more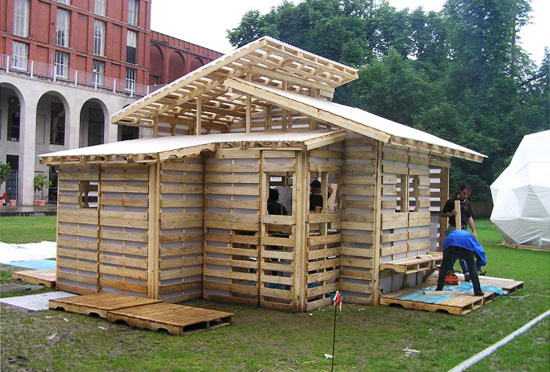 pallet house by i-beam design the pallet house, by suzan wines and azin valy , was conceived as a transitional shelter for refugees returning to kosovo. there was a need for a shelter that could transform a temporary living condition into a permanent home. the shelters are made using the wooden shipping pallets which are versatile, recyclable, sustainable, easily assembled and inexpensive. they are readily available in most countries and their transportation cost and weight is negligible when used to carry shipments of clothing, food, medical supplies or other relief aid.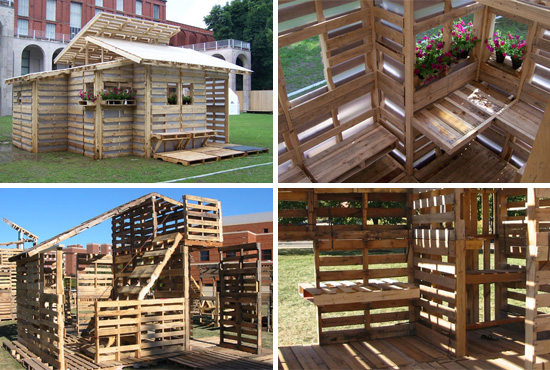 a basic pallet structure evolves naturally from emergency shelter to permanent house with the addition of more stable indigenous materials like rubble, stone, earth, mud, plaster and concrete. the evolution of one 16ft by 16ft shelter into a permanent home requires approximately 100 palettes nailed or strapped together and lifted into place. tarps draped over the basic structure or plastic corrugated sheets prevent water penetration until enough debris, stone, mud, earth, wood, corrugated metal or any other materials from the immediate surroundings can be gathered to fill the wall cavities and cover the roof. pallets may be pre-assembled with styrofoam insulation, vapor barrier, plywood or corrugated sheathing prior to shipping. the pallet house can be built in less than a week for under 3000 USD. more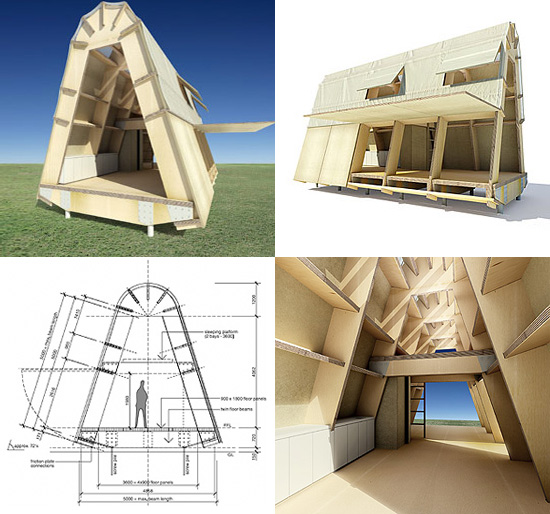 the cardboard house by stutchbury and pape conceived as a kit comprising a flat pack of frames, and infill floor and wall panels. the cardboard house by stutchbury and pape uses minimal fixings: nylon wing nuts, hand-tightened polyster tape stays and velcro fastenings. two people can assemble it, given a spare 6 hours. the roof covering is a lightweight material that is as transportable as the structure. similar to a tent fly, the roof fabric assists in holding down the building, providing a diffuse light in the day and a glowing box at night. water is collected in bladders underneath the floor which double as ballast to hold down the lightweight building. a composting toilet system produces nutrient-rich water for gardening. low-voltage lighting can be powered using a 12-volt car battery or small photovoltaic cells mounted on the roof framing. it is made from 85% recycled materials, with all materials being 100% recycleable. if it was recycled, the house would save 12 cubic metres of landfill, 39 trees and 30,000 litres of water.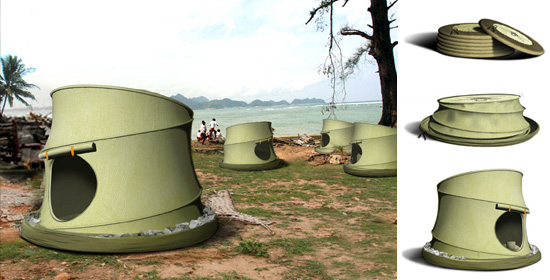 the sanctuary by barometrik the sanctuary a lightweight shelter made of DuPont Tyvek. the entire weight of the shelter is approx. 10-15kg for ease of storage, delivery and relocation. the design has a biodegradable potato starch wireframe structure which springs into shape from its flat compressed state when unpacked. the top of the shelter is made of a reflective material for visibility. the bottom of the shelter is reinforced with a water repellent coating which protects the shelter in up to 20cm of water. inside is a dry towel, biodegradable sandals, a first aid kit, and a warm blanket. this design was one of the runners up from design21's shelter competition. you can see more of the entries here.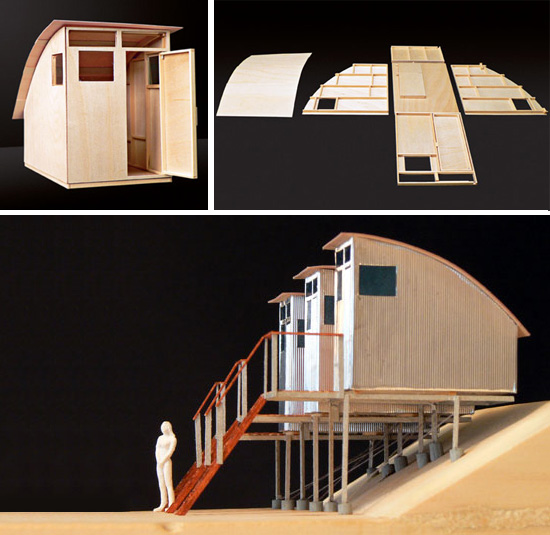 temporary habitat by studio d whether by war or natural disaster, when thousands of homeless people need reliable, cheap, portable shelter, temporary emergency structures may provide simple, easily assembled and biodegradable solutions. In addition to putting a roof over a person's head, this emergency shelter provides storage for some personal belongings, some privacy, and a clearly delineated sense of personal place for each user.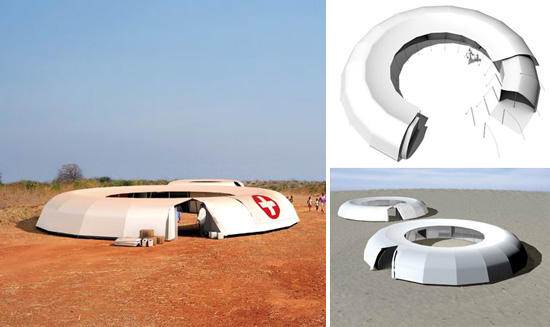 h6 sphere by felix starck the sphere is composed of nineteen tent units, each of which can accommodate up to three or four persons. in the center people can socialize with each other and build a sense of community. the tent's inner layer is breathable while the outer layer consists of hard-wearing canvas, the stakes are made of fibreglass and plastic. the design is intended to be long-lasting and can be reused or recycled if necessary.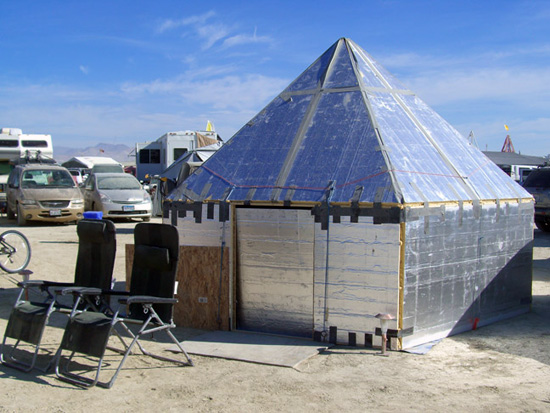 hexayurt by vinay gupta the simplest hexayurt can be made by putting six sheets of plywood on their sides in a hexagon, cutting six more sheets in half diagonally and screwing them all together into a shallow cone. place the roof on to the wall with a large group of people, then fasten it down with more screws, paint it and seal it and the shelter is complete.
the basic design can be enhanced with proper windows, doors, room partitions, stove fittings and other features if need be and insulation and the use of more durable materials could give it a very long life. hexayurts are public domain with no copyright or patent, meaning anybody can build as many as they like for free. more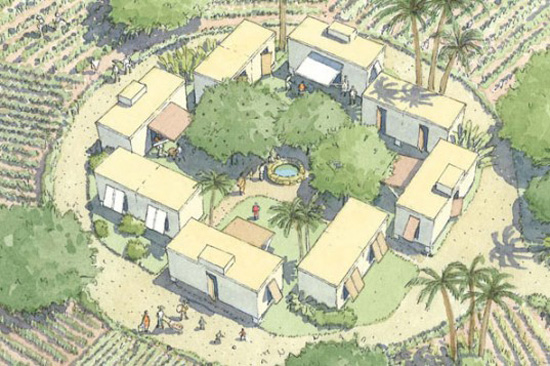 flat pack shelter by andres duany these composite small cabin style home with a simple frame are fireproof, waterproof, and moldproof flat-pack temporary house that could easily be shipped. 1000 of these houses that will be donated to haiti by composite panel manufacturer innovida. more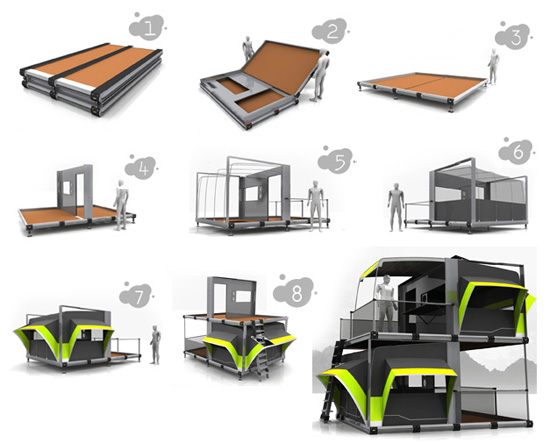 uber shelter by rafael smith this solution that aims to meet the needs of emergency response while providing victims with a highly personal place to live.
the uber shelter is: 1) easily transportable, collapsible and able to be shipped flat. 2) built of recyclable materials and have the ability to be reused. 3) easy to erect and assembled with few or no tools. 4) amenable to infrastructure – it can be used as a basic structure, with the capabilities to upgrade. 5) stackable – to allow for transport via air sea and land.
the aim has been to design a shelter that is compatible with the current system used in refugee camps and emergencies by organizations such as the UNHCR every camp is different since every situation is different. in some cases proper design of a camp is not possible because refugees have already settled on a site. uber has been designed to adapt to different situations, terrains, and climates. camp needs are addressed in phases. phase one is to meet the basic needs of the people, providing them with the bare essentials. when there is more time, funding, and personnel, phase two provides camp residents with more pleasant solutions and conveniences. for example, phase two would include building an outhouse, rather than having a defecation field or trench. this shelter is delivered in the same fashion. when the initial crisis occurs, über is shipped as a base unit to meet the initial need for shelter. when the camp is ready for phase two, a separate upgrade package is shipped and added into the shelters units to provide conveniences (electricity for light, compact stove and refrigerator). more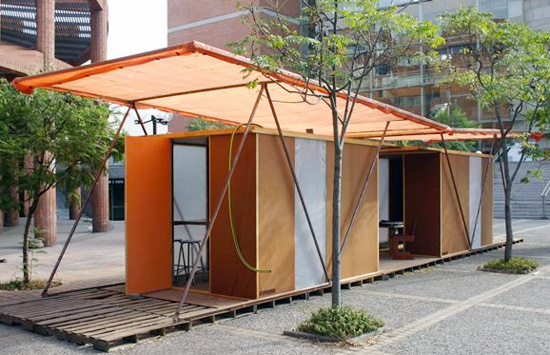 portotipo puertas by cubo arquitectos this is an emergency shelter concept which can be made entirely of materials can be sourced easily. the structure is made using pallets and doors + doorframes. with a canvas roof that is placed above rather than on top of the structure to provide ventilation, however in colder climates it can be lowered to trap heat. more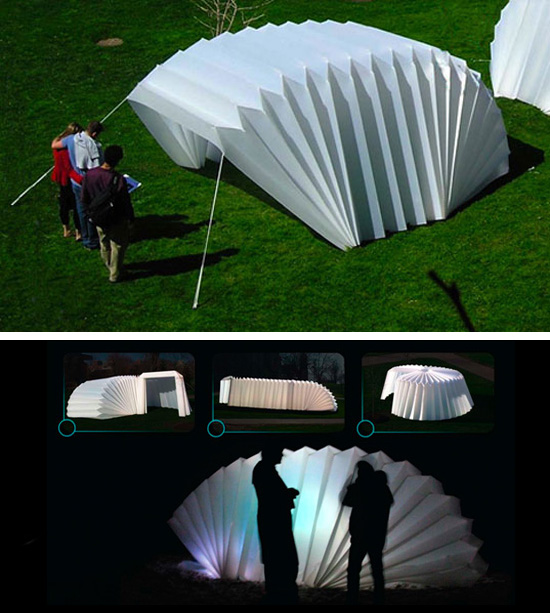 recover shelter by matthew malone, amanda goldberg, jennifer metcalf and grant meacham the shelter can sustain a family of four following a disaster for up to a month and can be entirely collapsed into two different shapes (either horse-shoe or flat) depending on which is easier to transport. it is composed of polypropylene, meaning no harmful gases go into the production of the shelter and it is 100% recyclable after use. set-up takes minutes and only requires one person on deck.
homeless shelters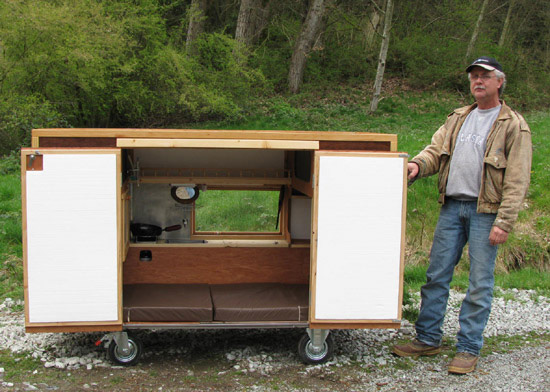 mobile homeless shelter by paul elkins a mobile homeless shelter which was designed as part of a competition asking individuals to meet the demands of the rapidly growing homeless society – a kind of substitute for the grocery cart situation. elkins wanted his design construction to be a simple, light weight, water tight insulated box on wheels, built with an area for displaying and selling handmade wares. more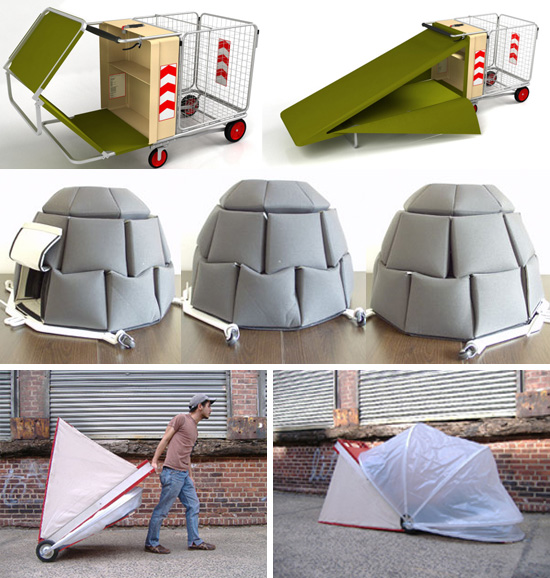 shelter in a cart competition in 2006 designboom orgainzed a non-profit design competition under the title 'shelter in a cart' in which a staggering 4247 designers and / or organizations from 95 countries participated. homelessness is a complex issue encompassing multiple facets of society. the theme (and the jury decision) caused much controversy and the here presented 130 variations on the theme are already widely discussed across many sites. it is no surprise to us that we received comments suggesting that we were doing something superficial and self-satisfying, but in answer to that, we say that design is the tool we know best, so we will use it to bring social discussion to our audience. the massive participation rate made it clear that there is a growing awareness of the homeless issue.
see the competition winners and shortlisted entries here.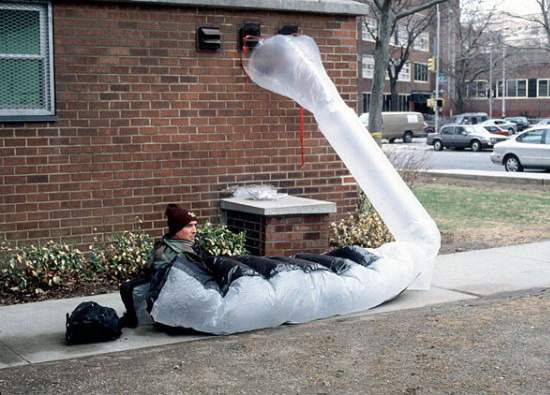 parasite by michael rakowitz custom built inflatable shelters designed for homeless people that attach to the exterior outtake vents of a building's heating, ventilation, and air conditioning (HVAC) system. the warm air leaving the building simultaneously inflates and heats the double membrane structure. the homeless person never comes into direct contact with the potentially harmful exhaust air, which circulates through the two layers of polyethylene, warming the shelter via conduction. built and distributed to over 30 homeless people in boston and cambridge, MA and new york city. more
exercise design your own emergency shelter.
—

« BACK TO THE DESIGN-AEROBICS HOMEPAGE
a diverse digital database that acts as a valuable guide in gaining insight and information about a product directly from the manufacturer, and serves as a rich reference point in developing a project or scheme.
designboom will always be there for you
milan, new york, beijing, tokyo

,
since 1999