design icons since 1984: sawaya & moroni!
designboom announces william sawaya and paolo moroni as the recipients of the golden madonnina 'lifetime achievement' trophy 2021 of milan's THE DESIGN PRIZE. combining the professional talent of william sawaya, architect and designer of lebanese origin, with the entrepreneurship of italian philologist paolo moroni, sawaya & moroni has played a pioneering role within the international design scene since the '80s.
'the key to success for a brand is to have an identity, a personality. be different and distinct. the worst thing is applying the same recipe that works for one company to another place. it's completely wrong. it's by embracing the differences that one succeeds.' paolo moroni says in our interview (see the video above).
the italian design company has collaborated with the most prestigious names in the field of architecture and design, including michael graves, enzo mari, zaha hadid, jean nouvel, david adjaye, snøhetta, and many more.
designboom visits the new sawaya & moroni showroom near cordusio, in via clerici 1, in milan, which opened recently with a retrospective covering key collaborations from the last three decades. it won't be a traditional gallery programme, the art will rotate constantly…
paolo moroni and zaha hadid
image © designboom
ROCK'N ROLL
sawaya & moroni played a pioneering role since the '80s, which was a critical period of repositioning and renewal for the international design scene. in histories of design you can find objects that have stood the test of time and gone on to become icons after having been ignored by the public and forgotten by historians, since they were hard to understand or, simply, had not appeared at the right moment. over the past 40 years, sawaya & moroni produced a multitude of furniture, silver and artefacts that have found place in private collections and design museums around the world.
both partners are from areas unrelated to furniture production. the lack of family tradition (to be respected and passed on to new generations, typical in italy) becomes a positive element – 'we're almost free from most conceptual and productive restrictions.'
thanks to this freedom, sawaya & moroni have often been described as the n°1 ROCK'N ROLL design company.
design icons since 1984
while extensive, this list is not complete. it features a representative selection of sawaya & moroni's many collaborations and does not take into account the prolific design work by william sawaya himself.
2018_snøhetta | 2017_MAD ma yansong | 2015_david adjaye | 2009_daniel libeskind | 2009_jean michel wilmotte | 2009_mario bellini | 2007_hani rashid | 2007_massimiliano and doriana fuksas | 2006_setsu and shinobu ito | 2004_domenique perrault and gaëlle layriot prevost | 2003_jakob and macfarlane | 2001_john maeda | 1999_ettore sottsass | 1999_richard hutten | 1998_enzo mari | 1998_michael young | 1996_platt+young | 1996_zaha hadid | 1994_jean nouvel | 1994_toshiuka kita | 1992_toni cordero | 1989_jeannot cerutti | 1989_oswald mathias ungers | 1988_ron arad | 1987_borek sipeck | 1987_kazuo shinohara | 1986_adolfo natalini | 1986_charles jencks | 1984_michael graves.

'Z chair'
image © designboom
zaha hadid (1950 – 2016)
dame zaha mohammad hadid DBE RA was a british iraqi architect, artist and designer, and the first woman to be awarded the pritzker prize, in 2004. her relationship with william sawaya and paolo moroni was the kind that many architects and designers — whether they were italian or foreign — established with the protagonists of the multi-faceted italian furniture network. it was a partnership of trust, that evolved into a long-term friendship and affection for one another.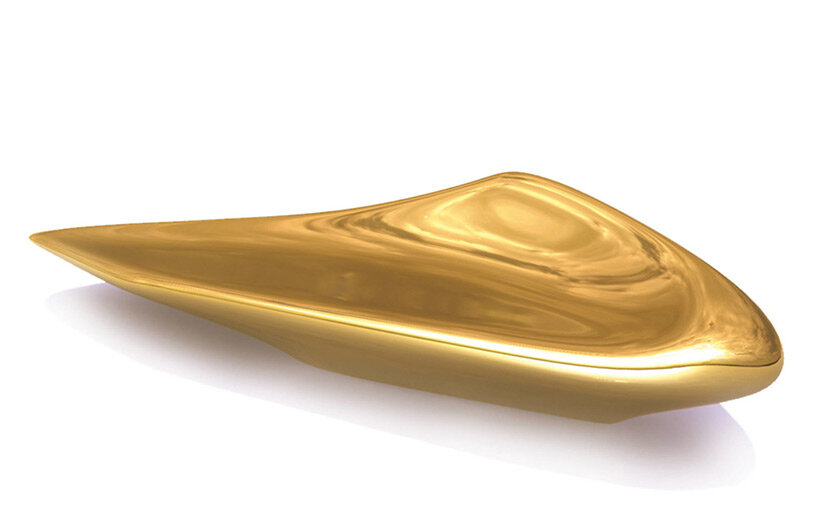 'scoop' sofa
zaha hadid worked closely with them to develop a research that progressed and shifted from the craftsman's workshop to industrial production, as also evidenced in the architect's 'manta ray' seating and 'Z chair' for the company. in 2000, in a volumetric idiom that prefigures her mature style, hadid designed the 'Z-Scape' collection, a compact ensemble of lounge furniture, whose forms derive from the geological formations of glaciers and natural erosion. under this framework of versatility she also conceived the 'mew' table desk for sawaya & moroni — her last design project before her sudden passing in 2016.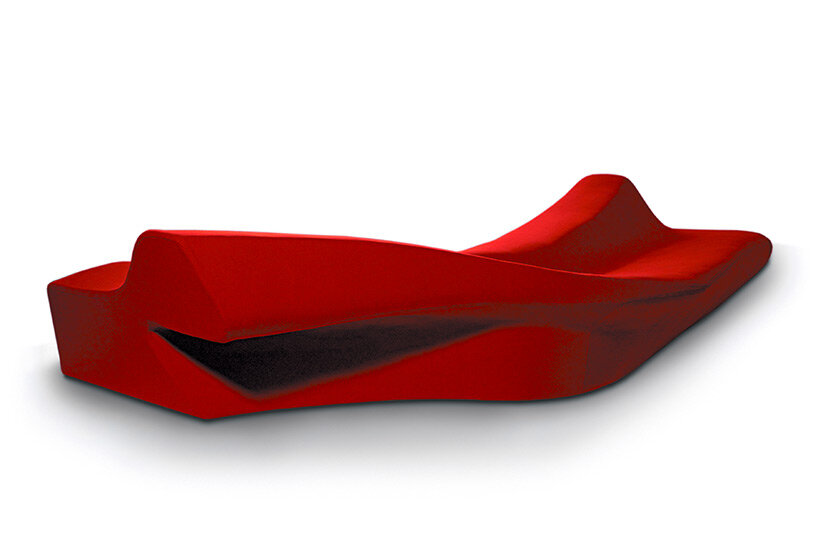 from the 'Z-scape' furniture series by zaha hadid for sawaya & moroni, 1996-2000, here shown the 'moraine' sofa
jean nouvel (1945)
two key pieces developed by french architect jean nouvel for sawaya & moroni are 'inox' (1995), a convertible table in stainless sheet steel, and 'milana' (1995), a low armless lounge chair consisting of saddle leather webbing in black or natural colours. initially, jean nouvel wanted to call the later 'mies crossed', as it was a sort of perversion of mies van der rohe's 'barcelona' chair. 'as if mies was trying to be welcoming and friendly,' the architect said. 'the twisted and slightly limp look of the basic structure is the opposite of the 'barcelona'. at the same time, in terms of the essential nature of a structure, it's almost the same thing. it's a bit of a game. design allows you to play these games from time to time.'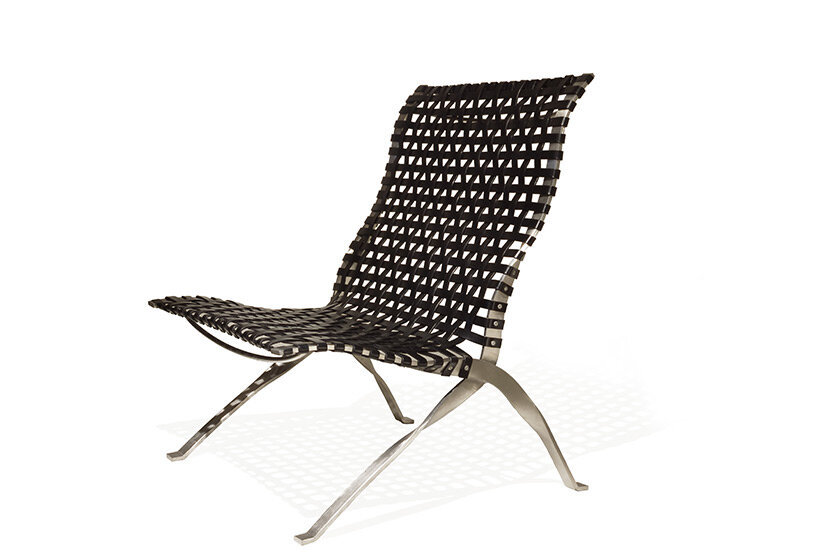 'milana' armchair by jean nouvel for sawaya & moroni, 1994
ron arad (1951)
like many of his generation of self-taught designers, israeli industrial designer, artist, and architect ron arad focused on self-production. in 1981, he co-founded the design studio 'one off' ltd. in london – where arad worked as a 'craftsman-sculptor' for a limited edition production of furniture, most of them made in metal tube. in 1988, he designed the 'crust' armchair for sawaya & moroni, a lounge chair with ash-veneered plywood frame and flared armrests. in 1989 he opened the architecture and design studio 'ron arad associates'.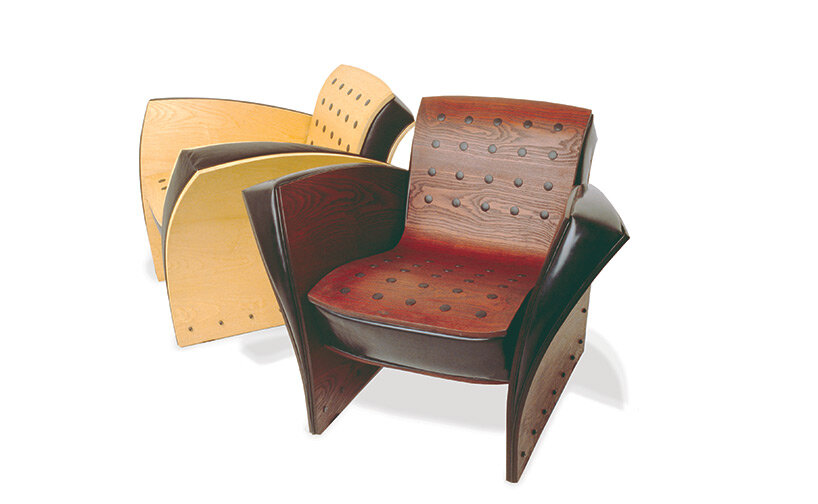 'crust' armchair by ron arad for sawaya & moroni, 1988
oswald mathias ungers (1926 – 2007)
german architect, planner and teacher, oswald mathias ungers is known for the pure geometries of his (cube-like) buildings, as well as for his theoretical writings. his works advanced the concept that architecture springs from universal archetypes or typologies (geometric shapes, cubes, cylinders), yet assumes a different form each time, related to the special reality or poetry of a site. some have called his work a fusion of modernism and postmodernism. he has designed a series of pieces with sawaya & moroni, among which the 'sfera' and 'cubo' armchairs, both manufactured in 1989.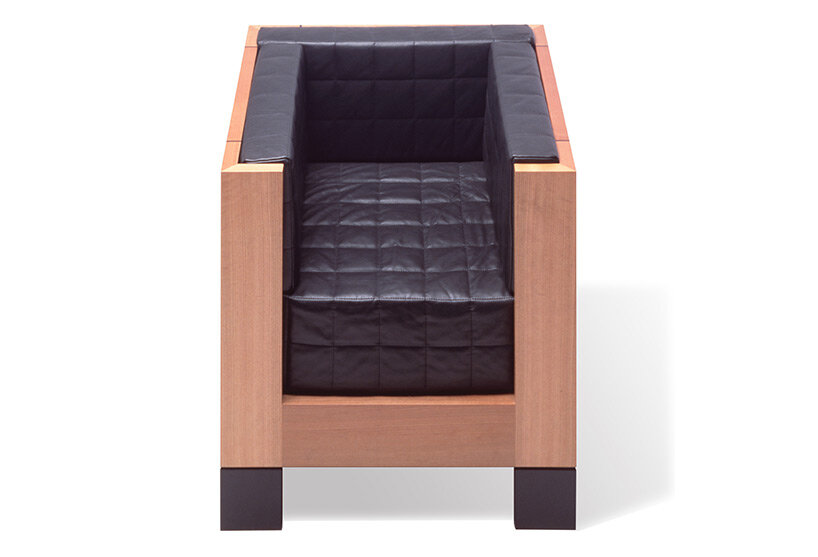 'cubo' armchair by oswald mathias ungers for sawaya & moroni, 1989
charles jencks (1939 – 2019)
architectural historian, garden designer and writer, charles jencks was regarded as the unrivalled godfather of postmodernism – a radical eclecticism that would return content, meaning and metaphor to the built environment. his collection designed for sawaya & moroni in 1986 and 1987 included the 'sun' chair, the 'spring' table, the 'slide skyscraper' drawer unit and a 'light house' lamp.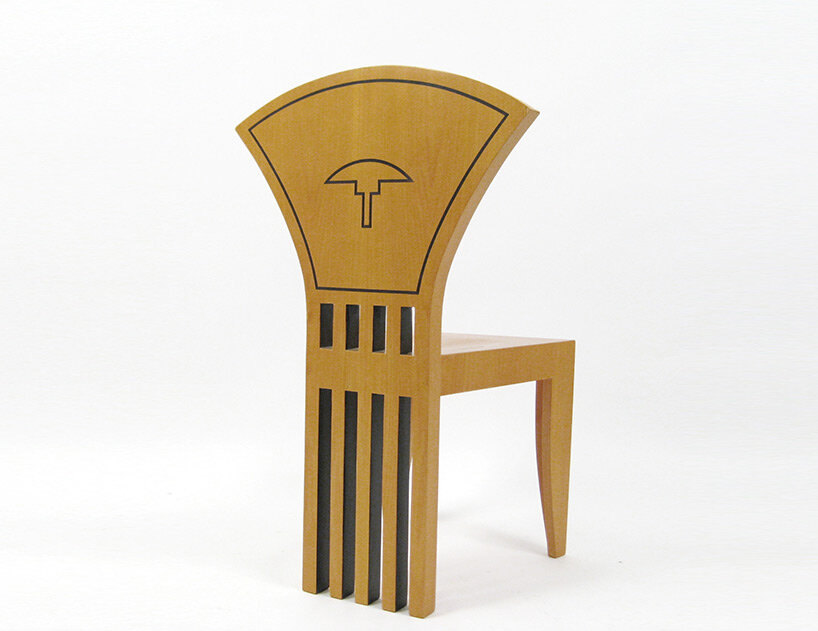 'sun' chair by charles jencks for sawaya & moroni, 1986
michael graves (1934 – 2015)
michael graves was one of the most celebrated architects and designers of the 20th century. a member of the influential group of architects known as the 'new york five', graves was also a member of the 'memphis' group and a leader of the postmodern movement. from 1984 through 1994, graves transferred his architectural vision into the products designed for sawaya & moroni contemporary furniture collection.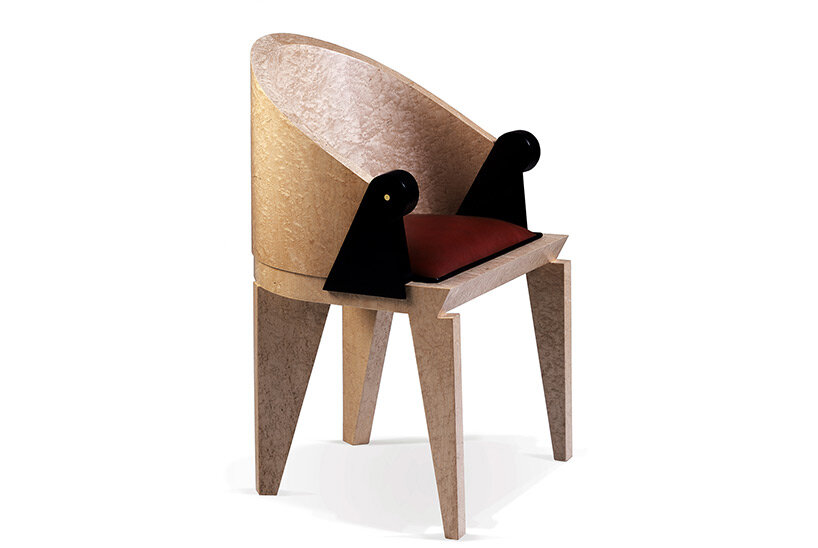 'parrott' chair by michael graves for sawaya & moroni, 1984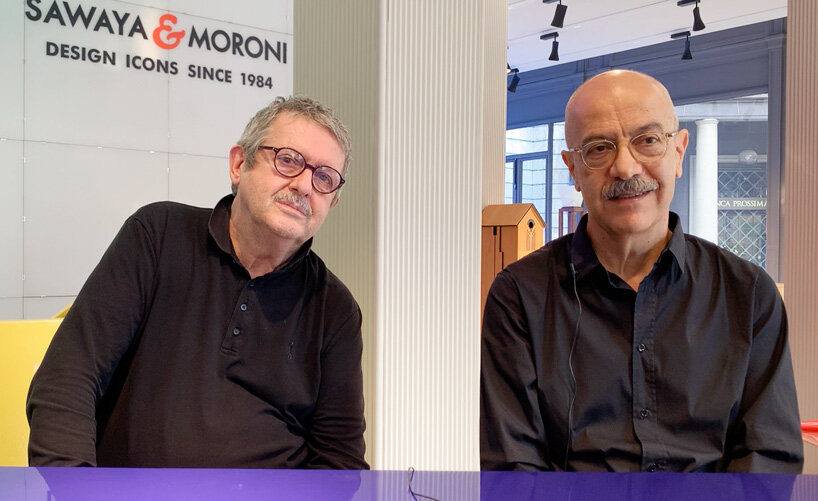 paolo moroni (right) and william sawaya (left)
video still © designboom
what is THE DESIGN PRIZE ?
'since 1999, designboom is known as the go-to designation for all things architecture', writes forbes magazine in a piece celebrating designboom's anniversary. 'fun fact – they were actually the first online magazine worldwide. it's a platform that is crazy popular too, as they've built up a cult following over more than 20 years.'
for twenty-two years — driven by curiosity, passion, research, expertise and hard work — designboom has united and promoted creatives from around the world, excited by the ideas of small practices, independent makers, enthusiastic students, and the biggest names in business. in celebration of culture and excellence on a global scale, designboom initiated THE DESIGN PRIZE in 2017, an annual award program with a star-studded gala ceremony that recognizes both the extraordinary achievements and little sparks of beauty and delight that have emerged over the past year. hosted during milan design week, at such magnificent architectural masterpieces as teatro girolamo, teatro alla scala and triennale milano, THE DESIGN PRIZE is created from the inside out — a noble prize with no self submission, and no fee to enter. instead, it calls upon a worldwide scientific committee of designers, journalists, curators, critics, lecturers, scholars and institutional figures to help draw up the nominations, with winners awarded the golden madonnina statuette.
sofia lekka angelopoulou
I designboom
sep 02, 2021
KEEP UP WITH OUR DAILY AND WEEKLY NEWSLETTERS
a diverse digital database that acts as a valuable guide in gaining insight and information about a product directly from the manufacturer, and serves as a rich reference point in developing a project or scheme.
designboom will always be there for you
milan, new york, beijing, tokyo

,
since 1999