from december 4–8, design miami/ 2019 is bringing together influential collectors, gallerists, designers, curators, and critics from around the world in celebration of design culture and commerce. for its fifteenth edition, design miami/ welcomes seventy exhibitions and eight curio presentations from thirteen countries, including two galleries that will exhibit for the first time. aric chen will serve as curatorial director — following his debut at the fair's basel edition in june — directing a focus toward the material future of the planet with the theme, elements: water. designboom previews some not-to-miss highlights at design miami/this december.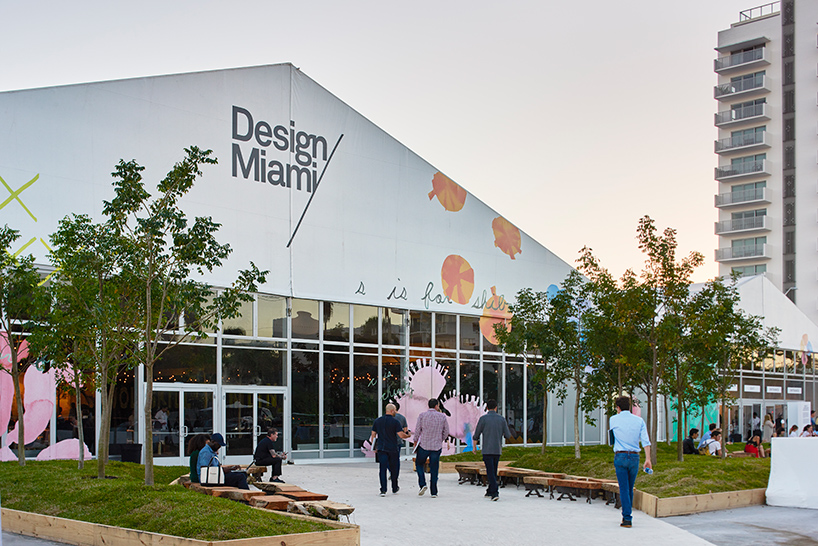 the design miami/ tent / image by james harris
design miami/ sees the most reputable international design galleries present curated exhibitions of museum-quality furniture, lighting and objets d'art. for the 2019 edition, must-sees among the gallery lineup will be a curated roster of immersive solo shows. friedman benda is working with artist daniel arsham on an all-encompassing installation that transforms the gallery space into an imagined domestic setting, breaking free from the traditional design fair constraints. the project began when arsham imagined a collection of objects to work in dialogue with his own long island home, which was later expanded it into a fictionalized environment.
meanwhile, wexler gallery will present an immersive artwork by artist and activist roberto lugo, which brings together high design, graffiti, hip hop, craft history, pop culture, and porcelain. the installation comprises two large-scale funerary urns, a ceramic teddy bear, and graffiti-inspired wallpaper — a reference to the make-shift memorials for gun violence victims often found on the sidewalks of an affected neighborhood.

'aqua alta' set by virgil abloh (2018) / courtesy of carpenters workshop gallery
see more about the project on designboom here
commissions in glass will also be a highlight among the exhibiting institutions. cristina grajales gallery presents a solo show of glass works designed by theater director and visual artist robert wilson inspired by american artist paul thek and produced in collaboration with the corning museum of glass. the pieces seek to translate thek's poetic landscapes into images of nature entombed. R & company is also collaborating with the corning museum of glass on an exhibition of objects created by master glass artist jeff zimmerman, whose unique glassmaking techniques result in organic shapes that are simultaneously evocative of nature and futuristic.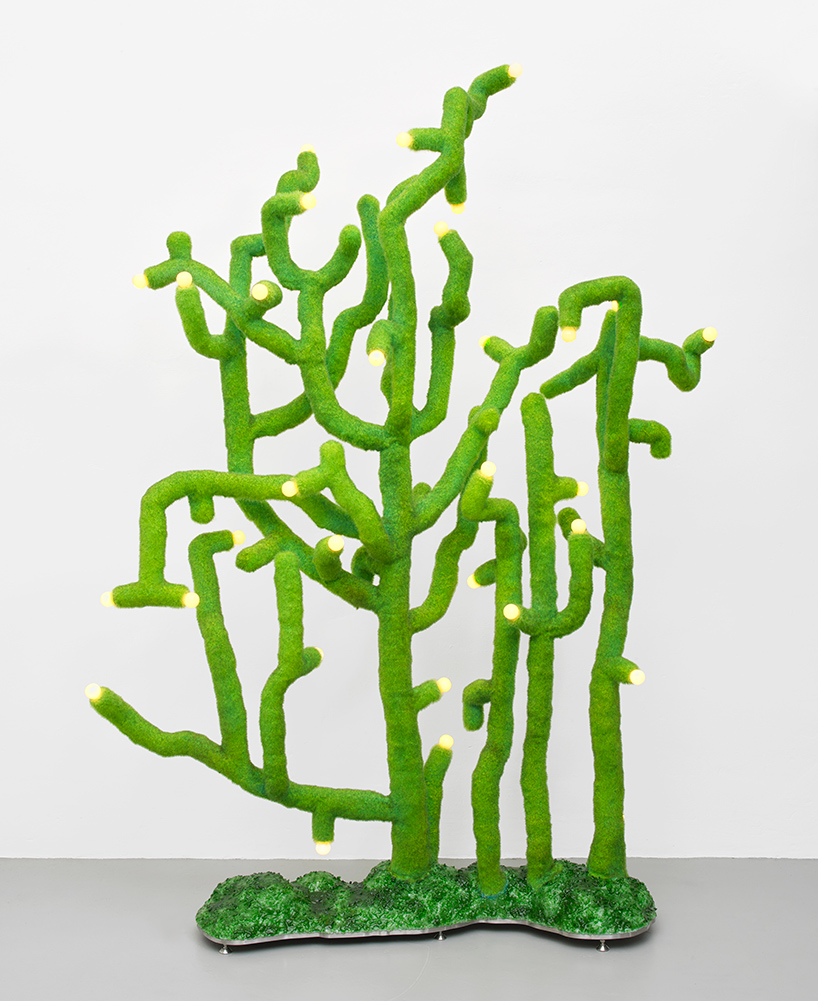 fruiting desert lamp by jonathan trayte (2018) / courtesy of friedman benda and jonathan trayte
as ever, design miami/ 2019 will see collaborations with institutions, partners and sponsors to present newly commissioned works of design, taking the shape of immersive installations, curated exhibitions and unique objects. maison perrier-jouët celebrates its eighth partnership with the fair by inviting designer andrea mancuso of analogia project to reinterpret the historic champagne producer's art nouveau heritage through a new, unexpected experience.
concurrently, LEXUS will draw on the fair's theme of elements: water with an immersive installation evocative of sun showers, designed to bring the natural phenomenon inside the design miami/ tent. the artwork will form an environment based on the japanese concept of engawa — similar to a sunroom — which, traditionally, serves as a communal gathering space.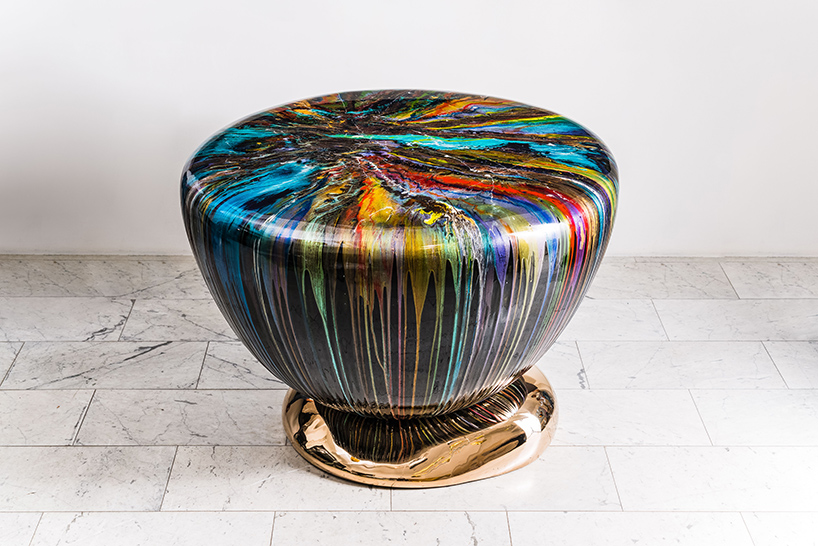 flow series center in polystyrene, fiberglass, color shifting and iridescent pigments, resin, bronze, plywood by brecht wright gander (2019)
courtesy of todd merrill studio
of the 20th century pieces to be presented at design miami/, lebreton will exhibit a rare collection of original works by suzanne ramié. ramié — who co-founded the madoura pottery studio in france — was an influential ceramic artist known for experimenting with firing techniques, colorful enameled glazes, and references to the works of ancient civilizations. moderne gallery will show a selection of rare furniture, including paul frankl's famous 'speed' lounge chairs and coffee table made in 1933 for his own apartment in new york. one of frankl's most important designs, the chairs were typically fully upholstered — however this unique set is made in cork, as he was an early pioneer of the material.
tracing even further into history, erik thomsen gallery will show large, medieval ceramic storage jars from japan. the anonymously-made objects, with their uneven profiles and grainy surfaces, were in fashion over 400 years ago, as japanese tea masters appreciated them for their wabi-sabi — a traditional aesthetic centered on the acceptance of imperfections.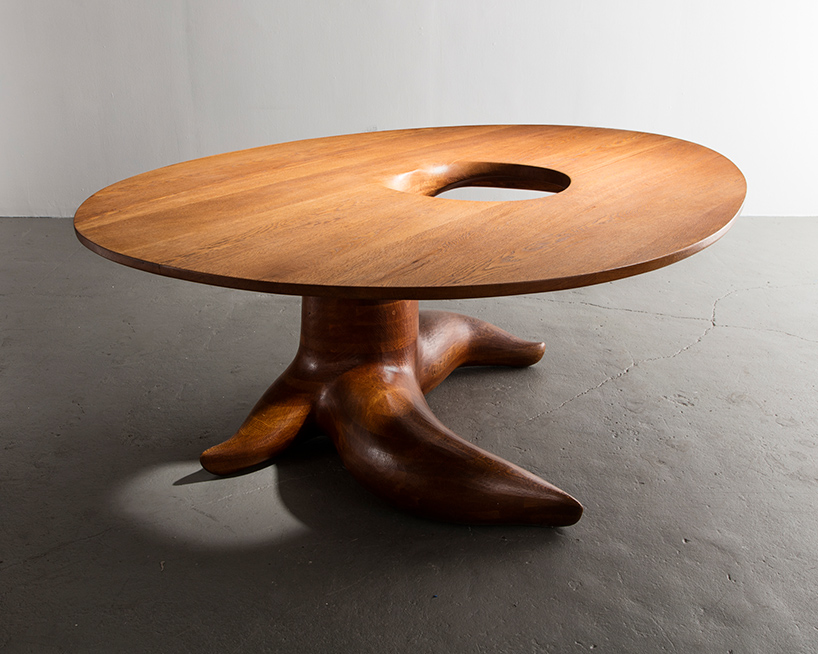 unique stack laminated dining table in oak by wendell castle (1969) at R & company
courtesy of R & company
see the full list of presenting galleries at the bottom of the page, and more information about this year's exhibitions and programming here.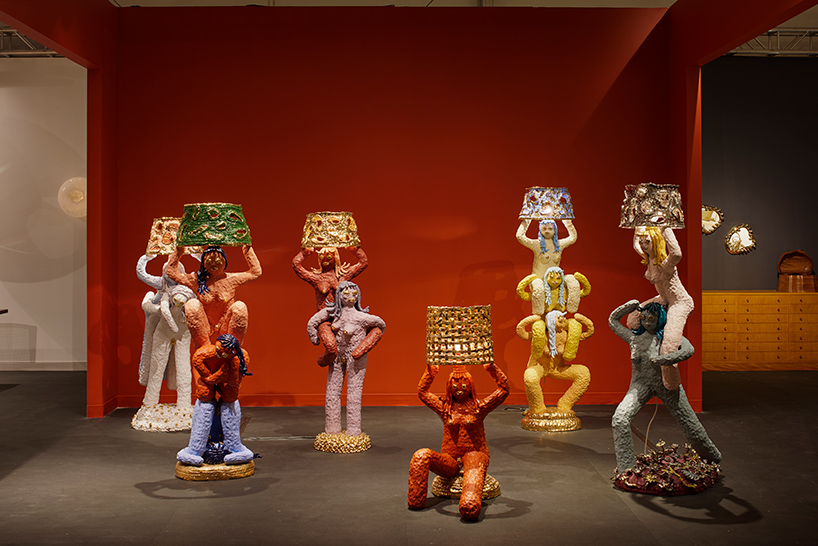 R & company, design miami 2018 / image courtesy of james harris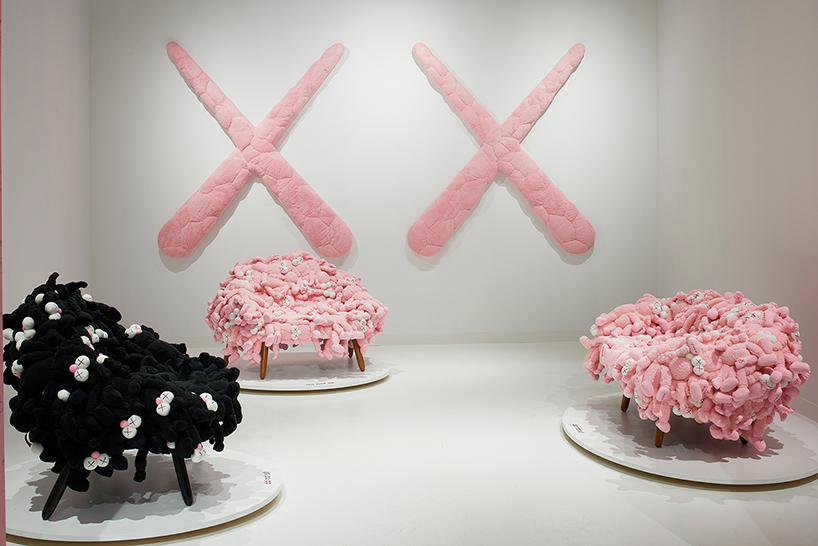 KAWSxcampana at friedman benda, design miami 2018 / image courtesy of james harris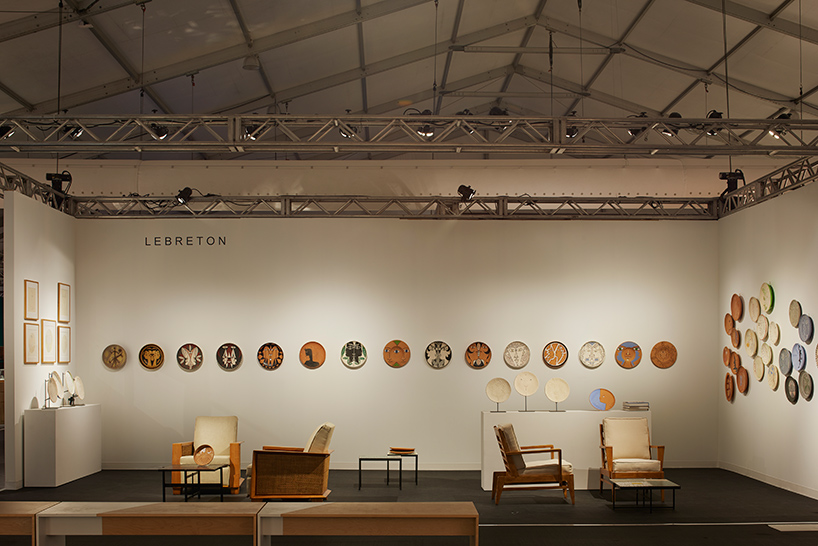 lebreton, design miami 2018/ image courtesy of james harris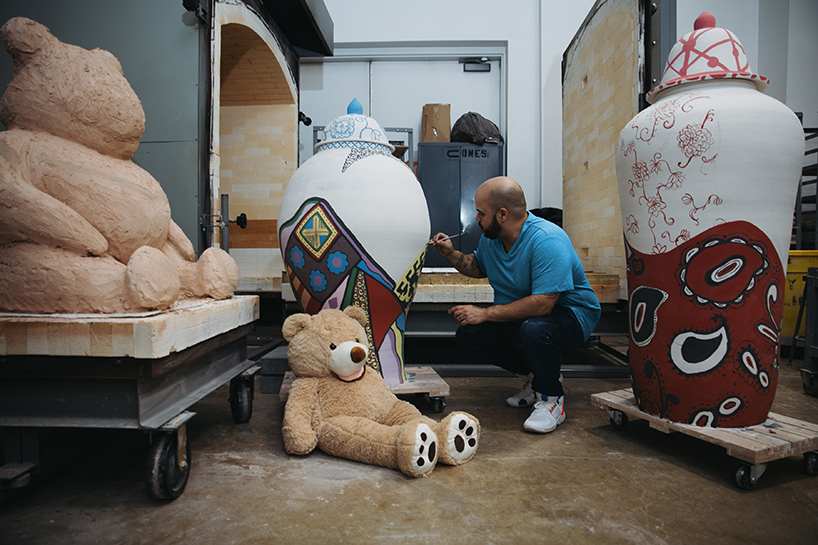 artwork by roberto lugo (2021) / images by neal santos courtesy of wexler gallery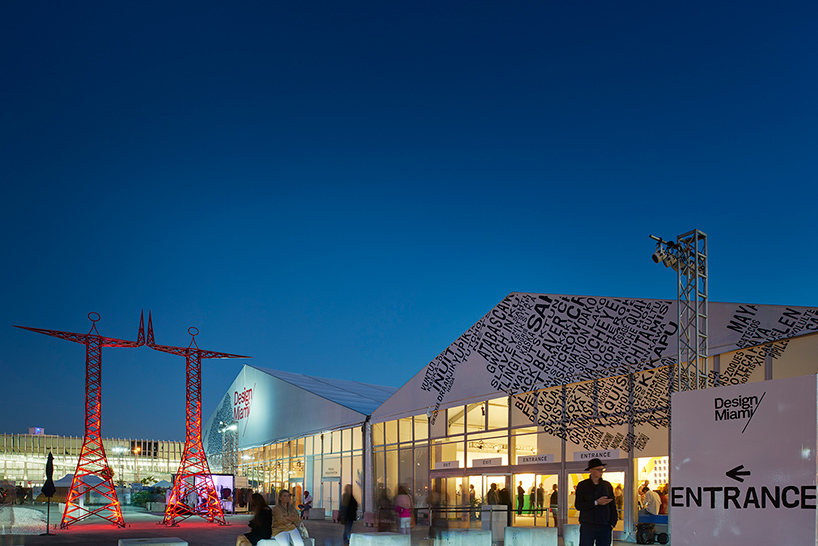 the design miami/ tent / image by james harris
design miami/ 2019 info:
tickets: purchase here
location: miami, florida
dates: december 4–8, 2019
design miami/ 2019 galleries:
carpenters workshop gallery – london, new york, paris, and san francisco
converso – chicago, los angeles, and new york
cristina grajales gallery – new york
didier ltd – london
erastudio apartment-gallery – milan
erik thomsen gallery – new york
friedman benda – new york
functional art gallery – berlin
the future perfect – los angeles, new york, and san francisco
galerie kreo – london and paris
galerie patrick seguin – london and paris
galerie philippe gravier – paris
galerie scene ouverte – paris
galerie vivid – rotterdam
galleria antonella villanova – florence
gallery ALL – beijing and los angeles
heritage gallery – moscow
hostler burrows – new york
jason jacques gallery – new york
john keith russell – south salem
lebreton – san francisco
magen H gallery – new york
mercado moderno – rio de janeiro
moderne gallery – philadelphia
ornamentum – hudson
pierre marie giraud – brussels
R & company – new york
salon 94 design – new york
southern guild – cape town
todd merrill studio – new york
dec 11, 2019
dec 11, 2019
dec 08, 2019
dec 08, 2019
dec 05, 2019
dec 05, 2019
dec 04, 2019
dec 04, 2019
dec 03, 2019
dec 03, 2019
nov 27, 2019
nov 27, 2019
dec 23, 2019
dec 23, 2019
dec 22, 2019
dec 22, 2019
dec 22, 2019
dec 22, 2019
a diverse digital database that acts as a valuable guide in gaining insight and information about a product directly from the manufacturer, and serves as a rich reference point in developing a project or scheme.