design miami/ debuts paris fair in october 2023
Design Miami/, the global forum for collectible design, makes its Parisian debut from October 17-22, 2023. As the sister fair to Art Basel, the first Design Miami/ Paris fair coincides with Paris+ par Art Basel, joining the flagship fairs in Basel, Switzerland, and Miami Beach, Florida. The fair will take place at L'hôtel de Maisons, a cultural hub in Saint-Germain-des-Prés that is home to many of the world's leading collectible design galleries.
During the event, 27 galleries will present historic and contemporary furniture, lighting, and objets d'art, tracing the history of collectible design from the early 20th century to the present day. The fair will tell stories of influence and innovation through rare and iconic objects from around the world. Read below to find out more about the inaugural Design Miami/ Paris edition, as well as its must-see highlights, as noted by designboom and the fair itself.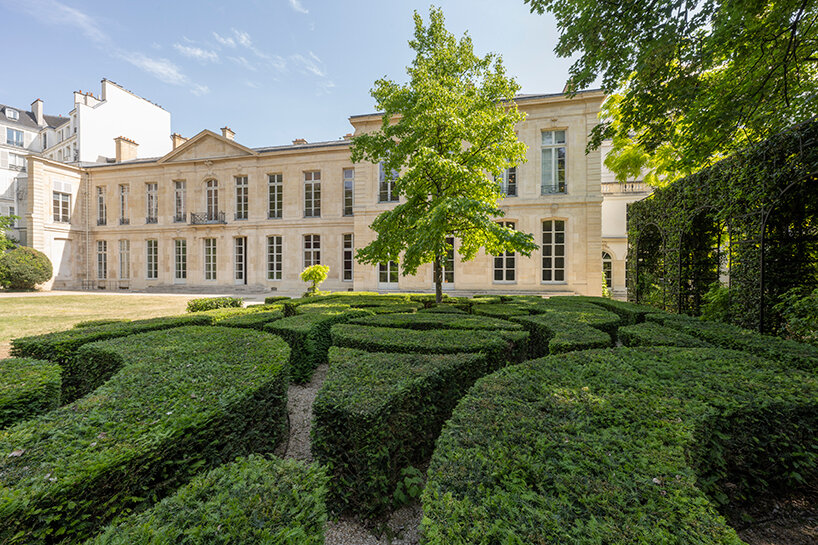 L'hôtel de Maisons, Paris | image by Fabrice Gousset (also head image)
Ketabi Bourdet Design
Paris-based Ketabi Bourdet Design (find more here) will offer a recreation of a 1980s smoking room. Visitors can explore the bourgeois and radical side of the era through a selection of minimal 1980s designs by Philippe Starck, Paolo Pallucco & Mireille Rivier, Ronald Cecil Sportes, Jean-Michel Wilmotte, Rei Kawakubo, Christian Duc and Garouste & Bonetti. The selection will focus on black aesthetics, metal, and geometrical lines, underlining how postmodern furniture can coexist with classic architecture and rich decor.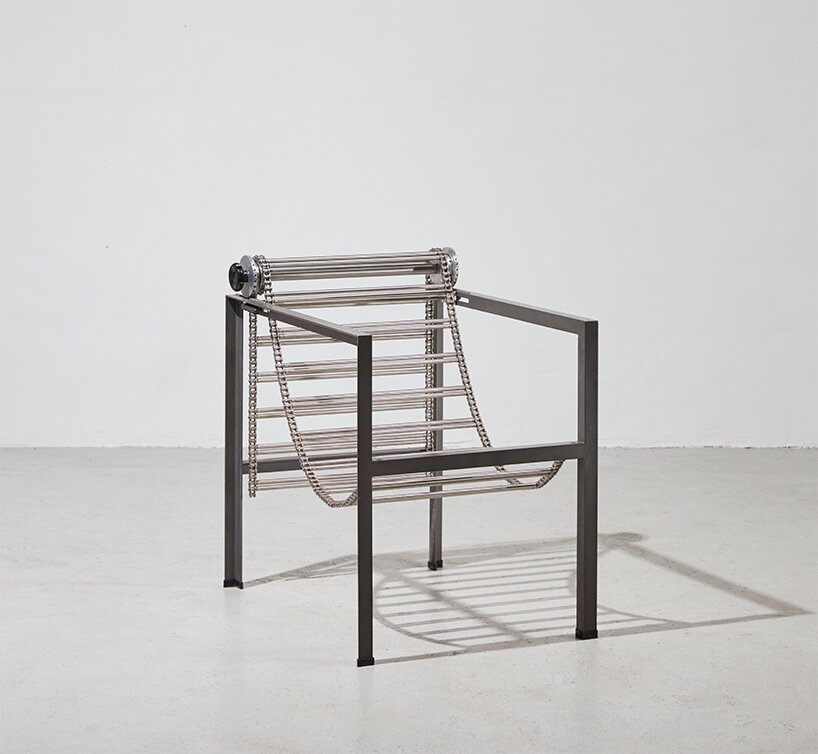 Barba d'Argento Armchair, ca. 1986 by Paolo Pallucco & Mireille Rivier at Ketabi Bourdet | image courtesy of Ketabi Bourdet
Galerie Desprez-Breheret
Galerie Desprez-Breheret (find more here), a first-time Design Miami/ exhibitor, will create a tableau of a Parisian hôtel redesigned in the 1970s by a great decorator for a collector. The space will be furnished with seating by designer Dan Pollock, who creates one-of-a-kind pieces from eco-responsible, dead wood collected in the Californian desert. Pollock's work offers a raw elegance that will contrast with the ornate interiors of the old mansion. His works will be complemented by pieces by Jean Touret, Joseph Savina, Odile Noll, and Pierre Paulin.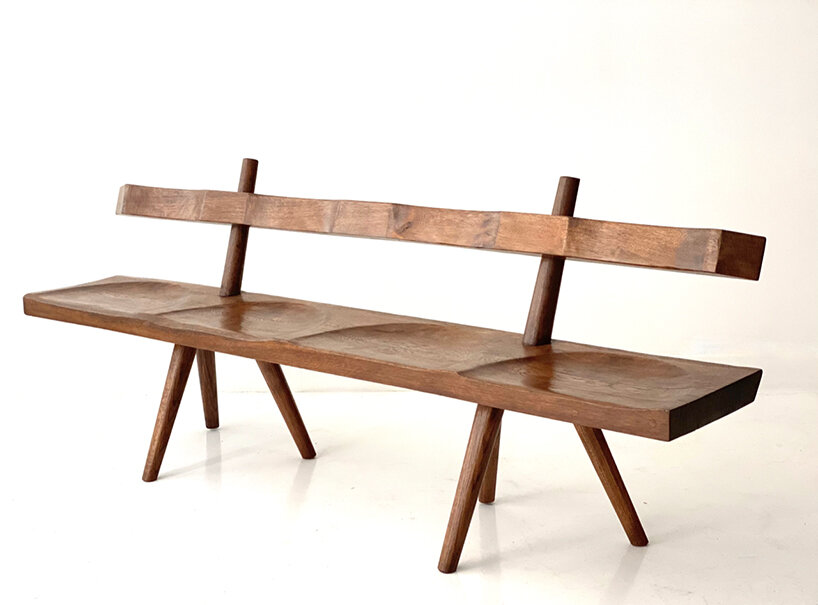 image courtesy of Galerie Desprez-Breheret
Salon94 Design
Inspired by the gilded interior of L'hôtel de Maisons, New York-based Salon94 Design (find more here) will present a grouping of Max Lamb's soft sofa sculptures with upholstery fabric that responds to the gold accents of the space. This will be the first time the gallery presents an upholstered work by Lamb, each of which is handmade in his studio in London. The Lamb pieces will be presented alongside other designer selections.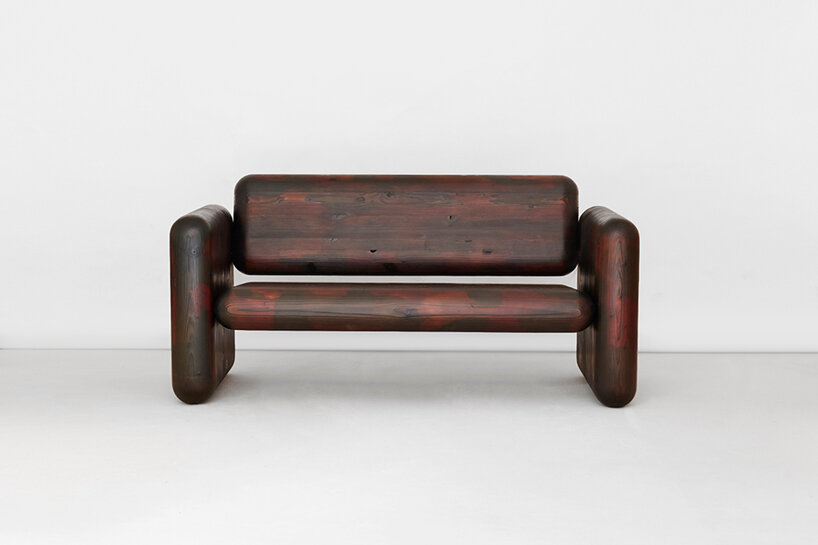 Glulam Pillow Sofa, 'Glulam' 2021 | image courtesy of gallery FUMI
Galerie Chastel-Maréchal
For Design Miami/ Paris, Paris-based Galerie Chastel-Maréchal (find more here) will present a selection of timeless highlights by Jean Royère and Line Vautrin, including a pair of Oeuf armchairs, a Tour Eiffel console, and a Boudoir mirror. Royère's work is known for its gentle curves and refined elegance, while Vautrin's work is known for its innovative use of materials and innovative production methods. Her Boudoir mirror, for example, is crafted from Talosel, a substance that Vautrin herself discovered and patented in the 1950s and 1960s. The mirror lures the viewer in, deforming reality through its convex mirror. Completing the presentation will be a collection of ceramics by Georges Jouve and André Borderie.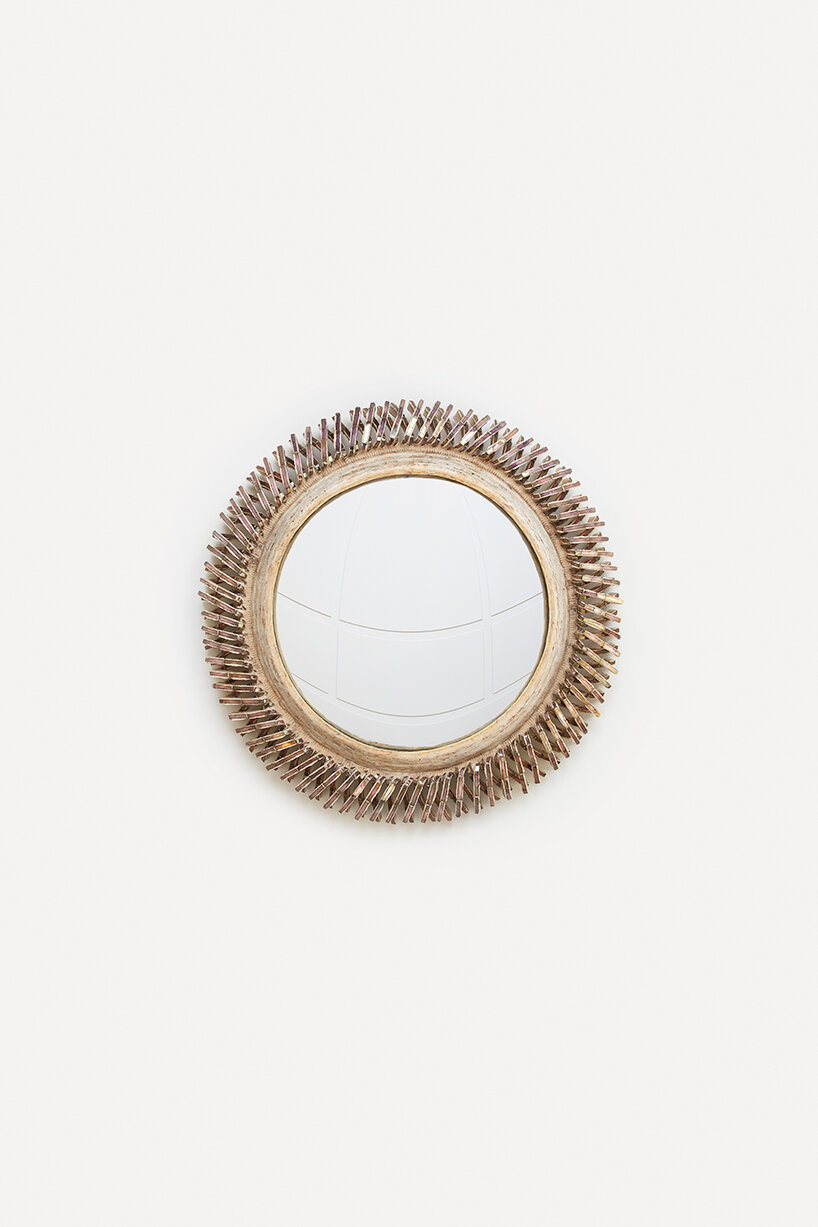 Boudoir mirror, ca. 1960-1965 by Line Vautrin at Galerie Chastel Maréchal | image courtesy of Galerie Chastel Maréchal
Paulin Paulin Paulin and Mobilier National
Paulin Paulin Paulin (find more here) and Mobilier National (find more here) are collaborating to present a limited-edition collection of furniture designed by Pierre Paulin for President François Mitterrand. The pieces were prototyped with Mobilier National, and the two organizations share the same ambition: to protect, highlight, and bring to the public the works of Pierre Paulin as well as the craftsmanship of the Atelier de Recherche et de Création (ARC), where Paulin created some of his most iconic pieces.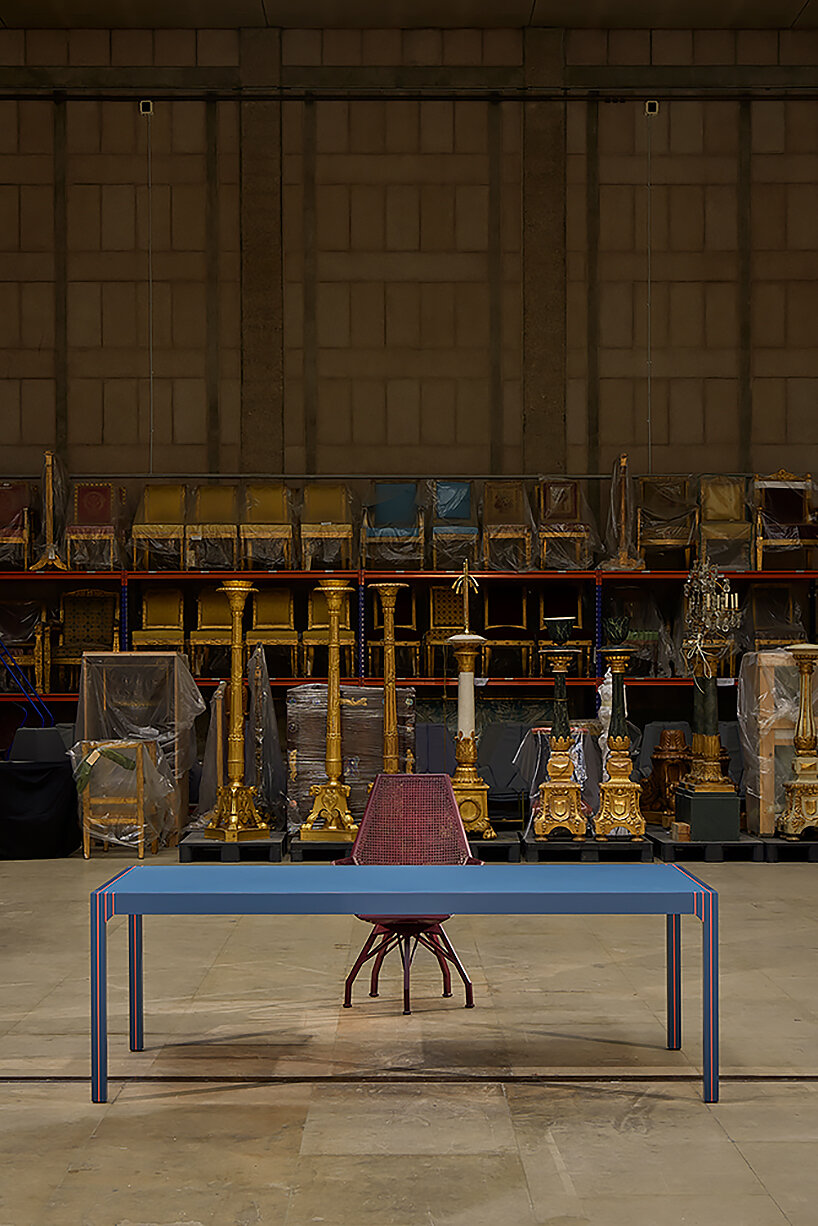 image courtesy of Paulin Paulin Paulin
Galerie Jacques Lacoste
Paris-based Galerie Jacques Lacoste (find more here) will feature historical pieces by French designer Jean Royère, whose work has been the subject of extensive research and promotion by gallery owner Jacques Lacoste. These pieces will be presented alongside other historical works by celebrated designers including Charlotte Perriand, Alexandre Noll, and Diego Giacometti.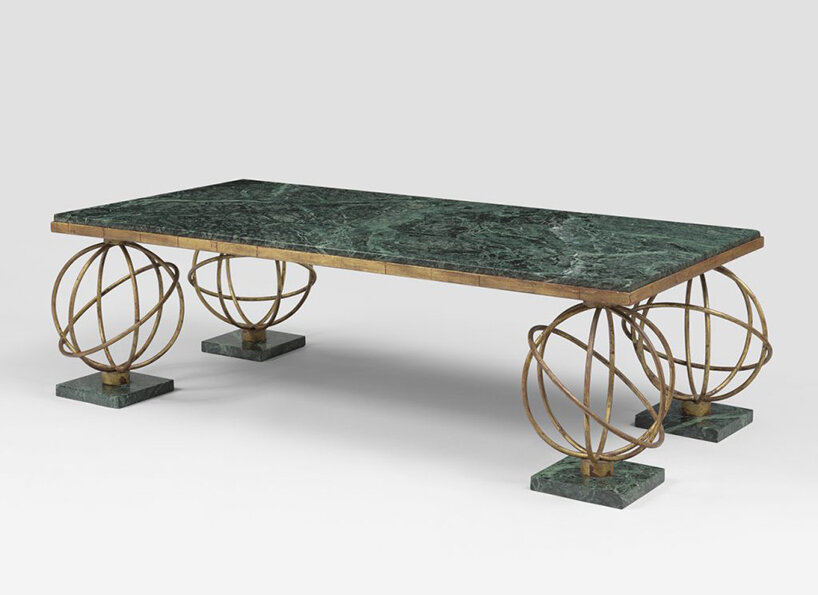 Jean Royère, Sphère Coffee Table, circa 1951 | image courtesy of Galerie Jacques Lacoste
Galerie Patrick Seguin
Paris-based Galerie Patrick Seguin (find more here) will present a selection of works by Jean Prouvé, Charlotte Perriand, Le Corbusier, Pierre Jeanneret, and Jean Royère. These designers have been brought into the international spotlight by Galerie Patrick Seguin, which is particularly known for its expertise in the work of Jean Prouvé. The gallery has worked tirelessly to research and promote Prouvé's work, which has resulted in exhibitions at major institutions such as the Centre Pompidou, the Museum of Modern Art, and the Venice Biennale.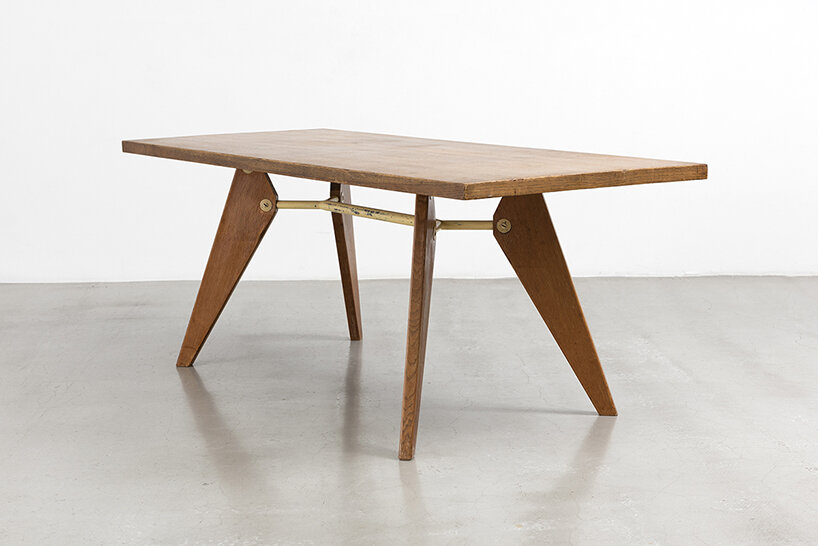 Jean Prouvé Furniture, S.A.M No. 502 Table, 1951 | image courtesy of Galerie Patrick Seguin
Galerie Mitterand
One of the most noteworthy 20th-century pieces set to be presented at Design Miami/ Paris is Lalanne's Ane Attelé (grand), 1989, presented by Paris-based Galerie Mitterand (find more here). The sculpture depicts a monumental donkey with a cart attached to its back. The donkey is made of bronze and the cart is made of wood and metal. The spectacular piece was included in the Versailles retrospective of Lalanne in 2021, where it was placed at the entrance of the castle.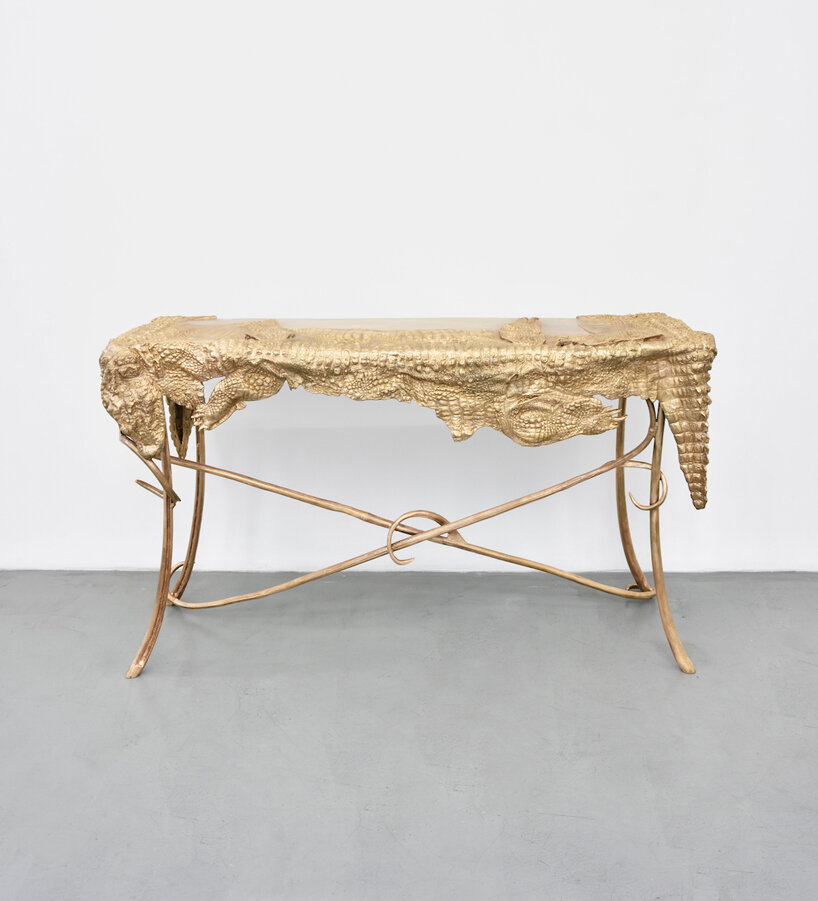 Bureau Crocodile, 2007-2015 by Claude Lalanne at Galerie Mitterrand | image courtesy of Galerie Mitterrand
Galerie Kreo
Parisian Galerie Kreo (find more here) defines itself as a 'research laboratory' dedicated to the production of unique, limited-edition contemporary pieces. For Design Miami/ Paris, the gallery will present a selection of works by renowned designers such as Marc Newson, Edward Barber & Jay Osgerby, and Jaime Hayon. One standout piece is Newson's Quobus 1,3,6 Monochromatic, commissioned especially for the fair. The modular invention can be arranged as a variety of furniture pieces – from a console to a bookcase – via blocks of colored enameled steel with gold brass screws.
Another standout design is Hayon's Hymy Round Coffee Table – Multicolored. The round coffee table is made in the great tradition of Italian stone marquetry, placed on three rounded glossy lacquered legs. The precious materials and the bold pattern embody Hayon's joyful and celebratory contemporary aesthetic. Galerie Kreo's contemporary presentation in Paris also includes Edward Barber & Jay Osgerby's Hakone Bench, inspired by the Japanese tradition and its precise joinery. The generous sweeping curved top and monolithic legs are reminiscent of the magnificent Hakone Shinto Shrine on Lake Ashi. Crafted in France, each element is produced from the finest European oak.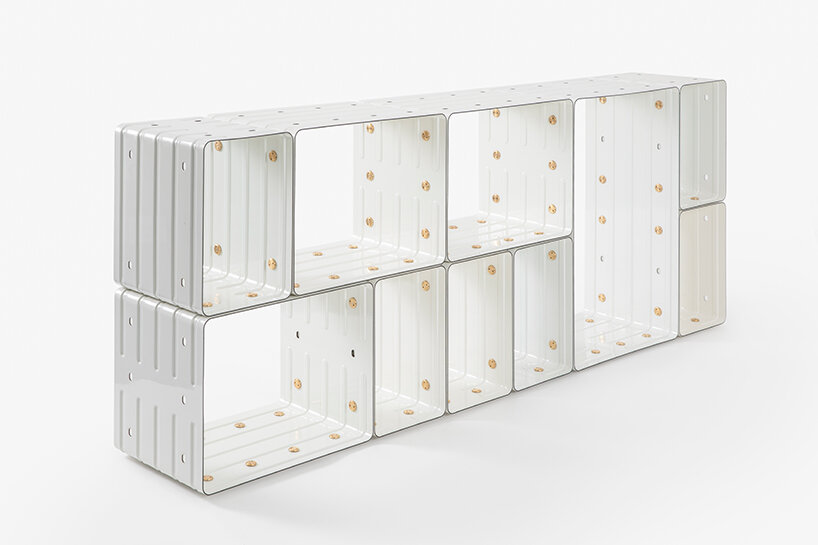 Quobus 1,3,6 Monochromatic, by Marc Newson at Galerie Kreo | image courtesy of Alexandra de Cossette and Galerie Kreo
Galerie SCENE OUVERTE
Paris-based Galerie SCENE OUVERTE (find more here) will present a contemporary exhibition that reimagines three centuries-old materials: marble, ceramics, and tapestry. The works by Anna Pesonen, William Coggin, Abel Carcamo, Saraï Delfendahl, Vincent Dubourg, Julien Cedolin, Hervé Langlais, KRJST Studio, and Léa Mestres demonstrate how these classic materials can be used to create modern and innovative designs. Marble, with its classical resonance, is embraced in modern shapes, while tapestry exudes a blend of tradition and modernity. Meanwhile, ceramics transcend epochs, finding new relevance in functional and artistic forms.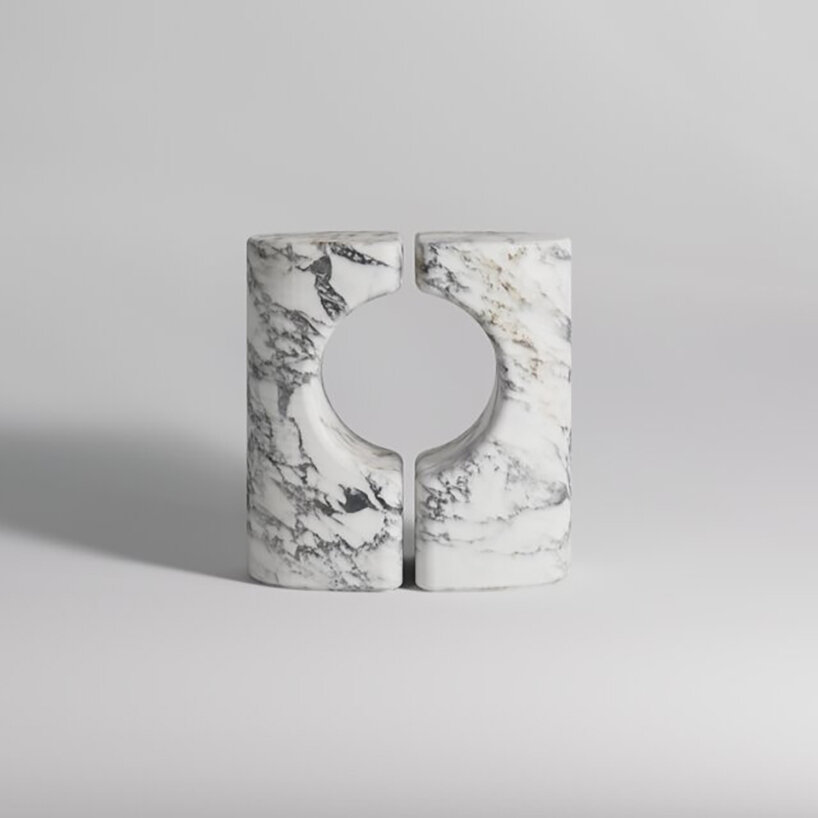 Carpate 1, 2023 by Hervé Langlais at Galerie SCENE OUVERTE | image courtesy of Hervé Langlais for Galerie SCENE OUVERTE
R & Company
New York-based R & Company (find more here) will present a selection of innovative works by contemporary designers such as Rogan Gregory, Roberto Lugo, Katie Stout, and Jeff Zimmerman, alongside a unique combination of rare and iconic works by historic designers such as Wendell Castle and Joaquim Tenreiro. This juxtaposition of old and new will allow visitors to the fair to appreciate the influence of the past on the present. R & Company's presentation will also highlight the gallery's mission to create new and exciting markets for designers and artists.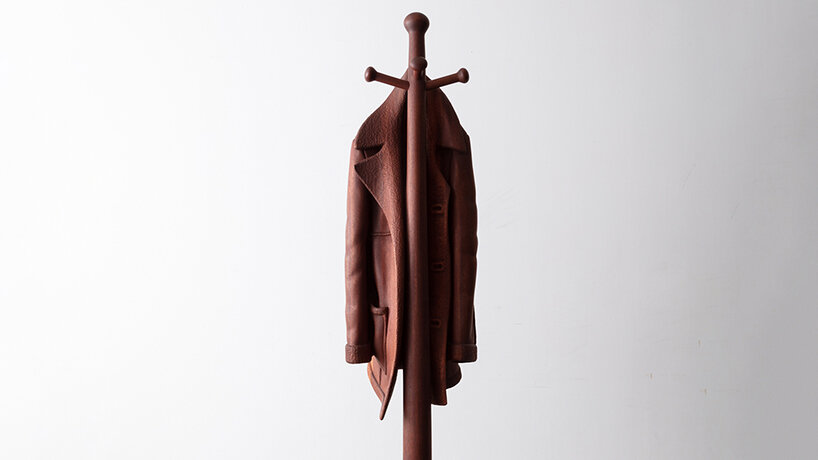 image courtesy of R & Company
Friedman Benda
New York-based Friedman Benda (find more here) will present a collection of forward-thinking design works by acclaimed European designers and key voices from the United States at Design Miami/ Paris. The gallery embraces new ways of making and seeing, and its presentation will showcase the intersection of contemporary design, craft, architecture, visual art, and cutting-edge technological research.
Some of the highlights of the presentation include: Armchairs from Paris-based designer Raphael Navot's acclaimed Acrostic series, which explore the nuances of texture, form, palette, and materials. Faye Toogood's Plot II, from her recent body of work, Assemblage 7, the hand-carved oak piece venerates the primacy of traditional artisanal carving techniques and marks its debut on the European continent. Samuel Ross' Anaesthesia II, which manifests his conceptual and layered approach to post-industrial materiality. Daniel Arsham's Jaffe Desk and Philly Lamp, which represent a significant departure for his development of vocabularies of form and making. Seminal Italian designer and architect Andrea Branzi's newest body of work, Roots, which explores the tension between the commodified and natural, gestural and methodical, artisanal and industrial. Joris Laarman's 3D printed Strange Attractor chandelier, and many more.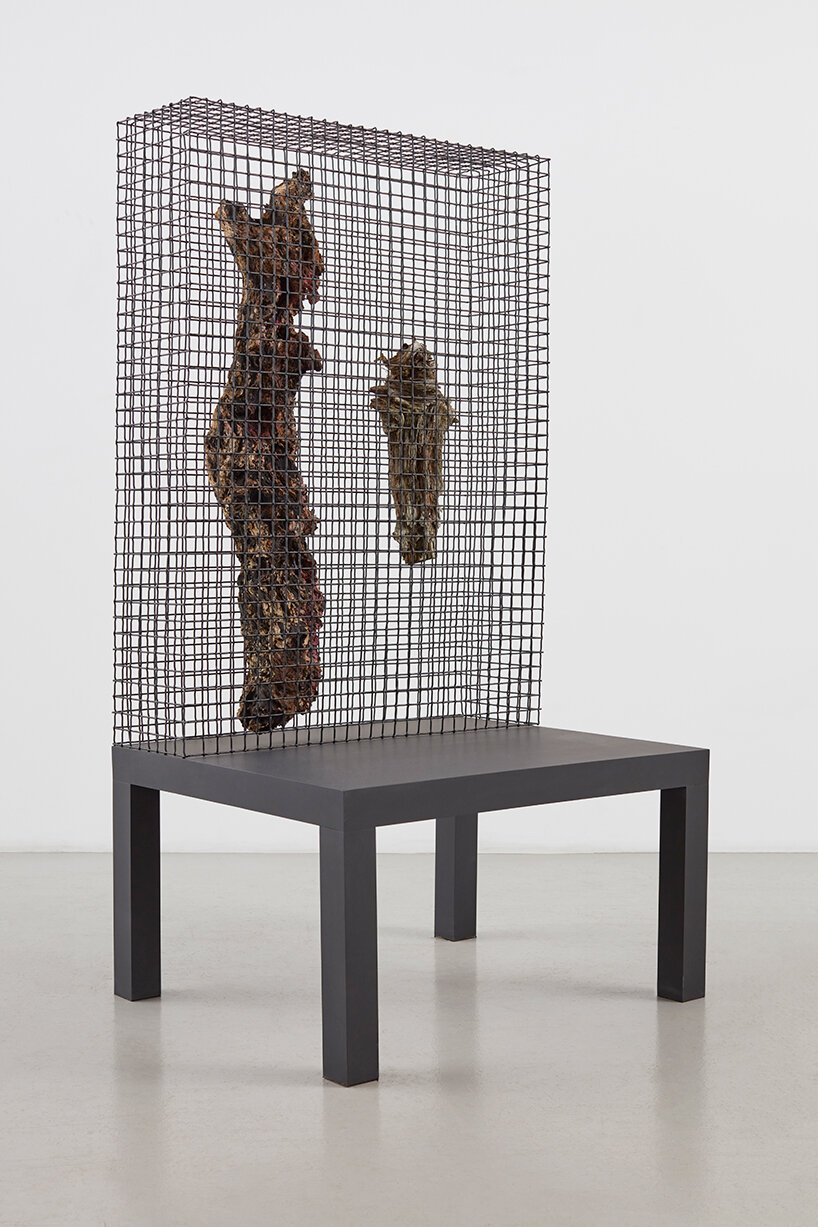 Roots, 2022 by Andrea Branzi at Friedman Benda | image courtesy of Friedman Benda and Andrea Branzi
Sarah Myerscough
London-based Sarah Myerscough Gallery (find more here) will be participating in the inaugural Design Miami Paris with an exhibition called La Forêt de Meubles which showcases a collection of finely crafted contemporary objects and furniture. These pieces represent modern interpretations of traditional, animistic, and artistic material explorations, created with an intimate and anachronistic approach to carpentry.
This show, characterized by its organic forms and materials, will include new sculptural cabinetry works by Marlène Huissoud and Christopher Kurtz. Additionally, the roster of participating artists features Aneta Regel, Eleanor Lakelin, Ernst Gamperl, Tadeas Podracky, Full Grown, Gareth Neal, and Marc Ricourt.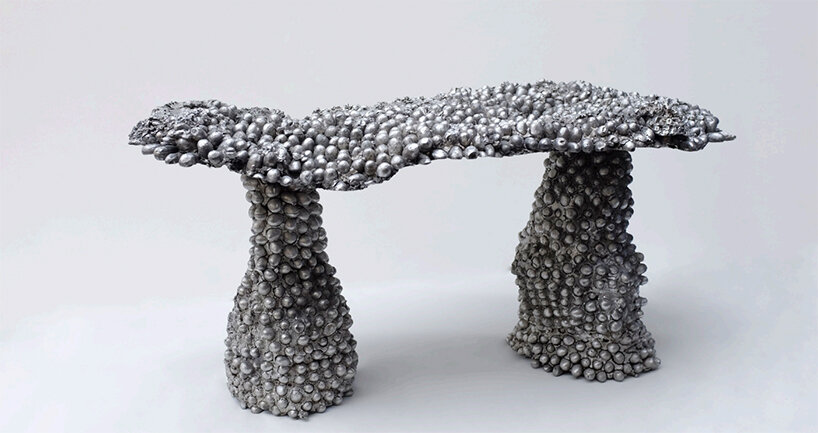 Marlène Huissoud , Frozen Bench, 2017. silkworm cocoons cast in Pewter | image courtesy of Sarah Myerscough Gallery
Galleria Rossella Colombari
Galleria Rossella Colombari will present a rediscovery of the aesthetic principles of some of the great Italian architects of the post-war period, including Fausto Bontempi and Umberto Nordio. Bontempi's exceptionally rare and unique wooden dining room set and pair of armchairs, designed in the 1960s for Casa Magini in Brescia, Italy, resemble the style of Frank Lloyd Wright, seamlessly blending modernist elements with Wright's distinctive style. Exuding elegance and functionality, the set will be set in dialogue with a storage unit designed by Nordio for a residential project. Nordio's meticulous attention to detail and ability to harmonize functionality with aesthetic appeal are evident in this piece. In summary, the Galleria Rossella Colombari exhibition will showcase two rare and unique examples of post-war Italian furniture design, highlighting the aesthetic principles and craftsmanship of two of the country's leading architects.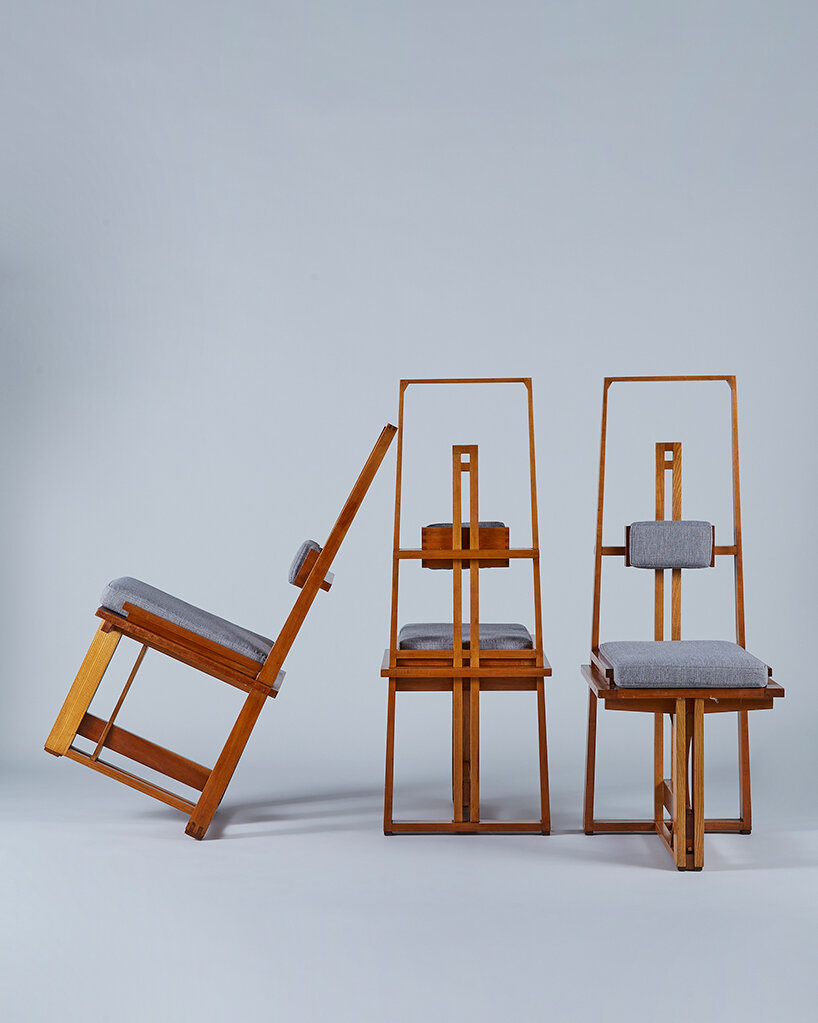 Eight unique chairs, 1961 by Fausto Bontempi at Galleria Rossella Colombari | image courtesy of Galleria Rossella Colombari
Gokelaere & Robinson
Paris-based Gokelaere & Robinson (find more here) will present an exhibition of remarkable historical furniture that showcases the dialogue between iconic Scandinavian and Brazilian design of the 20th century. The exhibition will feature a collection of carefully selected pieces of furniture designed by Joaquim Tenreiro, one of the greatest furniture designers in Brazil. Tenreiro is considered the founding father of the Brazilian modernist movement, and his work finds a perfect balance between modernism and traditional values. He is also a forerunner in the use of rediscovered raw local materials. An exceptionally rare Tenreiro piece set to go on show in Paris is a beautiful pair of armchairs created in the early 1960s. Exquisitely crafted, their delicate and organic structure with beautifully sculpted arm and back rests is a testimony to refinement. Tenreiro's work will be illuminated by an exceptional piece across the globe: a very rare and exceptional chandelier by celebrated Finnish designer Paavo Tynell.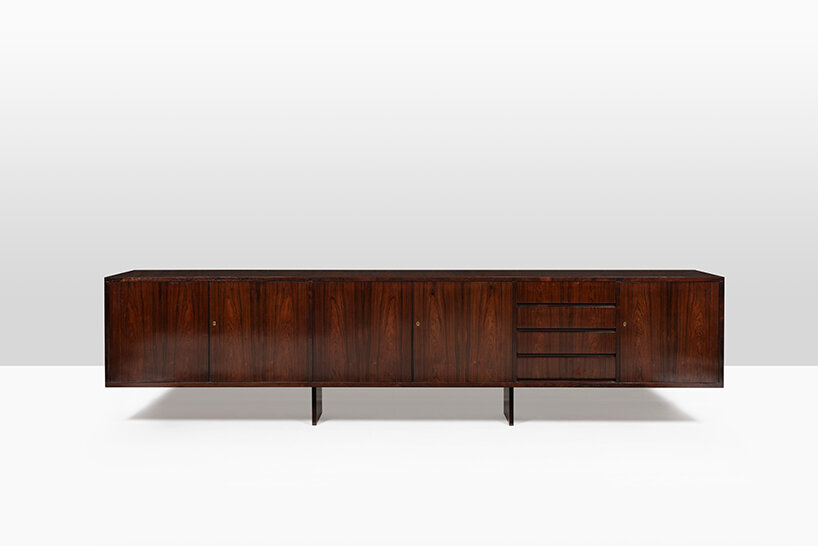 Sideboard, 1960s by Joaquim Tenreiro at Gokelaere & Robinson | image courtesy of Gokelaere & Robinson
Moderne Gallery
Philadelphia-based Moderne Gallery (find more here) will showcase some of the finest works from the American Studio Movement in Paris, with a focus on rare and important furniture and lighting by George Nakashima made between 1936 and 1990. Among the pieces set to go on show is Nakashima's Kent Hall Floor Lamp, 1965, an elegant walnut structure with a fiberglass infused paper shade, originally designed for Columbia University's Kent Hall. Another highlight is his Conoid Side Table, 1970. The angular structure represents the first line for which Nakashima drew on his architectural training, especially notable in his architectonic bases. Offering a more organic aesthetic is a set of Amoeba Nesting Tables from 1962, formed from English Oak Burl, with a free edge reminiscent of an amoeboid.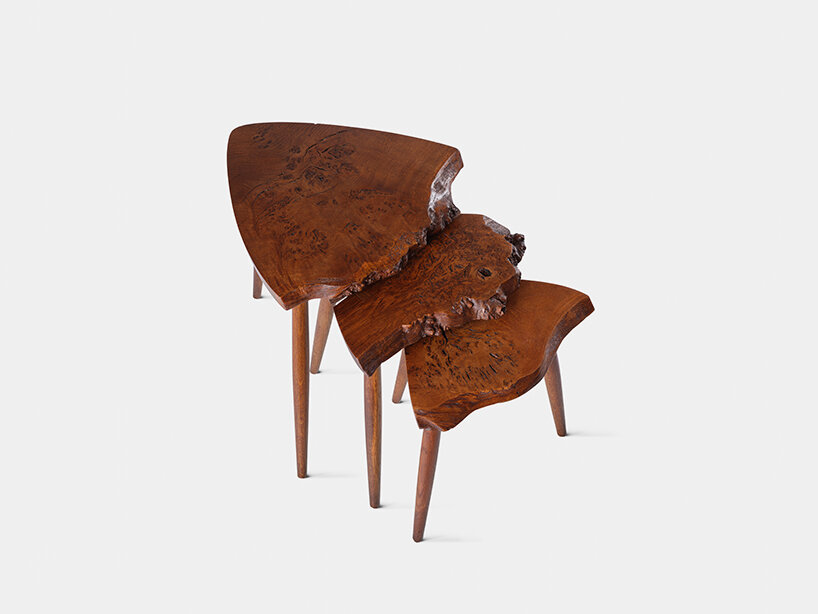 Set of Amoeba Nesting Tables, 1962 by George Nakashima at Moderne Gallery | image courtesy of Moderne Gallery
Pierre Marie Giraud
Brussels-based Pierre Marie Giraud (find more here) will showcase a carefully curated selection of decorative objects from the United States, Japan, and Europe. The gallery aims to foster a cross-cultural dialogue by bringing together artists from different regions, highlighting the rich heritage of each designer and the universal language of design. Designers set to be presented include Martin Szekely and Jos Devriendt.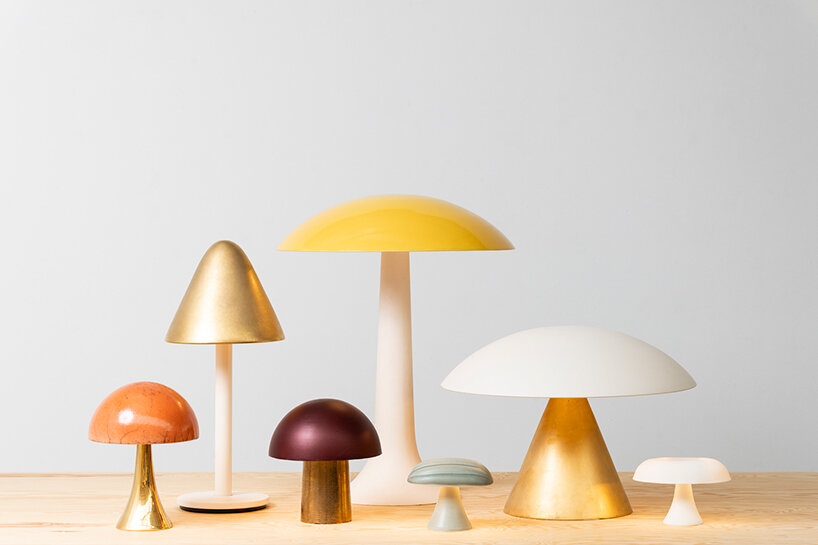 Jos Devriendt, Night & Day | image courtesy of Pierre Marie Giraud
project info:
name: Design Miami/ Paris
location: L'hôtel de Maisons, Saint-Germain-des-Prés, Paris, France
dates: October 17-22, 2023
myrto katsikopoulou
I designboom
oct 11, 2023
KEEP UP WITH OUR DAILY AND WEEKLY NEWSLETTERS
happening now! antoniolupi extends its expertise beyond the bathroom with the 'living' collection, a series of home furnishings that complement its esteemed collection of bathroom furniture and accessories.
a diverse digital database that acts as a valuable guide in gaining insight and information about a product directly from the manufacturer, and serves as a rich reference point in developing a project or scheme.
designboom will always be there for you
milan, new york, beijing, tokyo

,
since 1999