contemporary mexican artist pedro reyes and fashion designer carla fernández have been announced as the recipients of the design miami/ design visionary award for 2018. the design visionary award is an annual celebration of luminaries from a wide range of disciplines that have significantly contributed to the field of design, with previous winners including zaha hadid, tokujin yoshioka, konstantin grcic, sir david adjaye, and yves béhar among others. recognized for their impact on local communities through their individual practices, reyes and fernández are to present a collaborative exhibition at the fair, as well as design the graphic identity of this year's edition.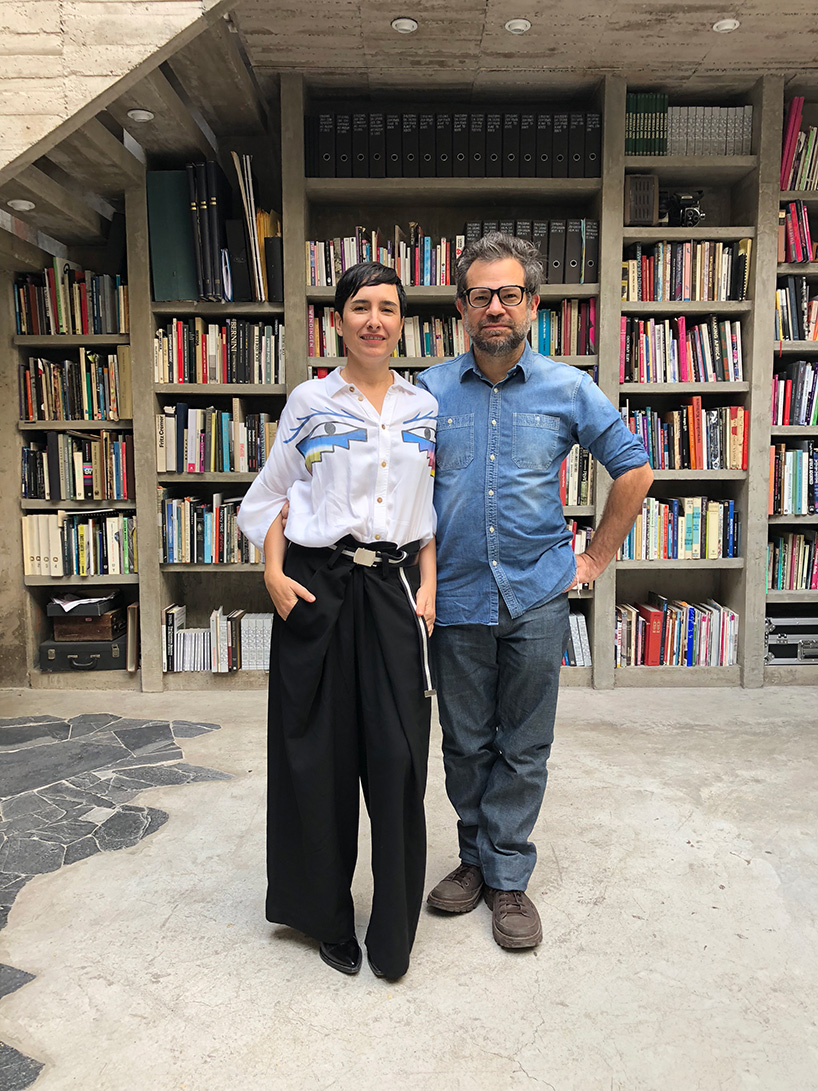 image © designboom (also header image)
despite their individual focus on separate design disciplines, pedro reyes and carla fernández express similar concerns through their work, often dealing with mexican indigenous culture, social values in communities, and intimate human interaction in an age of digital exchange. 'a few years ago we begun to realize that we wanted to start looking at designers and people that were doing more with their practice than just creating buildings or objects, using their practice in ways to impact the design community more broadly,' explains rodman primack, chief creative officer of design miami/. 'with pedro and carla we are obviously so inspired by the work that they create, but also by the way they run their practices and have used them to impact their communities; in carla's case to really keep some crafts and the conversation around native handmade things alive, and use that as a way of communicating with the world and fashion to give energy to that. with pedro, there has always been in his practice a connection with social impact, from early projects such as the ones he did with guns. for design miami/ it is a way of recognizing our community can do more with opportunities, and opportunities that will not only benefit the maker, or the artist, but that can also benefit the people that they collaborate with, the communities that they interact with. it feels like this is probably our best expression of this award so far, ' primack concludes.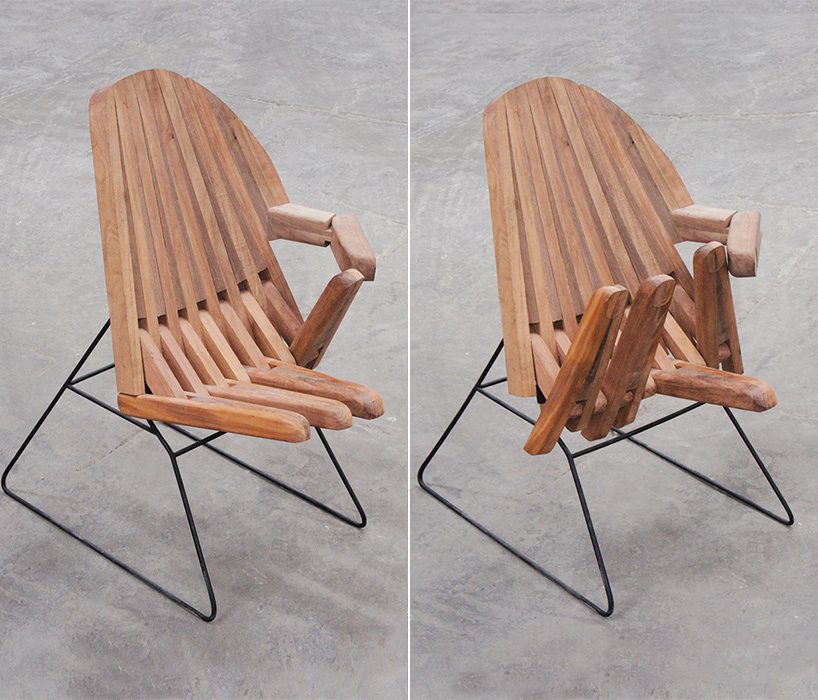 mano-sillas by pedro reyes, 2012,courtesy of labor gallery. the chairs appear to be in the middle of a sign-language conversation
a retrospective exhibition of both of their works will open on the occasion of design miami/ on 5 december, while a large version of it will travel to SCAD (savannah college of art and design) in february 2019. the pavilion which will hold reyes' sculptures and artworks, together with fernández's textile archive and fashion pieces, is designed by the two award winners as a curved, steel wall structure. born in mexico city in 1972, pedro reyes uses various media, such as sculpture, performance, and video, to address current sociopolitical issues. 'being an architect and then becoming an artist I could never get away from the idea that you have to solve problems, so I continued making art but always thinking that it should have a function,' explains reyes while discussing what will be on show at the upcoming exhibition. 'a lot of my pieces are to be used in the sense that there is an instrument, or piece of furniture – they are all works that are only completed once you use them and they become an activity as well.'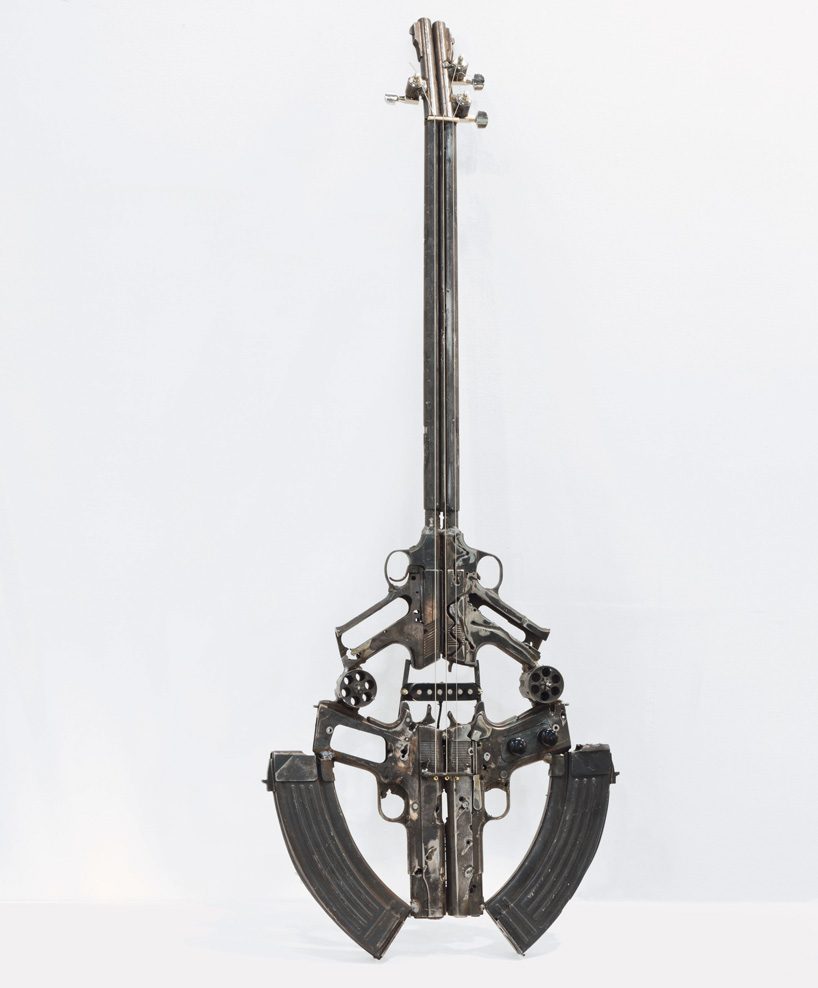 disarm by pedro reyes, 2013, courtesy of lisson gallery, london. the instrument series uses remnants of de-commissioned weapons which the mexican army had collected and destroyed
working with mexico's indigenous communities to produce handcrafted, avant-garde garments, carla fernández has established her brand as a pioneer in ethical fashion. the designer collaborates closely with the artisans on site for every project, integrating centuries-old indigenous techniques in every piece she creates. 'I hope to give a voice, and a name, and a last name, to the people that make these amazing crafts,' says fernández. 'I am very grateful for the award and the exhibition because it gives us the opportunity to show all these people, either the visitors of design miami or the SCAD students, that another way of doing things is possible,especially now that a lot of people think that technology is the only future the world has – we believe that it is one of them, but we also believe the future is handmade.' 'fashion sometimes is seen as very empty and pretentious, but for me it's the most amazing thing – it's culture, it's politics, it's architecture, and I don't understand why a lot of people tend to see it as very empty, or banal. we have to be very specific to show that another way of doing fashion is possible, that we can maintain tradition of thousands of years, and be modern and super contemporary at the same time.'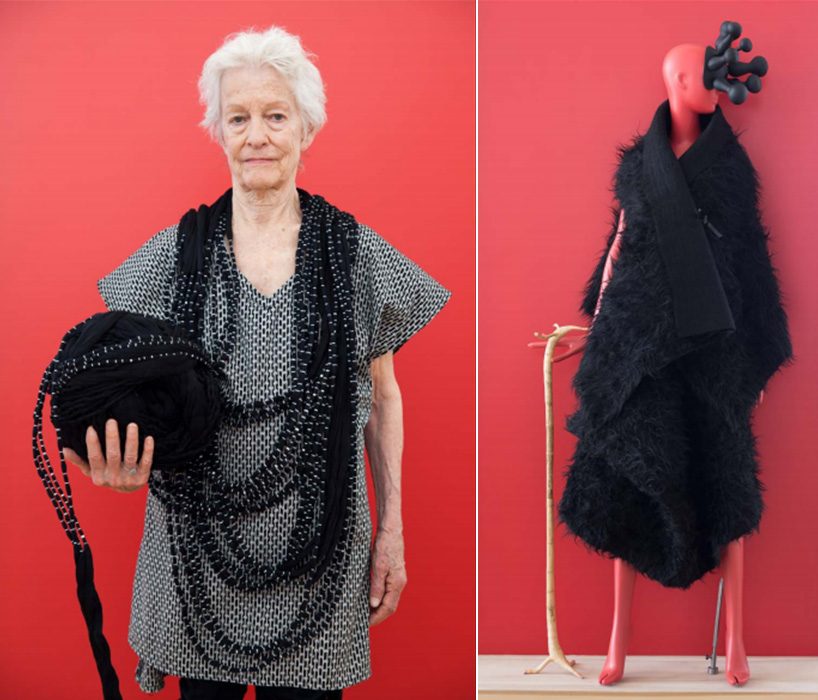 american visual artist joan jonas wears a piece by carla fernández, photo by ramiro chaves (left)
the two designers have also made some new pieces for the exhibition including a hand-painted map of the americas, where they have put together all the indigenous groups that have exited across the continent over time. 'we were trying to find if there is a map that shows all the original groups of the continent – there are some settlements that go back 11,000 years – but there was none, so we decided to makeone, which was incredibly complicated,' explains reyes. 'we've been checking ethnography maps, topology maps, and so on, and building this map, because in a time where there is a migration crisis, and it is an issue around the world, and there is all this suffering that happens at the crossing of borders, we wanted to bring some perspective to the fact that our current borders are only 200 years old. when the world has been inhabited for thousands of years in many different configurations, what we assume as our current borders may not be the borders in the future and they were essentially not the borders in the past.'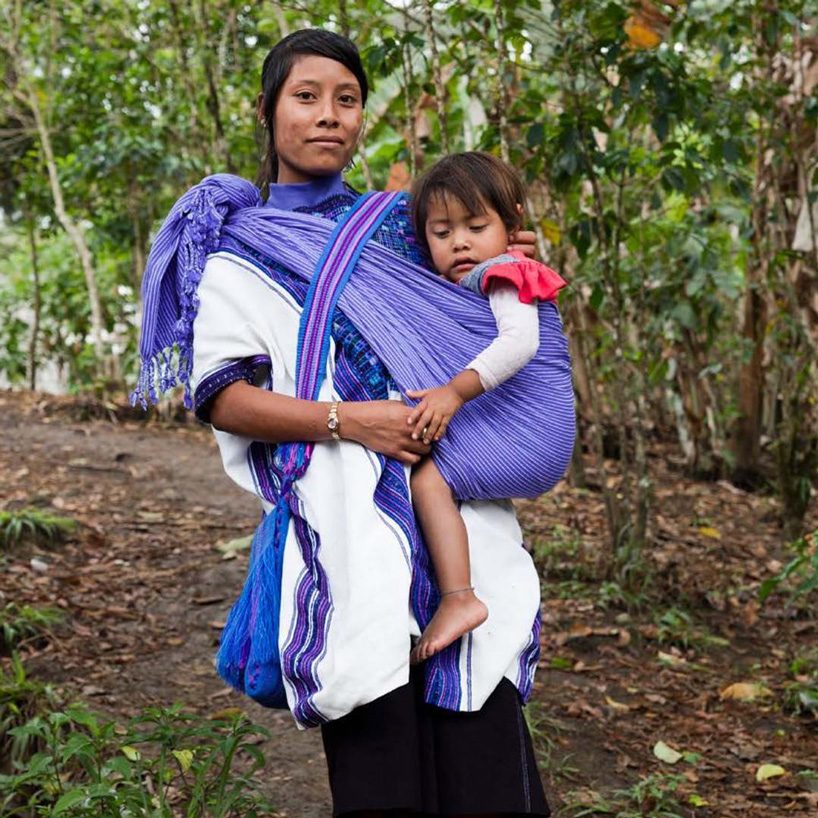 one of the artisans that works with carla fernández on her handcrafted textiles
design miami/ has also collaborated with reyes and fernández on the visual identity of this year's edition, who came up with a series of graphics that capture the spirit of protests that took place in paris and other places around the world in 1968. 'we suggested a kind of protest-sense of urgency, because now we are turning 50 years since 1968, when there were all these movements in prague, berkley, mexico, paris, and so on, and there were all these protest posters done with only one ink and political messages,' describes pedro reyes. the visuals will play out across the entire fair, into merchandise and into everything that is 'design miami/' branded.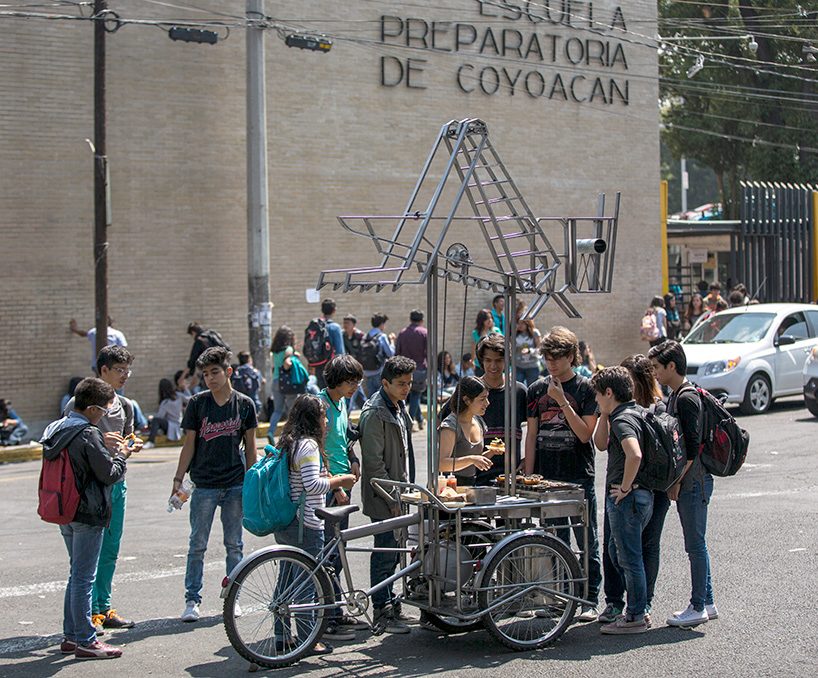 entomofagia / the grasswhopper by pedro reyes, 2013. a food cart made of welded iron and mechanical parts serves grasshopper burgers to introduce the consumption of insects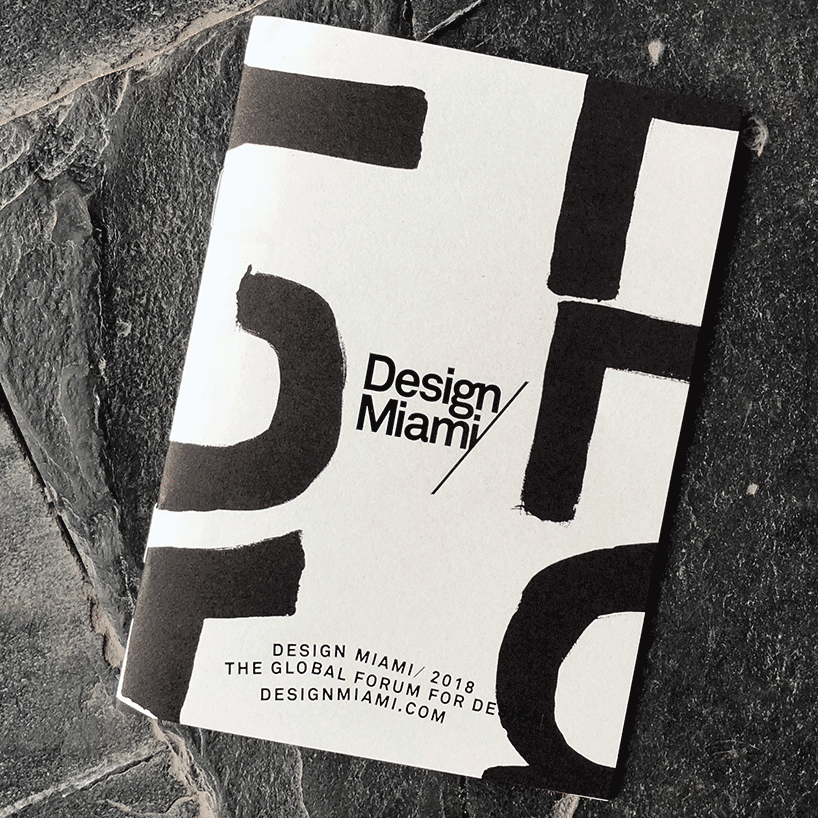 image © designboom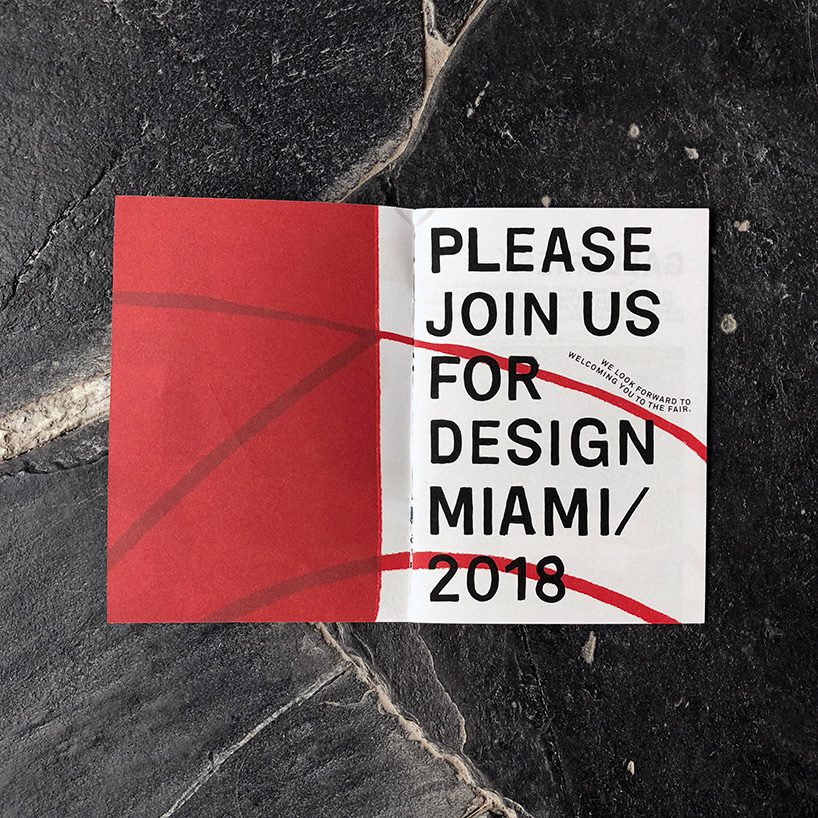 image © designboom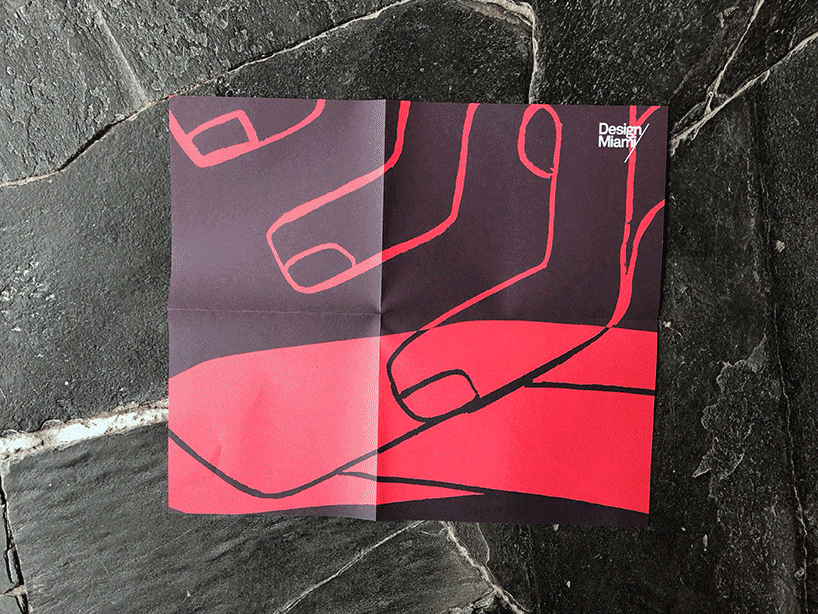 image © designboom

sofia lekka angelopoulou
I designboom
oct 21, 2018
a diverse digital database that acts as a valuable guide in gaining insight and information about a product directly from the manufacturer, and serves as a rich reference point in developing a project or scheme.
designboom will always be there for you
milan, new york, beijing, tokyo

,
since 1999