DESIGNART TOKYO 2023 – SPARKS: Freeing Your Thoughts
DESIGNART Tokyo, one of Japan's largest design and art festivals, is back with its 2023 edition which explores the theme of SPARKS: Freeing Your Thoughts. From October 20 to October 29, 2023, leading creators from diverse artistic fields, including art, design, interior design, and fashion, will converge in Tokyo to transform into a sprawling museum, featuring a record of 108 exhibitions and 83 venues. With less than a week left, DESIGNART unveils details about this year's exhibitors and their works, emphasizing its mission to promote Tokyo's design and art on a global scale.
As a media partner of DESIGNART Tokyo 2023, designboom provides a preview of the festival's themes, venues, and exhibitors, offering a glimpse into the vibrant creative energy set to energize the Japanese city this month. Explore our curated list of highlights below.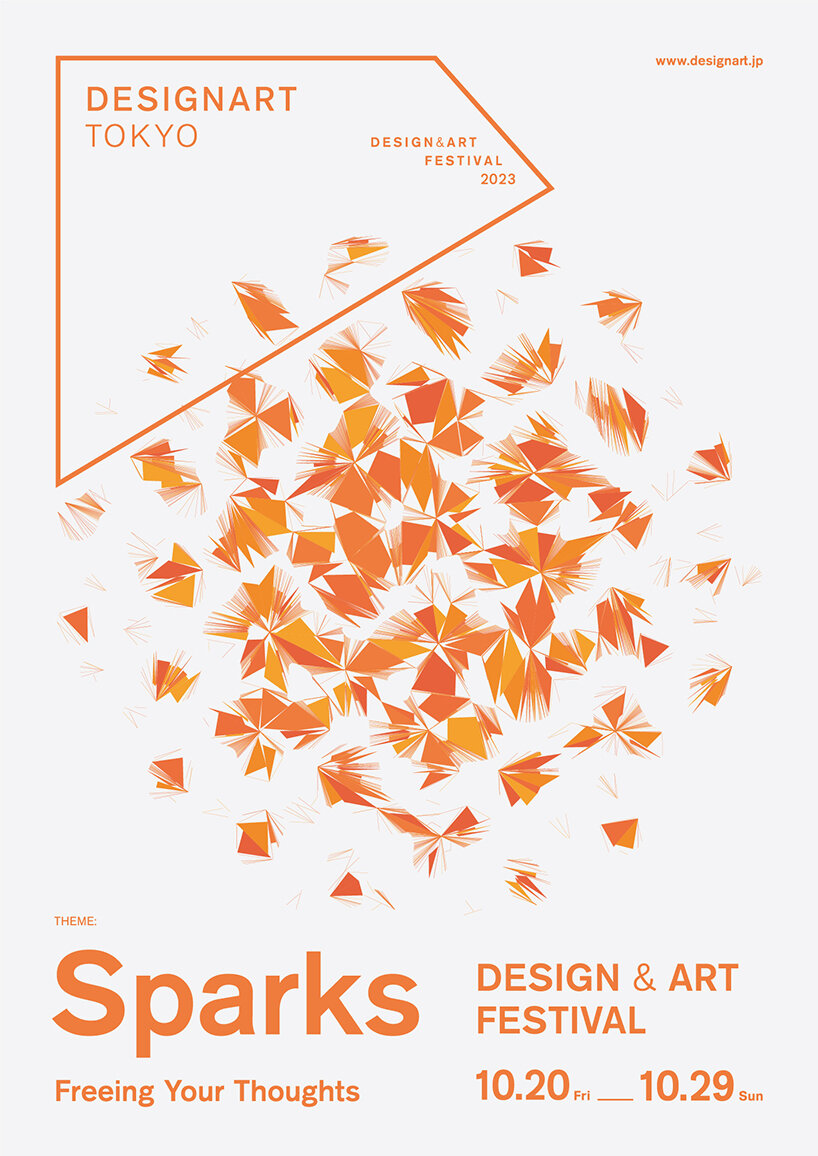 DESIGNART GALLERY – Exhibition of cutting-edge creativity
The DESIGNART GALLERY will present an exhibition of cutting-edge creative works from both Japanese and international artists which will take place at one of the official exhibition sites in Escorter Aoyama Bldg. Its special feature is a pop-up store filled with the charm of the Danish furniture brand Muuto. The exhibition's layout will be designed by designer Atsushi Shindo, who was recognized in the UNDER 30 initiative in 2021. An installation of reclaimed acrylic panels—a mass-consumed relic of the pandemic—will adorn a space of approximately 500 sqm.
Participating brands and creators include Muuto, SANLORENZO JAPAN (MOROSO・Paola Lenti), Ambientec, RECONC, h220430 Satoshi Itasaka, Denis Guidone x Y.S.M., Gwenael Nicolas, Tokio., AMUAMI, Original Kolor Design, and WASARA.
venue: DESIGNART GALLERY 2-7-15, Escorter Aoyama ,Kita-Aoyama, Mitato-ku, Tokyo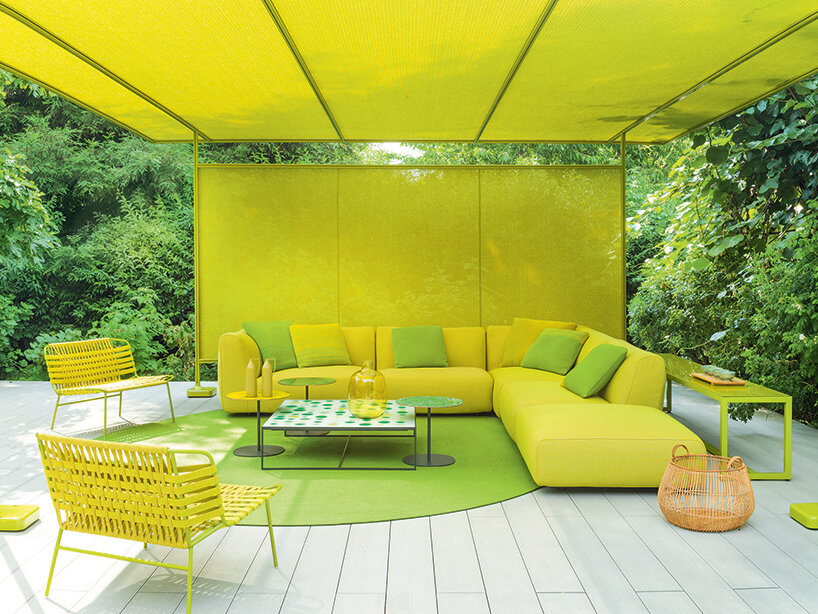 SANLORENZO Lounge
ASIA CREATIVE RELATION
The main attraction of DESIGNART TOKYO is its cutting-edge themed exhibition, and this year is no exception. With Suzy Annetta as the guest curator, the exhibition will unfold under the theme of A New Horizon, offering a glimpse into interior design concepts for lifestyles in 2050. The show represents a significant step in DESIGNART's ongoing effort to create a cultural exchange platform in Asia since 2021. Guests can expect to see a collection of distinctive furniture and artworks from promising Asian creators.
Participating creators include AtMa (Japan), Bumki Song (South Korea), CLEVERCLAIRE (South Korea), Curiosity (Japan), Dongwook Choi (South Korea, Funi Ding (Hong Kong), Kairo Kusamoto (Japan), Kodai Iwamoto (Japan), OPEN OBJECT (China), PAN-PROJECTS + REMARE (Japan) Pili Wu (Taiwan), Ryosuke Harashima (Japan), SDANLEY DESIGN WORKS (Taiwan), Shizuka Tatsuno (Japan), Studio Orijeen (South Korea), Studio Osoh (South Korea), Takuto Ohta (Japan), Yosuke Matsushita (Japan), we+ (Japan), Zougei Hiroyuki Nishimura (Japan).
venue: WORLD KITA AOYAMA BLDG. 3-5-10, Kita-Aoyama, Minato-ku, Tokyo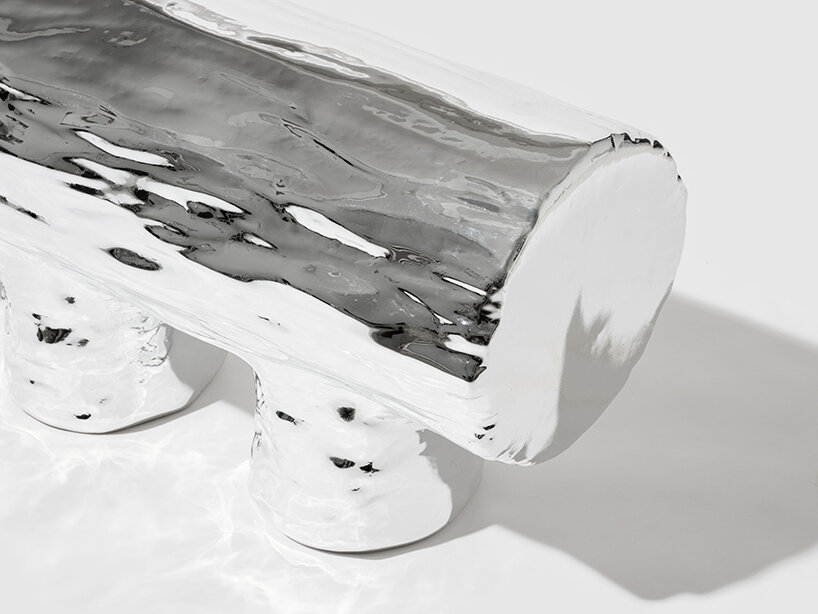 Dongwook Choi
TIERS GALLERY
TIERS GALLERY, situated on the third floor of the TIERS building, known for its impressive grand staircase designed by architect Hikalu Tanabe, will host a group exhibition featuring four creators. This exhibition showcases intricate artworks born from unique sources of inspiration, including the following highlights: Gala Espel's Archaeology of the Future employs digital tools to craft visionary silver forms, breathing life into objects and creating a space filled with ephemeral details that bridge the past and the future. So Tanaka's vnsh light aims to 'illuminate the surroundings while disappearing into the light,' focusing on perception and relationships, merging past and future elements. Akira Hojo and Ryoma Maeda present a gravity-themed installation piece that combines lighting and leather shoes to explore the concept of gravity and its effects. Masato Ozawa's SHIZENTAI introduces a novel approach to the traditional tea ceremony, delving into ancient Japanese spirituality and emphasizing the connection between our spirits and nature.
venue: Arakawa & Co., Ltd. Headquarters Omotesando Showroom, TIERS 3F, 5-7-12 Jingumae, Shibuya-ku, Tokyo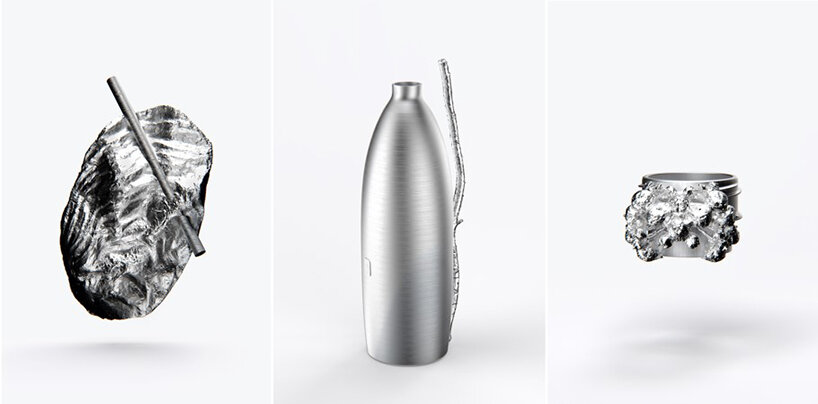 image © Gala Espel
Hibiya OKUROJI
Nestled deep within Ginza, Hibiya OKUROJI boasts century-old brick arches and a 300-meter-long passageway under elevated train tracks. This unique space will be transformed into an exhibition of interior products. In a generously sized area of approximately 130 sqm, design lab HONOKA will present the TATAMI ReFAB PROJECT. This project aims to reintegrate tatami materials into contemporary living spaces. The blend of this historic passageway and the exhibit is a standout aspect of the event.
Additionally, Tossanaigh will showcase their KU-TEN furniture series, crafted from the beautiful wood grain of mountain stumps, giving new life to these once-valued materials used in shrine and temple ceilings. Other highlights include the MOBIRAKA series, a collaborative effort between Kiyoshi Tanikawa, an oke barrel craftsman, and designer Masato Suzuki. This series adopts a Sanuki Oke barrel design while visualizing a production process with minimal material waste. The ELD INTERIOR PRODUCTS furniture brand, based in Okayama, will present ELD's Social Crafts, re-establishing the connection between forests and local industries. Furthermore, the emerging brand COLOR & WONDER will showcase a prototype of a new chair and 2TONE stool, produced through digital processing of colored MDF, offering a wide range of products with 200 different color combinations and flexible lot sizes.
venue: Hibiya OKUROJI 1-7-1 Uchisaiwaicho, Chiyoda-ku, Tokyo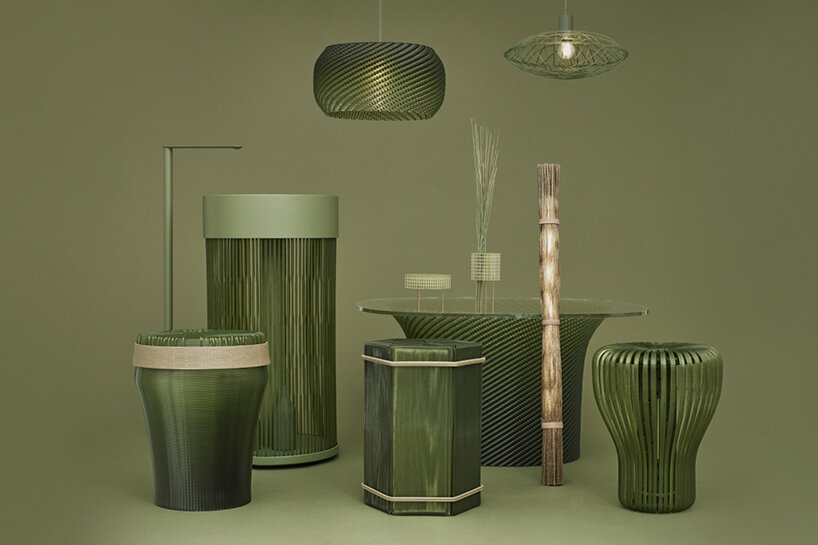 HONOKA
Seibu Shibuya Movida Building 7F Special venue
The exhibition at the seventh floor of Shibuya's Movida Building, titled Things with Dialogue by the Nomadic Collective, features experimental products and furniture created by four designers who seek to redefine the concept of creativity. These works include FIXED TETRAS by Masafumi Futo, which explores balance and beauty through tetrapod-like objects made from various materials, Revise art pieces by the PHAT design unit, focusing on using ready-made products in unconventional ways to discover new beauty in materials and forms, and hoop being by Nyokki, a dynamic wool hoop that transforms and adapts like a pet-like piece of furniture in response to human interaction. The exhibition serves as a testament to pushing the boundaries of creative expression and design.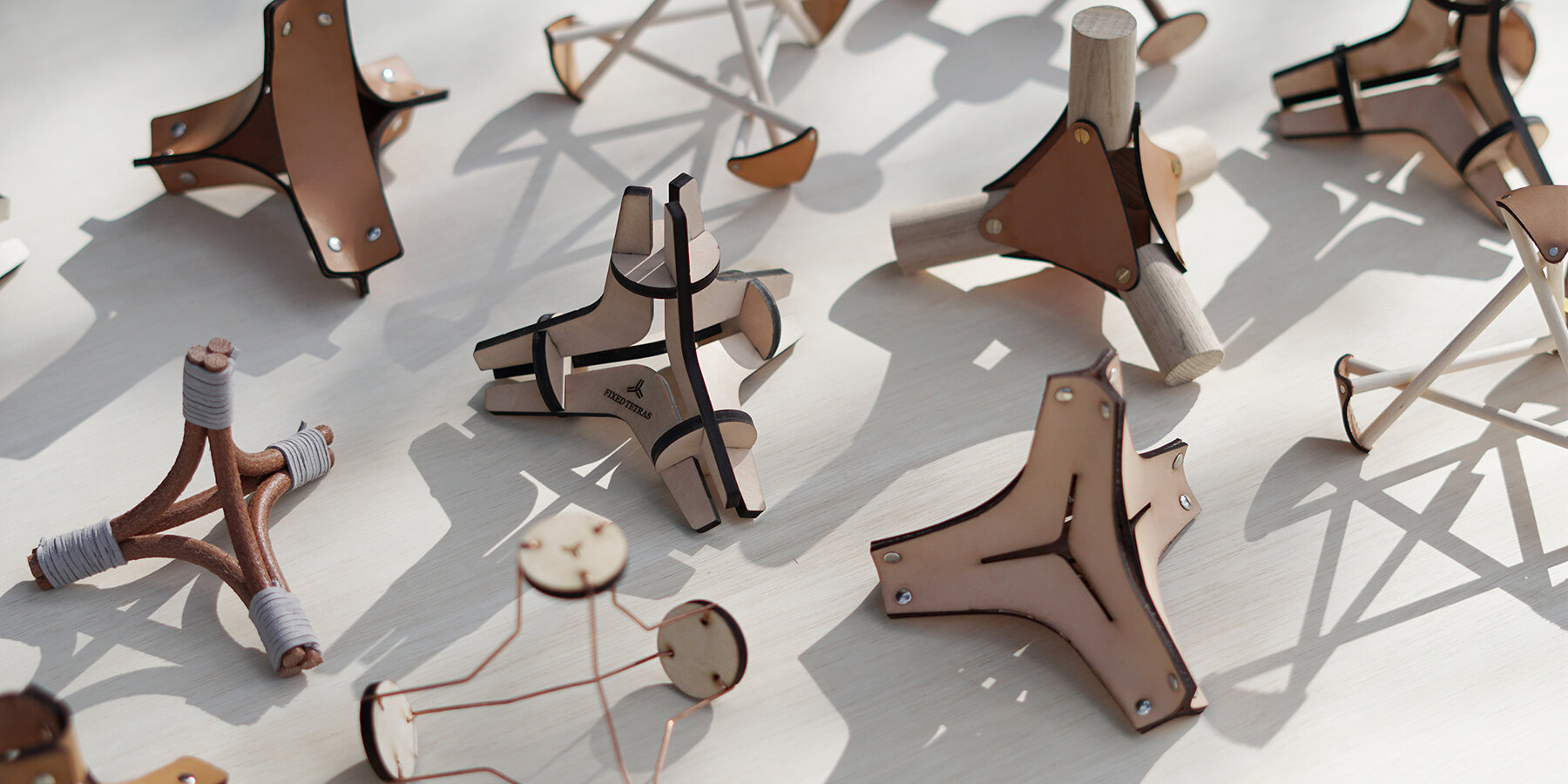 FIXED TETRAS by Masafumi Futo
TOKYO MIDTOWN (Roppongi)
Tokyo Midtown's DESIGN TOUCH presents works of three creators under the theme of Draw the Future.
21B STUDIO / INK COUTURE PROJECT
21B STUDIO, by Daijiro Arimura, Koeda Kobayashi, and Shotaro Tokioka, is set to showcase a design project that investigates the possibility of non-woven fabrics used for cleaning ink from offset printing machines as a new material. Their approach defines the production process of this material as a fresh 'dyeing printing' technique, effectively combining elements of both printing and dyeing.
venue: TOKYO MIDTOWN, Galleria 2F front of Aēsop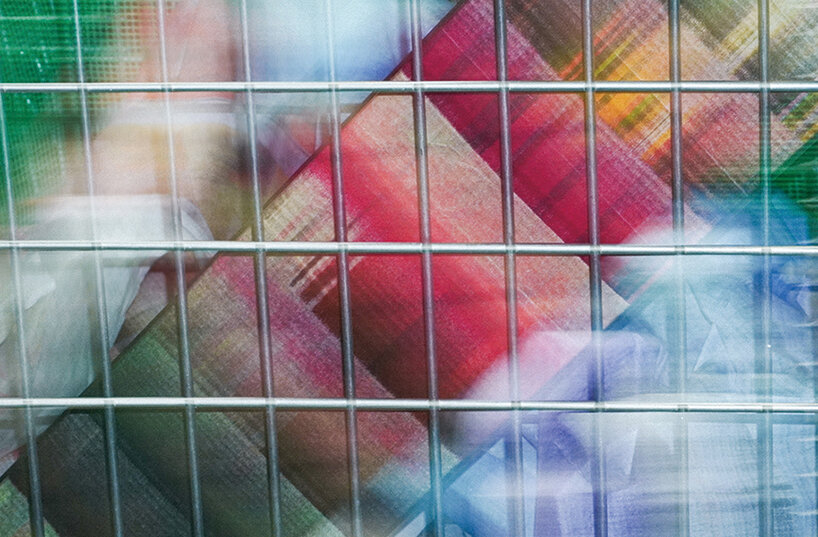 ink couture project | image by Daijiro Arimura
YUICHIRO MORIMOTO/ NISSHOKU
Nisshoku challenges the general premise that 'Lighting is something inseparable from electricity' by condensing light from the surrounding environment. The work appears to be luminous to everyone's eyes, even though it has neither
batteries nor power cords.
venue: TOKYO MIDTOWN, Galleria 2F, front and side of Iucien pellat-finet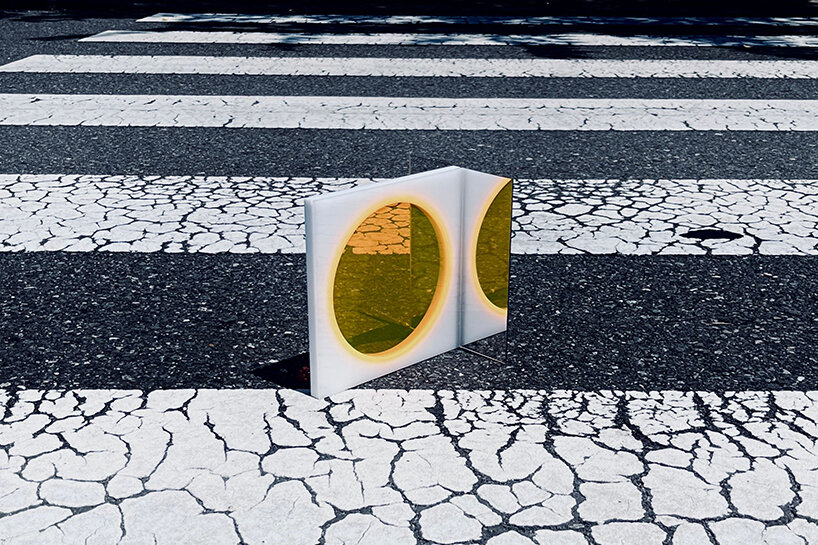 NISSHOKU
DAIKI TADO / NATURE OR NURTURE
The driftwood material goes through a complex process that involves time spent in both the mountains and in the ocean. This exhibition presents products that experimentally apply the new texture of this independent
material, such as stools, chairs, and tables.
venue: TOKYO MIDTOWN, Galleria 3F, IDÉE SHOP/IDÉE CAFÉ PARC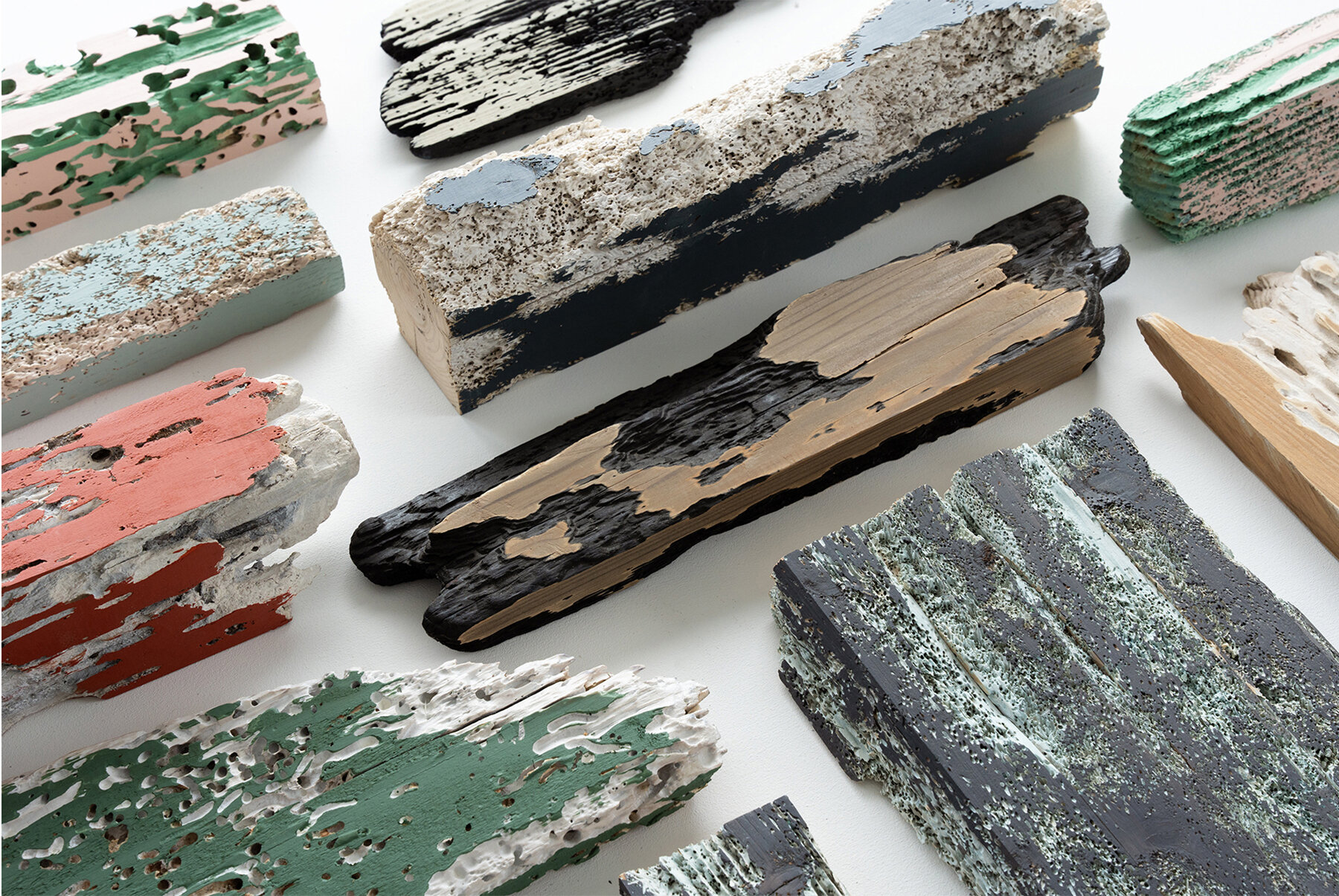 A place where FASHION fuses with ART
FONDATION D'ENTREPRISE HERMÈS – ECOLOGY: DIALOGUE ON CIRCULATIONS

The Ginza Maison Hermes Le Forum will host an exhibition titled Ecology: Dialogue on Circulation, which delves into the integration of ecology within the realm of art. Within this exhibition, Dialogue 1: La Vita Nuova will be a solo presentation featuring artist Jaeeun Choi, born in 1953 in Seoul, Korea. The showcase encompasses a retrospective of her 40-year artistic journey, showcasing both previous and recent works which are in an ongoing dialogue with the environment and nature.
venue: Ginza Maison Hermes Le Forum 5-4-1 Ginza, Chuo-ku, Tokyo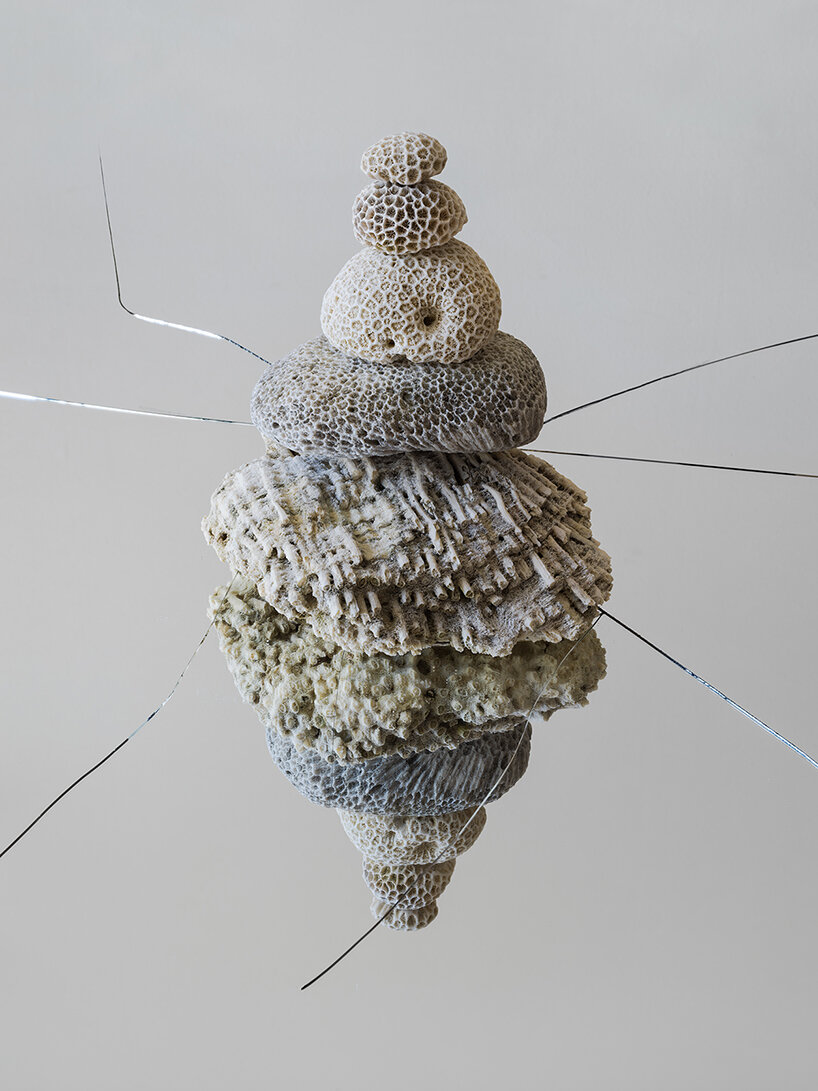 image by Yasushi Ichikawa
THE NATIONAL ART CENTER x TOKYO YVES SAINT LAURENT – ACROSS THE STYLE
In close collaboration with the Musée Yves Saint Laurent Paris, the National Art Center, Tokyo is set to present the inaugural extensive retrospective of Yves Saint Laurent in Japan following his passing. The exhibition will feature a comprehensive collection of 262 items organized into twelve chapters, encompassing 110 of the designer's iconic ensembles, along with accessories, drawings, and photographs.
venue: The National Art Center, Tokyo 7-22-2 Roppongi, Minato-ku, Tokyo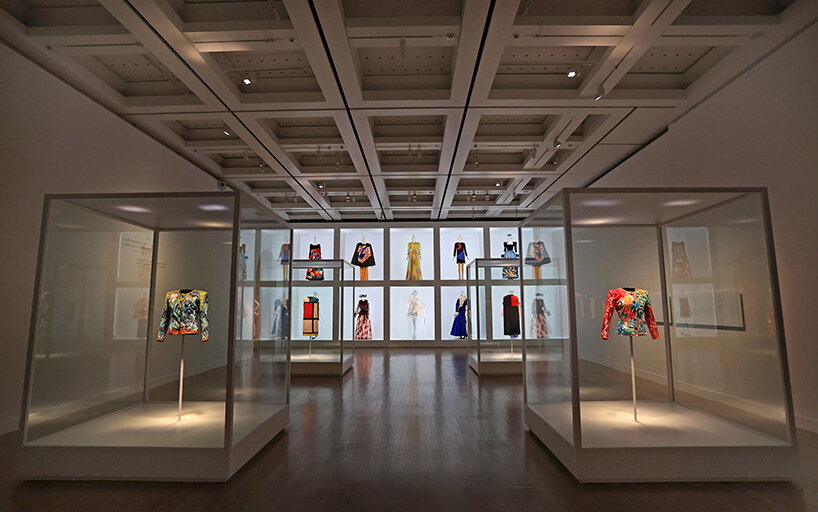 Yves Saint Laurent, Across the Style installation view
CELINE OMOTESANDO – CELINE ART PROJECT
CELINE OMOTESANDO, which has recently undergone a renovation to encompass three floors, from the basement to the second floor above ground, welcomed its reopening this July. It now embraces Hedi Slimane's fresh architectural design concept, creating a harmonious, sculpture-inspired environment that incorporates premium natural materials. The CELINE ART PROJECT has also expanded its presence within the space, featuring a plethora of contemporary artworks, including paintings by Chris Succo and John Isaacs, and sculptures by A. Kassen, David Nash, Elizabeth Atterbury, and Cameron Platter.
venue: CELINE OMOTESANDO 3-5-29 Kita-Aoyama, Minato-ku, Tokyo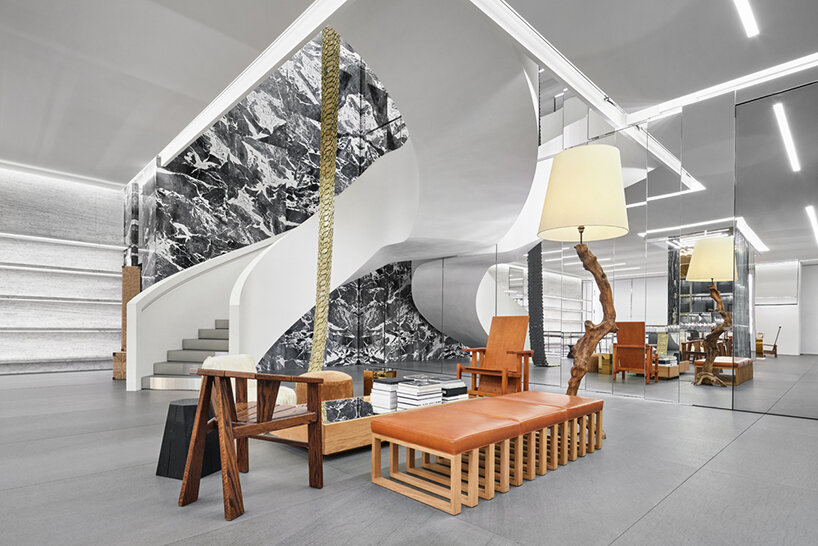 CELINE OMOTESANDO
ESPACE LOUIS VUITTON TOKYO – CERITH WYN EVANS SOLO EXHIBITION
Espace Louis Vuitton Tokyo is hosting a solo exhibition by the Welsh artist CERITH WYN EVANS, titled 'L>espace)(…'. This exhibition showcases artworks from the 2007 collection, which were acquired before the establishment of the Fondation Louis Vuitton. The artworks delve into the expression of form within space through various mediums such as photographic images, text, light, sound, and video. Additionally, DESIGNART TOKYO will be conducting workshops on October 27th and 28th as part of the event.
venue: Espace Louis Vuitton Tokyo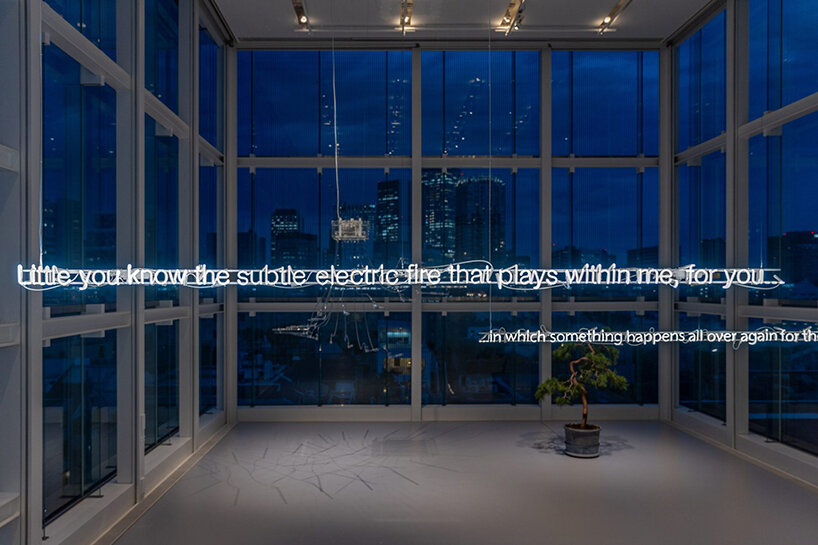 Courtesy of the artist and Fondation Louis Vuitton, Paris | photo credits: © Jérémie Souteyrat / Louis Vuitton
CHAMPAGNE MAISON PERRIER-JOUËT AND FERNANDO LAPOSSE UNVEIL THE POLLINATION DANCE
Following its collaborations with contemporary artists, Perrier-Jouët partners with Mexican artist and designer Fernando Laposse to unveil The Pollination Dance. Laposse's artwork draws inspiration from Japanese anemones and highlights the flowers' significant role within the intricate web of ecosystem relationships, including pollination. This installation underscores the importance of rekindling our appreciation for the natural world through careful observation.
venue: WITH HARAJUKU 1F/2F 1-14-30 Jingumae, Shibuya-ku, Tokyo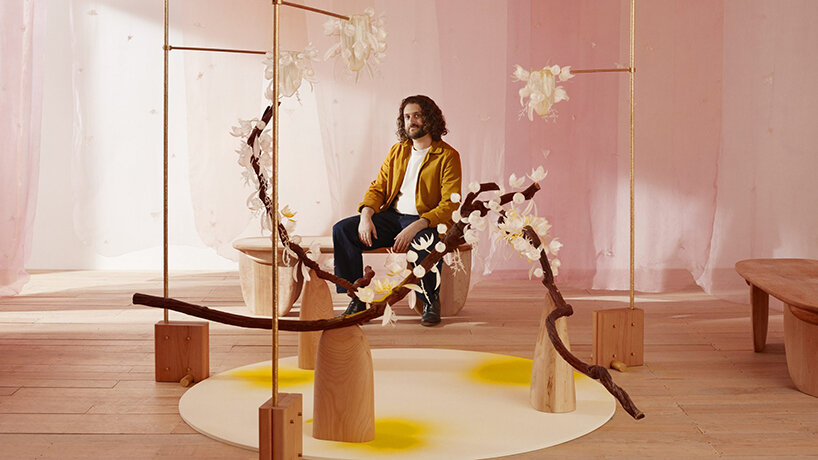 Champagne Maison Perrier-Jouët unveils The Pollination Dance, a collaboration with Fernando Laposse
MINTDESIGNS AOYAMA'S CORNER GALLERY × LEO KODA
The CORNER GALLERY (pre-opened in August of this year) at mintdesigns Aoyama shop will showcase works of Leo Koda, selected as one of the UNDER 30 initiative. New works of the In Fill Out project will be unveiled, which explores the unique internal structure of 3D printing, called "infill," to create unique colors and shapes. Collaborative works that are in line with the mintdesigns Fall/Winter 2023 theme will be on display and for sale on site.
venue: Mintdesigns Aoyama 5-49-5 Jingumae, Shibuya-ku, Tokyo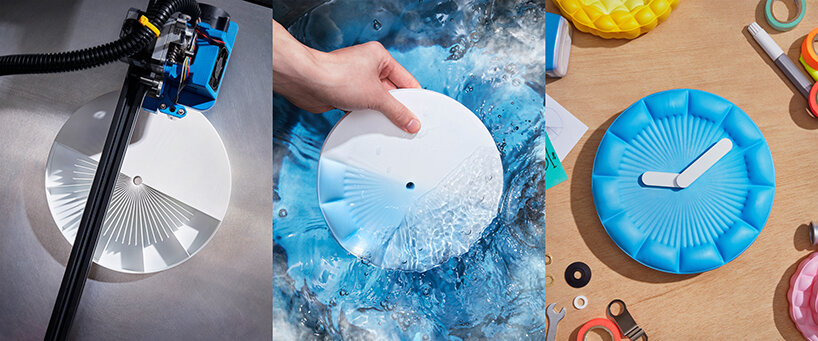 Leo Koda – ALL- © Ronald Smits
FENDER FLAGSHIP TOKYO – FENDER PICK TABLES
In June of last year, Fender, the renowned musical instrument manufacturer, inaugurated its Fender Flagship Tokyo store in Harajuku, Tokyo. This store has garnered widespread interest, not just as a destination for musical instruments but also as an emerging focal point for music culture. It notably features the Fender Pick Tables, a collection of tables inspired by guitar picks, creatively designed under the watchful eye of Klein Dytham architecture.
venue: FENDER FLAGSHIP TOKYO B1-3F 1-8-10 Jingumae, Shibuya-ku, Tokyo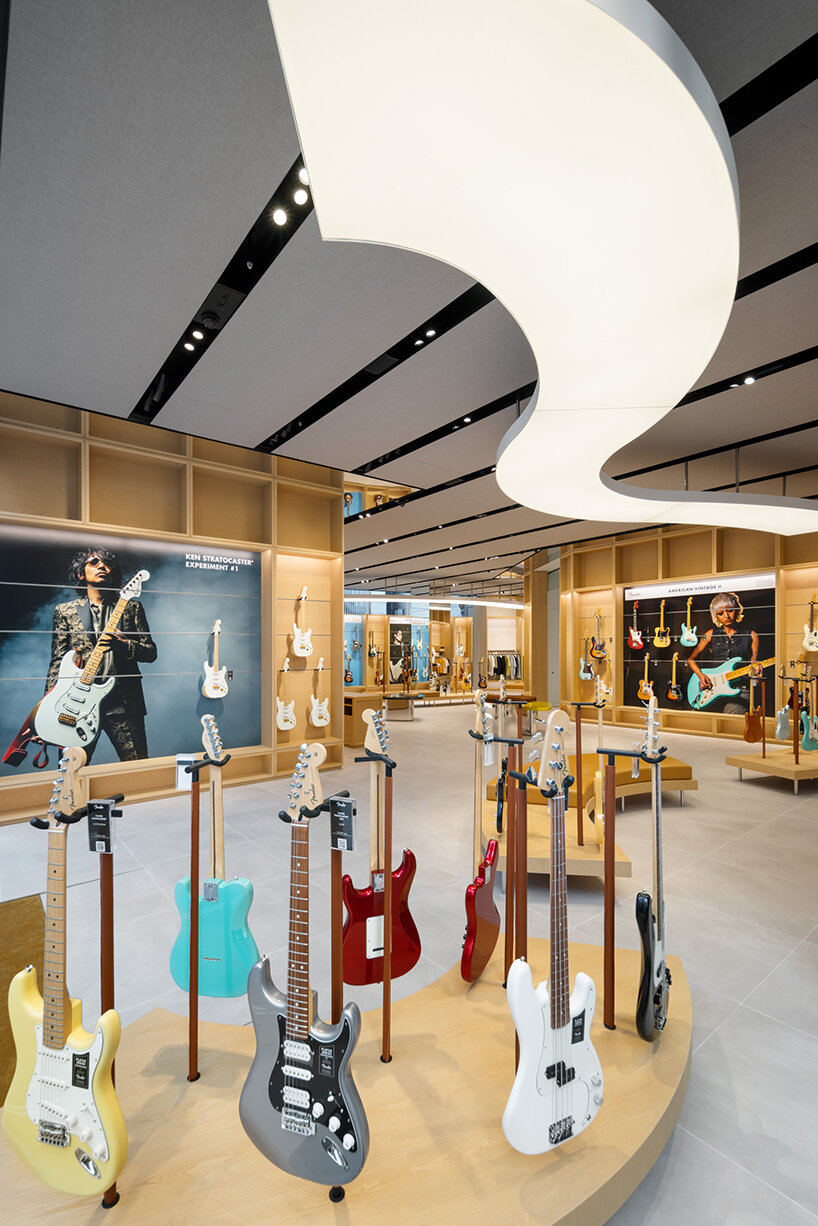 FENDER FLAGSHIP TOKYO
The Delight of Art at High-Profile Exhibitions
KOTARO NUKAGA
KOTARO NUKAGA will host a solo exhibition titled Reflections of Spaces – Spaces of Reflection, showcasing the works of German artist Candida Höfer. This marks Höfer's debut solo exhibition at KOTARO NUKAGA and will include a collection of large-scale pieces, notably her renowned Library series. These images intricately depict meticulously illuminated spaces, devoid of any human presence, which draws the viewer's perspective beyond the physical realm, sparking a profound connection with the space itself. Höfer's photographs not only convey visual information but also initiate a profound conversation with the spaces they depict, offering deep insights into how these locations have assumed their identities as cultural sites.
venue: Piramide Building 2F, 6-6-9, Roppongi, Minato-ku, Tokyo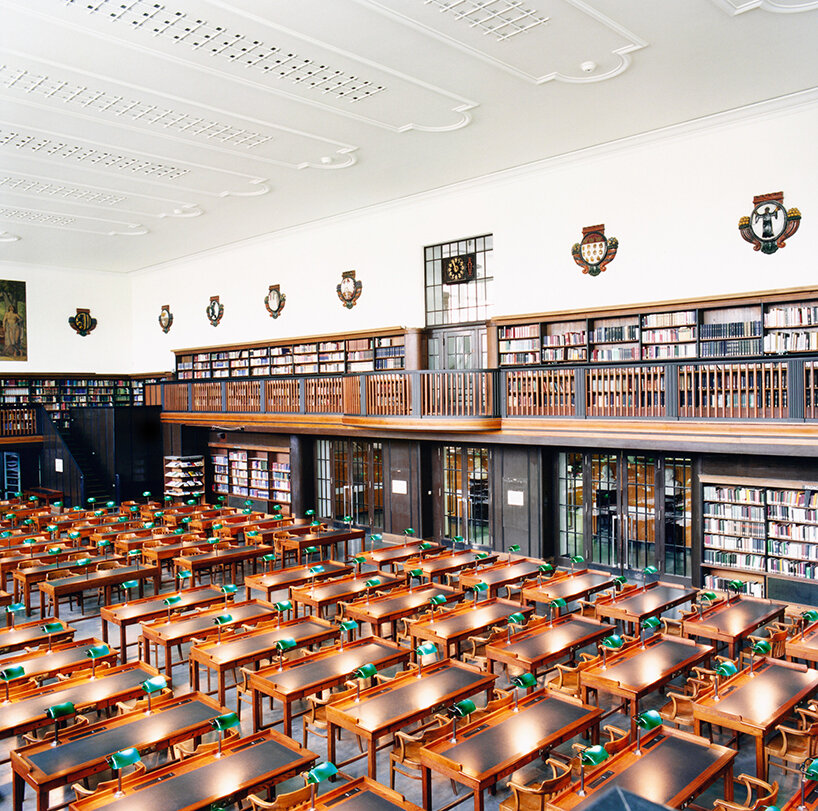 KOTARO NUKAGA
PERROTIN TOKYO
For the French artist's first solo exhibition at Perrotin Tokyo, Jean-Philippe Delhomme will present a series of new portraits produced in his Paris studio. The portraits are a result of direct observation, eschewing any mediation through photography. The artist's fascination lies in the connection established through the exchange of gazes between the painter and the model, prioritizing this connection over realism.
venue: PERROTIN TOKYO, Piramide Building 1F, 6-6-9, Roppongi, Minato-ku, Tokyo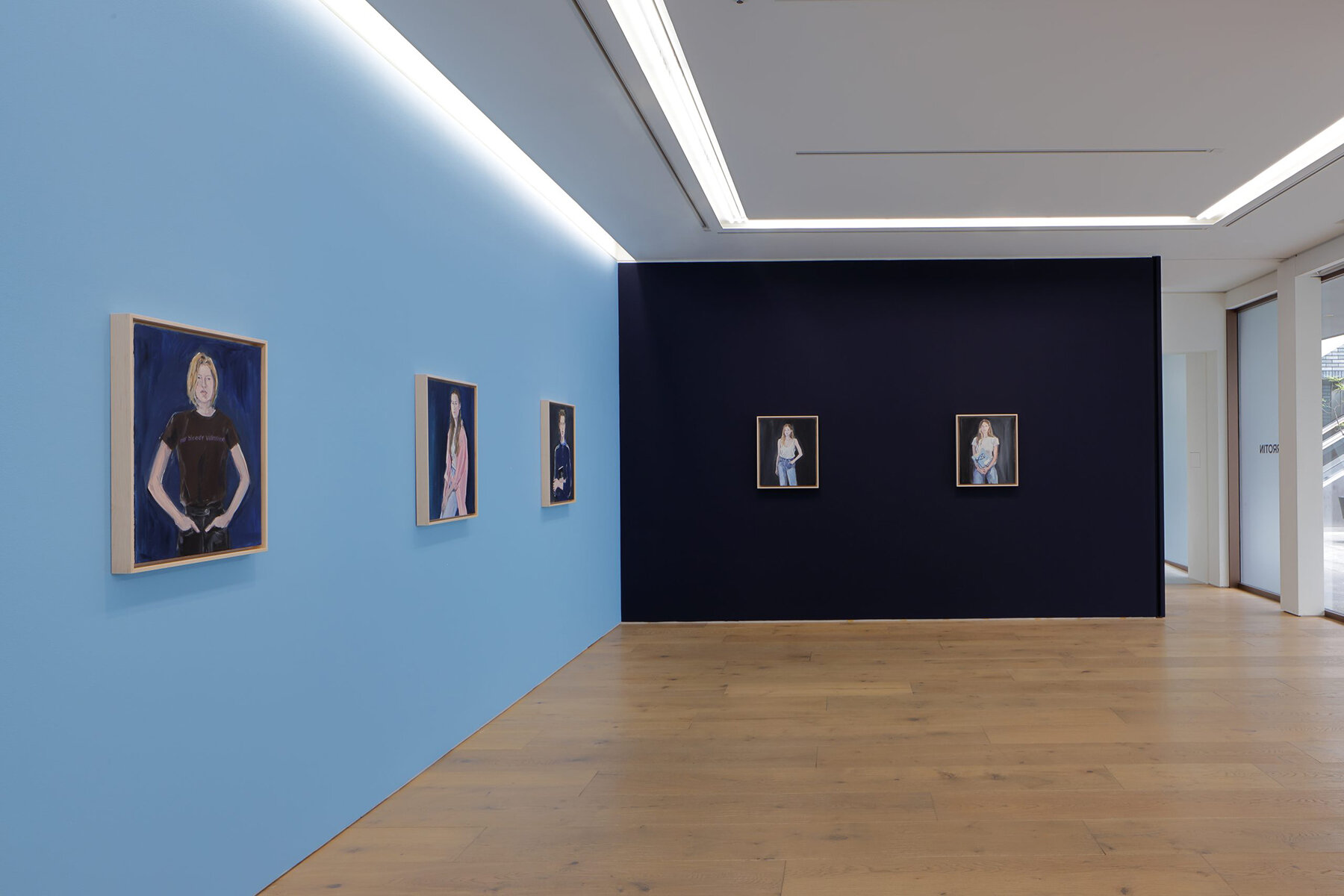 View of the exhibition 'Visage(s)' at Perrotin Tokyo | photo by Keizo Kioku. courtesy of the artist and Perrotin
CONCURRENT EXHIBITIONS BY KEISUKE TADA AT MAKI GALLERY AND GALLERY COMMON
Maki Gallery and Gallery COMMON are jointly hosting two solo exhibitions by Aichi-based artist Keisuke Tada. At Maki Gallery in Omotesando, Phantom Emotion showcases the artist's paintings, including the Paintings of Incomplete Remains and Heaven's Door series. These works reflect Tada's yearning to explore and engage with imaginary realms, highlighting the stark contrast between these worlds and reality. Meanwhile, at Gallery COMMON, Rhizomed Material presents Tada's latest pieces from the Trace / Dimension series, sculptural paintings that resemble glitchy collages featuring three-dimensional tiles, wooden floorboards, metal drawers, and chains—all meticulously crafted from acrylic paint. This comprehensive project showcases over 100 new paintings, making it Tada's most ambitious presentation to date.
venue:
MAKI Gallery / Omotesando: 4-11-11 Jingumae, Shibuya-ku, Tokyo
Gallery COMMON: B1F, 5-39-6, Jingu-mae, Shibuya-ku, Tokyo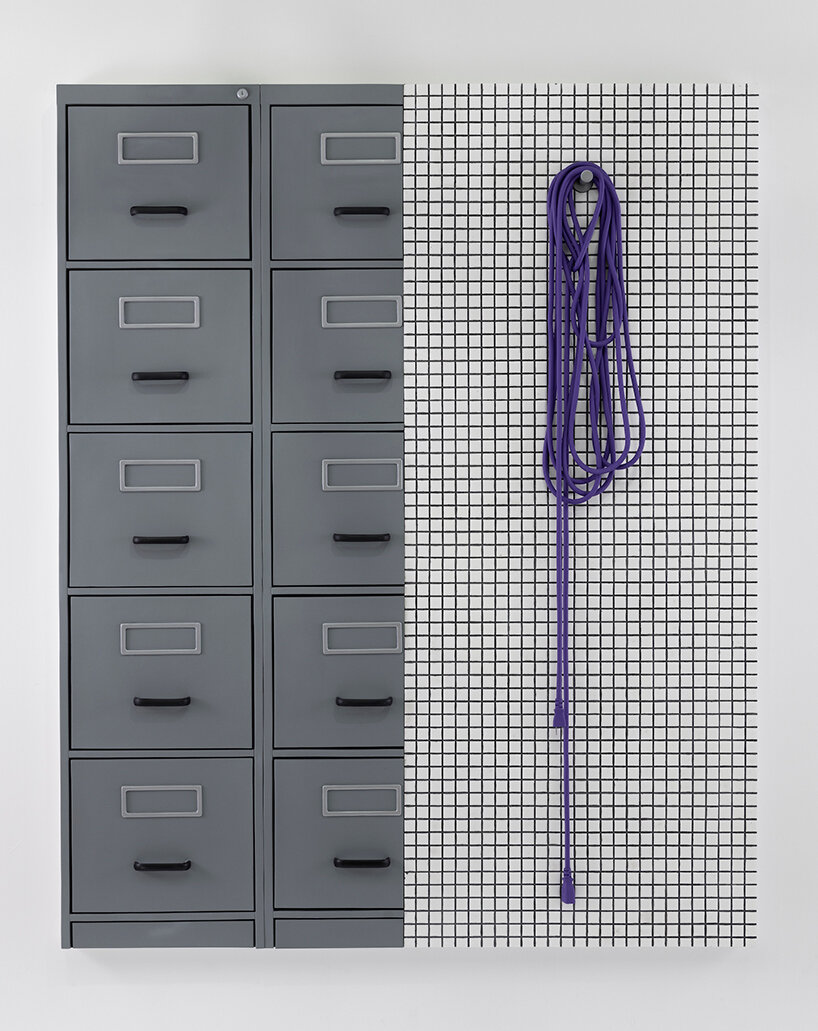 Keisuke Tada. trace / dimension #52. 2023. Acrylic, oil paint, wooden panel, cotton cloth. 162 x 130.3 cm | photo by Arito Nishiki. courtesy of Gallery COMMON.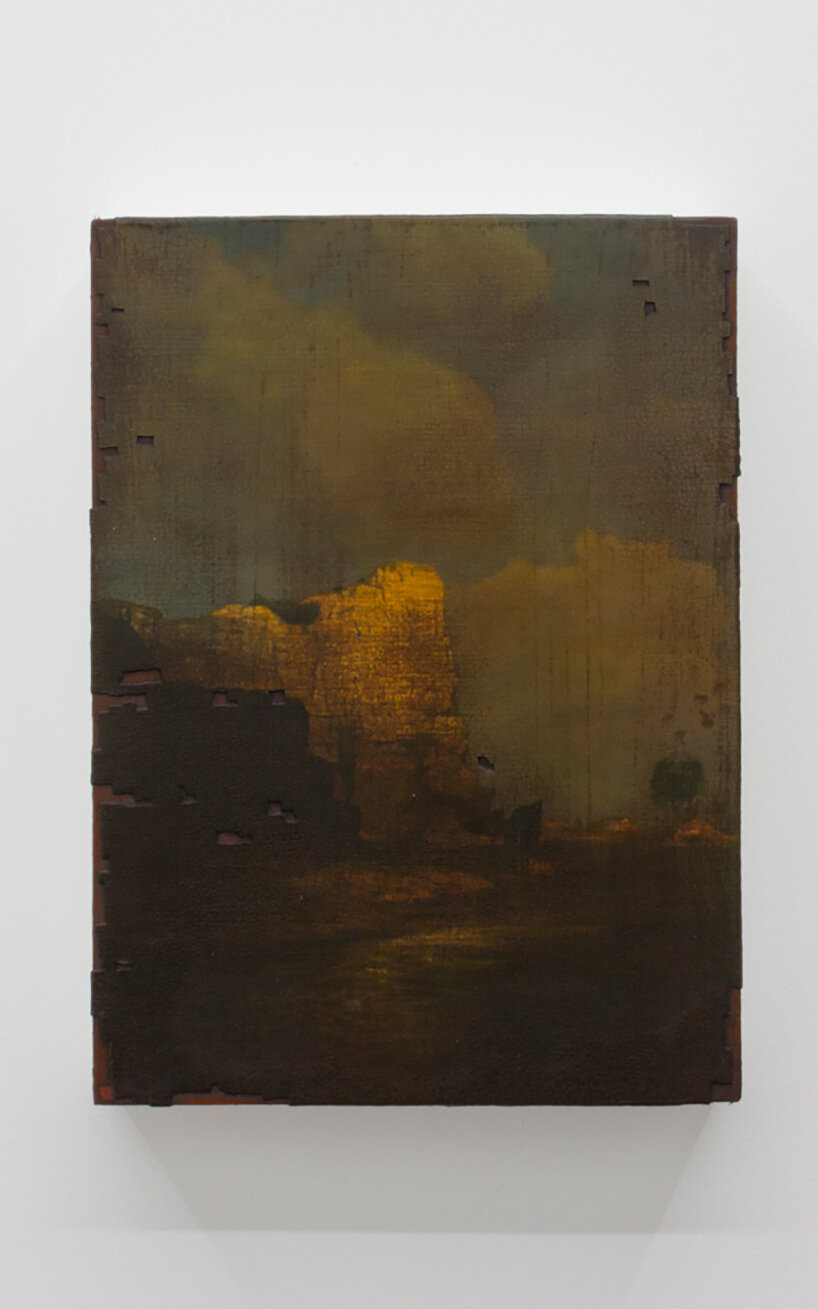 Keisuke Tada, Painting of incomplete remains #116, 2023, oil, acrylic, and pigment on canvas, 33.6 x 24.5 x 5.0 cm
MA5 GALLERY BY SANLORENZO – PATTERN STROKE EXHIBITION
MA5 GALLERY, a high-profile gallery established by SANLORENZO JAPAN as a platform for introducing ever-evolving art, design, and interior design, will exhibit works by Nobuto Fukutsu, a painter who pursues a unique style of painting using various patterns. The exhibition will feature works of PATTERN STROKE, a method that involves pasting together patterned parts, as well as landscape paintings from his travels.
venue: MA5 GALLERY, 5-10-17 Minami-Aoyama, Minato-ku, Tokyo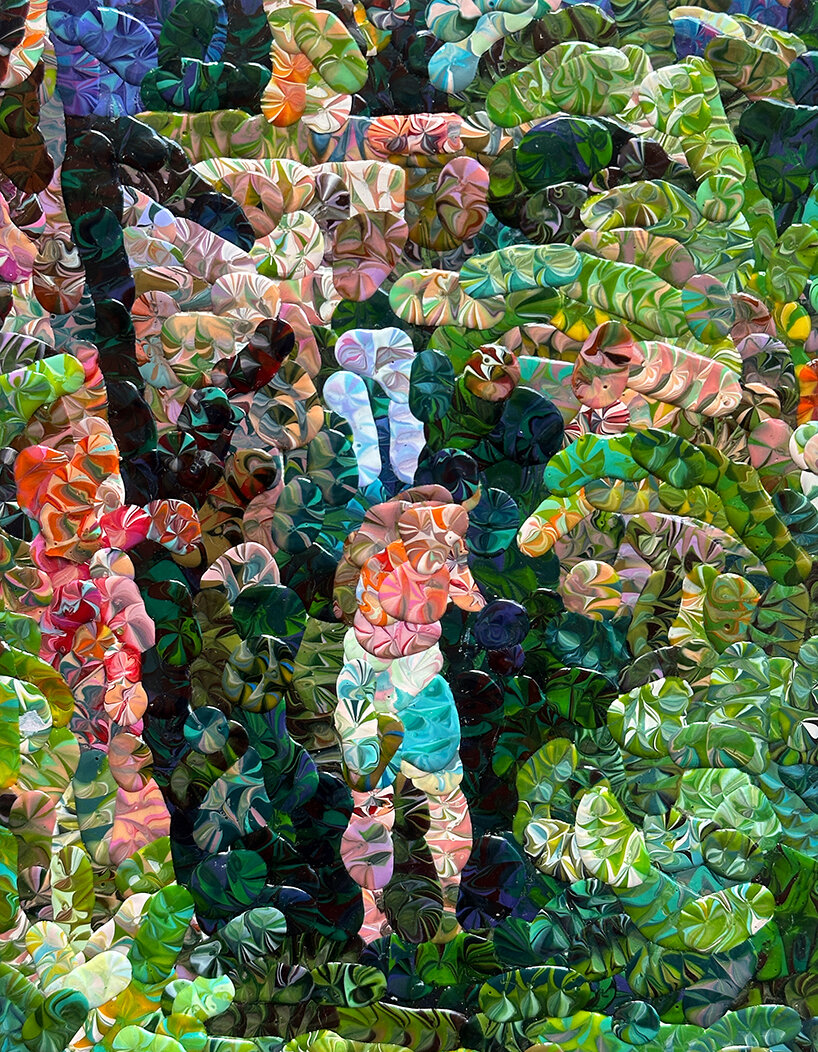 NEW WORK AND PRESENTATIONS BY INTERIOR BRANDS
ROCHE BOBOIS'S NEW DINING TABLE IROISE


French furniture brand Roche Bobois will present their products, featuring their latest dining table, IROISE. The piece boasts an iridescent glass tabletop that shimmers like a tranquil water surface, allowing visitors to immerse themselves in Roche Bobois' distinctive design sensibility.
venue: Roche Bobois TOKYO 1F & 2F, 3-35-1, Jingu-mae, Shibuya-ku, Tokyo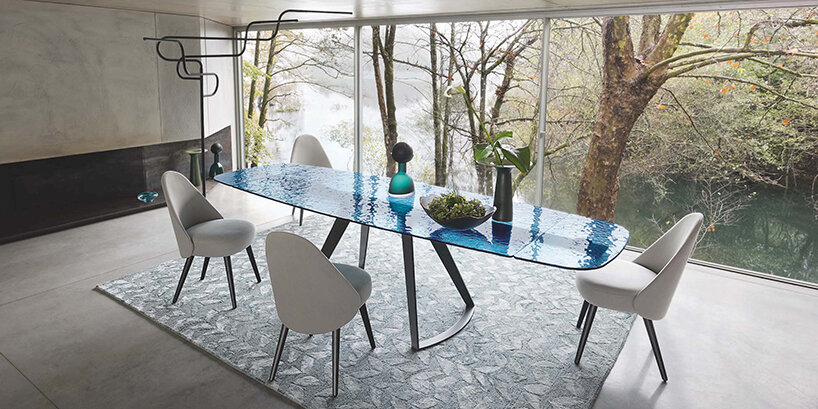 IROISE DINING TABLE
ARTWORKS FOR ROLF BENZ TOKYO
German luxury furniture brand ROLF BENZ will present an exhibition featuring artwork by five emerging artists, curated to complement its products. The event, titled Artworks for ROLF BENZ TOKYO, will bring together pieces created by Masashi Ishikawa, Haruka Ito, Karin Okoso, Yoichiro Otani, and Kei Sugiyama at ROLF BENZ TOKYO, the exclusive flagship store in Japan. Simultaneously, the exhibition will showcase the latest Rolf Benz furniture collections. In addition to offering bespoke interior solutions by ROLF BENZ, the exhibition will present high-quality artworks from these five artists, expanding their creative horizons. They eagerly anticipate welcoming visitors to this event.
venue: ROLF BENZ TOKYO, 6-4-6, Minami-Aoyama, Minato-ku, Tokyo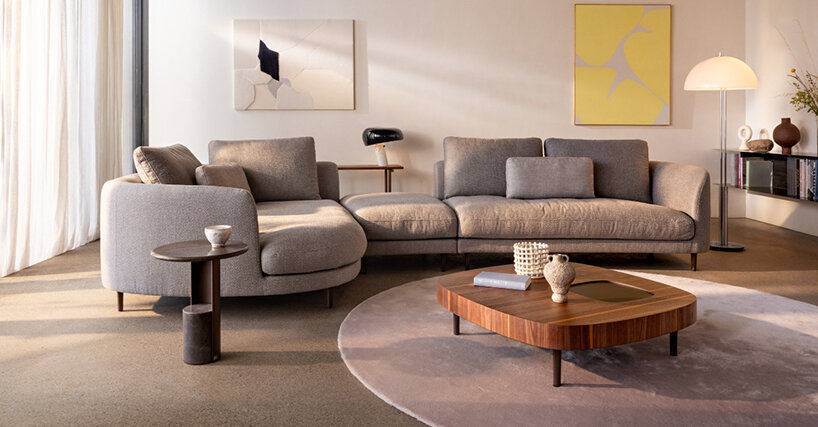 ROLF BENZ
KNOLL NEW PRODUCTS
Iconic modern furniture brand Knoll will exhibit for the first time in Japan the Klismos Collection designed by Antonio Citterio and the Panoramic Collection by Piero Lissoni, unveiled at the Salone del Mobile Milano in 2022. The innovatively designed Newson Task by Marc Newson will be on exhibit from the Office collection.
venue: Knoll Japan Showroom 1-2-3, Kita-Aoyama, Minato-ku, Tokyo
ARTEK AND FORMAFANTASMA INTRODUCE WILD BIRCH
Finnish interior brand Artek and Italian design studio Formafantasma have introduced a novel wood variety known as Wild Birch, stemming from their continuous exploration of forest resources. At the Artek Tokyo Store, visitors can explore and purchase a unique model and a new standard Stool 60 crafted from Wild Birch.
venue: Artek Tokyo Store, 5-9-20, Jingu-mae, Shibuya-ku, Tokyo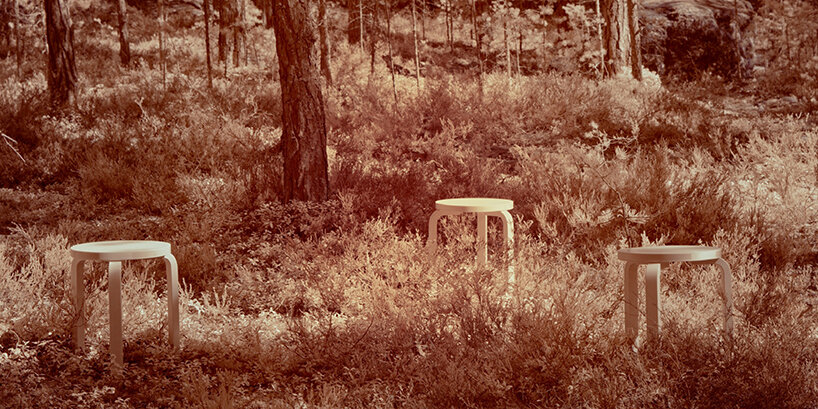 Artek Formafantasma Cambio on Finnish forestry
STELLAR WORKS UNVEILS ITS NOVEL PRODUCTS AND NEW SHOWROOM
Visitors to the new Stellar Works Showroom in Tokyo can look forward to an array of pieces crafted by renowned designers, such as the creative duo Neri & Hu, alongside fresh creations unveiled at NYCxDESIGN 2023 in New York this past May.
venue: Aoyama Building 2F, 1-2-3 Kita-Aoyama, Minato-ku, Tokyo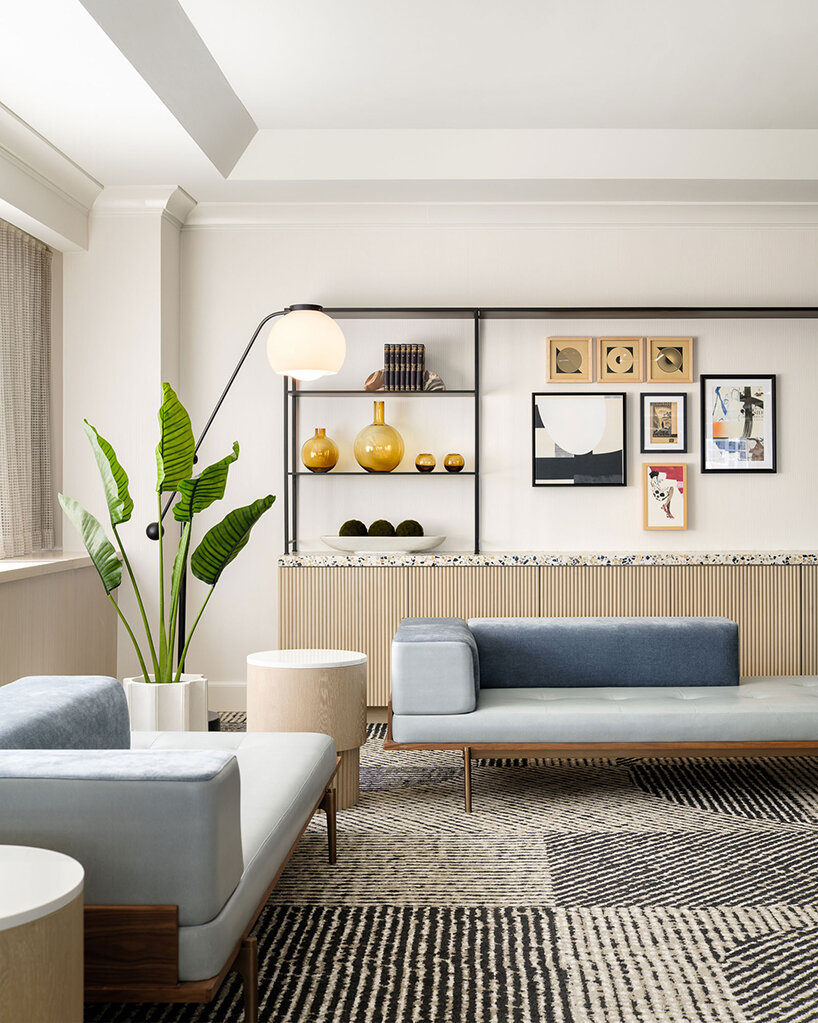 image courtesy of Stellar Works
NEW INTERPRETATION OF JAPANESE TRADITIONAL CRAFTS
ARTLESS + RYOKUENSHA + GRIFFON| SEKITEI
Sekitei is an installation that reimagines traditional Japanese garden culture in conjunction with contemporary art and design. Sekitei, a collaborative project between Pianta and Stanza, known as Midori-Ensha, is an interior green concept that blends Honkomatsu stone— a natural stone historically used in the construction of Edo Castle walls— with moss balls to create the ambiance of a stone garden within immediate reach. This miniature 4 x 1-meter garden constructed with Sekitei, featuring a fusion of four Japanese-style graphic arts designed by Shun Kawakami (artless Inc.) and printed on traditional Japanese silver leaf paper, beckons visitors into a timeless voyage. (Created by Shun Kawakami, Yuya Ooyama, and Taka Saito).
venue: Camellia Court 101, 4-11-14 Jingumae, Shibuya-ku, Tokyo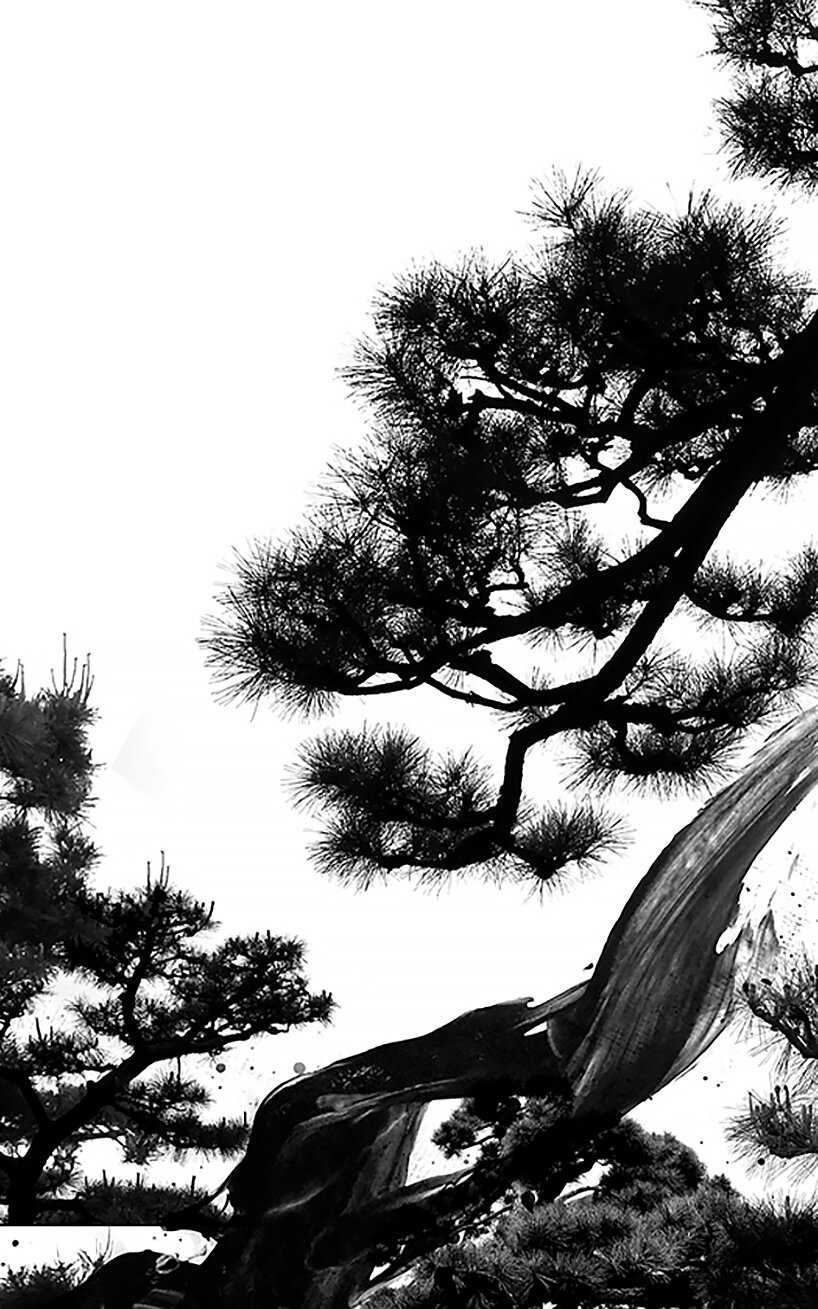 image © Shun Kawakami
SISYU: BEYOND TRADITIONAL EXPRESSION AT POLTRONA FRAU TOKYO AOYAMA
Poltrona Frau Tokyo Aoyama showcases a collection by the globally acclaimed calligrapher and artist, Sisyu. In this display, Sisyu offers fresh interpretations of traditional Ukiyo-e, calligraphy, and Japanese painting, emphasizing technology and originality.
venue: Poltrona Frau, 5-2-13, Minami-Aoyama, Minato-ku, Tokyo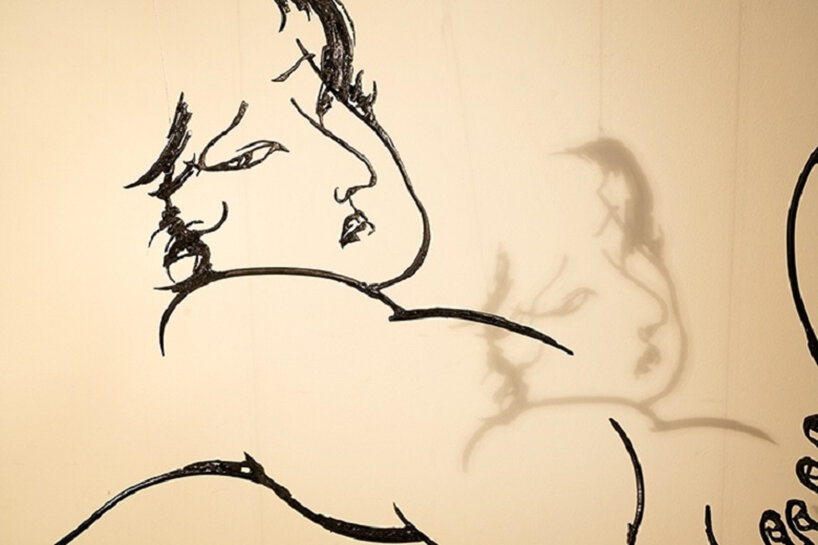 JAPANESE POTTERY BY ASEMI CO.
Founded by Yuki Ishiguro and Lars Amhoff, who hail from Germany, Asemi Co. is dedicated to the preservation of local traditional craftsmanship. They achieve this by merging different crafts with modern design and sharing the results with a global audience. Asemi Co.'s modern cups are crafted by skilled artisans, each hailing from a different traditional regional pottery style. Through the standardization of cup shapes, this collection offers a unique chance to appreciate the distinctions in clay, glaze, and production techniques employed by various traditional Japanese pottery styles.
venue: Pop-up Space 111 at Tokyu Plaza Shibuya 3F, 1-2-3 Dogenzaka, Shibuya-ku, Tokyo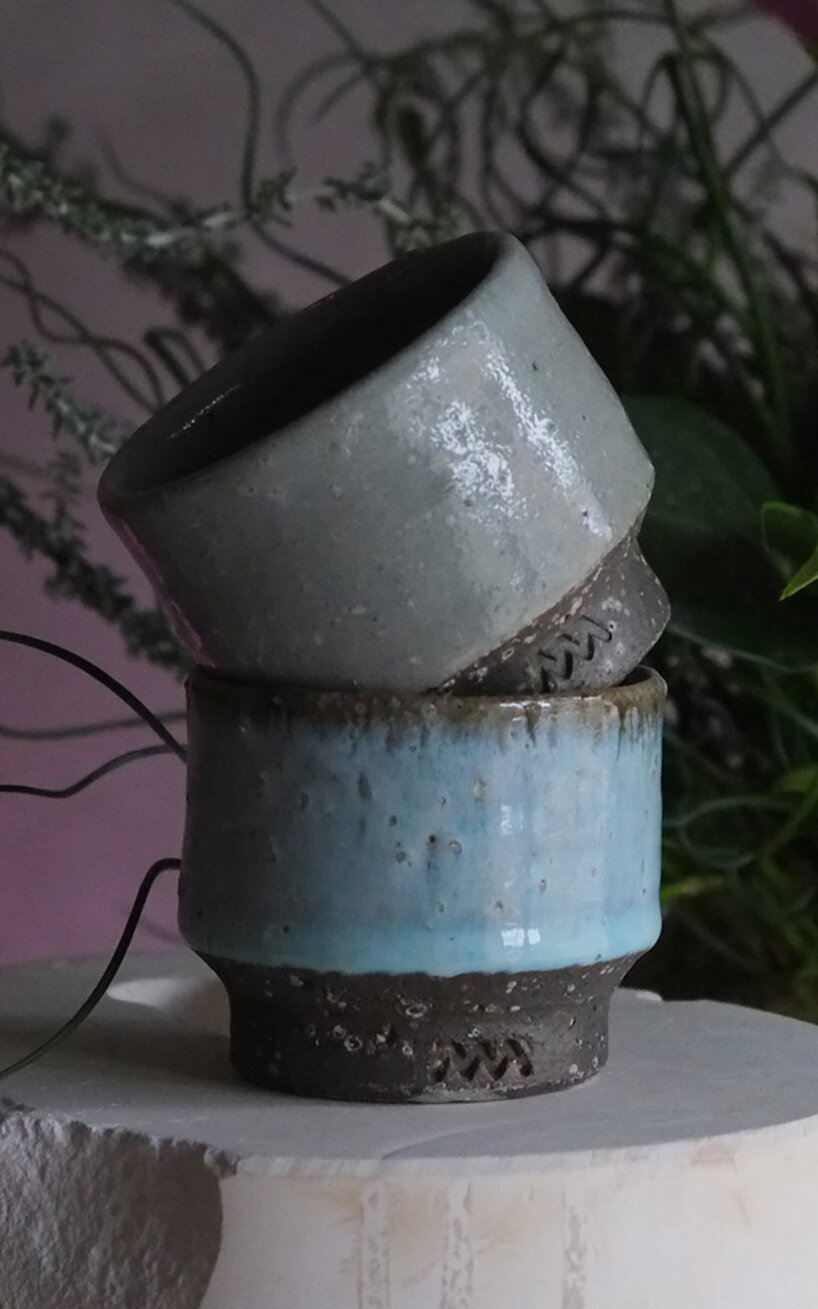 MAI SUZUKI SOLO EXHIBITION: MICHI KUMIKO
The exhibition delves into the concept of true wealth through the art of Kumiko, a traditional craft deeply rooted in the essence of aesthetics (Iki). By employing 3D modeling techniques inspired by Kumiko artisans, this exhibition blends the worlds of time-honored craftsmanship and cutting-edge technology to design undiscovered possibilities along the path (MICHI). Under the theme MICHI KUMIKO, it conveys, through the medium of Kumiko, the idea of Life Art=Fashion. In this vision, fashion transcends mere clothing that adorns the body; it becomes a means to express the lives of both the wearer and the creator.
venue: JIDA Design Museum in AXIS, AXIS Bldg 4F, 5-17-1, Roppongi, Minato-ku, Tokyo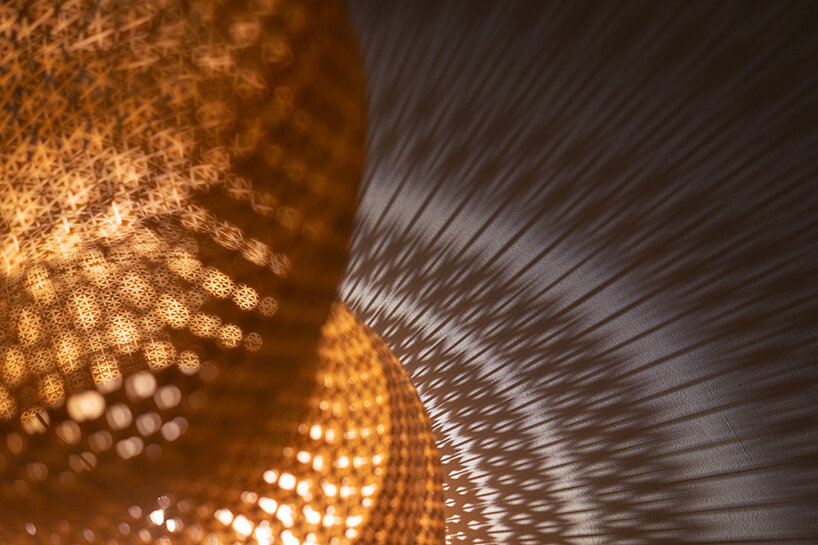 Mai Suzuki © Hinako Yoshida
project info:
name: DESIGNART Tokyo 2023
organizer: DESIGNART Tokyo committee
founders of DESIGNART: Akio Aoki (MIRU DESIGN), Shun Kawakami (artless Inc.), Hiroshi Koike (NON-GRID), Okisato Nagata (TIMELESS), Astrid Klein & Mark Dytham (Klein Dytham Architecture)
duration: October 20 – October 29, 2023
location: Omotesando / Gaienmae / Shibuya / Shibuya / Roppongi / Hiroo / Ginza / Tokyo
myrto katsikopoulou
I designboom
oct 16, 2023
KEEP UP WITH OUR DAILY AND WEEKLY NEWSLETTERS
a diverse digital database that acts as a valuable guide in gaining insight and information about a product directly from the manufacturer, and serves as a rich reference point in developing a project or scheme.
designboom will always be there for you
milan, new york, beijing, tokyo

,
since 1999