oct 28, 2011
designboom book report: identify by chermayeff & geismar
title: identify (basic principles of identity design in the iconic trademarks of chermayeff & geismar) authors: ivan chermayeff, tom geismar and sagi haviv publisher: print publishing language: english year: 2011 (released october 31) size: 11 x 8.5", 250 pages ISBN: 13 978-1-4403-1032-4
print publishing ________________________________________________________________________________________ designboom rating:
________________________________________________________________________________________
this month print will release its first book under the newly established print publications line. 'identify: basic principles of identity design in the iconic trademarks of chermayeff & geismar' looks back at the last half century of work by the new york studio, chermayeff & geismar.
NBC (national broadcasting company) identity, 1986 content 'identify' starts with a preface by isaac mizrahi and a foreword by steven heller, who both explain why the work of chermayeff & geismar has transcended periodical styles and has had such a significant impact on the field of communication design.
this is followed by a succinct yet revealing introduction from the authors that details how the studio tackles identity projects and describes their collaborative design process from receiving a brief through to arriving at the final design.'identity design is not about what one likes or dislikes. it's about what works.' chermayeff & geismar, ('indentify' introduction)
after these texts the reader is left to browse a significant compilation of work from the studio's fifty-five year history. some projects are self explanatory and covered with just one or two images, others are featured in more detail including aspects of the design brief, along with anecdotes about the clients and how the logo was received by the public.
we particularly enjoyed the instances when examples of the logos chermayeff & geismar were asked to redesign are provided. and it's also interesting to see preliminary sketches or alternate versions of iconic designs shown alongside the well known final outcomes, such as with the NBC logo.
a few early sketches for the NBC peacock design
NBC (national broadcasting company) identity, 1986
early design sketches for the univision symbol
logo for spanish-language television giant univision, 1991 'the univision symbol combines the notion of a capital letter U and a colorful bird'
is it for me? in a time where many designers work across several platforms and genres the book highlights the value of specializing and excelling within a single field.
after surveying the 100 or so projects in the book it's clear that a lot of hard work and revision goes into the simple iconic marks that the studio is famous for creating, often achieving just the right balance of expression and representation. the book will certainly motivate anyone who appreciates how hard identity design can be.
combined with the many examples of idea-based solutions the the two and a half page introduction, 'indentify' will provide younger readers with plenty of valuable no-nonsense advice;
'while the world has changed, our basic approach to trademark design has not. in identify, we demonstrate our problem-solving approach to identity design. while it is an essentially creative process, we do not follow any personal artistic agenda or style. instead, we work in the service of clients and address the challenges and parameters they bring to us in their search for a visual identity. we call these parameters 'the design problem." chermayeff & geismar, ('indentify' introduction)
for the experienced designer the book serves as a valuable resource, even if you're familiar with 90% of the work featured it's nice to have it all in one place in what is a well produced book.
identity for the 'the solow building' at 9 west 57th street, new york, 1979
shinsegae identity, 1999 (korean department store)
graphics for the 1970 white house conference on children
american revolution bicentennial identity, 1976
over many years, as part of an extensive public-affairs effort, mobil sponsored numerous cultural events and television shows. chermayeff and geismar created posters for a great many of these. the churchill poster is one example of the hundreds shown in the book 'posters made possible by a grant from mobil. the cover we designed, shown on the facing page, features the corners of stacked posters from the book.
left to right: ivan chermayeff, tom geismar, sagi haviv
_________________________________________________________________________________________
designboom ratings:
……………………. interesting
………………. good read, worth a look
…………. very good
……. excellent, recommended
. must have _________________________________________________________________________________________
dec 15, 2017
dec 15, 2017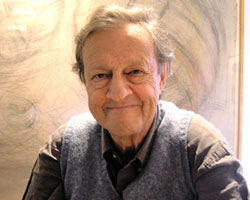 dec 04, 2017
dec 04, 2017
oct 04, 2017
oct 04, 2017
jul 17, 2014
jul 17, 2014
jan 29, 2013
jan 29, 2013
jan 11, 2012
jan 11, 2012
jul 23, 2020
jul 23, 2020
apr 25, 2020
apr 25, 2020
apr 10, 2020
apr 10, 2020
a diverse digital database that acts as a valuable guide in gaining insight and information about a product directly from the manufacturer, and serves as a rich reference point in developing a project or scheme.