when canadian phsyical education instructor, james naismith, thought up a game which involved throwing balls into fruit baskets, it's probable he did not envision basketball becoming a multibillion-dollar industry. since this historical moment in 1891, springfield, massachusetts, the game has become an integral part of american culture, popularised by its founding of professional leagues, teams and associations. throw in a couple of sportswear giants like NIKE and adidas whose marketing attempts gave birth to the likes of superstars, air jordans, and arguably space jam, and the game was secured as a mainstay in popular culture – a quick outline of its rich history complete. in the off-season, as we gear up for the start of the NBA this fall, designboom has curated some of art and design's highlights inspired by the sport, court and ball.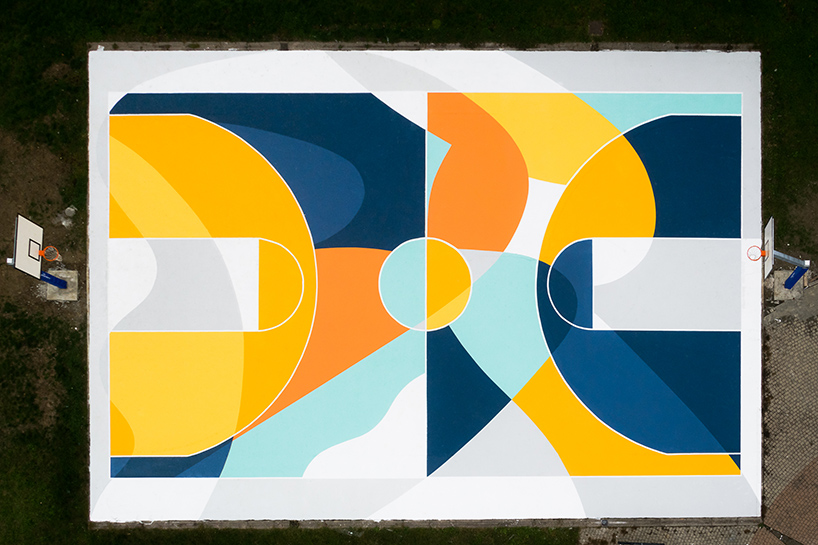 curved lines and shapes create a striking visual rhythm that highlights the movement within the space, amplifying the action and leaving a visual trace of the hard-fought matches played on the 'playground'
image by ugo galassi
the court
while the rules and exact lines have evolved over time, the basic basketball court layout remains the same today as it did in the 1940s – a motivation perhaps for designers who in recent years have dreamt up spectacular designs reimagining the seemingly archaic and blank canvas. last year, in the italian city of alessandria, sicilian artist gue painted an eye-popping 'playground', transforming a basketball court into a geometric labyrinth of lines and color.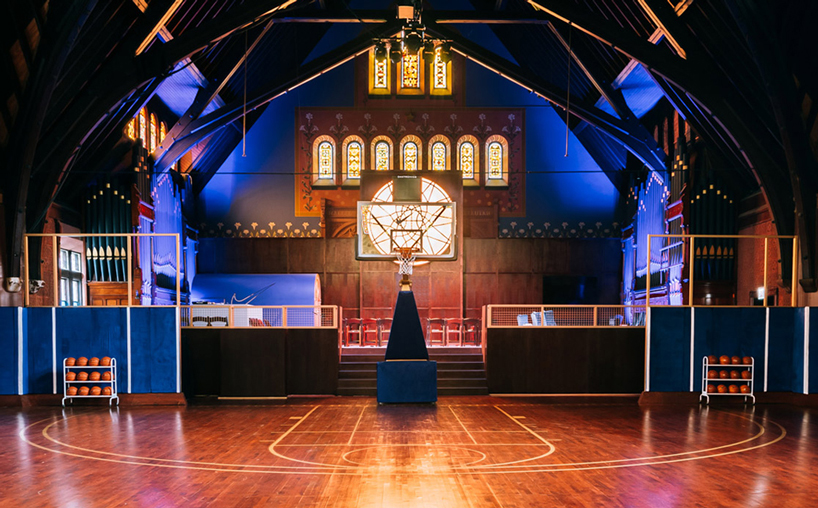 comprised of a basketball court, sports gym and locker room, NIKE's transformation of an 1885 church offers a new training space for local high-school teams
image courtesy of NIKE
led by its basketball-fan founder stéphane ashpool, french fashion brand pigalle teamed up with creative agency ill-studio to spice up a basketball court sandwiched between apartment buildings in paris. the pair teamed up with NIKE who just earlier this month NIKE transformed a church dating back to 1885 in chicago into a basketball facility. not only did NIKE take inspiration from the church's historical features, creating court fencing that echo's the windows, it refurbished the original stain glass too.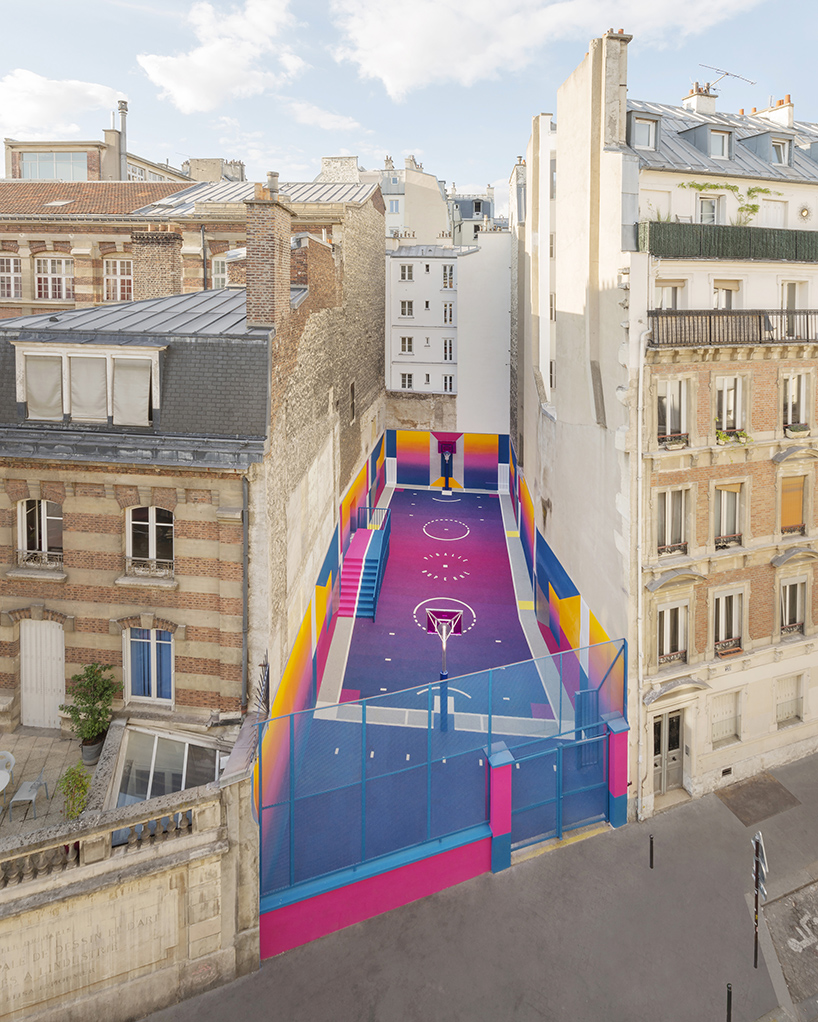 a grid of grape-colored gradients, sunflower-stained strokes, and bold blue hues blanket the basketball court's walls and floor, surrounding players in the saturated and smooth shades of a setting sun
image by sebastien michelini
the ball
beyond sneakers and the basketball courts they tred, central to the game is the ball, a motif inspiring art and fashion in equal measure. japanese menswear brand visvim recently released a collection of small leather goods constructed using pebbled leather typically used on the outside of basketballs.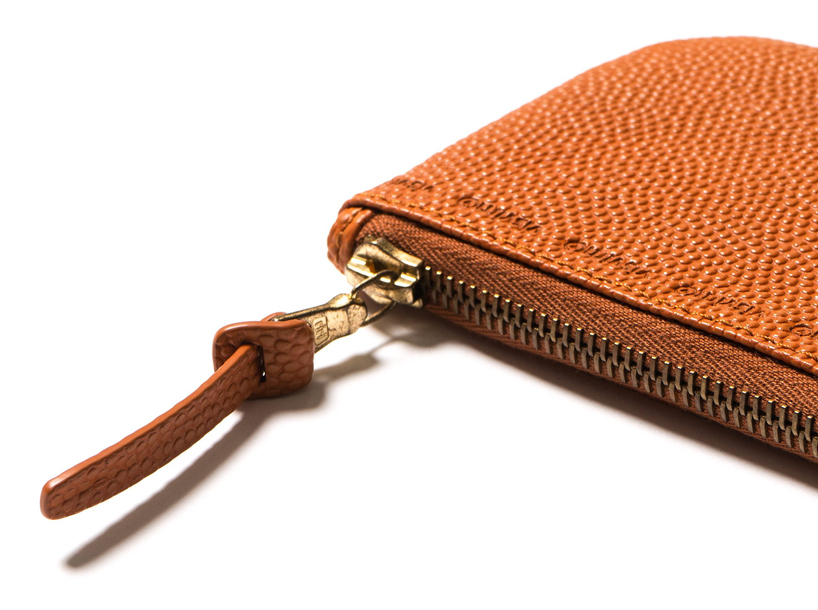 the accessories make use of the distinct material used to make basketballs
image courtesy of haven
using an ancient japanese practice of ceramic repair called kintsugi, victor solomon has created a line of beautiful ceramic pieces that take the shape of the basketball. kintsugi, which emphasizes damages, imperfections and breakage by infusing pieces together and re-joining them with gold dust and resin. the line, called 'literally balling' illustrates the adversities overcome on an athlete's journey by re-constructing and repairing a destroyed porcelain basketball mold.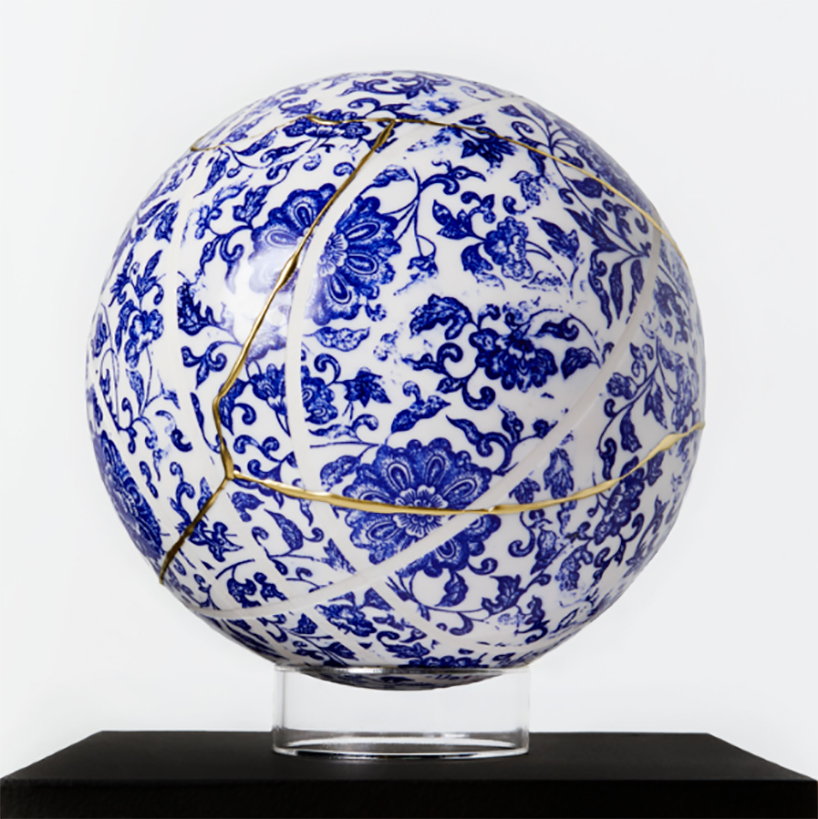 made in collaboration with ceramicist brock deboer, there are 33 unique pieces, which come with acrylic stand
image courtesy of victor solomon
during miami art week, new york-based artist john margaritis and his team new york sunshine, paid homage to american basketball by installing a series of sculptural tanks that contained buoyant basketballs calmly floating within heavy rectangular volumes. the installation comprised a carefully calculated system of pipes and tanks that created the right balance between fluid and pressure within the vessel. margaritis and his team then used a high-definition red camera to produce a video of them in the act of shooting one of the tanks.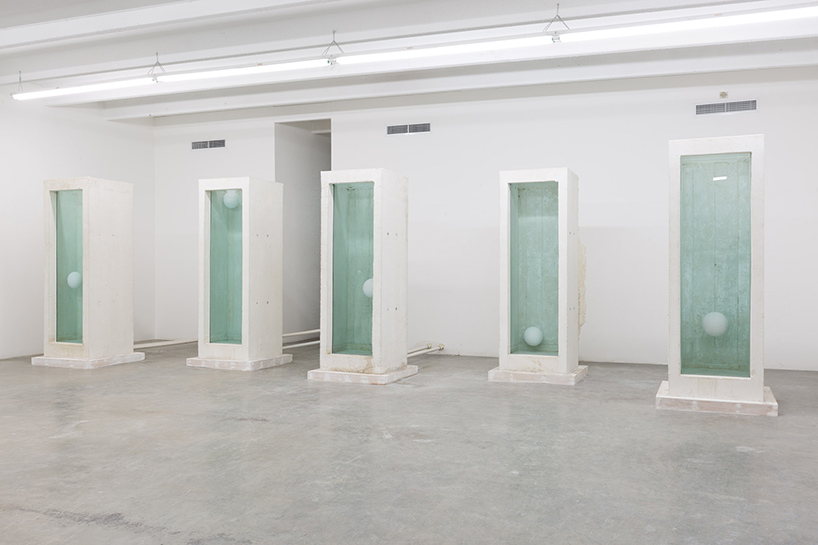 each of the boxes is built in-situ and by hand, using wooden frames and hand-poured structural reinforced concrete
image courtesy of new york sunshine
the hoop
basketball is a recurring theme in margaritis' work who also merged the sport with the beach for his 'hoop dreams' project — an otherworldly collection of images where waves wash over backboards and chain link net. these physical installations are weighed down beneath the waves with several heavy sandbags and separated from the shoreline juxtaposing the serenity of the sea and the free-standing sports equipment. overcome by the raw and rough nature of the ocean, the twenty-one square foot rectangular backboards are presented in dreamy and dynamic compositions that meld two otherwise disparate worlds.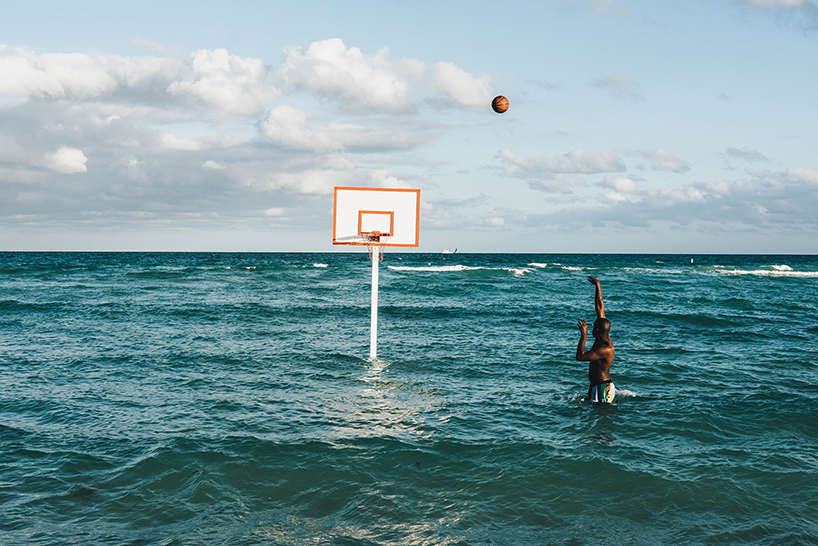 upon waking up in the morning, miami beach-goers were surprised and perplexed by a full-scale basketball hoop unnaturally situated in middle of the ocean
image courtesy of new york sunshine
solomon has also taken on the basketball hoop in a similar vein, handcrafting its backboard from stained glass and jewels. in a playful reference of players being nicknamed 'kings of the court', solomon dedicated more than 100 hours of labour into the luminous, colorful and intricately composed pieces, shaping and cutting the glass, meticulously soldering, gold-plating the rim, and hand weaving the customized net before fabricating the frame and mounting.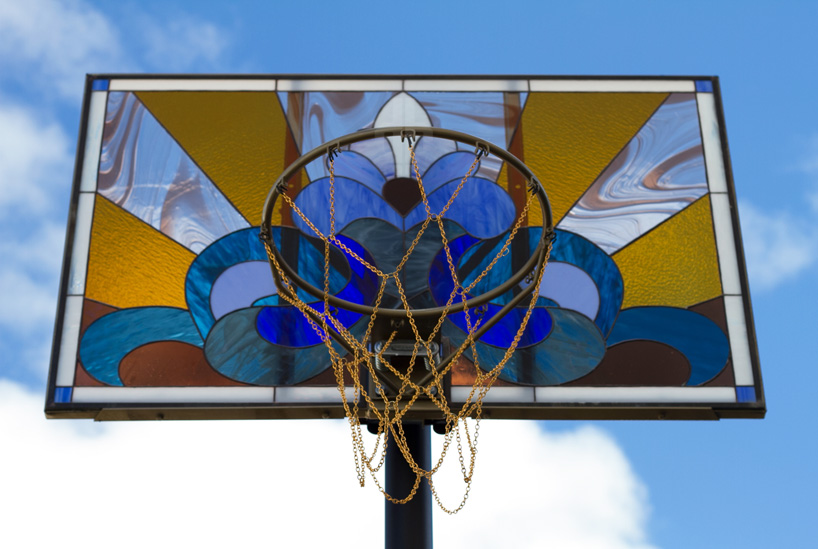 solomon found a unique link between the luxury lifestyle lived by professional athletes and traditional stained glass
image courtesy of victor solomon
header image: literally balling, courtesy of victor solomon
in 2015, killspencer joined forces with snarkitecture to create a collector's edition all-white indoor mini basketball kit, each individually signed and numbered. made in the united states, the product features a durable white melamine laminate backboard with a gloss white breakaway rim, with a white leather net and springs finish the matching themes to emphasize the simplicity of the basketball merchandise. this isn't snarkitecture's first endeavor into the basketball field. in 2014, the architecture studio also completed 'airball', a custom arena at the herzog and de meuron designed carpark in miami, florida.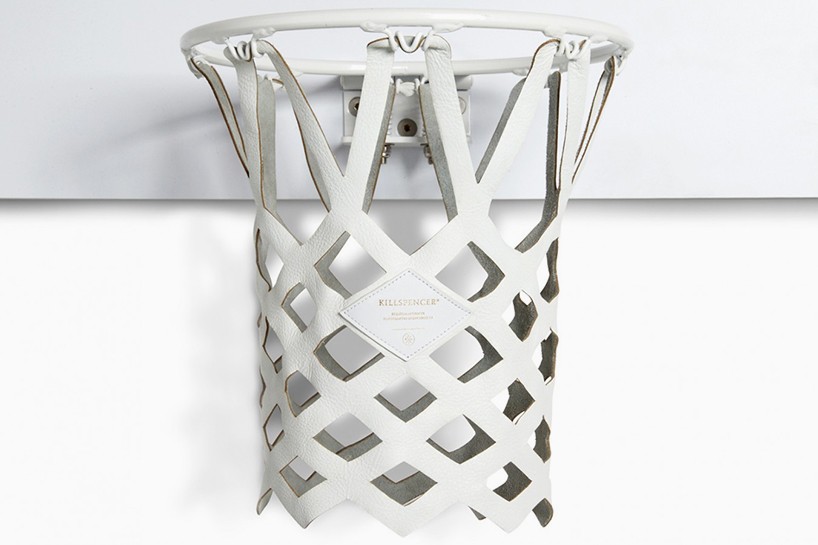 the mini basketball kit is made to order in killspencer's los angeles workshop
image courtesy of snarkitecture
jan 29, 2020
jan 29, 2020
jan 22, 2020
jan 22, 2020
jan 22, 2020
jan 22, 2020
dec 22, 2019
dec 22, 2019
dec 06, 2019
dec 06, 2019
oct 18, 2019
oct 18, 2019
a diverse digital database that acts as a valuable guide in gaining insight and information about a product directly from the manufacturer, and serves as a rich reference point in developing a project or scheme.