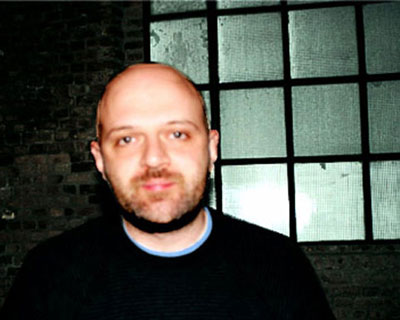 apr 06, 2006
hussein chalayan interview
hussein chalayan© designboom
designboom met hussein chalayan at the swarovski crystal palacepresentation in milan on april 6th, 2006.
what is the best moment of the day?
I guess it's the early morning and late afternoon.
what kind of music do you listen to at the moment?
I listen to all sorts of music: minimalist, folk, classical turkish, classical european, rock and punk. it's never one thing. anything that has a passion, that captures my emotions.
do you listen to the radio?
I like radio 4 which is old school BBC english.
left: detail of inflatable collar, ready to wear collection, paris fashion show fall/winter 2006
right: detail of shoes, ready to wear collection,london fashion show fall/winter 2006
what books do you have on your bedside table?
I've just finished a book by jean baudrillard and now I'm starting a book by alain de botton. I like cultural theory.
do you read design / architecture magazines/fashion design?
not really, I flick through now and again. I don't look at anything religiously. I like to be inspired by other sources, by seeing other visual things,by things that don't necessarily relate to my world so much.
where do you get news from? do you read newspapers?
I watch the news on tv, sometimes I read newspapers or radio. I move around so much, it really depends on where I am.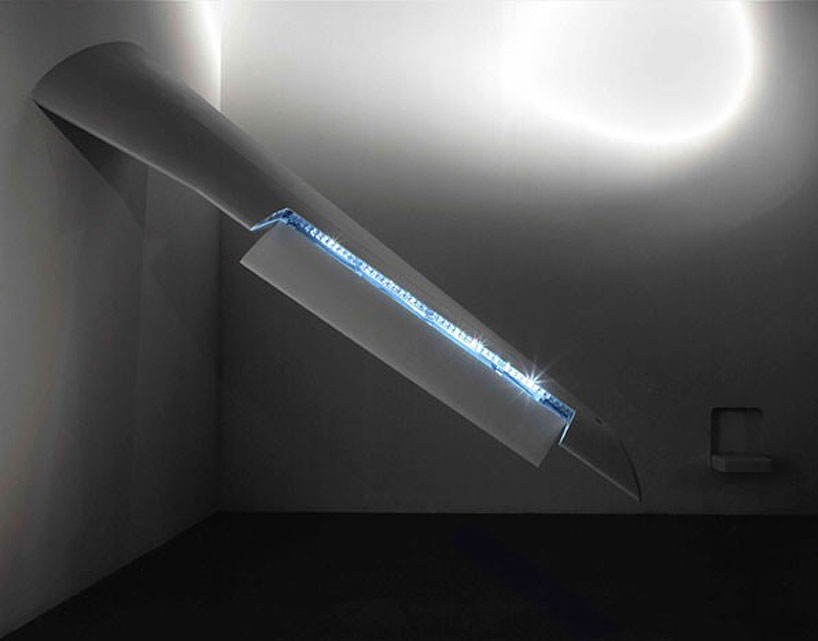 chalayan created a chandelier for the swarovski crystal palaceinstallation. it is an airplane wing, balancing against a wall. when its large wing flap moves, a long strip of swarovski crystals are illuminated by LEDs (2006).
guess you notice how women are dressing?
do you have any preferences?I like a woman to dress for an occasion, she could be completely dressed like a boy during the day and at night she could become a fashion bitch. I like juxtaposition. the most stylish woman for me, dress for an occasion rather than looking lady like all the time.
what kind of clothes do you avoid wearing?
myself?I don't like clothes that are too designed for men. I like men to look quite classic. I mean, ideally my wardrobe would be saville row just in nicer colours,or with alternative colours, lets say. I guess I like definitely, men to be not so fashion-y.
do you have any pets?
no, but I'd love to have. I love cats and dogs but you have to have space for them. I live in a flat in London so I can't. it would be completely torture for them.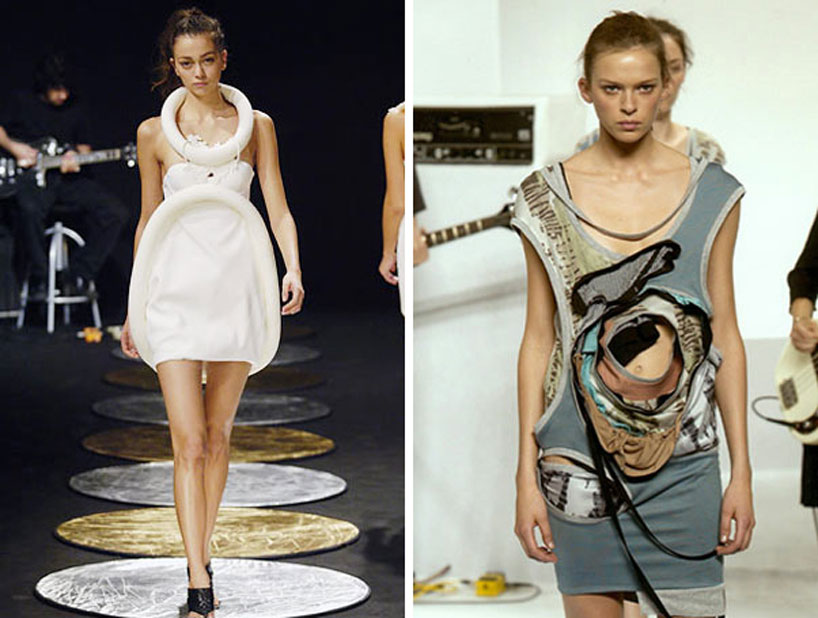 left: spring/summer collection, 2006
right: 'manifest destiny' spring/summer collection 2003
when you were a child, did you want to be a fashion designer?
no. I first wanted to be a pilot and then I wanted to be a hairdresser, no sorry, first a hairdresser, then a pilot, then an actor, then an architect and then a fashion designer. yeah.
where do you work on your designs and projects?
most often in my studio, but also at home, or on the plane.again I move around a lot for my work right now which I'm not liking but I have to.
do you discuss your work with other fashion designers?
yes, but not really in depth.there's a few people I feel comfortable with but it's quite rare to find that person. I think everyone is a bit cagey about what they do. I like talking to architects because we speak a similar language. I have random people I speak to. I have a friend who is a writer, a friend in the restaurant business and another friend who's a curator.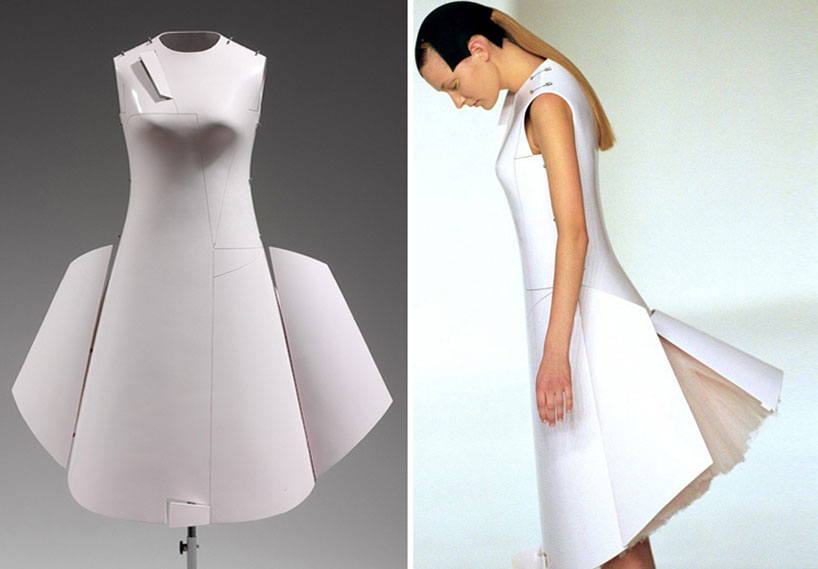 airplane dress, spring/summer collection 2000.it is made from the same material used in aircraft construction and changes shape by remote control.
describe your style, like a good friend of yours would describe it.
I like to design simple things but that are not basic.I'd say I'm natural, quite opinionated and that I don't like to stand out too much.
please describe an evolution in your work,
from your first projects to the present day.
my work has become more and more cross disciplinary.the evolution is using other disciplines to express my ideas. I've had the confidence that I've been able to, kind of express a world through other mediums. for example I've been making films in the last 3 to 4 years so that's added a new dimension to my work.
what project has given you the most satisfaction?
I don't think I have a project that's given me the most satisfaction.I've worked on various projects and each one is a differentexperience. our show in 2000 with the living room that converted was a very powerful experience. my project for venice biennale last year was a strong experience. the one before that called place to passage, which we toured with, was a film. my collections are always challenging and I get a lot out of them.all the projects have a different impact on me. I make a real effort to push myself as far as possible with each one.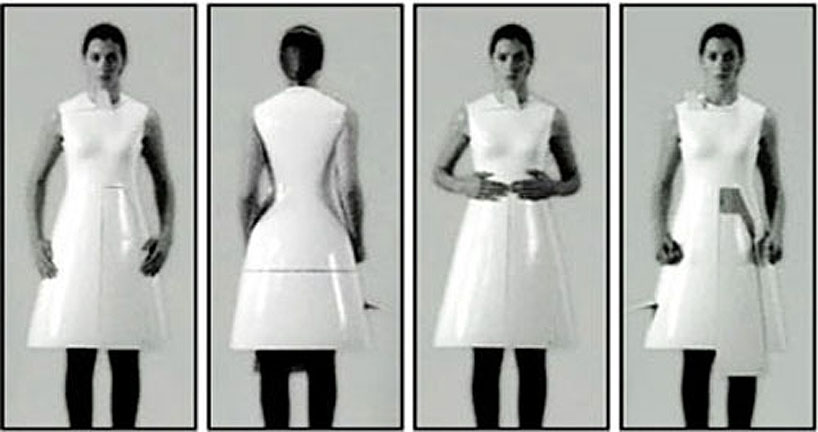 collage/concept of airplane dress
who would you like to design something for?
I would love it if kate bush (the musician) came to me because her world has been so inspiring to me. (I mean she's such a sort of… she isolates herself from situations… I don't think that would happen… but someone like that would be amazing to design for… because of her work.)
is there any designer and/or architect from the past,
you appreciate a lot?
I like parts of what balenciaga does and parts of comme de garcons house. I like their approach but it doesn't mean I love every collection. I think the masters of the 60s were amazing like the old balenciaga, the old pierre cardin, the old courrèges. in this era anything goes. they were real masters andin a way, we're just … everybody is just doing kind of …regurgitating what they've done.it's about juxtaposing everything that you wouldn't have seen together in the past.I like quite a few architects: renzo piano, jean nouvel, parts of zaha hadid, rem koolhaas and mies van der rohe,alvar aalto and le corbusier.quite broad, but again, parts of what they do.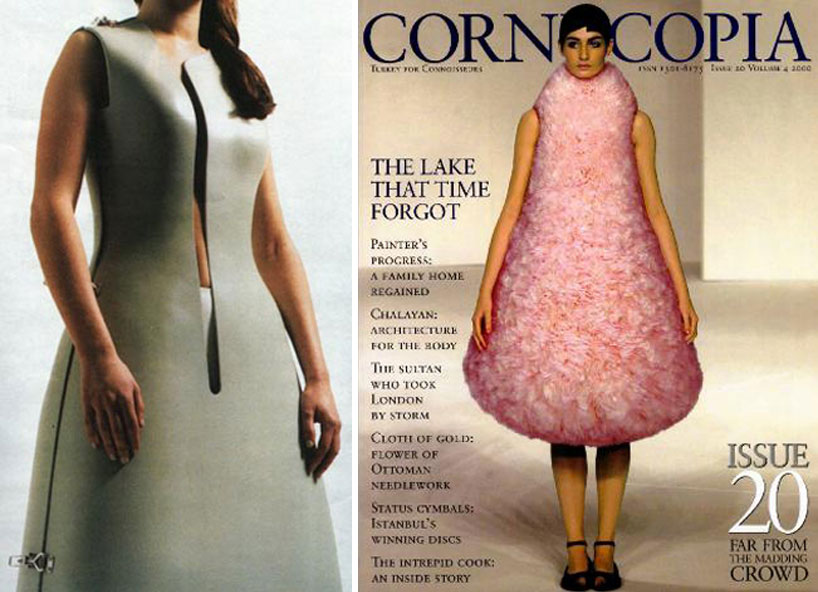 left: plastic dress, chalayan's predilection for reducing fashion to abstractnotions of place and identity that all but disregard the body.
right: laser cut nylon tulle dress, 2000a chalayan's work on the cover of cornucopia magazine
what advice would you give to the young ?
I would advise young designers to get experience before they approach their own thing. you don't have to have your own label to succeed. you could have a part in an interesting group. the important thing in the design world is to be always thinking of something that isn't already done. otherwise, the ones that are doing it will do it better than you. also, opening to yourself to sort of other things that can inspire design rather than looking at design constantly. you have to expose yourself to other worlds to keep your mind more active.
what are you afraid of regarding the future? oh, politics. I think it's destroying everything.misunderstandings… like cyclical misunderstandings…that one thing is leading to another, that's what I am really sacred of. I think definitely abuse of power is the scariest thing and ignorance and demonizing what you don't know.
a diverse digital database that acts as a valuable guide in gaining insight and information about a product directly from the manufacturer, and serves as a rich reference point in developing a project or scheme.