announcement poster of the designboom pop-up gallery exhibition in 39 yangmeizhu, dashilar, beijing
designboom brings the venice architecture biennale to beijing for this occasion, together with governmental developers, designboom has restored an old building in (dashila or) dashilar, in one of the strikingly vivid roads – yangmeizhu – and has converted it into a pop-up-gallery space.
right next to tiananmen square, the dashilar neighborhood was beijing's commercial center for most of the city's history. dashilar played host to the BJDW 2012 – beijing design week, from september 27th to october 1st, through the latter's designhop series of offsite exhibitions in pop-up galleries and shops. dashilar showed visitors and the design community how beijing's traditional hutong alleyways and siheyuan courtyard houses could be re-envisioned by creative communities and industries.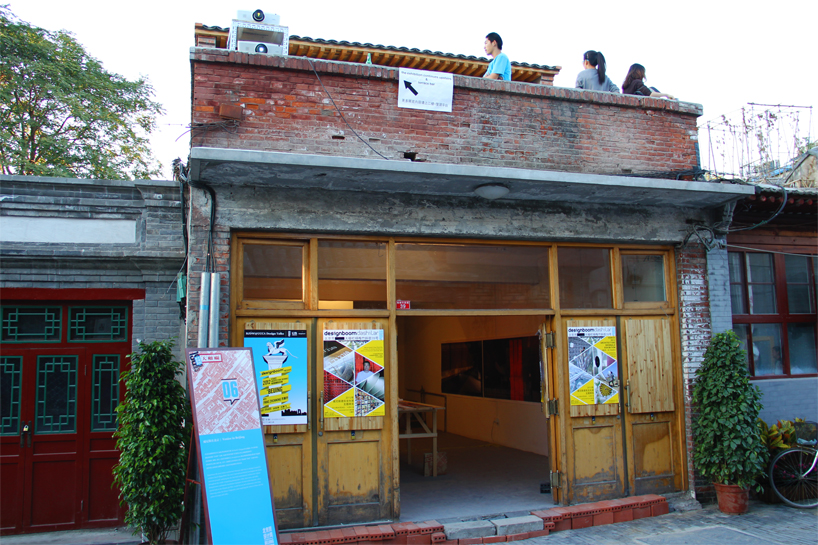 the old house front of designboom dashilar gallery in yangmeizhu 39 image © designboom
dashilar is the most distinctive neighborhood in the ancient commercial heart of old beijing. the streets are still inhabited by the ghosts of opium dens, tearooms and chinese opera houses, abounded in a richness of stories. with this initiative, designboom has been participating in an experimental redevelopment project to encourage the city to move independently yet coherently towards maintaining a strong and flexible, sustainable community with depth and diversity.
under the direction of BJDW creative director aric chen and as part of the efforts of dashila(b), a platform for an open approach to redevelopment, a brimming schedule of workshops, forums, exhibitions and site-specific installations were woven into the rich urban fabric, creating a truly festival atmosphere.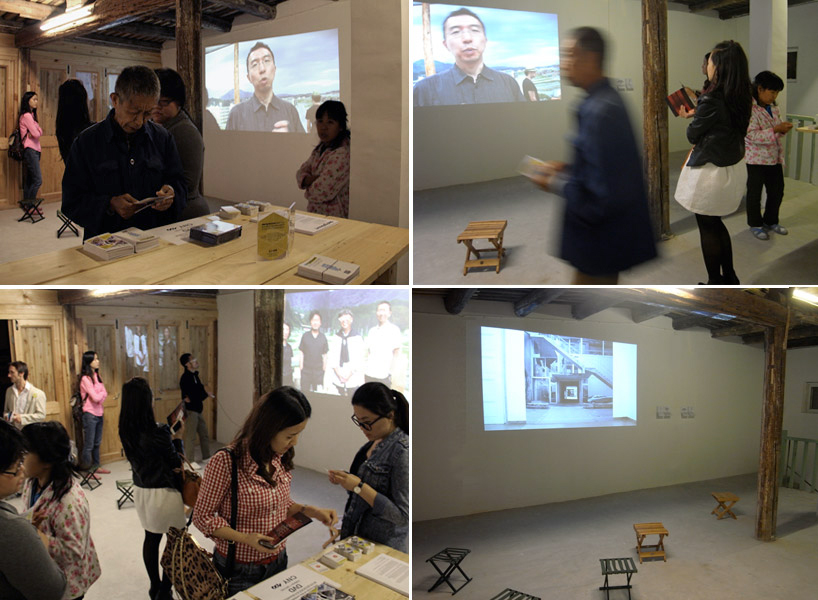 on the second floor of the gallery designboom showed a movie-loop of the venice architecture biennale 2012 (120 min.) images © designboom
the three main desires within the dashila(b) revitalization effort are: revealing the depth of history and experience within the area; promoting by demonstration the ability of design to change business ecologies; and exploring how infrastructural and spatial challenges can be overcome through design. beijing dashilar investment limited unveiled a new look for yangmeizhu street, carefully renovated and improved by 'approach architecture' and landscape architects 'view unlimited'.
the sheer size and rapidity of the changes in asian cities often leave open questions related to the quality of life in the new settlements, issues related to preservation and problems related to identity. in this context the city of beijing presents multiple chances to consider alternative strategies for the urban planning discipline. ideas and projects that steer away from the conventional approach to the development of the urban environment. dashila(b) also presented an instagram wall in the factory, which showcased instagram pictures and comments that have been gathered for a few months. as part of the dashilar redevelopment research a group of people from different nationalities, ages and professions, were encouraged to talk with residents to know their opinions. you can find these #dashanlan_redevelopment pictures here.
since the first edition of beijing design week, designboom collaborates actively in this research program. the new yangmeizhu street, along with dashilar west street and the factory, have been the main activity hubs during BJDW, with other satellite venues scattered throughout the dashilar zone.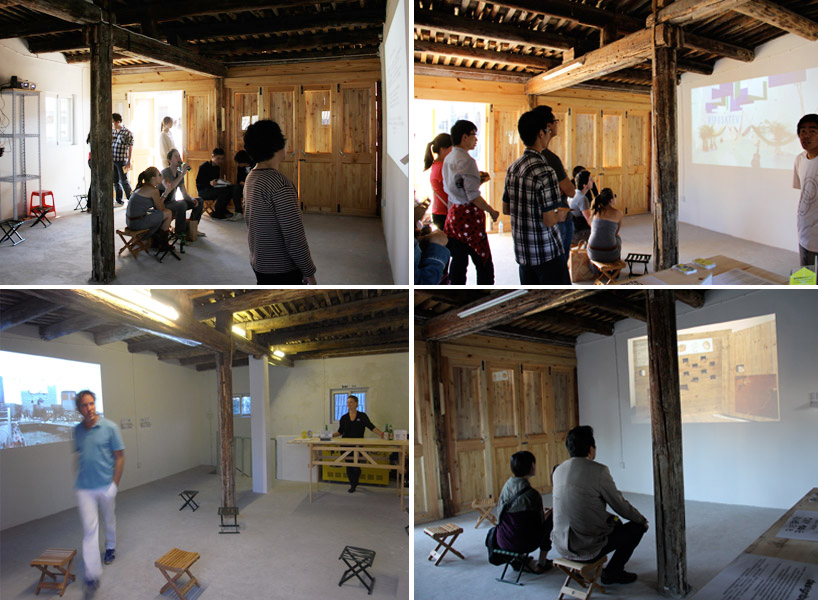 the second floor of the designboom gallery with terrace bar images © designboom
in the dashilar pop-up gallery, visitors have experience the 2012 venice architecture biennale right here in beijing! a multimedia exhibition of the best of what the venice architecture biennale has to offer, including a re-make of the chinese pavilion for the locals to experience first hand.
curated by architect david chipperfield, this year's biennale investigates the theme 'common ground', outlining the ties that bind contemporary architecture culture throughout the world. comprising photographs, video, interviews, and talks, designboom's multimedia installation highlighted the best of the biennale, with a special look at the chinese pavilion, curated by art and architecture critic fang zhenning under the theme 'originaire,' which on the first floor of the designboom dashilar gallery has examined the nature of ideas and the notion of origin and order.
during beijing design week, designboom has also organized two architecture conversations at UCCA ullens center for contemporary art, with day 1 – ma yansong of MAD architects (china), wang hui of urbanus (china), minsuk cho of massstudies (korea) and ole bouman (NAI – netherlands architecture institute): day 2 – fang zhenning, xu dongliang and wang zhenfei (china).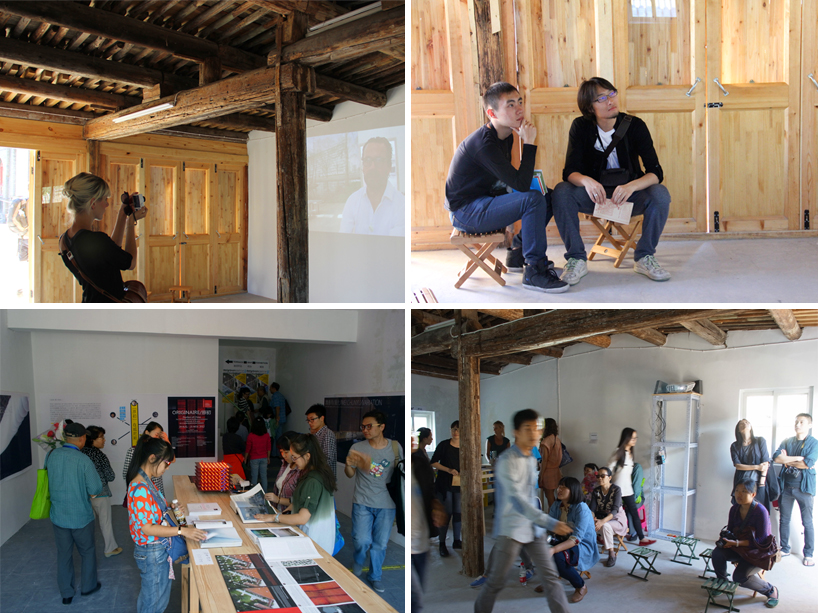 visitors in the gallery images © designboom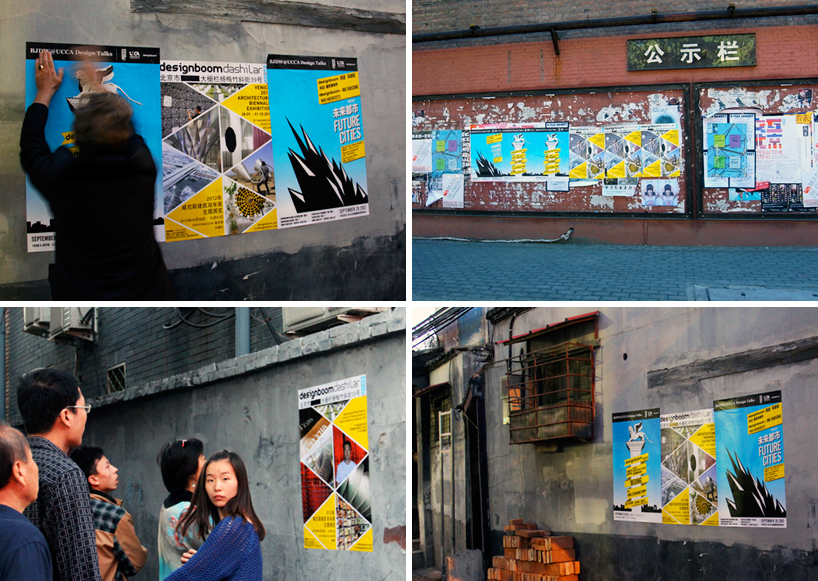 designboom gallery posters in dashilar and 798 art zone in beijing images © designboom
on show on the first floor of the gallery was 'originaire' by fang zhenning, the curator of the chinese pavilion at this year's venice architecture biennale. commissioned by the ministry of culture, the chinese pavilion at the 13th venice architecture biennale showcases five conceptual installations, independent and interrelated, which are respectively created by shao weiping (BIAD-UFo), tao na, wei chunyu, wang yun and xu dongliang. the biennale in venice is open to the public until november 29th, 2012.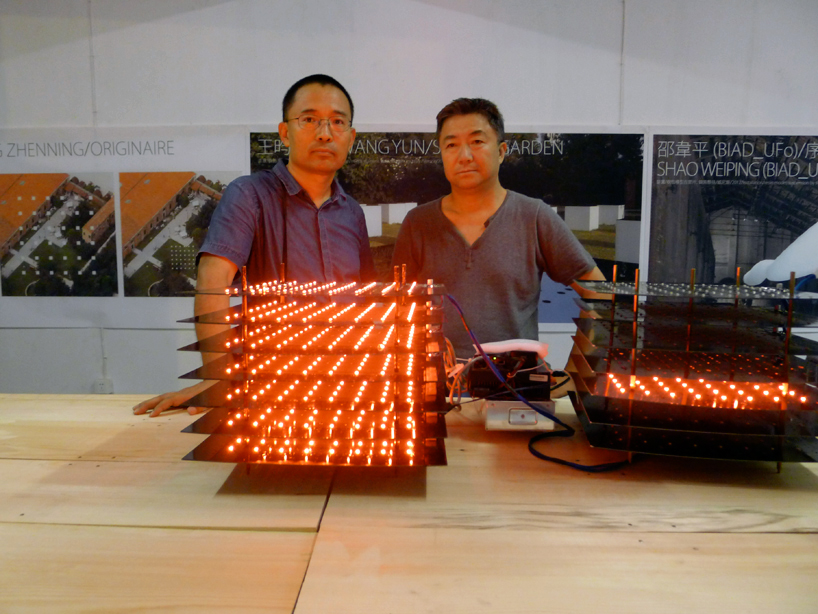 fang zhenning and artist xu dongliang pose next to the work 'lightopia' at the opening event image © designboom
xu dongliang's interactive 'lightopia' (only a small size model has been exhibited in beijing) conjures a scene of campfire and night sky during the prehistoric age. the full-size work is composed of 1m×1m red LED square panels, they stack together formed 2.4m high, with a 50cm high platform, the whole installation is 2.72m high. it is made of more than thirty thousands red LEDs, and has a graduated luminous intensity of 20, 40, 60, 80, and 100 cd/m2.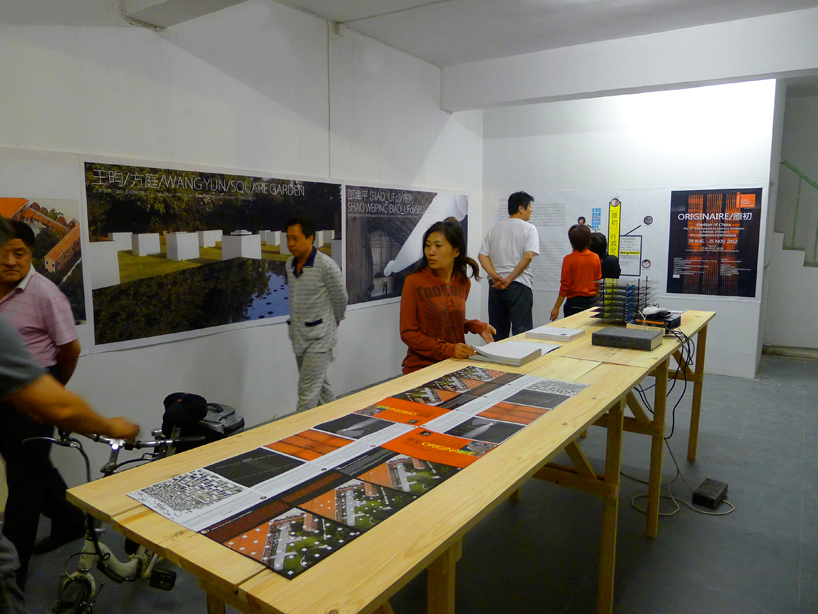 first visitors came in sleep wear to the opening event images © designboom
unforeseen benefits of cultural exchange: dashilar is a popular neighbourhood and first visitors came in sleep wear to the opening event.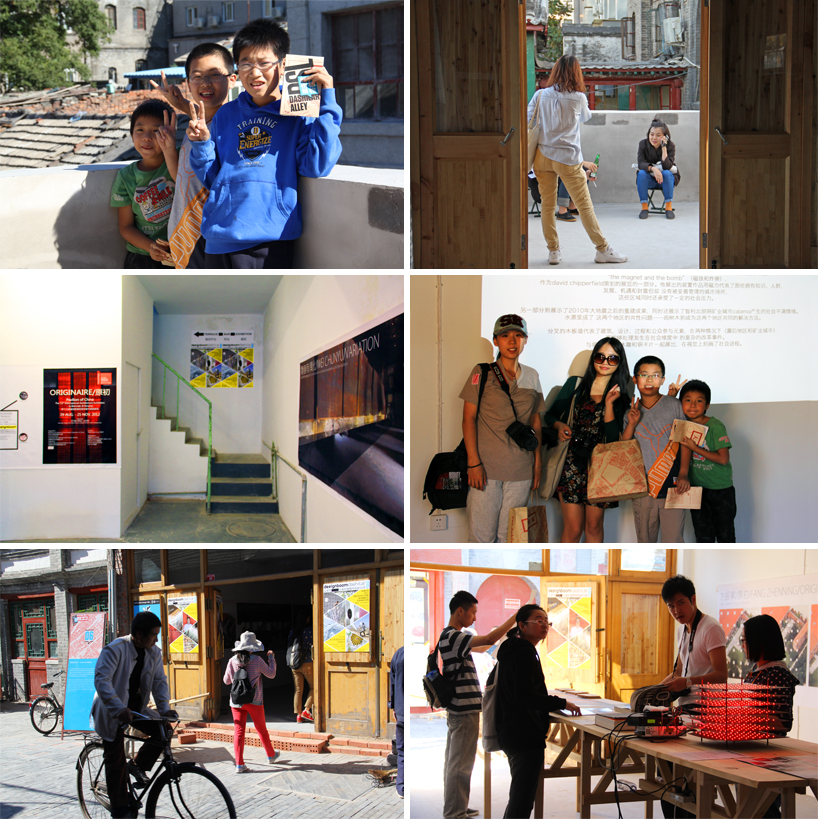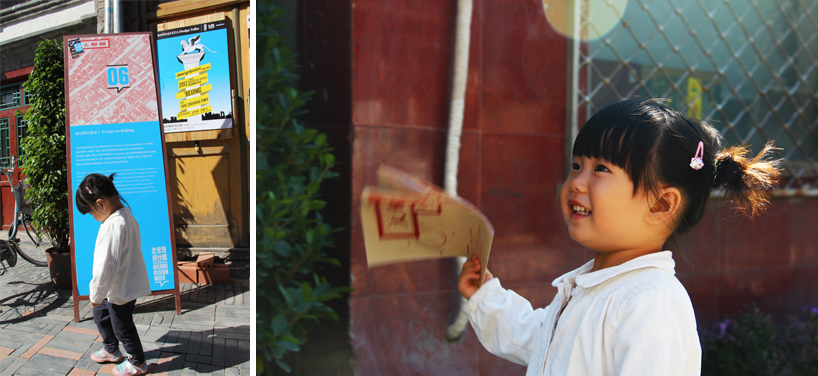 visitors in the gallery images © designboom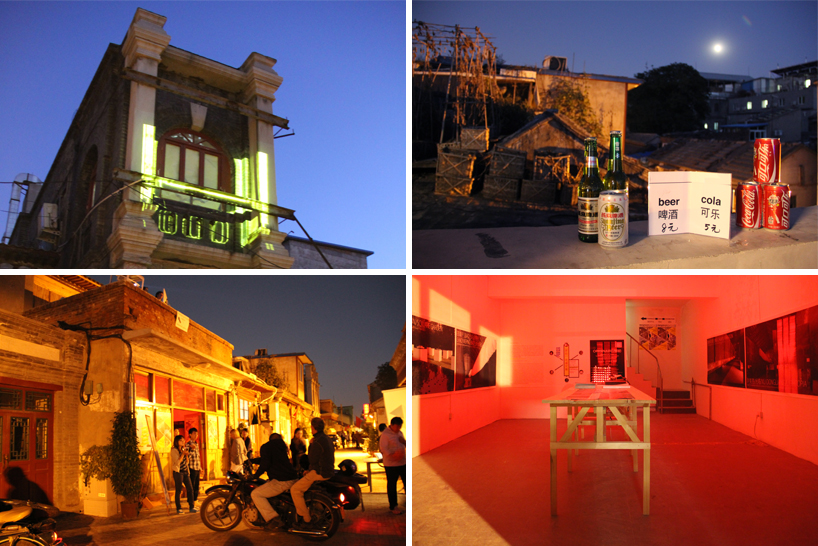 designboom dashilar gallery by night images © designboom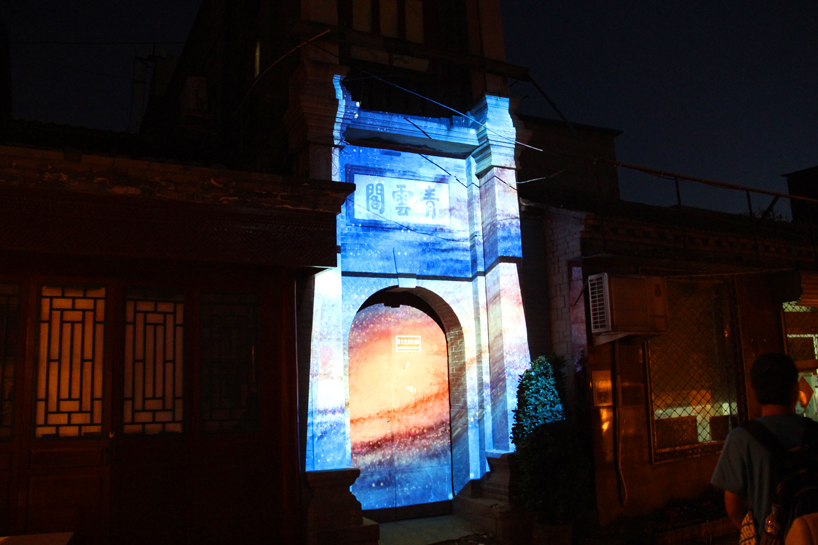 luma lu beijing design week 2012 projection mapping image © designboom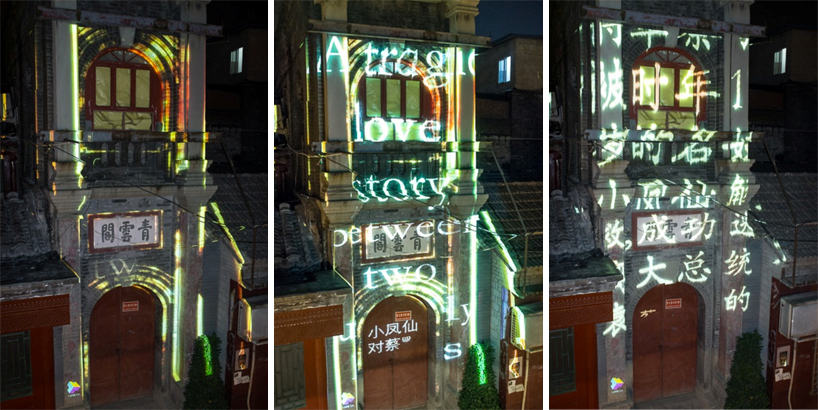 augmented virtual reality history projection from the terrace of our pop-up gallery in yangmeizhu 39
discover the hidden history of some of beijing's oldest hutongs by night with the augmented reality walk. a map and viewing device – a tablet-sized gadget that comes pre-loaded with a photo slideshow and sound clips of old dashilar could have been your companions on this voyage through time. visitors to yangmeizhu street have had the possibility to navigate the hutong to find decades-old images of the area projected on crumbling walls. part history walk, part statement on the pace of urban development (and a little bit spooky, too), the visual research of creative studio luma-lu was amazing.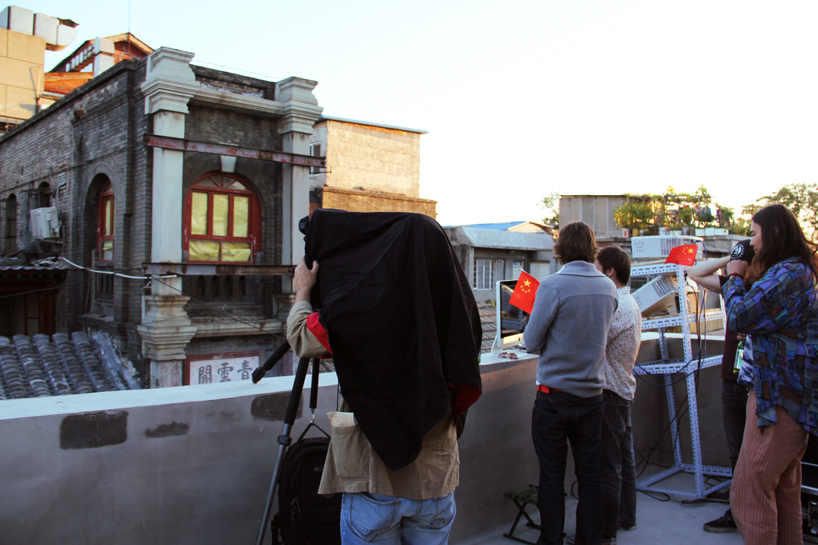 luma-lu on the terrace of designboom dashilar gallery image © designboom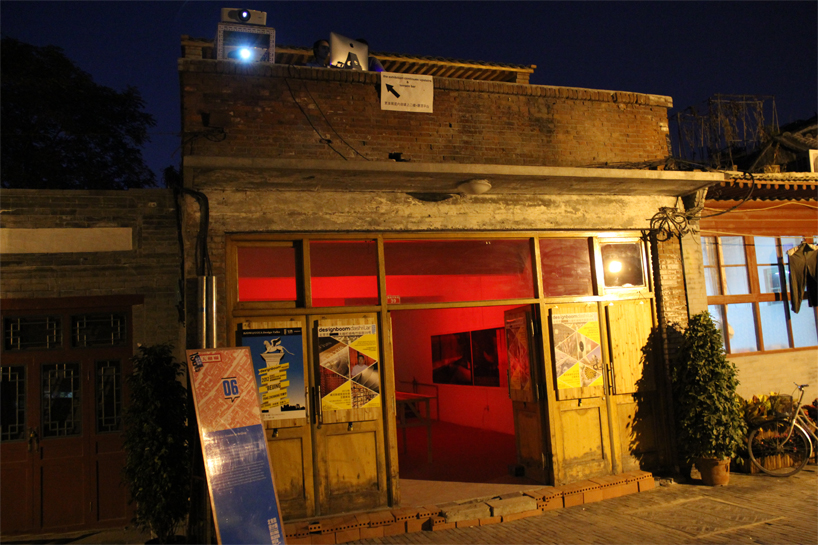 projection from the terrace of designboom dashilar gallery image © designboom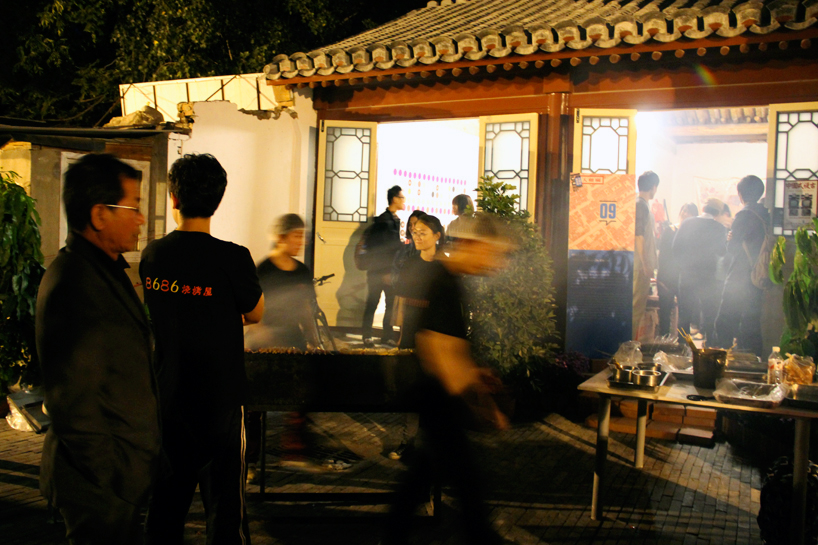 drinks and food stalls in yangmeizhu 39 image © designboom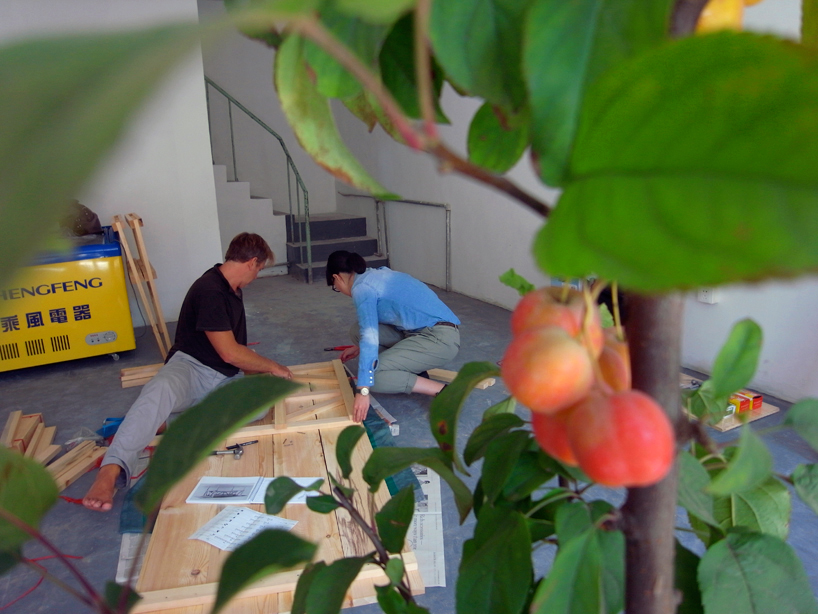 the designboom team builds three tables 'autocostruzione', a DIY project by enzo mari of 1973 images © designboom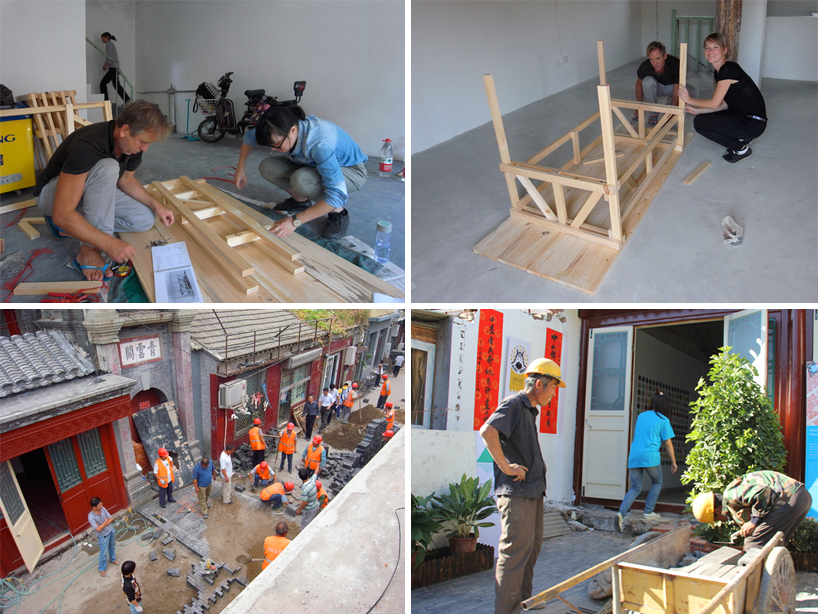 construction work and building up of the exhibition images © designboom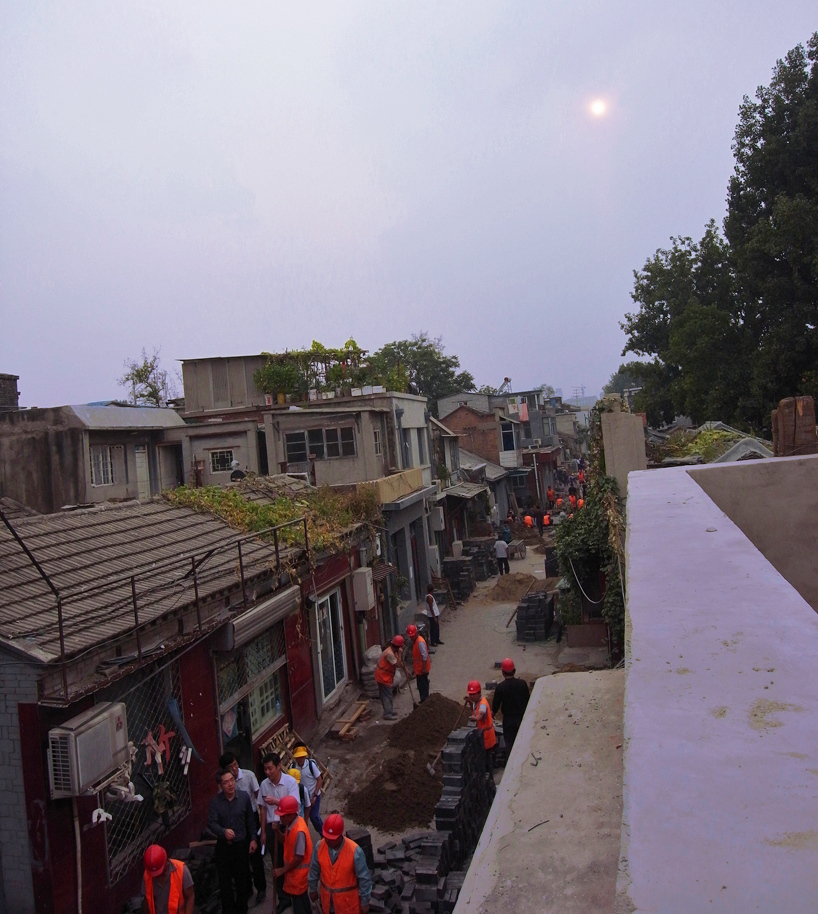 a night before the opening – construction work in yangmeizhu 39 image © designboom

2012 beijing design week (BJDW), held in beijing from 28th september to 6th october, featured seven sections:
opening ceremony, annual design awards, milan guest city, beijing design fair, geo city smart city-international information design exhibition,
the new york times beijing design forum 2012, and design hop.
the ullens center for contemporary art (UCCA) is the exclusive education partner for BJDW.
BJDW and UCCA have co-organized [email protected] talks, inviting important designers and institutes to talk about 'upgrading the city by design'.
the talks were held from sep. 27 to oct. 2 at UCCA auditorium.
anita hackethal
I designboom
oct 15, 2012
a diverse digital database that acts as a valuable guide in gaining insight and information about a product directly from the manufacturer, and serves as a rich reference point in developing a project or scheme.
designboom will always be there for you
milan, new york, beijing, tokyo

,
since 1999