with the festive season quickly approaching, designboom has created a 2018 holiday gift guide with a curated selection from the eclectic designboom shop.
we've chosen items from a variety of categories and prices to help our readers find the most special gift for their friends and loved ones. ranging from slightly quirky items to the delicately designed, these items will fit any personality type. our shop features sellers from around the world, bringing an international design perspective to each item. browse through an assortment of concrete products and accessories, digitally inspired jewelry, or architectural novelties below. to ensure we deliver your order as expected, please consult with each individual seller to confirm arrival dates given international shipping.
for the minimalist: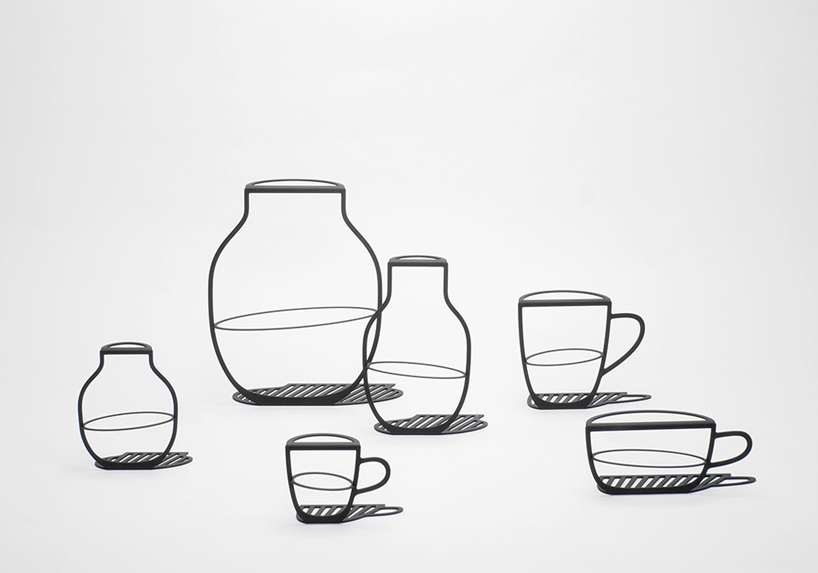 'surface collection' vase for dry flowers by ilsangisang from $34 | buy now
south korean design studio ilsangisang presents a series of abstracted cups, vases, and mugs. the shape, shadow, and waterline are emulated with minimal three-dimensional linework. these vessels carry such objects as dried or artificial flowers, pencils, and teaspoons. ranging in size from the large vase to the espresso cup, the set is comprised of eight types.
for the architecture enthusiast: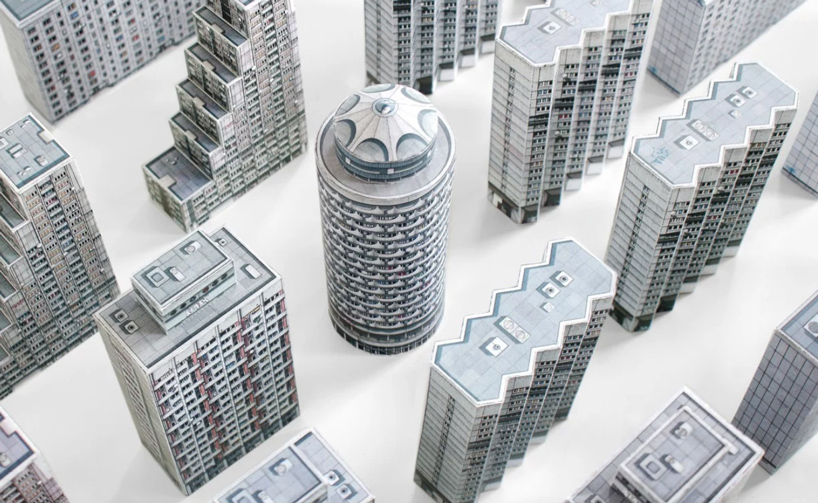 'brutal east' build your own brutalist eastern bloc by zupagrafika for $19 | buy now
from the functionalist panelák estates to the otherworldly concrete grand designs, the charm of the former eastern bloc architecture is certainly brutal. 'brutal east' by zupagrafika is a kit of illustrated paper cut-out models celebrating post-war architecture of central and eastern europe that allows you to playfully explore and reconstruct some of the most controversial edifices erected behind the iron curtain. contains 7 brutalist buildings to assemble, from pre-cast housing estates to post-soviet landmarks awaiting renovation or threatened by demolition. printed in poland, 'brutal east' models range from 5.5 to 15 cm in height.
for the designer: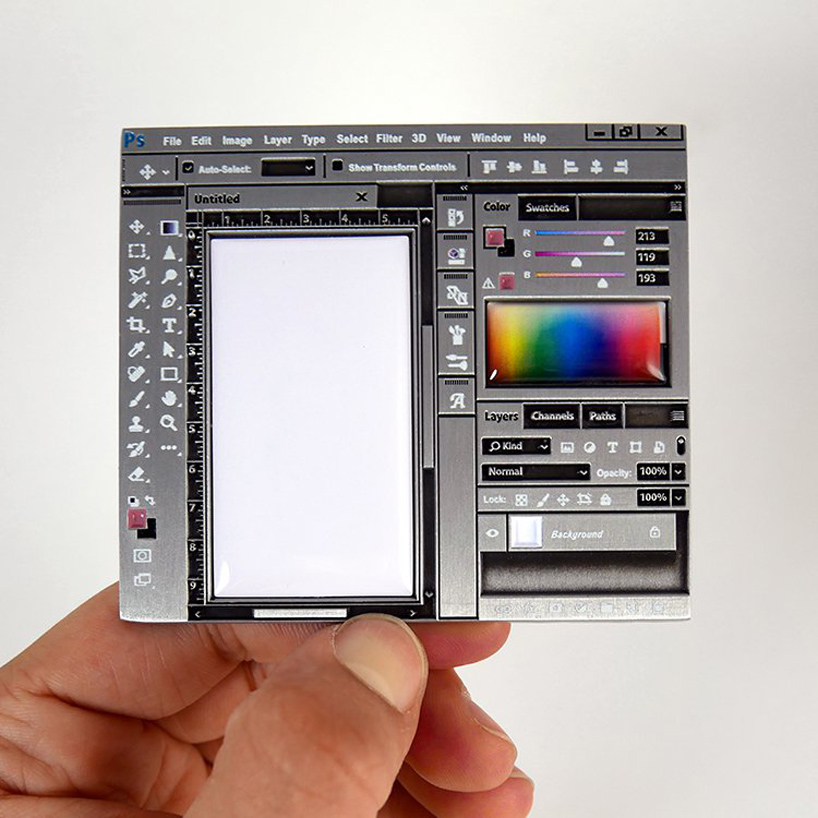 'photoshop enamel pin' by studio cult co. for $20 | buy now
everyone's favorite image processing software's user interface is now a pin! new york city-based designer yuliya veligurskaya of studio cult co. transforms digital space into physical, wearable pieces. the oversize dimensions of the photoshop enamel pin make it the perfect statement piece for a backpack, tote or jacket. with a dry erasable 'screen,' the pin measures at 3″ x 2 5/8″. let the designer in your life show off that they are part of the studio cult.
for the workaholic: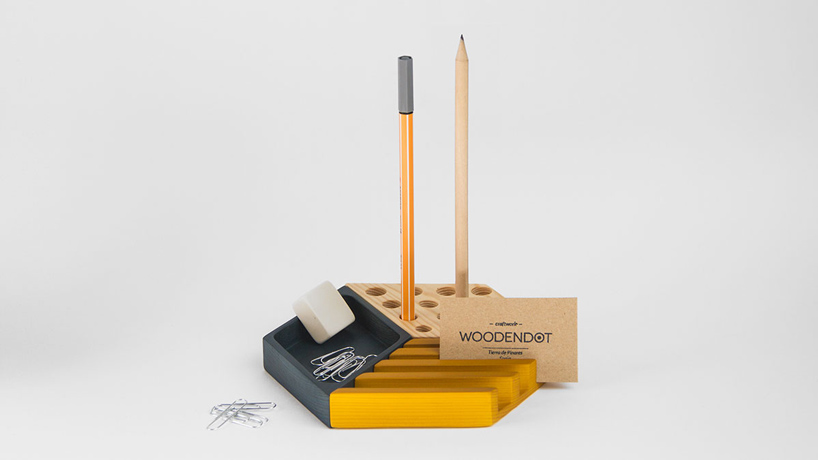 kesito desk organizer by woodendot for $49 | by now
handmade in spain by woodendot, the 'kesito desktop organizer' is composed of three diamond-shaped blocks. the reconfigurable components can be organized in a row, in a hexagon or separately in a reduced size to generate a compact product that fits on any desktop, no matter the size. The Kesito desk organizer is composed by three pieces with different finishes which, when combined, generate an elegant and balanced product. each piece is made of carefully selected solid pine.
for the tech-obsessed: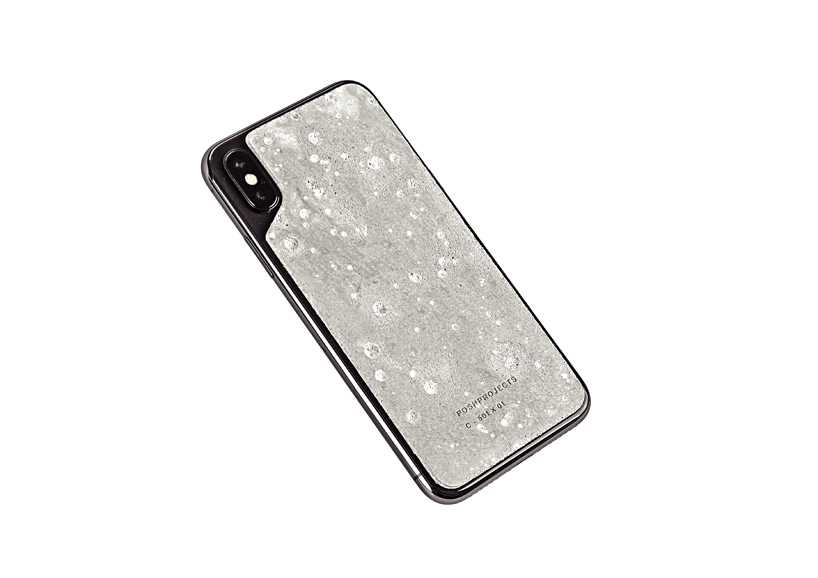 'luna skin' for iphone by poshprojects from $25 | buy now
south korean studio poshprojects fabricates the luna skin for iphone. each made-to-order piece is made of concrete and has its own one-of-a-kind texture, resembling the cratered surface of the moon. order the skin for the iphone 5 through iphone x.
for the little ones: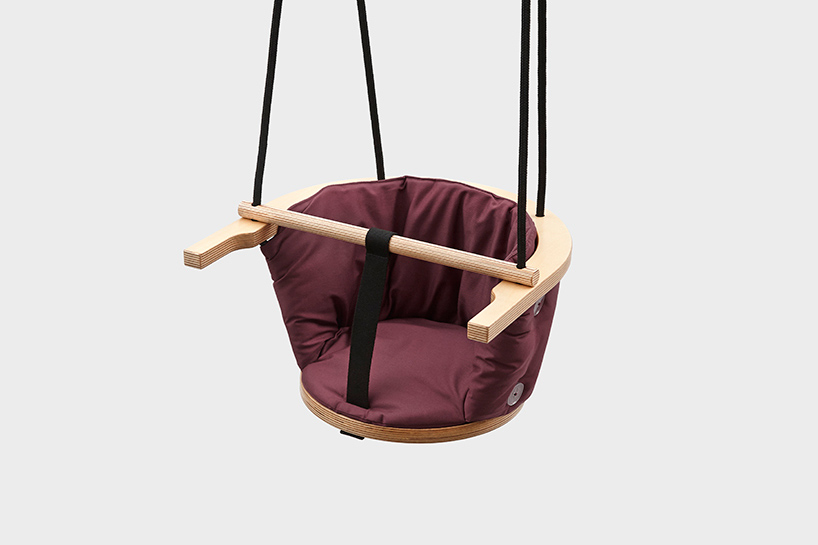 'contemporary baby swing' by la clinica design for $250 | by now
the contemporary baby swing from la clinica design is designed for children between 6 months and 3 years old. entirely conceived and produced in spain, it comes with a simple height-adjustment system that makes it easy to be installed everywhere, including the garden, under the porch, in the living room or in the baby's room. the swing comes in three wooden parts: the seat, the back and a security bar; and a fabric accessory. the swing is made of laminated wood with a transparent varnish conceived for both indoor and outdoor use. the fabric accessory is filled with cotton wadding.
for the early learners: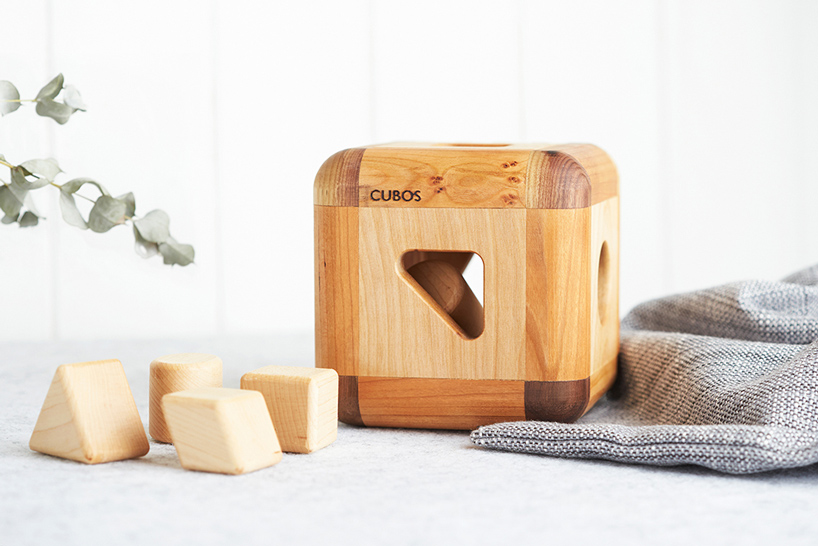 wooden shape sorter by CUBOS from $168 | buy now
this wooden shape sorter toy by canada-based studio CUBOS is a re-imagined version of a classic! your child will be entertained as they work the wooden shapes into their correct slots, open and close the cubos box, or even just stack the inserts up to build a tower or town. the cubos shape sorter is a great option for babies as soon as they can grasp objects. the inserts are carefully made with exact precision to ensure they do not pose any choking hazard to your child. your child will enjoy learning shape recognition, cause and effect, how to stack objects, how to open and close an object, and more!
for those who light up your life: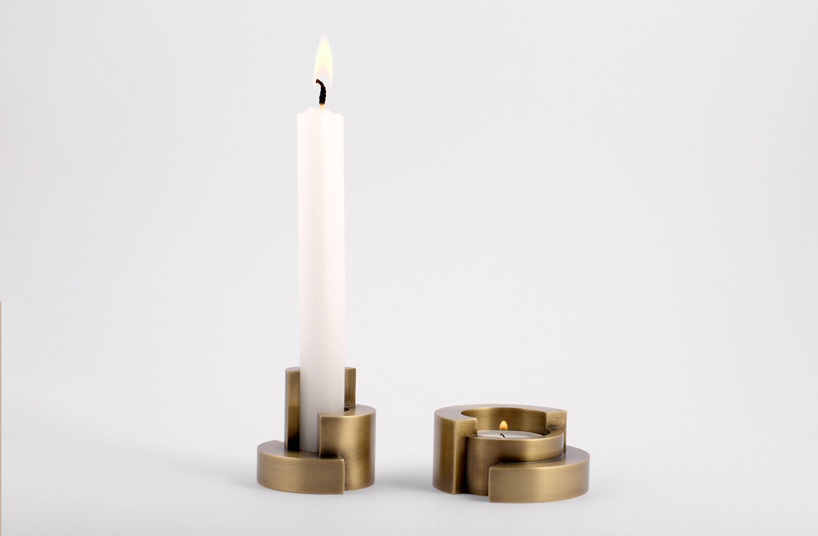 'circular' candle holder by vau for $76 | buy now
concentric circles symbolize the universal way in which nature expands, from a centre towards infinity. the flame is symbolically located at the very centre of the composition, while the concentric circles surrounding it form a dynamic structure. circular levels rise towards the top, the source of light. the concept is inspired by ziggurat architecture, a terraced pyramidal temple where layers are leading to the divine, usually represented by light. the holder is available in two different sizes, one for tealights and another for upright candles. produced by vau in croatia, 'circular' is made out of solid metal, hand polished and has genuine leather attached to its base.
for fans of flora: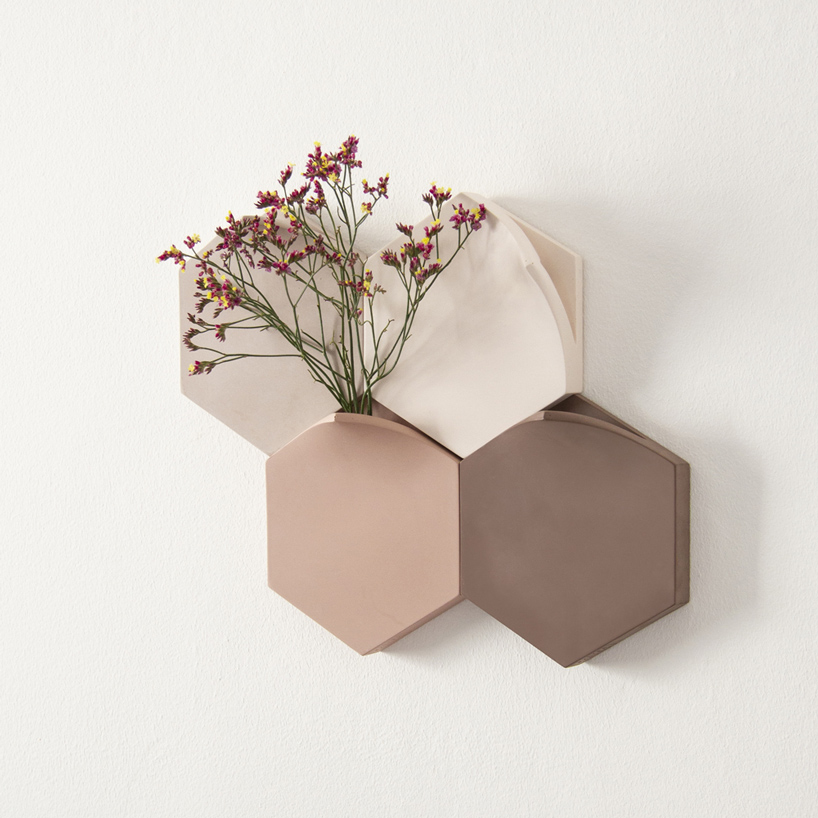 'teumsae vase series' by extra&ordinary design from $250 | buy now
this set of hexagonal modular wall-mount vase is one of product from teumsae vase collection created by london-based studio extra&ordinary design. teumsae vase series is reminiscent of humble plants growing through gaps between pavements and stone fences. teumsae is a korean word for 'a little gap between things.' teumsae on wall is a pre-set of four units and available in three different color combinations. the set allows for various styles and angles for versatile arrangement of plants to decorate your wall in the space.
for those with wanderlust: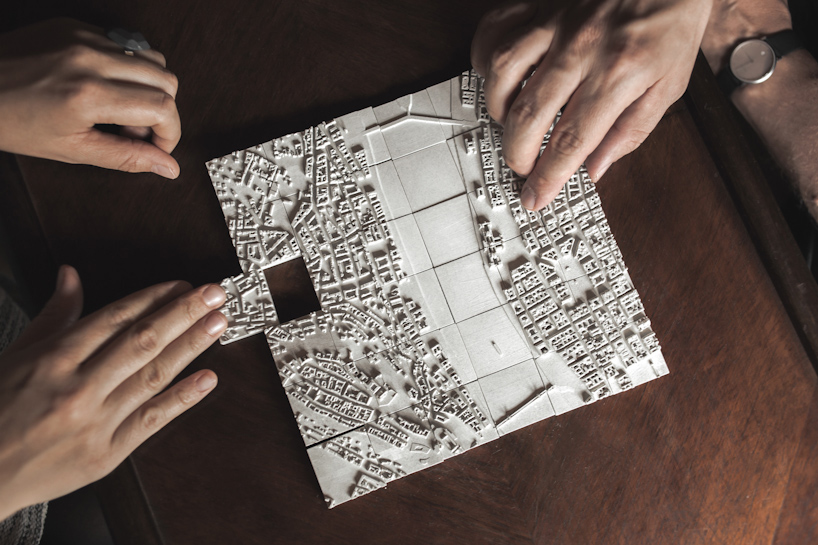 'logiplaces' concrete puzzle by logideez from $50 | buy now
budapest-based studio logideez introduces 'logiplaces,' a 16 or 36-piece puzzle made of concrete. the puzzle enables you to see places in a whole new perspective. mixed with the careful work of the studio's concrete workshop, logiplaces is a playable landscape which combines modernity and tradition. 'logideez' comes in three editions including the alps, the grand canyon, and the cityscape of budapest — home of the hungarian firm.
follow the designboom countdown to the festive season on instagram!
a diverse digital database that acts as a valuable guide in gaining insight and information about a product directly from the manufacturer, and serves as a rich reference point in developing a project or scheme.