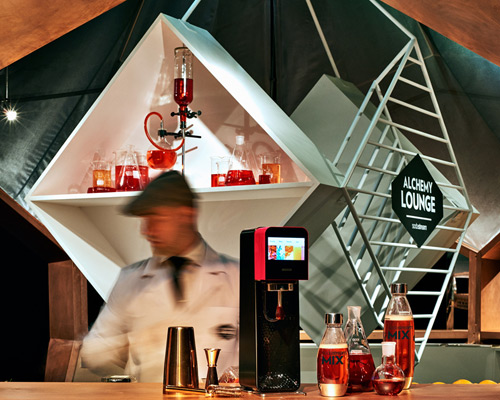 may 04, 2015
designboom x sodastream the future of the bar talks
designboom x sodastream the future of the bar talks
photo by tom mannion
to celebrate the unveiling of MIX, its new concept machine set to disrupt the world of mixology at home and in the bar, sodastream, in partnership with designboom, hosted the 'future of the bar' talks during milan design week 2015. the talks brought together the leaders of the design industry, with protagonists of the culinary and mixology world. speakers engaged in a greater dialogue revolving around current design challenges in the growing movement of sophisticated fine dining and cocktail gatherings.
speakers in the informal workshop setting included:
yves béhar, founder and CEO of fuseproject, san francisco
carlo cracco, michelin-star chef, ristorante cracco and carlo&camilla, milan
alexander josephson, co-founder of partisans architecture, toronto
marcio kogan, founding principal of architecture studio mk27, sao paolo
carlo ratti, innovation and design, professor at MIT directing the SENSEable city lab, massachusetts / turin
the two speaker sessions offered the perfect occasion to present the sodastream MIX to the greater public.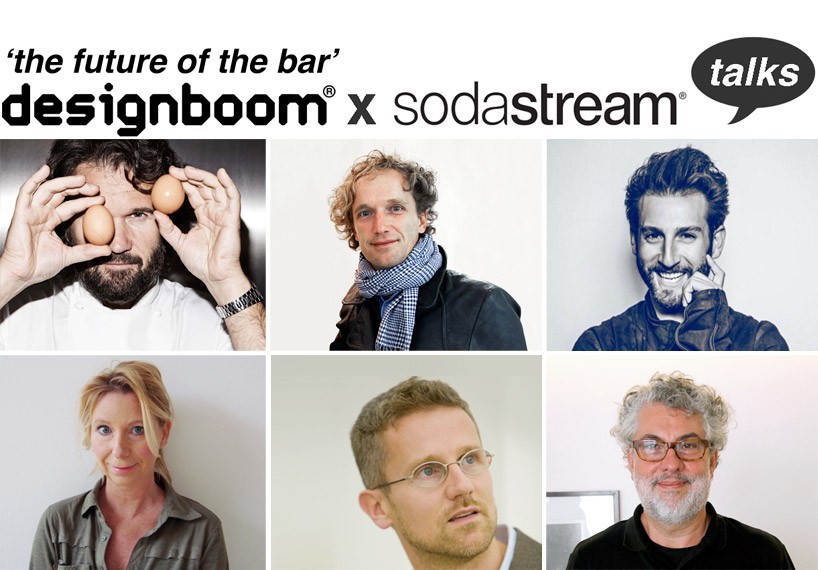 birgit lohmann /designboom moderated the sodastream talks with masterchef carlo cracco, yves béhar, partisans, carlo ratti and marcio kogan / mk27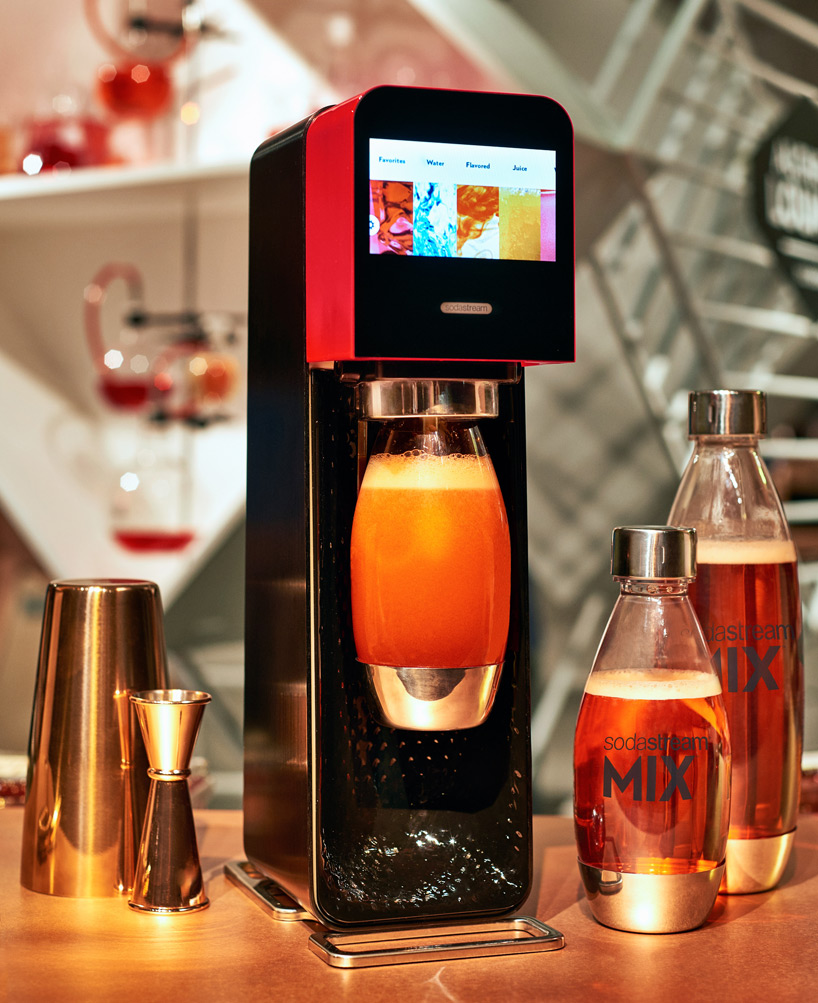 the sodastream MIX is set to disrupt the mixology world
photo by tom mannion
yves béhar, designer and founder of fuseproject, unveiled the new revolutionary sodastream MIX machine inside a pop-up bar — 'the alchemy lounge' — both conceived by him. the new mixology concept addresses technology's role in transforming the bar experience, current directions in the gourmet restaurant sector, as well as the design and styling of related interiors. the installation was set within the glamorous milanese teatro versace to highlight all that the concept machine has to offer.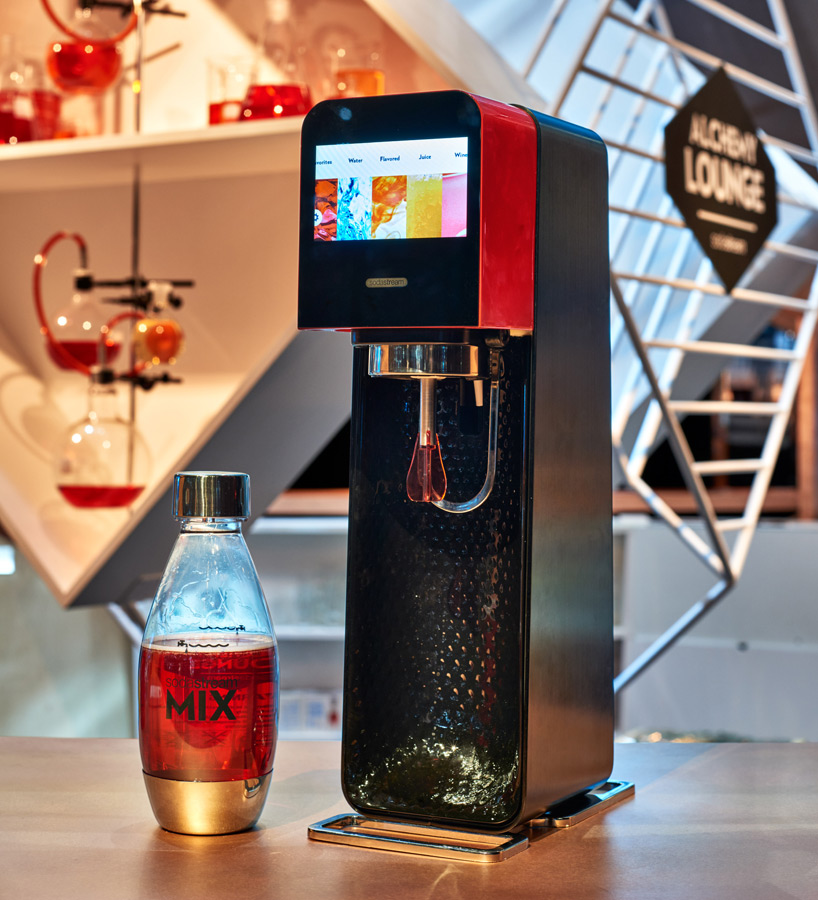 the sodastream MIX has an integrated touchscreen for users to easily access cocktail recipes and tips
photo by tom mannion
the idea is simple: what if one could add bubbles to almost any beverage?
with the new 'sodastream MIX', any sparkling drink is possible. bubbly martinis, fruit juices, cosmopolitans… the world is a sparkling oyster. the on-device touch interface offers a fun and engaging experience for making and customizing beverages, which connects back to the cloud to match with a database that delivers the perfect amount of bubbles to every drink. yves béhar and sodastream also developed a mobile app that enables cocktail makers to look at recipes from around the globe, share and rate them, as well as send them straight to the MIX machine for creation.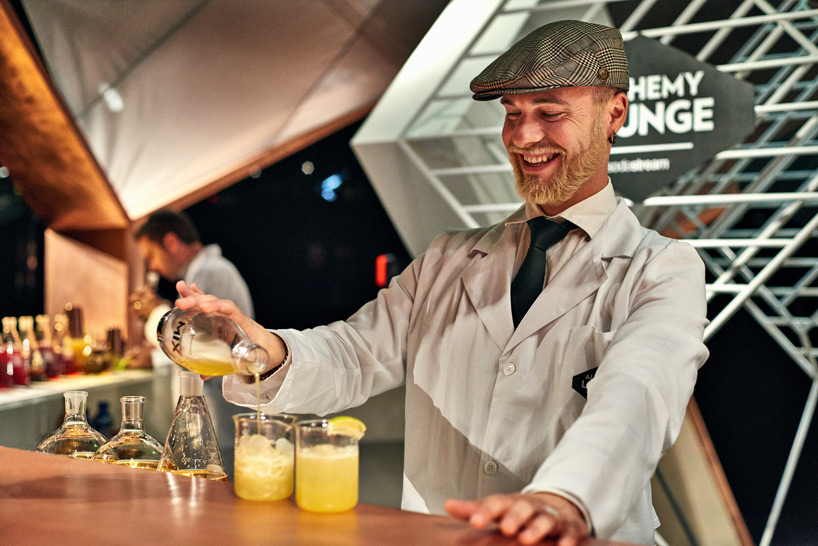 bartender ariel leizgold, of the bellboy bar in tel aviv, serves up cocktails shaken-up in the MIX
photo by tom mannion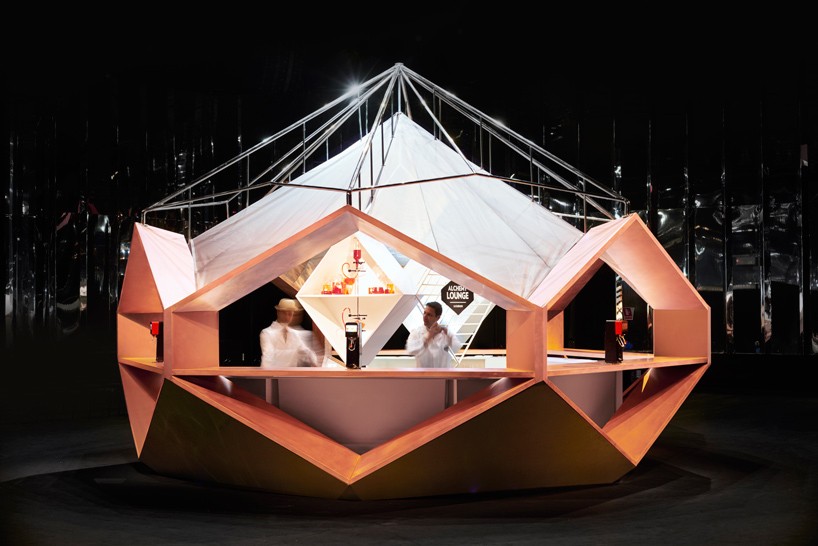 'sodastream MIX' was showcased in the alchemy lounge pop-up bar, also designed by yves béhar
image courtesy of sodastream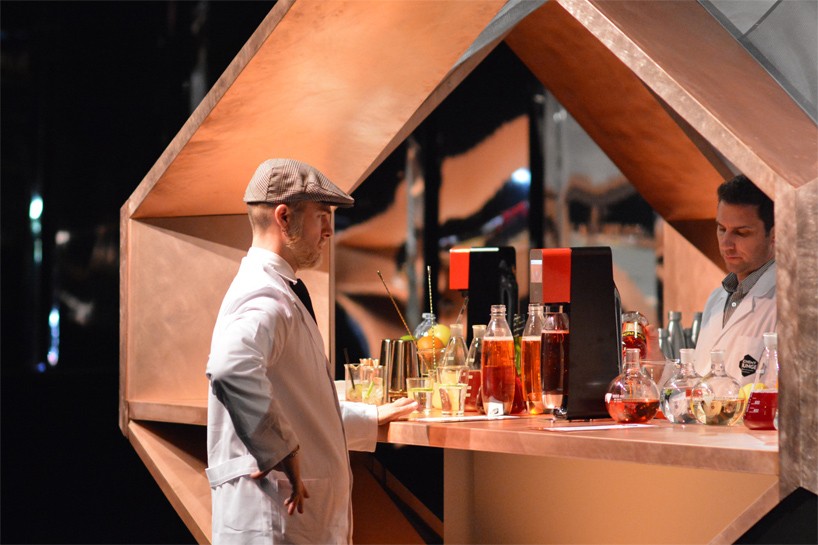 the bar's form reflects the chemistry involved in the art of cocktail making
image © designboom
experimental mixology has captured the zeitgeist with celebrated bartenders and secret 'cocktail laboratories' popping up in all major urban centres. however, very little innovation has been introduced with regard to new bar tools and disruptive technology. the game changing sodastream MIX opens up possibilities for innovation, creativity and debate about the future of the bar.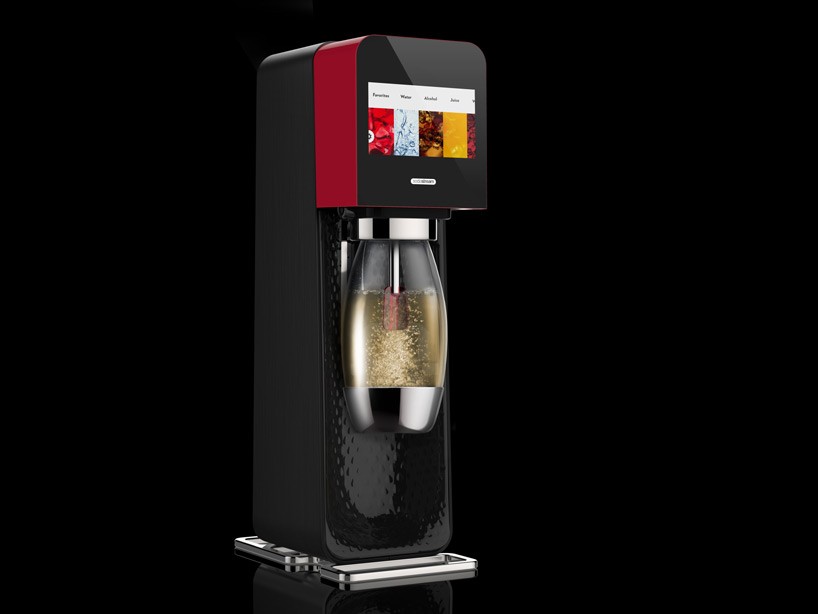 the sodastream MIX machine
image courtesy of sodastream
sodastream MIX is creating some buzz – literally. with an innovative technology that perfectly calibrates the liquid inside, even if it contains fruit or pulp, MIX has the ability to carbonate almost any beverage. it's also the first connected sodastream machine, with a smart touch interface that lets you choose your carbonation intensity and browse recipes for some of the world's best bubbly cocktails.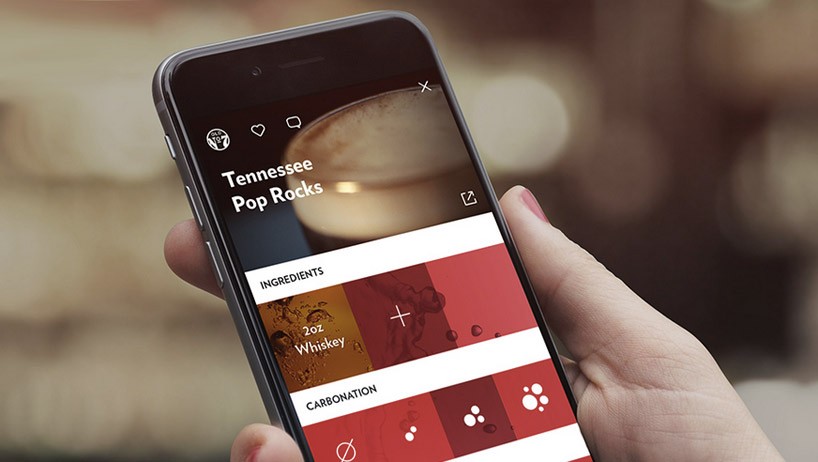 MIX is the first sodastream machine to connect to the cloud – with a touch screen that guides users through customizable cocktail and beverage recipes. a corresponding app lets users go social, sharing their favorite recipes with the world. see a video and read more on the sodastream MIX machine here.
image courtesy of sodastream

designboom x sodastream talks with mix and alchemy lounge designer yves béhar
video © designboom
the future of the bar?
'after two years in development, MIX's advanced technology has already garnered admiration from the world's leading beverage professionals, who believe the unrestricted use across all drink formats will stimulate new beverage possibilities. the MIX combines technological breakthrough with the most advanced user interface ever seen in kitchen appliances and most importantly it allows home users & professional mixologists to create new exciting beverages they could have not done before! this is the most innovative product sodastream has ever put forward.' – yves béhar and yaron kopel, chief innovation & design officer at sodastream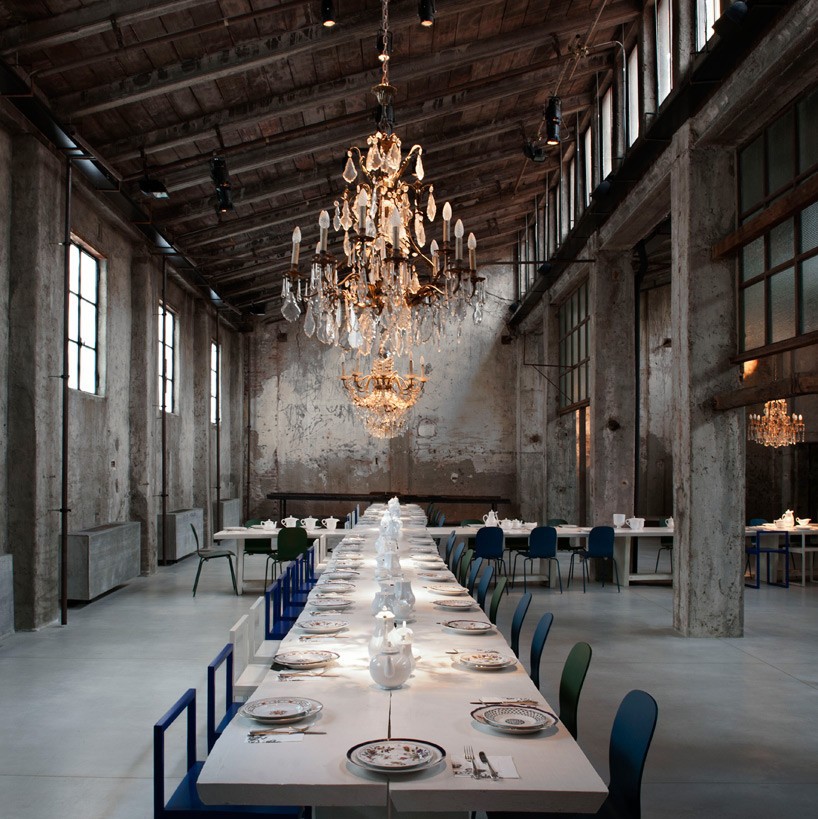 view inside the 'carlo e camilla' restaurant in milan
image © nathalie krag for tanja solci studio
for the first of the two talk events designboom invited carlo cracco, the two-michelin-starred masterchef and owner of milan's acclaimed ristorante cracco and beautifully designed carlo e camilla restaurant. cracco is seen as a pioneer in progressive italian cuisine. in his presentation he spoke about why the egg is his favourite ingredient, about new beginning & tradition in the culinary fields, magic & his 150 machines in the kitchen… and cocktails. read more about 'carlo e camilla' on designboom here.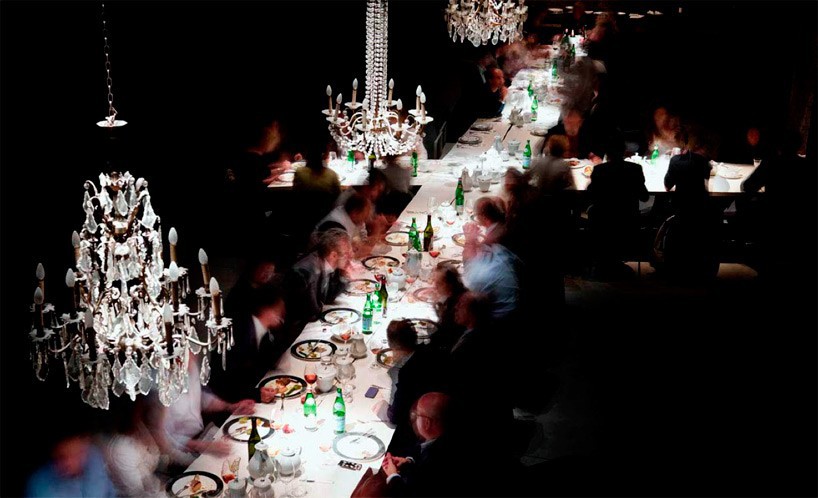 'carlo e camilla' focusses on communal dining with long tables intersecting one another
image © courtesy of carlo e camilla
in his talk, cracco elaborated on the importance of ingredients. he talked about their use in different contexts and how they evolve and render their flavors in different dishes in order to arrive at the right balance of tastes. while citing his work as a chef being that of an artisan working around ingredients and trying to translate emotions into a dish — making them into something physical and delicious — he compared this to being a very similar approach for mixologiests. cracco stated that each cocktail has its own recipe, and just like a dish, particular attention must be paid to the subtle nuances and combinations of flavors in order to please the palate and touch the senses in the right way.

designboom x sodastream talks with master chef carlo cracco
video © designboom
the future of the bar?

carlo cracco: 'men cannot stop evolution. people will always experiment. creative mixologists will always try to create new styles with new ingredients. recipes are not enough. in design terms, also the presentation of drinks is important, but it needs to make sense — nothing useless should be done. for example time is an essential factor, how will the taste and 'texture' of a cocktail change after 1 minute, 2, 10?'.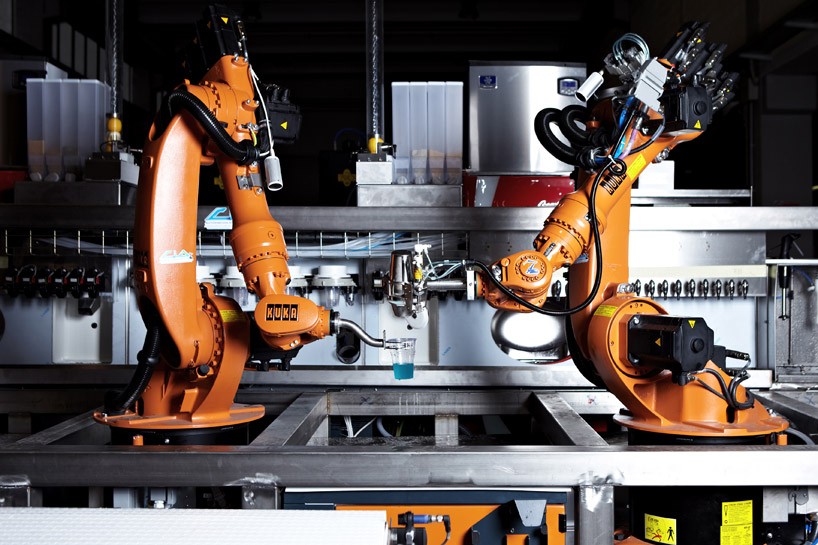 the makr shakr robotic bartender by carlo ratti associati
image courtesy of MIT senseable lab + carlo ratti associati
carlo ratti associati is an innovation and design firm that investigates the impact of digital technologies on architecture, planning and design. during the 'future of the bar' talk during milan design week 2015, ratti discussed his studio's debut of the world's first crowd-controlled robotic bar, installed on 'smart' cruise ship royal caribbean's 'anthem of the seas', as a 'bionic bar'.
makr shakr is an exciting and innovative new mixology system that allows users to create personalized cocktail recipes in real-time through a smartphone application – also transforming them into crowd-sourced drink combinations. read more about the makr shakr bionic bar on designboom here.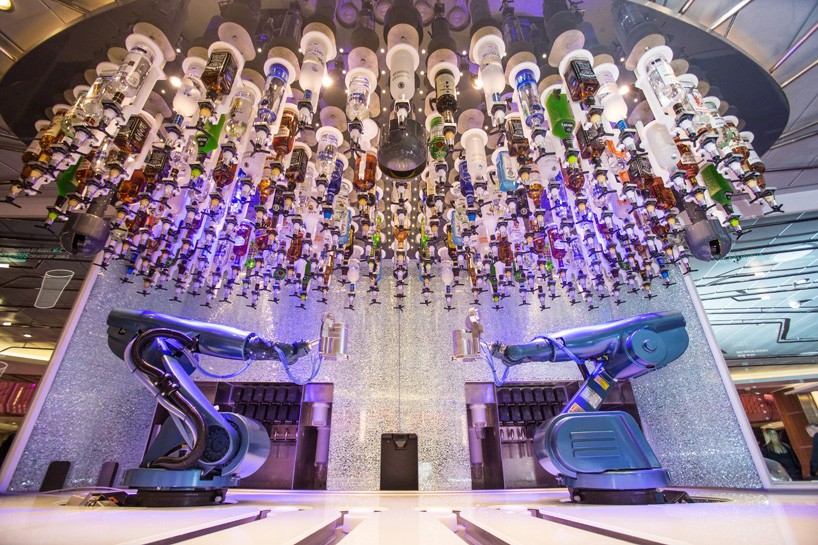 the robotic bartender on the royal caribbean quantum of the seas smart cruise ship
images courtesy of royal caribbean international
'makr shakr is a great example of how robotic technologies are changing the interaction between people and products – a topic that we have been exploring in great depth' said carlo ratti, professor at the massachusetts institute of technology (MIT) and co-founder of makr shakr in his presentation. 'the system explores the new dynamics of social creation and consumption – design, make and enjoy – allowing users to design their own cocktail creations, while digitally controlled machines transform these designs into reality.'
the bionic bar powered by makr shakr is located at the centre of royal caribbean's new anthem of the seas latest 'smart' cruise ship. to enable makr shakr, users access a simple app on a tablet, allowing them to create an almost limitless number of alcoholic and non-alcoholic drink combinations. the cocktail creations are then assembled by two robotic arms, whose movements – shown on a large display positioned behind the bar – mimic the actions of a bartender, from the shaking of a martini to the thin slicing of a lemon garnish to the muddling of a mojito. guests will have the possibility to name their own recipes, access their order history and reorder their favourite cocktails, while rating and commenting on each other.

designboom x sodastream talks with architect and professor carlo ratti
video © designboom
the future of the bar?
carlo ratti: 'makr shakr does not suggest replacing the bartender with a robot, but rather was conceived as a social experiment that looks at how people might embrace the new possibilities offered by robotics and digital manufacturing'. sodastream's MIX machine is much more human.'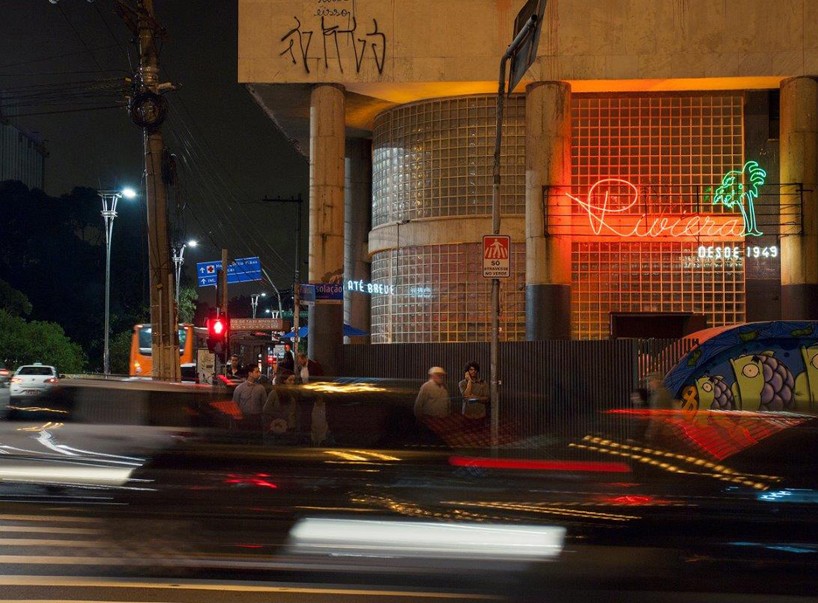 MK27 transforms the riviera bar in são paulo
photography by romulo fialdini
between the 1960s and 70s, bar riviera was a frequent haunt to the intellects, artists and film crowds of são paulo, brazil. unfortunately, the institution had to close its doors but this has led to its revival by marcio kogan, founder of brazilian practice, studio MK27. the design of the contemporary bar has resulted in a subtle homage to its interesting past, the sinuous counter surrounded with bertoia bar stools, curves around the center space and is a reference to the preexisting space. the bar is located on the corner of avenida paulista with rua da consolação, which historically, during the politcal oppression by the military regime, became popular with leftists. read more about the 'riviera bar' on designboom here.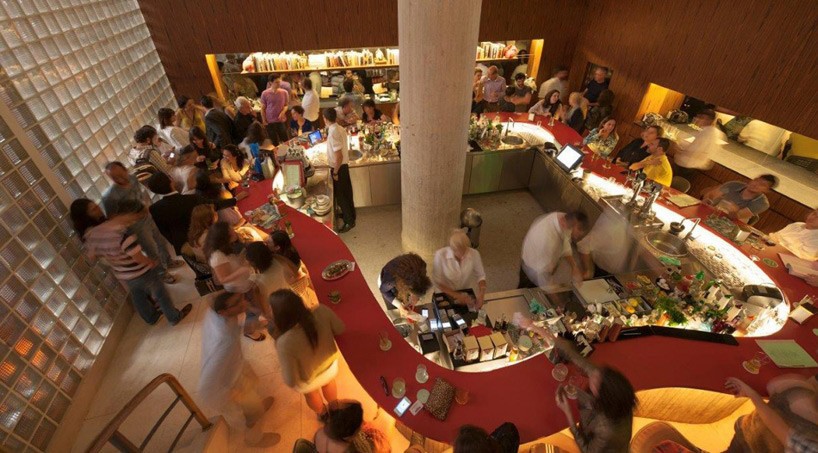 the distinctive red bar highlights the locations historical association with left wing intellectuals
photography by romulo fialdini

designboom x sodastream talks with architect marcio kogan
video © designboom
marcio kogan's presentation included historical facts of the military regime in brazil, images of the abuses by political police forces in the country during the dictatorship, the search for interaction and freedom, brazilian modernism in south american architecture and an in-depth view behind the restoration project of one of the most popular bars in sao paolo.
the future of the bar?
marcio kogan: 'with respect of its history!'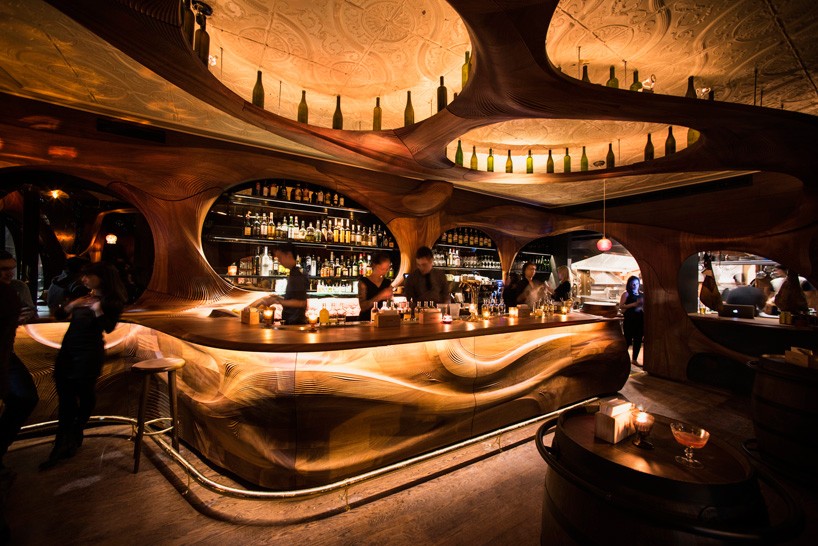 the bar raval by canadian firm partisans, features carved mahogany interiors
image courtesy of partisans
alex josephson and pooya baktash and their fellow architects at toronto-based partisans are engaging in architectural guerrilla warfare. the young canadian studio has just finished the interior renovation of an iconic bar in toronto, designed to rival the art nouveau histories of barcelona's famed pinxto bars. located in the heart of the city's little italy district, bar raval is the outpost of canadian culinary impresario grant van gameren and his partner mike webster – one of the world's most celebrated mixologists.
… dive into an idiosyncratic fusion of spanish art nouveau with contemporary digital tools: think gaudi with computers, tattoos and a love for the wu-tang clan… read more about 'bar raval' on designboom here.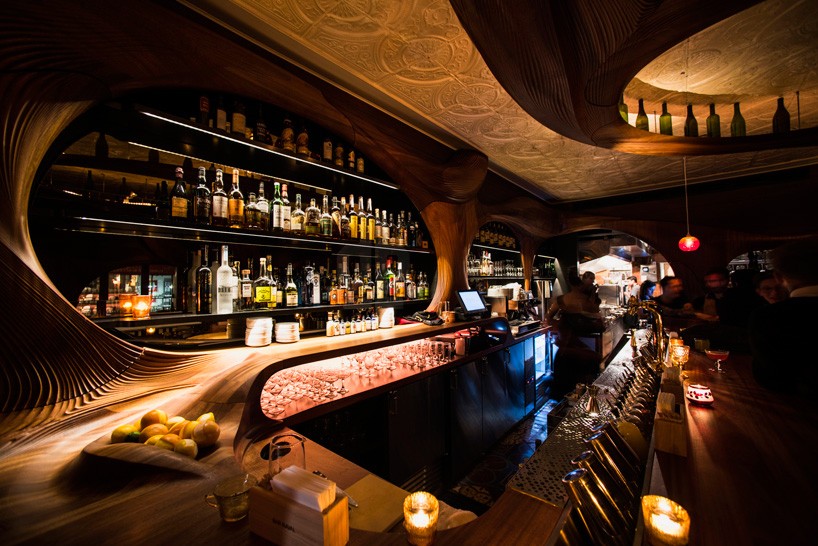 bar raval sets the stage for the cocktail makers
images courtesy of partisans
in his presentation, alex josephson took a look at the artifacts of the 3-D design process. precedent collages, fluid sketches with fat markers on tracing paper, digital modeling, technical drawings, and numerous prototypes (of the drip tray, window screen, and the mahogany woodwork) round out the collection of work that has accumulated on the studio's walls over the past few months.
the space design is thought as A STAGE for the performance of the chef and cocktail mixer and it is perceived by the public as warm and pleasant in which interaction between the guests is facilitated.
the future of the bar?
'people touch all these curves…' josephson said 'and engage in a very different way with that bar'.

designboom x sodastream talks with architect alexander josephson
video © designboom
the sodastream MIX is slated to hit the market in 2016 with pricing information coming soon.
the talks have been curated and moderated by birgit lohmann, editor-in-chief designboom
@ teatro versace, piazza vetra, 7 in milan, within the 5vie art + design district.
we invited yves béhar, carlo cracco, carlo ratti, marcio kogan and partisans to participate in 'the future of the bar' discussion because of their varied, but relevant expertise in relation to aspects revolving around cocktail making and the spatial setting in which this takes place. yves béhar's role with sodastream and his development of the sodastream MIX made him the ideal moderator in which he put forward his ideas on how technology is effectively changing the way we interact and share information, not just within the bar setting but our lives in general. masterchef carlo cracco brought his expertise in gourmet food and his collaboration with well-known mixologists to the table, in which he is pushing the creative boundaries of the food and drink industry; not only in terms of tastes and flavours, but also in respect to the atmosphere in which patrons experience his dishes and cocktails. carlo ratti's research and development of a robotic bar, shared a vision of how the future of the bar could look and how it could evolve. additionally, ratti's intuition and observations into people's behaviors with respect to technology, highlighted ways in which our overall perception of what the cocktail making and drinking experience could potentially become on a more commercial level. architect marcio kogan was invited for his understanding of the historical aspects of the bar and what it served as in the past. his appreciation for this history and the notion of the bar as a gathering place for people to meet and interact, with a touch of brazilian liveliness reminded us of the importance of remembering the past. alex josephson of partisans was chosen to participate as a fresh new comers to the field, whose practice offers a new way of living. the studio's underground approach to designing bars, with a particularly fascination for tattoos and alternative ways of living, showcases the diversity in how the bar can be interpreted now, and in the future.
sodastream international ltd. (NASDAQ: SODA) is the world's leading manufacturer and distributor of home beverage carbonation systems, which enable consumers to easily transform ordinary tap water instantly into sparkling water and flavored sparkling water. sparkling water makers offer a highly differentiated and innovative solution to consumers of bottled and canned carbonated soft drinks and sparkling water. sodastream products are environmentally friendly, cost effective, promote health and wellness, and are customizable and fun to use. in addition, the products offer convenience by eliminating the need to carry bottles home from the supermarket, to store bottles at home or to regularly dispose of empty bottles. sodastream products are available at more than 60,000 retail stores in 45 countries around the world, including over 15,000 retail stores in the united states.
powered by a refillable CO2 carbonator (OR Cylinder – depends on country), a sodastream sparkling water maker allows consumers to easily customize sparkling water and flavored sparkling water in an instant. sodastream empowers consumers to make water exciting, with a range of over 100 flavors of flavored sparkling water mix.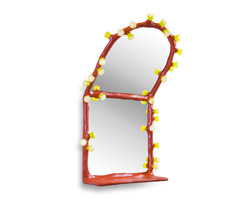 may 06, 2015
may 06, 2015
apr 22, 2015
apr 22, 2015
apr 14, 2015
apr 14, 2015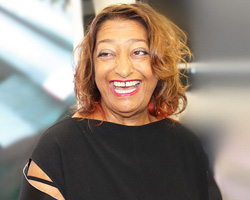 apr 14, 2015
apr 14, 2015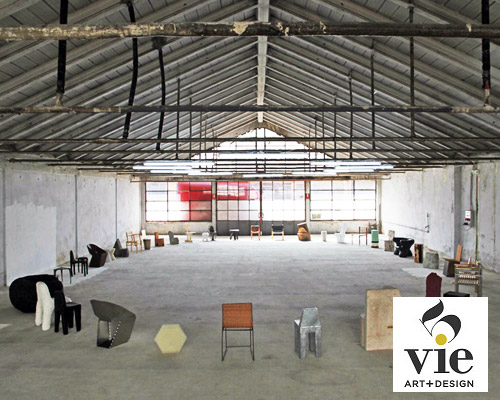 apr 12, 2015
apr 12, 2015
apr 10, 2015
apr 10, 2015
nov 12, 2015
nov 12, 2015
oct 19, 2015
oct 19, 2015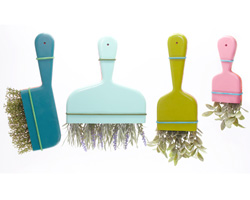 sep 04, 2015
sep 04, 2015
aug 21, 2018
aug 21, 2018
apr 15, 2015
apr 15, 2015
apr 10, 2015
apr 10, 2015
jul 22, 2020
jul 22, 2020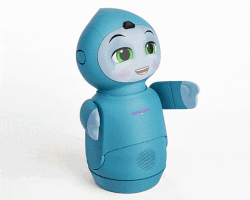 may 15, 2020
may 15, 2020
apr 01, 2020
apr 01, 2020
a diverse digital database that acts as a valuable guide in gaining insight and information about a product directly from the manufacturer, and serves as a rich reference point in developing a project or scheme.