milan design week returns to its usual spring slot
The world's largest annual design event, Milan Design Week 2023, returns to the Italian city for its usual spring date. The event will take place from April 17-23, 2023, and will include the Salone del Mobile program, as well as a series of exhibitions and events spread across different areas of the city.
Curious about the highlights?
designboom's ultimate guide to Milan Design Week 2023 presents the must-see installations and exhibitions in the run-up to this exciting design event. Also, this year, Architonic and ArchDaily join designboom — the world's first online magazine (born in Milan!) — in covering the ins-and-outs of Milan Design Week 2023 through the Fair: DAAily Guide and City: DAAily Guide, informed by our collective pursuit to distribute creative culture and insights.
Discover designboom's in-depth coverage of past editions of Milan Design Week here, and here, and keep your eyes peeled! We will be updating this guide as soon as we receive the latest news.
Download the Fair: DAAily Guide and the City: DAAily Guide.
And follow our LIVE coverage on @milan.design.week.
Daaily Bar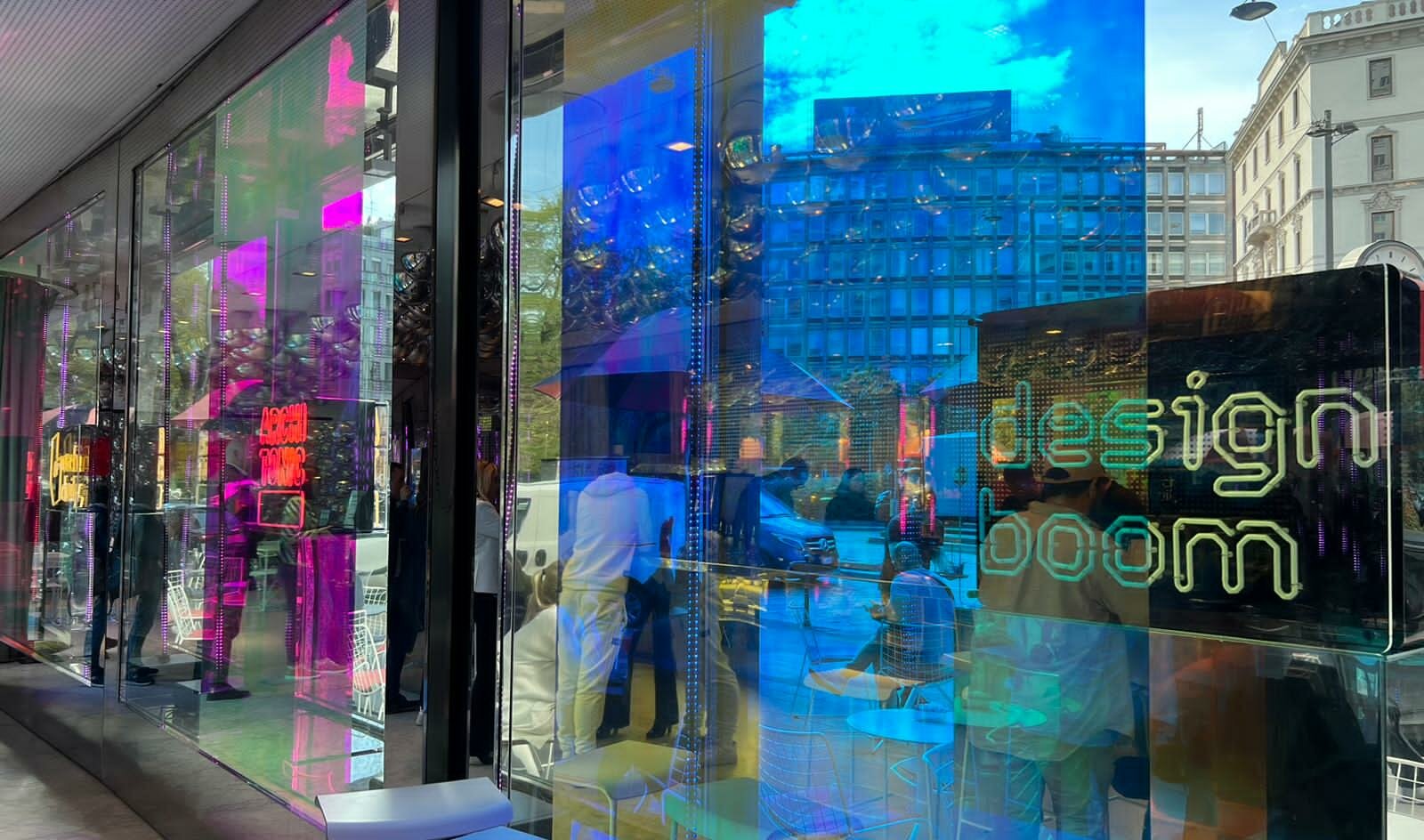 For a second consecutive year, DAAily platforms will host the DAAily bar in the curated space inside the Swiss Corner building on the eastern edge of the Brera Design District.
DAAily bar at Swiss Corner
Piazza Cavour / Via Palestro 2
20121 Milano
Opening times: 07:30–02:00
Salone Del Mobile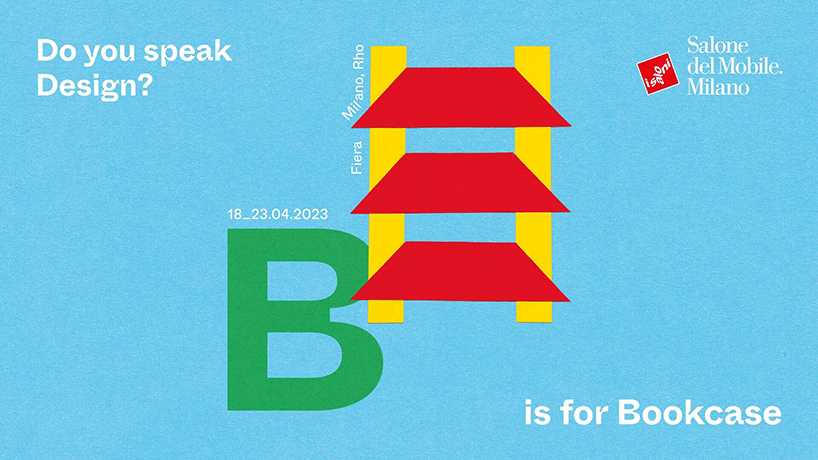 image courtesy of Salone del Mobile. Milano
The 61st edition of the Salone del Mobile. Milano returns to Fiera Milano, Rho, from April 18 to 23, 2023. Accompanied by a vibrant communication campaign, this year's event offers a new trade fair experience with a refreshed layout inspired by Euroluce, the Biennial devoted to the lighting world, and distributes the exhibition on a single level while focusing on interdisciplinary cultural content devoted to the relationship between light, architecture, art, and science. The goal is to build an impactful program that brings together 1962 exhibitors, focuses on sustainability, and provides visitors with a subjective, memorable experience.
when: April 18 – 23, 2023
where: Rho Fiera Milano
Design talks by TIME & STYLE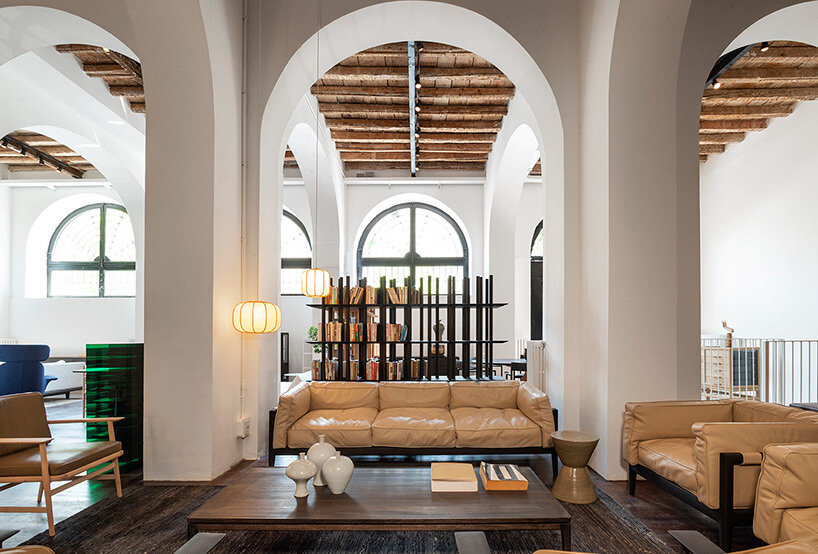 image courtesy of Time & Style
This year, Tokyo-based furniture brand Time & Style hosts a series of talks at its Milan showroom, moderated by designboom founder Birgit Lohmann. The Design Talks features conversations with Ryutaro Yoshida, CEO of Time & Style, as well as renowned architects and designers who have collaborated with the brand on the development of its latest furniture lines. Invited speakers include Kengo Kuma, Claesson Koivisto Rune, DRILL DESIGN and Aoi Huber Kono.
19 April, 2023 will mark the introduction of the Time & Style ēdition, a collaborative furniture collection between Boffi | DePadova and Time & Style. This is the first partnership between an Italian furnishing brand and a Japanese furnishing brand that distributes Japanese products worldwide. The collaboration came about after Roberto Gavazzi, CEO of Boffi | De Padova, recognized the potential of Time & Style's Japanese cultural background and craftsmanship to be combined with Italian products to create a fresh and sophisticated complete living space.
what: Design Talks
when: 17 – 19 April 2023
design talk event schedule:
17 April 17:00-17:40 – design talk with Kengo Kuma
17 April 18:00-18:40 – design talk with Claesson Koivisto Rune
18 April 17:00-17:40 – design talk with DRILL DESIGN + Aoi Huber Kono
19 April 17:00-18:00 – Time & Style ēdition by Boffi I DePadova CEO Roberto Gavazzi
where: Via Eugenio Balzan 4, Largo Claudio Treves 2, Via San Marco 13
MASTERLY – The Dutch in Milano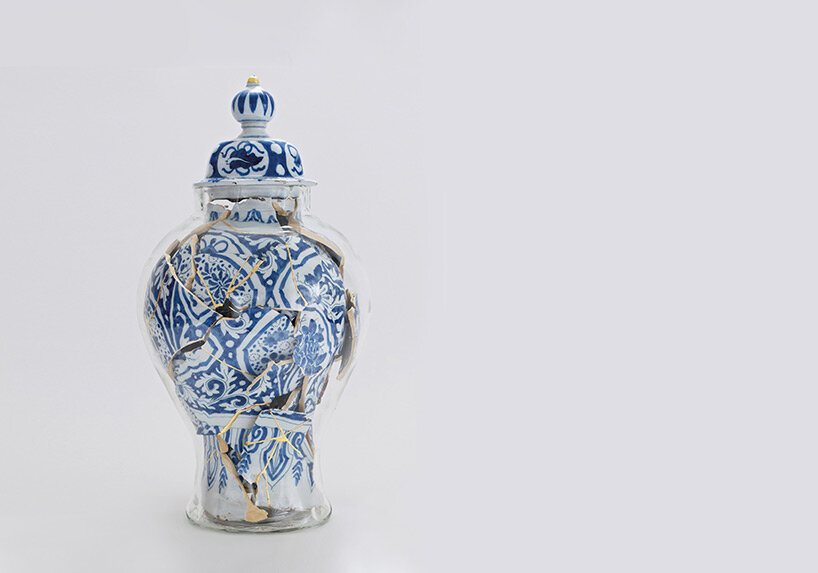 image courtesy of Masterly
To celebrate its seventh edition, Masterly – The Dutch in Milano – moves to its new location: Palazzo Giureconsulti, overlooking the Duomo. Honoring the historic architecture of the new headquarters, curator Nicole Uniquole has made a balanced selection of novel concepts, collaborations, designers, businesses, colleges, and galleries that together represent Dutch design and craftsmanship in a multisensory and synergistic symphony of presentations, ultimately bridging the past and the future.
what: Masterly – The Dutch in Milano
when: April 18-23, 2023
where: Palazzo Giureconsulti, Piazza dei Mercanti 2
FORNASETTI – The Syntax of Making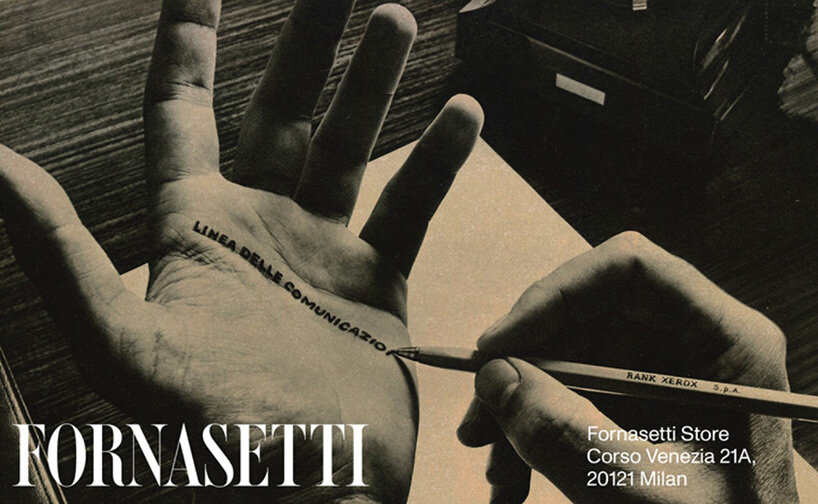 Fornasetti presents 'The Syntax of Making' exhibition, showcasing three new collections of furniture and home accessories, that respect the Atelier's heritage while taking into account the needs of modern life. The new designs are complemented by original decors from the historical archive. Visitors to the Milan Design Week can exceptionally experience a fragment of the Atelier's life by observing a live painting of the new collections.
what: The Syntax of Making
where: Fornasetti Store, Corso Venezia 21A
when: 17 – 23 April 2023
Hermés
Hermés returns to La Pelota Jai Alai to present one of the most anticipated installations of the week. In the heart of Brera, in the monumental spaces of the indoor sports center, the French luxury house presents its latest collections of furniture and home accessories. The opening hours of our installation at La Pelota are as follows: Monday the 19th to Thursday the 22nd from 10 am to 8 pm, Sunday the 23rd from 10 am to 6 pm.
when: 19 – 22 April 2023
where: La Pelota Jai Alai, Via Palermo 10
alcova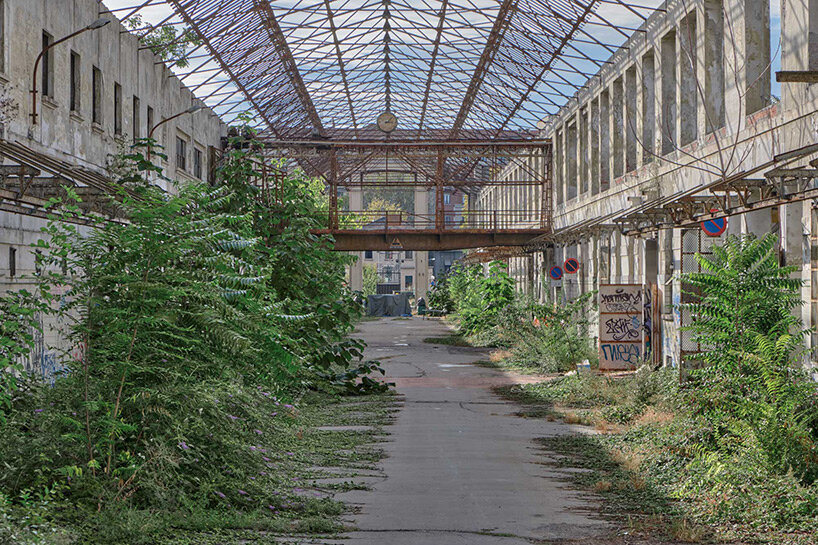 image by Federico Floriani
Alcova — the platform for independent design developed by Space Caviar and Studio Vedèt — returns for its 2023 edition with a new site: the former Porta Vittoria abattoir. Today in a state of neglect but poised for a radical and permanent transformation, the area will be once again intensely programmed for the event's duration with performances, exhibitions, talks, screenings, and installations.
what: Alcova 2023
when: 17 – 23 April 2023
where: Ex-Macello di Porta Vittoria, Viale Molise 62
5VIE Design District
From 17 to 23 April, 2023, 5VIE Design Week welcomes independent designers, curators, companies and institutions for its tenth edition. Design for Good, is intended as an invitation to look at design as a tool for creating and cultivating deep human connections, with a focus on sustainability rooted in mutual care.
what: 5VIE Design Week
when: 17 – 23 April 2023
where: 5VIE District
Porta Venezia Design District
For its 2023 edition, Porta Venezia Design District focuses on its theme 'Made to be different', presenting a series of site-specific installations built in collaboration with designers and international editors, as well as a selection of new and independent designers.
where: Porta Venezia Design District
Isola Design Festival – If nothing happens, nothing happens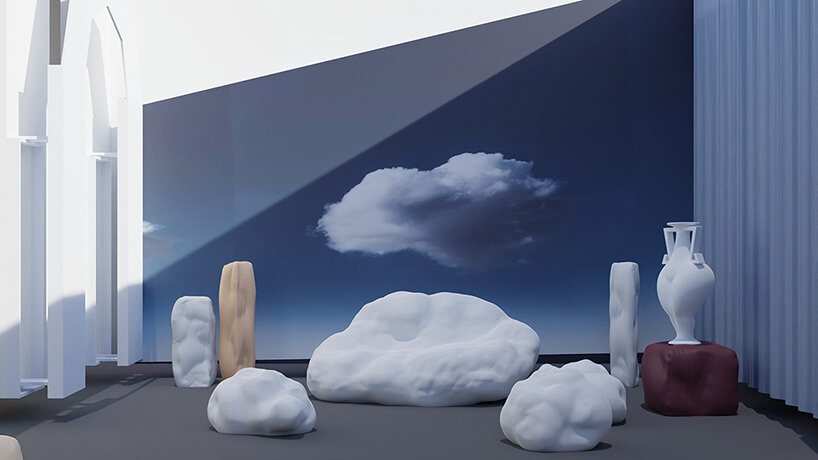 image courtesy of IAMMI Studio
The 7th edition of the Isola Design Festival, organized by the digital and physical design platform Isola, welcomes visitors during Milan Design Week, from 18 to 23 April, 2023. The festival is dedicated to the theme 'Nothing Happens if Nothing Happens', inviting designers and studios to start a chain reaction of change to rethink, regenerate and rehabilitate, to come together and go beyond sustainable design thinking. Running in parallel to the main Isola event, the 4th edition of Isola Design Gallery at Via Pastrengo 14 celebrates unique and handmade products. Thanks to the collaboration between Isola's creative director Elif Resitoglu and Stephanie Blanchard, co-founder of IAMMI Studio, the landscape space inspired by the metaphysics and work of Giorgio De Chirico will transport visitors to a gypsum landscape.
what: Isola Design Festival
when: 18 -23 April 2023
where: Isola Design District, Via Pastrengo 14
Ode to the Nature by Scarlet Splendour
ISSEY MIYAKE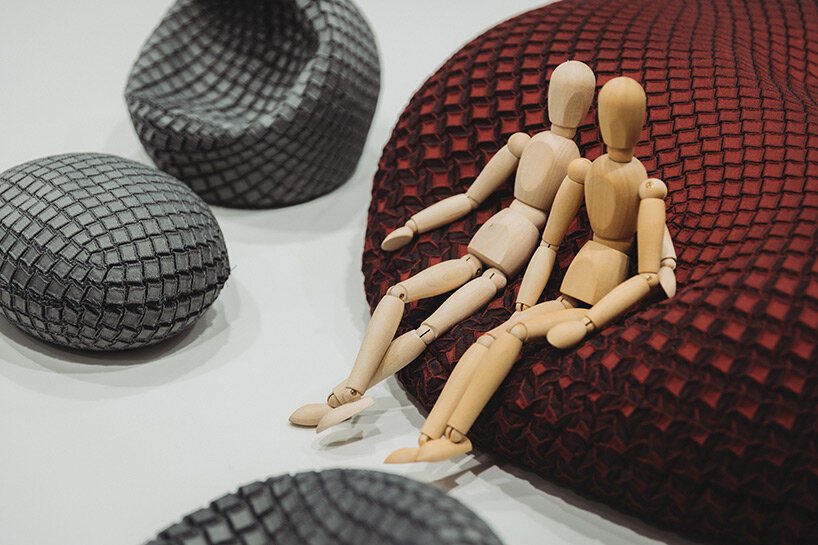 image courtesy of Issey Miyake
The Milan flagship store ISSEY MIYAKE / MILAN hosts a special exhibition 'THINKING DESIGN, MAKING DESIGN: TYPE -V Nature Architects' during Milan Design Week from Tuesday, April 18 to Sunday, April 23, 2023. The exhibition, conceived as the latest collaborative project of A- POC ABLE ISSEY MIYAKE, explores the role of design in terms of structure, materials and manufacturing and how they are integrated into a single manufacturing process. It is a project that explores the new possibilities of a piece of fabric by exhibiting a prototype that combines Nature Architects' latest design solutions and A- POC ABLE ISSEY MIYAKE 's manufacturing system.
what: THINKING DESIGN, MAKING DESIGN: TYPE-V Nature Architects
when: April 18 – 23, 2023
where: ISSEY MIYAKE flagship store, Via Bagutta 12
FENDI Casa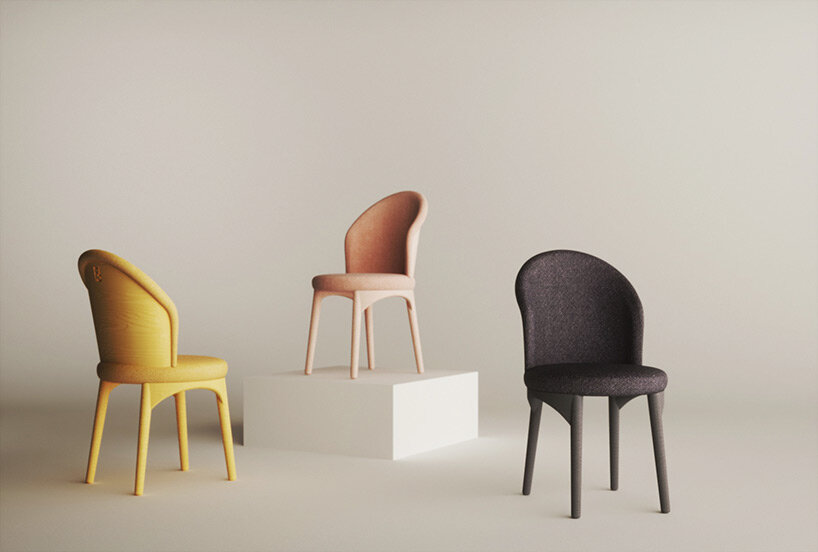 image courtesy of Christina Celestino
During the Milan Design Week 2023, FENDI Casa unveils its new collection, including the Blown modular sofa by Controvento and the Ottavia chair by Christina Celestino.
when: 18 – 23 April 2023
where: FENDI Casa, Piazza della Scala
ALESSI – ARS METALLICA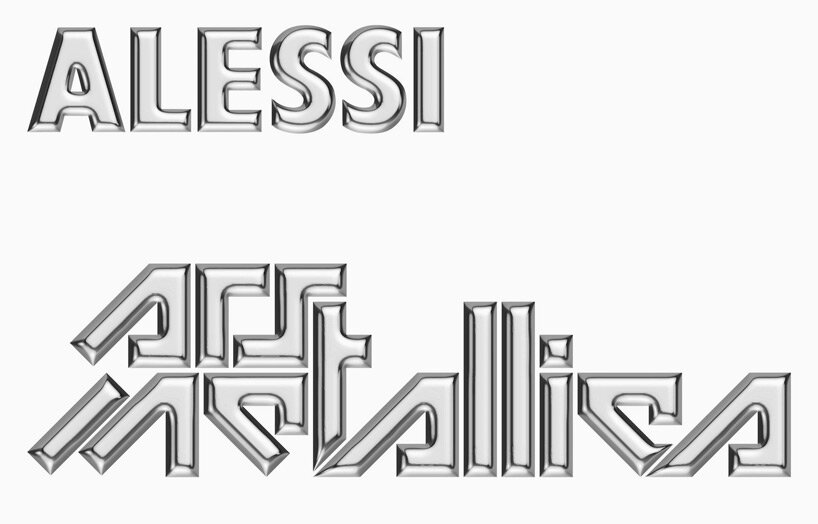 image courtesy of Alessi
From 19 to 23 April, 2023, Alessi presents the 'Ars Metallica' exhibition at the Palazzo Borromeo d'Adda.
what: Ars Metallica
where: Palazzo Borromeo d'Adda, Via Alessandro Manzoni 41
when: 19 – 23 April 2023
AUGUSTO BETTI I artista + designer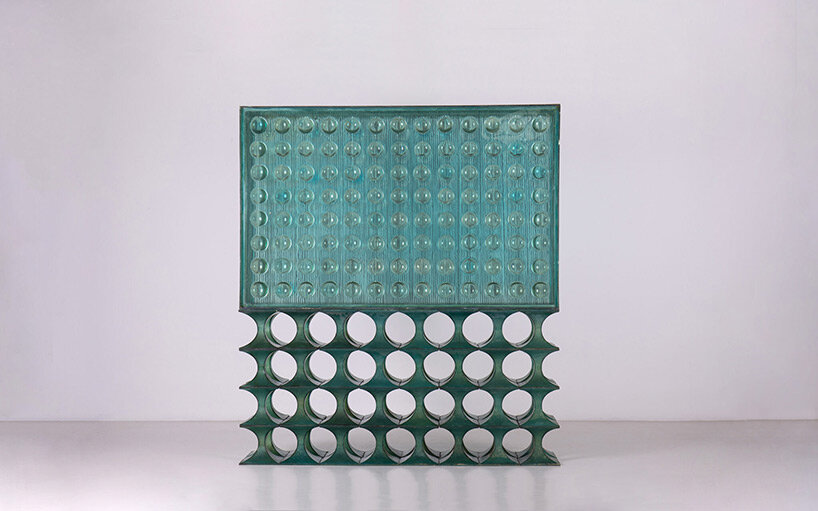 image courtesy of Paradisoterrestre
On the occasion of Milan Design Week 2023, Paradisoterrestre, in collaboration with the Sozzani Foundation, presents the exhibition 'AUGUSTO BETTI artista + designer,' curated by Gherardo Tonelli. The retrospective is dedicated to one of the least known and most surprising personalities of the 20th century, highlighting his work alongside design pieces now featured in the Paradisoterrestre catalog
what: AUGUSTO BETTI artista + designer
when: 18 – 23 April 2023
where: Fondazione Sozzani, Corso Como 10
Milan Triennale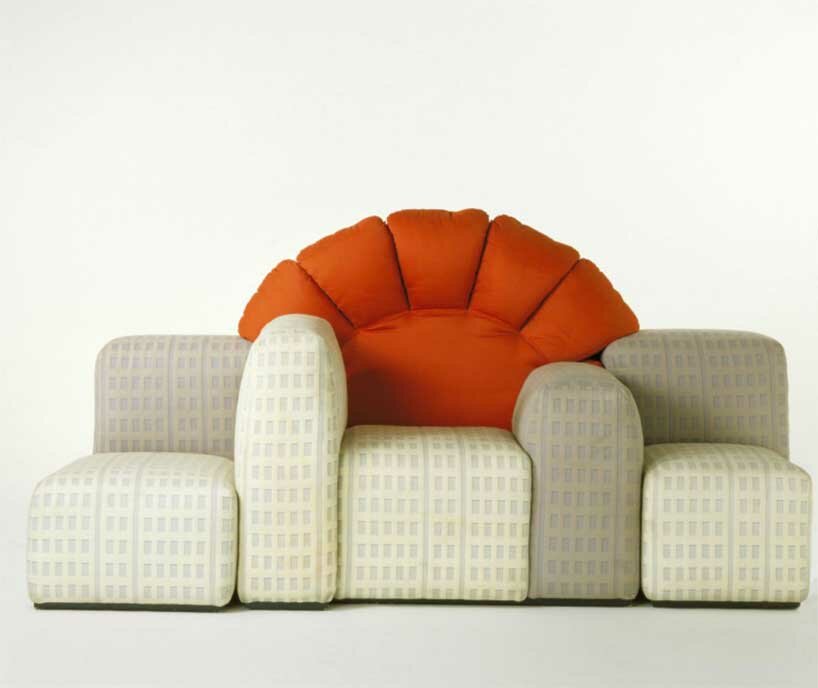 image courtesy of Milan Triennale
The Milan Triennale celebrates its centennial with a series of exhibitions and events throughout the year. During Design Week, the Museo del Design Italiano reopens to the public on April 15, 2023, taking visitors on a journey from the institution's founding in 1923 to the present day, focusing on iconic Italian design. The museum is once again located in the Curva – with over 1,300 sqm on the first floor of the Palazzo dell'Arte – and will display more than 300 selected objects from the 1,600 items in its collection, as well as other loans from important private collections.
when: opening on April 15, 2023
where: Milan Triennale, Viale Emilio Alemagna 6
A Creative's Journey by BMW Design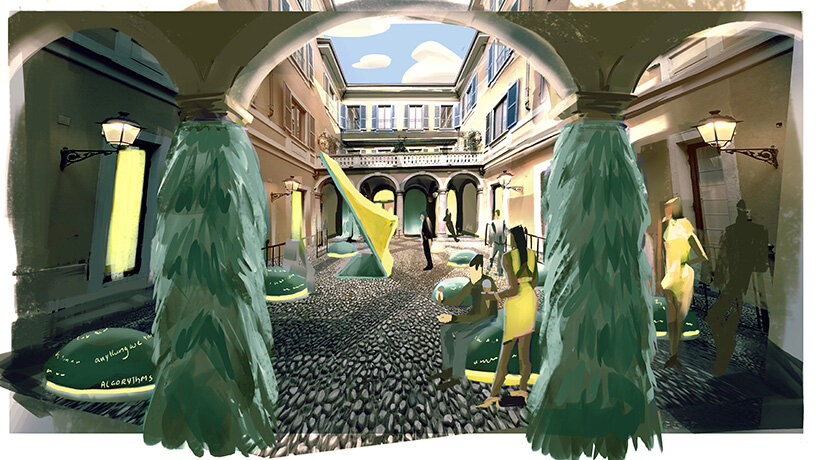 image courtesy of BMW Design
BMW designers find Milan's annual Salone del Mobile one of the most important sources of inspiration, networking and exchange of ideas with creatives from other disciplines, such as fashion, art and architecture. For 2023, the design department invites visitors to accompany a journey towards creative solutions for the mobility of tomorrow with the 'A Creative's Journey' installation. The exhibition shares insights into the creative process of BMW Design as they look forward to the future.
what: A Creative's Journey by BMW Design
when: April 18 – 23 2023
where: Via Monte Napoleone 12
Casa blond by blond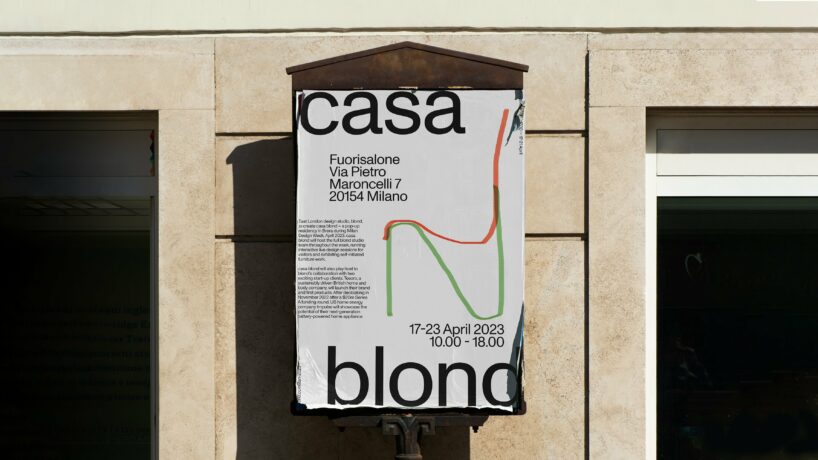 image courtesy of blond
blond, the strategically-focused and sustainably-led consultancy, welcomes visitors to casa blond during Milan Design Week 2023. The pop-up residency in Brera diverges from the trend of AI generation in favor of provoking real, emotional creative curiosities and collaboration in a home-like setting. Obscure yet inspiring objects fill cabinet displays, a Marcel Breuer-inspired plywood chair, and new innovations of domestic appliances and accessories furnish the spazios.
what: Casa blond
when: April 18-23, 2023
where: Via Pietro Maroncelli 7, 20154, 20121, Milano
ikea and telekom electronic beats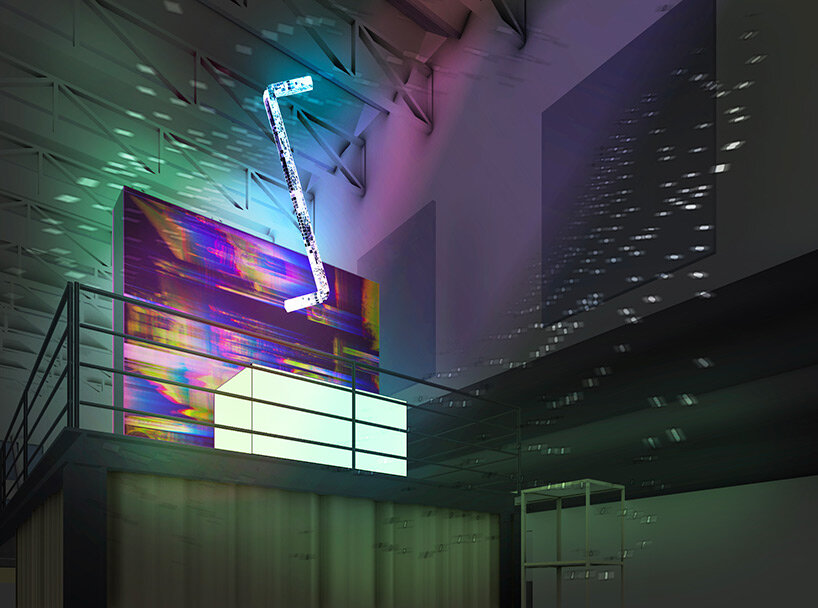 image courtesy of IKEA and TELECOM ELECTRONIC BEATS
Under the theme 'Assembling the Future Together,' IKEA returns to the world's largest annual design event to celebrate 80 years of innovation. IKEA's exhibition offers visitors an experience that engages all five senses, with an immersive journey of discovery through 80 years of innovations and solutions that have shaped the future of living, and provides a glimpse of what home life could look like in the years to come.
In addition, between April 18 and 20, IKEA and TELEKOM ELECTRONIC BEATS will turn the exhibition at Padiglione Visconti for Salone del Mobile, into a pop-up club. A three-night program by emerging and established DJs and music selectors to empower soul-lifting storytelling and embrace club culture. Admission is free, and everyone is welcome.
what: Assembling the Future Together
when: 17 – 23 April 2023
where: Padiglione Visconti on Via Tortona
DESIGN PRIDE by SELETTI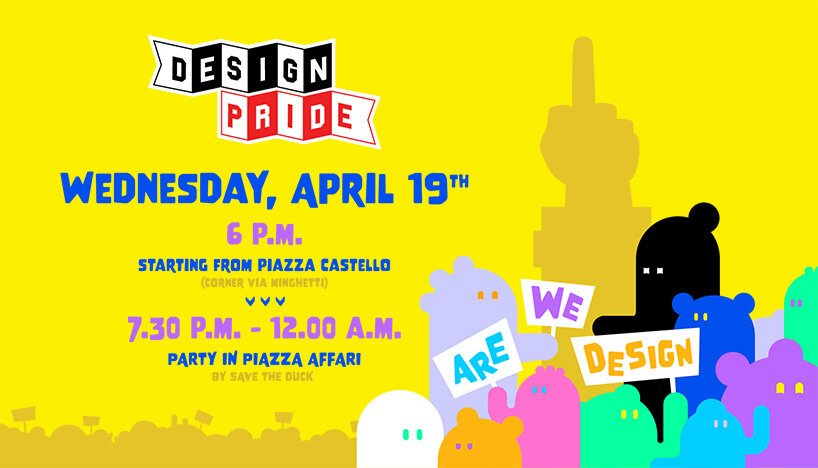 image courtesy of Seletti
On April 19, 2023, Design Pride by Seletti will parade through the streets of Milan once again. Starting from Piazza Castello, the parade is open to anyone who wants to celebrate 'the freedom to experiment, to develop their ideas even when they seem crazy to most – an ode to diversity, independence of thought, creativity,' according to Stefano Seletti, art director of the design firm.
what: Design Pride
when: 19 April 2023
where: starting from Piazza Castello
Ode to the Nature by Scarlet Splendour at 10 Corso Como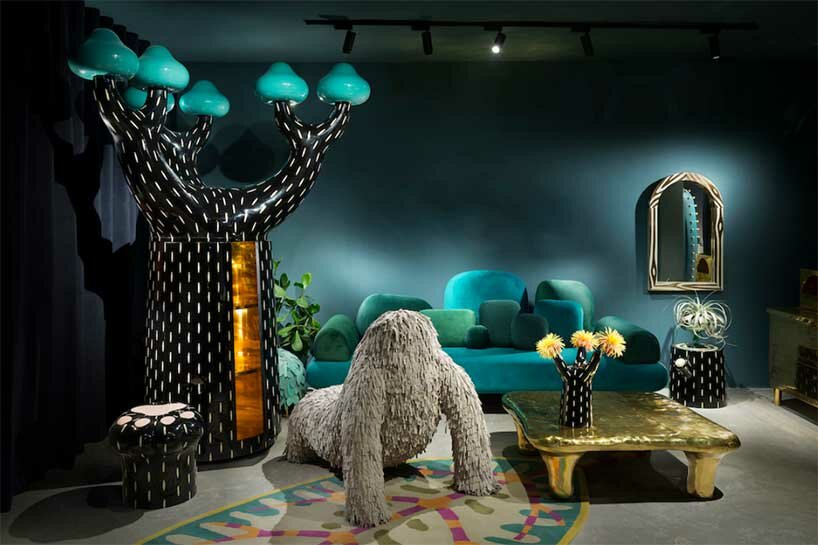 image courtesy of 10 Corso Como
Scarlet Splendor and 10 Corso Como present an unusual connection with nature through luxurious and functional furniture that can transform any home into an exotic forest. Eccentric shapes, sophisticated colors and brass finishes create a sense of play and cheerfulness in the sense of 'elegant irony'. 'Forest' by Marcantonio, 'Wolk' by Richard Hutten, 'Animagic' by Matteo Cibic and 'I Danzatori' by Elena Salmistraro emphasize the refined use of non-obvious design, eclectic styles, intricate silhouettes and precise functionality to create a combination of classic and contemporary that transcends geographical and temporal boundaries, like a true Indian fairy tale.
what: Ode to the Nature
when: 18 – 23 April 2023
where: 10 Corso Como
GUFRAM IN BLACK AND WHITE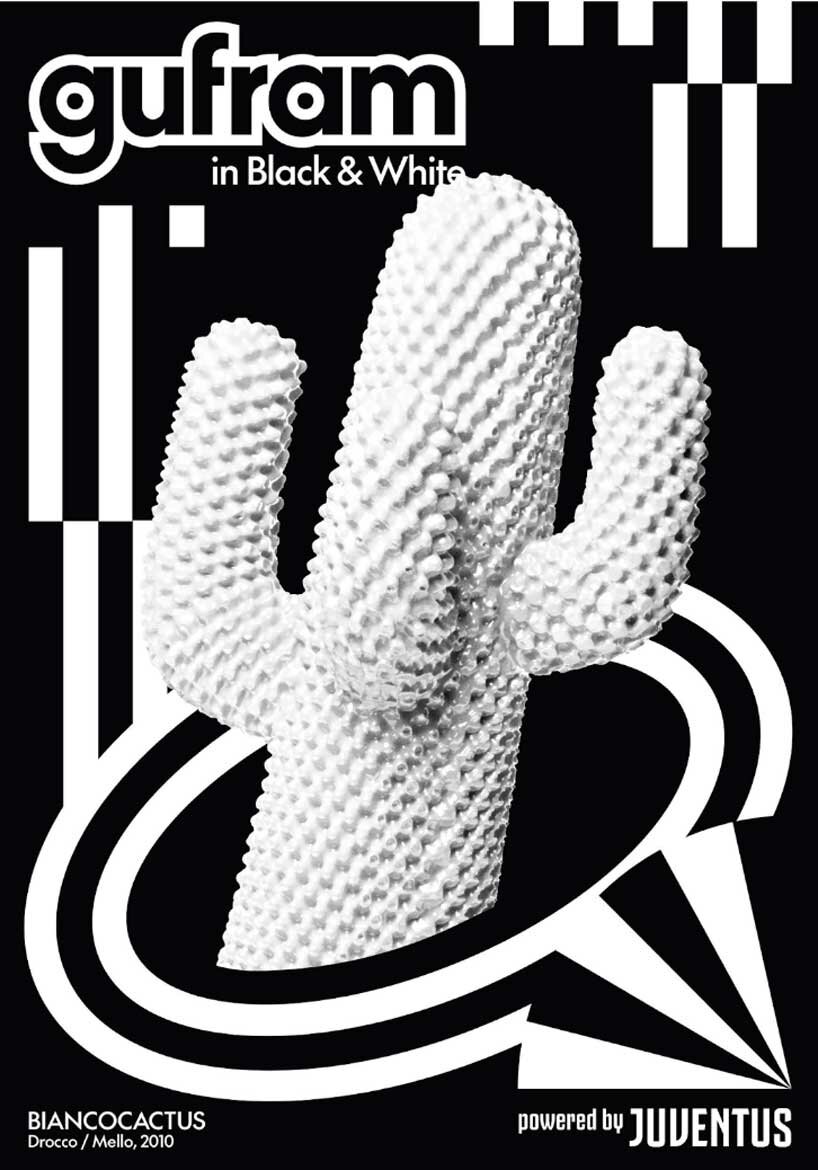 image courtesy of Gufram
On the occasion of Milan Design Week, Italian design brand Gufram presents a series of iconic pieces in black and white at Capsule Plaza in Spazio Maiocchi and at the Juventus Store. The five shop windows of the Store in Corso Matteotti will host Gufram's most renowned icons, in a graphic setup made of overlaps, cuts, separations and interactive games.
what: GUFRAM IN BLACK AND WHITE
when: 17 – 23 April 2023
where: Capsule Plaza, Spazio Maiocchi, Via Achille Maiocchi 7
REFORMING FUTURE – Design Variations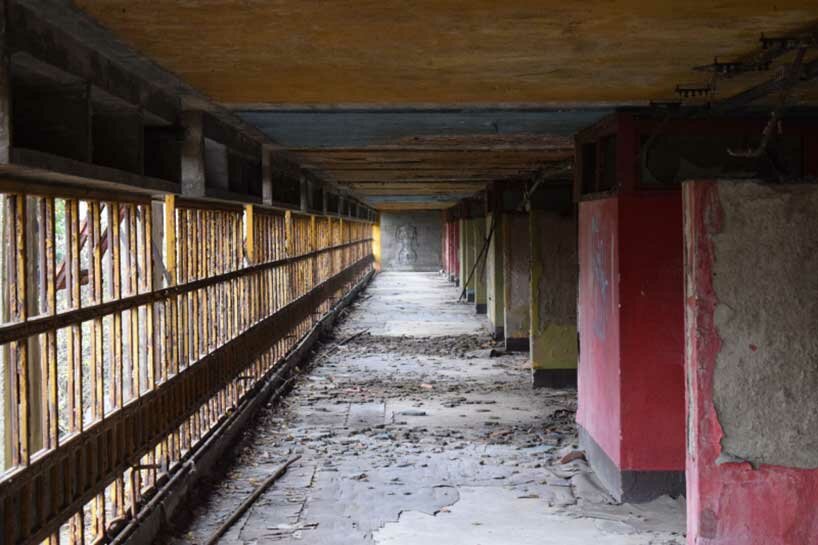 Moscapartners presents the 'Reforming Future' exhibition in a new location for Design Variations 2023. Open from 20th to 22nd April, the exhibition will take place in a rare example of Italian brutalist architecture, the Istituto Marchiondi Spagliardi, open for the first time to the audience of Milan Design Week. This venue is being used thanks to a project by Milan City Council intended to reuse abandoned public spaces.
what: Reforming Future
when: 20 – 22 April 2023
where: Istituto Marchiondi Spagliardi, Via Noale 1
CARWAN GALLERY PRESENTS 'OMG-GMO' BY ROBERT STADLER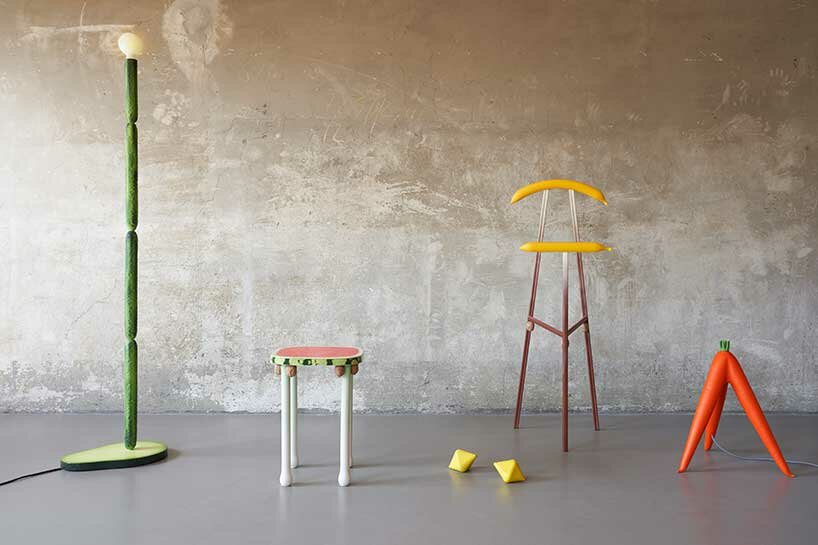 image by Filippo Telaro
From April 13-23, 2023, Carwan Gallery brings OMG-GMO, an exclusive commissioned by Robert Stadler, to Fuorisalone 2023. For this special project, the designer wittily comments on the relationship between humans and the environment through the genetic manipulation of fruits and vegetables, that are transformed into functional ceramic objects. The project is the result of a collaboration between the designer, BITOSSI Ceramiche and Carwan Gallery and will be displayed in an exhibition curated by Nicolas Bellavance-Lecompte, presented in partnership with Association 5VIE, as part of their official selection of curated projects for Milan Design Week.
what: OMG-GMO
when: 13 – 23 April 2023
where: Carwan Gallery Pop-up, Via Zenale 3

POIKILOS by OBJECTS OF COMMON INTEREST at FAR 2023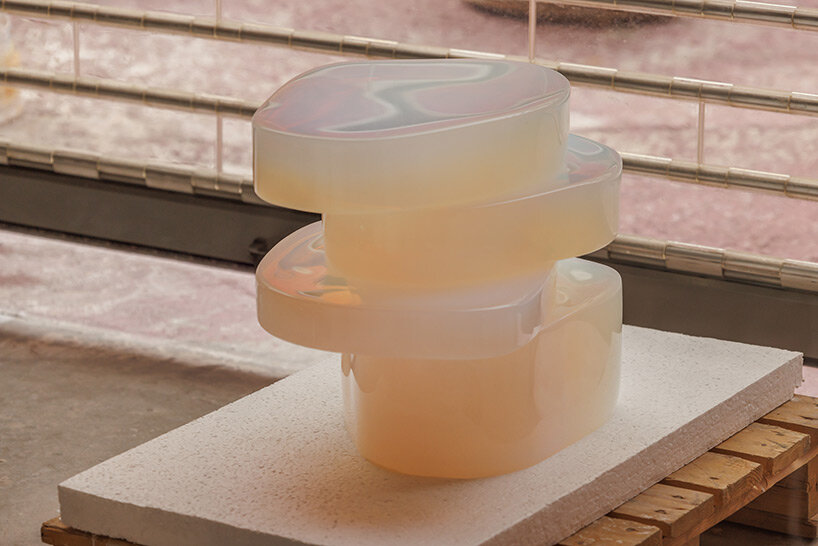 image by Ana Santl x Mia Dorier for C41
During the upcoming Milan Design Week, the program FAR curated by Studio Vedèt will occupy the main atrium of the Nilufar Depot with the exhibition POIKILOS by Objects of Common Interest. The exhibition explores new forms of iridescence through a collection of objects created ad hoc by the Greek duo. The pieces owe their iridescent movement to a 'recipe' developed by the master of resin Ovidiu Colea and secretly passed on to Objects of Common Interest. In its liquid form, this opalescent potion, which has unexpected visual effects, is poured into molds and, after solidifying, is treated by hand in the same way one treats natural materials such as iron, marble, or wood.
what: POIKILOS
where: Nilufar Depot, Viale Lancetti 34
when: 17 – 23 April 2023
BOCCI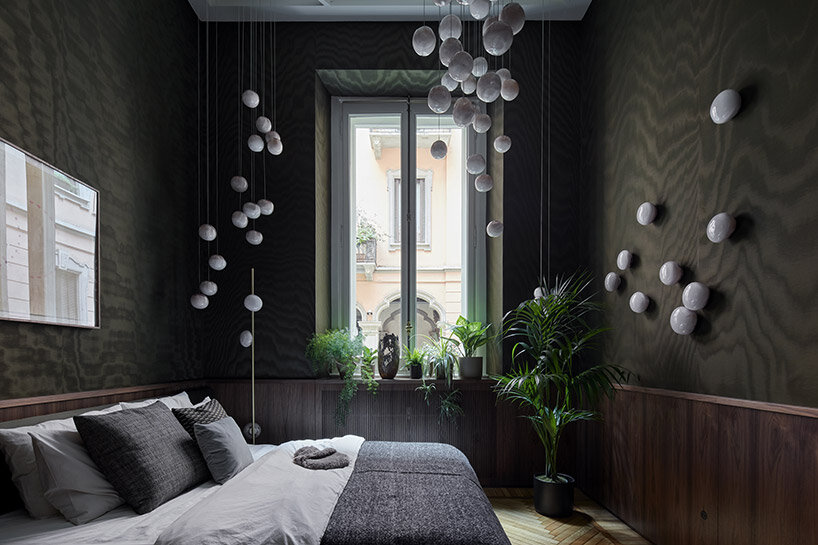 image courtesy Calico Wallpaper © Cortili Photo
This year, Vancouver and Berlin-based design and research firm Bocci opens a permanent Italian base in the heart of Milan. The apartment invites guests to experience Bocci designs in an intimate living environment while highlighting the Canadian studio's presence in Europe.
what: Bocci Milan apartment
where: Via Lorenzo Mascheroni 2
David Chipperfield for Kashtall
At Fuorisalone 2023, David Chipperfield Architects invites visitors to their atelier to discover Tegel rug family, designed by David Chipperfield for Kasthall. The exhibition is open in Via Vigevano 8, from April 18th to 23rd, from 10 am to 6 pm.
when: 18 – 23 April 2023
where: Via Vigevano 8
DESIGN FOR COMMUNITIES – Giacomo Moor for LiveinSlums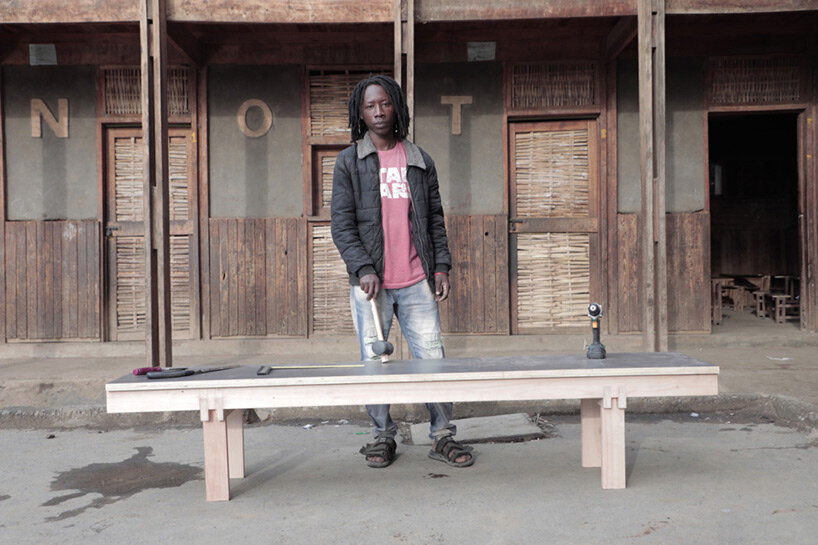 image courtesy of LiveInSlums
Curated by Davide Fabio Colaci in collaboration with Federica Sala, the Design for Communities exhibition is the result of a collaboration between LiveinSlums, an NGO working in highly critical urban areas, and designer Giacomo Moor. LiveinSlums has been doing valuable urban regeneration work for years, providing children and youth in Mathare, one of Nairobi's largest slums, with the resources they need to reintegrate into school and work. Giacomo Moor traveled to Mathare to make prototypes of the furniture for the dining room and dormitory of Why Not Academy, a local school for about 300 children. Each of these pieces of furniture is a symbol of an active and flexible community life, capable of creating places of encounter and exchange: the true engine of the Mathare slum. A community presented through an installation conceived by Davide Fabio Colaci with the works of photographers Francesco Giusti, Filippo Romano, Alessandro Treves and Mattia Zoppellaro.
what: Design for Communities
when: 18 – 23 April 2023
where: Assab One, Via Privata Assab 1
Vieni a Vedere by Gaetano Pesce for Bottega Veneta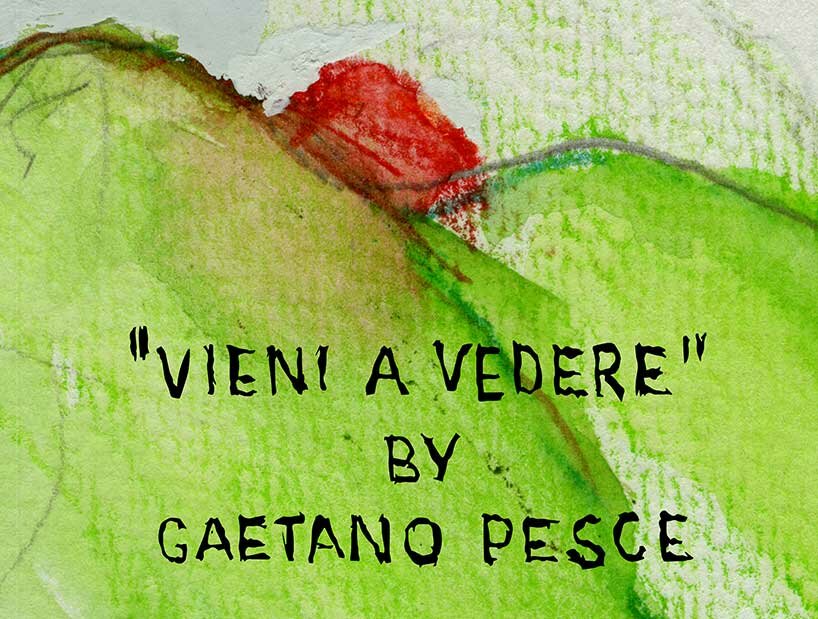 image courtesy of Bottega Veneta
Bottega Veneta continues its relationship with Gaetano Pesce, with a site-specific immersive exhibition to be displayed during Miart and Salone del Mobile. Once again given creative carte blanche, and this time situated in the brand's Montenapoleone store, Pesce creates a unique installation called 'Vieni a Vedere' (Come and See). Spanning the store, the immersive installation utilizes resin and fabric to create a unique experience that the visitor travels through. It frames an edition of handbags realized by Bottega Veneta for the artist according to his designs. The installation is now open and you can book your visit on the Bottega Veneta website, here.
what: Vieni a Vedere
when: 15 – 22 April 2023
where: Via Monte Napoleone 27/A
louis vuitton – Objets Nomades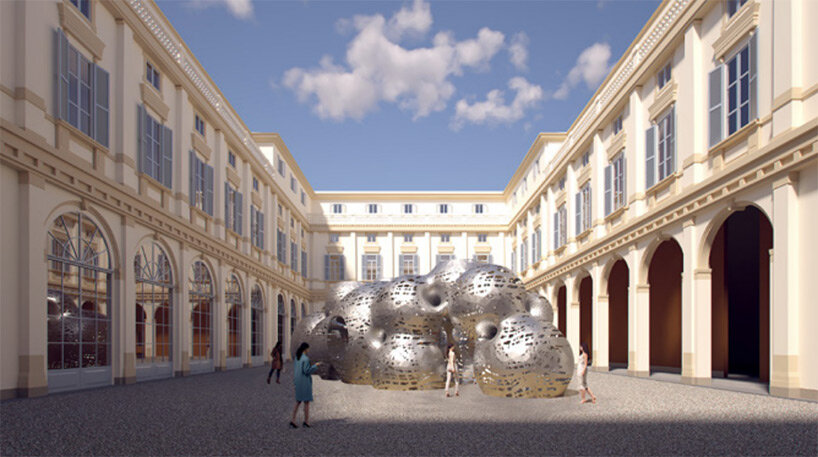 image courtesy of Louis Vuitton
During Milan Design Week 2023, Louis Vuitton unveils 11 new Objets Nomades by Atelier Oï, Raw Edges, Atelier Biagetti, Marcel Wanders, Zanellato/Bortotto, Studio Louis Vuitton, and Campana. The Maison will also present Marc Newson's Cabinet of Curiosities, an elegant reworking of the classic Louis Vuitton chest by the internationally renowned Australian designer. This year, Louis Vuitton's annual exhibition of nomadic architecture will feature a pavilion by French architect Marc Fornes, an intriguing structure that will host a series of special events.
what: Objets Nomades
when: 19 – 23 April 2023
where: Palazzo Serbelloni, Corso Venezia 16
Italo Rota and Carlo Ratti Associati – Orto Botanico di Brera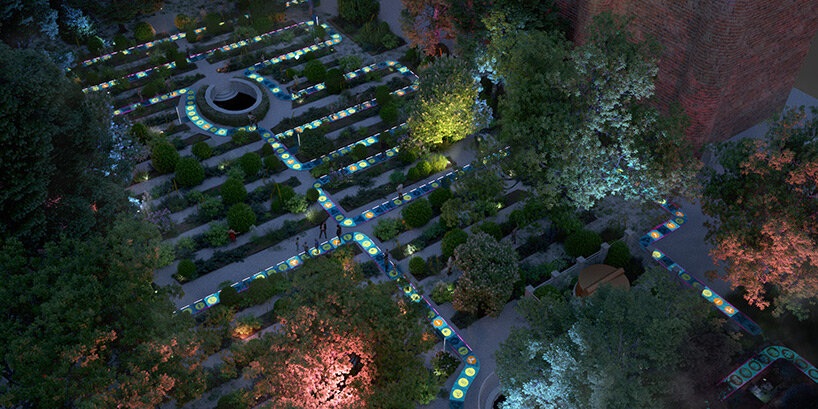 From 17 to 26 April, Orto Botanico di Brera welcomes 'Walk the Talk', an installation developed by Italo Rota and CRA-Carlo Ratti Associati for Eni as part of the Design Week's INTERNI Re-evolution exhibition.
what: Walk the Talk
when: 17 – 26 April 2023
where: Orto Botanico di Brera
glo™ for art – Agostino Iacurci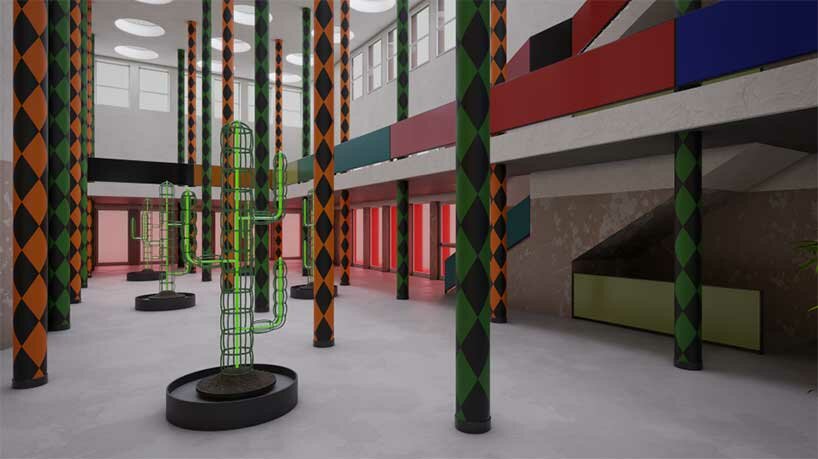 During Milan Design Week, glo™ and Agostino Iacurci's scenographic installation will wrap around the imposing tower in Largo Treves, close to demolition, inviting the viewer to look at how our planet could become and to build a better tomorrow altogether. Titled 'Dry Days, Tropical Nights', the installation marks one of the stages of the glo™ for art itinerant art project, created to support art and spread culture, favoring the democratization of the artistic experience.
what: Dry Days, Tropical Nights
when: 17 – 23 April 2023
where: Palazzo Treves, Largo Treves, 1, Milano
Maison Matisse – Esquisses by Faye Toogood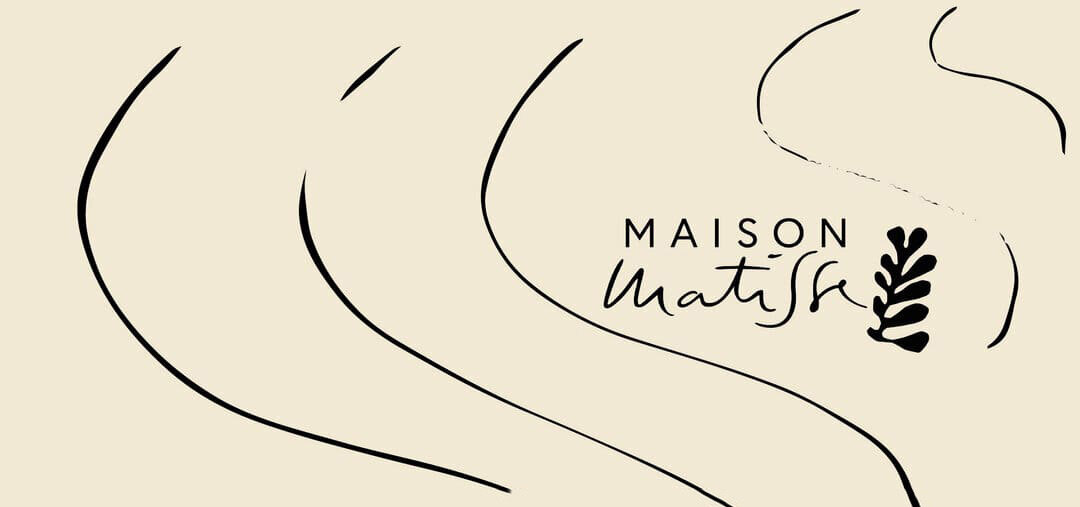 Maison Matisse participates in Milan Design Week 2023, with the 'Esquisses' collection signed by Faye Toogood. ​​​​​​​​​​​​​​​​The series will be on view at Studio Nerino, Via Santa Marta, 21, from the 17th to the 23rd of April, displaying reinterpretations of Matisse's Chinese black ink on white paper from the book Dessins: Thèmes et Variations (1943), among​ a selection of pieces designed by Marta Bakowski, Cristina Celestino, Studio Guillaume Delvigne and Formafantasma.
what: Esquisses
where: Studio Nerino, Via Santa Marta 21
when: 17 – 23 April 2023
ECAL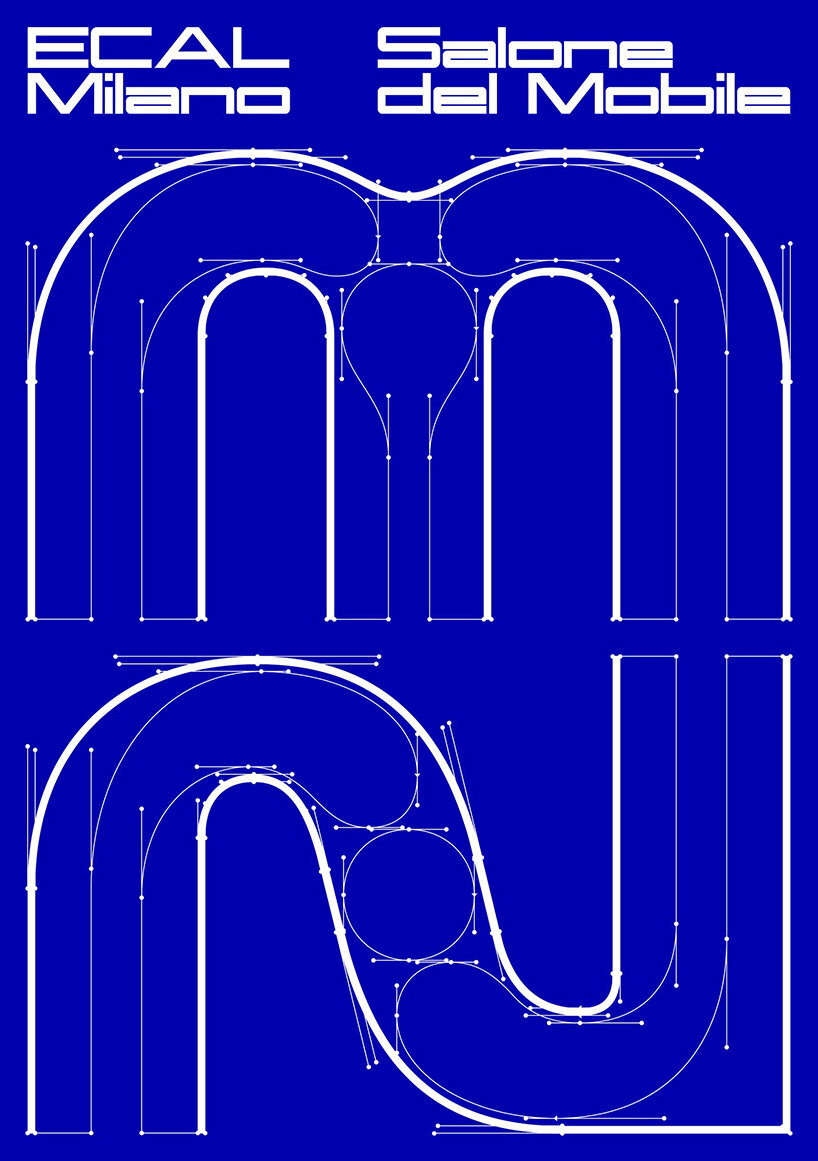 From April 17 to 23, on the occasion of the Milan Furniture Fair, ECAL presents 4 exhibitions. U.F.O.G.O. realized by Master Product Design students, JUNKYARD DIVING realized by Bachelor Industrial Design students, THE SALONE PICK-UP, the diploma project continuation of Silvio Rebholz ECAL Master Product Design graduate, and ECAL FOR SCHÄTTI also realized by Master Product Design students.
what: U.F.O.G.O.
when: 18 – 23 April 2023
where: Spazio Orso 16, Via dell'Orso 16
what: JUNKYARD DIVING
when: 17 – 23 April 2023
where: House of Switzerland, Casa degli Artisti – Corso Garibaldi 89A
what: THE SALONE PICK-UP
when: 18 – 23 April 2023
where: Salone Satellite, Pavilion 13-15, booth A14, Milan Fairgrounds
what: ECAL FOR SCHÄTTI
when: 18 – 23 April 2023
where: ASSAB ONE, Via Assab 1
TEATRO ALBERS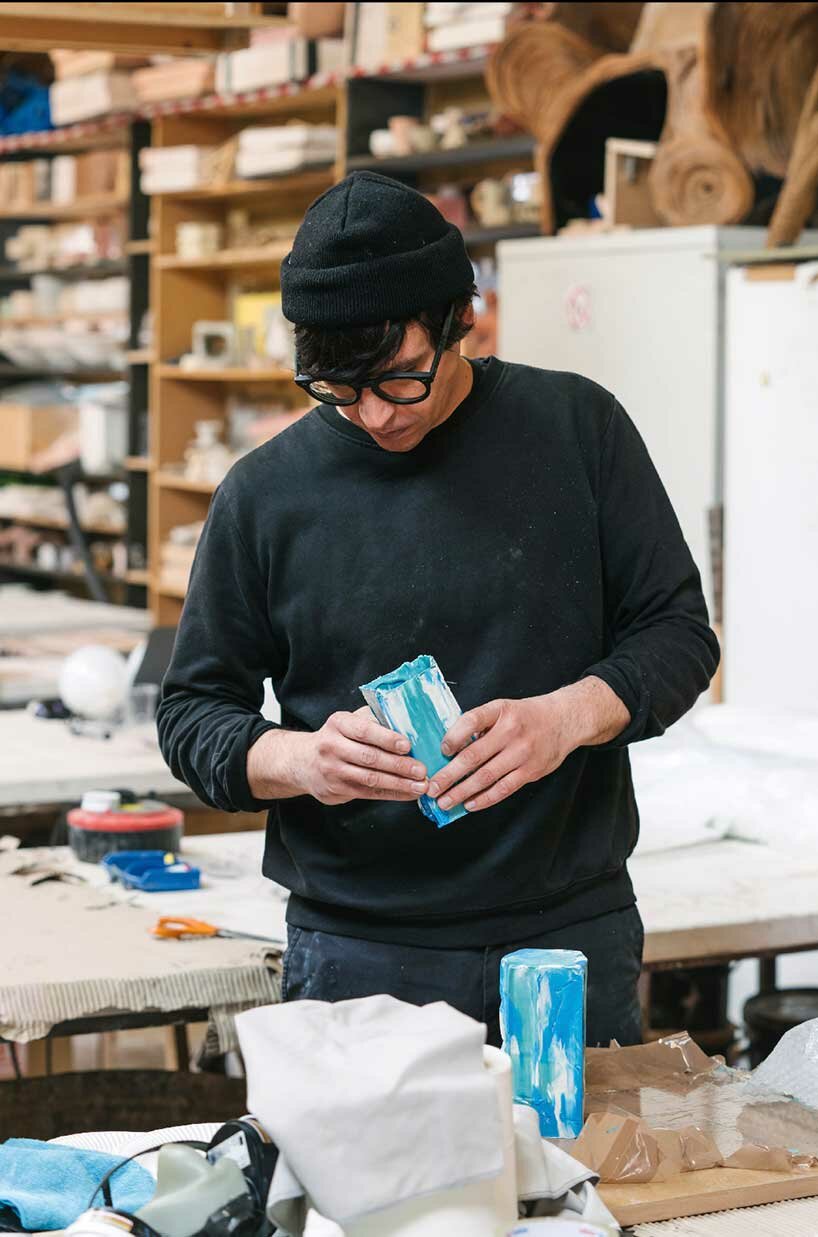 image courtesy of the Josef&Anni Albers Foundation
On the occasion of Milan Design Week 2023, the Josef&Anni Albers Foundation and AMO – a new platform by Ambra Medda and Veronica Sommaruga – present TEATRO ALBERS, a celebration of contemporary handmade design. The exhibition includes pieces by designer Marco Campardo, master weaver Laura de Cesare and large-scale woven room dividers, inspired by Anni Albers' works, produced by Clerici Tessuto.
what: TEATRO ALBERS
when: 17 – 20 April 2023
where: Teatro Istituto Marcelline Tommaseo, Via Francesco Petrarca ang. Piazza Tommaseo
2023 SUPERDESIGN SHOW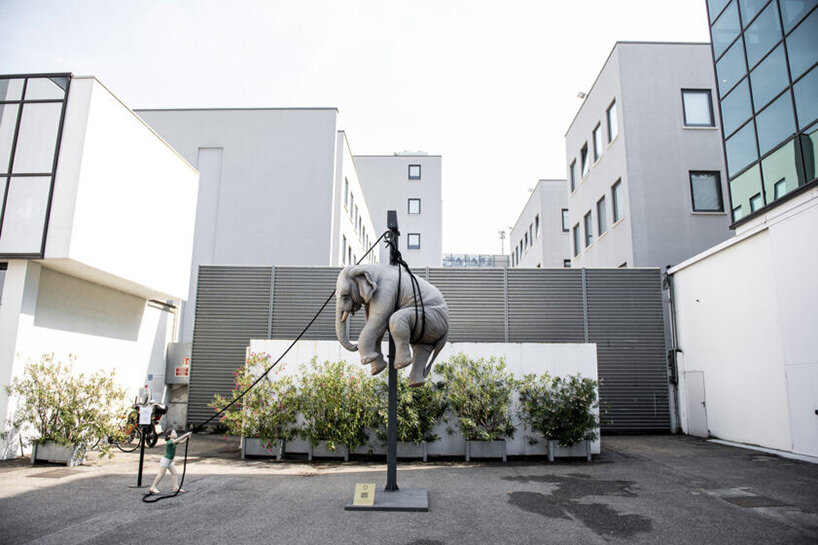 image courtesy of SUPERDESIGN SHOW
The 2023 edition of SUPERDESIGN SHOW, the annual event organized by Superstudio as part of Milan Design Week, presents a series of installations centered around the theme 'INSPIRATION INNOVATION IMAGINATION'. The exhibition focuses on research and addresses concepts such as freedom of choice, contamination between classic and avant-garde, industry and craft, tradition and future, with the awareness that everything has now been done, that the whole world participates in the development of the habitat that surrounds us, that rules and boundaries have been broken.
what: 2023 SUPERDESIGN SHOW
when: 18 – 23 April, 2023
where: FLA Atelier, via Tortona 27
PRADA FRAMES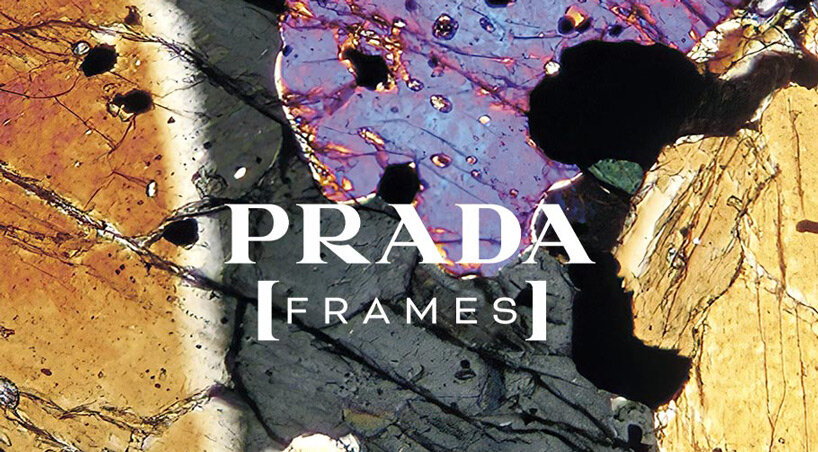 For the 2023 edition of Milan Design Week, Formafantasma has been invited by Prada to curate and spotlight the Prada Frames project once again. This year, the symposium focuses on the theme of 'Materials in Flux', and explores the concept of waste as matter in transformation.
what: Prada Frames – Materials in Flux
when: April 17-19, 2023
where: (location to be announced soon)
Nilufar Gallery – the Bright Side of Design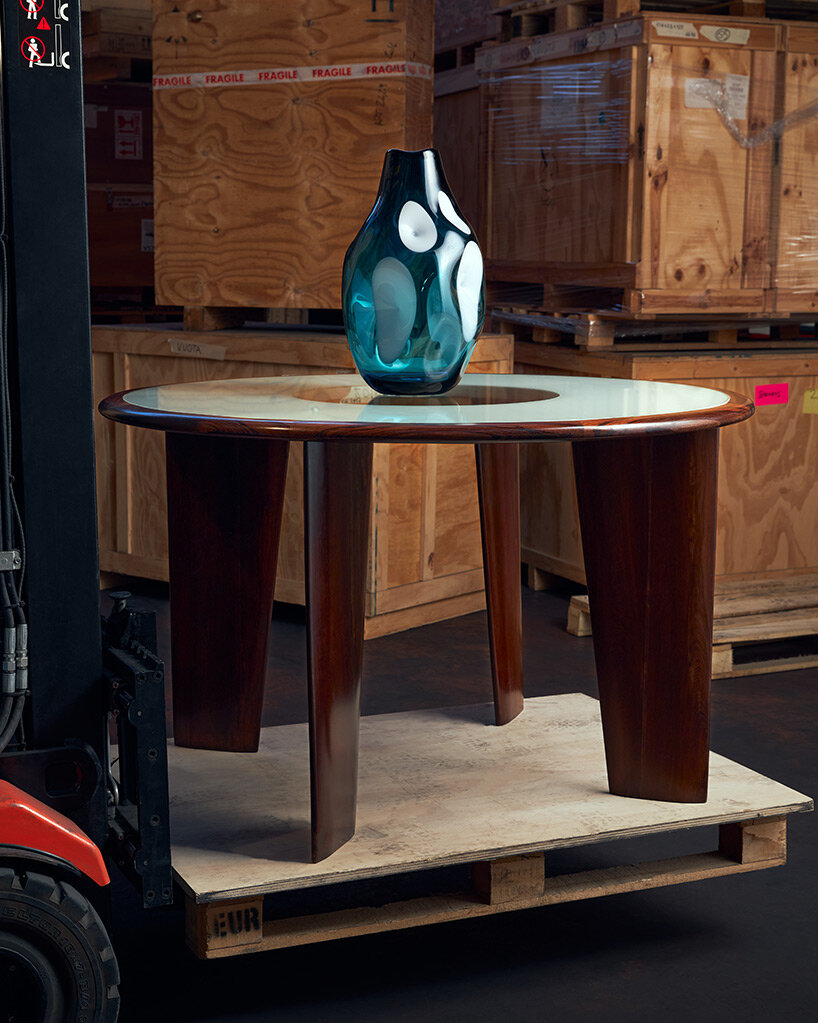 image courtesy Nilufar Gallery and Ph. Ambra Crociani
Nilufar Gallery returns to Milan Design Week 2023 with 'The Bright Side of Design,' an exhibition that unfolds in the spaces of Nilufar Depot and Nilufar Gallery Via della Spiga. Nina Yashar, founder of Nilufar Gallery, presents her reflections and observations, highlighting parallel and congruent ways to explore the state of the art of collectible design. On display is a seamless dialogue between in-depth research into old masters and the discovery of contemporary creators.
what: The Bright Side of Design
when: April 17 – 23, 2023
where: Nilufar Depot, Viale Lancetti 34 and Nilufar Gallery, Via della Spiga 32
Ronan Bouroullec at the Kvadrat showroom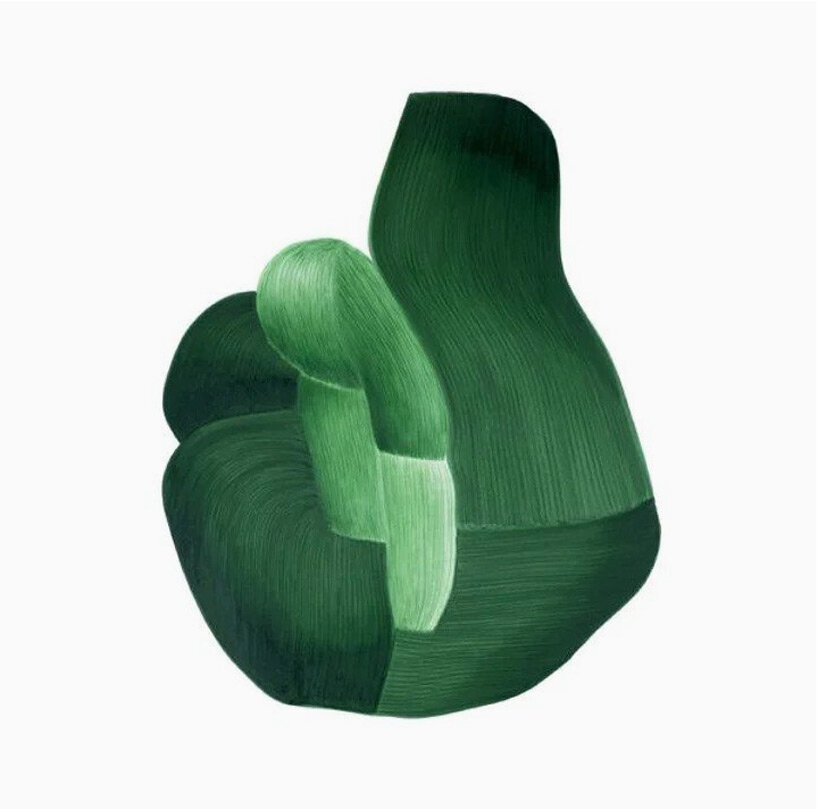 image courtesy of Kvadrat
On the occasion of the 61st edition of the Salone del Mobile, Danish textile company Kvadrat is showing a special installation by Ronan Bouroullec in its Corso Monforte showroom. The installation in the Kvadrat showroom by Ronan Bouroullec celebrates the launch of a new textile collection inspired by the designer's iconic drawings with Kvadrat. The Sahco 2023 collection will also be on display alongside the March and July carpets designed by Muller van Severen.
when: 17 – 23 April, 2023
where: Kvadrat Showroom, Corso Monforte 15
Atelier Biagetti – The King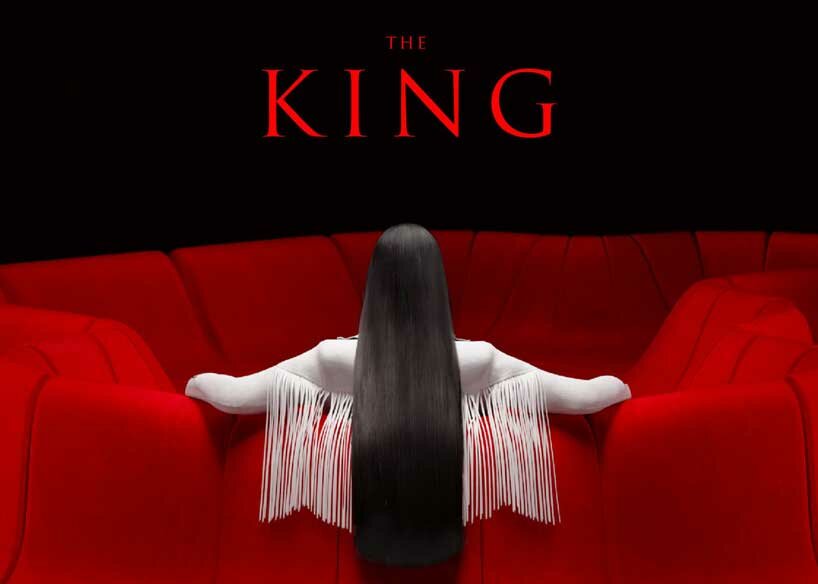 On the occasion of Milan Design Week, Laura Baldassari and Alberto Biagetti present 'The King, on view from April 17 to 23, 2023. Inspired by Elvis Presley, Atelier Biagetti's new project shows how mankind has always tried to make the impossible possible, namely to make mortals immortal. The exhibition presents a series of new legendary works: unique objects and limited edition paintings that together break down the boundaries between artistic disciplines and break the conventional limits of freedom of expression.
what: The King
when: 17 – 23 April 2023
where: Atelier Biaggeti, Piazza Arcole 4
PAOLA NAVONE AND THE SLOWDOWN PRESENT: TAKE IT OR LEAVE IT

image courtesy of Antonio Campanella
As part of Milan Design Week 2023, Italian architect and designer Paola Navone is presenting an exhibition titled 'Take It or Leave It' in collaboration with New York-based media company The Slowdown. The installation features an eclectic selection of objects collected or created over the years by Navone, who is known for her adventurous attitude, wandering eye and whimsical interior and furniture designs. Hundreds of these objects will then be given away as part of a free pre-order drawing between April 17 and 21.
what: Take It or Leave It
when: 18 – 21 April 2023
where: OTTO Studio, Via Tortona 31
Silent Hollows by Richard Yasmine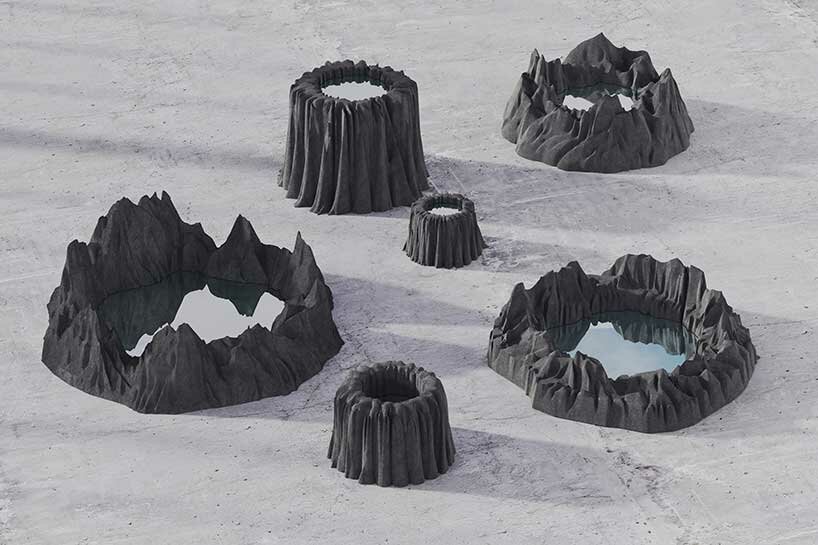 image © Cleerstudio
Interior architect and designer Richard Yasmine returns to Milan Design Week to explore a mystical path of AI-generated furniture design. Jointly with 5vie Milano, Yasmine is bringing to life 'Silent Hollows,' a 3D-printed installation tributed 'to Mother Nature, its essential qualities/innate dispositions, and its relationship with our internal pandemonium,' he writes.
what: Silent Hollows
when: 17 – 23 April 2023
where: 5vie design district
Boffi|DePadova
From 18 to 23 April, Boffi|DePadova presents 'Find Your Way of Living' project as part of this year's Milan Design Week. The project includes the introduction of Boffi's latest collection 'Novelties 2023' at its Solferino showroom, DePadova's presentation of 'Mirrored Inspirations' at its Santa Cecilia showroom as well as the opening of its new store at Via Manzoni 17.
what: Novelties 2023
when: 18 -23 April 2023
where: Boffi showroom, Via Solferino 11
what: Mirrored Inspirations
when: 18 -23 April 2023
where: DePadova Santa Cecilia, Via Santa Cecilia 7
E15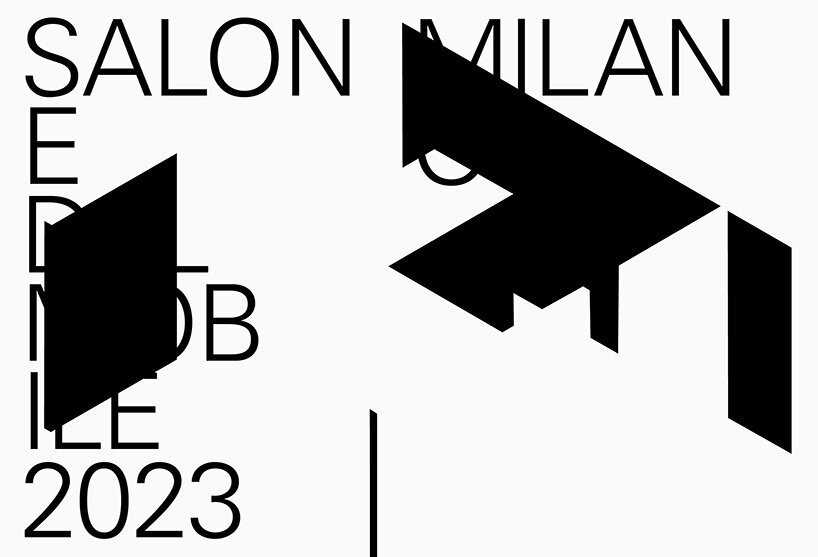 image courtesy of e15
At this year's Salone del Mobile, Frankfurt-based interior brand e15 presents its 2023 exhibition, presenting new designs by Pritzker Prize winner David Chipperfield as well as by Philipp Mainzer and Annabelle Klute, alongside a curated collection of textiles in collaboration with Dedar.
what: e15 at Salone del Mobile
when: 18 – 23 April 2023
where: Hall 4, Stand F02, Rho Fiera Milano
FAINA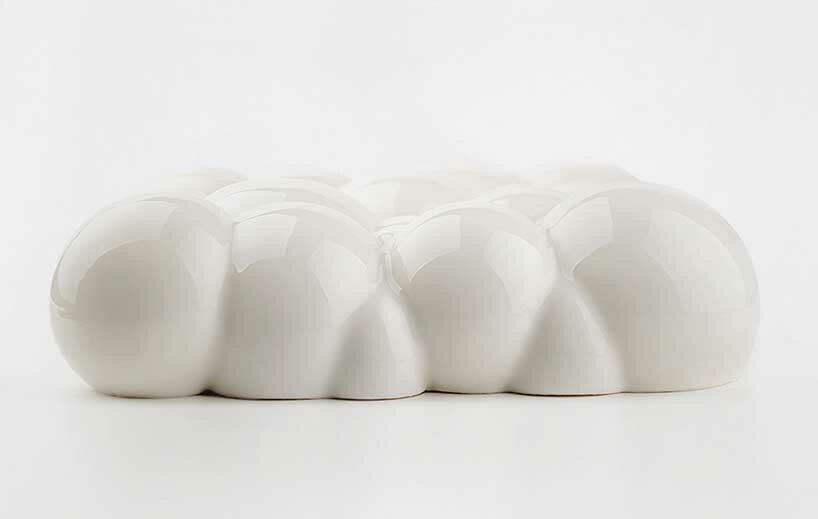 image courtesy of Dinara Kasko
On the occasion of Milan Design Week 2023, Ukrainian design studio Faina brings together five visionaries to present a space-time live installation titled 'CONTINUUM'. Each of the five creators speaks through their own medium: design, fashion, craft, culinary and perfumery. The installation CONTINUUM is located in the heart of Milan and gradually unveils different performances, putting visitors in an almost meditative state that helps them focus more on their senses. Curtains that divide the space guide guests through different experiences, bringing them to a place where the reality of craft intersects with new technologies. The partitioning makes it possible to see the differences between each visionary and travel from one world to another within the same space.
what: CONTINUUM
when: 17 – 23 April 2023
where: Via Festa del Perdono 6
Vero physical store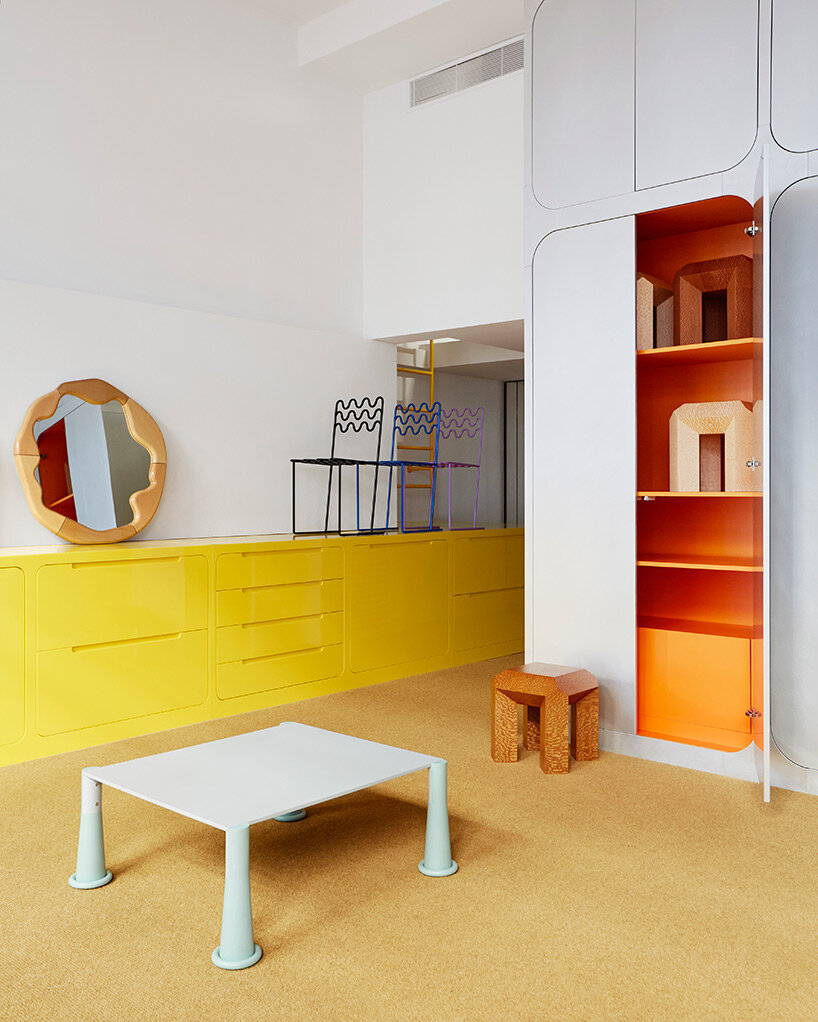 image courtesy of Vero
On February 16, 2023, furniture brand Vero opened its first store in Milan, unveiling new colors for its existing collections and a new collaboration with Swedish design collective NAVET. While Vero launched exclusively with an e-commerce sales model during Milan Design Week 2022, this year the brand is introducing a physical experience in the versatile space at Via Felice Casati 3 in Porta Venezia. The location will house the brand's permanent home, located in the center of an informal and inclusive neighborhood that is in line with Vero's intentions and values.
what: Vero physical shop
where: Via Felice Casati 3
BASE – We Will Design: We have an I.D.E.A.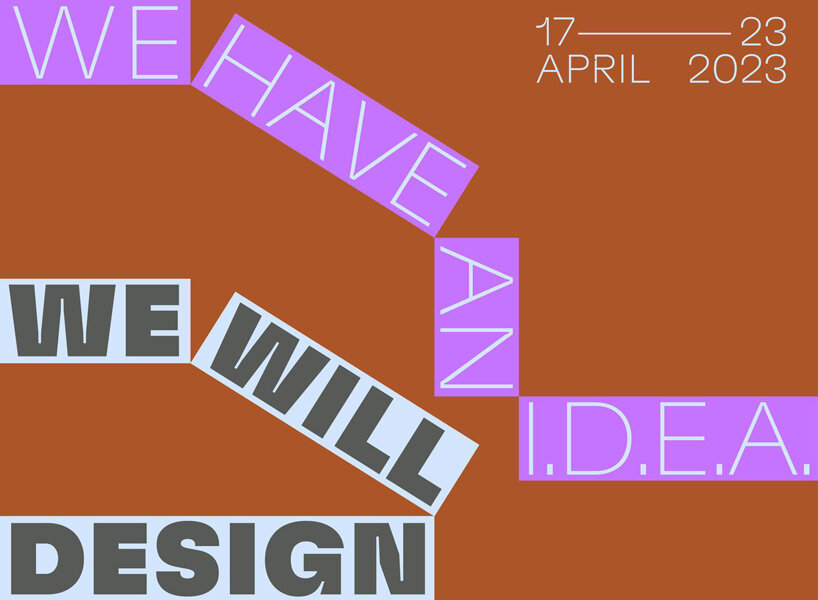 image courtesy of BASE Milano
From April 17 to 23, 2023, the experimental laboratory 'We Will Design', organized by the multifunctional cultural center BASE Milano, with designers from all over the world, schools, universities, international institutions, and young students will use design to develop new tools, practices, and experiences around the acronym I.D.E.A. – Inclusion, Diversity, Equity, and Accessibility. The goal of this edition is to initiate a reflection on the concept of democratic, pluralistic, and inclusive design that is able to include people of all ages, abilities, genders, and cultures.
what: We Will Design: We have an I.D.E.A
when: 17 – 23 April, 2023
where: BASE Milano, Via Bergognone 34
ShiFt Craft: Korea Craft & Design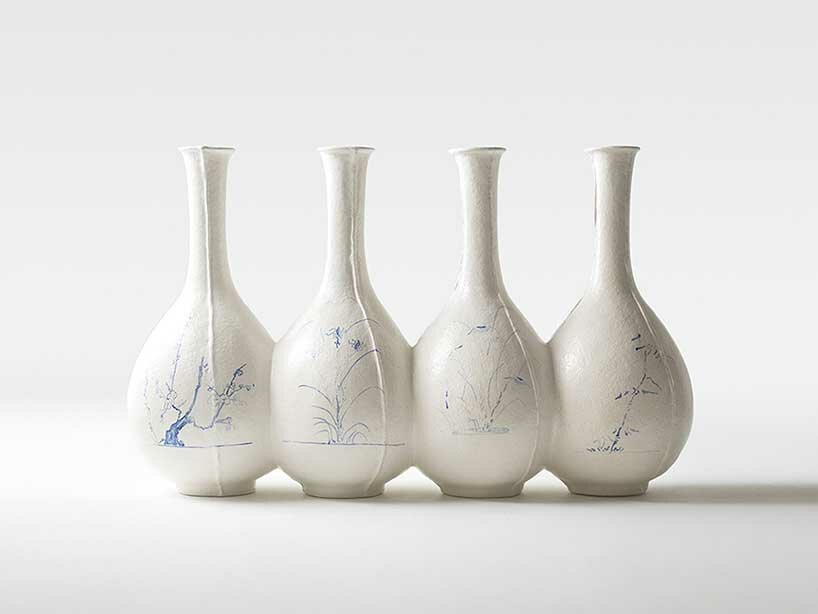 On the occasion of the Milan Design Week 2023, the Giangiacomo Feltrinelli Foundation hosts 'Shift Craft': the exhibition of Korean craftsmanship edited by the Korea Craft & Design Foundation and sponsored by the Ministry of Culture, Sport and Tourism of the Republic of Korea. From April 18 to 23, 2023, the diverse possibilities of Korean artisanal aesthetics will be explored through the works of twenty artists under the creative direction of Byungjun Koo.
what: Shift Craft
when: 18 – 23 April 2023
where: Giangiacomo Feltrinelli Foundation, Viale Pasubio 5
ALESSANDRO MENDINI – 'L'ETA' DEI METALLI' at m77 gallery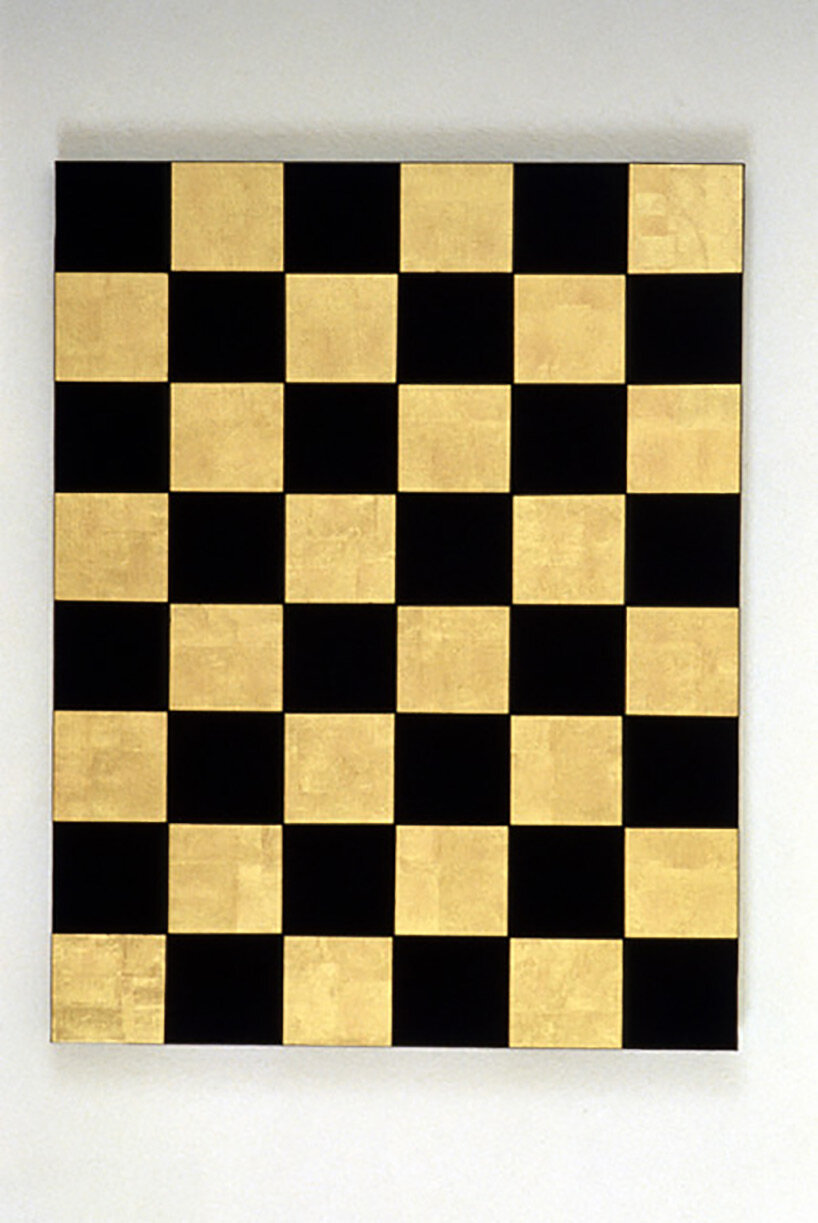 image courtesy of M77 Gallery
Running from April 4 to May 20, 2023, the 'L'ETA DEI METALLI' (The Age of Metals) exhibition is dedicated to the work of the late artist, poet, architect and designer Alessandro Mendini. Featuring over 55 works, some of which are being exhibited for the first time, the show explores the metallic soul of the artist who passed away in 2019. 'L'ETA DEI METALLI' is curated by Stephan Hamel, with Francesca Alfano Miglietti also involved in the project, and was conceived by Giuseppe Lezzi and Emanuela Baccaro of M77 Gallery in Milano. The curator's approach builds on Alessandro Mendini's interest in the use of gold, as in the tower of the Groninger Museum, and of yellow and black, as in the checkered decoration of bus stops in Hanover or in certain installations of the early 1990s, in which check patterns permeate the surfaces of walls, paintings, sculptures, and other objects.
what: L'ETA DEI METALLI
when: 4 April – May 20, 2023
where: M77 Gallery, Via Mecenate 77
forma rosa studio – Natura Oscura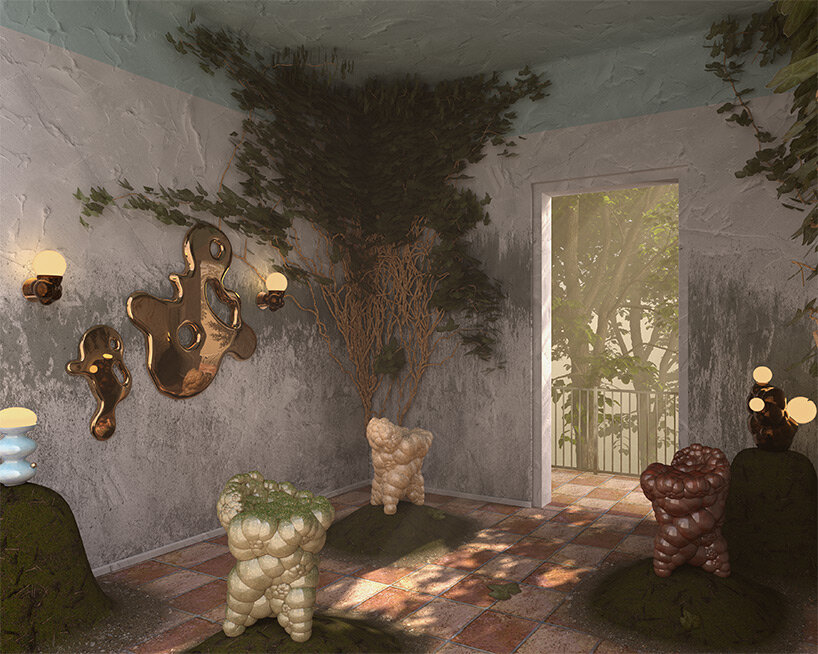 image courtesy of Forma Rosa Studio
Forma Rosa Studio presents their debut solo show 'Natura Oscura' during Milan Design Week 2023; a collection of sculptural formations inspired by natural phenomena, challenging us to reconsider our relationship with the natural world and to explore new ways of interacting with it.
what: Natura Oscura
when: 17 – 23 April 2023
where: Alcova, Ex-Macello di Porta Vittoria, Viale Molise 62
the new raw – knotty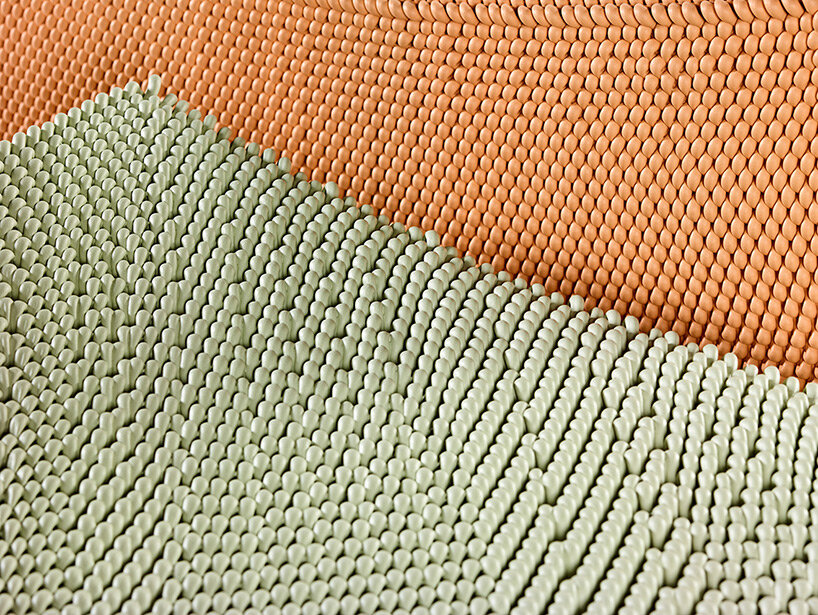 image courtesy of The New Raw
Rotterdam-based studio The New Raw presents its latest collection, 'Knotty,' a collection of playful benches with bold and tactile textures. Inspired by knitting techniques, the project treats plastic waste as a continuous thread of material that folds, twists and loops to create an intriguing tactile surface that resembles textiles and invites users to touch it.
what: Knotty
when: 17 – 23 April 2023
where: Alcova, A12, La Galleria, Viale Molise 62
HOW DARE YOU by LAUFEN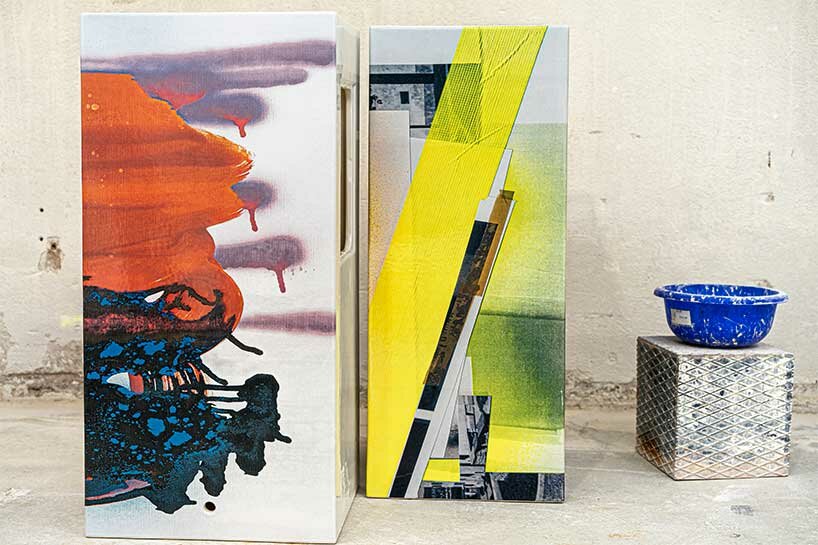 LAUFEN's search for different expressions of life and the continuous dialogue with art and design experts have led to the new Space collection which debuts with projects by NM3 designers, Swiss artist Monique Baumann and Marcel Wanders.
what: HOW DARE YOU
when: April 17 – 23 2023
where: LAUFEN space Milano, Via Manzoni 23
Carsten Nicolai for Marsèll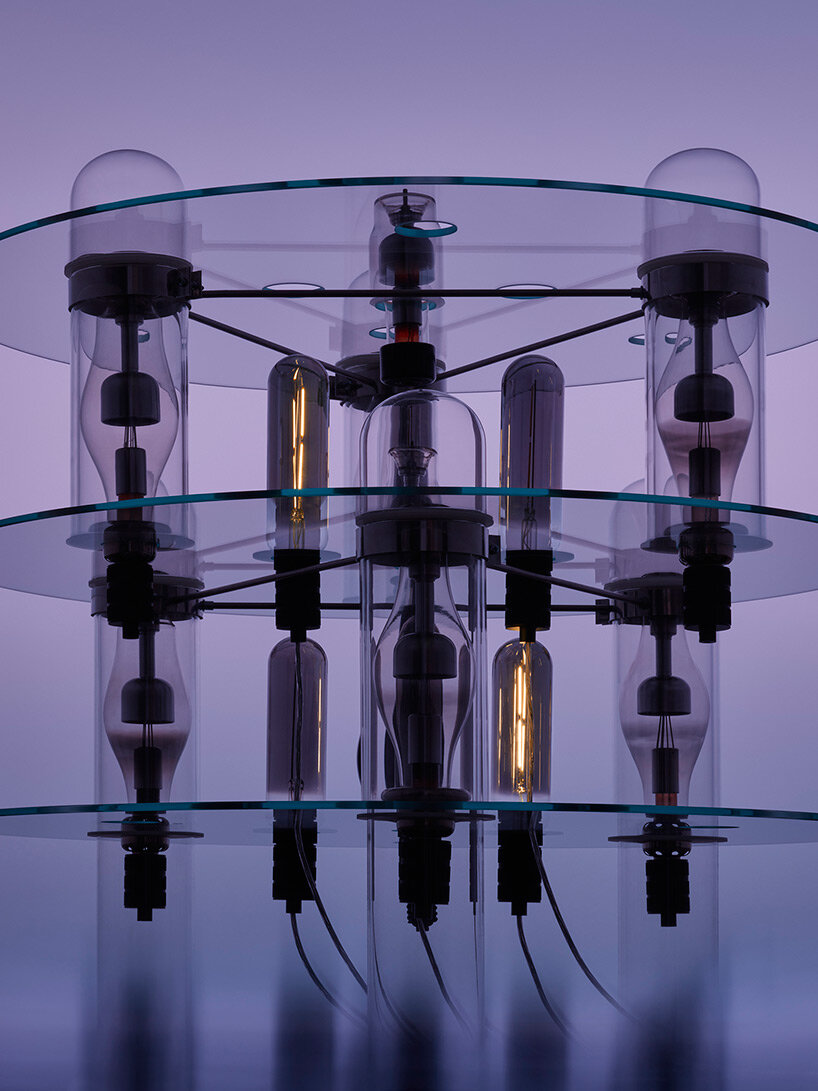 image © Mattia Balsamini
'Can any visual poetry open a gateway to the unknown? Can a dimension that otherwise remains inaccessible to our senses be made tangible? And how can a sculpture make visible what is not visible – and show various facets of the perceptible world?'. Driven by such questions, Italian brand Marsèll presents the installation Transmitter / Receiver by German artist and musician Carsten Nicolai as part of its Spring-Summer Collection 23 at Marsèll Paradise in Milan, on view from April 15, 2023.
what: Transmitter / Receiver
when: 15 April – 12 May 2023
where: Marsèll Paradise, Via Privata Rezia 2
UNIMATIC FLAGSHIP STORE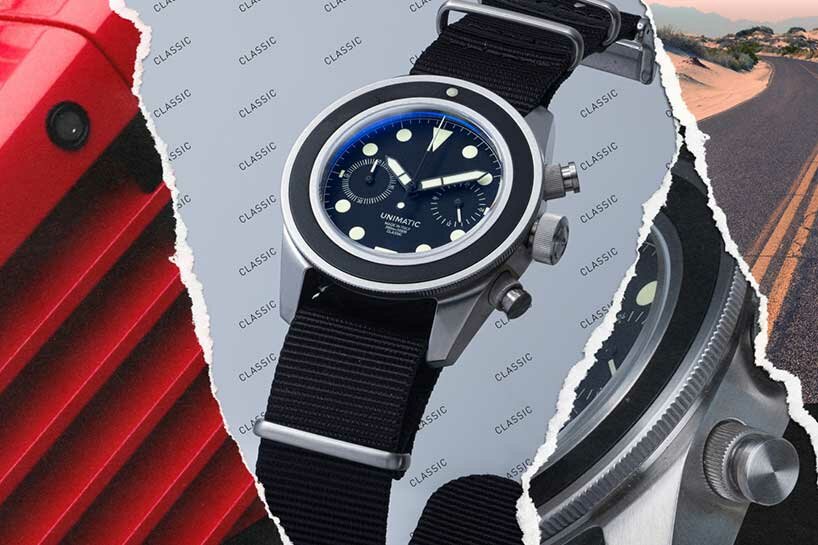 During this year's Milan Design Week, UNIMATIC Watches will open its first flagship store at Via Meravigli 18, designed by Stockholm-based architectural partnership Claesson Koivisto Rune and executed by Monitillo Marmi.
UNIMATIC is a contemporary Italian watch brand, born as a continuous watchmaking lab, which blends the passion for vintage and contemporary design.
what: UNIMATIC Flagship Store
where: Via Meravigli 18
ingo maurer is back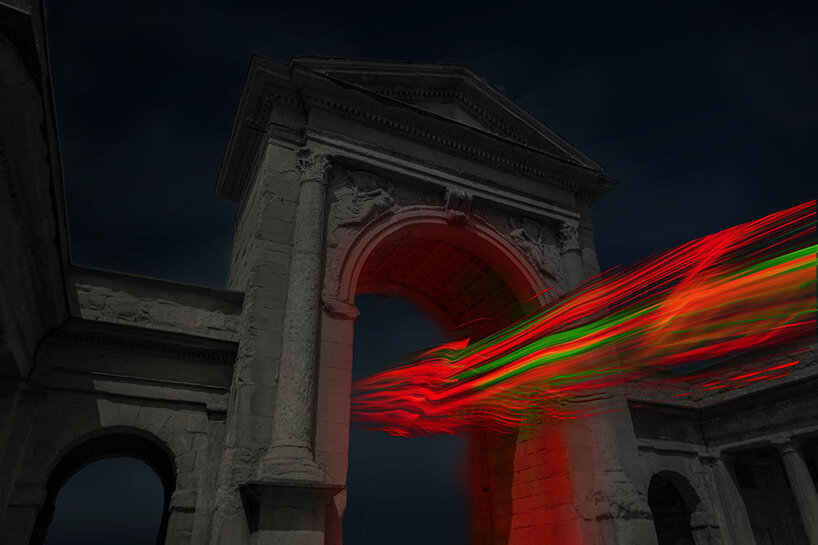 image courtesy of Ingo Maurer
Milan Design Week 2023 sees the return of Ingo Maurer, through 'Floating Reflection,' an open-air light installation at Porta Nuova in Piazzale Principessa Clotilde. Reflecting the late lighting manufacturer's unique creativity, the open-air installation marks a new beginning for the company after the death of its founder. Alongside the installation, new products are presented in the buildings of the old city gate.
what: Floating Reflection
when: 18 – 23 April 2023
where: Porta Nuova, Caselli 11-12, Piazzale Principessa Clotilde
'LIGHTS ON' BY OBJECTS OF COMMON INTEREST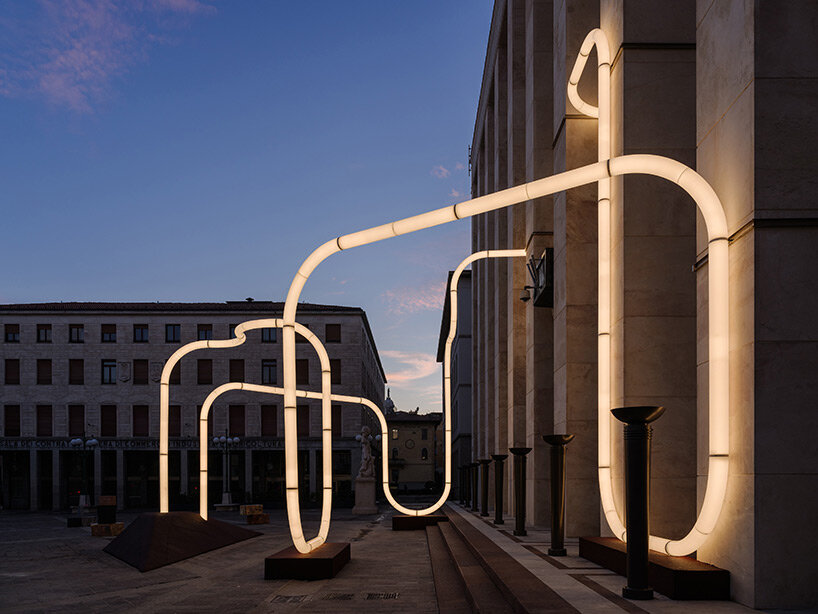 image by FTfoto
During Milan Design Week, Greece- and New York-based design studio Objects of Common Interest presents 'Lights On', a light sculpture proposal designed to breathe new life into the Piazza de la Liberta in Bergamo, Italy. Apart from the solar-powered luminous tubes, the site-specific installation uses leftover marble blocks from local quarries and reused rubber tires as seating furniture. The result sees an eye-catching landmark for the plaza, transforming the underused public space into an exciting gathering space that brings joy to passers-by.
what: Lights On
where: Piazza de la Liberta, Bergamo
Six Acts – My Circuit by Michael Anastassiades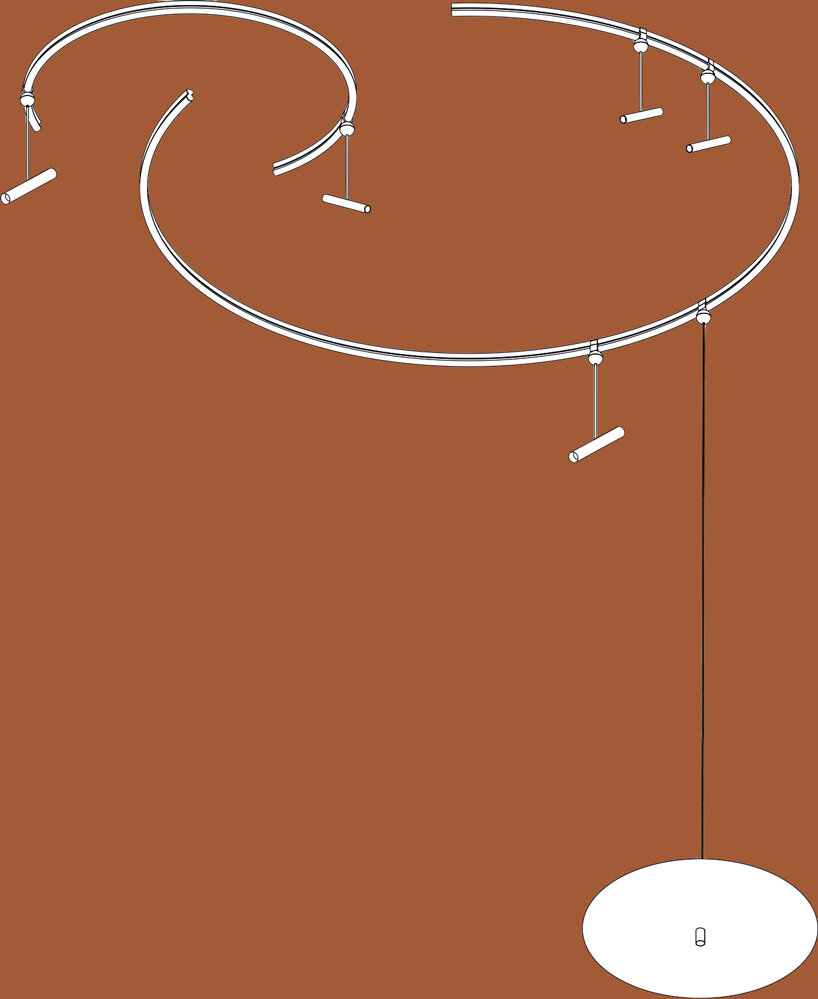 image courtesy of Flos
On the occasion of this year's Milan Design Week, lighting firm Flos presents Six Acts – My Circuit, a Site-specific installation, and six-act narrative by Michael Anastassiades, created for the launch of the revolutionary lighting system My Circuit.
what: Six Acts – My Circuit
when: 18 – 23 April 2023
where: Flos Professional Space, Corso Monforte 15
Carte Blanche a Constance Guisset Studio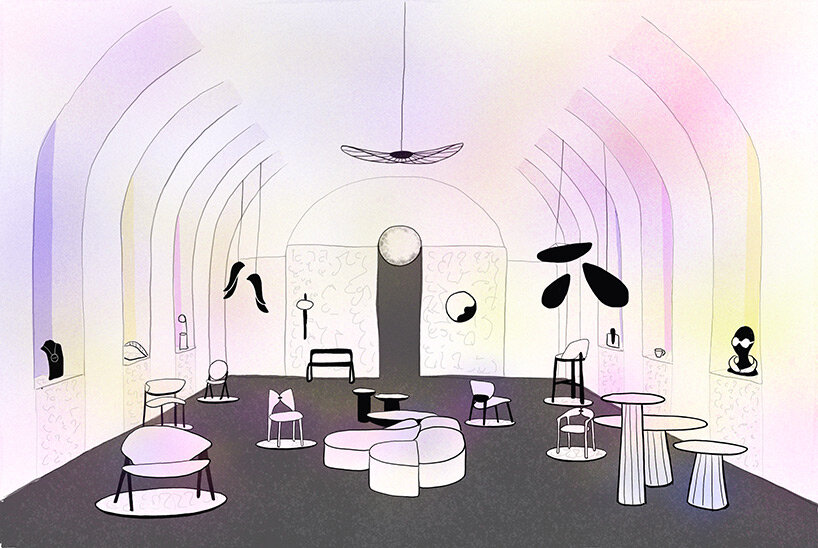 On the occasion of Milan Design Week 2023, the Institut Français Milano invites French designer Constance Guisset to present her work from April 17 to May 13, 2023. Dubbed 'Carte Blanche,' the exhibition is conceived as a colorful bubble, a break in the hustle and bustle of the Italian city, where visitors can discover the creations in a festive and ephemeral scenography. Guests will wander among the furniture in the central space before reaching an alcove plunged in darkness, where the projects of architecture, scenography and sets will be unveiled. The exhibition marks Guisset's first solo show in Milan.
what: Carte Blanche a Constance Guisset Studio
when: 18 April – 23 May 2023
where: Institut Français Milano, Palazzo delle Stelline, Corso Magenta 63
BAGATTI VALSECCHI MUSEUM – PALAZZO DELLE MERAVIGLIE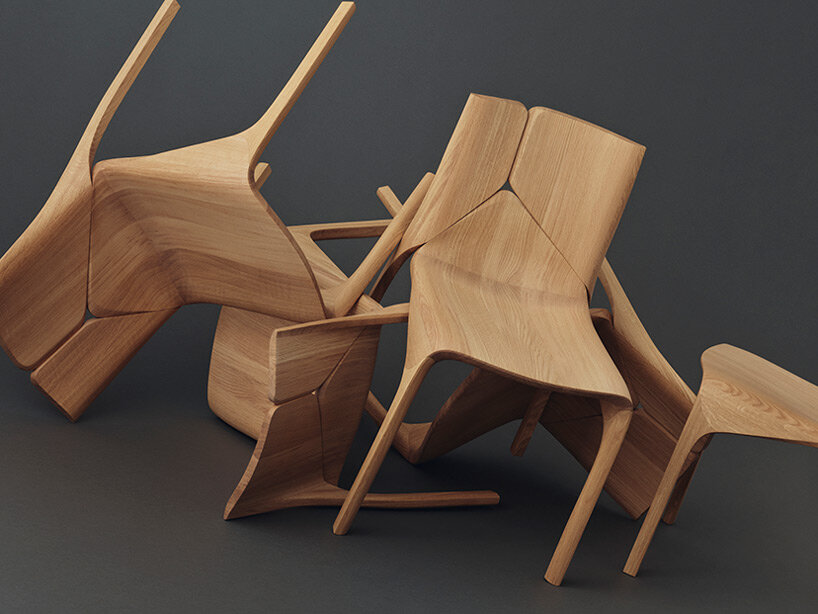 image courtesy of Zaha Hadid Design and Karimoku Furniture
From 18th to 23rd April, the doors of Palazzo delle Meraviglie reopen to let the international public discover the precious rooms of the historic Bagatti Valsecchi Museum, reinvented with the design products selected by Katrin Herden with architect Alessandro Zarinelli of Studio MHZ. In the halls of the museum, it will be possible to see the latest creations of prestigious brands such as Zaha Hadid Design, Karimoku Furniture, Delvis Unlimited, HOMMÉS Studio, LcD Textile Edition, Phillip Jeffries, and Sohil.
what: Palazzo delle Meraviglie
when: 18 – 23 April, 2023
where: Bagatti Valsecchi Museum, Via Gesù 5
SolidNature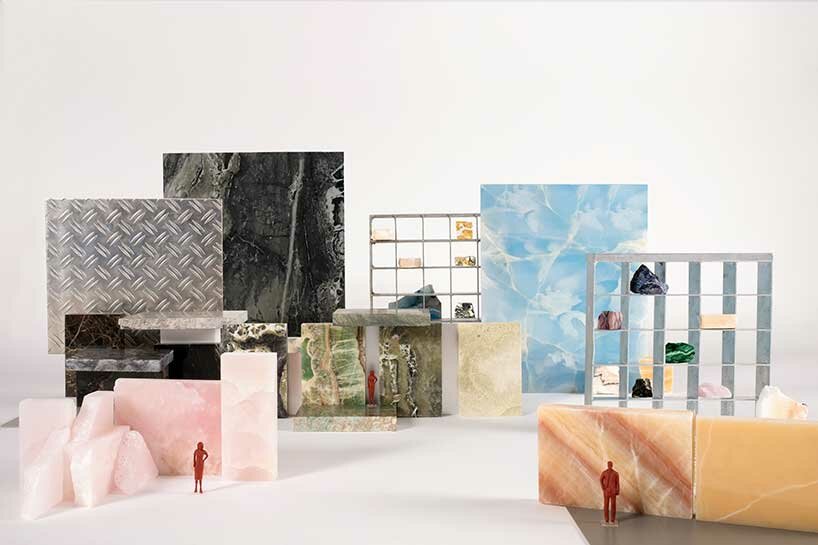 image by Arthur Wong, courtesy of OMA
Natural stone brand SolidNature is participating in Milan Design Week for the second year in a row, this time with a completely independent exhibition titled Beyond The Surface. The brand will temporarily take up residence in the heart of Brera to present an immersive, dreamscape-like installation designed by renowned international architecture firm OMA that draws a parallel between the formation and quarrying of stone and the process of dreaming. Just as the creation and working of stone requires time, skill, and effort, so does the realization of dreams. The goal of SolidNature is to inspire and motivate visitors to dream and push the boundaries of creativity.
what: ​Beyond The Surface by SolidNature
when: ​17 – 23rd April 2023
where:​ ​Via Cernaia 1
GUFRAM x SNARKITECTURE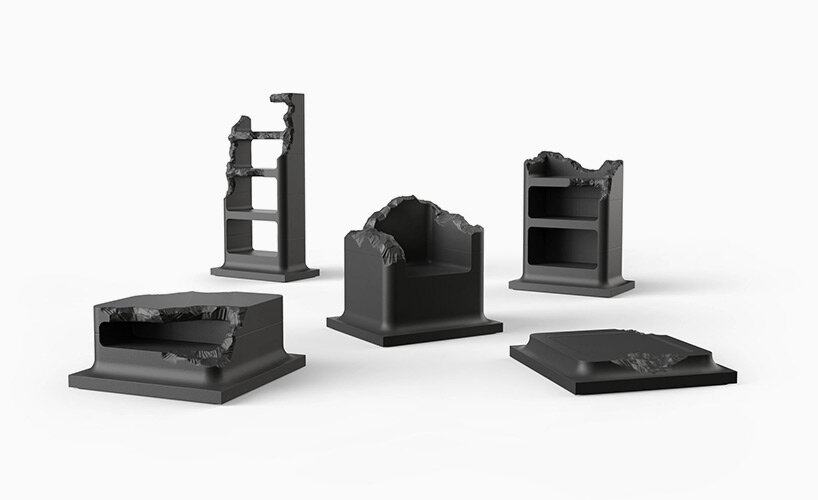 image courtesy of Gufram
On the occasion of the 2023 Milan Design Week, Italian interior design brand Gufram, in collaboration with Snarkitecture, the New York design studio founded by Daniel Arsham and Alex Mustonen, presents SCULPTED SERIES. Described as radical and monumental, the new collection consists of a family of five domestic sculptures: a bookcase, a mobile bar, an armchair, a coffee table, and a coffee table. Each piece is handcrafted from a block of polyurethane foam to create a concrete-like texture. The series will debut with a site-specific installation at Capsule Plaza inside Spazio Maiocchi from 17 to 23 April 2023.
what: THE SCULPTED SERIES
when: 17 – 23 April, 2023
where: Spazio Maiocchi
Mutina x Michael Anastassiades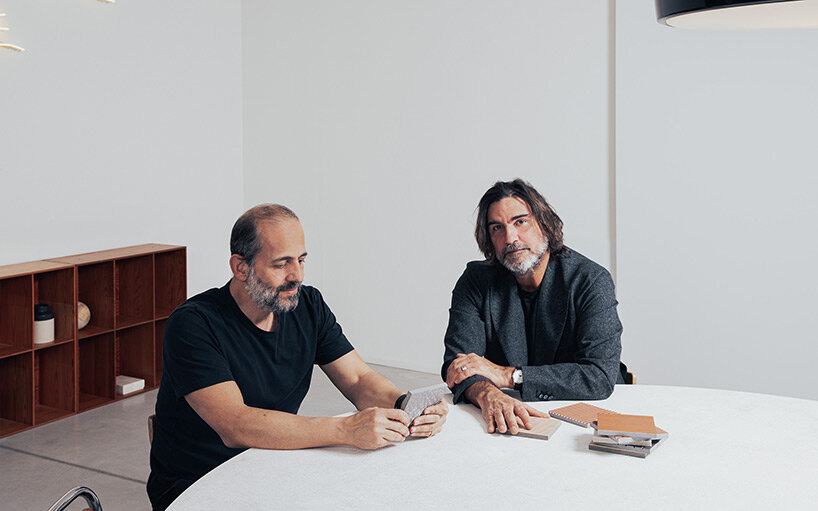 Ceramic brand Mutina has teamed up with designer Michael Anastassiades to create the 'Fringe' collection that will be presented during Milan Design Week 2023. Marking Anastassiades' first time working on a ceramic surface, the series is described as a project that can exist in many different ways, allowing the end user to play with creativity.
what: Fringe
where: Casa Mutina Milano Via Cernaia 1/A
Shaped by Water – Google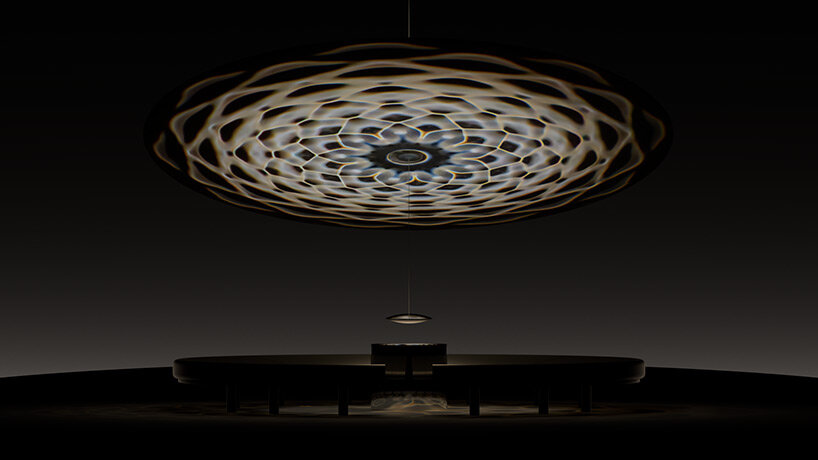 At this year's Salone del Mobile Milano, Google presents Shaped by Water, an immersive multi-space installation that explores our connection to water as humans and as a source of inspiration for design. Co-created by Google's Vice President of Hardware Design, Ivy Ross, and her design team in collaboration with water, light, and sound artist Lachlan Turczan, Shaped by Water will be on view at Garage 21 from April 18 through 23, 2023.
Shaped by Water
what: Shaped by Water
when: 18 – 23 April 2023
where: Garage 21, Via Archimede 26
Unifor
During Milan Design Week 2023, contemporary design company Unifor presents the exhibitions 'XYZ by Foster+Partners', and 'Bokhus by Snøhetta', alongside an installation by Ron Gilad.
what: XYZ by Foster+Partners and Bokhus by Snøhetta
where: Unifor, Viale Pasubio 15
Doppia Firma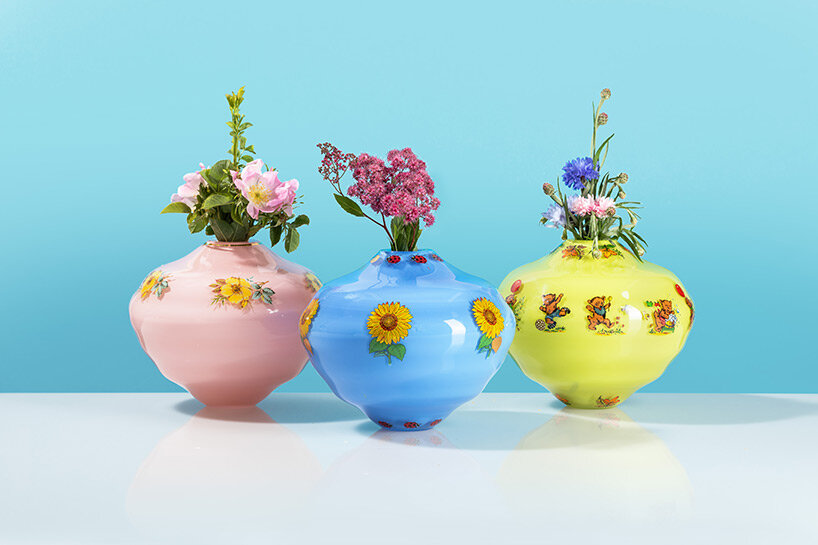 image © Anna Pleslova
For Milan Design Week 2023, Doppia Firma turns its attention to the concept of playful: a theme that has always been present in contemporary and applied arts that push the boundaries. The theme of the playful ranges from play to humor, from irony to allusion, from metaphor to joke to deliberate confusion, and to the inversion of perspectives and values. In this conceptual field, the designer and the master craftsman are invited to express their visions through exchanges and rule-breaking that evoke irony and fun, with a spirit of pure pleasure and creative freedom.
what: Doppia Firma 2023
where: Palazzo Litta, Corso Magenta 24
IRTHI – echoes of alchemy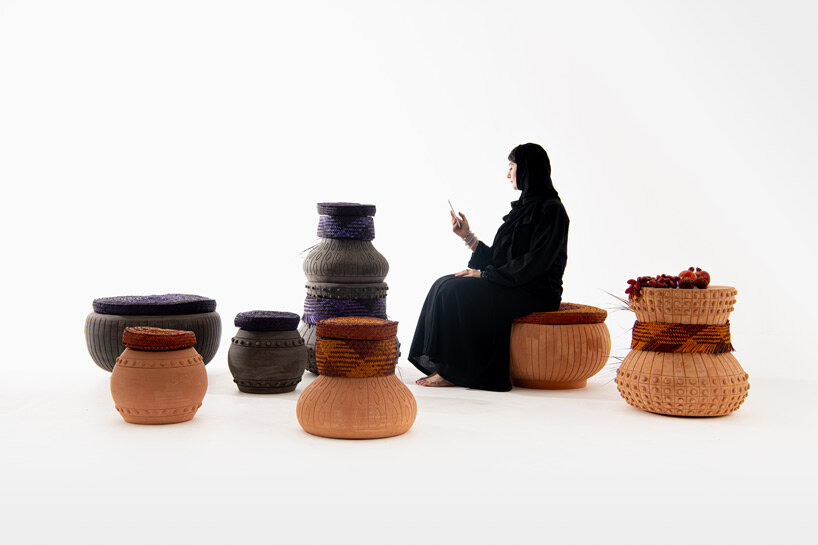 image courtesy of Irthi
Irthi, the Sharjah-based organization which focuses on the preservation and promotion of cultural heritage and local craftsmanship in the United Arab Emirates (UAE), presents the exhibition 'Echoes of Alchemy', curated by Mr. Lawrence: Annalisa Rosso + Francesco Mainardi. The exhibition is the first step in Irthi's exploration of the idea of the recipe as a design concept, from which emerges an ongoing cultural dialogue between East and West and between craftsmanship and contemporary aesthetics.
what: Echoes of Alchemy
where: Via Cesare Correnti 14
KOHLER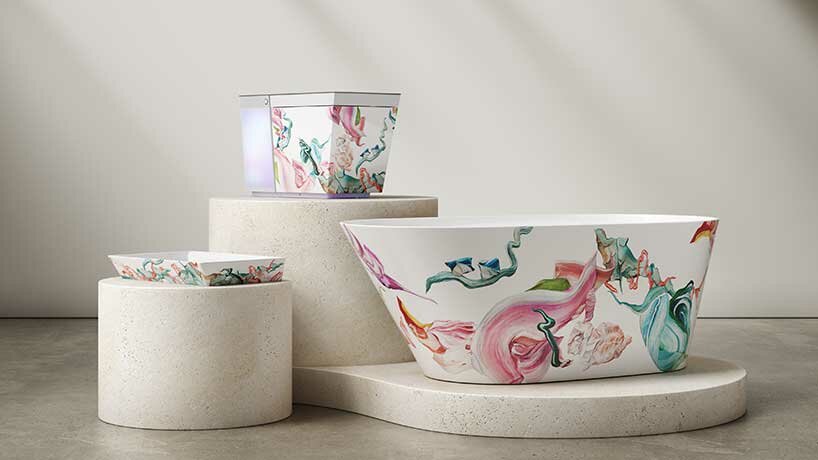 image courtesy of Kohler
At Milan Design Week 2023, Kohler debuts a new artist collaboration and an installation by artist Janet Echelman. The US company has teamed up with four contemporary artists from around the globe to bring their unique visual expressions to Kohler products: the Numi 2.0 Intelligent toilet, Brazn sink, and Brazn bathtub. Artists from Brazil, China, India, and the United States, Ananda Nahú, Wang Ziling, Pushpa Kumari and Elle, were commissioned as part of Kohler's 'Come All Creators' initiative to use the company's, modernist designs as canvases. This collaboration will debut at the Palazzo del Senato in Milan from April 17-23, 2023, with each artist's sink, toilet, and bathtub displayed within the majestic 18th-century courtyard. Suspended overhead will be Janet Echelman's monumental aerial sculpture entitled Noli Timere.
when: 17 – 23 April 2023
where: Palazzo del Senato, Via Senato 10
GROHE SPA Health Through Water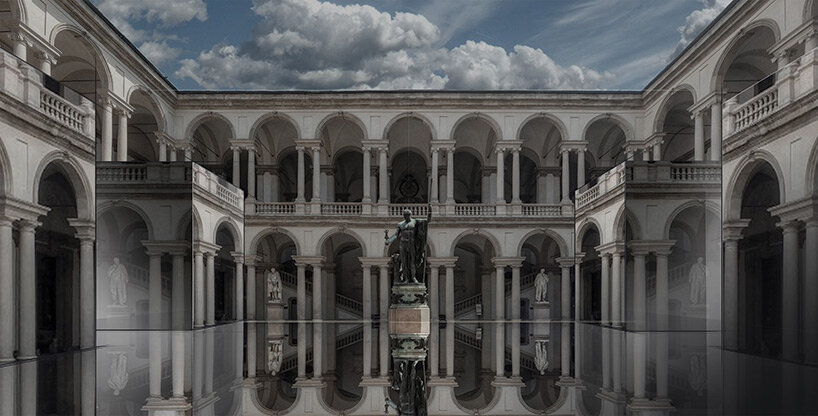 image courtesy of GROHE
GROHE returns to Fuorisalone to present the new premium collection GROHE SPA with the installation 'GROHE SPA Health Through Water' in the heart of the Brera Design District. The installation was designed by the in-house LIXIL Global Design & Brand Identity team and reflects the magnificent architecture of one of the most prestigious art museums, the Pinacoteca di Brera.
what: GROHE SPA Health Through Water
when: 18 – 23 April 2023
where: Pinacoteca di Brera, Via Brera 28
Future Impact by DesignSingapore Council

image courtesy of Forest & Whale
'Future Impact' at Casa del Pane (Bastioni di Porta Venezia) showcases and celebrates future-thinking design and the positive impact that this has on our everyday life. Curated by Tony Chambers and Maria Cristina Didero, and presented by the DesignSingapore Council, it will be open to the public from April 18 until April 23, 2023. Future Impact highlights Singapore as a design-led hub of innovation and creativity in which impactful design solutions and technology intertwine to shape a brighter future for everyone and emphasizes the urgent need for sustainability in design and production today.
what: Future Impact
when: 18 – 23 April 2023
where: Casa del Pane (Bastioni di Porta Venezia)
It All Comes from Above by Lasvit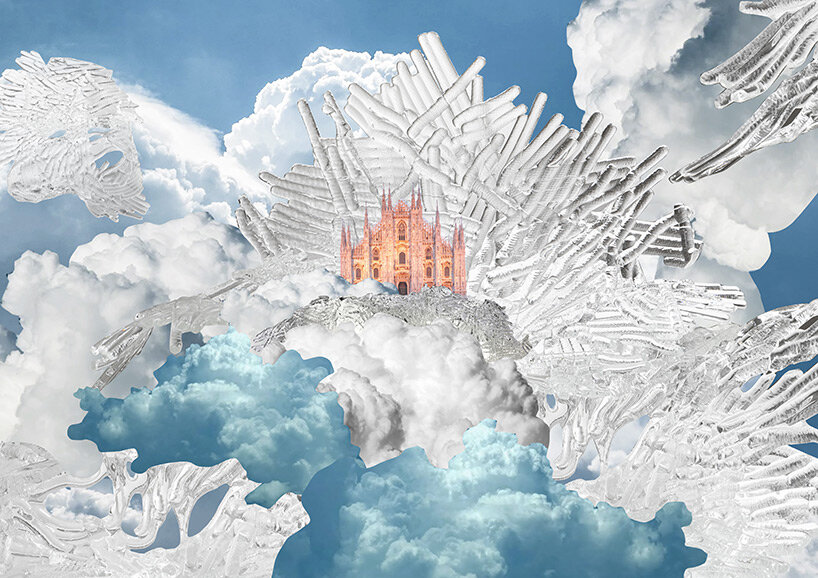 Lasvit returns to Euroluce for Salone del Mobile 2023 with a large-scale installation by Maxim Velčovský. Visitors are welcomed under a suspended cloud of glass, representing the connective tissue of humans and nature. Below, the Czech specialists debut new collections conceived with David Rockwell, Yabu Pushelberg and the Campana brothers.
what: It All Comes from Above
when: April 18 – 23, 2023
where: Hall 15, Stand 212
the cassina perspective 2023
From 17 to 23 April, 2023, Italian design brand Cassina presents its latest collection comprised of pieces by renowned designers as well as some new names. The collection will be introduced alongside an installation by Spanish architect Patricia Urquiola.
what: The Cassina Perspective 2023
when: 17 -23 April 2023
where: Cassina Store, Via Durini 16
Lumières by Saint-Louis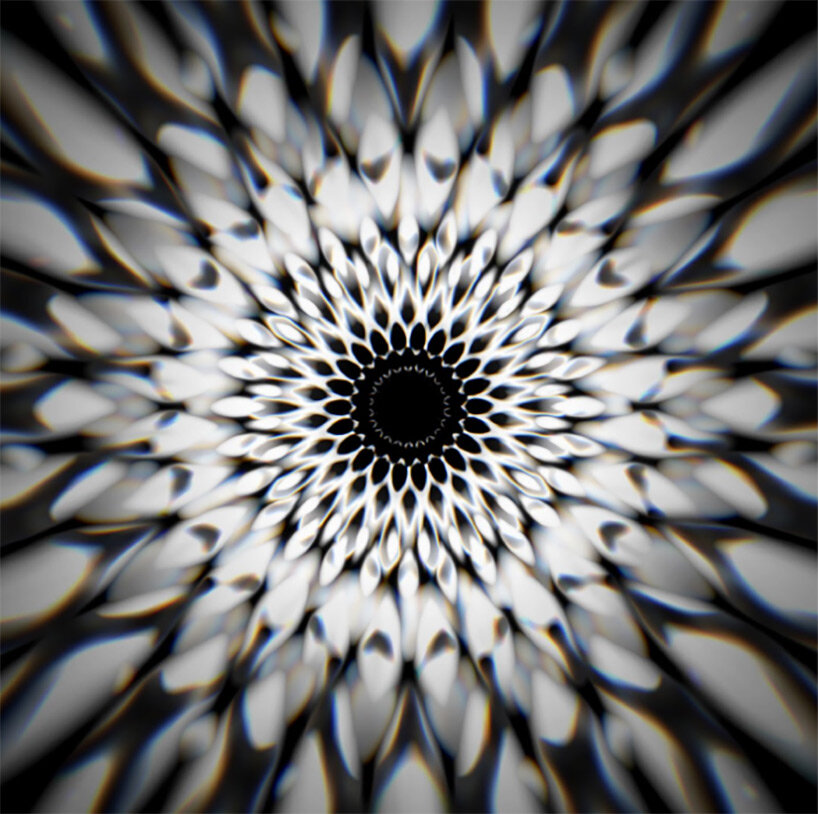 Saint-Louis, Hermès' crystal glass manufacturer, immerses visitors in an exhibition that fuses refracted light with sound, called Lumières. Europe's first glass makers, founded in 1586, invites into the cloister of Santa Maria del Carmine church, in the Brera district, where an immersive experience shines a light on the relationship between crystal and sound. 15 collections will showcase new products that exemplify craftsmanship.
what: Lumières
when: April 17 – 23, 2023
where: Santa Maria del Carmine Church, Piazza del Carmine 2
Occhio – new horizons
During Milan Design Week 2023, lighting design brand Occhio unveils its latest collection called 'New Horizons'. The showcase of the new series is designed as an immersive experience that illustrates the future of light.
what: New Horizons
when: 18-23 April 2023
where: Villa Necchi Campiglio, Via Mozrt 14
Gubi – ten exhibition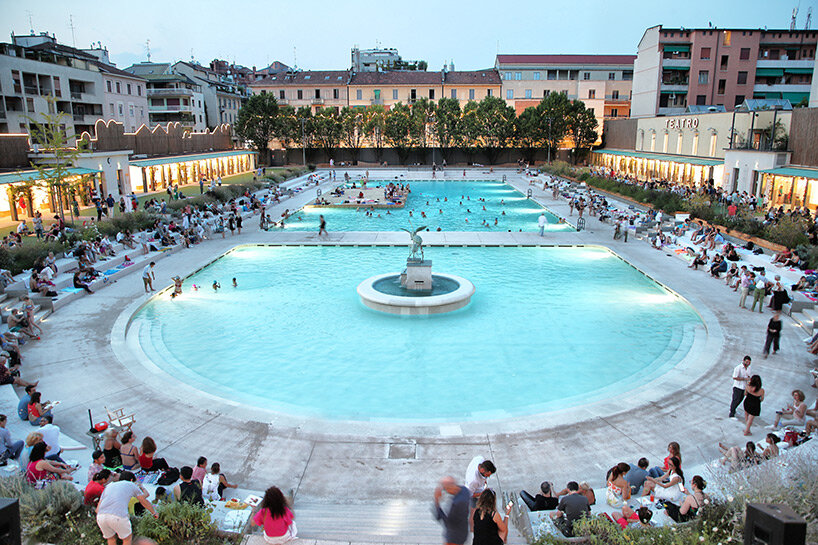 To celebrate the tenth anniversary of the Beetle chair by Danish-Italian duo GamFratesi, contemporary design company Gubi invites ten artists to reinterpret the iconic seat. Curated by Marco Sammicheli, the TEN exhibition is set to take place at Bagni Misteriosi.
what: TEN exhibition
where: Bagni Misteriosi
CRYSTAL BEAT BY PRECIOSA lighting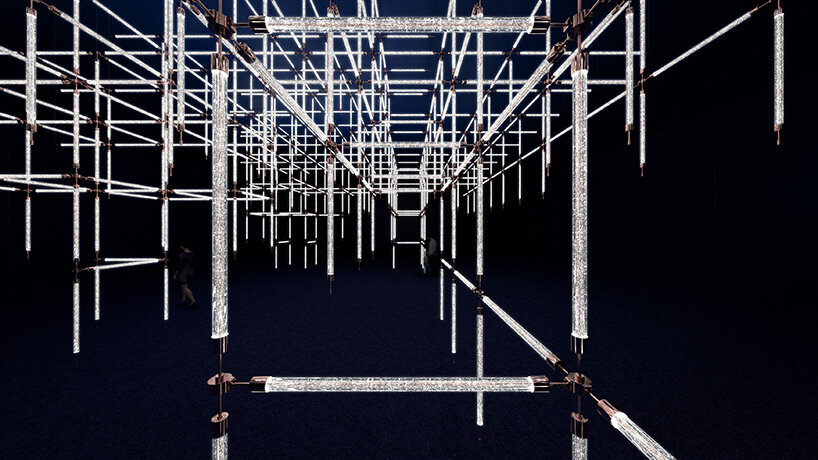 image courtesy of Preciosa Lighting
Preciosa Lighting welcomes visitors to Euroluce with a large-scale lighting installation, called Crystal Beat. The installation showcases its new Signature Design, Crystal Grid, to form a dynamic display where music and light collide. A three-dimensional sound system synchronizes with the crystal light centerpiece to visualize a rhythm. Guests can 'see' the sound as it is mirrored throughout the gridded space.
what: Crystal Beat
when: 18 – 23 April 2023
where: Euroluce, Salone del Mobile (Hall 9 – Stand 9.210)
alter ego BY paged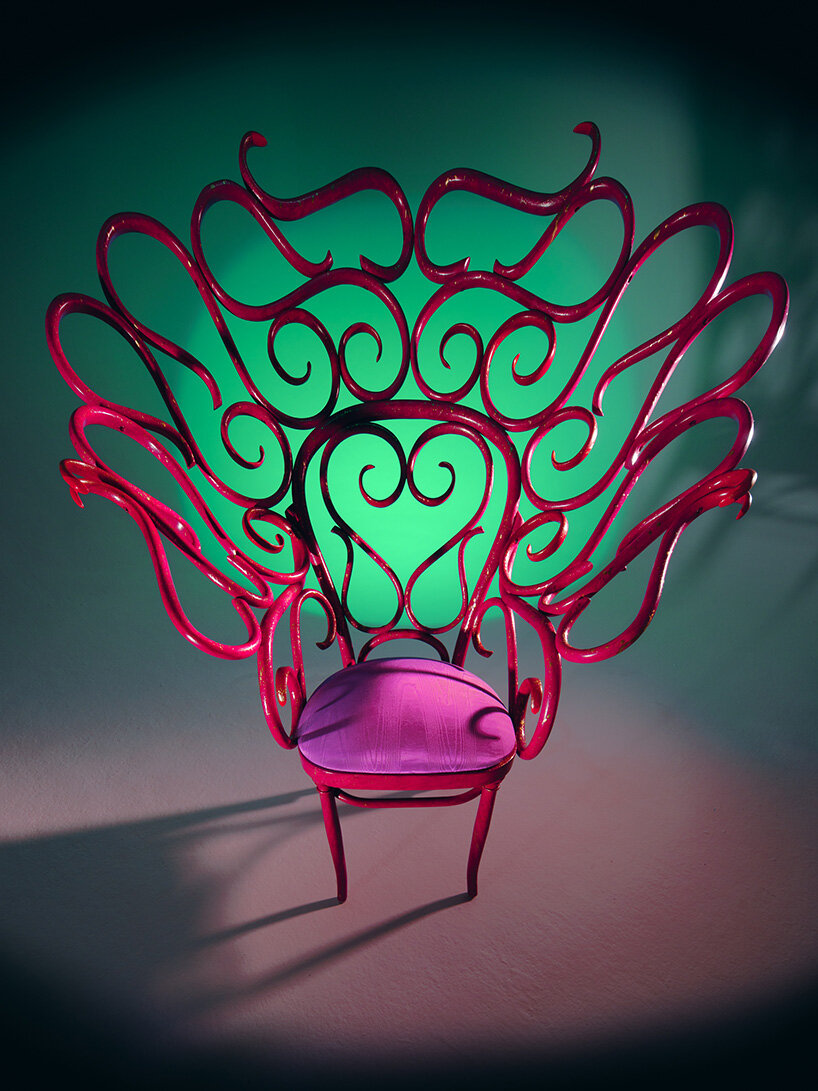 image courtesy of Paged
Monsignore, Contessa W., Demonio, Tiger, Totem and other creatures will be greeting the visitors to the Paged stand at the Salone del Mobile fair in Milan as part of its new Alter Ego Collection. It reveals the brand's two simultaneous identities, as Paged stands for the timeless quality of wooden furniture, yet is also playful and future-thinking. The collection includes fourteen designs created by several Polish craftsmen and furniture designers, architects and interior designers. There are both new models and refreshed classics, from re-imagined 19th century bentwood classics to a revamped mid-century folding chair and completely new families of products.
what: Alter Ego collection
when: 18-23 April 2023
where: Salone del Mobile, pavilion 18, stand E09_F08
COMPATTA, designed by Federico Peri for CEDIT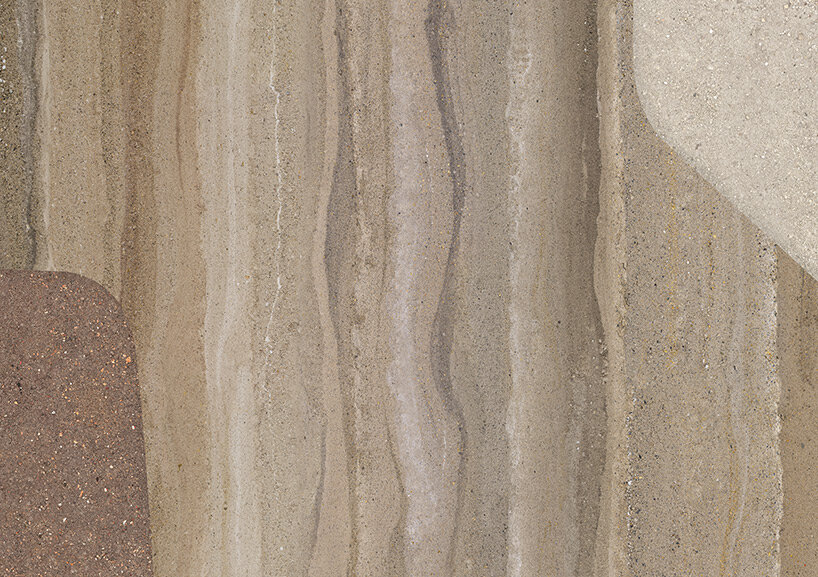 Florim brand CEDIT presents the collection 'Compatta,' the design intuition of designer Federico Peri, who for the first time approaches the world of ceramics by exploring the theme of 'earth' in its deepest and most primitive meaning. 'Compatta' is the perfect symbiosis between craftsmanship and technological innovation: the designer takes the ancient construction technique of Pisè and expresses his personal interpretation on the large CEDIT slabs. The look is deep, rough, material, softened by three-dimensional plays of light and shadow that come to life in the decorative elements.
what: Compatta
when: 17 – 23 April 2023
where: Salone (Hall 4 – Booth G02), Fuorisalone (Spazio CEDIT, Foro Buonaparte 14/A – Brera)
FLORIM stone | SCENARIOS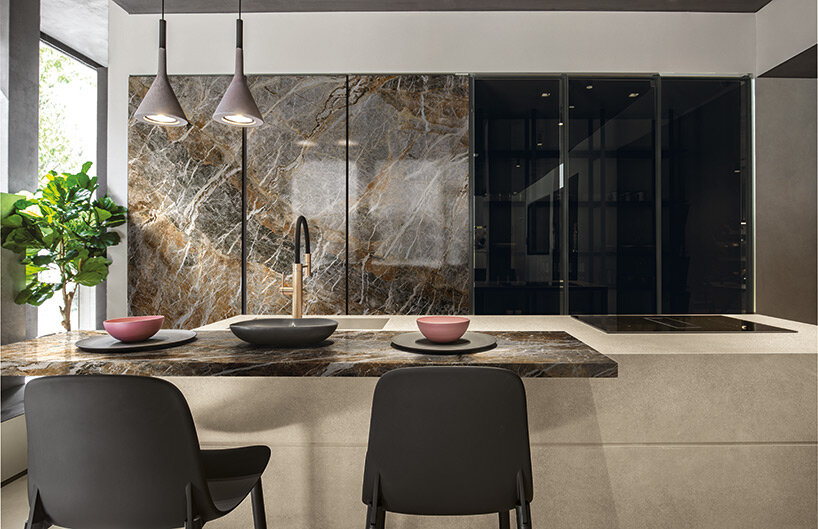 Debuting during Milan Design Week 2023, FLORIM stone is Florim's brand for the world of furniture and countertops, combining design and functionality in a single large size (320×160 cm) and three different thicknesses (6-12-20 mm). FLORIM stone surfaces are the thread that connects the two installations inside and outside the Salone, designed by Matteo Nunziati and named SCENARIOS. Thirteen new colors, perfectly matched to the Magnum palette of Florim, enrich the range of esthetic and material effects of the brand.
what: FLORIM Stone | SCENARIOS
when: 17 – 23 April 2023
where: Salone (Hall 4 – Booth G03), Fuorisalone (Florim Flagship Store, Foro Buonaparte 14 – Brera)
AZIMUT YACHTS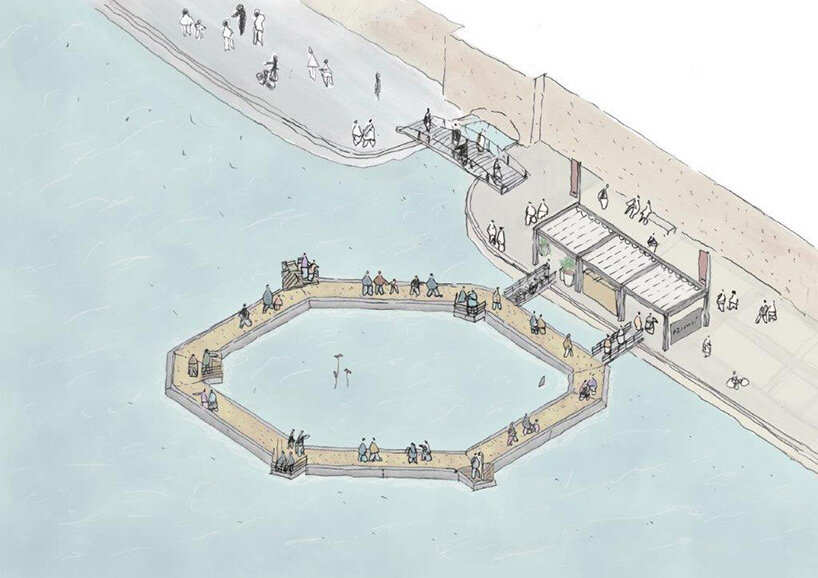 image courtesy of Nicholas Bewick – AMDL CIRCLE
From April 17 to 23, Azimut Yachts presents 'The Sea Deck', a floating installation designed by AMDL CIRCLE and Michele De Lucchi that tells of the desire to go beyond the expected and rediscover the contact with nature. 'The Sea Deck' reveals itself as a floating promenade on the Darsena River, designed to give the city of Milan an unexpected experience of its ancient waterways and allow visitors to enjoy the water from a unique perspective, near the historic Leonardo da Vinci canal.
what: The Sea Deck
when: 17 – 23 April 2023
where: Darsena River
BITOSSI
At Salone 2023, Bitossi Group, which includes Bitossi Ceramiche, Bitossi Home, and Fondazione Bitossi, presents two brand new collections with internationally recognized designers: Muller Van Severen and Duccio Maria Gambi. In addition, Bitossi Home (Via Santa Marta 19), in the heart of the 5vie district, hosts a playful installation by the French duo Pangea.
where: Bitossi Cermiache (Via Antonio Gramsci 16) and Bitossi Home (Via Santa Marta 19)
RON GILAD for NEMO Lighting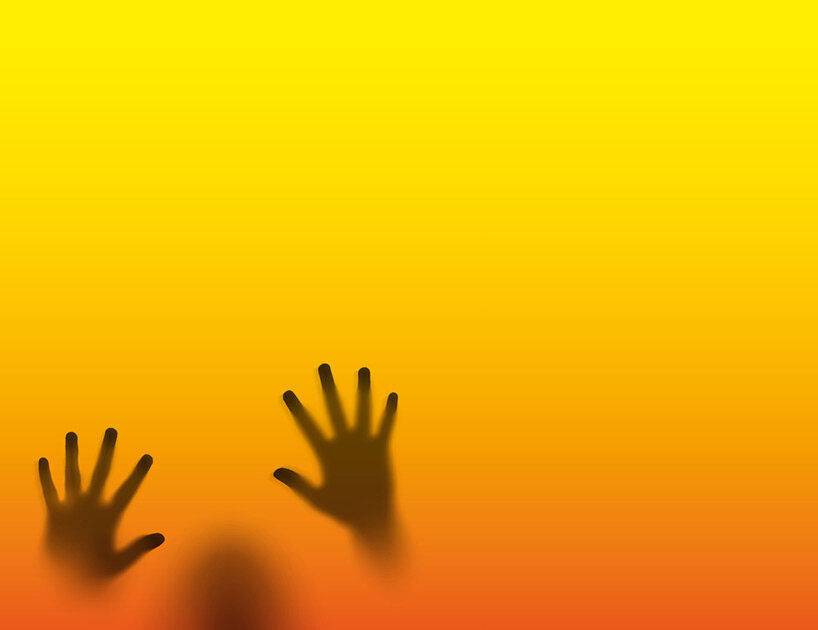 image courtesy of NEMO lighting
Internationally acclaimed designer Ron Gilad accepted the invitation of Federico Palazzari (CEO of NEMO Lighting) for a conversation about lighting and functionality, paradox, and perception. This resulted in the new exhibition Enlightenment, a special project for Nemo Lighting that will be on display from April 14 to 22 at the BORGONUOVO19 space in the heart of the city. Ron Gilad creates and uses unseen works and installations that will encourage visitors to interact, completely change their idea of lighting and put the lamps in an ironic and provocative frame. An important step for the Italian brand that celebrates its 30th anniversary and places itself at the center of the international debate on lighting, design, and contemporary language.
what: Enlightenment
when: 14 – 22 April 2023
where: Via Borgonuovo 19
MUUTO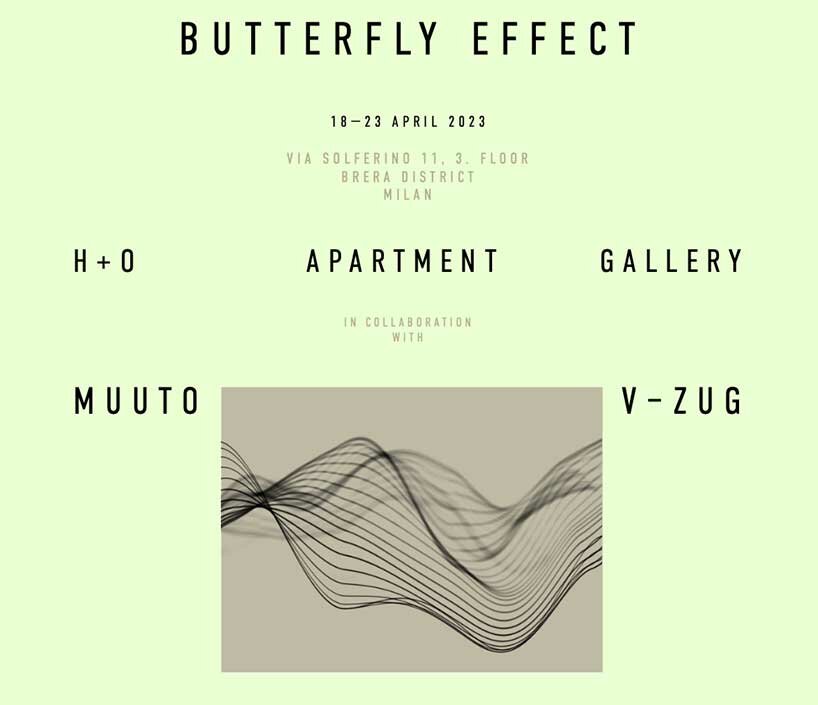 image courtesy of Muuto
Scandinavian design brand Muuto has teamed up with H+O and Swiss home appliance brand V-ZUG to create an immersive exhibition that explores how our environment can affect our well-being. Located in Brera, the H+O Apartment Gallery will present the 'Butterfly Effect' exhibition with a curated assortment of Muuto furniture, lighting, and accessories, including new designs by Normal Studio and Sylvain Willenz. Sculptural furnishings, tactile materials, and a thoughtful color palette unite to create an ultra-sensory experience that demonstrates the profound impact that color, texture, and form can have on our perception of a space.
what: Butterfly Effect
when: 18 – 23 April 2023
where: H+O Apartment Gallery , Via Solferino 11, 3d floor
GALERIE PHILIA – Desacralised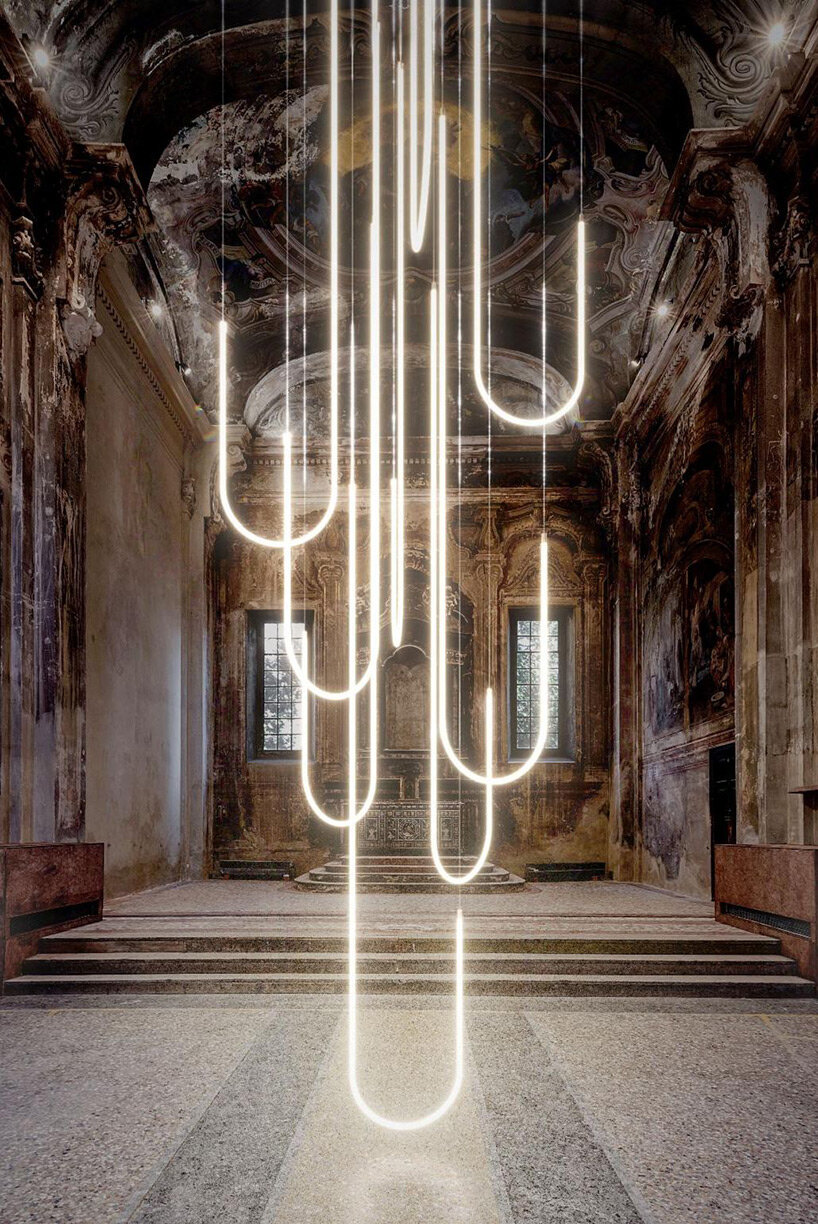 image courtesy of Galerie Philia
On the occasion of Milan Design Week 2023, Galerie Philia presents 'Desacralised', an offsite exhibition featuring more than twenty international designers exploring the concept of desacralization. 'Desacralised' is the first major exhibition to be held in San Vittore e 40 Martiri, a deconsecrated church in the center of Milan originally built in the 11th century. Drawing from objects that have lost their sacred value and have become purely functional, all the works created for this exhibition are completely white. Participating designers include Rick Owens, Arno Declercq, Henry Wilson, Pierre de Valck, Andrés Monnier, Abid Javid, and Jules Lobgeois.
what: Desacralised
when: 18 – 23 April, 2023
where: Church of San Vittore e 40 Martiri
Cere Anatomiche by Fondazione Prada Milan and David Cronenberg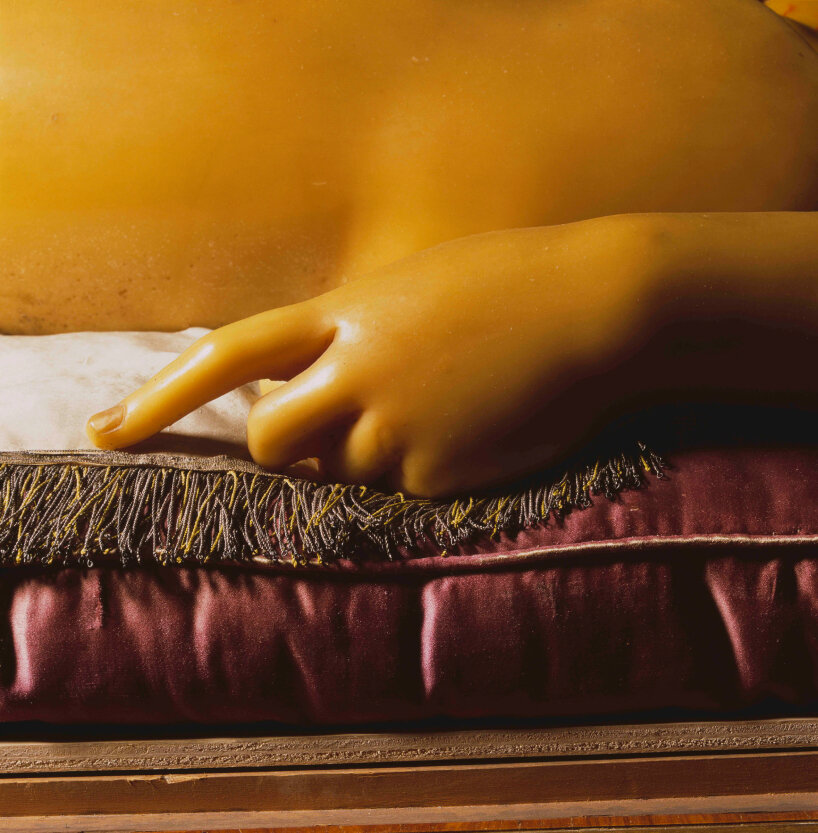 photo © Aurelio Amendola
Fondazione Prada in Milan and David Cronenberg anatomize the science and art behind female bodies at 'Cere Anatomiche' using historic lifelike wax models from previous decades. The two-fold exhibition, which runs from March 24th to July 17th, 2023, revolves around the latest addition to the research project of Fondazione Prada and the artistic fascination of sci-fi horror director David Cronenberg for the science of human bodies.
what: Cere Anatomiche
when: 24 March – 17 July 2023
where: Fondazione Prada, Largo Isarco 2
ANN VERONICA JANSSENS – grand bal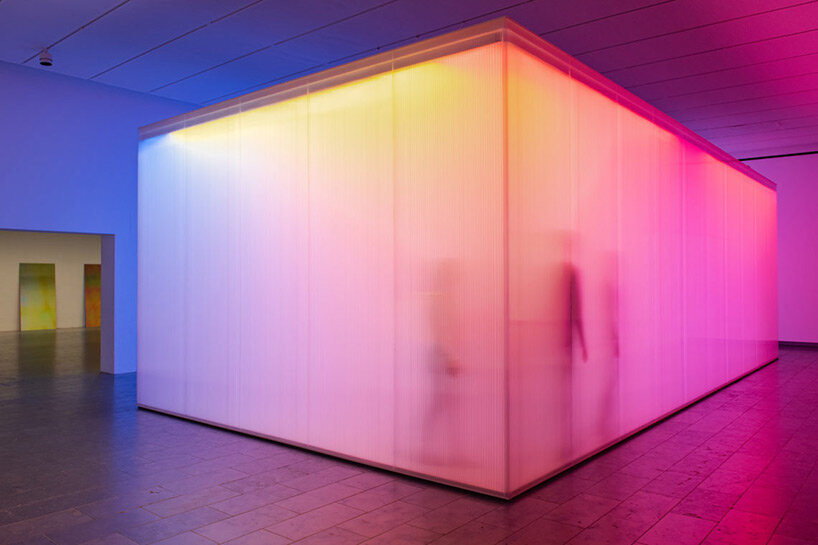 From April 6 to July 30, 2023, Fondazione Pirelli HangarBiccoca presents the 'Grand Bal' exhibition exploring the works of Belgian artist Ann Veronica Janssens. Old pieces and new productions are in dialogue with the interior and exterior space of the Pirelli HangarBicocca, expanding its boundaries. The works are dynamically integrated into the route, conceived by the artist as a visual and acoustic choreography that focuses on the visitor, instead of objects. Visitors to the exhibition are invited to participate actively, following their own sensations and perceptions generated by the comparison of the works.The title 'Grand Bal' (French for 'Great Dance') refers to precisely this performative dimension and the dynamic relationship established between the works, the architecture and the human body.
what: Grand Bal by Ann Veronica Janssens
when: 6 April – 30 July 2023
where: Fondazione Pirelli HangarBiccoca, Via Chiese 2
Horto – Ethics to Taste

image by Mattia Parodi, courtesy of Horto
The new Horto restaurant, which officially opened in September 2022, is the latest addition to Milan's culinary compass and one of the new design destinations that visitors to Milan Design Week 2023 can now discover. Located on the rooftop terrace of the new building complex The Medelan, originally designed by architect Luigi Broggi in the early 1900s and sustainably renovated by GLA (Genius Loci Architettura), Horto invites guests to a multi-sensory moment of relaxation by promoting contact with nature. In all areas, from the cuisine to the interior design and the outdoor spaces, Horto adopts an experimental and sustainable approach guided by a philosophy that highlights local, innovative, and ethical balance. The Resident Chef is Alberto Toè and the Strategic and Organisational Direction of the kitchen is headed by Chef Norbert Niederkofler.
what: Horto restaurant – Ethics to Taste
where: Via San Protaso 5
Rosanna Orlandi – RoCOLLECTIBLE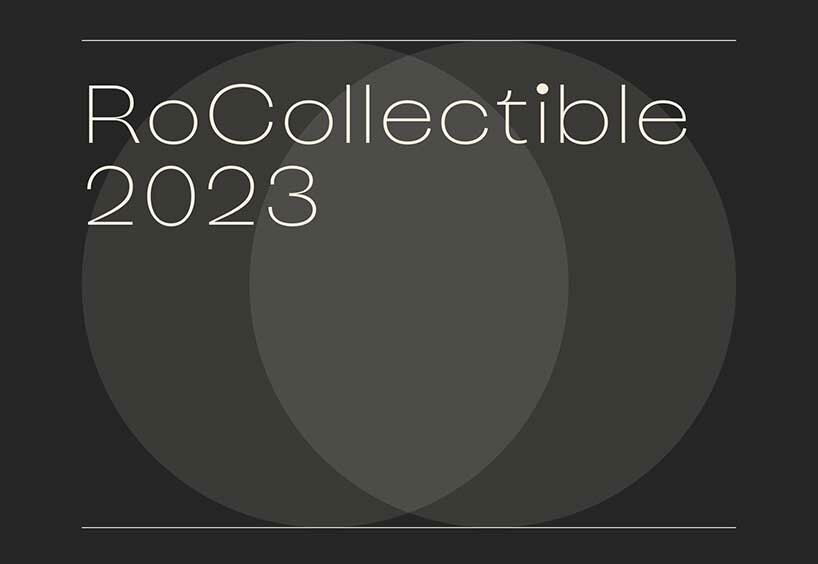 This year, Galleria Rosanna Orlandi presents RoCOLLECTIBLE, inviting a selection of international designers to exhibit their works at Via Matteo Bandello 14 and 16.
what: RoCOLLECTIBLE
when: 16 – 23 April 2023
where: Rodistrict, Rossana Orlandi Gallery, Via Matteo Bandello 14 and 16
Shaped by Air by Lexus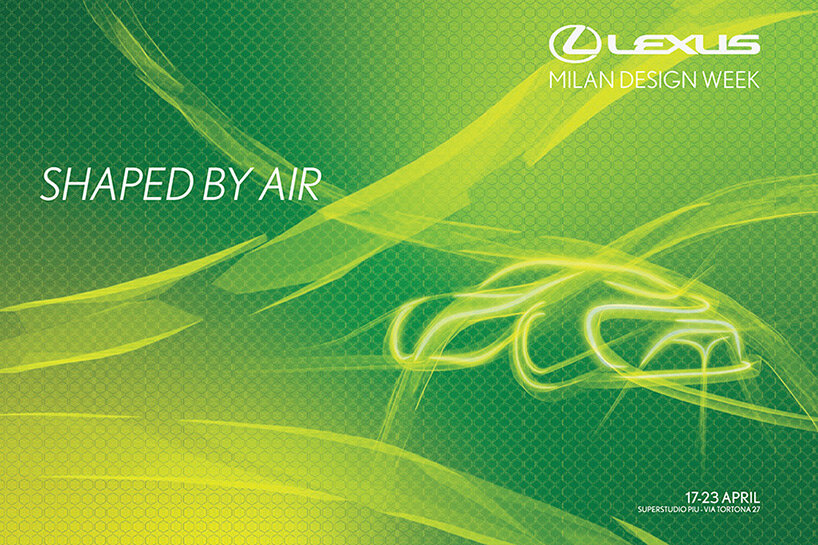 image courtesy of Lexus
This year, Lexus will present Shaped by Air ― an installation by acclaimed New York-based artist and architect Suchi Reddy, founder of Reddymade Architecture and Design, that draws inspiration from the Lexus Electrified Sport's quality of being 'shaped by air.' In addition, the installation will offer guests the opportunity to view presentations of prototypes from the four winners of the 2023 LEXUS DESIGN AWARD.
what: Shaped by Air
when: April 18 – 23 2023
where: Superstudio Più, Via Tortona 27
The Poetics of Space. Matter, Light, Perception and antoniolupi by antoniolupi
what: The Poetics of Space. Matter, Light, Perception and antoniolupi
when: April 18-23, 2023
where: antoniolupi showroom, Via di Porta Tenaglia, 20121, Milano
Materica – INTERNA_MENTE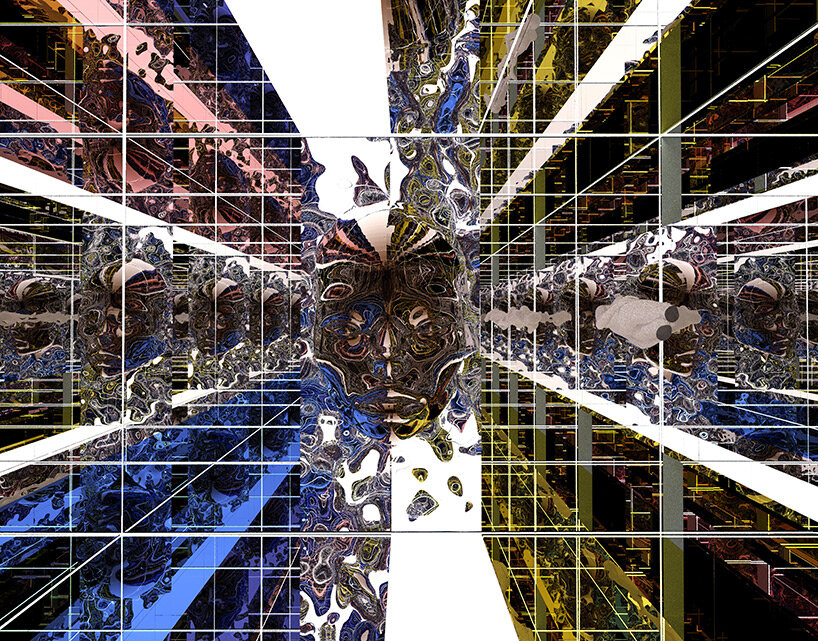 Italian luxury coating brand Materica presents the 'INTERNA_MENTE' mirror installation as part of the Alcova 2023 program. 'Mirror surfaces make us the protagonists of our history, of our life, of our being here in the present time. We face a figure that arrives, not sure where from, but we know that it is here for us…The inside becomes the
outside, because that face is the materialization of our intimate dialogue with ourselves.' share Tiziano Guardini
and Luigi Ciuffreda, creative directors for Materica's installation.
what: INTERNA_MENTE
when: 17 – 23 April 2023
where: Alcova, Ex Macello, Viale Molise 62
XL extralight

On the occasion of Milan Design Week 2023, XL EXTRALIGHT has invited Lausanne-based design studio Panter & Tourron to creatively interpret its innovative material Organix 3.0. In response, the duo conceived SOFTSCOPE, an architectural urban installation in the courtyard of Capsule Plaza at Spazio Maiocchi. For the installation, Panter & Tourron designed a pseudo-household interior: part conversation space, part public stage. The pyramid-shaped monolith invites visitors to sit and relax on the low bench at the edge or in the hollowed-out center section with integrated seating.
what: SOFTSCOPE
where: Capsule Plaza at Spazio Maiocchi, Via Achille Maiocchi 5/7/10
when: 17 – 23 April 2023
Byborre – The elephant in the room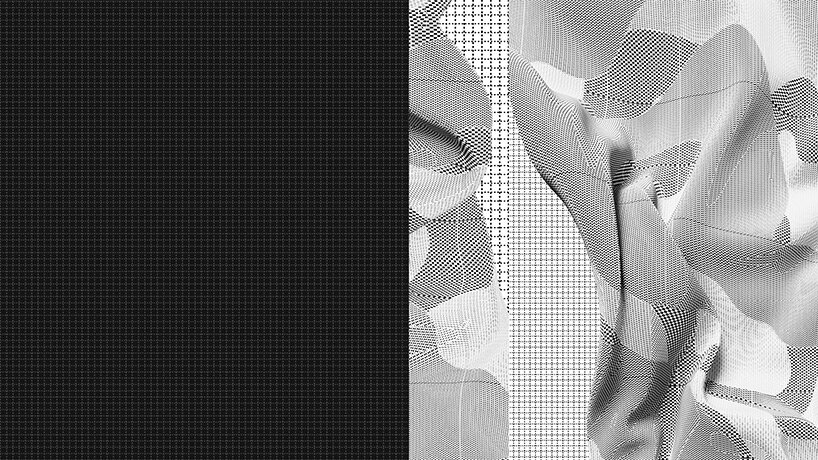 Bespoke Textile creation platform Byborre presents The Elephant in the Room, a supply chain exhibition taking place at Castello Sforzesco in Milan from April 17 – 23, 2023. The Portico Dell' Elefante (Porch of the Elephant) at the Castello Sforzesco served as the inspiration for the exhibition's theme and is an ode to positive change, exploring issues that often go unspoken, and encouraging honest conversations.
what: The Elephant in the Room
when: 17 – 23 April 2023
where: Castello Sforzesco, Piazza Castello
myrto katsikopoulou
I designboom
apr 18, 2023
KEEP UP WITH OUR DAILY AND WEEKLY NEWSLETTERS
happening now! antoniolupi extends its expertise beyond the bathroom with the 'living' collection, a series of home furnishings that complement its esteemed collection of bathroom furniture and accessories.
a diverse digital database that acts as a valuable guide in gaining insight and information about a product directly from the manufacturer, and serves as a rich reference point in developing a project or scheme.
designboom will always be there for you
milan, new york, beijing, tokyo

,
since 1999