designer as entrepreneur: transforming the face of creative enterprise
(above) elon musk introduces the design of his latest spaceship model
image by NASA/bill ingalls, via wikimedia commons

designers are expert in applying their creativity and ingenuity to solve problems, pushing the boundaries of the norm and creating an easier interface between humans and the built world around them. while many designers use their skills and specialized knowledge to develop products and promote ideas, some have furthered their interests to the business and commercial sphere, maturing as highly successful and renowned entrepreneurs. armed with design backgrounds, leading innovators such as jim jannard, founder of oakely, bill bowerman, co-founder of NIKE and alexander asseily, co-founder of jawbone, have transformed their education and experience in design into massive, million dollar industries and multinational brands that now reach a global audience.

at the age of twelve, a young elon musk made his first business deal, selling a complex video game he coded and created as a preteen. this entrepreneurial sensibility and innate interest in the field of technology and design fueled the early innovator in him, eventually translating his radical ideas into tangible, consumer-driven objects and online interfaces. when musk turned 24, he dropped out of stanford university to startup his very first company called zip2 corporation, a web-based city guide that provided content for the online versions of the some of the most important international newspapers.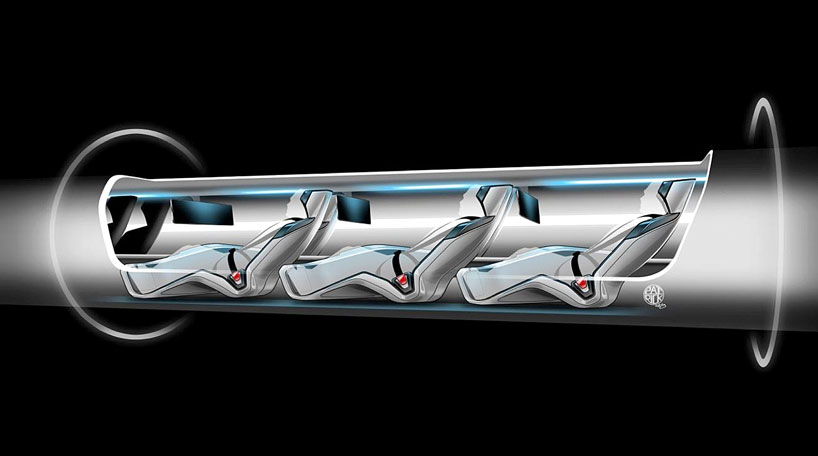 the hyperloop: musk is seeking to improve on california's high-speed train project's shortcomings; hyperloop would shorten travel time from 5 hours to 30 minutes with a series of 70 aluminum pods elevated on columns about 50- 100 yards apart. the above-ground modules would bullet through steel tubes at 800 miles an hour while avoiding the land rights complications projected for the california plans.
4 years later, musk sold his business for a share of $22 million; he became a millionaire at the ripe age of twenty-eight, but this was only the beginning. an early infatuation with solving the world's pressing issues and shaking up the design and technology scene was the inception of his profound research and development in sustainability. 'when I was in university.' musk describes 'I thought about, what are the problems that are most likely to affect the future of the world or the future of humanity? I think it's extremely important that we have sustainable transport and sustainable energy production.'
elon musk is now a household name, one which exemplifies an individual with design-centered thinking who translated it into successful entrepreneurship. as the co-founder of paypal, a money-transfer service for web customers, founder of spaceX space exploration technologies (the very first private corporation to launch a rocket into space) and founder of tesla motors electric cars, musk controls and develops some of the most radical, progressive and revolutionary brands in the world. his daily work oversees the development of rockets and spacecraft for missions to earth orbit and other planets for spaceX, delivers design ideas for the all-electric tesla vehicles and plans the 'hyperloop', a solar-powered train that would connect commuters from los angeles to san francisco at the speed of sound. breaking the boundaries of the diverse fields which initially ignited his interests, musk adapted his forward design thinking and defiance of the norm into billion dollar business.
in 1975, jim jannard started Oakley out of his garage with $300 and a single idea: to make products that work better and look better than anything else on the market. ignited by passion, talent and forward thinking, he began to question the limits of industry standards and started developing materials that would make existing objects and devices easier to use and handle. one of the very first examples of jannard's ingenuity and overall defiance of conventional thinking was a new kind of motorcycle handgrip with a unique tread and shape that closely fit the rider's closed hand. top professional athletes took notice of the new design and its material that was engineered to become sticky when wet, improving the ways in which they could perform and train. 'unobtainium', the substance which jannard himself created, is still being used throughout the Oakley product range. 'everything in the world can and will be made better,' jim told his skeptics at the start of his career, 'the only questions are, 'when and by whom?.'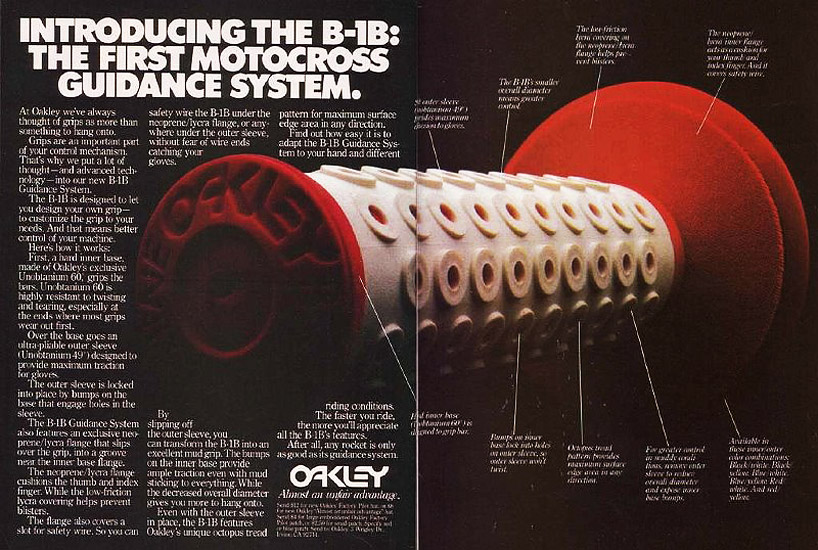 where it all began: the Oakley hand grip developed by jim jannard
jannard fueled the success of his handle grips by using its innovative material in other types of athletic equipment, specifically eyewear. motocross goggles and sunglasses for sport professionals — who couldn't compromise on performance — changed the face of the industry, and began the evolution of eyewear from generic accessory to vital equipment. world-class competitors in the field flocked to the emerging Oakley brand for high-quality sport shades that offered advanced protection, while creatively uniting technology and beautiful design as wearable gear. 'inventions wrapped in art' — still a mantra that binds the brand today — was the idea which Oakley was founded on and, as decades passed, so did the company's promise and influence, quickly becoming an industry leader. today, Oakley continues to revolutionize products by redefining what is physically possible, transcending performance innovations into solutions for everyday applications.
following jannard's innovation at Oakley, the entrepreneur developed his interests in digital cinematography tools, which he used to usher in the next generation of cinema equipment. founding RED Digital Cinema, he redefined the field with his RED ONE camera, introduced as the purest digital alternative to 35mm film, which went on to capture a host of oscar winning films, 3D features, and magazine covers. with the ability to sustain ultra high-quality images in extremely tough environments, its groundbreaking design has contributed to its legacy as one of the greatest digital cinema cameras of all time. the brand grew with the additions of the EPIC DRAGON and SCARLET, which united unrivaled power with versatility, helping distinguish the company as a superior leader in the industry.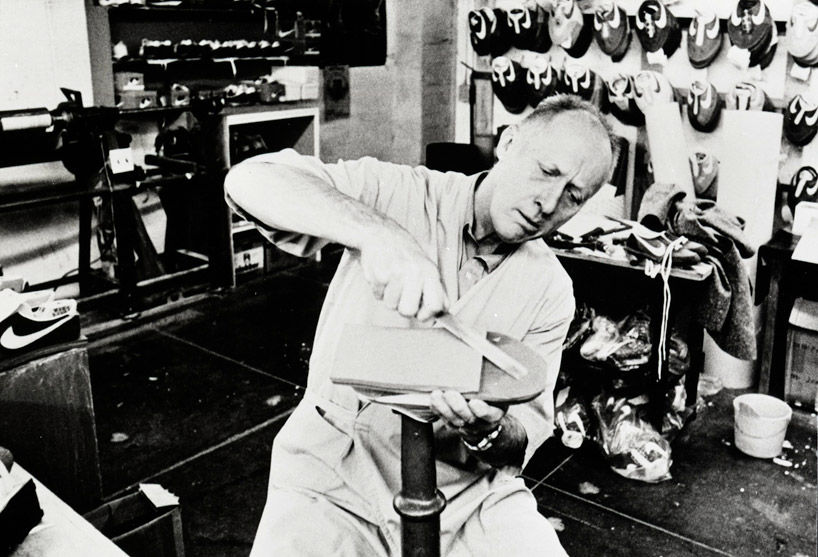 bill bowerman cobbling shoes
image courtesy of NIKE

before the ubiquitous NIKE swoosh, there was a design innovator who built the brand from bottom up: bill bowerman. with a career that began as a nationally renowned track and field coach at the university of oregon, bowerman continually sought out ways to give his athletes a competitive advantage. his experimentation with materials intended to relinquish the traditional parameters of professional running equipment by developing innovations in various track surfaces, re-hydration drinks — and most importantly — shoes. he began simply, by cobbling sneakers for his runners and gathering inspiration from everyday sources. he even refined an innovation which he drew from his wife's waffle iron – an outsole that had waffle-type nubs for traction but were lighter than traditional training shoes. bowerman's work was pushed by his resolve to better the footwear field, and a forward approach aligned with business thinking pioneered a revolution in athletic shoes that completely redefined the industry.
together with phil knight, a middle-distance runner from portland who competed for bowerman's track program, the two began 'blue ribbon sports' with a pledge of $500 each. the start-up company — whose first placed order was for 300 pairs of shoes in january 1964 — would grow to become one of the world's leading innovators in athletic footwear, apparel, equipment and accessories. today, NIKE is a multinational, multibillion dollar business with stores from new york city to cape town, headquarters all over the globe, smartphone apps and sales from sports shoes to fitness wristbands.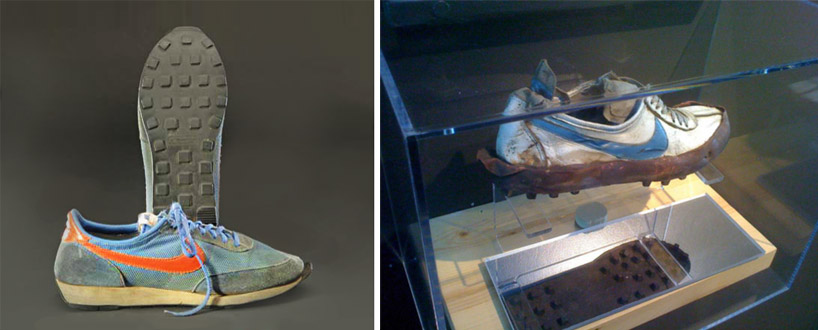 (left) the original NIKE waffle: early models of this sole were made by pouring rubber into his wife's waffle iron
image courtesy of smithsonian
(right) one of the first examples of the waffle-iron-inspired sneaker
image by rachel bachman/the oregonian
as a student of product design at stanford university, alexander asseily became immersed in design innovation, translating his concepts and ideas into tangible, consumer-driven objects of great importance. together with his friend (and now co-founder) hosain rahman, asseily evolved his then senior thesis into the now multinational bluetooth headset manufacturer and consumer tech company, 'jawbone'.
the duo's initial involvement with U.S. military branch DARPA involved the invention of 'noiseassassin' noise-cancelling technology, used for soldiers to communicate clearly with each other in difficult conditions during combat. realizing the vast potential of their research and work, they began the development of 'jawbone', a super portable, connected headset designed to dramatically reduce background noise for the listener. renowned designer yves behar (now the company's chief creative officer) was enlisted to design the aesthetics of the sleek, lightweight and ergonomic bluetooth device, which can be used to listen to music in the morning, make calls on-the-go, or for communicating with personal phones for getting directions. today, the brand still features the iconic bluetooth 'jawbone' headset, along with a dynamic range of products including the 'jambox' intelligent wireless speaker, and the 'up' wristband for tracking exercise, sleep patterns, health and well-being.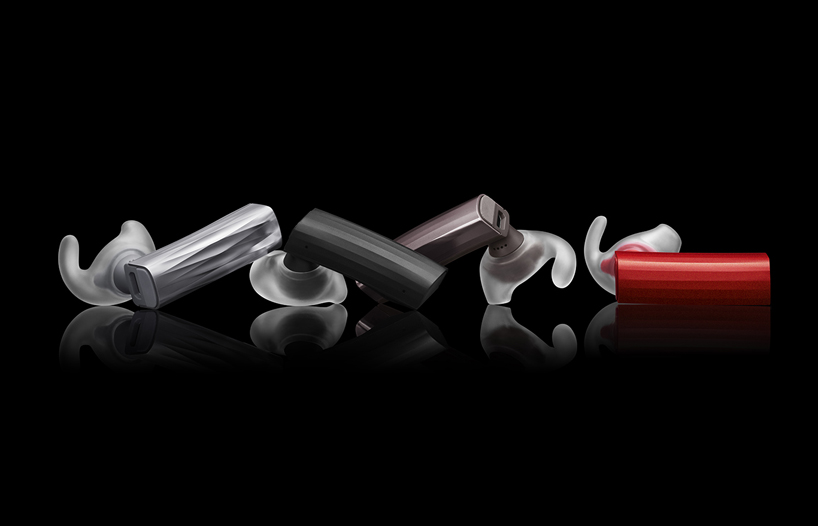 ERA bluetooth headset by jawbone
image courtesy of jawbone
'disruptive by design' is about shaking up the norms and challenging yourself to be a game changer – on a large or small scale. whether it's through material innovation, form, social or economic impact – it is all about being a revolutionary thinker. Oakley, in collaboration with designboom is looking for design #disruptors who will challenge expectations and amaze the world with their approach to design.
do you disregard the usual creative parameters, think unconventionally and want to change the world? then you are a design disruptor. create an innovative design that will disrupt elite sports performance in a way that hasn't been seen before. there are no limits to where your inspiration comes from, and there are no restrictions on the format of your concept. it could be a digital design, garment, new way to use technology, product, even a piece of architecture. the only rule is that it needs to fit the parameters of 'disruptive by design'.
for more information, visit the Oakley 'disruptive by design' call-for-entries and official competition rules.
submissions deadline is july 28th, 2014 23:59 (GMT).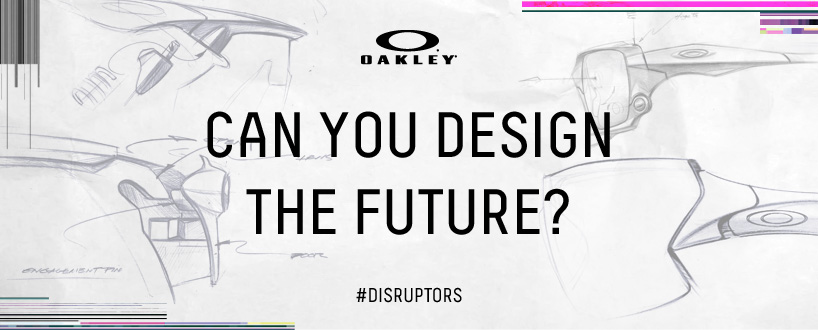 nina azzarello
I designboom
jul 27, 2014
a diverse digital database that acts as a valuable guide in gaining insight and information about a product directly from the manufacturer, and serves as a rich reference point in developing a project or scheme.
designboom will always be there for you
milan, new york, beijing, tokyo

,
since 1999