in the last 15 years, dimore studio has built a name for mixing a decadent aesthetic of jewelled tones, distinctive textiles, vintage furniture, and contemporary artwork, and all in a way that without experiencing it for yourself, might make you question if it could all really work together. the same way as a playlist ranging from bette davis to orchestral manoeuvers in the dark might make you wonder who is crafting the atmosphere for our interview. the answer is -emiliano salci, one part of the milan-based design duo and self-confessed DJ hobbyist. his counterpart – and as I understand, roommate – britt moran, is yet to arrive, an opportunity to find out exactly what it's like to live and work with your business partner and other half of your creative genius…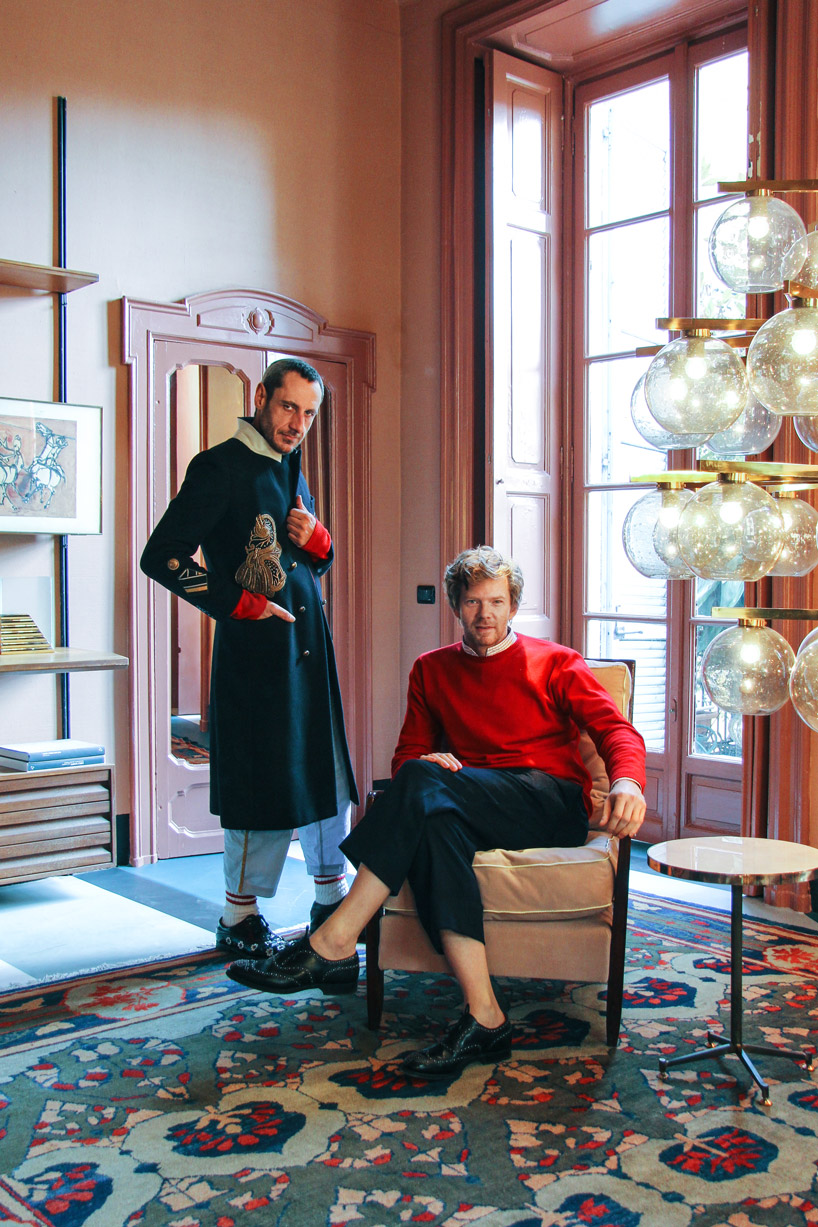 emiliano salci and britt moran
image © designboom
'it's like a family for us, we are like brothers. although britt is american and I am from tuscany we are both alone in milan, so we are a total family.' introduced by friends in milan in 2000, emiliano and britt have been inseparable ever since. today they share an apartment, and whilst emiliano looks after the creative side of dimore studio, britt takes care of the administrative parts of the business.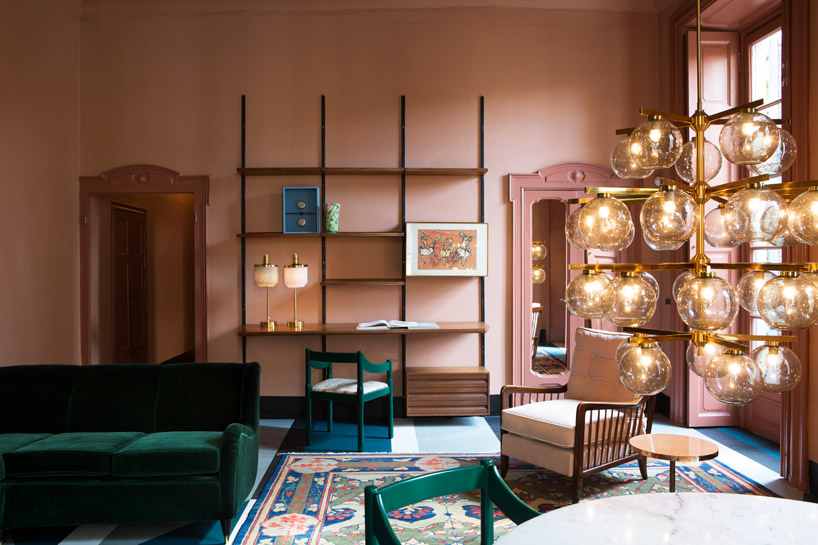 all other images courtesy of dimore studio unless stated otherwise.
the key to their successful partnership is not only a fraternal connection, and a shared love of exquisite design, but an incredible synchronicity made obvious when britt enters the room in the same bright red jumper to his italian counterpart. however, they also acknowledge their differences and as britt explains, 'emiliano has the right amount of eccentricity, and maybe I have just the right amount of pragmatism where we can make sure what he has in his head works…otherwise it just remains in his head.'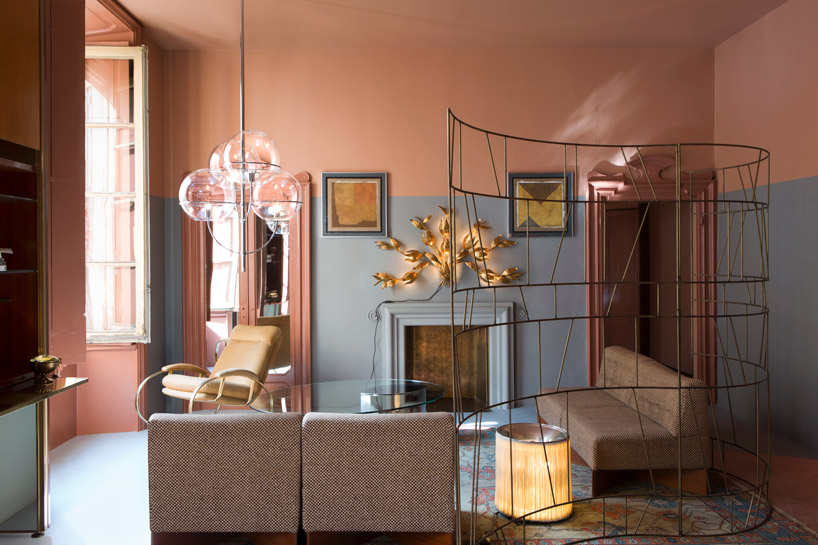 dusty pinks and blues combine in a two tone wall
from private homes and restaurants to hotels and boutiques, these realisations have seen dimore create interiors for a list of clients, ranging from fashion power houses like hermès and fendi, to retail skincare brand aesop and hoteliers like ian schrager and thierry costes. more recently, they wrapped up a project for leo's supperclub and nightclub, part of the private members the art's club in london, and a laboratory-inspired retail space for luxury eyewear brand oliver peoples, in miami.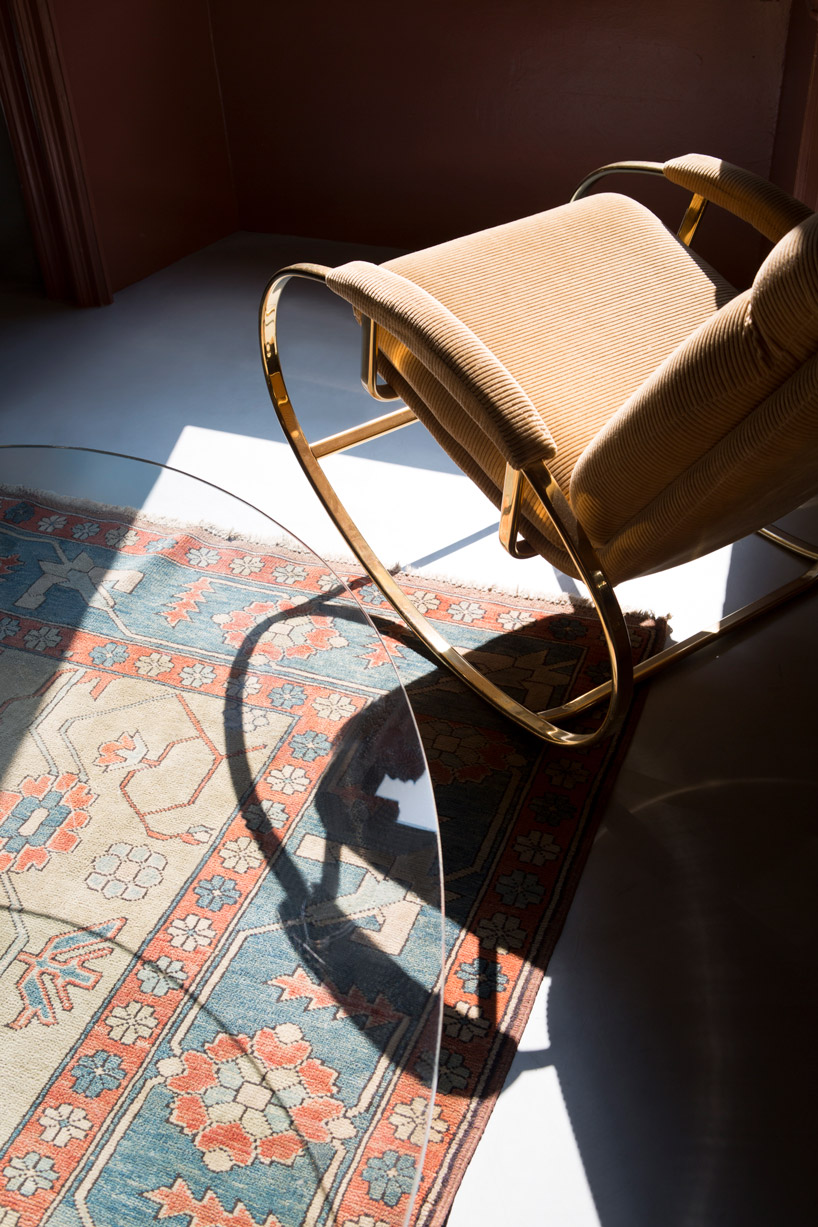 light shines on reflective materials and vintage textiles
'it begins with the brief and then what kind of people are going to be coming and visiting. what is the function of the space? young or not young, classic or not classic?', emiliano explains, and britt continues, 'and when we do a site visit, we look around the area to see what is present because if their are any fragments of the past, it is important to make sure we maintain those, otherwise spaces will completely lack any type of patina.'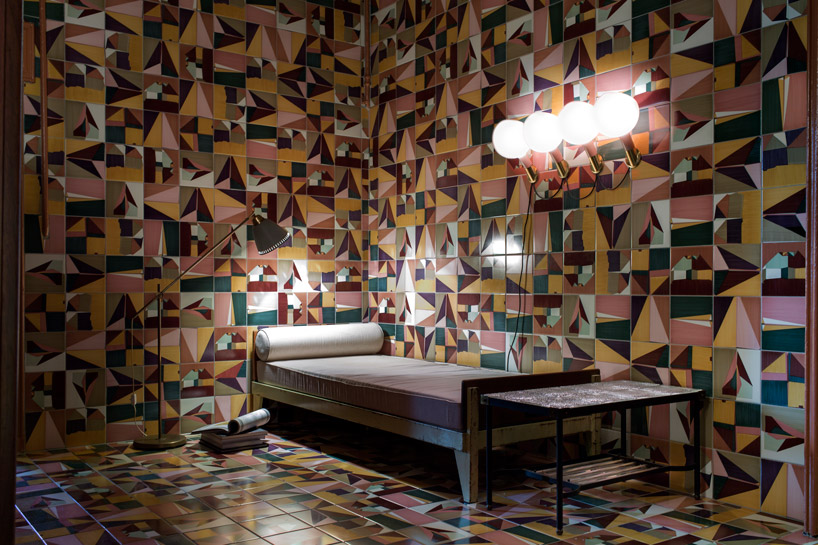 hand painted tiles in dimore gallery
with mood boards that draw heavily on the past, the pair make it seem seamless to combine items from an archival collection boasting gio ponti, carlo scarpa, max ingrand, angelo lelli and gino sarfatti (to name just a few), with works from contemporary artists. perhaps part of the reason could be that at the very core of their approach is an ode to design that is not only distinctively but instinctively italian. 'style is just a part of them [italians] and – as a non-italian – they are very lucky because they are surrounded by art and beautiful architecture,' britt states.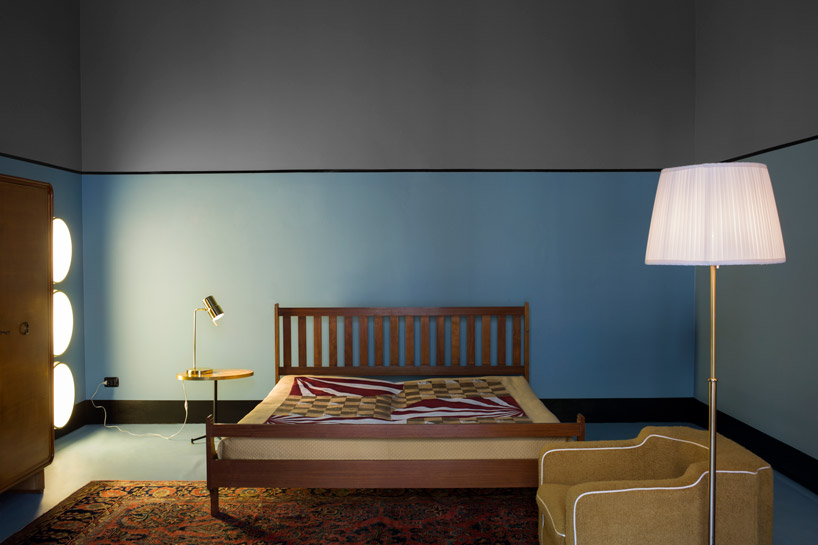 black trimmings and white piping give the interior a graphic quality
'from ancient art to renaissance art, up until postwar and modern art – you have a lot of different periods and styles that you can choose and draw from in italy,' emiliano adds before remembering a recent trip to his hometown. 'I took my friend with me and they said 'now I have come to see where you are from, I can completely understand'.' but how so? 'it is impossible for me to describe. maybe it is the colour of the sky or some small detail, or maybe it is just that something that is part of you from that place…that you don't even realise you have.'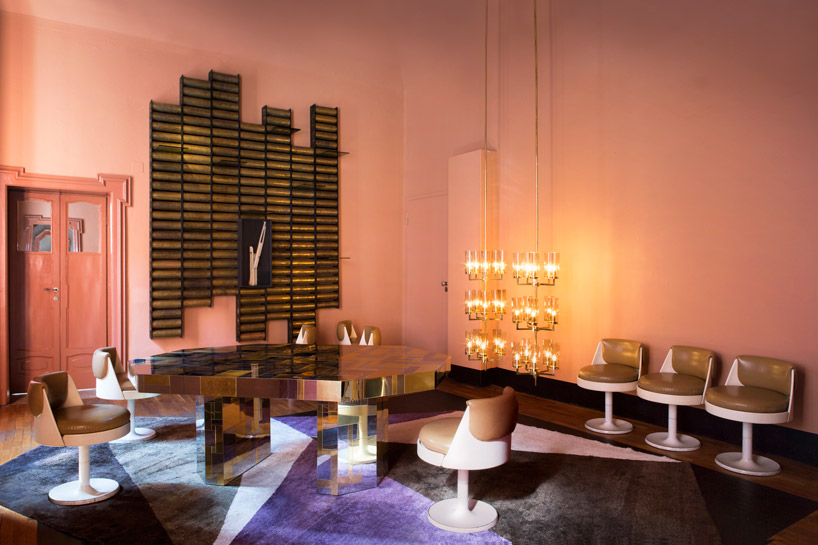 low hanging chandeliers light up retro chairs
and with the innate quality a 50% italian heritage between them permits, the pair have seen an ever-growing list of projects over the years, their family too, growing bigger and bigger, attracting a necessary team of over 40. beyond client briefs they have undertaken various projects including their own line of studio-designed furniture in 2005, a fabrics collection in 2015, an outdoor collection in 2016, and this year, a decorative objects collection for 'those finishing touches'. finally, lest we forget their most cherished endeavour – the continued success of their three-year old gallery space, adjoined to the studio, the setting for our interview. the space opened in 2014 – aptly titled 'dimore gallery'. here, the designers curate their own creations with those collected in a series of rooms conveying their love of storytelling, a craft that had visitors queuing over two hours for during this year's salone del mobile.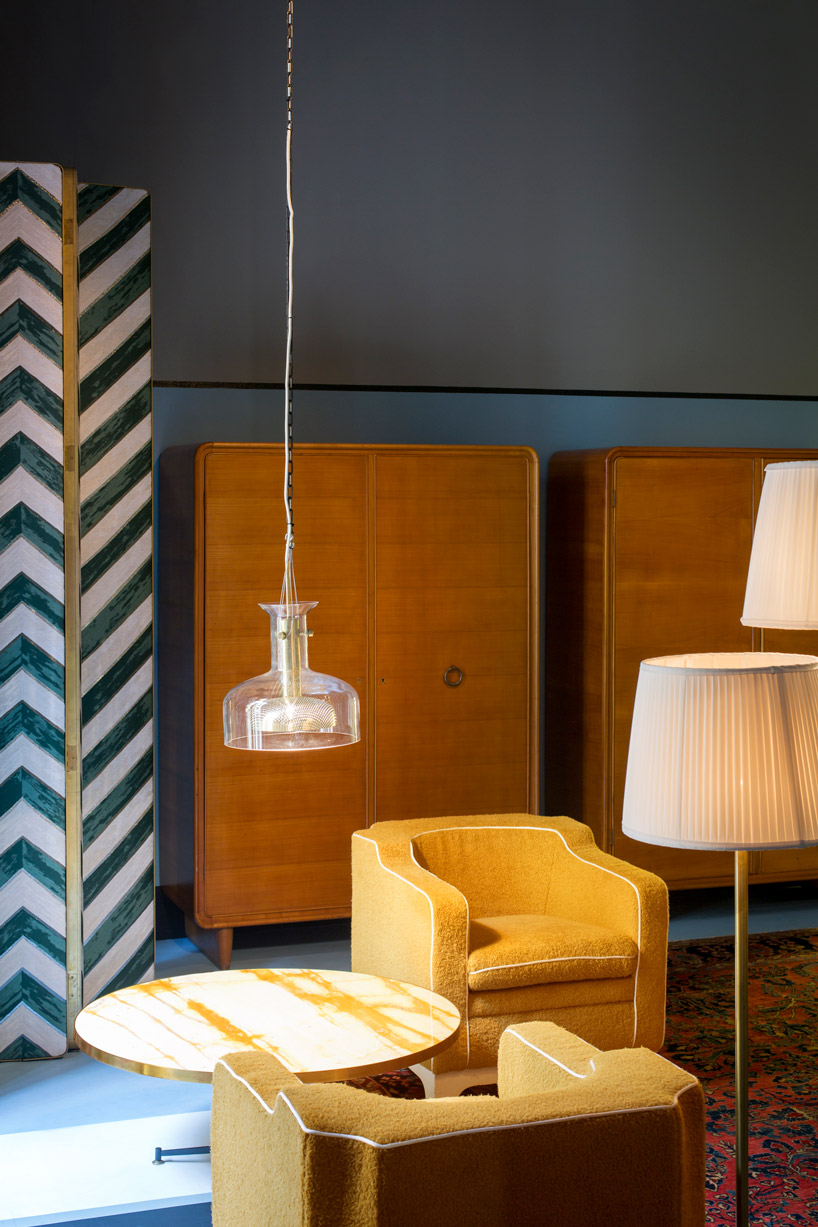 mid-century cabinets are two-fold
'salone is such a good example of how curious people are,' britt explains. 'I think everyone – when they're walking down the streets in the evening and they pass people's houses – everyone peers in to see their furniture. everyone has this innate curiosity to see how other people live. to see what kind of colours they are using.' in both london and milan the studio exhibited a voyeuristic experience throughout a series of curated rooms which viewers could spy into and develop their own narrative. 'we give you the suggestions and a few hints but you have to come up with who lives there, what happened last night…?'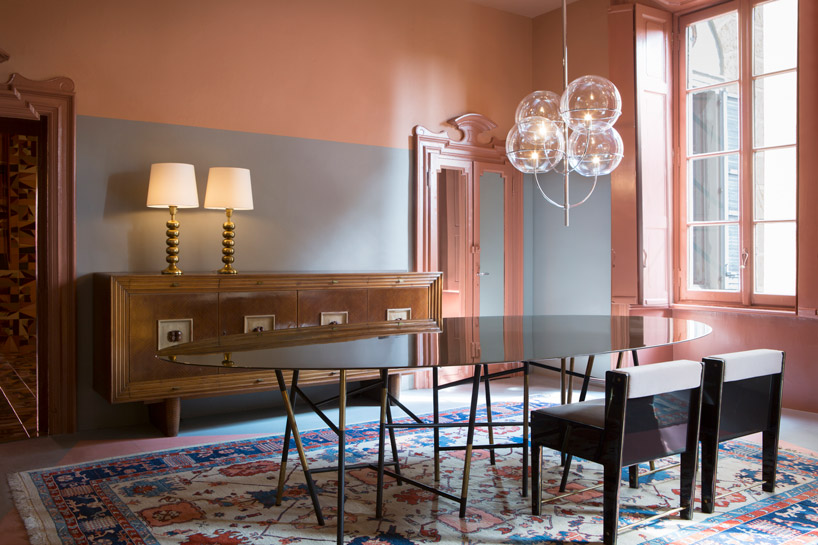 dimore gallery is soaked in natural light
this bold and playful escapism has had many an interviewer remark on the growing love of the studio's maximalist interiors, with most framing them as a suitable tonic for the turbulence of recent times. but something could also be said for the pair's take on luxury, however much they may recoil at the thought. 'I don't really like the word luxury', emiliano exclaims. 'for me, luxury would be the lady who has a very nice birkin bag but she uses it when she goes to the market – that is very luxury.' the devalorized definition makes clear the widespread popularity of the studio's work. dimore studio have gone a way in creating a recognisable world, where escapists, storytellers in their own right, seek safe haven from the drudges of every day life.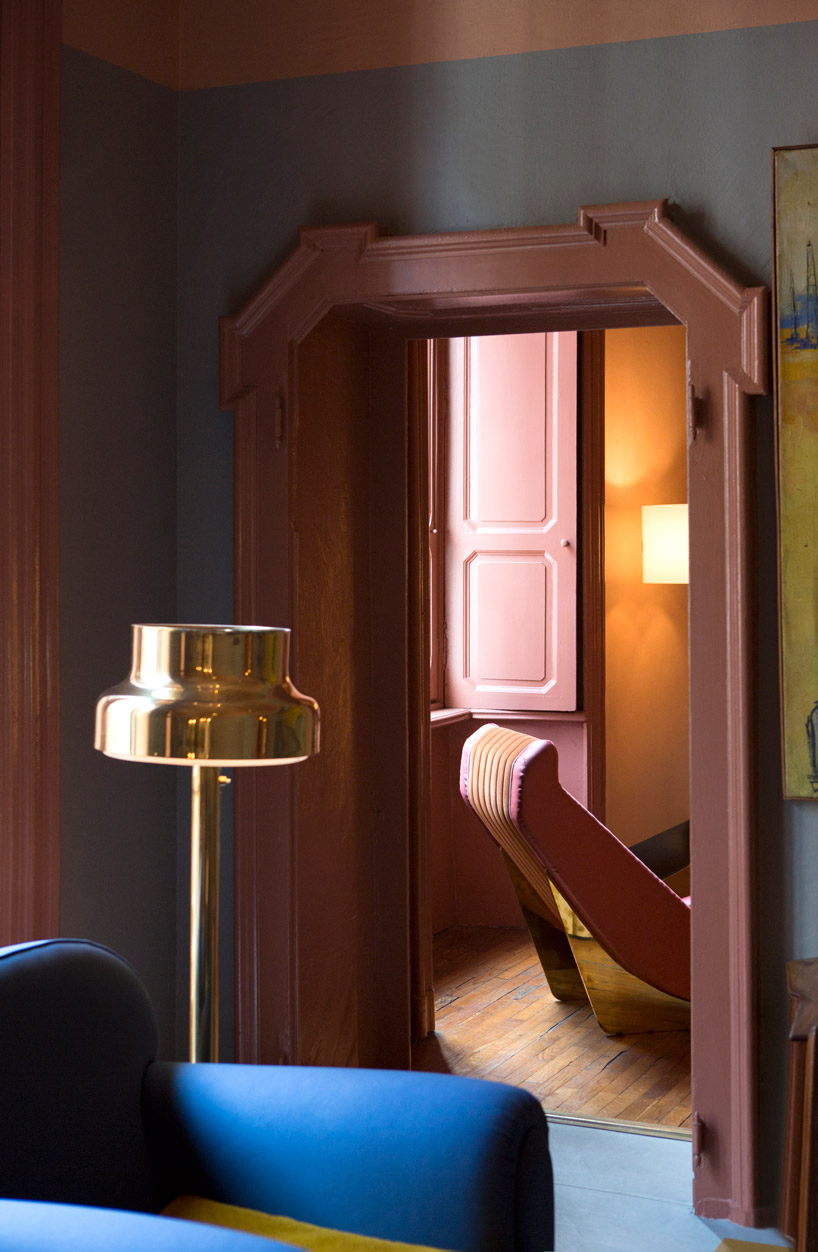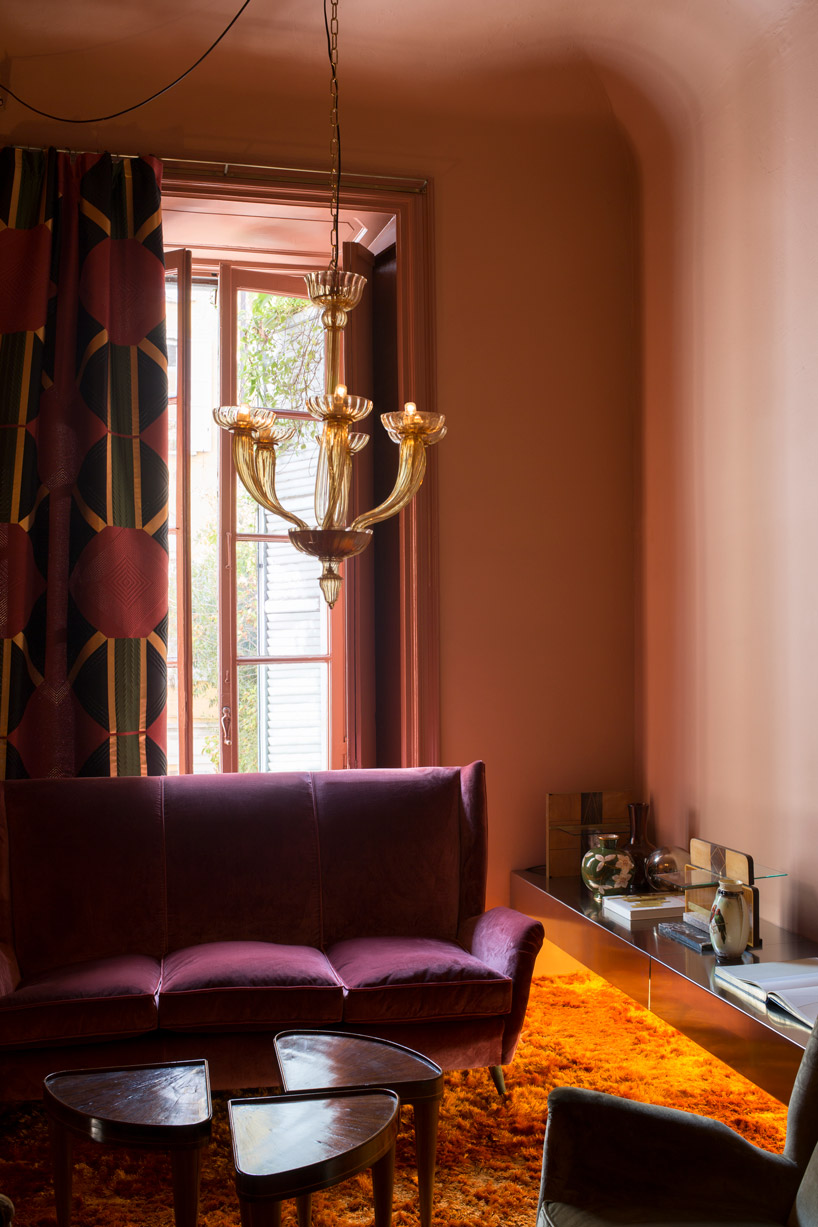 jewel tone velvets and low lighting compliment an amber shaggy rug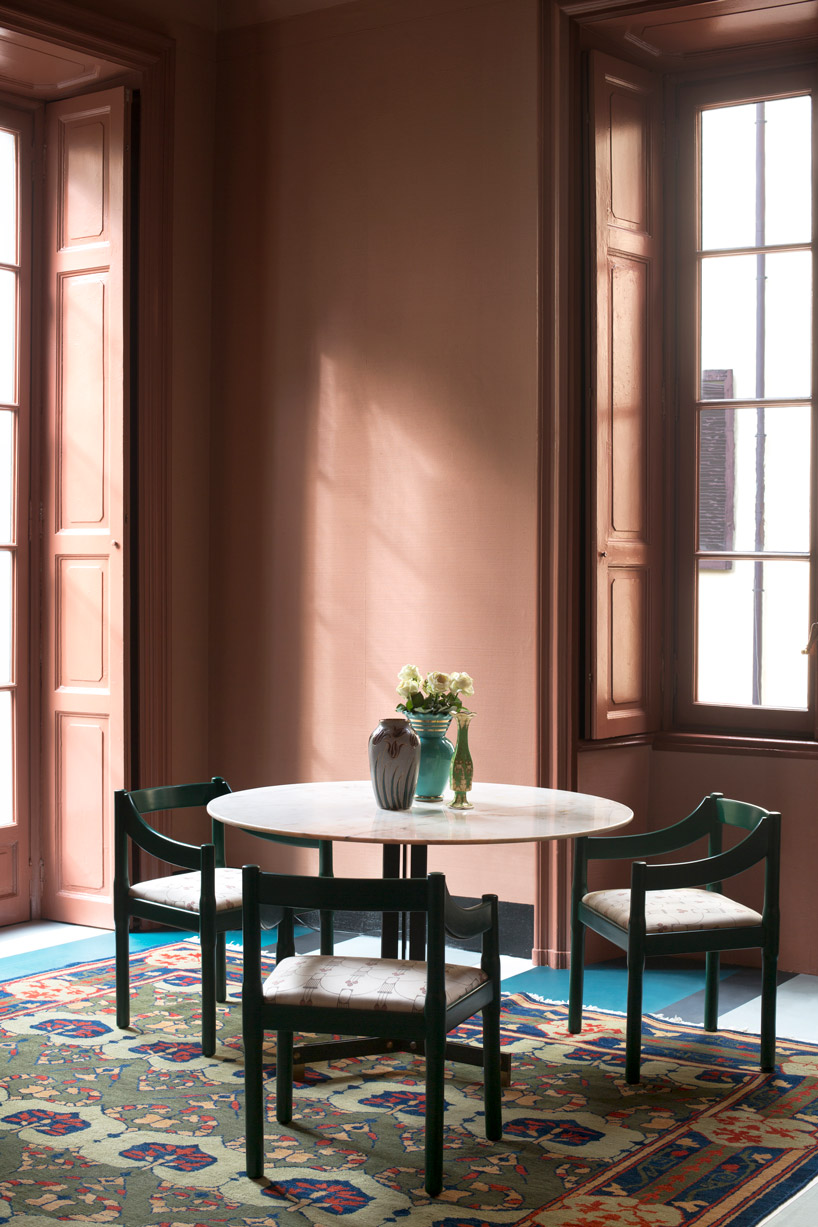 the location for our interview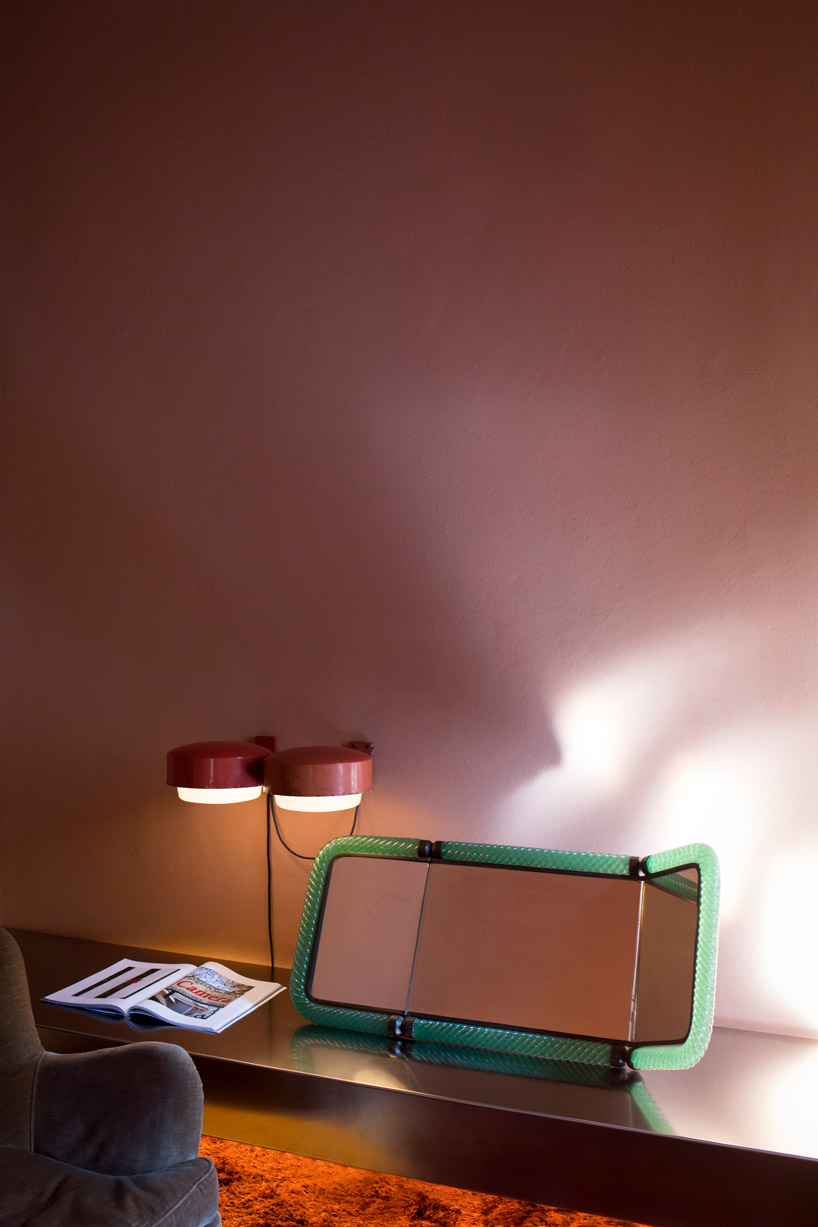 the space is littered in unique pieces
apr 26, 2019
apr 26, 2019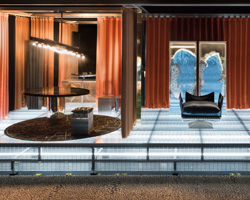 apr 11, 2019
apr 11, 2019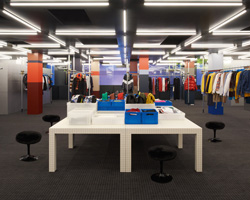 sep 25, 2018
sep 25, 2018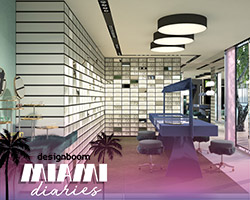 dec 07, 2017
dec 07, 2017
oct 23, 2017
oct 23, 2017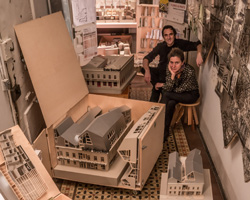 feb 10, 2020
feb 10, 2020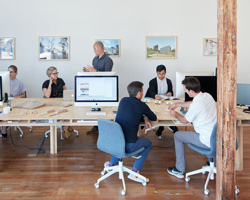 feb 05, 2020
feb 05, 2020
nov 20, 2019
nov 20, 2019
a diverse digital database that acts as a valuable guide in gaining insight and information about a product directly from the manufacturer, and serves as a rich reference point in developing a project or scheme.