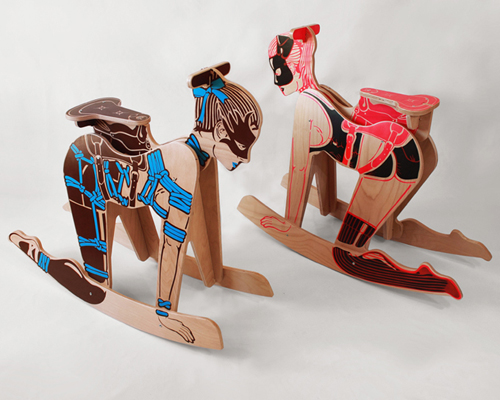 jul 12, 2014
DIY BDSM pony girl rocker by peter jakubik
DIY BDSM pony girl rocker by peter jakubik
peter jakubik injects a bit of naughtiness into the classic rocking horse with his 'pony girls'. the toys are similar to those which we once played on as children, but now jakubik has pushed them into the boundaries of adulthood and sexual fantasy. referencing the BDSM practice of pony play, the designer has developed a series of girls, each with their own individual carnal appeal and erotic ambitions – so you can choose the one that best suits your taste and rock out with her.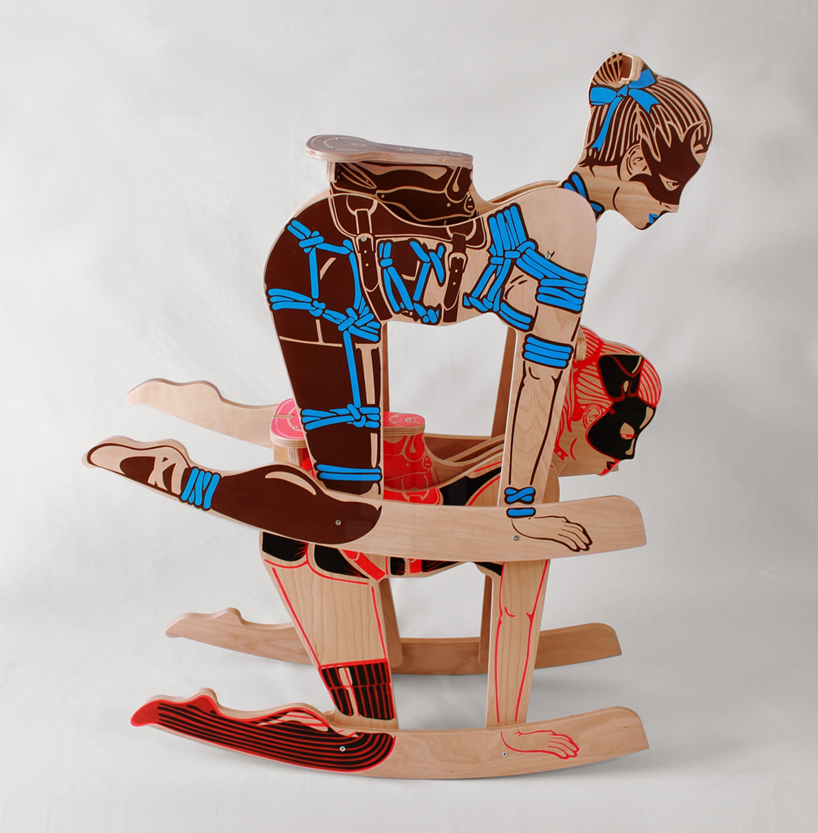 rock out with 'pony girls'
each 'pony girl' rocker comes packaged as a DIY 'ready to assemble' product. they are made from a plywood base, and accompanied by hand-painted graphics which are applied to bring each character to life. of course intended for joint enjoyment between you and your partner, a 'pony girl' can also eliminate the feeling of humiliation, you know, in case your bedroom buddy just isn't into this kind of role play.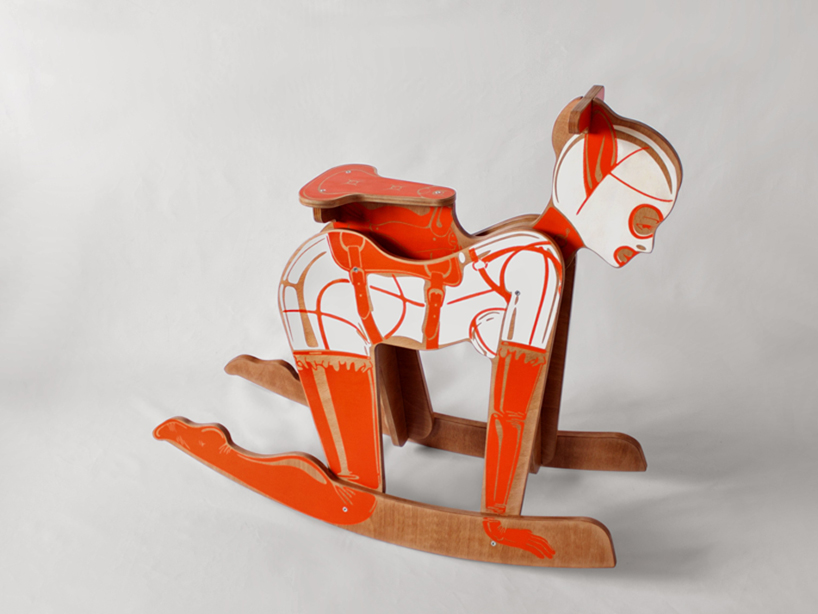 the toy makes reference to the BDSM practice of pony play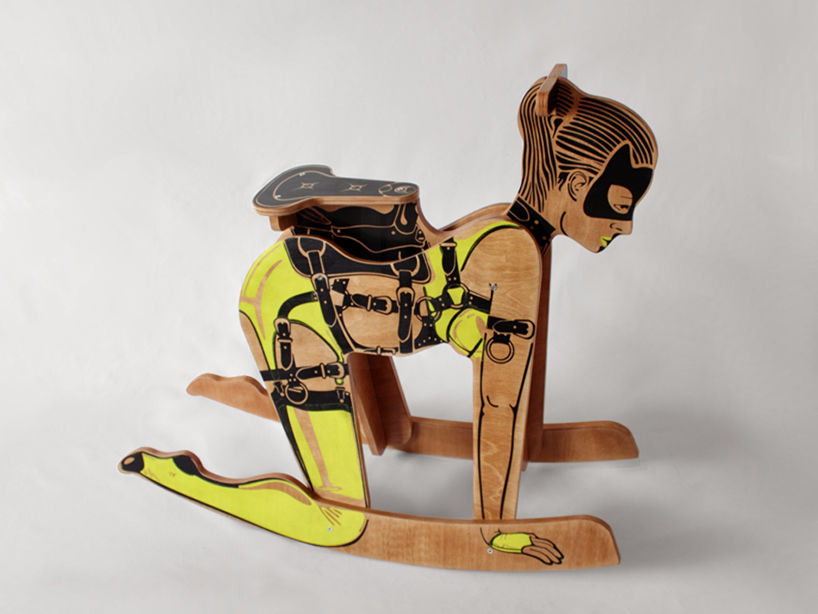 there are a number of different girls available, so you can choose which one best suits your taste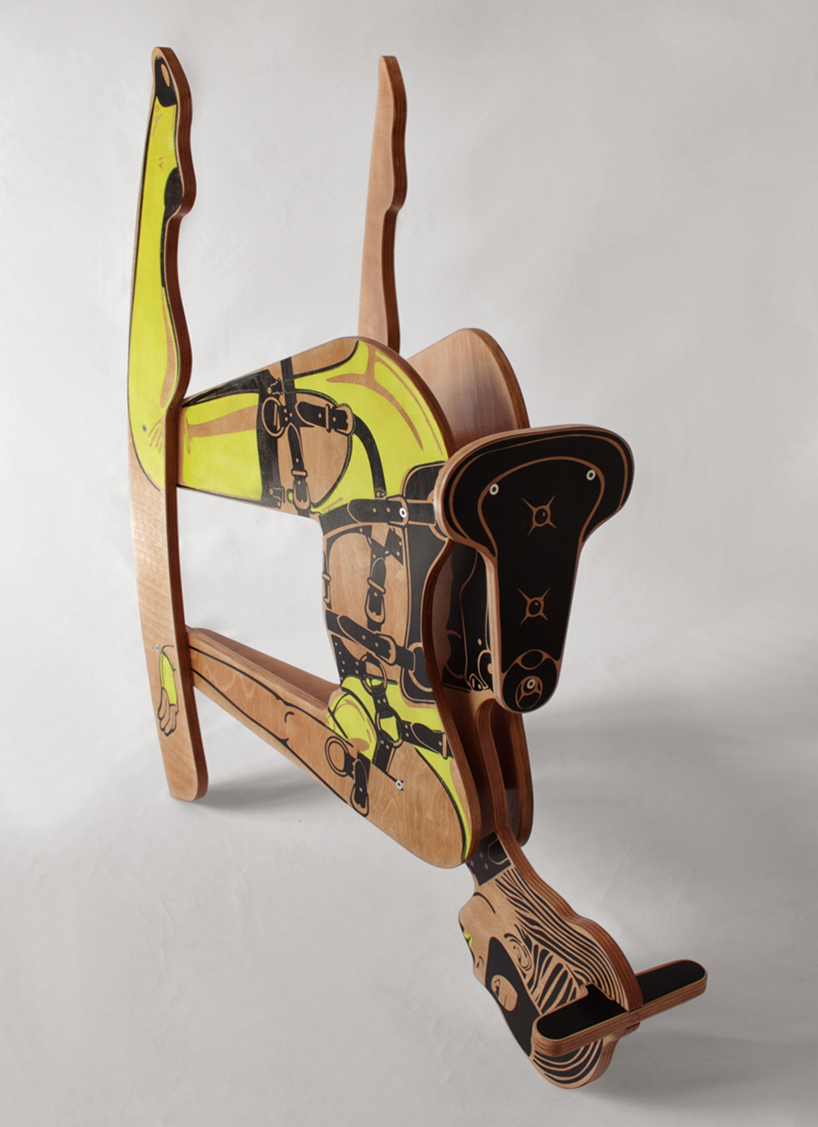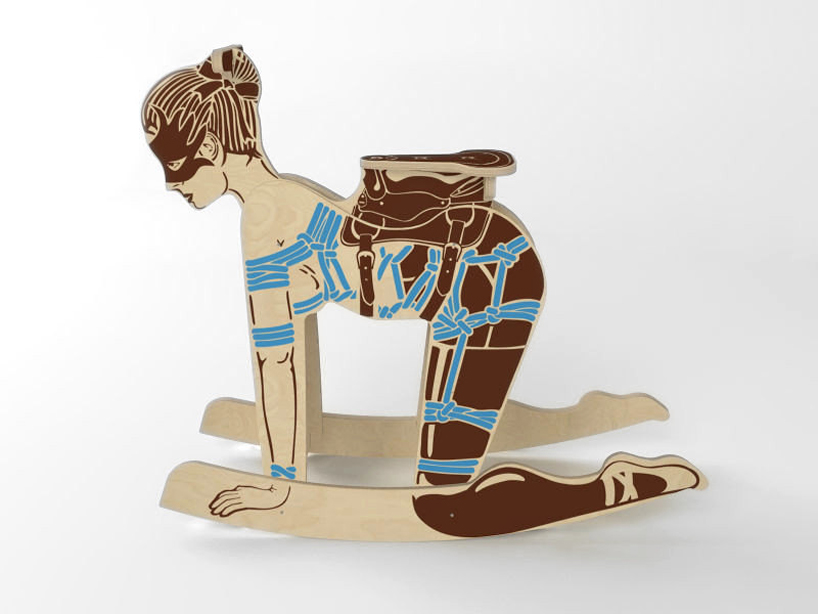 'gisele'
the flexible body of 'gisele' the ballerina is firmly tied by a rope maze forming an improvised body harness. she combines her delight in rope tying with a passion for scenic dance. perhaps you can perform your own 'bondage' version of 'swan lake' together.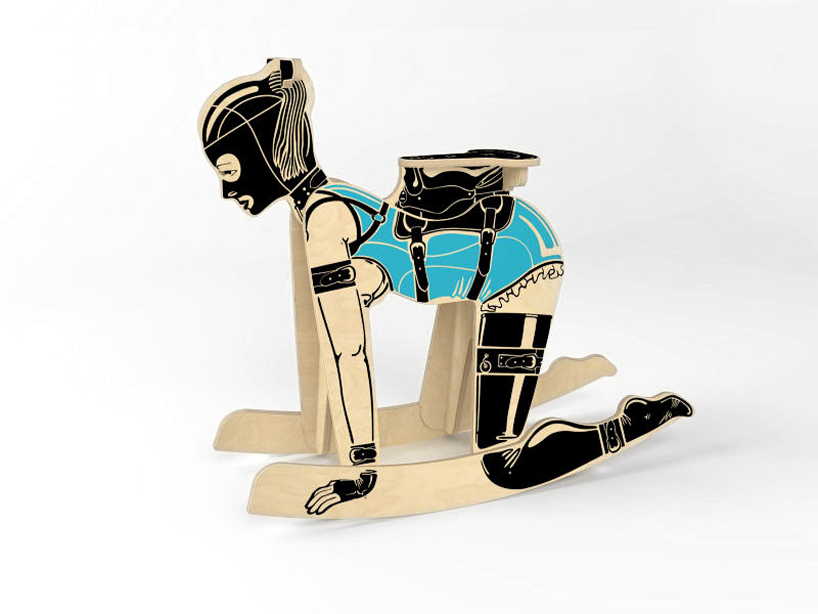 'xenia'
'xenia' is a real girl next door without any sexual inhibitions. she hides her innocent little face under a hood joining her hair into a thick tail. cuffs on hands and feet bind her momentary daftness. it's just up to you to unleash her, and turn a canter to a rodeo.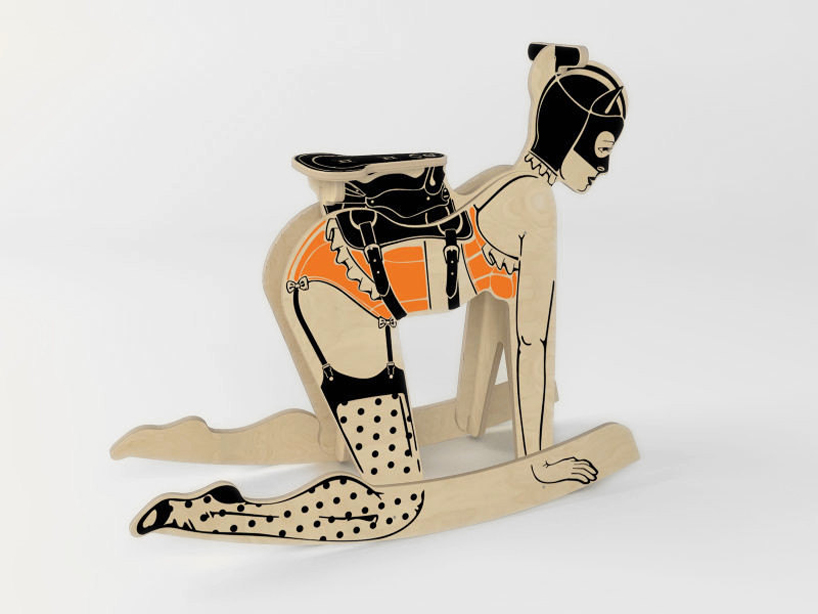 'alice'
cute little babe 'alice' wears a push-up bra and dotted tights on garter belts clipped to retro panties. the link between this stylish swing and a spicy august pin-up girl is intentional.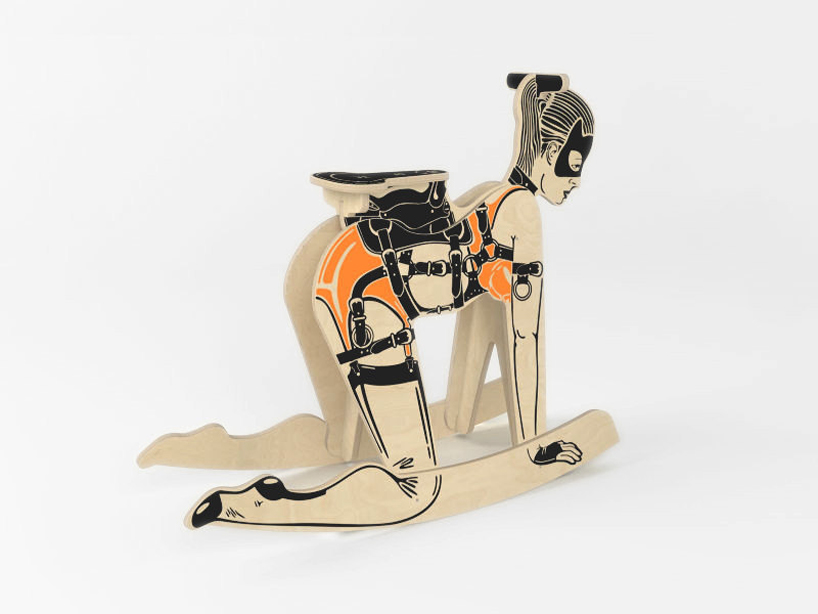 'helga'
'helga' gives a clear indication that her haggard appearance of a little beast is that she doesn't really have a romantic nature. her semi-transparent lingerie and latex stockings are held in place by a similarly toned garter belt and tightly tied by a body harness. she will definitely stand out from your collection of toys.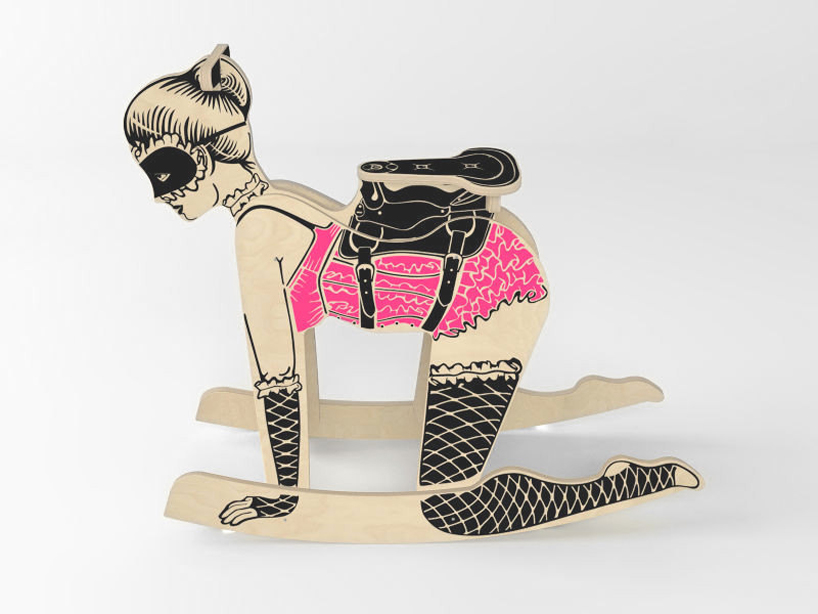 'jacqueline'
fille de joie 'jacqueline' has a penchant for the burlesque. her panties, stockings, long gloves and a corset must include ruffles in any event. at first glance, she coquettishly invites you to sit in the saddle while she gently lulls you.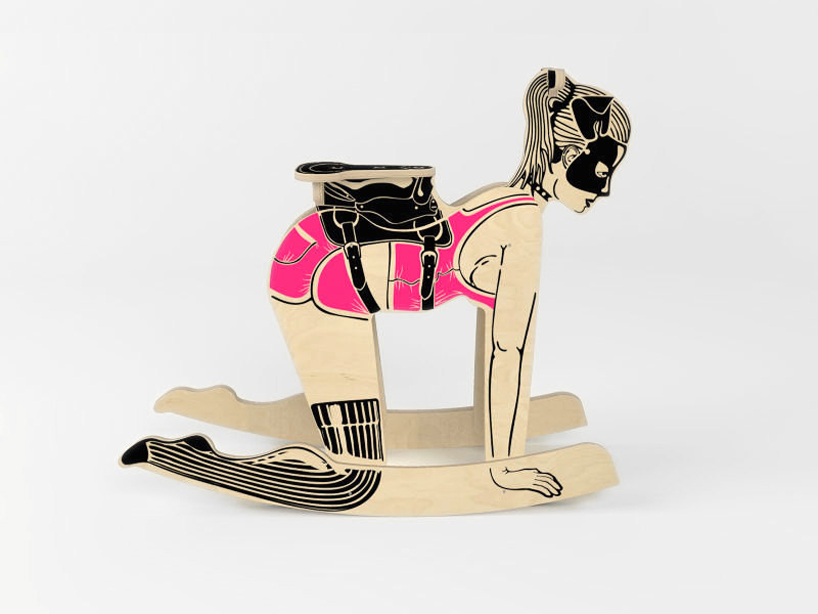 'renate'
sportswoman 'renate' dressed in knitted tights, running shorts and a vest reveals the graceful curves of her body. the animal mask she wears highlights her passion for freedom. this cute sexy bunny may also serve as an untraditional supplementary element of interior.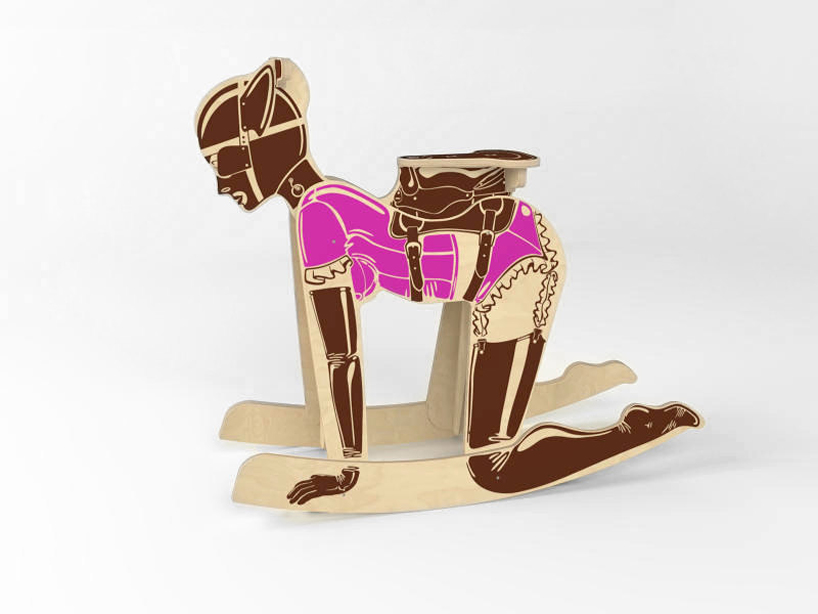 'vanda'
despite the donkey ears on the harness, 'vanda' is not as adamant as you would expect from the way she looks. in her wavy-trimmed negligee and eared harness she keeps standing in her place, obediently waiting for her regular evening ride.
oct 03, 2019
oct 03, 2019
jan 09, 2019
jan 09, 2019
jun 22, 2018
jun 22, 2018
may 10, 2018
may 10, 2018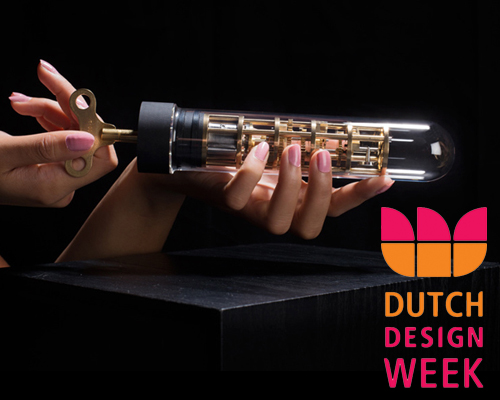 oct 23, 2015
oct 23, 2015
may 28, 2013
may 28, 2013
a diverse digital database that acts as a valuable guide in gaining insight and information about a product directly from the manufacturer, and serves as a rich reference point in developing a project or scheme.