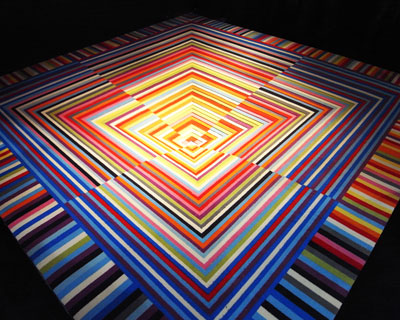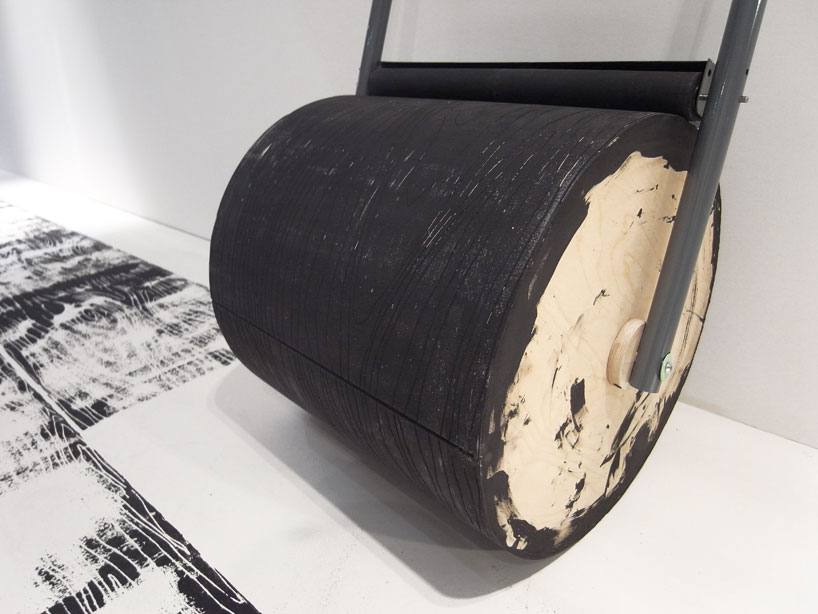 jan 21, 2013
DOMOTEX 2013: stefan diez curates flooring deluxe concept rooms
detail of the low-tech printing machine by tomas alonso conceived as part of his 'jägerstand' with classen holz kontor GmbHimage © designboom
DOMOTEX is the flooring industry's flagship fair, held in hannover, germany. this year's event saw approximately 1,350 enterprises representing 60 different nations showcase their latest products including carpets, textile and resilient floor coverings, parquet flooring, laminated coverings as well as installation, cleaning and application technologies. it was noted that these year's industry trends focused on bold colors and innovative designs.
the overall theme of 2013 was 'flooring deluxe' and with this stefan diez was invited to curate a series of concept rooms,whereby a number of designers were selected to collaborate with different flooring companies to conceived and present unconventional flooring solutions in the form of experimental installations.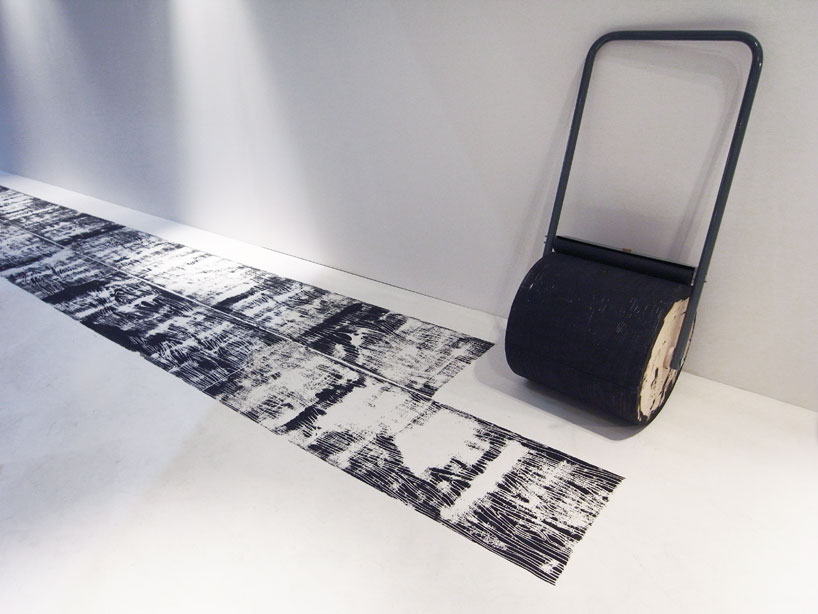 alonso created a large lino roller which prints 'fake' wood onto the floorimage © designboom
tomas alonso's concept room 'jägerstand' focused on the hyper-realistic look and feel of  german manufacturer classen holz kontor GmbH's collection of laminate floorboards,which are so realistic in terms of the wood grain, sizing and edge finishing, that if made thick enough, could be mistaken for planks of wood.with this in mind, alonso has proposed to make furniture from the flooring, create a small treehouse ('jägerstand') with an integrated tableand benches all built using basic wood construction techniques in combination with classen's own megalock system. in contrast, and in continuing the play between fake and real, they tried to print their own flooring by building a low-tech lino print roller with a wood pattern on its surface.here, the 'fake' ultra-realistic floorboards become furniture and cabin, while the floor is just a 'fake' print of real wood, shifting from 2D to 3D to 2D.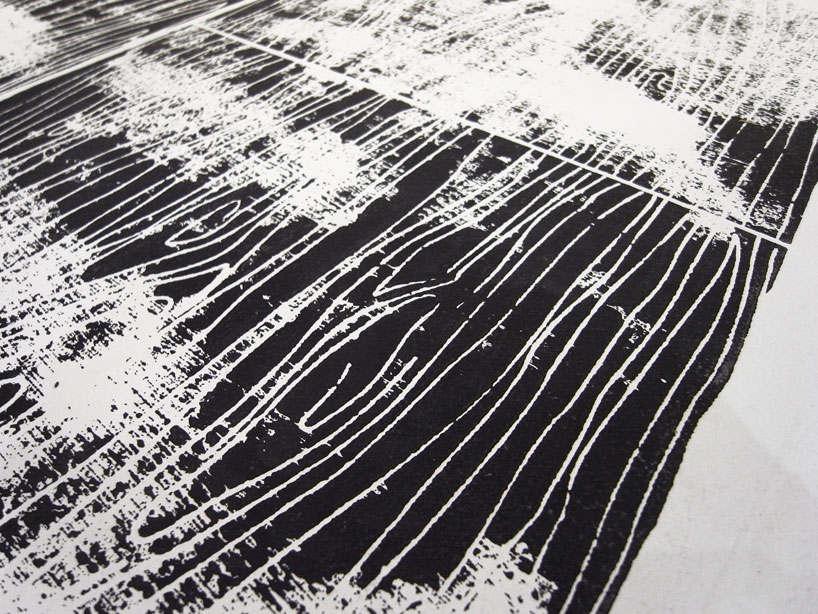 the 'fake' print of real woodimage © designboom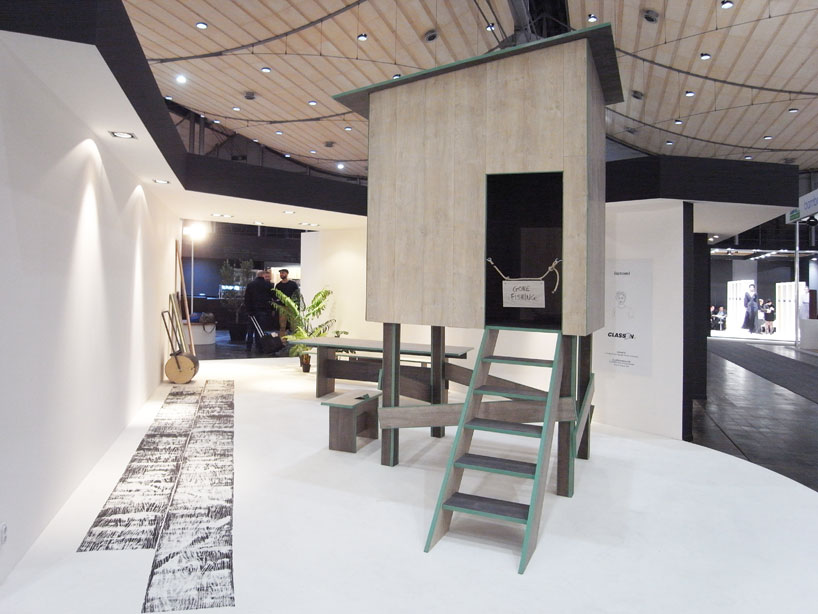 'jägerstand' by tomas alonsoimage © designboom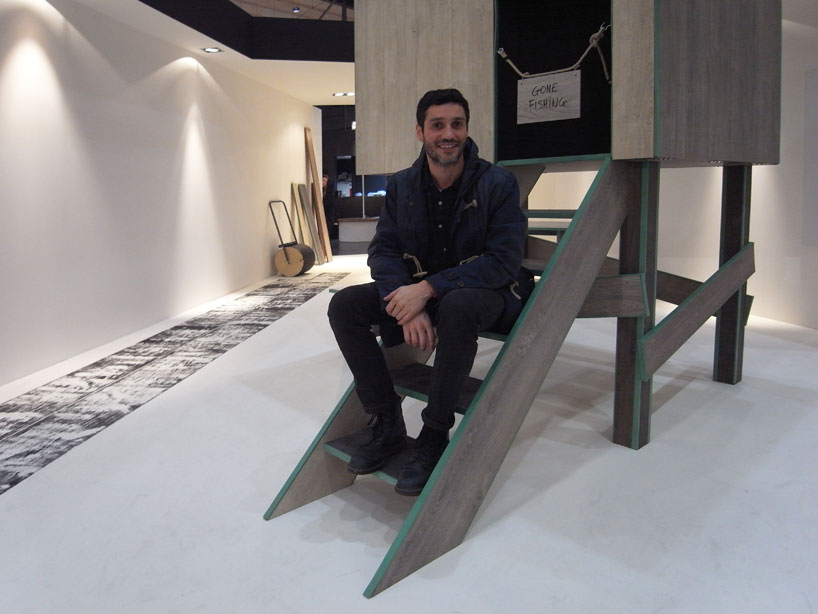 tomas alonso at the 'jägerstand' image © designboom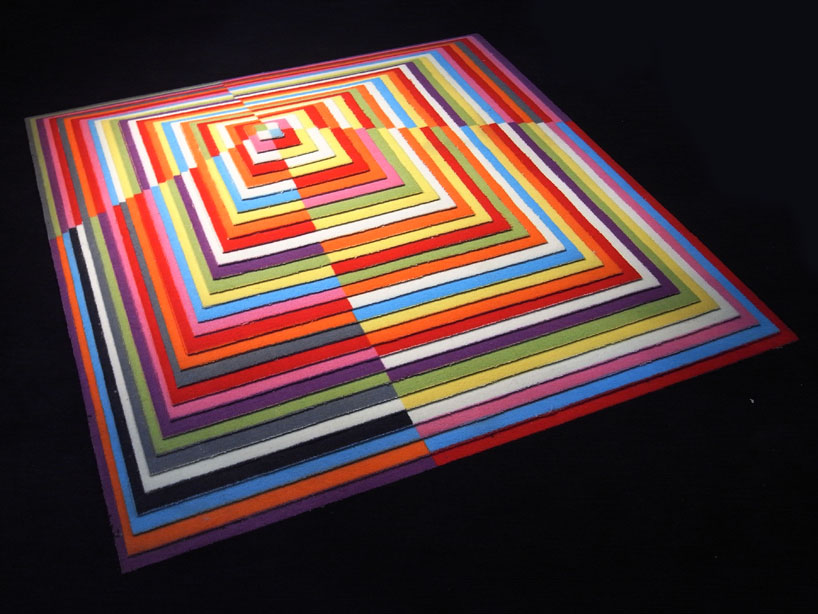 'kaleidoscope' by mirko borsche realized in collaboration with baltaimage © designboom
another notable installation was bureau mirko borsche's 'kaleidscope' which was realized with balta industries. the belgian flooring company specializes in printing on carpets, and in drawing on his graphic design background, borsche wanted to create an optical illusion, a striking 3D display. he layered pieces of carpet printed with a bold, colorful geometric pattern, in overlapping combinations, and cut out the centre to create two pieces, one which appears to recede into the ground, and the other which seems to be emerging. the resulting unified whole is a kaleidoscopic medley which achieves the effect of optical art or trompe-loeil.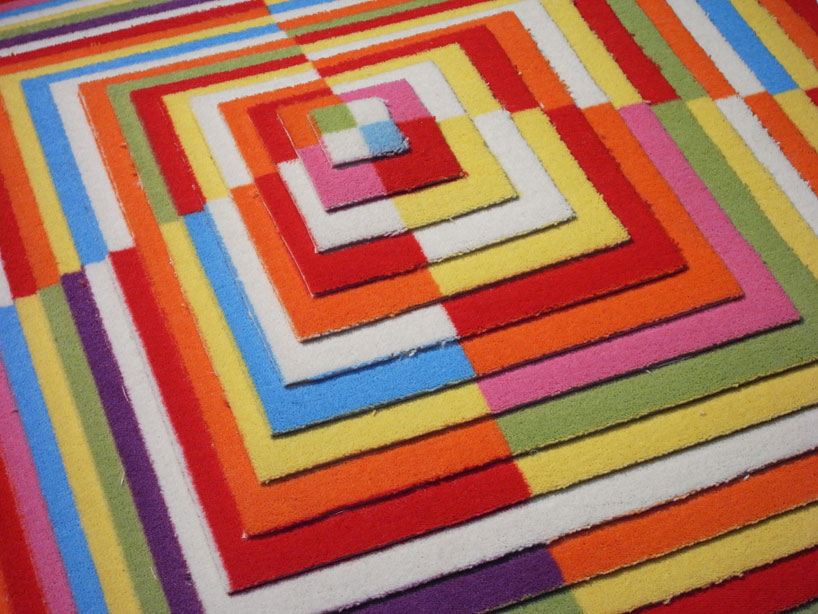 image © designboom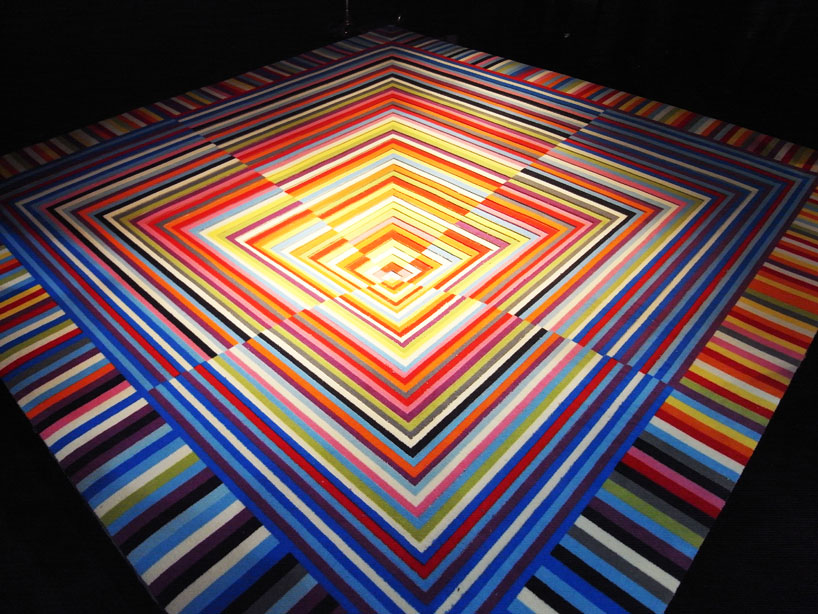 the receding carpetimage © designboom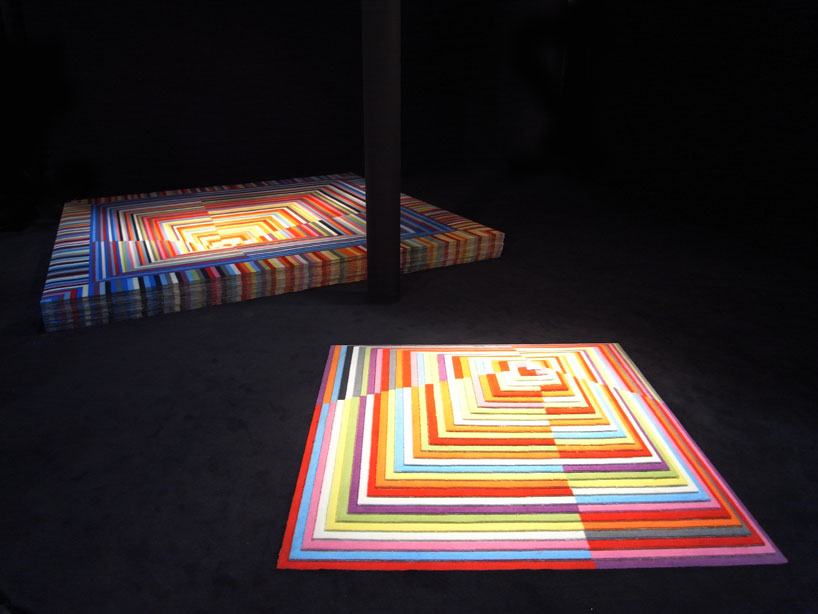 'kaleidoscope' installationimage © designboom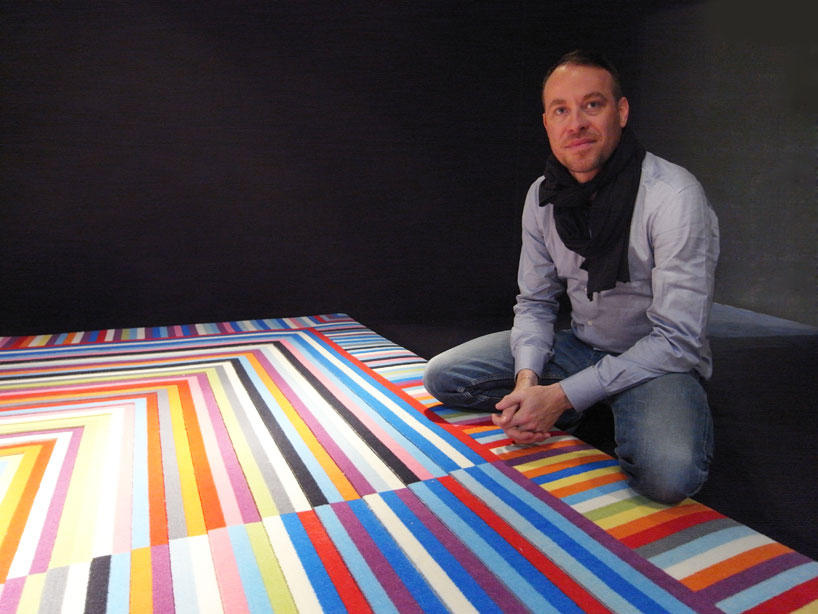 mirko borscheimage © designboom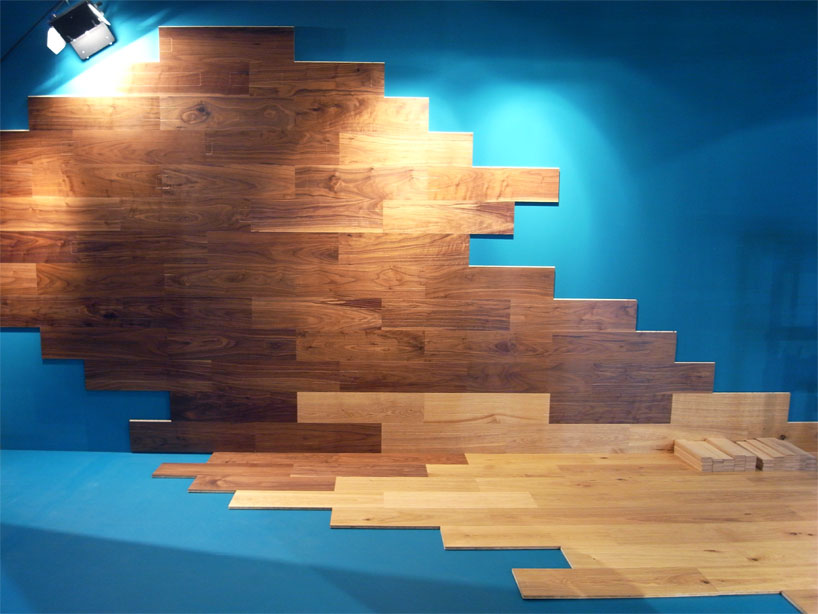 'pattern intervention' by mark braun realized in collaboration with baltic wood S.A.image © designboom
among the selected designers was mark braun, whose 'pattern intervention', realized in partnership with polish manufacturer baltic wood S.A., won the people's choice award for best installation. braun developed a technique to emboss patterns – nine individual elements – into wood flooring,which at the end, can be combined in many numerous ways – in horizontal and vertical arrangements – and yet still always match. the graphic is informed by the DNA of wood in which a veneer press is used to make an impression into the flooring,whereby braun has employed existing machinery, but uses it in a new application. the way in which the silky matte surface of the resulting oiled baltic wood parquet, ran in the manner of a line of domino stones, the warm tones of the product against the vibrant blue background of the space, was an homage to the impressive diversity and beauty of the natural material. his presentation also included an embossing machine on-site, and many off-cuts of wood so that visitors could test the method themselves and take away a sample.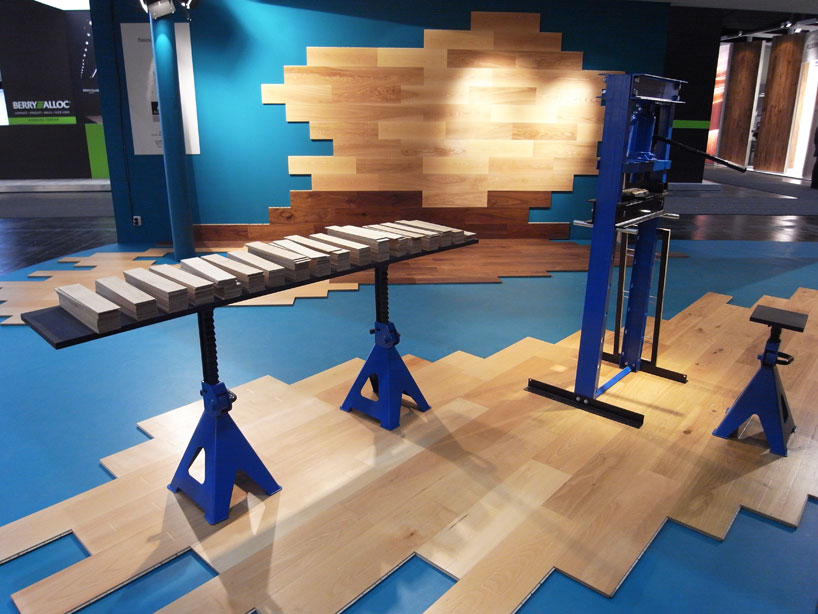 general installation view of 'pattern intervention'image © designboom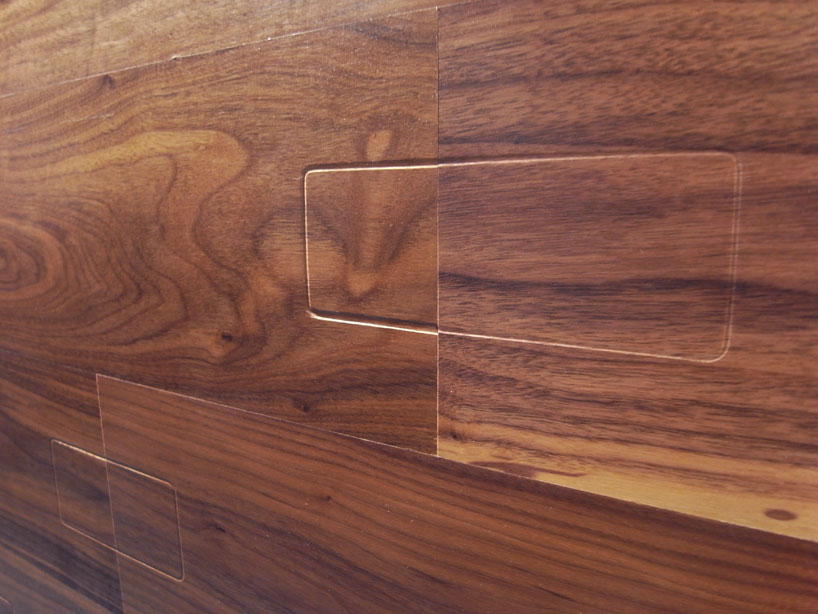 detail of the embossed pattern which is informed by the DNA of woodimage © designboom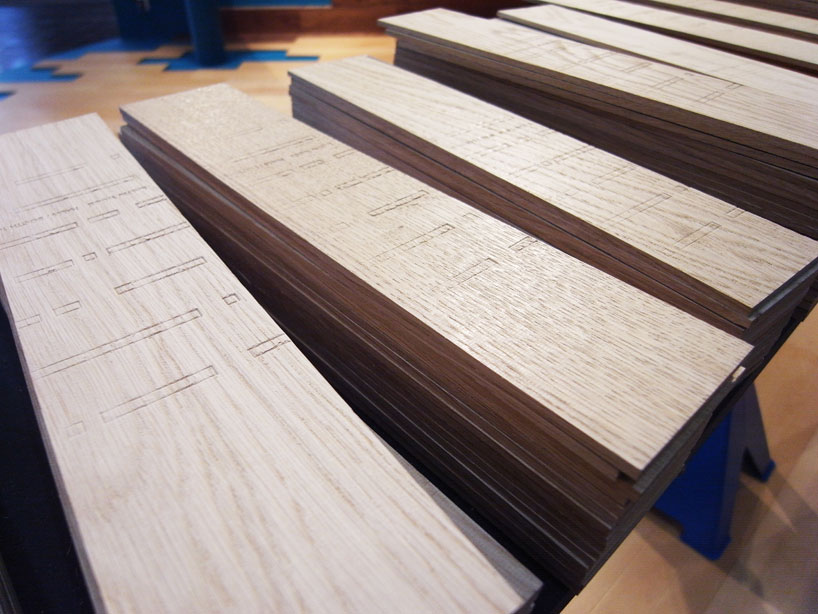 pieces of wood and a veneer press were on-site for visitors to test the process of embossingimage © designboom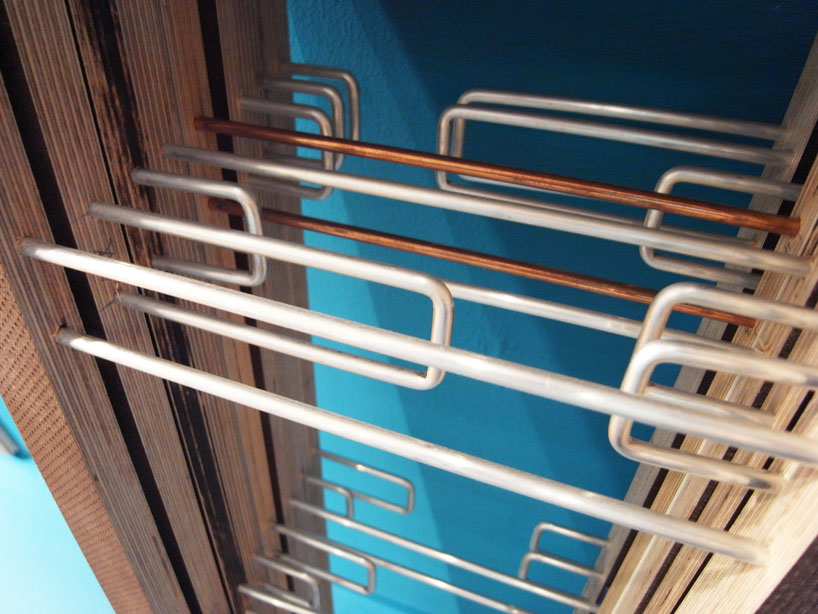 the moulds used to create the patterns on the woodimage © designboom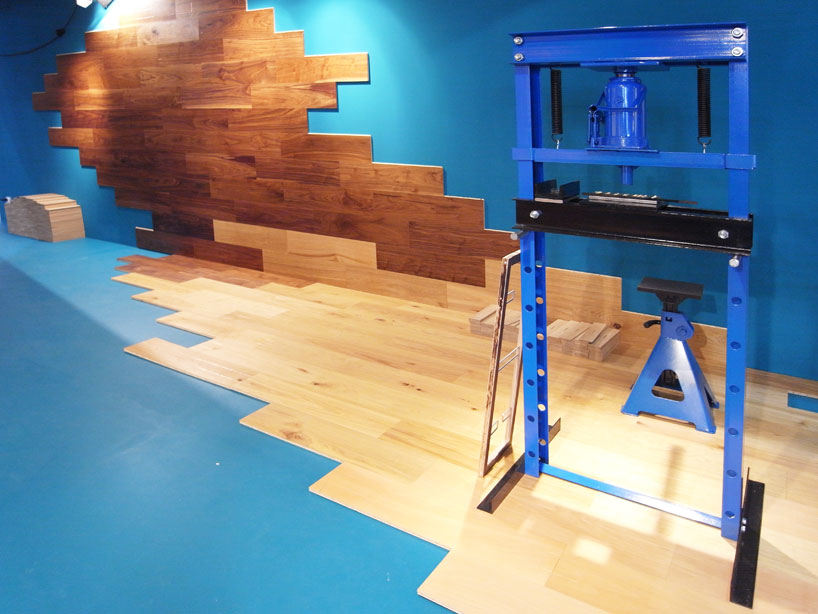 the veneer press on-siteimage © designboom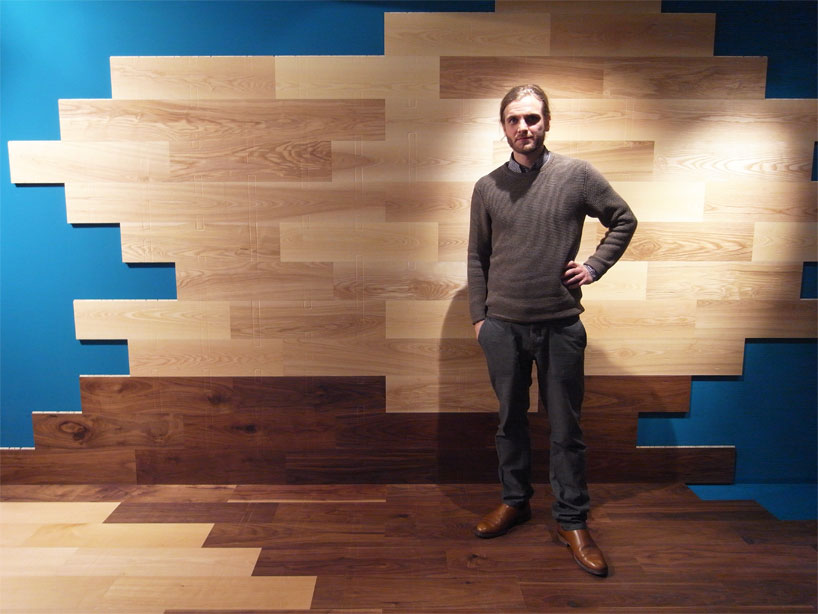 mark braun with is winning installation 'pattern intervention' realized in collaboration with baltic wood S.A.image © designboom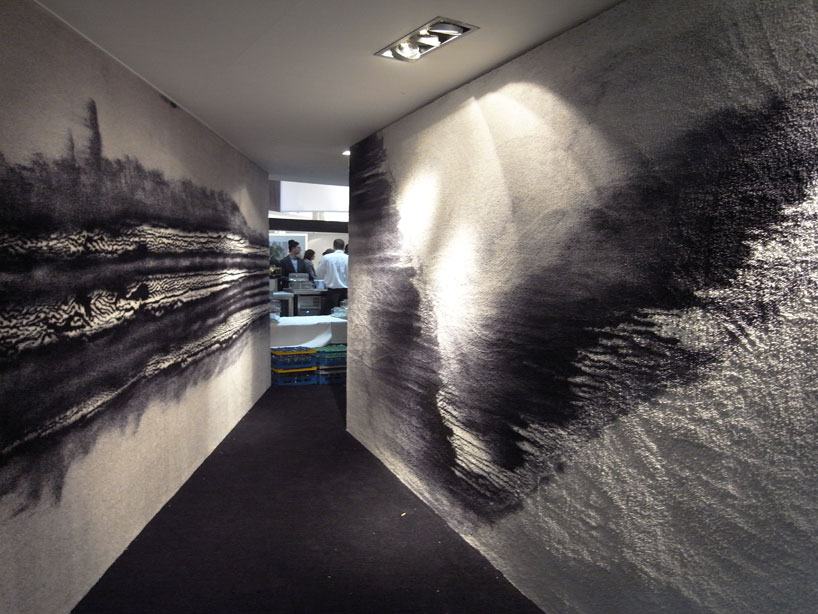 'intervention in process' by steffen kehrleimage © designboom
steffen kehrle was also nominated by the public as a favourite. his 'intervention in process' was conceived in partnership with german company dura flooring systems GmbH, in which he has explored the technique of dying carpets for his installation. typically during this process,much precision is considered to get a perfect result. instead, kehrle wanted to exhibit the constant movement employed by machines to color the tufted textile so he developed a intervention of perforated tubes, fire hoses and squeegees, turning the dura flooring production facilitiesinto a playground for a few hours. the resulting pieces are original pieces which display expressive striations of color, unmeasured patterns of splashes,lines and gradients which visualize the extruded production of a carpet. these were then hung as defining walls of his concept room.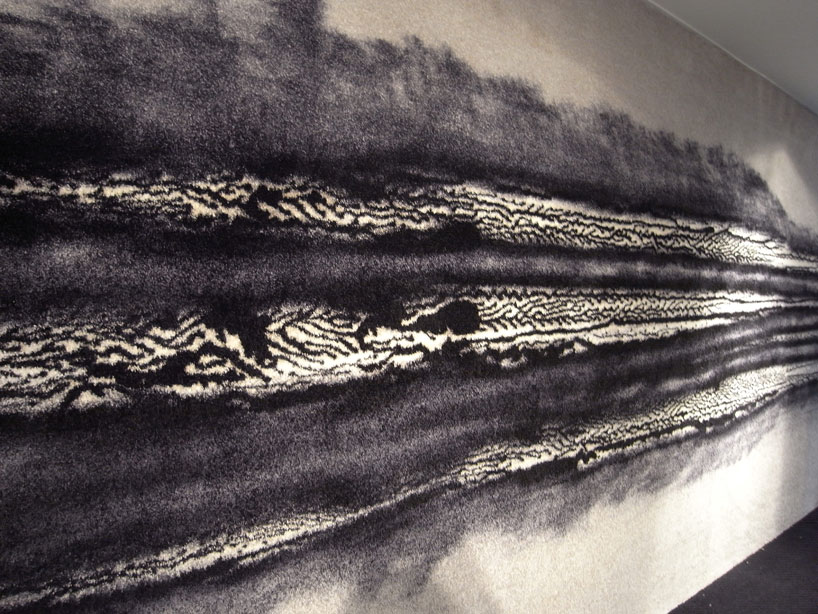 the carpets exhibit the way in which the tufted textile is extruded during the dyeing processimage © designboom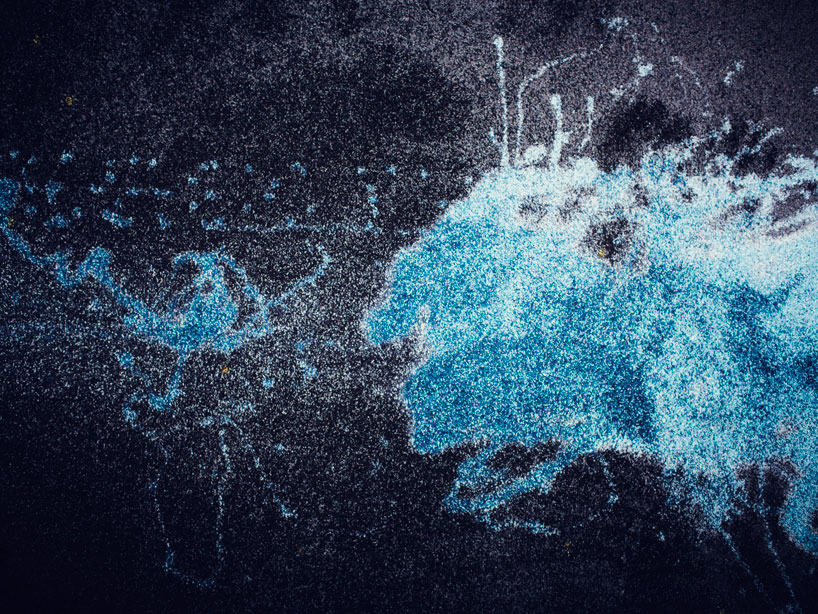 bold splashes of color create arbitrary patterns conflicting with  the typical precision of the dyeing processimage courtesy of julian baumann for DOMOTEX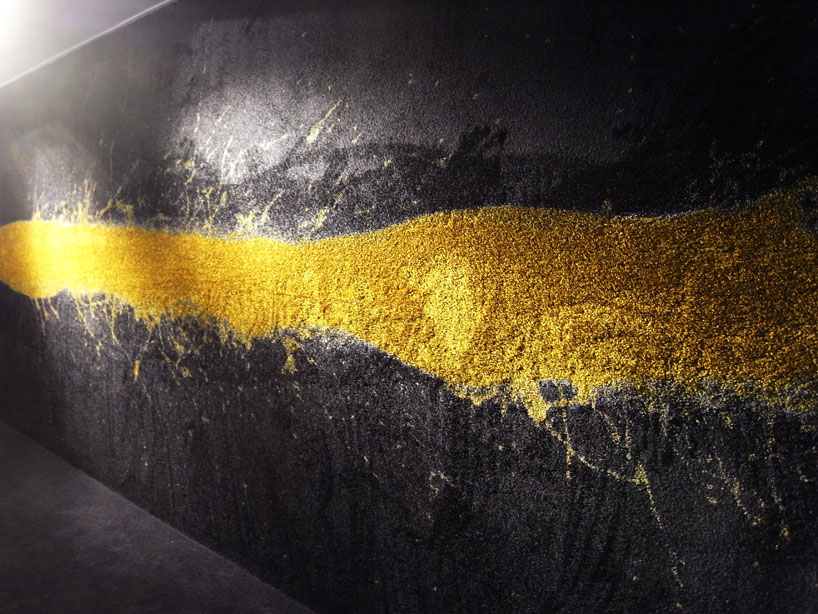 another original carpet with golden yellow running through the length of itimage © designboom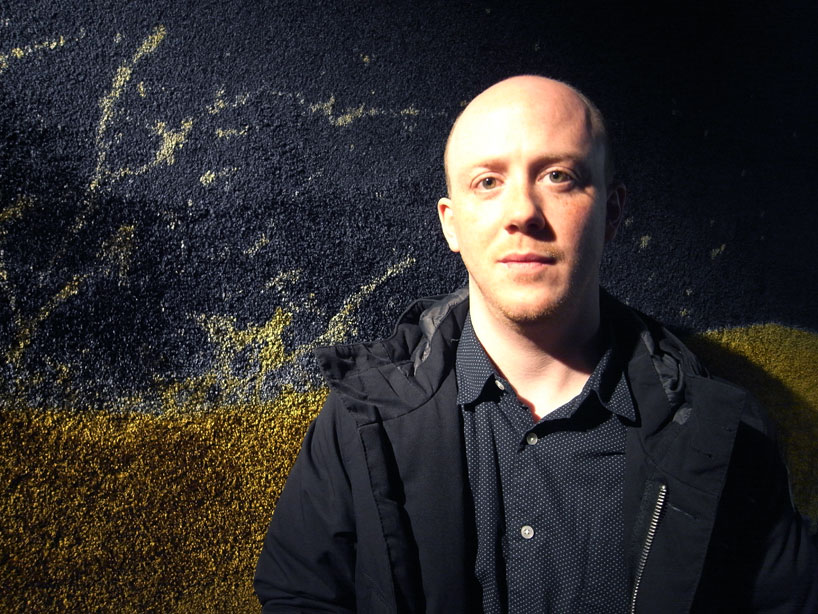 steffen kehrleimage © designboom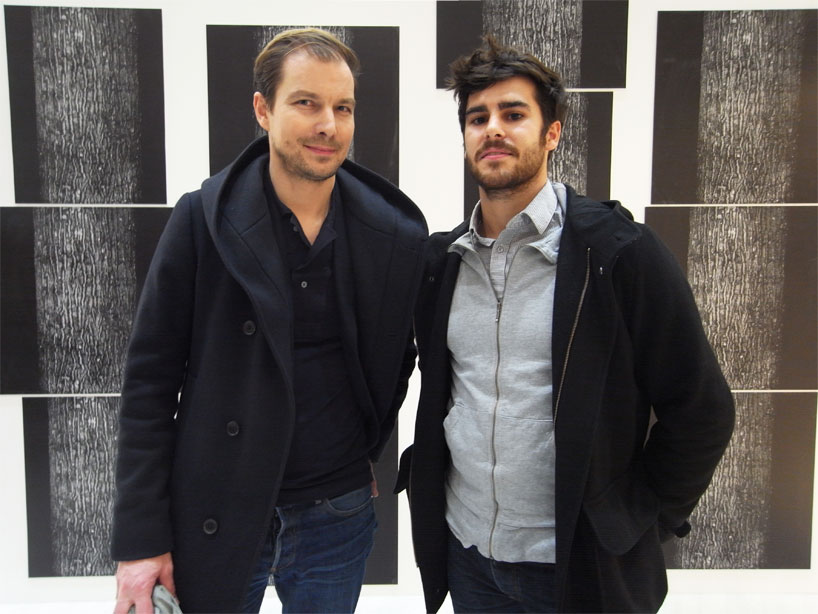 stefan diez, curator of concept rooms at DOMOTEX 2013, and his assistant jonathan mauloubierimage © designboom
extrusion – intervention of the dura carpet production (audio is currently unavailable)
video courtesy steffen kehrle
'flooring deluxe' concept rooms showed the following designers:
bureau mirko borsche (germany)jörg boner (switzerland)martin fengel und martin wöhrl (germany)atelier steffen kehrle (munich, germany)sebastian wrong (great britain)brynjar sigurdarson (switzerland)sarah illenberger (germany)normal studio (france)johanna r. ramsden und laura casey (great britain)mark braun studio (germany)tomas alonso (england)martin fengel und martin wöhrl (deutschland)normal studio (france)atelier steffen kehrle (germany)
jan 19, 2018
jan 19, 2018
feb 03, 2015
feb 03, 2015
aug 24, 2014
aug 24, 2014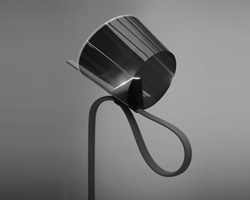 feb 04, 2014
feb 04, 2014
sep 24, 2011
sep 24, 2011
sep 07, 2011
sep 07, 2011
a diverse digital database that acts as a valuable guide in gaining insight and information about a product directly from the manufacturer, and serves as a rich reference point in developing a project or scheme.