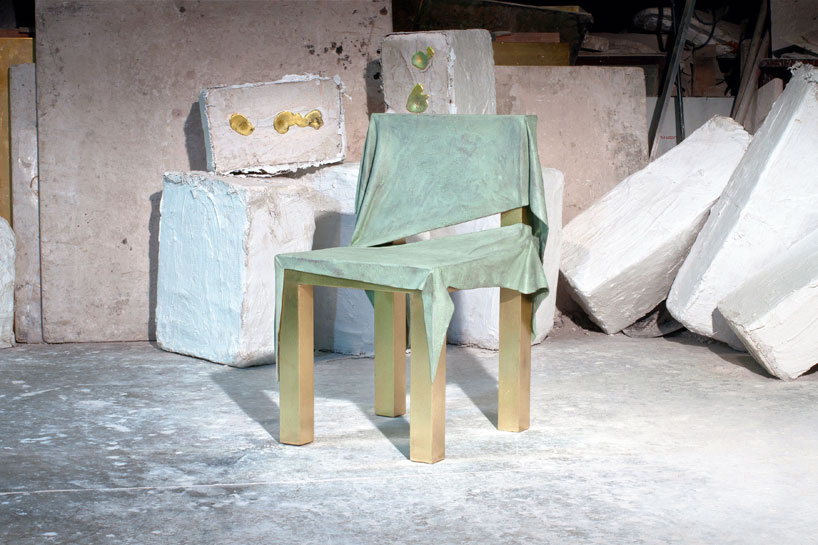 nov 24, 2012
bronze dipped fabric furniture dressed collection by jens praet
bronze dipped fabric furniture dressed collection by jens praet 'dressed' chair, 2012 by jens praetoxidized green patinated bronze, brushed brass800 x 450 x 500 mm (h x w x d)edition of 8 + 1, prototype + 3 APstudio jens praet for industry gallery in collaboration with jan praetmanufactured by fonderia del giudice for studio jens praetimage © jiri praet, courtesy of industry gallery 
'dressed' by belgian designer jens praet is a collection of functional art objects made of bronze dresses and brass under-structures, developed in collaboration with the designer's father and artist jan praet – produced for washington and LA-based industry gallery. leftover and discarded fabric is submerged in hot wax, draped and shaped by hand over a rigid mold and consequently cast in bronze, the bronzed fabric surface is patinated with the familiar oxidized green color.
'dressed' chair from rear
each piece is the outcome of different production steps, and in order to preserve the tactility of the material, most of the fabrication is done by hand. the pieces from the 'dressed' collection will vary in resulting color due to the unpredictable aging process characteristic of the bronze patina – resulting in a unique selection of furniture items. the work will be shown in december at designmiami/ 2012.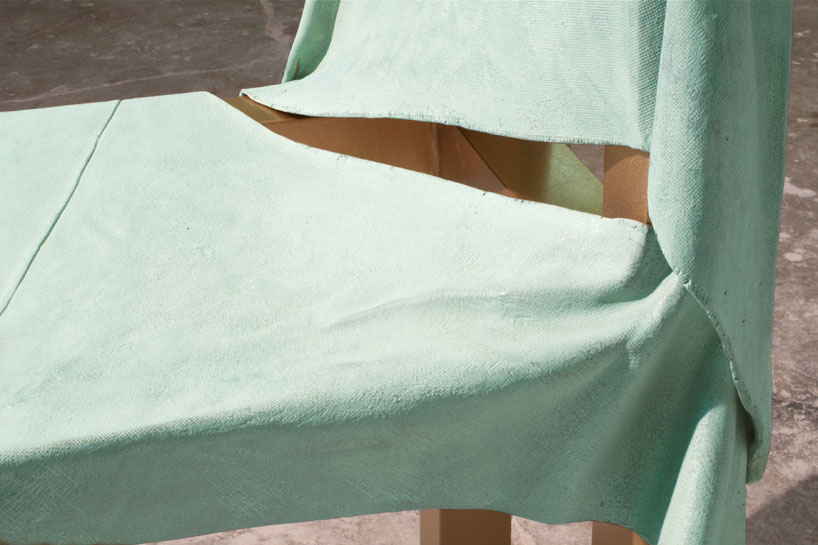 'dressed' chair detail
'dressed' chair detail
'dressed table', 2012oxidized green patinated bronze, brushed brass760 x 1950 x 950 mm (h x w x d)edition of 8 + 1, prototype + 3 APstudio jens praet for industry gallery in collaboration with jan praetmanufactured by fonderia del giudice for studio jens praetimage © jiri praet, courtesy of industry gallery
'dressed' table detail
'dressed' stool, 2012oxidized green patinated bronze, brushed brass450 x 400 x 400 mm (h x w x d)edition of 8 + 1, prototype + 3 APstudio jens praet for industry gallery in collaboration with jan praetmanufactured by fonderia del giudice for studio jens praetimage © jiri praet, courtesy of industry gallery
'dressed' bench, 2012oxidized green patinated bronze, brushed brass450 x 1710 x 400 mm (h x w x d)edition of 8 + 1, prototype + 3 APstudio jens praet for industry gallery in collaboration with jan praetmanufactured by fonderia del giudice for studio jens praetimage © jiri praet, courtesy of industry gallery
the material is dipped in hot wax and then cast in bronzeimage © jiri praet, courtesy of industry gallery
jan 04, 2013
jan 04, 2013
dec 16, 2012
dec 16, 2012
dec 16, 2012
dec 16, 2012
may 21, 2014
may 21, 2014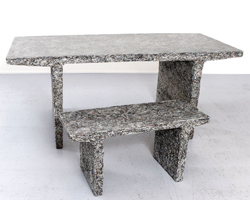 nov 16, 2012
nov 16, 2012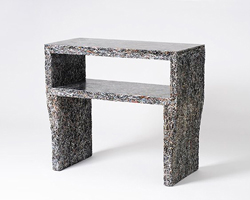 feb 10, 2011
feb 10, 2011