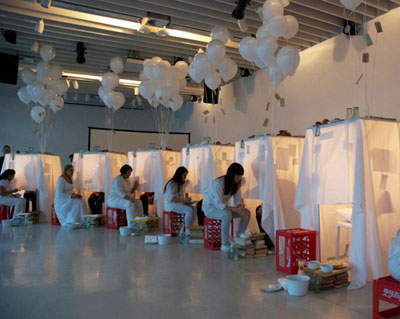 may 17, 2013
eat love budapest by marije vogelzang
the 'eat love budapest' performative installation by marije vogelzang brought together roma women to anonymously feed and tell their life stories to visitors
WHAT DESIGN CAN DO, the international event on the impact of design
the 'what design can do!' (WDCD) conference in amsterdam is a two-day program (may 16-17, 2013) divided into different sections, each focusing on a specific theme. speakers in these areas come from various backgrounds and fields, expressing the importance of cross breeding in creative practices. this year's topics cover: publishing, education, research, food, branding and the screen.
marije vogelzang is one of the 2013 speakers who spoke yesterday, may 16th, on the first day of the WDCD conference.her creative practice focuses on the area of food preparation and the act of eating, developing performances and sensory experiences which explore different aspects of food in relationship to culture, technology, nature, psychology and science.
'eat love budapest' is a multisensory performance project and experience, bringing together two strangers for the intimate act of sharing food and being fed. the project emphasizes the individuality and beauty inherent in the life of each person, including the nameless ones we may pass each day on the subway or sidewalk, and those whom we may group together as being all alike based on their nationality or appearance, as romani people have historically frequently suffered in various countries.
during the 3-day performance, each of ten roma women was invited to anonymously share her story with one stranger at a time, feeding her guest with her own hands foods that have personal meaning to her, and recounting memories, songs, and stories as they sit together. each woman also chose a scent with special significance– either related to the foods she chose or something else– and wore only this along her wrists as perfume. in the space, a musician quietly played traditional songs on guitar.
video documentation of the installation and performance
upon entering the space, a visitor is led by an assistant to a small tent-like installation and invited to sit inside. the tent itself recalls a child's playplace, with a lightbulb and walls composed of thin fabric, onto which drawings, recipes, photos, and texts written by the roma women have been pinned. the visitor sits upon a simple chair, made comfortable with pillows, from which position he cannot see outside, other than a dish of food raised on a platform on the floor just beyond his feet, and the legs and hands of a roma women seated.
once they are both sitting comfortably, the roma woman– dressed completely in white– begins washing her hands, in view of the visitor, and begins talking about her life. each woman speaks freely about her own personal memories and experiences. as she speaks, she feeds the visitor foods that have personal significance to her: first she breaks bread with him; next cracks nuts or peels fruits and feeds her visitor the slices. as the meal continues, she offers a few bites of different dishes of warm food fed by hand with a spoon– as a mother might feed her child– and then cheese, cake, and hot coffee. the preparation and serving of food becomes in itself a performance: the guest watches the woman's hands sprinkle cheese or herbs over her dishes, as she recounts the special meaning that this dish has for her.
when the meal has concluded, the roma woman leaves before the visitor is escorted out, ensuring that he never sees the face of the person with whom he has shared such an intimate experience. upon leaving the installation, each visitor receives a balloon that has been perfumed with the particular scent that the woman chose, and onto which is strung a tag with the woman's signature.
view of the ten private installations
a roma woman feeds a guest through the fabric walls of the installations
each visitor to the installation enjoys a different experience– different stories, different foods, a different scent, and different photographs and messages in the tent. each also left having partaken not only of traditional foods but also the story of a person, in sound, taste, smell, and touch… likely to be relived at each scent of the balloon (s)he has taken home and each encounter of these foods, other roma people, or the smells and sounds experienced.
some of the foods prepared
each woman shared a selection of foods with personal meaning to her, telling stories as she fed her guest
recalling a childhood playspace, the interior of the tents were decorated with drawings and texts, as well as a roll of paper towels for use
concept sketches for the project
concept diagrams for the tent
'eat love budapest' is among vogelzang's first major projects under her philosophy of 'eating design', elaborated upon in a recent book she published entitled 'eat love', and which integrates sensory experience, culture, and history:
'designers who work with the subject of food are often called 'food designers'. instead, [my] designs focus around the verb 'to eat'. it is often thought that designers who work with food only design the shape of it [but I] aim to look at the content and background of the food as well; the shape is just a tool to tell a story. you put my designs inside your body.' – marije vogelzang

designboom is international media partner of what can design do!
WHAT DESIGN CAN DO
the two-day event in amsterdam celebrates the power of design and its problem-solving abilities – exposing design as a catalyst of change and renewal and a way of addressing the societal questions of our time.
too often design is associated only with aesthetics, trends and luxury, but design can mean so much more. at its best, design can change, improve, renew, inspire, involve, shock, move, disrupt, help or solve. what design can do intends to demonstrate the value of design thinking as a response to the challenges of today's world. with a lineup of international speakers from all design disciplines, what design can do will be the platform for designers to manifest the social potential of their profession. together with the audience, the speakers will discuss alternative strategies for the future. participants will be stimulated to come up with their own answers and ideas. this makes what design can do an activist conference, the outcome of which will be published in a book compiled on the spot and presented at the end of the conference. what design can do is an annual international conference for design professionals, company leaders and government officials.
what design can do is a cross-over between design disciplines – from architecture to product design, from graphic design to fashion design – as solutions for today's challenges generally demand a multi-disciplinary approach. what design can do is initiated by designers who feel the responsibility to make their profession useful for society and want to reflect on this with fellow designers and other professionals.
jan 18, 2019
jan 18, 2019
may 08, 2017
may 08, 2017
sep 13, 2015
sep 13, 2015
oct 19, 2012
oct 19, 2012
jul 27, 2009
jul 27, 2009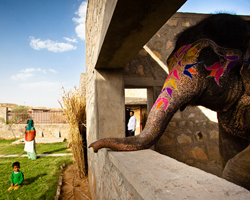 jun 03, 2013
jun 03, 2013
may 24, 2013
may 24, 2013
may 18, 2013
may 18, 2013
a diverse digital database that acts as a valuable guide in gaining insight and information about a product directly from the manufacturer, and serves as a rich reference point in developing a project or scheme.