apr 24, 2012
edible furniture by ryosuke fukusada + rui pereira
'sapore dei mobili' by ryosuke fukasada and rui pereira
'sapore dei mobili' (furniture tasting) is a commentary on the speed in which the furniture industry works, in particular the amount of products presented to the consumer market at the annual international salone del mobile.
rather than presenting new lighting or seating designs at this year's milan design week, project collaborators ryosuke fukusada (japan) and rui pereira (portugal) developed a cake pan for making your very own 'edible furniture'. using a moulding technique which reflects similar mass manufacturing standards, the hot cake maker allows one to produce their own pastries and decorate them with toppings and jams according to their individual tastes. the edible chair, lamp, side table, cabinet and vase allows you to digest new products a little bit easier, and when you're done, you can always go back and test out a new recipe.
the hot cake pan offers a mould to make a chair, side table, cabinet, lamp and vase
the cake pan itself uses a mould technique to form each furniture piece
the edible furniture can be topped and decorated according to your individual tastes!
mar 08, 2013
mar 08, 2013
jul 18, 2012
jul 18, 2012
jul 17, 2012
jul 17, 2012
apr 29, 2014
apr 29, 2014
apr 17, 2014
apr 17, 2014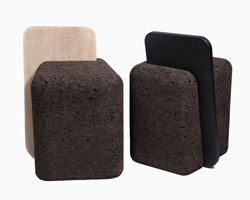 feb 03, 2014
feb 03, 2014
apr 08, 2015
apr 08, 2015
apr 17, 2014
apr 17, 2014
apr 03, 2013
apr 03, 2013