oct 02, 2011
edward barber + jay osgerby at haunch of venison
edward barber and jay osgerby at 'ascent' all images courtesy of haunch of venison / barberosgerby
edward barber & jay osgerby haunch of venison, london on now until november 19th, 2011
'ascent' is the title the solo exhibition of british design studio barberosgerby (edward barber and jay osgerby) on show at haunch of venison in london.
eight new pieces on show, which are the outcome of a collaboration between the design duo and the gallery, investigate the structures and engineered forms of moving craft, such as the fine-like shape of wall-mounted brass structure 'foil V'.
'corona 800'
'corona 800' and 'corona 1100' are two large discs which emit light. one is made from mirror-polished brass, while the other is a brilliantly colored red one, each appearing is if they are hovering just off the wall. these are displayed with a vertical wall-mounted, mirror-polished brass panel.
'corona 1100'
'foil V'
'frame 1'
their exploration and use of transportation structures is very apparent in 'frame 1', a large, wall-mounted structure for which barberosgerby sought out a british boat builder to make.
'planform array V'
the british designers' love of craftsmanship and attention to detail are evident with 'planform array V' and 'planform array H', two chandeliers with 8 and 14 segments respectively. the frame-like portions are covered with handmade japanese paper that has been hand-stitched into each part.
'planform array H'
barber osgerby's restrained and refined approach to design is made evident in 'ascent'. their formal investigations become eminent through design pieces which illustrate the architectural and industrial quality of their aesthetic and practice. these limited edition works on show at haunch of venison, have allowed them to experiment with craft skills, new materials and processes that would be too prohibitive to use when designing for mass production.
'corona 1100' and 'planform array H' sketch
'frame 1' and 'foil V' sketch
'frame 1' sketch
'planform array H' sketch
'planform array H' sketch
apr 22, 2017
apr 22, 2017
feb 02, 2017
feb 02, 2017
oct 26, 2016
oct 26, 2016
sep 14, 2016
sep 14, 2016
jul 20, 2016
jul 20, 2016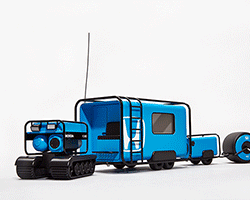 apr 27, 2016
apr 27, 2016
oct 15, 2011
oct 15, 2011
oct 05, 2011
oct 05, 2011
oct 03, 2011
oct 03, 2011