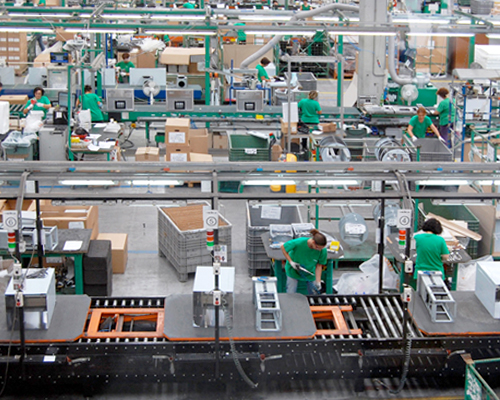 sep 14, 2012
designboom visits the factory of elica - leader in hoods, air purifiers + fragrance diffusers
designboom visits the factory of elica – leader in hoods, air purifiers + fragrance diffusersimage © designboom
designboom visited the fabriano factory and headquarters of elica in the marche region of italy, one of the most important areas in europe for the domestic appliance sector. since 1970, the company, founded by ermanno casoli, has been improving air quality in kitchens with their cooking range hoods and currently holds a global share of 17% in that market. all together, the brand produces more than 100 models satisfying the needs of all types of kitchens – classic, traditional, modern – developing a diverse grouping of models – from wall-mounted, corner-mounted, kitchen island and in-built hood designs.
owning nine factories – four in italy, and one in china, germany, india, mexico and poland – each specializes in different types and styles of elica products, with over 3,000 employees working between these sites.
employees each have uniforms depending on which area of the factory they work inimage © designboom
elica works under two business units: the first is the 'cooker head business unit' which focuses on innovative design and technological development, along with attention to material applications. with this, elica prides itself on having a 'made in italy' trademark on its products, as an expression of the image and values it represents; the second is the 'motor business unit', dedicated to developing products which are focused on energy saving. having gained expertise in both the electromechanical planning of electric motors, and electronic and fluid-dynamic planning, they are able to offer their customers and clients, integrated systems for the movement and treatment of air.
each factory specializes in manufacturing different products. designboom visited the site where CNC bent metal cooker hoods are madeimage © designboom
the company has three main brands of cooker hoods: germany-based gutmann which creates tailor-made design models aimed at meeting the personal requirements of customers in regards to size, materials and form; elica who brings forth the largest range of cooker hoods on the market; and turboair created for the larger demands of the CSI, asia and the far east, offering mid-level, value-for-money products that feature tradition and experience working with steel. in addition, there are the ariafina (japan), jetair (north america) and arietta (russia) brands which are designed to meet the tastes and requirements of specific geographical locations.
up close of the components used for folding the sheets of metalimage © designboom
what makes elica products unique is their patented system elica deep silence (EDS3), developed in-house to reduce the noise of a conventional cooker hood by 35%. this means that at lower speeds, in comparison to previous generations, there is perceptibly no noise at all. the elica deep silence plus reduces noise by 40%.
the group's ongoing research has led them to develop 'evolution', an air treatment system which packs mechanical parts, motor, filter, lighting electronics and control interface into a compact steel cylinder, providing flexibility in terms of aesthetic and use, transforming the hood into a new light source that redefines and provides ambiance to its surrounding space. through the two business unit models, 'synairgy' has been conceived, a motor system which makes it possible to optimize consumption, performance and noise according to the requirements of the person cooking. the set-up guarantees reduced electromechanical vibration, the reduction of electrical consumption by 50% and low voltage power that ensures maximum safety for work under any conditions.
a wall of pre-cut sheet metal for producing a range of elica's productsimage © designboom
with an aim to achieve high standards of productivity and increased efficiency and improvement to every form of waste and loss, the group just recently opened a photovoltaic plant in castelfidardo, italy which is capable of producing 35% of the factory's energy needs, amounting to an annual production of 1,240,000 kWh, reducing CO2 emissions by 765 tonnes/year.
sheet metal waiting to be bent into shapeimage © designboom
production of cooking hoods in one of elica's factoriesvideo © designboom
each worker is focused on the production of one product elementimage © designboom
pieces which have completed the CNC bending processimage © designboom
hand production of the metal cooker hoodsimage © designboom
a mechanized robot also aids in the manufacturing processimage © designboom
station where components are combined to complete the outer shell of the fansimage © designboom
before (bottom) and after the metal has been polishedimage © designboom
pieces waiting to be shipped off to the next phase of productionimage © designboom
a production line of workers hand install the mechanics of the fansimage © designboom
elica products waiting to be packaged image © designboom
outside the elica factory in fabriano, italyimage © designboom
elica
(3 articles)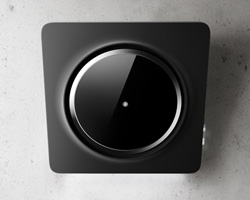 may 08, 2016
may 08, 2016
may 15, 2014
may 15, 2014
nov 25, 2019
nov 25, 2019
nov 10, 2018
nov 10, 2018
jul 09, 2018
jul 09, 2018
a diverse digital database that acts as a valuable guide in gaining insight and information about a product directly from the manufacturer, and serves as a rich reference point in developing a project or scheme.