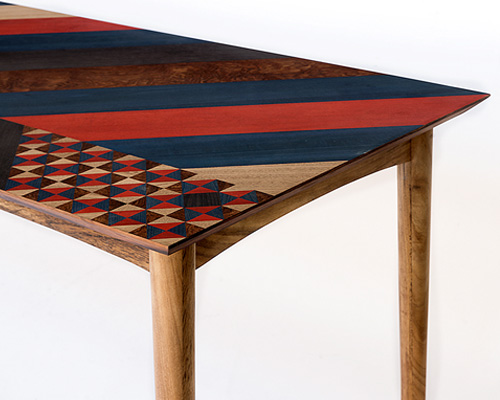 apr 03, 2014
emiliano godoy adorns furniture with intricate marquetry work
all photos by jaime navarro
since we spoke to him in 2013, emiliano godoy has been busy working on several projects.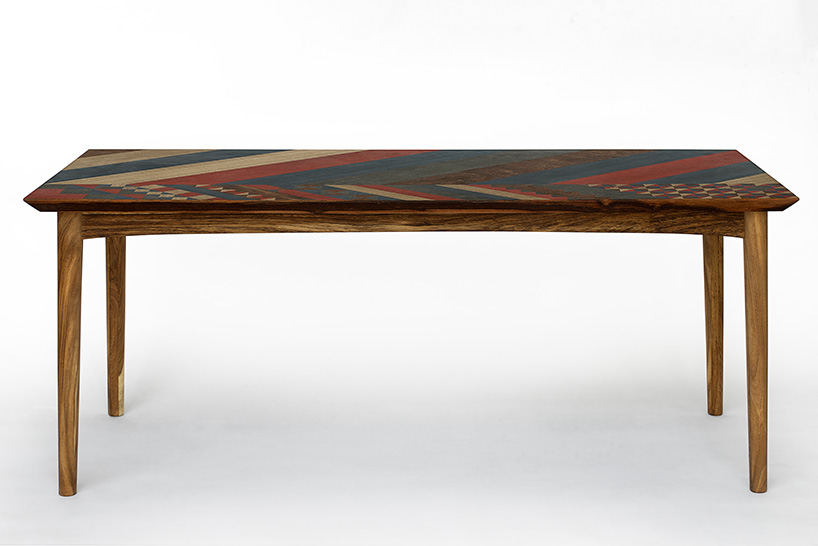 73.5 cm high, 165 cm long, 80 cm wide
marquetry over a huanacaxtle wood structure
'backseat driving' table, manufactured by cyTF
backseat driving is a table made in huanacaxtle wood with an intricate marquetry top assembled from five different veneers. all the wood comes from sustainably managed forests, and is finished with an eco-friendly, biodegradable and non-toxic oil sealer.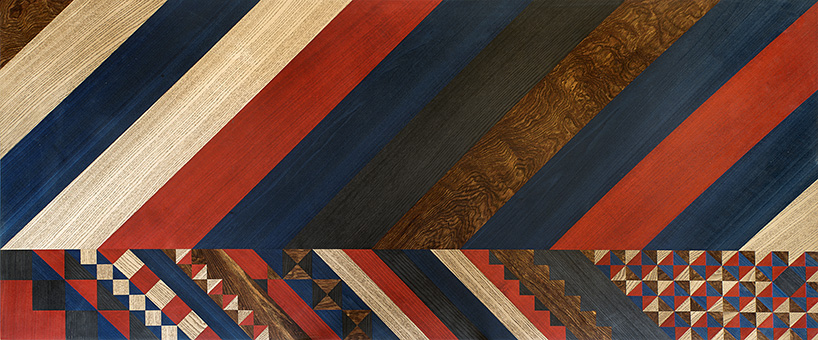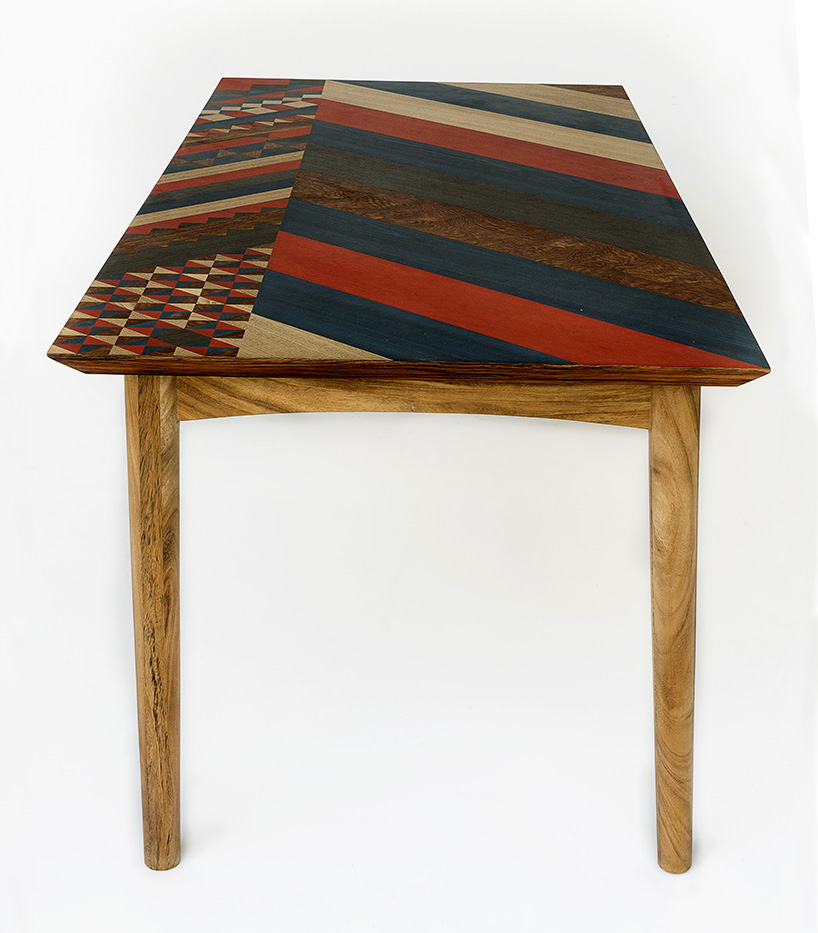 the marquetry graphic depicts a directional progression formed by one large block of ordered wide strips, with a smaller yet much more vibrant section of subdivisions and pattern variations. the fragile balance between the two sections is achieved precisely through these contrasting patterns, approaching marquetry not through classical and ordered decorations but by advancing new design languages which emphasize asymmetry, imperfection and fragmentation.
the table was presented in february 2014 in a limited edition of three pieces, plus one artist's proof.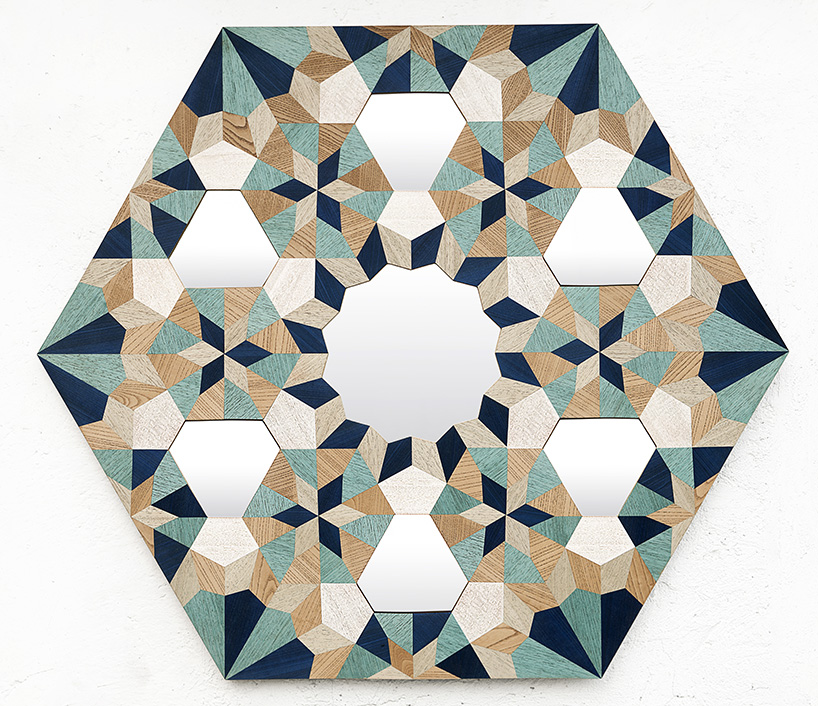 103 cm x 119cm
'nuna' mirrors manufactured by cyTF
also launched this past february are the nuna mirrors. these mirrors were created through the combination of three different elements: first and foremost, the superb craftsmanship of cyTF marquetry artisans, whose decades of experience in hand placing and cutting wood veneer generate the most intricate and beautiful patterns. secondly, the availability of new colour dyes and wood species, all from sustainably managed forests, which allow for a more contemporary palette to be defined. and finally, girih patterns and subdivisions reinterpreted through graphics that emerge from the solid shapes rather than the division lines.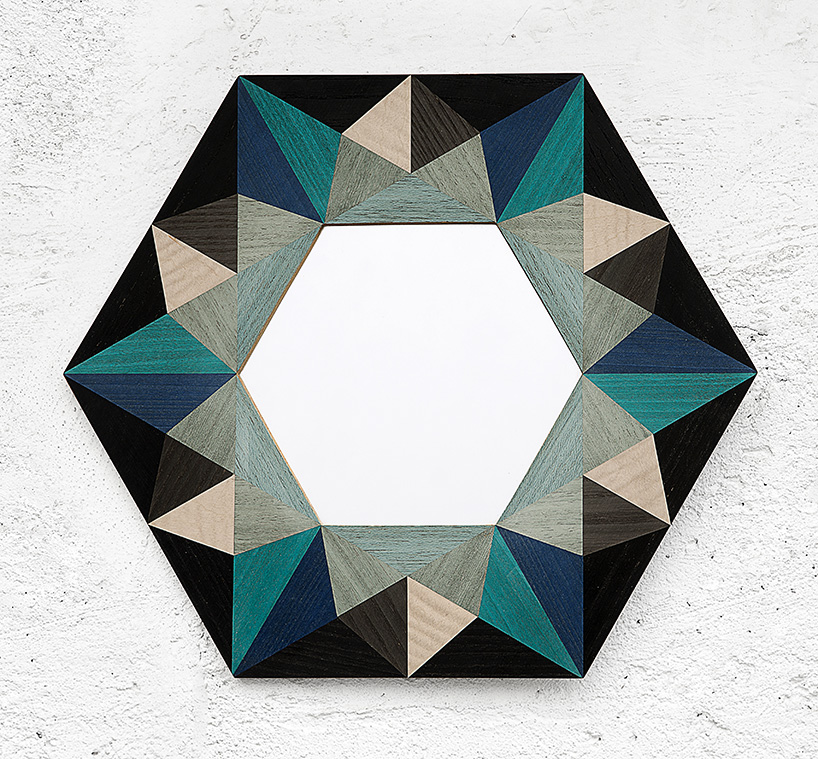 36cm x 41cm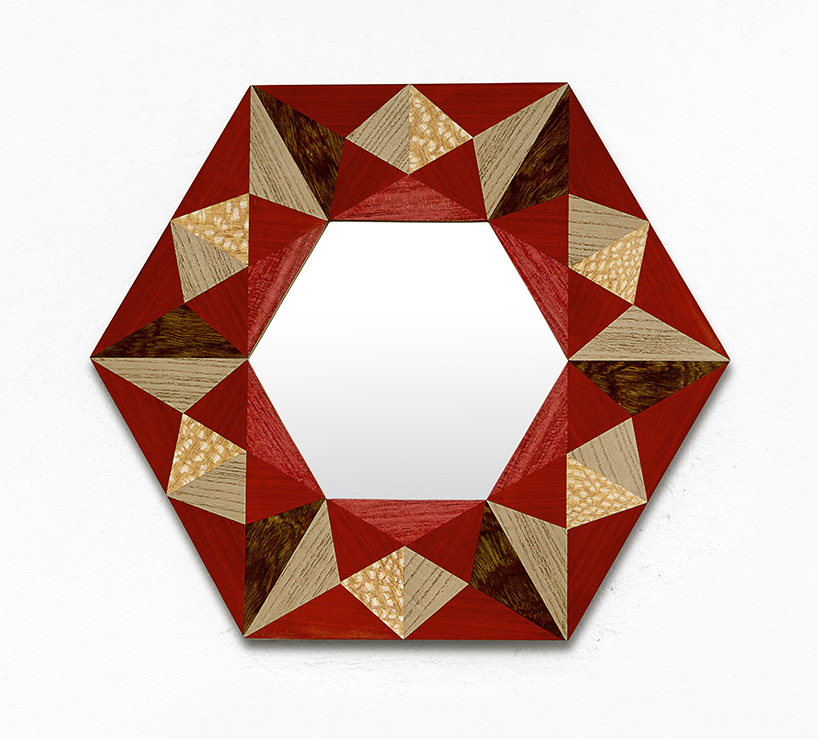 36cm x 41cm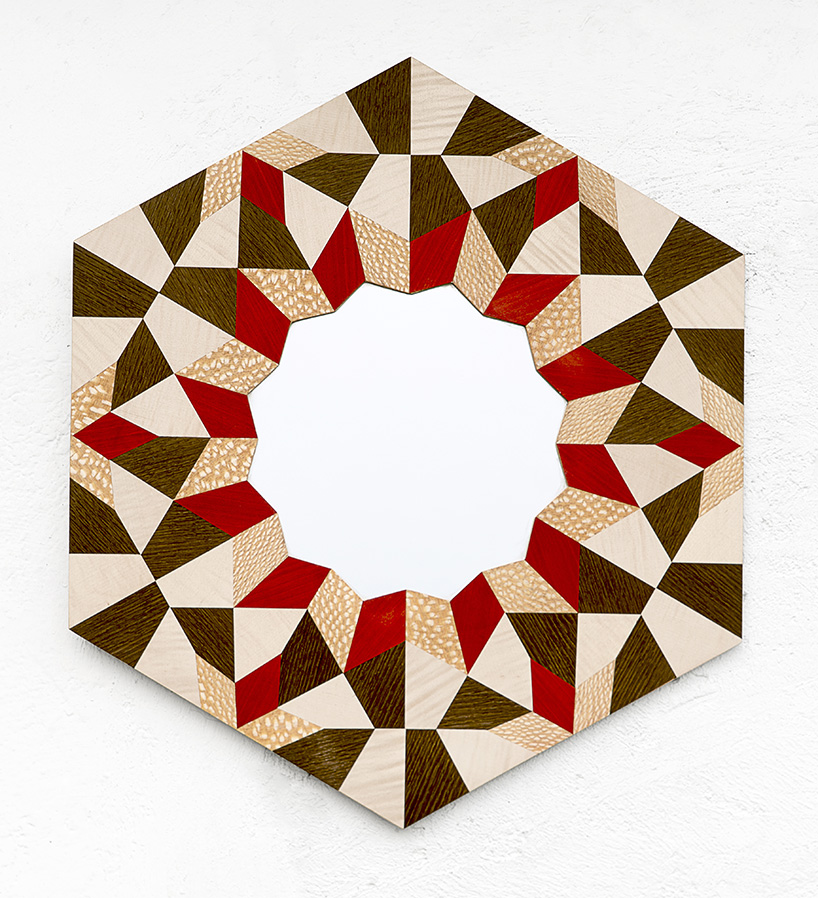 69 cm x 60cm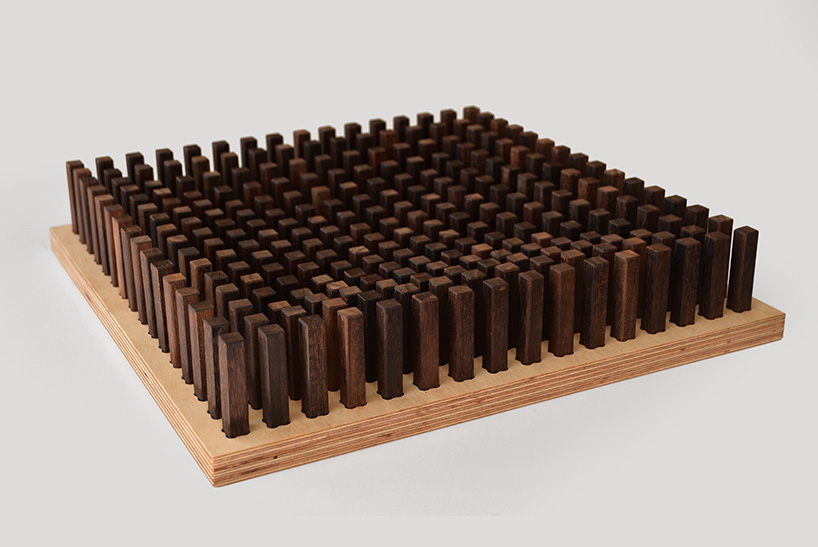 deep-fried forest fruitbowl, self produced
this piece was designed for the exhibition 'eco design, made of wood', curated by tokiyushi kita for the habitare fair in helsinki in 2013. the design had two starting points. one comes from the idea of using thinning wood from young plantations. when you start a plantation from scratch you need to plant trees very close to each other to create the right conditions for the forest to grow in terms of humidity, soil retention, shadow, etc. however, once the trees start to grow you have to cut some of them down to make space available for the rest. this is called thinning, and it has to be performed every few years in the process of creating a mature and productive forest; once it reaches a certain point, you only cut mature trees while you wait for the new ones to grow. during the early years, young plantations produce a great deal of thinning wood. this young wood has a special color, hardness and dampness and is only obtained in small pieces that are normally commercially non-viable.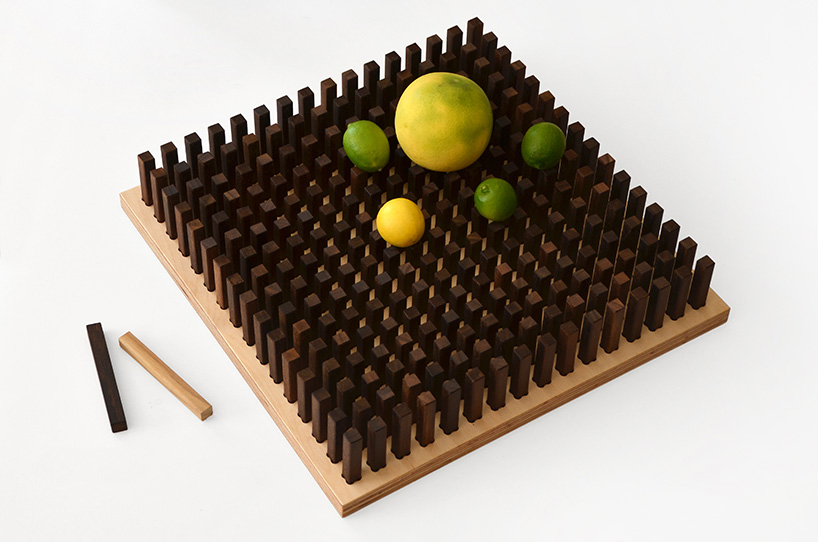 deep-fried thinning teak from mexican plantations
deep-fried forest recreates the idea of a densely packed forest of young trees, honoring the effort of creating new forests from scratch, and using wood that is not normally used for products as it comes in very small formats. the different height of the small wood sticks creates a container which can be used to hold fruit or other forest produce.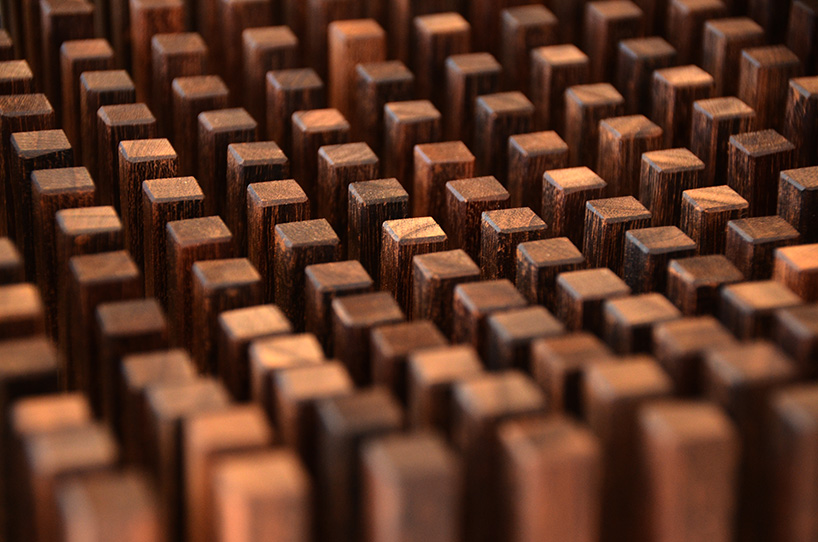 the second starting point is the finish on these wood pieces. for a few years now godoy has worked on developing a technique for protecting wood against decay and humidity. the process is basically deep-frying wood, the same process used to make french fries or any deep-fried food. submerged in boiling oil, wood slowly carbonizes completely –not just the surface– and substitutes all the water inside the cellulose fibers with oil.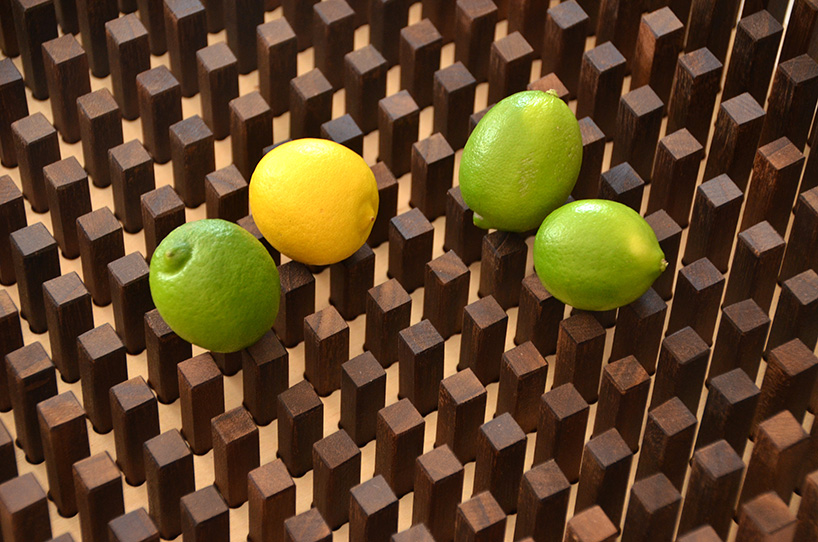 independently from the wood species, after the process the wood is very dark, almost black, and it's surface is very smooth. this design is perfect for showcasing this technique, and it is the first design i show featuring the deep-fried finish.
nov 03, 2019
nov 03, 2019
jun 26, 2018
jun 26, 2018
nov 20, 2013
nov 20, 2013
aug 14, 2013
aug 14, 2013
apr 11, 2013
apr 11, 2013
jan 25, 2011
jan 25, 2011
a diverse digital database that acts as a valuable guide in gaining insight and information about a product directly from the manufacturer, and serves as a rich reference point in developing a project or scheme.