roundup: the best of euroluce 2023
Euroluce is a highly anticipated biennial lighting fair that takes place as part of the Salone del Mobile in Milan. From April 18th — 23rd, the international exhibition showcased the brightest ideas in lighting design and technology from around the world, drawing architects, interior designers, and design enthusiasts with its luminous displays. With Milan Design Week now wrapped up, designboom spotlights some of the most exciting lighting presentations from this year's Euroluce fair during Salone del Mobile 2023.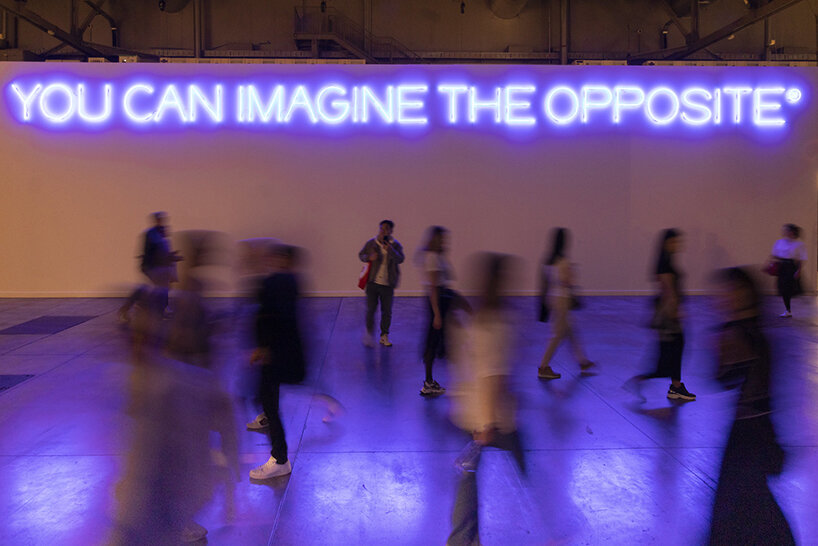 Euroluce exhibition view, image courtesy Salone del Mobile | header image 'La Linea 25,' BIG for Artemide
artemide
Artemide's presence at Euroluce 2023 was highly anticipated and the lighting company did not disappoint. Artemide showcased a stunning range of new products designed by some of the most renowned names in the industry. The new designs on display were created by Bjarke Ingels Group, Alida Catella e Silvio De Ponte, Carlo Colombo, Mario Cucinella, Carlotta de Bevilacqua, Michele De Lucchi, Foster+Partners, Hassell, Herzog & de Meuron, Progetto CMR, Carolina Gismondi, and Daniele Moioli.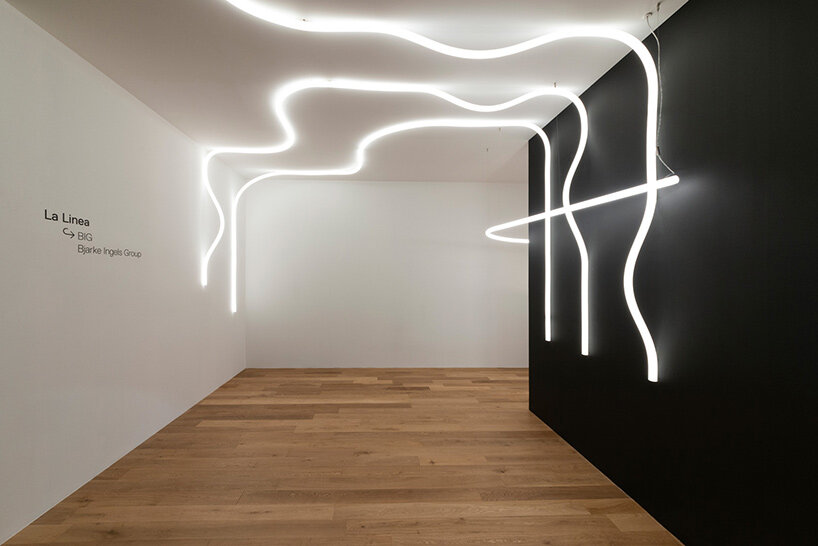 La Linea by Bjarke Ingels Group | image © Artemide
Artemide and Bjarke Ingels Group have introduced La Linea, an innovative and flexible light tube that offers excellent light performance, versatility and sustainability. It is designed to fit into indoor and outdoor spaces with fixing elements that disappear into the cross section, allowing countless applications in a broad variety of locations. The light is capable of adjusting to extreme weather conditions, resisting weathering and high minimum and maximum temperatures. La Linea offers even greater freedom of expression in space due to its length and light weight, and its slim cross-section means it can be overlapped to create weaving and leaving the freedom to follow complex geometries, designing figures created by a single line.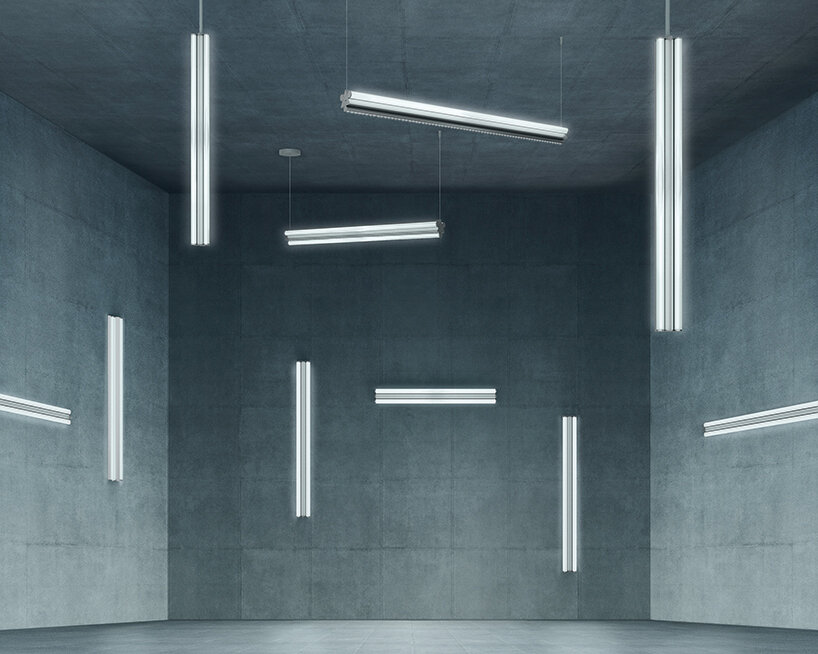 Dreispitz by Herzog & de Meuron | image courtesy Artemide
Dreispitz is a lighting solution that is designed by Herzog & de Meuron with a simple triangular core that contains electronic components and diffuser tubes on all three sides. The design also includes a cylinder that can be used to control the emission of light in office environments, as well as a wall version with two diffuser tubes. The modular system allows for flexibility and compositional freedom through a connector that links the elements. Dreispitz is a sustainable product that is made from partially recycled and easily dismantled materials, and is simple yet recognizable.
Stellar Nebula is a series of suspension lamps that combine traditional glass blowing techniques with modern finishing methods, as designed by BIG. The project explores the intersection of artisanal and industrial production to create unique yet mass-produced solutions. Artemide, known for its contemporary take on traditional glass blowing, contributes to the project by providing its expertise in the craft. Thus, the lamps' design showcases the artistry of glassblowing, allowing each piece to be uniquely shaped by the master glassmaker's techniques.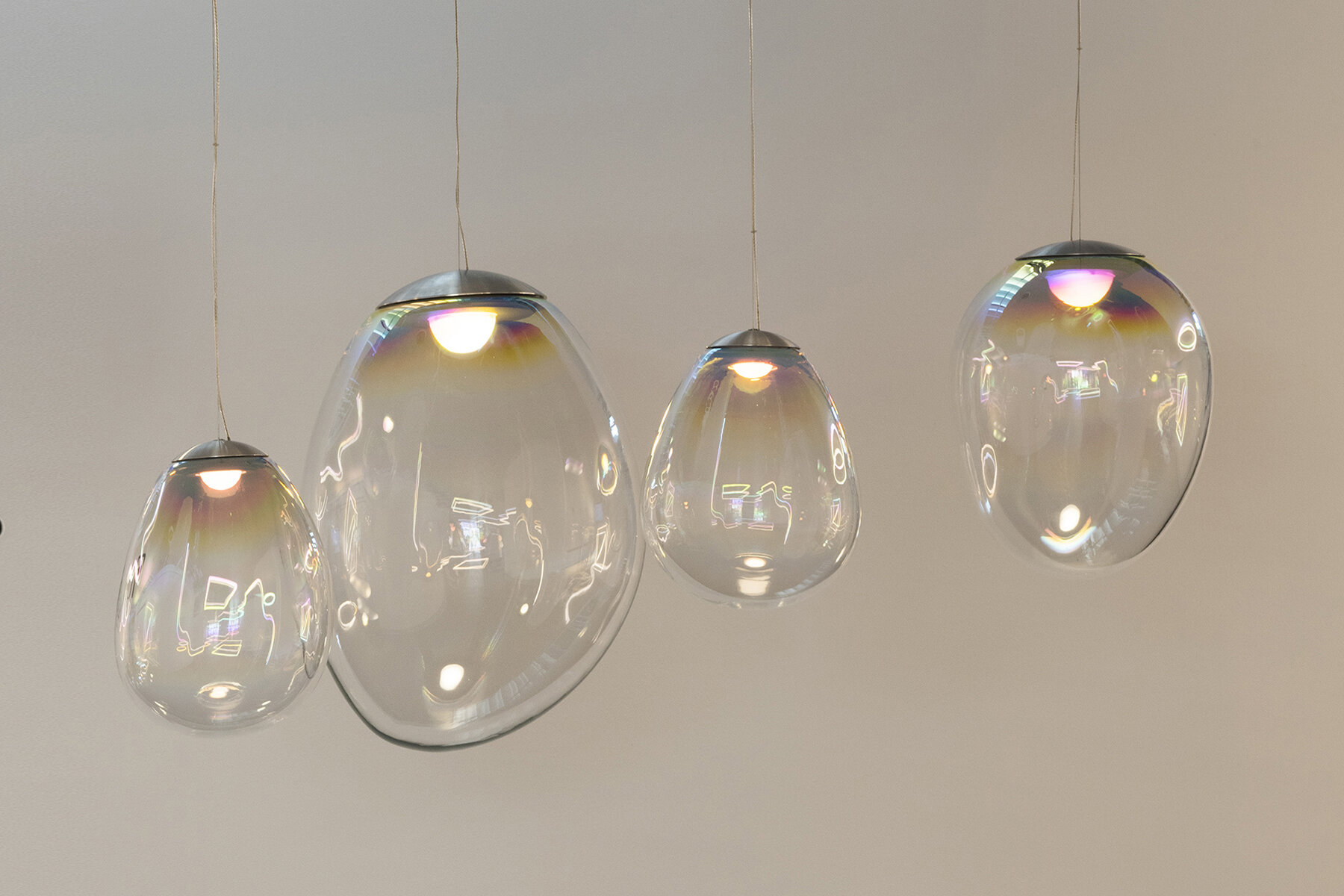 Stellar Nebula by Bjarke Ingels Group | image © Artemide
lasvit
Lighting design studio Lasvit has introduced its latest collection, 'It All Comes from Above,' at Euroluce 2023. This assortment is influenced by the captivating beauty of the natural world, and it pays homage to the commonly disregarded phenomena above us. The collection features designs that are inspired by the diffused light of the clouds and the striking constellation of stars in the night sky. It aims to commemorate the ordinary yet extraordinary elements that unite people globally.
The team at Lasvit harnesses celestial nature is a rich source of inspiration, and this is apparent in the meticulously crafted designs of the collection. As the design team says, 'It All Comes from Above' reminds us to pause, look up, and appreciate the beauty that surrounds us every day.'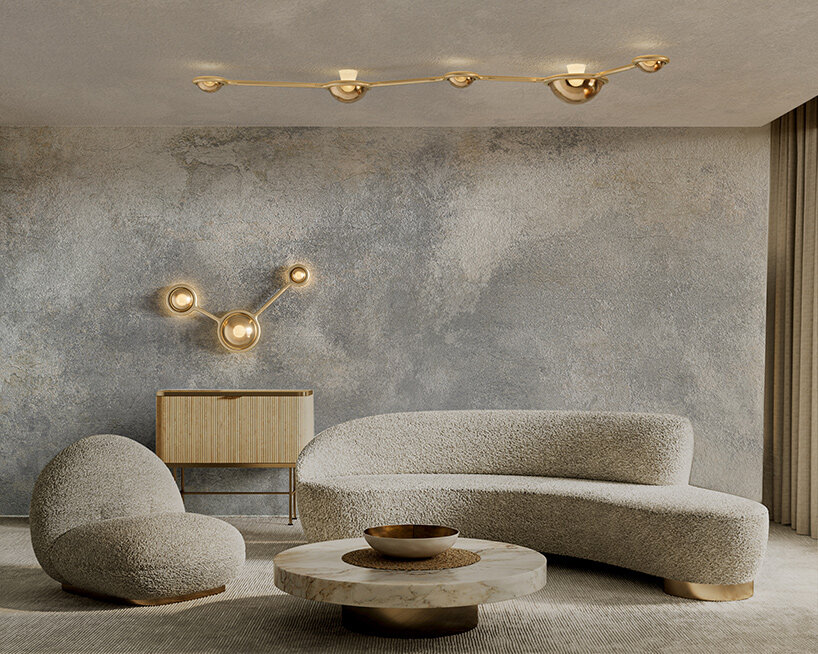 Constellation by David Rockwell | image © LASVIT
The nighttime scenery of New York City and the celestial mural which speckles Grand Central Terminal's ceiling have served as the inspiration for architect David Rockwell's new Constellation lighting collection for Lasvit. The series features six unique light designs that debuted at Euroluce. These designs capture the essence of distant stars and bring them down to earth, with the latest additions to the collection including the Ursa Minor chandelier, Cassiopeia wall sconce, and Gemini table lamp. These three pieces complement the existing collection, which already features a horizontal chandelier, a wall sconce, and a floor lamp, representing the Cassiopeia, Tri Star, and Polaris constellations, respectively.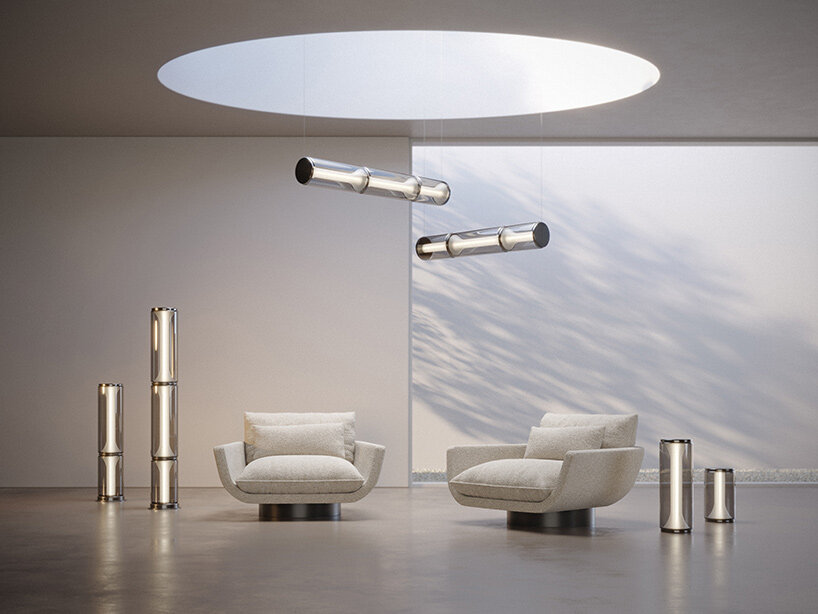 Miles by Yabu Pushelberg | image © LASVIT
Lasvit design teammate Martin Gallo showcased his wall installation Florescence at Euroluce 2023. The design concept features glass in organic shapes and caustic effects, creating the impression of a blooming flower on the wall. The modular installation is inspired by natural forms, which can appear to blossom when lit correctly. Gallo's intention with the design is to tap into the happiness-inducing effects of observing flowers, which can stimulate dopamine, oxytocin, and serotonin levels.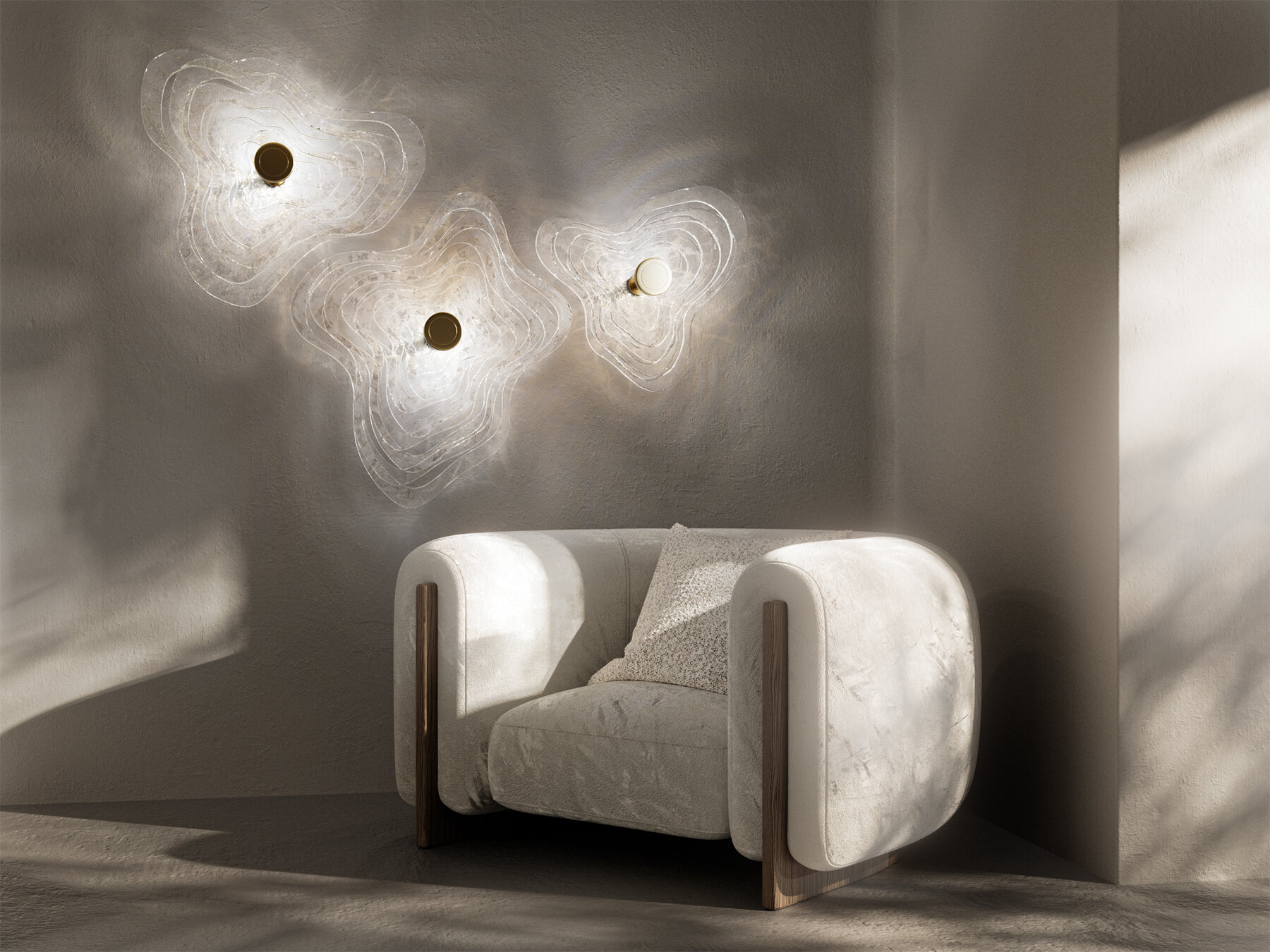 Florescence by Martin Gallo | image © LASVIT
Tom Dixon
Tom Dixon presented for the first time at Euroluce 2023. 'This year we want MORE. Much Much More,' The designer said. 'More colour, more variations, more unexpected combinations in floor lamps and chandeliers, table tops and textiles to give our design afficionados a deeper, wider palette of opportunity to help build perfect interiors.
Debuting at Euroluce, the latest collections will feature novel PUFF chandeliers and pendants, as well as PORTABLES lamps that draw inspiration from the renowned MELT, BELL, STONE, and CONE designs. Additionally, the well-received FAT and WINGBACK furniture pieces are now offered in numerous hues and fabrics. With the 2023 collection, every item possesses the ability to infuse any area with 'a touch of the extraordinary.'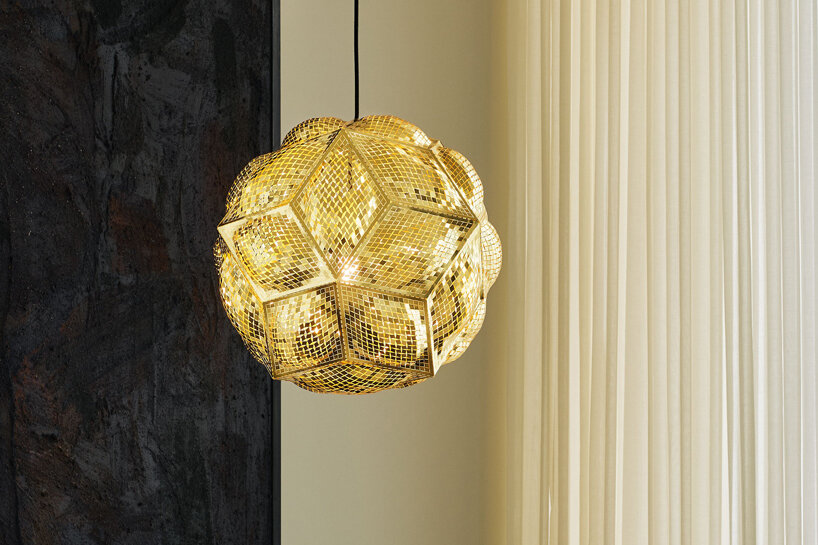 PUFF by Tom Dixon | image © Tom Dixon
Tom Dixon's creation, PUFF, is a 45 centimeter-diameter lamp constructed from thirty metal panels that are arranged to form a sturdy polyhedral shape. Drawing inspiration from inflatable geometry, the flat diamond-shaped metal pieces are cleverly designed with an incised pattern that gives the appearance of being inflated and curved, allowing light to emit from the lamp. PUFF's panels are etched and perforated, creating many small, reflective facets that produce multiple internal reflections, causing the inside to resemble a dazzling, shimmering, inverted disco ball.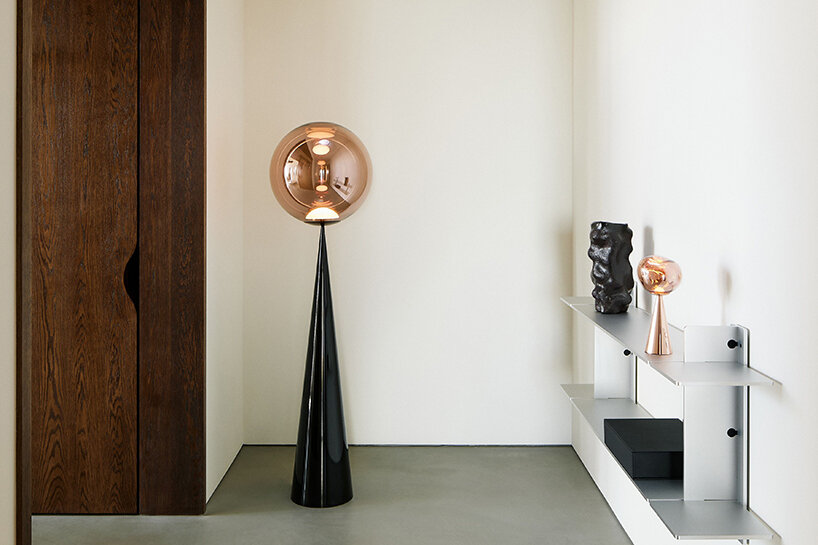 CONE by Tom Dixon | image © Tom Dixon
The CONE floor lamp introduces a freshly designed pedestal that can be matched with sixteen of Tom Dixon's popular lampshades, including the MELT and MIRROR BALL styles. Tom Dixon explains that the lamp's simple geometric design is ideal because it is the most basic and effective option for its purpose. The series of conical lamp bases represents the ultimate outcome of their search for the perfect floor lamp base. The metal cone pedestal is executed with precision, making it the most suitable and sophisticated option to support and enhance a variety of luminous options from their collection of polycarbonate lampshades.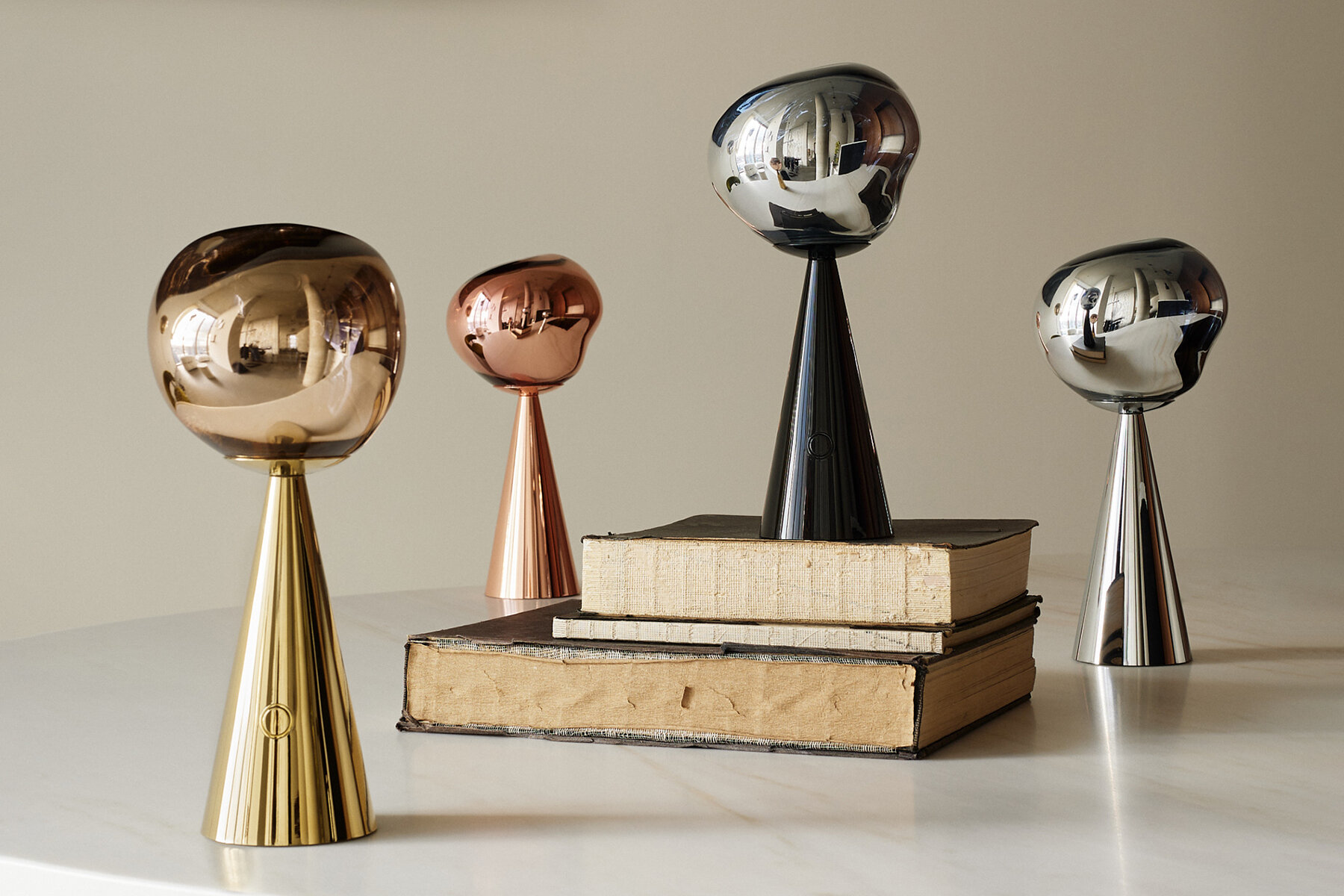 MELT Portables by Tom Dixon | image © Tom Dixon
slamp
The La Belle Étoile lighting collection, created by Adriano Rachele for Slamp, draws inspiration from the graceful movements of a ballerina. This handcrafted lamp is both lightweight and durable, and showcases the seamless combination of technological innovation and stylistic creativity. The lamp's LED source can be effortlessly changed using a unique magnetic hanging system, and the design features a white texture printed on transparent polymers, resulting in an aesthetic that is sleek and contemporary.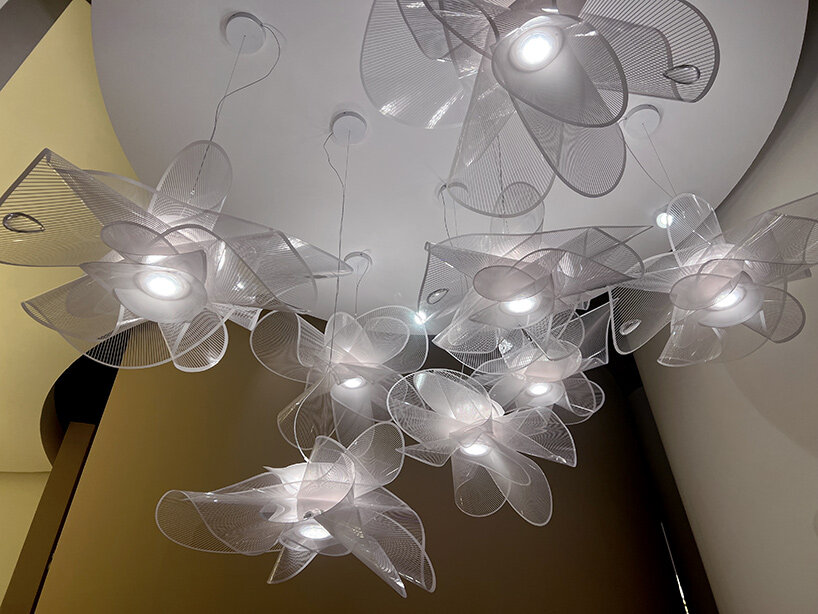 La Belle Étoile by Adriano Rachele | image © designboom
The Clizia lighting series, designed by Adriano Rachele for Slamp, is 'an ode to femininity, joy, and effortless emotion.' The lamps are crafted using a series of shapes that come together to create a stunning balance of reflections and transparencies. The design draws inspiration from natural forms such as clouds capturing the first rays of the morning sun, or treetops filtering play of light and shadows. The collection offers a range of aesthetically pleasing yet functional options, featuring a magnetic system that connects the lamps to either the ceiling or the metal base. The Clizia series, Adriano Rachele aims to transform spaces into serene landscapes, without overpowering them.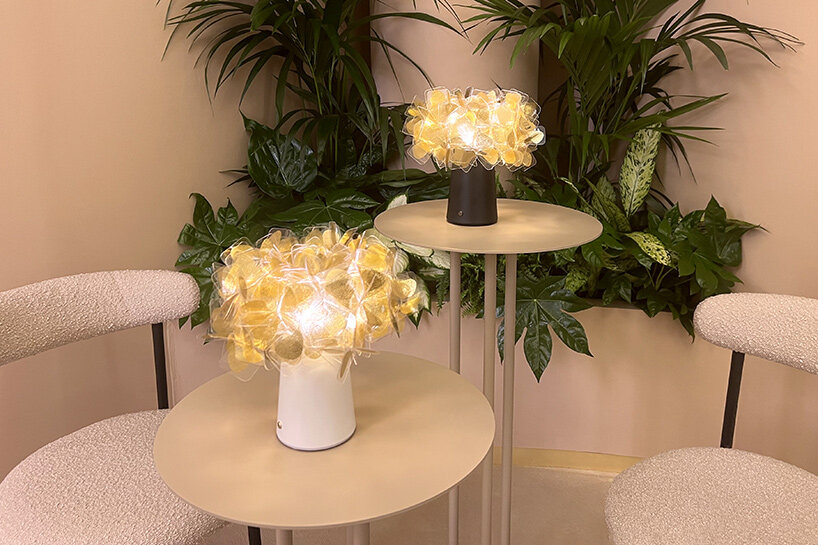 Clizia Table by Adriano Rachele | image © designboom
As part of the tenth anniversary celebration of Slamp's collaboration with Zaha Hadid Design, the lighting design company has unveiled Aria Infinita, a modular rendition of its popular Aria model. This luminous sculpture features a modular lighting body that produces undulating waves in the surrounding space. The lighting body is encased by polycarbonate layers of varying designs, which give rise to a fluid and imaginative structure. At its apex, the lamp towers to a height of two meters. Aria Infinita is an outstanding example of Slamp's inventive approach to lighting design.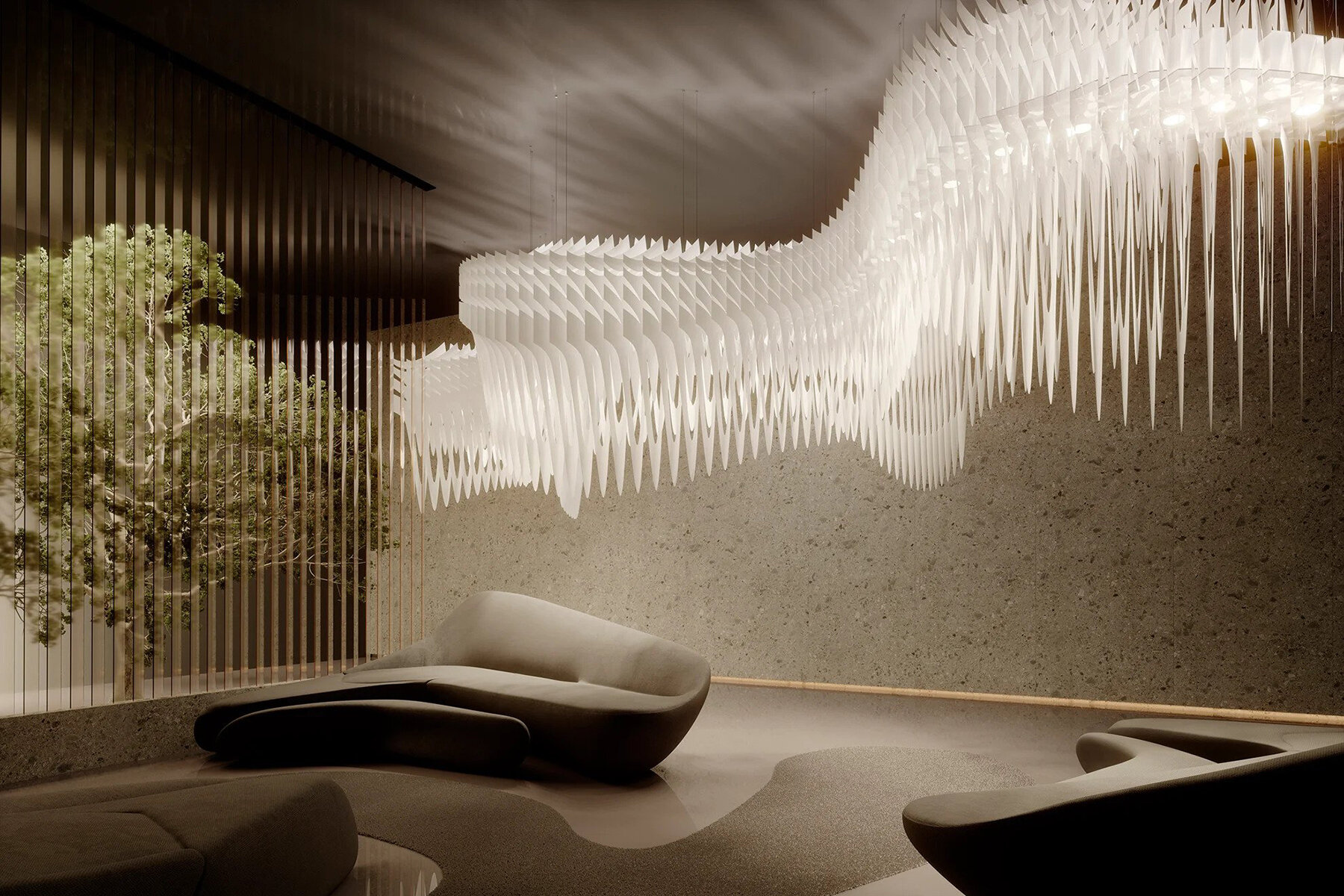 Aria Infinita by Zaha Hadid Design | image © Zaha Hadid Design
foscarini
During Euroluce 2023, Foscarini unveiled its latest product innovations in a stunning stand, which was specially designed by architect Ferruccio Laviani. Laviani's design for the stand took shape with a blend of Japanese and Corbusierian influences, resulting in an harmonious blend of warmth in materials and vibrant colors.
The collection's unique and diverse design language reflects Foscarini's commitment to creating lighting fixtures that are playfully-designed and innovative. The use of materials such as wood, botanical ceramic, and textured mesh — combined with the playful use of color and organic form — lended a sense of unexpected discovery as visitors explored the maze-like exhibition space.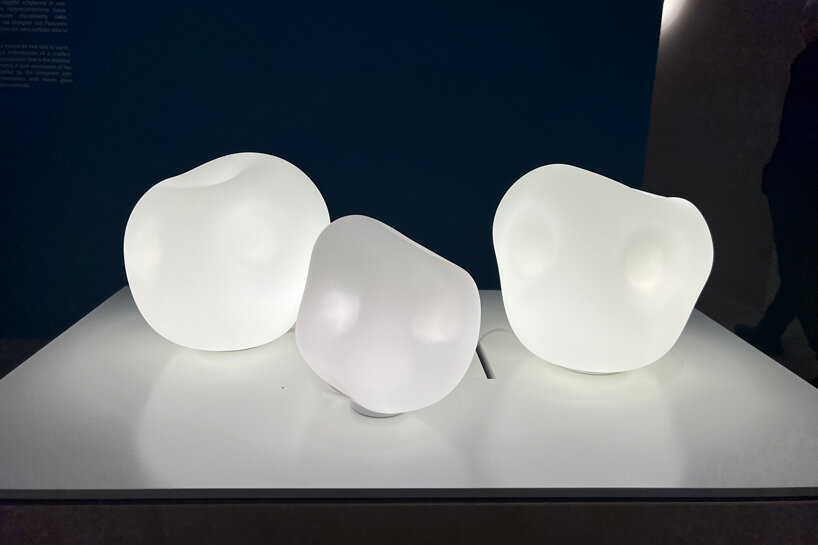 Hoba by Ludovica + Roberto Palomba | image © designboom
The Hoba lamp collection by Ludovica + Roberto Palomba is inspired by the Hoba meteorite, the heaviest ever to fall onto Earth. The lamps are made of opaque rusticated blown glass, resembling stones shaped by flight. HOBA lamps are crafted to be asymmetrical and irregular, with what Palomba describes as a 'perfect imperfection that triggers magic, curiosity, elective affinities with human beings.' The glass seems crushed in various points, leaving behind a series of imprints, creating an anti-geometry effect that maintains dynamism and organic deformation.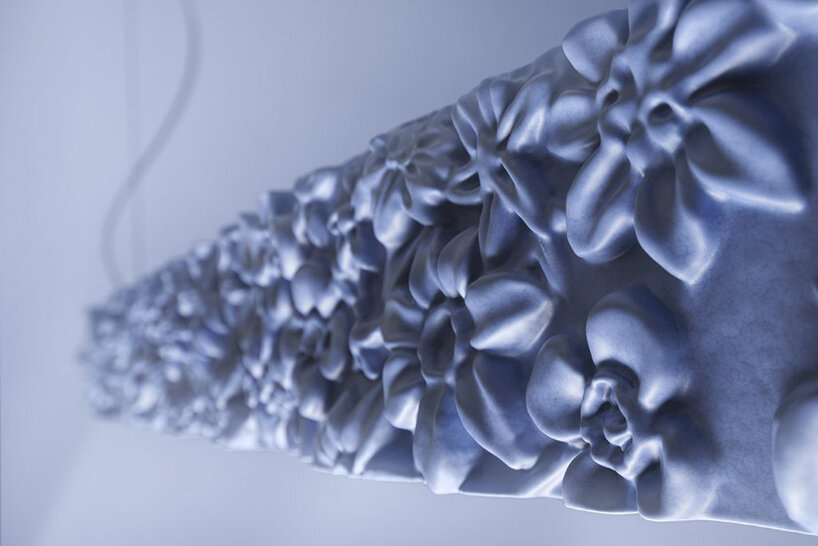 Fregio by Andrea Anastasio | image © Foscarini
Fregio is an ornamental lamp designed by Andrea Anastasio that combines antique and contemporary elements. The lamp's decoration is created through the designer's experimentation with bas relief fragments from the Gatti archive. Fregio is a highly decorative lamp that emits both upward and downward light, making it ideal for lighting tables or desks. The lamp consists of two ceramic sections anchored to a metal profile containing LEDs, connected by straps inspired by the shipping industry. These straps serve as a connection between the contemporary and ornate aspects of the lamp.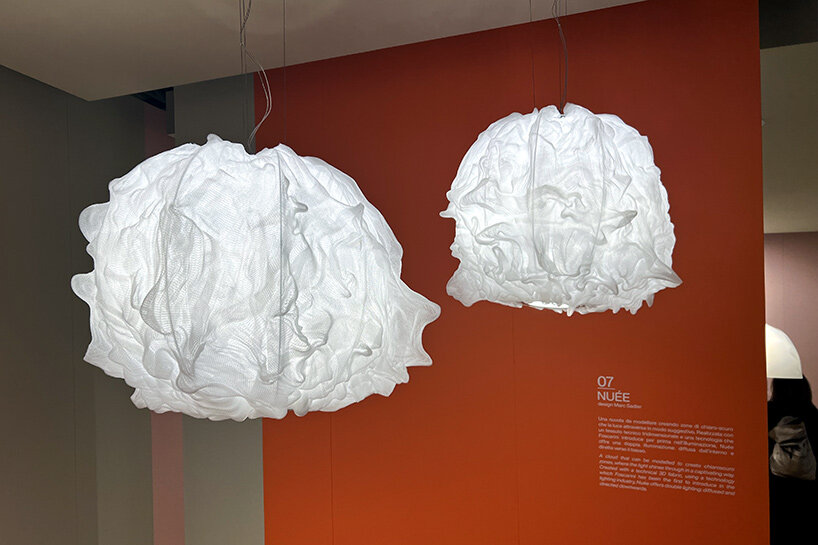 Nuée by Marc Sadler | image © designboom
The Nuée pendant, designed by Marc Sadler for Foscarini, is a lightweight creation that showcases the designer's experimental and interdisciplinary approach. Its informal yet poetic style is achieved through a delicate suspension system of thin steel cables, and the diffused light that emanates from the technical, three-dimensional fabric that encompasses the lamp adds to its overall appeal. The fabric can be shaped and gathered in various areas around the lamp's rounded silhouette, resulting in a dynamic interplay of light and shadow.
Garcia Cumini designed the Spokes lighting fixture for Foscarini, which conveys a sense of weightlessness and movement. The light emanates from within the fixture and creates a mesmerizing pattern of solid and empty spaces as if passing through a mystical and geometric mesh. The Spokes 2 suspension lamp resembles a lantern or birdcage in shape.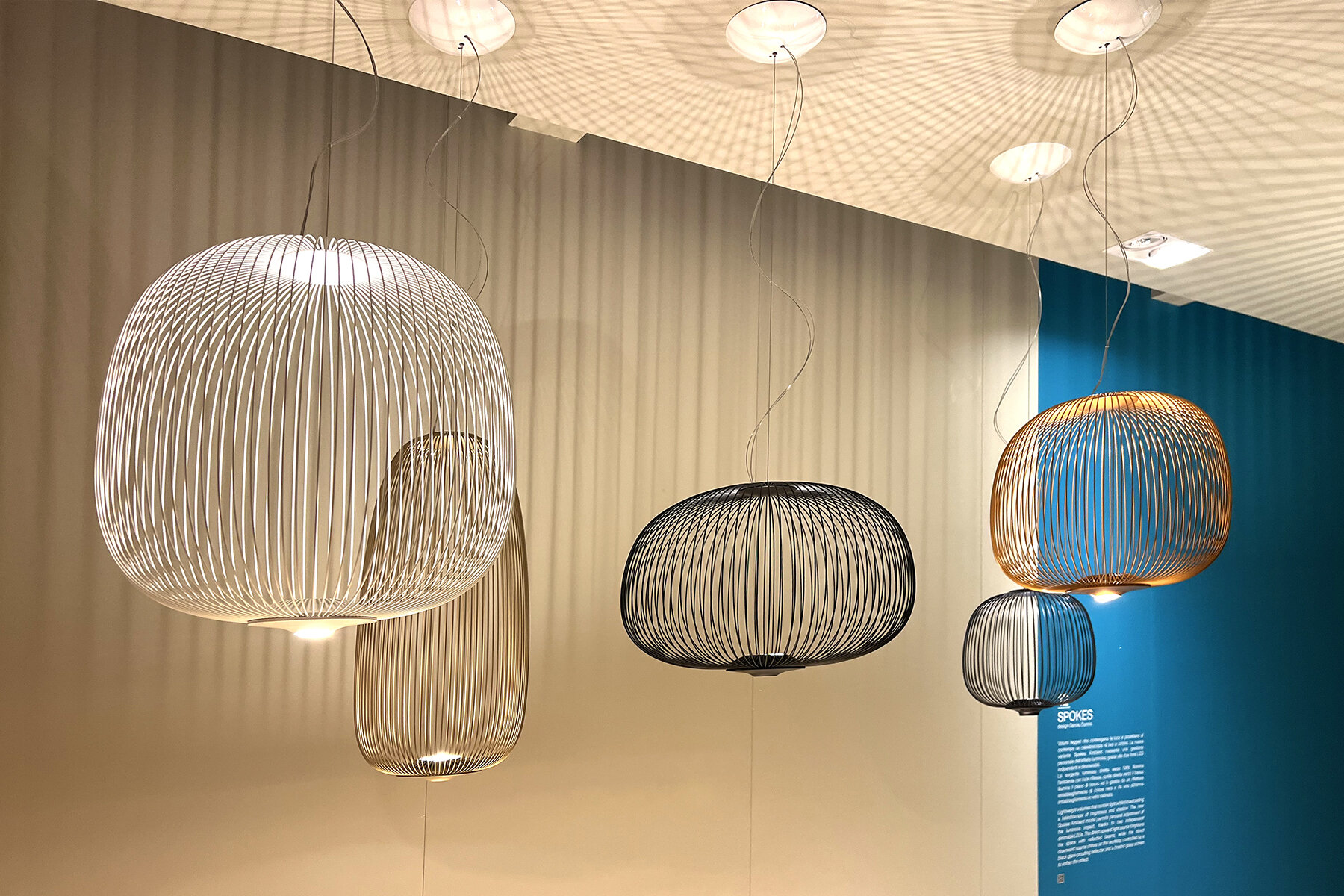 Spokes by Garcia Cumini | image © designboom
flos
Flos, a renowned brand in the lighting industry, made a bold statement at Euroluce 2023 by creating an immersive and expansive series of rooms and outdoor spaces to showcase its latest collection. The brand created a new environment of lighting designs that emerged from lush vegetation and spots of earth, and disparate rooms to offer visitors a unique sensory experience.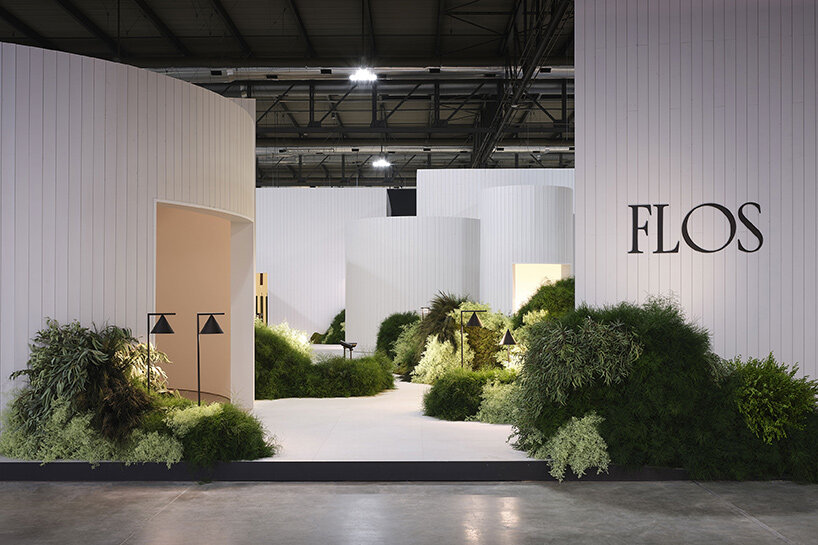 exhibition view | image courtesy Flos
Visitors were invited to explore the various lighting designs throughout a luminous labyrinth of displays. Some of the designers whose works were featured include Ronan and Erwan Bouroullec, Michael Anastassiades, Antonio Citterio, Konstantin Grcic, among others known for their innovative and creative approach to lighting design and furniture.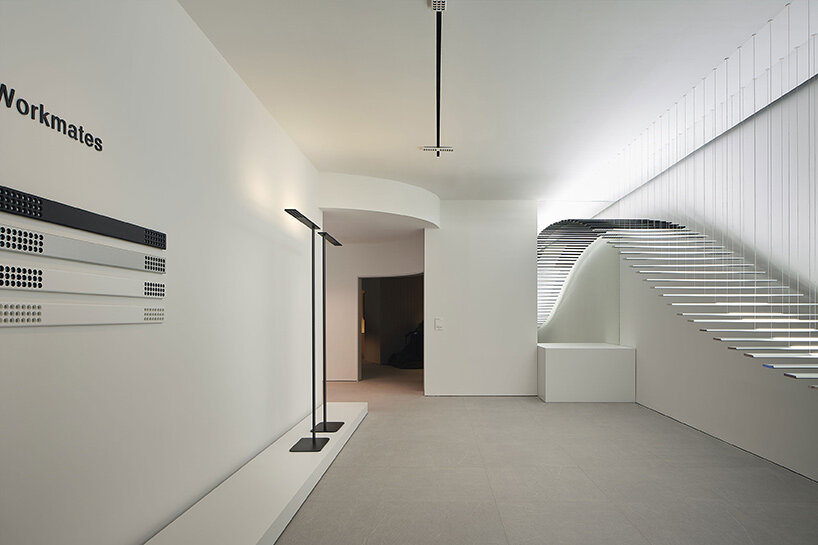 Workmates by Flos Architectural | image courtesy Flos
Workmates is a collection of modern luminaires created by Flos Architectural for workspaces. They include suspension, ceiling, track and floor solutions, all made from flattened and rounded aluminum extrusions with customized glare-free lenses and advanced lighting technology for maximum comfort. The light is emitted both up and downwards, providing even and glare-free lighting towards the worktop. LED modules illuminate upwards to balance light contrast and enhance visual comfort for a pleasant work environment.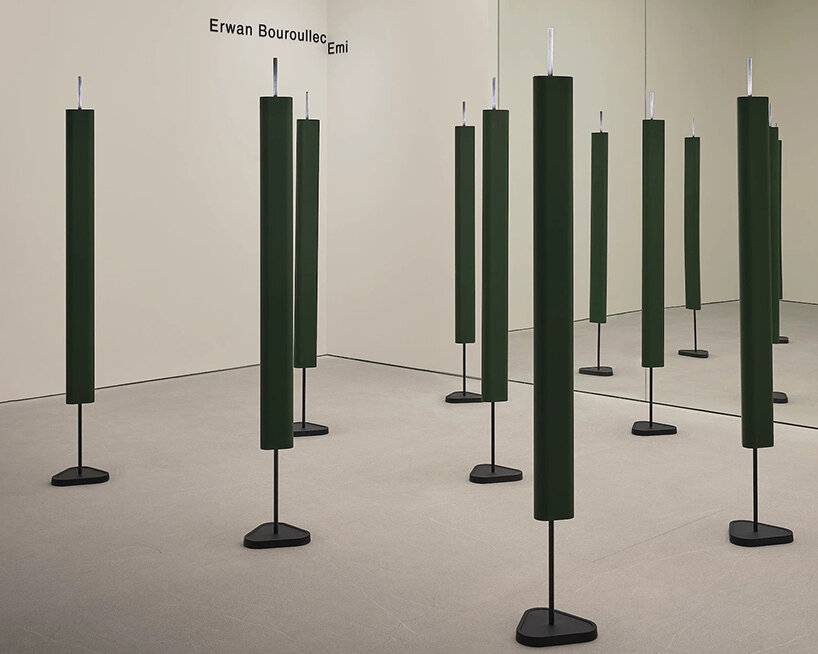 Emi by Erwan Bouroullec | image © Flos
Ronan Bouroullec has designed a new collection of lights for Flos called Céramique. The collection features three table lamps with a ceramic body and diffuser, finished with a lead-free crystalline lacquer. Each lamp has a base, stem, and cap, and the position of the cap can be adjusted to change the type of illumination. The lamps are characterized by their connecting blade between the base and diffuser. The three configurations create different luminous flux for different functions.
The down version is for focused light, the side version illuminates walls or corners, and the up version creates soft, indirect ambient lighting. The collection emphasizes the materiality and craftsmanship of the ceramics. Ronan Bouroullec has utilized his experience with ceramics to create a contemporary and essential design for Céramique.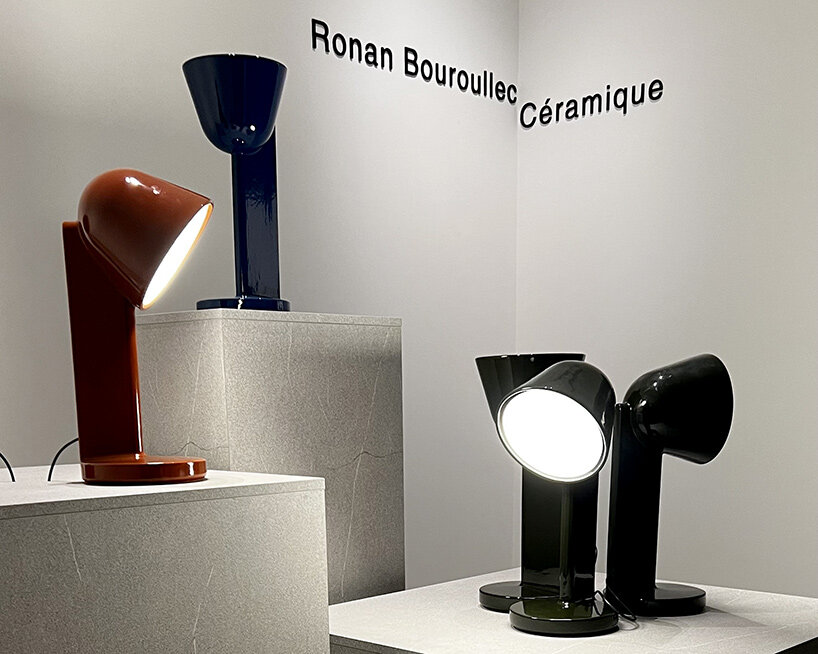 Céramique by Ronan Bouroullec | image © designboom
contardi
The 'Baggy' lighting collection, designed by Paola Navone for Contardi, exudes a casual and playful vibe, reminiscent of oversized pants which served as its namesake. Each lamp in the Baggy series is made up of individual modules of various sizes, allowing for complete creative freedom when assembling them. The satin polycarbonate diffuser features an irregular appearance, resembling a crumpled paper tube.
Meanwhile, Paola Navone introduces soft textile cords to blend with the brand's 'archi-decorative stylistic code,' acting as a connective element for the table and floor versions while supporting the suspended version. The collection's uniqueness lies in its organic shape, within which a custom LED source emits light in a 'magical and unexpected way.'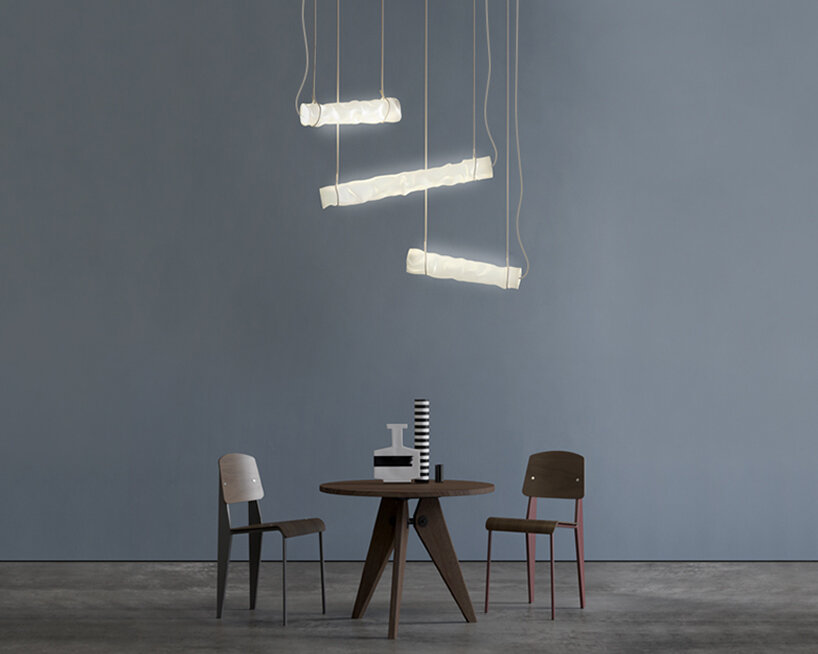 Baggy by Paola Navone | image © Contardi
'Baggy is the result of an irreplicable alchemy between our way of designing and Contardi,' says Paola Navone. 'In a very special and pertinent way, Contardi has fostered the aptitude for imperfection in our design approach, accepting an interpretation of the company's rigorous essence, in a project of lamps of ephemeral balance and an air of irony.'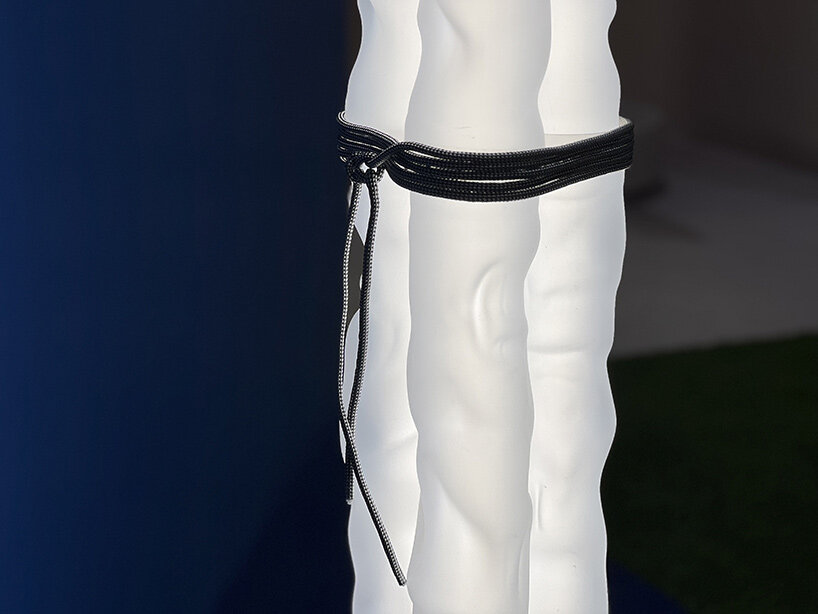 Baggy by Paola Navone at Euroluce | image © designboom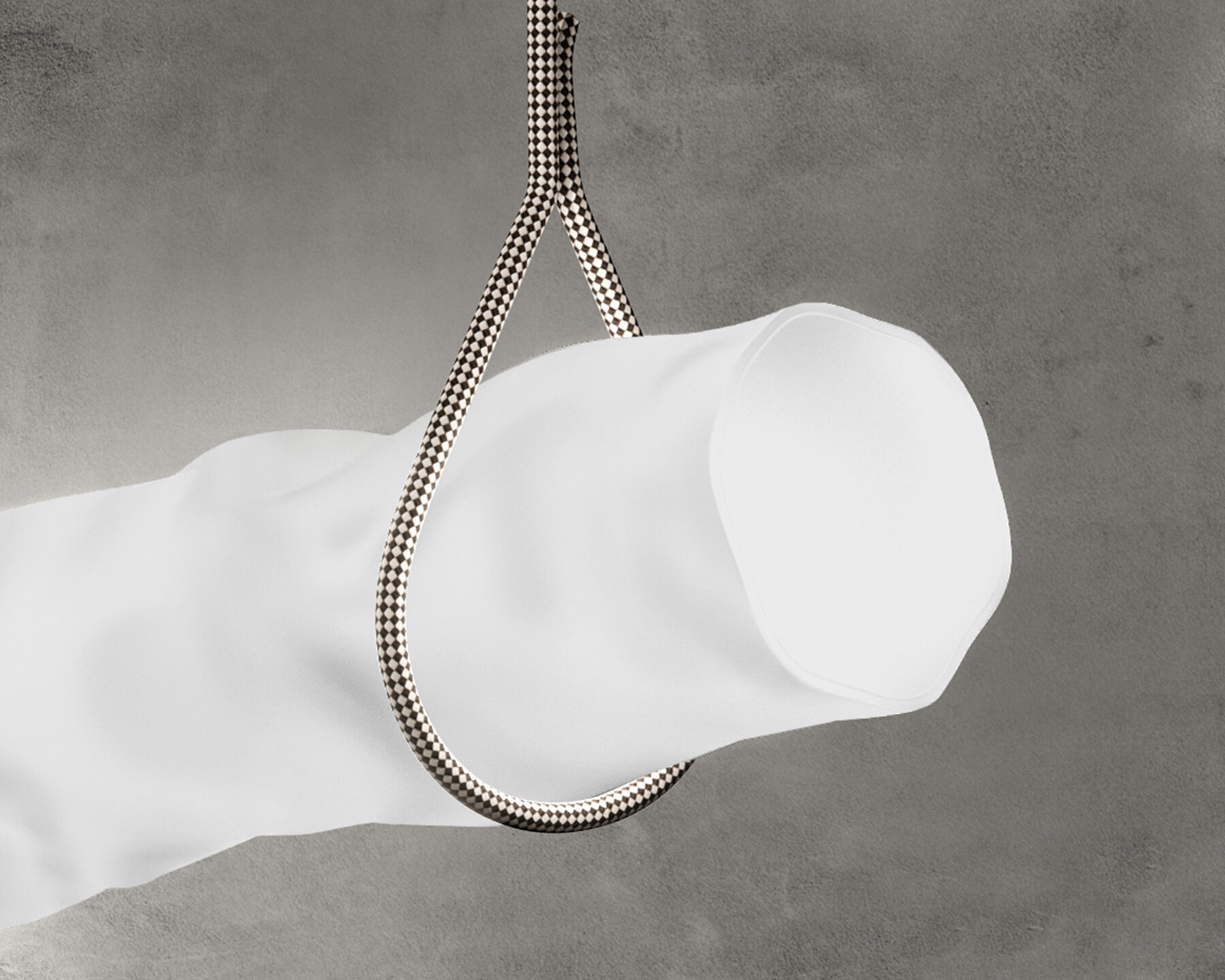 Baggy by Paola Navone | image © Contardi
KEEP UP WITH OUR DAILY AND WEEKLY NEWSLETTERS
a diverse digital database that acts as a valuable guide in gaining insight and information about a product directly from the manufacturer, and serves as a rich reference point in developing a project or scheme.
designboom will always be there for you
milan, new york, beijing, tokyo

,
since 1999