apr 20, 2011
eveline visser: vogelstad (bird city)
'vogelstad' ('bird city') by eveline visser
created by dutch designer eveline visser, 'vogelstad' ('bird city') expands on the concept of a bird house, offering an entire city for a mixed bird community of up to 33 unique species.
observing the high number and diversity of birds in urban spaces, visser designed a structure that can be hung along the sides of buildings or unused walls: spaces that are common in cities but which can be put to more productive use. the design of each birdhouse is specific to the needs of a particular species of bird, with the right size opening, and with groupings of the same size boxes for bird species that live in flocks, and single houses for those that are solitary.
the location of 'vogelstad', in terms of its height placement and vicinity to particular kinds of environments, partially determines its use. although the prototype piece is created in a set configuration of 33 nesting boxes, demonstrating a unique birdhouse for each of 33 different species, the final production of 'vogelstad' could easily be as a modular installation, in which one can customize the number and type of birdhouses composing the piece.
'vogelstad' at design academy eindhoven's exhibition during milan design week 2011 image © designboom
detail view image © designboom
each house is marked with the name of the bird for which it was designed
detail view
jun 21, 2017
jun 21, 2017
may 23, 2017
may 23, 2017
sep 09, 2014
sep 09, 2014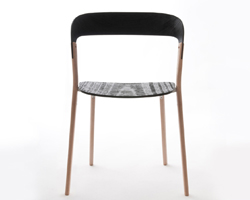 apr 07, 2012
apr 07, 2012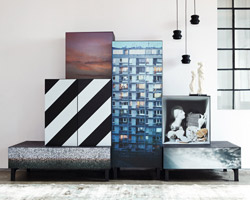 mar 21, 2012
mar 21, 2012
jul 16, 2011
jul 16, 2011