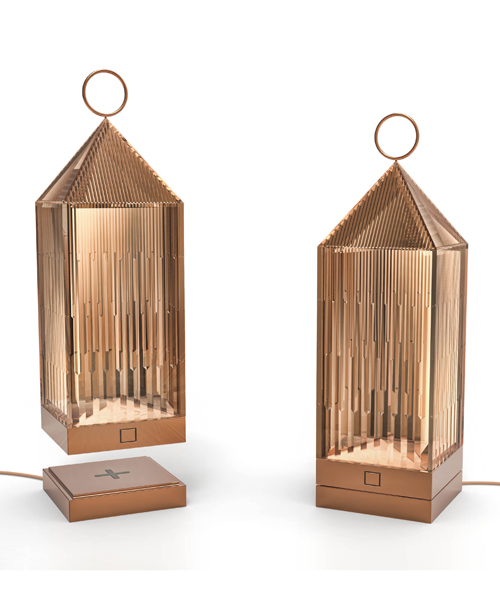 jun 11, 2016
fabio novembre lights the way for venini and kartell with muse lamp + lantern
fabio novembre lights the way for venini and kartell with muse lamp + lantern
(above) 'muse' by fabio novembre for venini (design team: nicolò buratti, domenico zenone papetti); hand blown glass inside handmade steel cage; amber colored incamiciato glass, carrara marble, burnished steel; L38,9 x W20,9 x H32 cm
fabio novembre is known for the cheeky way in which he approaches design, often expressing everyday objects through unconventional forms. his 'muse' lamp for venini and 'lantern' for kartell see a toned down novembre, in which the creative takes on more tranquil directions: one that recalls reflects recent changes in the italian creative's life; and the other harking to his continued fascination with the metaphysical.
designboom spoke to fabio novembre about designs for two of italy's most well established companies, to understand his motivations for the lighting objects that are distinct in form and purpose.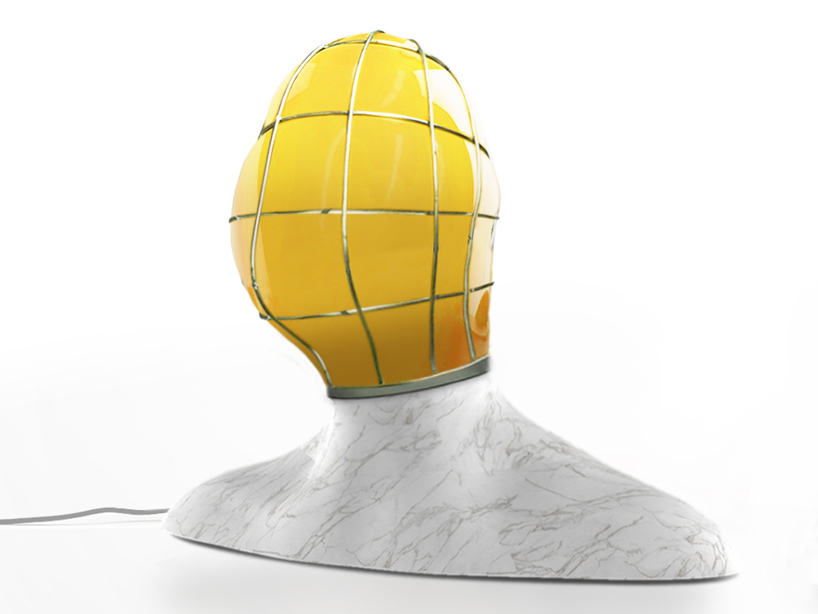 'muse' draws on the designer's fascination with italian metaphysical art of the early 1900s
designboom: who was your 'muse' for this venini project?

fabio novembre: since I was a student I've been fascinated by that group of ingenious young men that in order to escape the folly of war got hospitalized all together in ferrara. the refusal of reality led them to develop an alternative reality that they called metafisica (the metaphysical art movement). their names were: giorgio de chirico, carlo carrà, alberto savinio, filippo de pisis, and they are my muse.
DB: was there a particular brief you were given for this collaboration with venini? or did you have free reign to dream-up whatever your heart desired?

FN: venini does not produce functional objects. buying a venini means being aspirations, you don't need it, you just want it. it means that designers never work for venini with a brief. that would be contradictory. venini is a blower of glass dreams, each designer brings his own.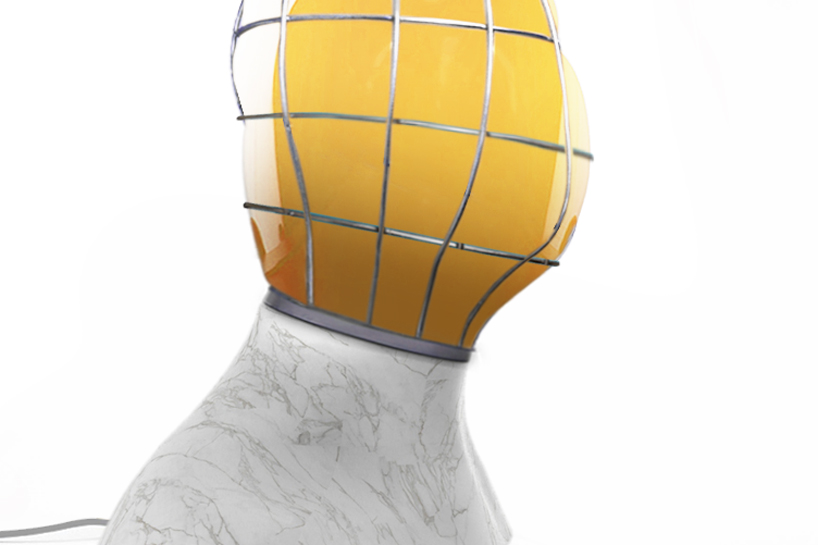 the form of 'muse' loosely references de chirico's head

DB: could you elaborate on the formal developments of 'muse', and why you have chosen to employ this combination of materials into a single design object?

FN: I have often perceived the aesthetics of venetian lanterns as something similar to de chirico's heads. evolving on this input has been quite easy. and pairing venetian glass with carrara marble has been a further confirmation of the italian root of this project.

DB: what are the specific difficulties you face in working with glass as opposed to other materials such as plastic?

FN: each material has its own specificity. it's like speaking different languages and I have no problem with it.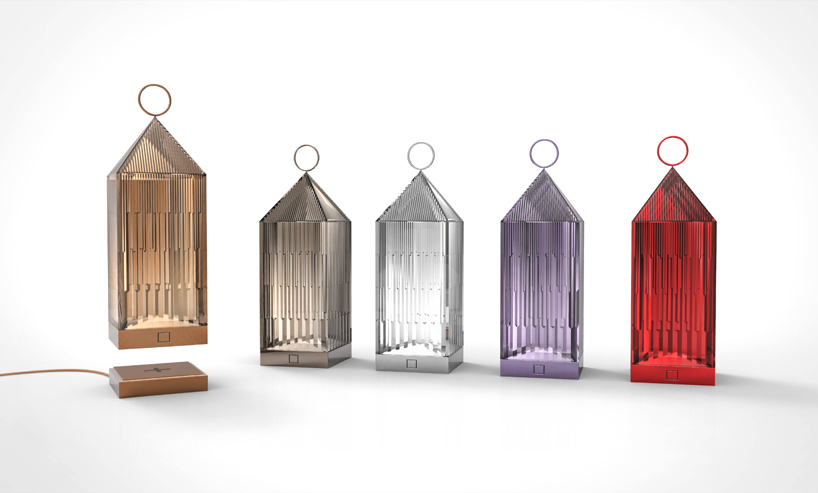 'lantern' by fabio novembre for kartell
contrasting 'muse' in its form, novembre's portable LED 'lantern' for kartell is made from moulded polycarbonate, outfitted with a wireless base charger.
DB: what is the concept behind 'lantern' for kartell?

FN: I got lost in my personal life and I felt the need of finding something to light my way. something simple, iconic, durable. something to keep me company in the dark solitude. basically I 'designed' lantern for myself.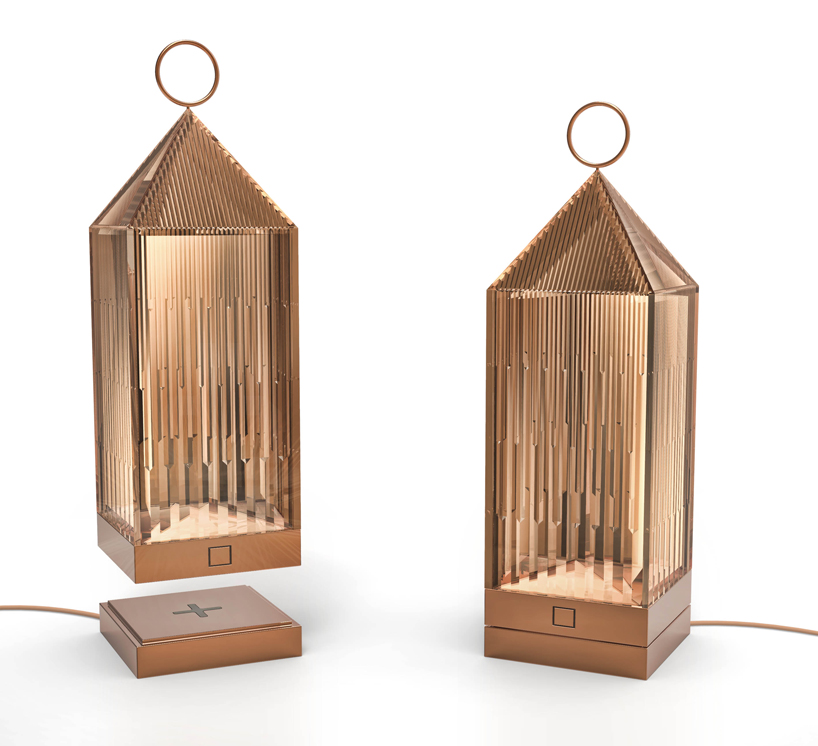 the lantern sits on a charging base and can be moved around easily

DB: 'lantern' seems to take on a form that is quite rigid in comparison to the more organic and playful designs we typically see from you… why the more traditional approach this time around?
FN: I needed something iconic, recognizable, something retrieved from my memory. I was trying to solve a need, not to be playful or organic at all costs.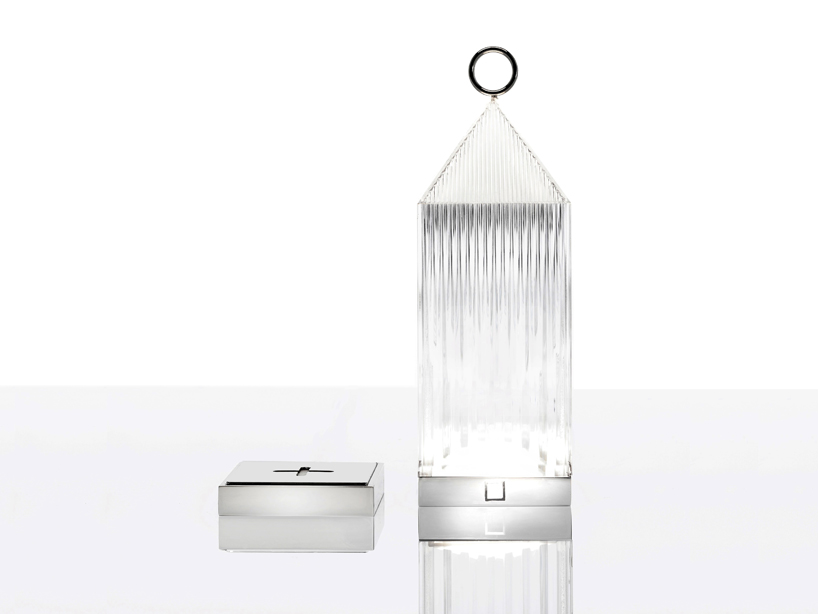 with 'lantern', novembre was looking to design something iconic and recognizable
DB: could you talk about the design development of 'lantern'?

FN: working with kartell is an experience in itself: the accuracy, the precision, the clarity of purpose is something very enjoyable and rewarding.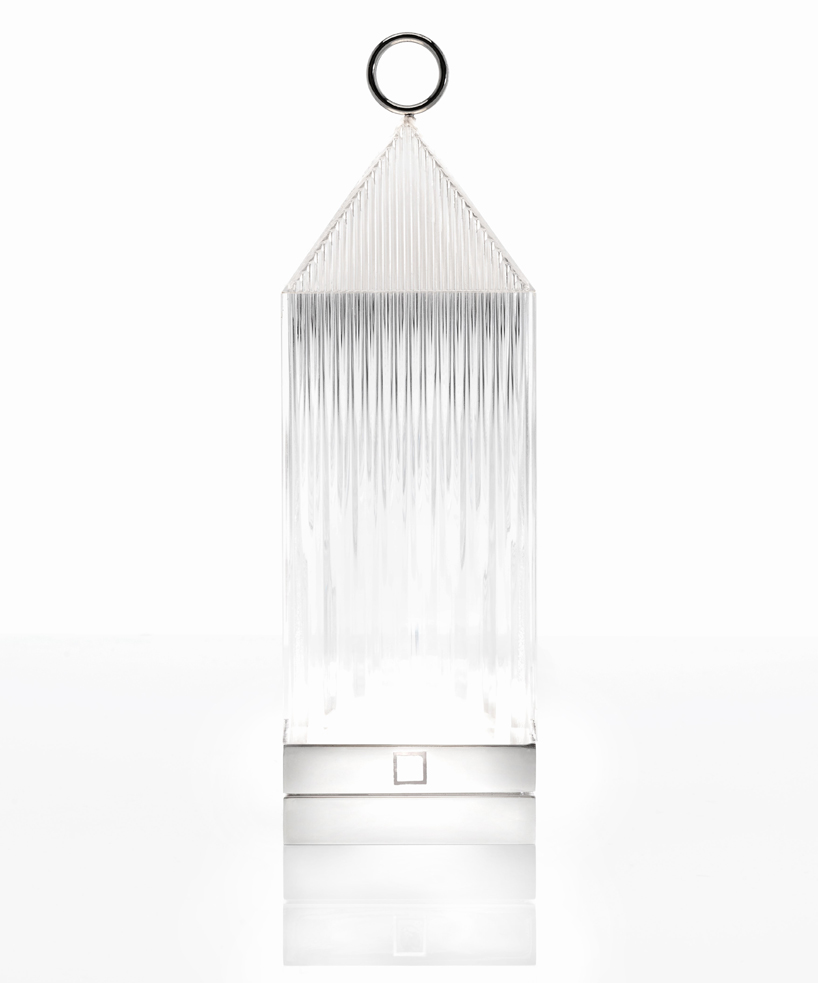 DB: what were some of the manufacturing challenges you faced in the production of the lighting object?

FN: the pattern on the surface of the lantern is not just decorative, it's conceived to light the whole volume despite the source of light is only at the bottom. and we made a few attempts to get a good result, but we succeeded.
dec 11, 2019
dec 11, 2019
nov 15, 2018
nov 15, 2018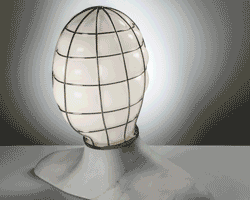 sep 06, 2018
sep 06, 2018
feb 27, 2018
feb 27, 2018
apr 07, 2017
apr 07, 2017
jun 21, 2016
jun 21, 2016
jul 27, 2016
jul 27, 2016
jul 05, 2016
jul 05, 2016
jul 02, 2016
jul 02, 2016
feb 14, 2017
feb 14, 2017
jun 26, 2016
jun 26, 2016
jun 21, 2016
jun 21, 2016
a diverse digital database that acts as a valuable guide in gaining insight and information about a product directly from the manufacturer, and serves as a rich reference point in developing a project or scheme.