apr 30, 2010
facade printer by sonice development
'three stones' tests monochrome shading by filling these various geometric shapes
'facade printer' is a software controlled inkjet printer that creates images on an architectural scale. developed by german product designers martin fussenegger, michael haas and engineer julian adenauer. the system 'prints' images by shooting individual dots from a distanced position varying from 5 meters to 20 feet. 'facade printer' features a two axis turn table and an air pressure printhead.
'facade printer' system
the printer is equipped with an industrial PC which is running the specially programmed printing software. the machine is operated by touchscreen. artworks can be loaded from USB-devices in the file format SVG. with an integrated camera, photos of the printing area can be taken and overlayed with a printing preview. this way position and scaling can be adjusted optimally on site. the distance to the wall is measured by infrared-meter and entered manually. the printing software calculates the driving coordinates regarding both the perspective and the ballistic distortion.
a paintball system was converted into a printhead to shoot the colour balls onto the wall. the two axis turn table places the paintball marker via stepper motors and gears. before printing an integrated laser displays a bounding box of the artwork to verify the precise position on the wall. in case of malfunction or danger printing can be paused anytime.
a ball tower conveys the gelatine encapsulated colour balls to the marker. here they are accelerated to a speed of 200km/h and finally burst on contact with the wall, leaving their coloured contents. a coloured dot of 5 to 10 cm diameter occurs on the wall. the busted gelatine shell falls down to the ground where it can be removed, or left to decompose naturally by the rain without residue. the colour qualities differ from each other gravely considering UV stability or dripping characteristics. thus, colours can either bleach out within a few hours or remains visible for several months.
for fussenegger, haas and adenauer, 'facade printer' is a large scale communication tool.
the print aesthetic and method are distinguishly different from conventional print and advertising techniques. artworks are applied onto the walls directly, like the drawings of a magic pen.
demonstration of facade printer
a portrait of reformator jean calvin on the backside of of a church in hamburg´s center
'crab pincher' was the first attempt in testing multiple colour printing.
process showing a build up of six different coloured layers
the total print has the size of 5 x 2,3m and made up 2.200 colour balls. the colours used were cyan (195 dots), dark blue (185 dots), orange (280 dots), pink (130 dots) and red (1430 dots) and printed at a distance of 4.7 meters.
wall of the wilhelm liebknecht bibliothek at kottbusser tor,
'facade printer' at stroke, an annual three-day street art festival in munich
currently, the printer is capable of a maximum print distances of 12 meters and maximum print height of 8 meters with shooting frequency of 5 dots per second
removing paint after demonstration
jun 27, 2016
jun 27, 2016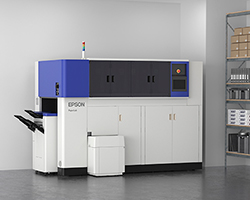 dec 04, 2015
dec 04, 2015
jul 11, 2015
jul 11, 2015
jun 29, 2015
jun 29, 2015
aug 13, 2013
aug 13, 2013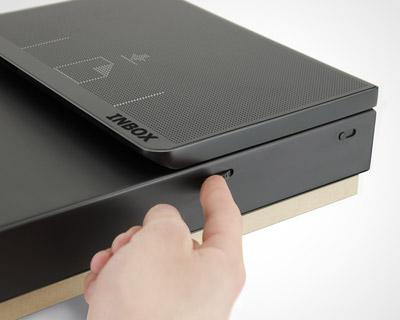 jul 10, 2013
jul 10, 2013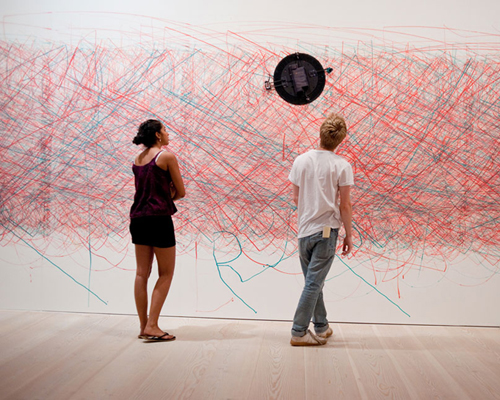 nov 07, 2013
nov 07, 2013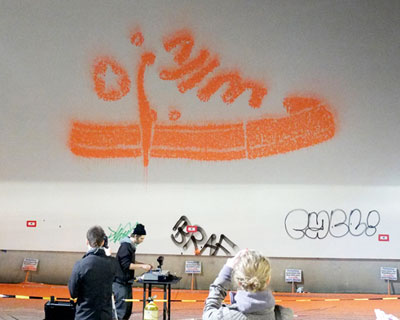 aug 23, 2013
aug 23, 2013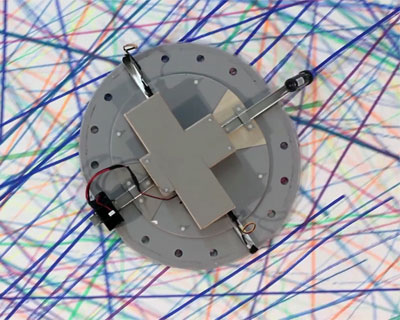 aug 19, 2013
aug 19, 2013
a diverse digital database that acts as a valuable guide in gaining insight and information about a product directly from the manufacturer, and serves as a rich reference point in developing a project or scheme.