founded in 1929 as a racecar sponsor and manufacturer, ferrari has been producing hand-finished road vehicles since 1947. the ferrari factory was designed by french architect jean nouvel and modernized beginning in 1997 by company president luca di montezemolo. all ferraris in the world continue to be produced exclusively on the maranello campus, where every ferrari is produced custom to order, and all installations are performed by hand. as a result, the company produces approximately 10 to 12 cars a day.
designboom visited the ferrari factories and is excited to bring you a three-part behind-the-scenes look at the vehicles' production. this article, the last in our series, gives an overview of the design and customization of ferrari cars, a process that starts long before the engine parts are produced, and continues on to inform the installation and assembly of each custom vehicle.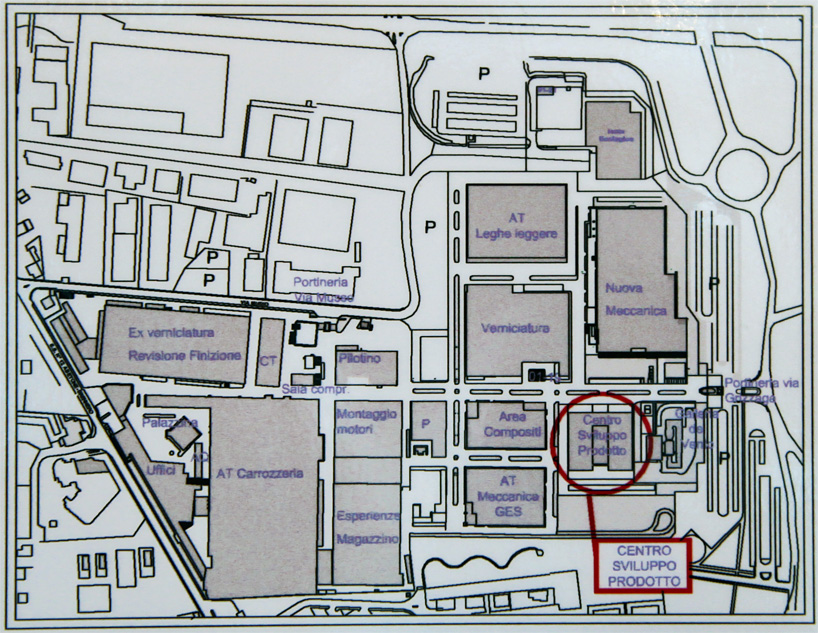 'you are here' at the 'centro sviluppo prodotto' ('product development center'), as indicated on a map of the ferrari complex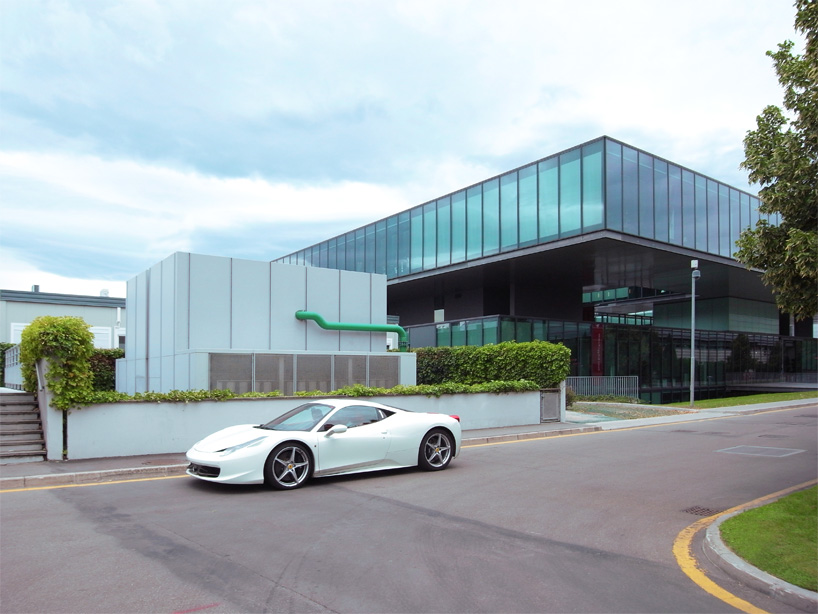 exterior view of the 'centro sviluppo prodotto' ('product development center')image © designboom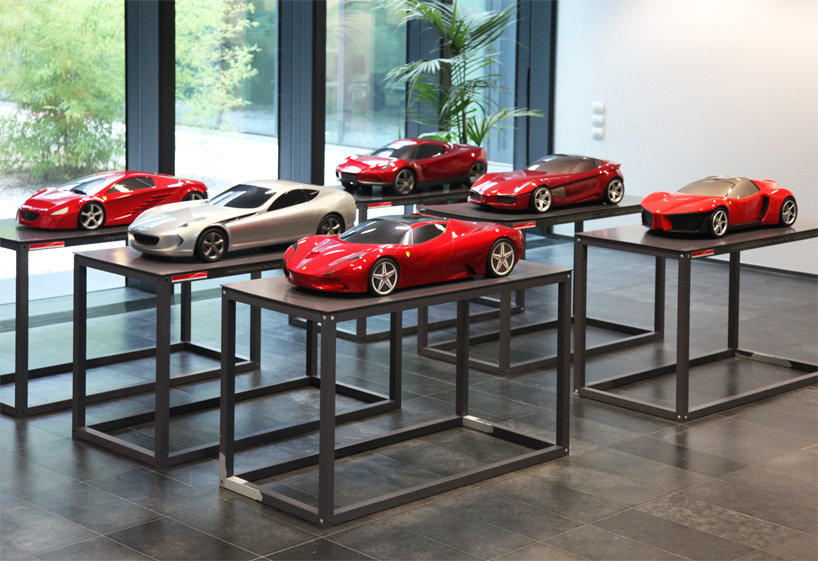 scale models of ferrari vehiclesimage © designboom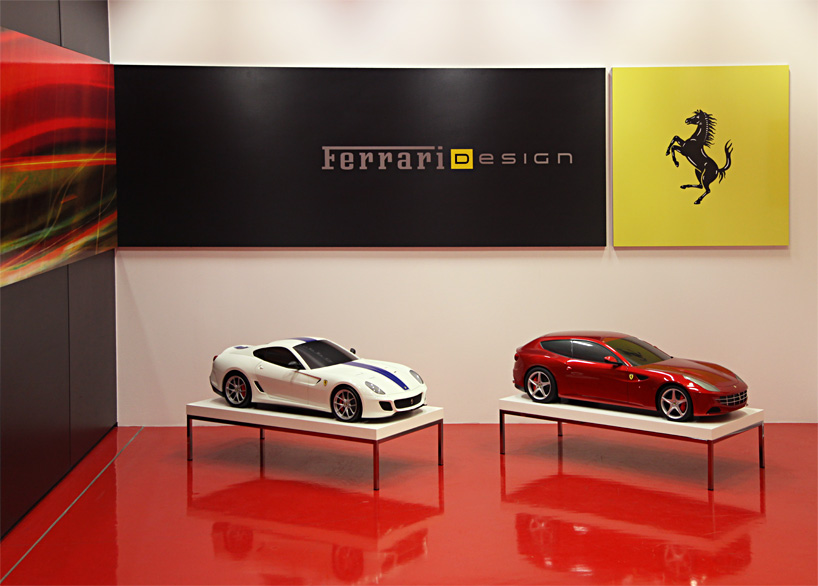 vehicles on display upon entering the ferrari design department in the lower level of the development centerimage © designboom
the team of designers, engineers, and technicians behind vehicle design work together at the 'centro sviluppo prodotto'. ferrari's long history and emphasis on its racing vehicles drives technological innovation in all aspects of vehicle design and production. for example, the vehicle chassis of the '458 italia' advantages from a modular design wherein new alloys support high-resistance aluminum extrusions originally developed for use in the aviation industry. the result is a lower-weight body, improving performance and handling, with increased structural rigidity.
ferrari uses autodesk 3D modeling software during the long early phases of design development prior to prototyping. designs are also all tested heavily in the company's wind tunnel, where models up to 65% of full size can be tested in wind conditions of up to 250mph, and each real vehicle submitted to testing must withstand winds of at least 150mph. originally designed by renzo piano, the wind tunnel features a custom 'rolling road' system, synchronized to wind speed, to minimize the boundary layer problem of air flow under the vehicle. different vehicle positions, such as roll, pitch, and yaw, can also be simulated in the facility.
the video below showcases a range of design choices at work in the innovative four-wheel drive control of the company's 'FF' ('ferrari four') model, the most recent addition to the ferrari line.
video tour of the technical design innovation utilized in the development of the 'ferrari four' model
looking towards the future, company president luca di montezemolo cites a twofold approach to innovation that integrates technological advance and ecological thinking into the ferrari vehicle philosophy, with its emphasis on comfort, speed, and enjoyment. montezemolo takes as a goal the creation by ferrari of the fastest hybrid car in the world, and the company seeks to improve gasoline consumption and reduce carbon emissions across its line.
at the same time, montezemolo imagines that the ferrari of the future is a company that creates a diverse range of vehicles to speak to the diversity across its drivers. he cites by way of example the 'FF', which is the first ferrari to contain four seats but which nonetheless achieves 660 horsepower, thus offering a multi-use vehicle equally at home transporting passengers and baggage and racing on the tracks.
ferrari president luca di montezemolo: 'ecology is crucial for the future of the planet, and we are all busy in this direction. [nonetheless] working day and night to improve the ecology approach, ferrari will never lose its characteristic [emphasis on the] emotion of driving, acceleration, freedom, and enjoyment.'
ferrari president luca di montezemolo about future plansvideo © designboom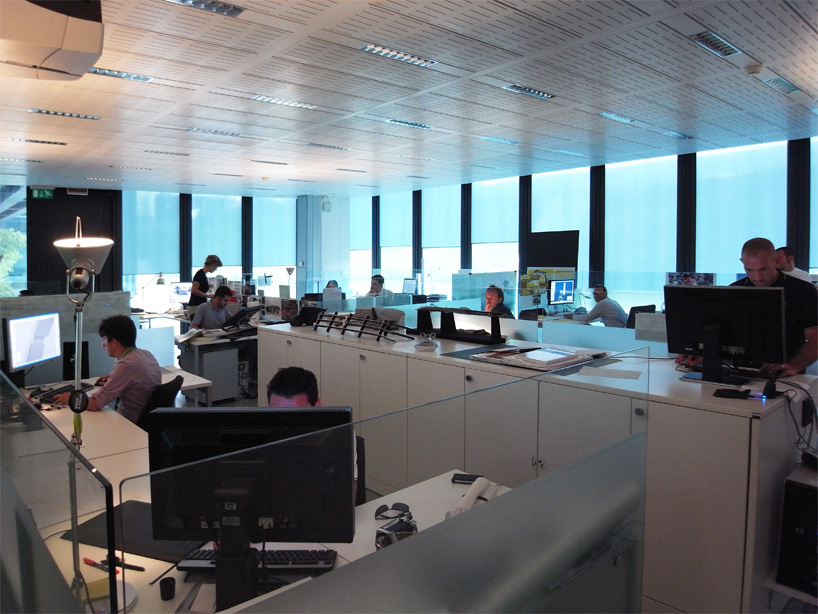 ferrari design officeimage © designboom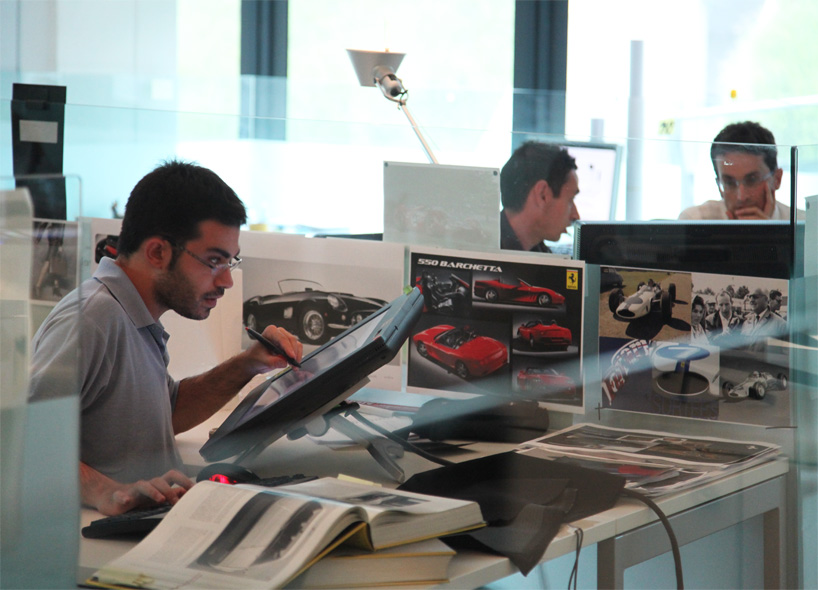 designers at workimage © designboom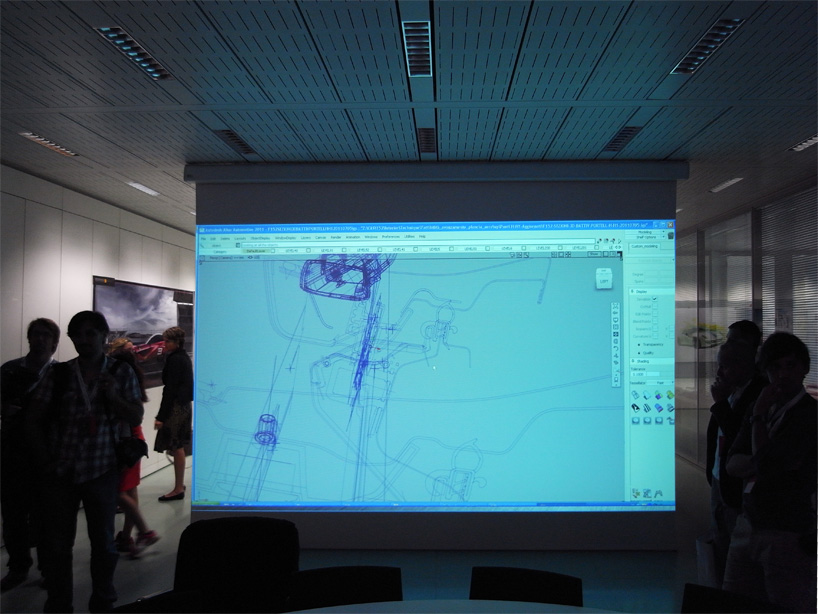 3D models of technical componentsimage © designboom
all ferrari vehicles can be customized in almost every level of detail, although certain selections vary across vehicle models or from country to country. the company's ateliers function as a kind of behind-the-scenes showroom where clients work with ferrari representatives and view the range of steering wheels, rims, fabric and thread samples, chair models, colour chips, and other pieces from which they may select in designing their vehicle.
ferrari puts high emphasis on color design, and the vehicle's exterior can be produced in one of a range of different tones and finishes. sportive options beyond the standard paint job include a racing or historical racing livery or bicolour pattern. wheels are produced in standard and sport rims in a range of finishes, with ccolor clutches selected separately. historically ferrari has also produced special-edition rims.
the vehicle's interior is blanketed in high quality leathers, produced in both natural and bolder colours. everything from the piping to the stitching to the insignia colour on the seats is available in an expansive range of colours, all to be hand-completed in a dedicated sewing workshop prior to vehicle assembly. the seats themselves, available in a scale of sizes and with the option of being fully electric, differ in style from angular carbon fibre racing seats to daytona style seats, in addition to the standard model.
no detail is overlooked or beyond customizability in a ferrari, where the seatbelts can also be selected with either 3 or 4 -points; the dashboard colours can be customized; and the steering wheels are available in standard, leather, or racing designs, with or without integrated LEDs, and all featuring a button-like central insignia selectable from a range of colours.
readers can explore the customization process and create their own unique ferraris on the company's website by clicking the 'explore' link next to any model in the current range, and then selecting 'configure' (requires free registration).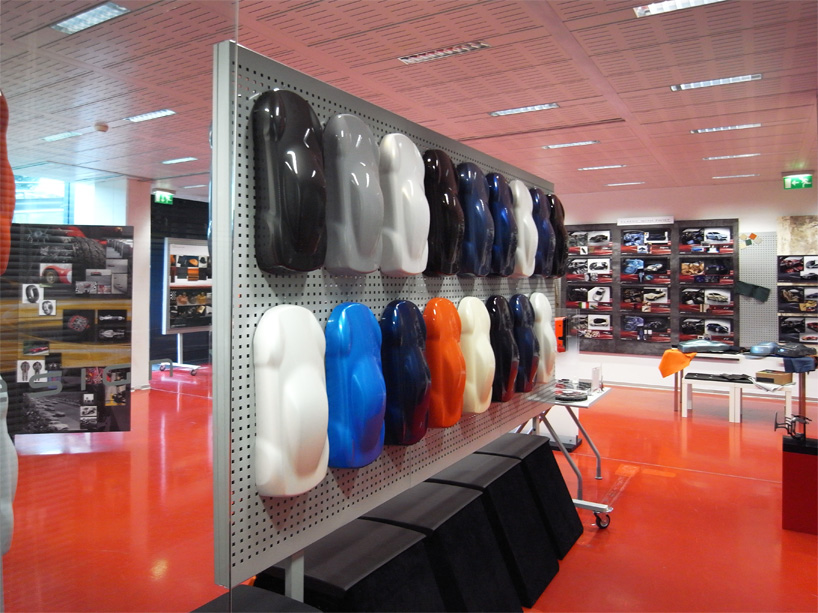 ferrari undertakes extensive research into the colours and other details of production; here, a range of chassis models in the production development centerimage © designboom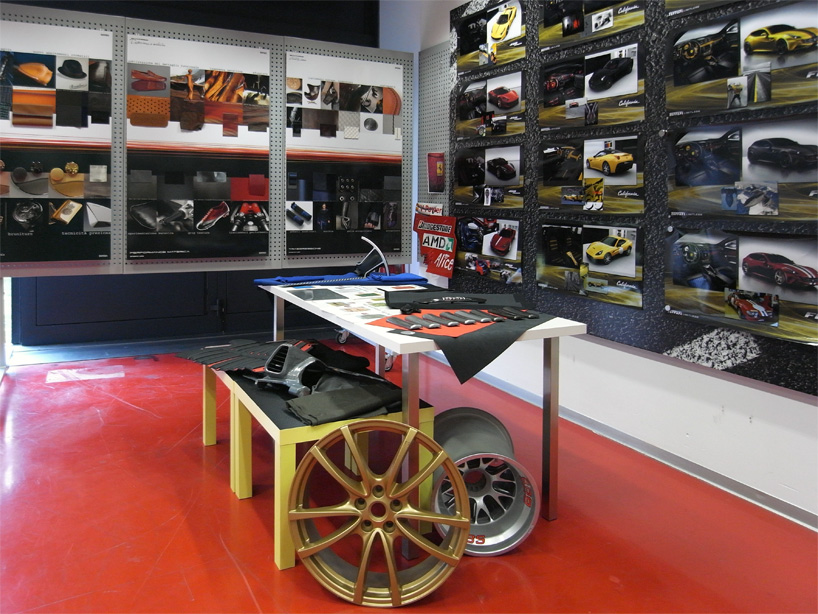 image © designboom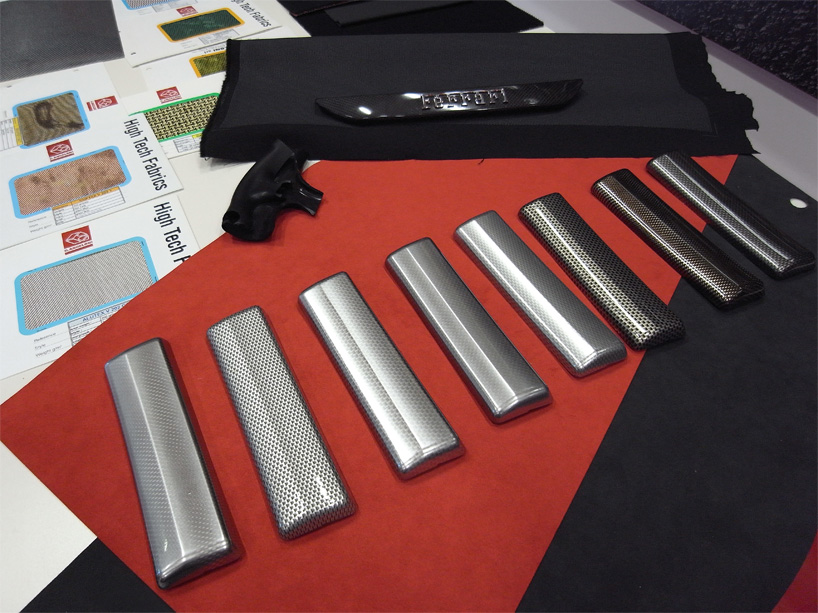 variations of carbon fiber image © designboom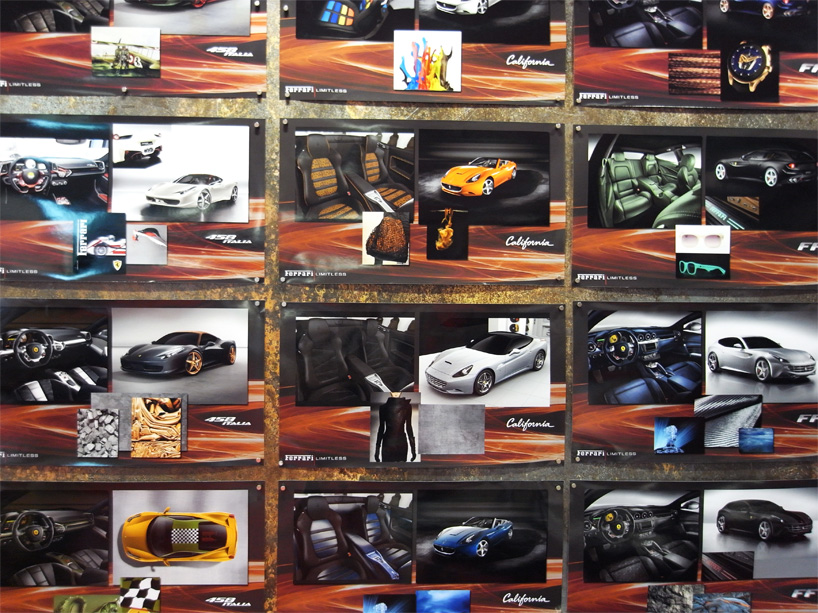 mood boards for a range of ferrari modelsimage © designboom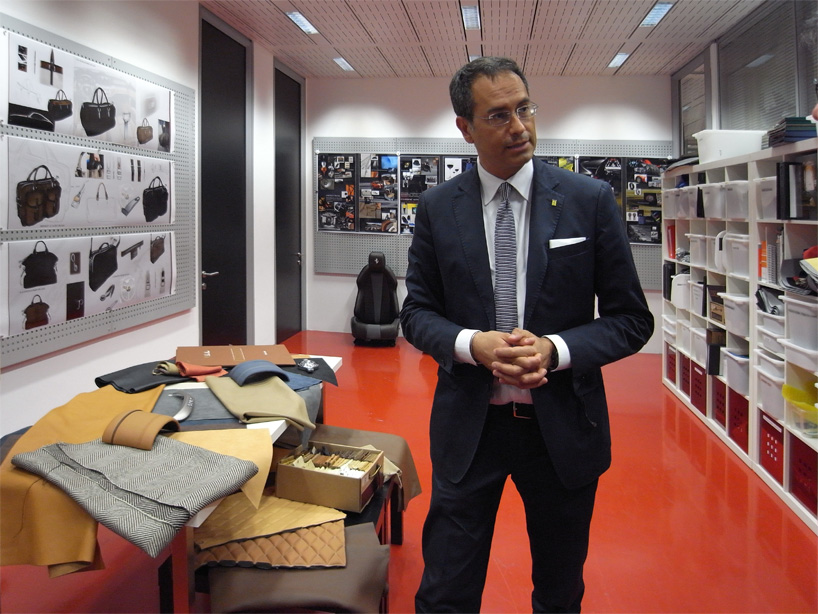 flavio manzoni, director of design at ferrariimage © designboom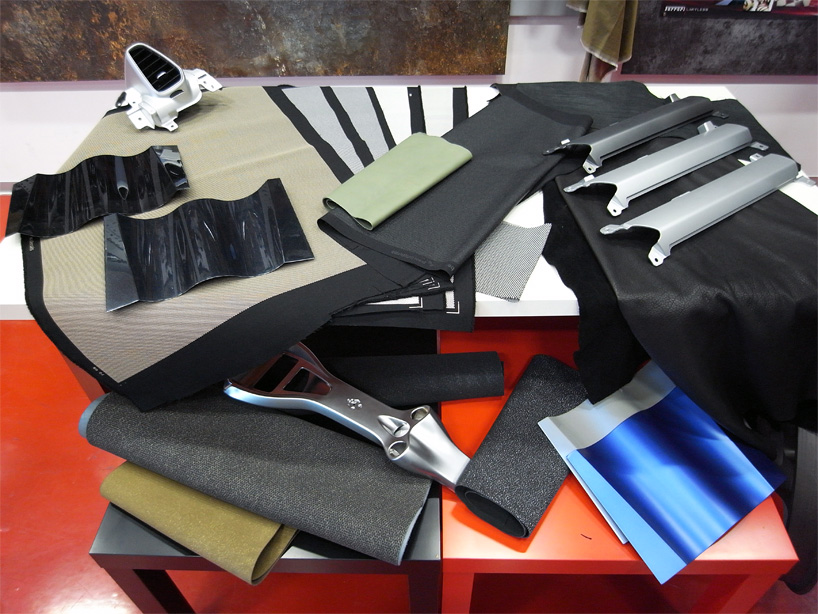 carpeting swatchesimage © designboom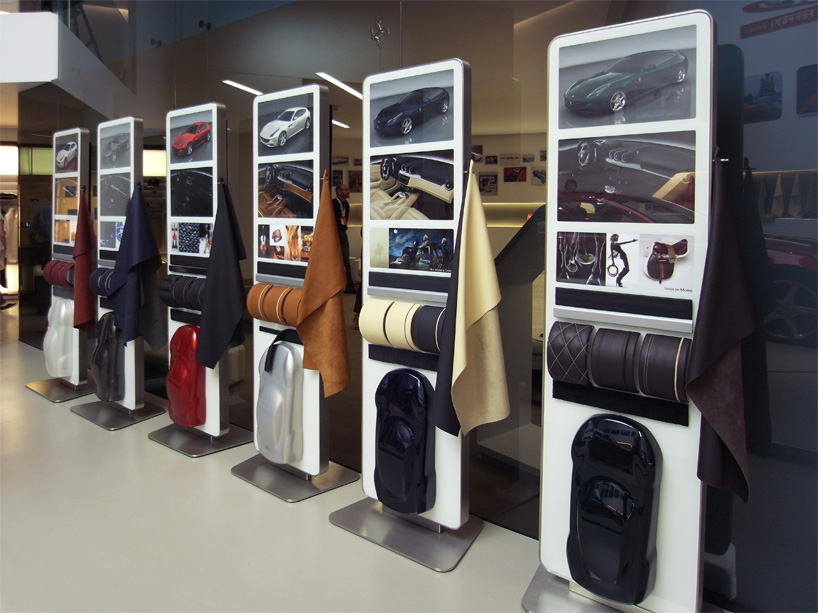 the showroom features a few of the range of materials and finishes selectable for each ferrari vehicleimage © designboom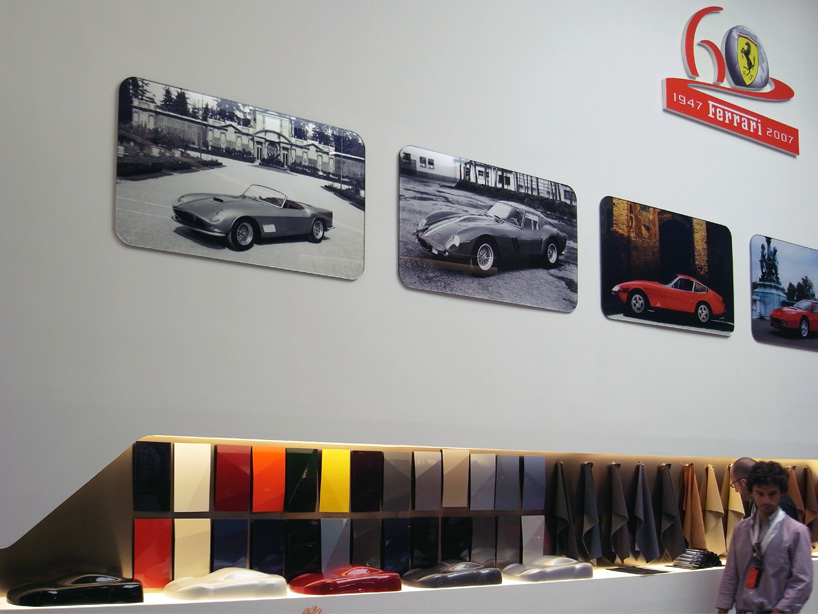 the complete selection of exterior colours and interior materials for a ferrariimage © designboom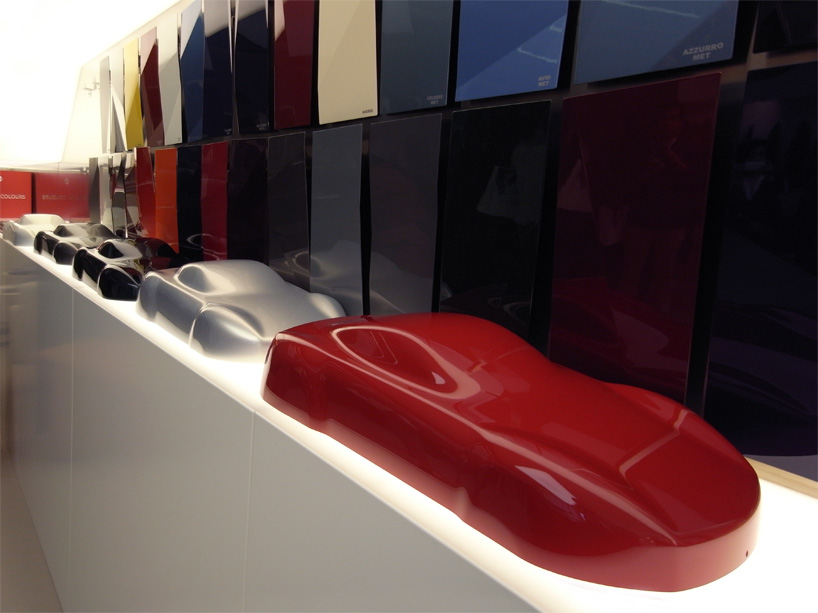 paint chips on wall with all possible vehicle colours, with models on shelf featuring finish typesimage © designboom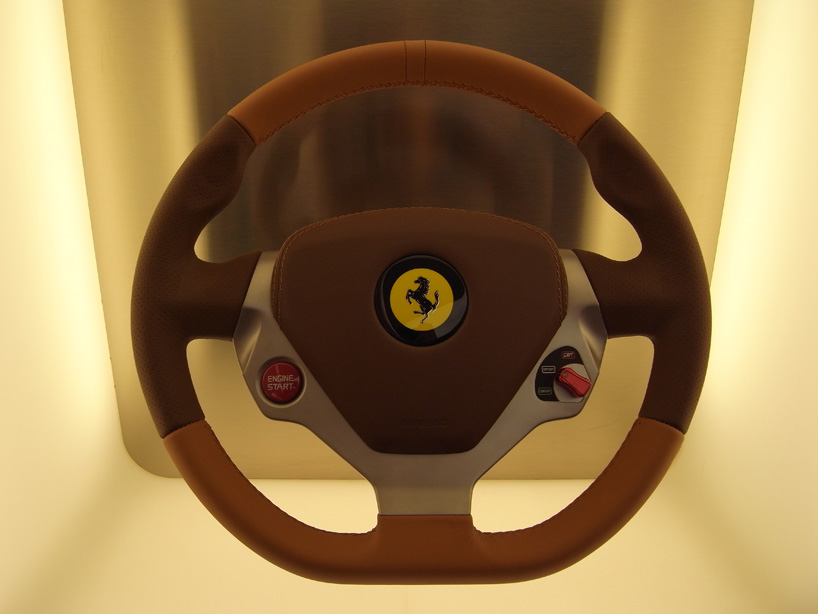 custom steering wheelimage © designboom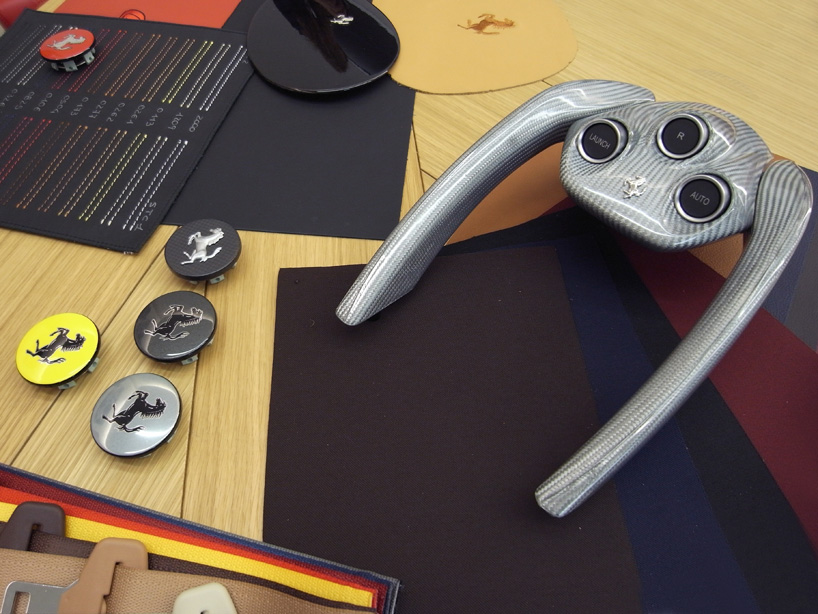 detailing, material, and threading optionsimage © designboom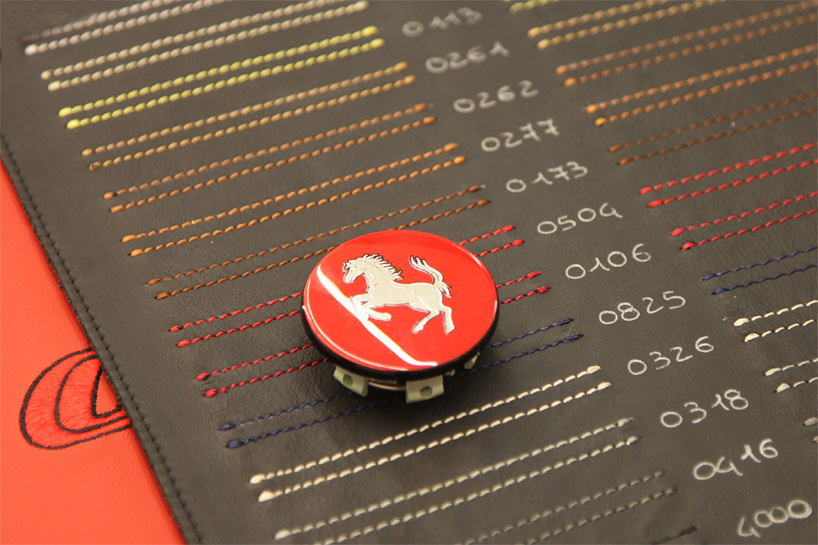 detail on a possible choice of steering wheel insignia, with thread colour swatches beneathimage © designboom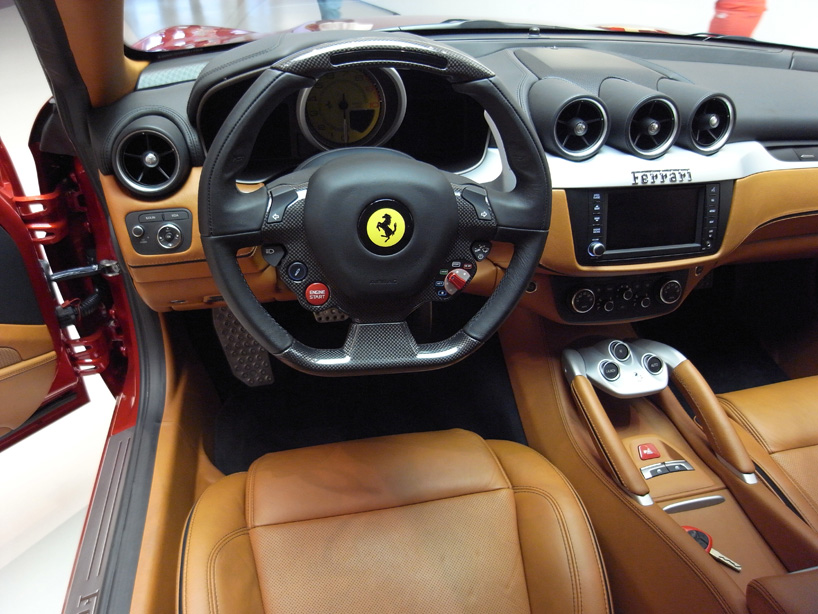 interior of a ferrari showroom modelmage © designboom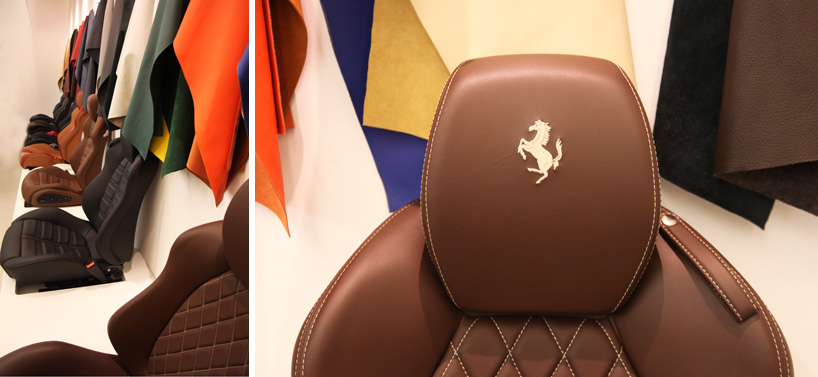 view of seat pattern and fabric choicesimages © designboom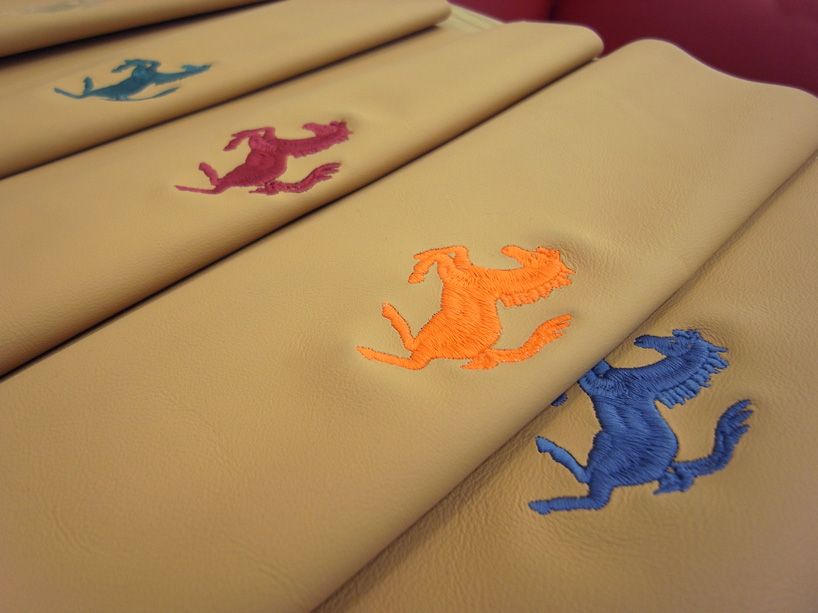 the ferrari icon demonstrated in a range of colour threadsimage © designboom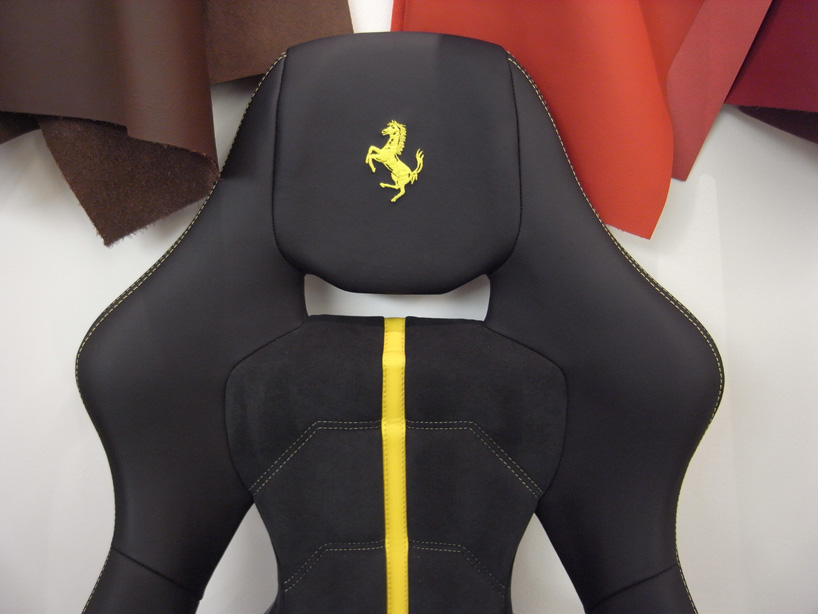 seat back, carbon fibre racing model in black and yellowimage © designboom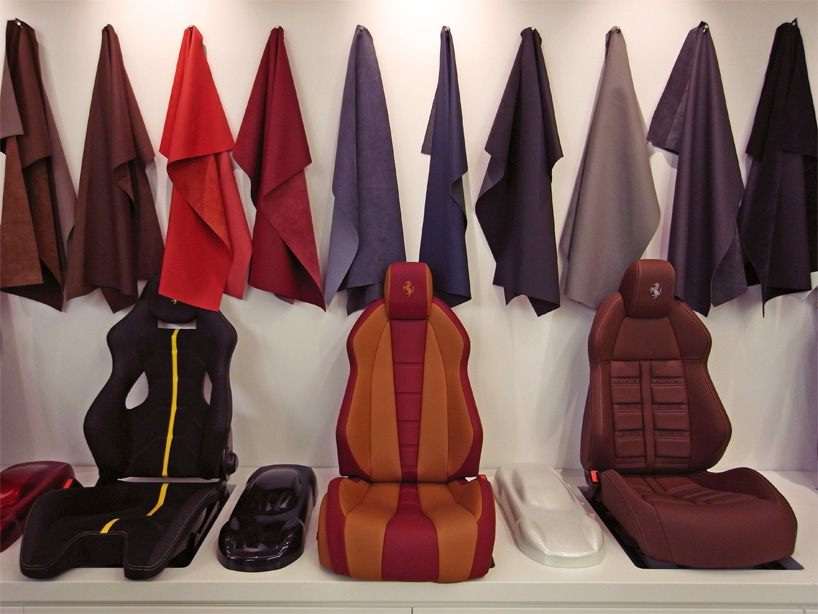 more seating options, depicting the range of customizability of the vehiclesimage © designboom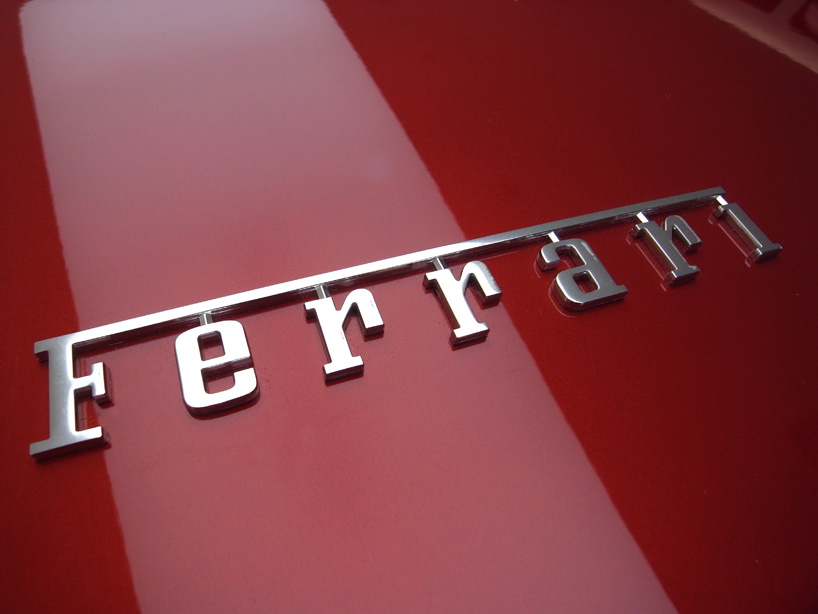 image © designboom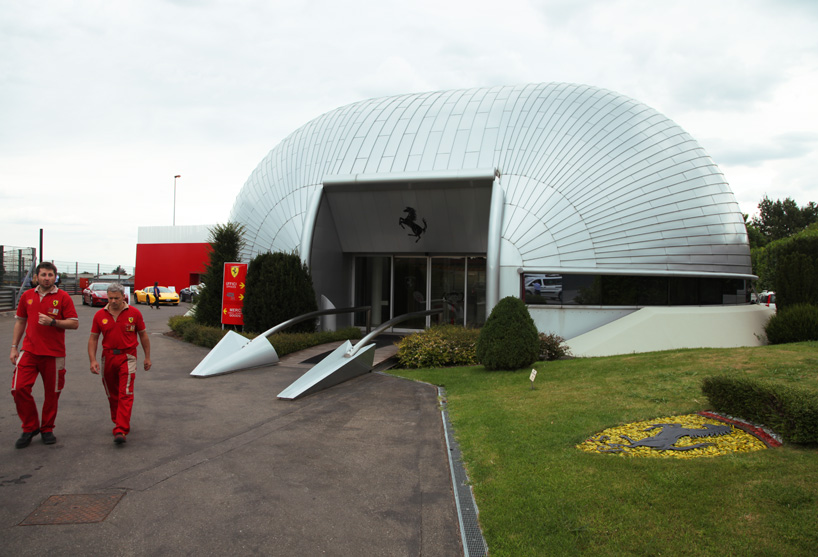 buildings and technicians at the site of the fiorana racing test track on the ferrari campus, not far from the 'centro sviluppo prodotto'image © designboom
president luca di montezemolo discusses the present and future of ferrari design (italian language)video © designboom
luca di montezemolo discusses the present and future of ferrari (video above):
today the concept behind ferrari is of creating a range of diverse vehicles, to address the diversity in the needs and tastes of our clients.
[you can see the ways] we are addressing our broader public with the most recent addition to the ferrari line, the 'ff', the first ferrari in history, with 4 seats but nonetheless achieving 660 horsepower. it combined the high performance of a best-in-class sport vehicle with extensability: the possibility to use the vehicle in a range of conditions without sacrificing comfort, providing ample space for both passengers and storage.
we have cars for all uses, but all of them share a level of exclusivity and high performance that we at ferrari take as our obligation to be always the best in class.
ferrari lives in the details. it is not only the general structure of the car bodies that is important; in a ferrari, there are many finer elements that make a difference, in terms of materials, details, colors. we have undertaken and in fact continue extensive research in colours and colour combinations, both interior and exterior, as well as in the possibility more generally of customizing 100% our vehicles in all senses.
our concerns are not only in terms of materials and details but also in aspects that reflect the tastes of our clients and collectors. think, for example, of the treatment of the leather, of our desire at ferrari to let our clients experience the softness of the material that marks artisanal leathercraft. think of all the possibility of working with choices and details that represent hundreds of different combinations. this is ferrari's work, day in and day out.
did you miss our first two features?
read about the 'mechanical workshop' where engine parts are produced or the 'new assembly line' facilities where all vehicles are hand-assembled!
anita hackethal
I designboom
aug 09, 2011
KEEP UP WITH OUR DAILY AND WEEKLY NEWSLETTERS
a diverse digital database that acts as a valuable guide in gaining insight and information about a product directly from the manufacturer, and serves as a rich reference point in developing a project or scheme.
designboom will always be there for you
milan, new york, beijing, tokyo

,
since 1999